Want to know how to run a social media photo contest? Creating a social media photo contest online is a powerful way to connect with your audience, and using images effectively can mean tons of new followers, likes, and shares.
But what's the best way to run a social media photo contest? This article will show you how to run a social media photo contest without the fuss.
Why Run a Social Media Photo Contest?
Running a social media photo contest is a good way to increase brand engagement and reach on social media. It can also help to collect user-generated content (UGC) that you can use for future marketing efforts.
Additionally, a social media photo contest can help to build a sense of community and encourage brand loyalty among your followers. You can also use a social media photo contest to collect data and insights about your audience's preferences and interests.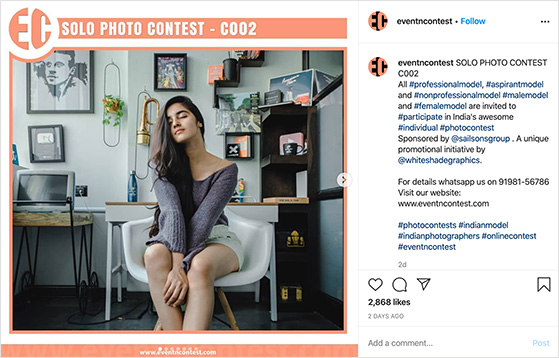 Social media photo contests can also achieve the following outcomes:
More social followers – lots of great visual content on your feed can result in a more active profile that attracts more followers on your social media channels.
Greater brand awareness – increased profile activity can help your posts appear to more people.
Email list growth – asking people to sign up for your email list is a popular way to combine photo contests with actions for extra entries.
How Effective Are Social Media Contests?
Social media contests are incredibly effective for generating a buzz around your brand on social networks. If you're not convinced, take a look at the following brands that have seen great success with running social media contests for their business:
How to Run a Social Media Photo Contest
Now you know why running this type of contest is a good idea, let's look at some quick and easy tips for creating one yourself.
1. Start With a Strong Goal
Your goals are what you'd like your contest outcomes to be. Without them, you won't know how to set up your giveaway or measure your results.
Your contest goals might look like the ones below:
Keep potential customers engaged on your social networks
Raise awareness of your new product
When you've set your goals, you can decide how to meet them. Since we already know you're running a social media photo contest, submitting a photo is the primary way to achieve that goal.
Yet, that doesn't mean you can't include other supporting contest entry methods. Optional entry methods might include one of the following:
Visit social media profiles – to increase your social followers.
Subscribe to your email list – to meet the goal of more email subscribers.
Refer a friend – to raise brand awareness.
And so on.
When you've chosen your goals and entry methods, it's time to move on to your giveaway prize.
2. Pick a Prize for Your Social Media Photo Contest
All successful contests need a fantastic prize to attract participants and encourage them to enter to win. The best contest prize ideas combine highly desirable products with the fear of missing out (FOMO) to get maximum results.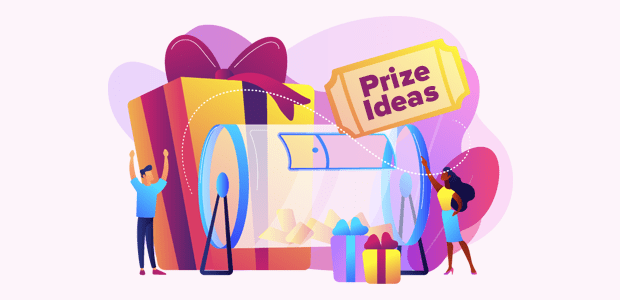 For example, you could use some of the following ideas:
Trending products: popular products are desirable because people want them before everyone else, making them more likely to enter for a chance to win.
Cash: large cash prizes attract tons of entries and create FOMO in people desperate to get their hands on the money.
Gift cards: gift cards are fantastic for offering small and more significant amounts of money. You could offer gift cards to your store or visa cards to use anywhere.
Free trips: free trips generate many contest entries, especially if you pick an attractive location.
Event tickets: free event tickets offer fun and entertainment to your fans. Consider offering tickets to sports events, theatres, or even the movies for great results. For more event promotion ideas, see this article.
Next, think about your giveaway theme when you have a prize for your contest.
3. Have a Great Social Media Photo Contest Theme
Creating a theme for your photo contest helps your fans get creative with their entries. Plus, it lets you gather user-generated content to help promote your product or service in the future.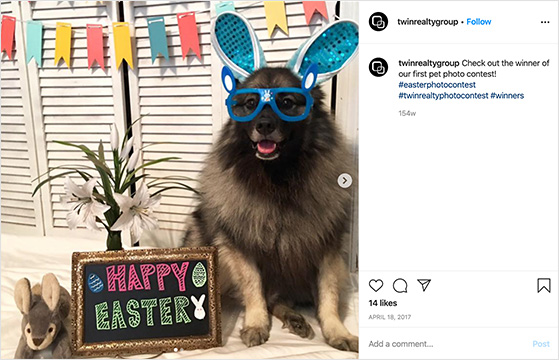 Here are a few fun photo contest themes to get you started:
Event photos – If you've recently run an event, now's a great time to get influencers involved by having them upload their photos. It also helps you add new images to your photo gallery, which you can use to attract customers in the future.
Photos of your products – Getting people to upload photos using your products can help potential customers learn more about them.
Where's the product? – Have participants hide your product to see if other fans can find it. Think 'Where's Waldo.' The best photo can be the prize winner.
Seasonal theme – Here's an easy one any brand can use. Get people to upload photos related to the current season or holiday.
When choosing a theme for your giveaway, the key is to keep it fun, relevant, and interesting enough for people to enter. You can also follow up with a caption contest in the future, using photos you've collected in the past.
The example below uses the powerful topic of human rights to engage fans.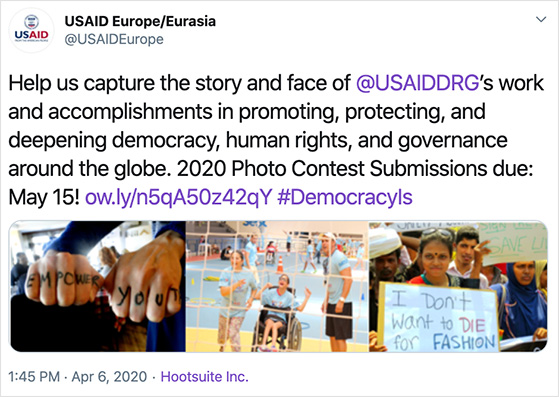 With the theme selected for your social media contest, the next tip is to think about which social platform you'll use for running your campaign.
4. Choose Which Social Media Channels to Promote
You can run a social media photo contest on almost any social media platform.
However, successful social media contests focus on where your fans are most active. So if your audience is most active on TikTok, it's best to run your social media photo contest on that platform.
Some of the most popular social platforms to consider include:
YouTube for social media video contests
Instagram contests to attract influencers
Twitter contests for newsworthy topics
Facebook contests for older audiences
You can also consider other platforms like Pinterest, LinkedIn, and Twitch if that's where your audience hangs out.
5. Use The Right Social Media Giveaway Tools
If you want to learn how to run a social media photo contest, you'll need the right tools. Luckily, there are several giveaway tools available. We've even analyzed the best tools in this Rafflecopter vs. Gleam vs. RafflePress comparison.
RafflePress is the best tool for running social media photo giveaways. And besides being the ONLY tool designed to work seamlessly with WordPress sites, it's the most user-friendly tool on the market. That means even complete beginners won't have trouble getting started.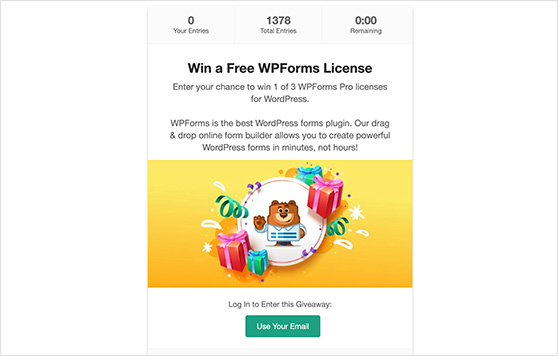 RafflePress makes it easy to run any type of contest so that you can grow your email list, site traffic, and social media following. And pre-built giveaway templates help you craft beautiful contests without starting from scratch.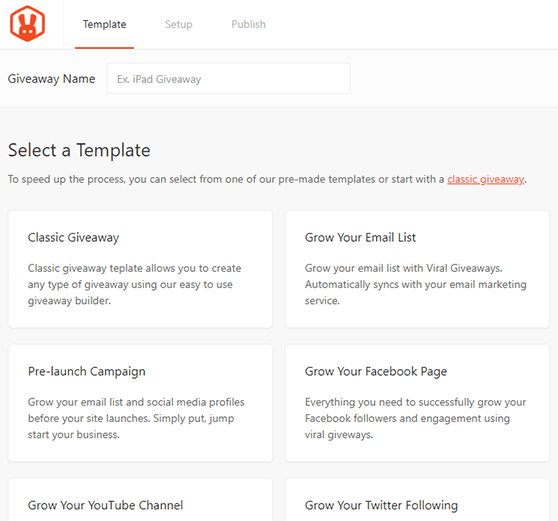 Even better, RafflePress lets contest participants upload photos to enter your photo contest in a few clicks. Then you can manage and view all entries from one central dashboard.
Want to give RafflePress a try?
6. Make Entering Your Social Media Photo Contest Easy
If people can't quickly enter your giveaway, they'll give up trying. So when you're adding ways for people to take part, you need to make it as easy as possible.
When building your contest with RafflePress, head to the Actions tab from the giveaway editor to see a range of easy entry methods. Each action takes only 1 or 2 clicks to complete, leaving little room to confuse people.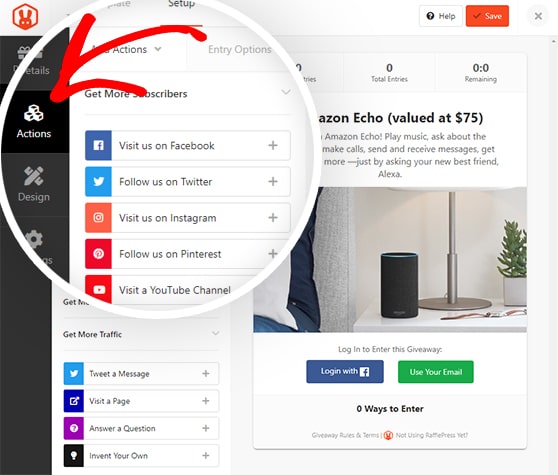 Here are the best actions to use for a social media photo contest to get more engagement and followers:
Submit an Image: Let users upload an image or photo to unlock entries.
Follow us on Twitter: Have participants follow your Twitter profile to enter.
Visit us on Facebook: Require contestants to visit your Facebook page. Liking on Facebook is optional and not required to comply with Facebook contest rules.
Follow on Pinterest: Require visitors to follow your Pinterest profile for an entry.
Visit a YouTube Channel: Have visitors visit your YouTube.com Channel and optionally subscribe.
Visit us on Instagram: Get people to visit your Instagram page. Following on, Instagram is optional and not required to comply with Instagram's terms.
Tweet a Message: Require visitors to tweet a message to get entries.
Follow us on TikTok: Ask users to follow your TikTok profile for entry.
Watch a TikTok Video: Similarly require users to watch an embedded TikTok video to earn giveaway entries.
Viral Refer a Friend: Let visitors refer other visitors via various social media outlets and email to gain more entries.
The Viral Refer a Friend action also lets you choose a custom message for users to share. That allows you to add branded hashtags to boost your reach.
As you can see, the methods above encourage people to join your photo contest and engage with your social media networks to follow you.
7. Have Clear Social Media Photo Contest Rules
The rules of your photo contest determine who can enter and how. The rules for social media contests differ for each social network. So, you should create a clear set of rules to ensure people enter correctly.
RafflePress has a handy Giveaway Rules Generator to help you set and display your rules. You can use it to create a simple template added to your contest widget when you publish.
To set it up, first, create an online contest following these steps and customizing it to suit your needs.
Then when you're ready, click Settings » Giveaway Rules.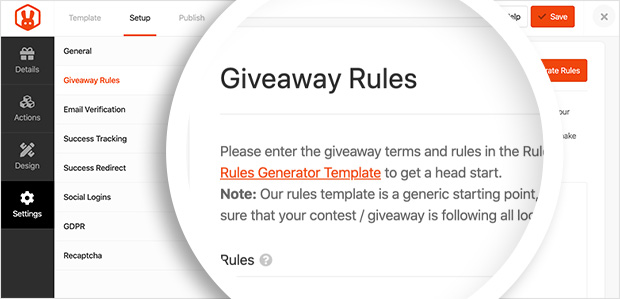 Next, click the orange Generate Rules button.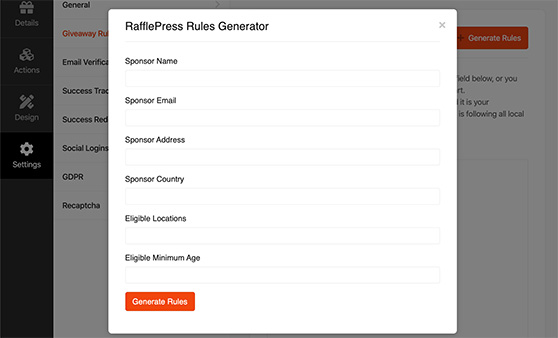 Here you can enter the following details for your contest:
Sponsor Name – the person, company, or brand sponsoring the giveaway.
Email – their contact email address.
Address – the physical address if they have one.
Country – the sponsor's registered country.
Eligible Locations – which countries and locations the giveaway is open to.
Eligible Minimum Age – the minimum age people should be to enter.
When you've entered your information, click Generate Rules. A standard set of rules and guidelines will populate the message area using your provided details.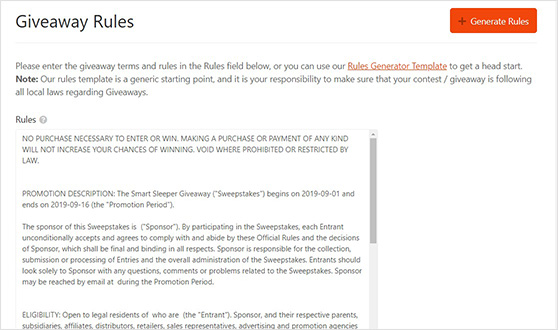 When you're happy with your rules, click Save.
8. Create a Distraction-Free Contest Landing Page
The mistake many people make when running photo contests is publishing it on a page with loads of distractions. Ideally, you want people to hone in on your giveaway and take steps to enter right away.
But with a page full of information, images, and buttons to click, they'll get distracted and might even forget about entering.
You can avoid this by having a dedicated giveaway landing page to remove unwanted distractions. Setting one up in RafflePress is pretty straightforward.
Find your giveaway in the RafflePress dashboard and click Edit.
Then head to Settings » General and find the Page Permalink heading.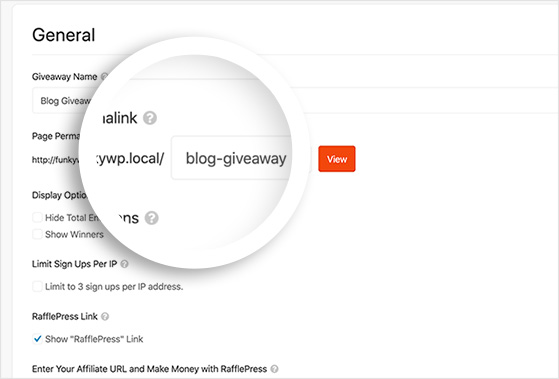 Next, enter the parameters for your landing page URL and click Save.
When you visit that URL, you'll see your giveaway displayed in a beautiful distraction-free environment.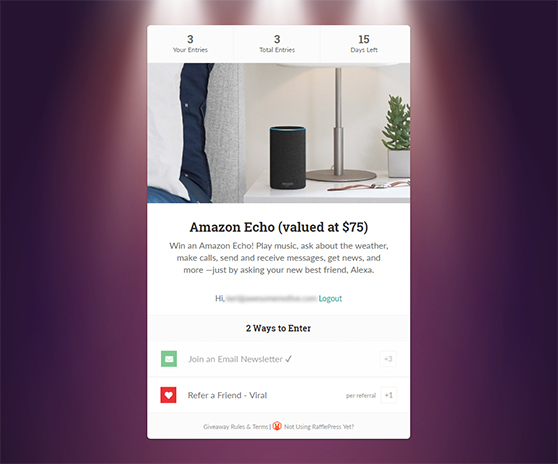 Then you can include that URL in all your social media posts when promoting your contest, which we'll tackle next.
Step 9. Promote Your Social Media Photo Contest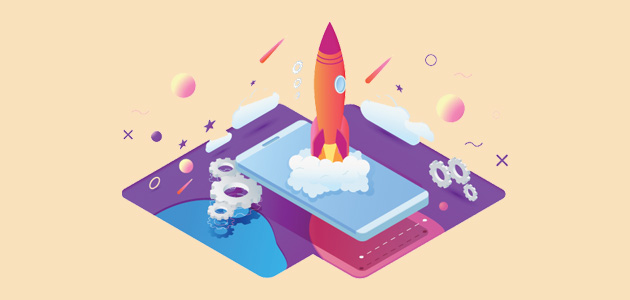 The great thing about running a social media photo contest is you're not limited to a single social network. Instead, you can encourage participation from all your social media platforms.
For example, even if your goal is to grow your Facebook page followers, you can cross-promote it to places like Twitter, Instagram, Pinterest, and YouTube.
Your fans on those networks might not know about your Facebook Page, so having them enter your Facebook photo contest makes them more aware and can increase entries and page likes. The same is valid for running an Instagram photo contest.
You can also promote your contest by:
Begin promoting your contest weeks before it goes live to get a ton of traffic and entries from the first day.
For more proven contest promotion ideas, check this guide out.
10. Pick Your Winner Fairly
You'll need to pick a winner at the end of your contest. The fairest way to choose a winner is by randomly selecting one, and RafflePress makes it easy to do this.
When your giveaway ends, head to RafflePress » Giveaways and click the Needs Winners link.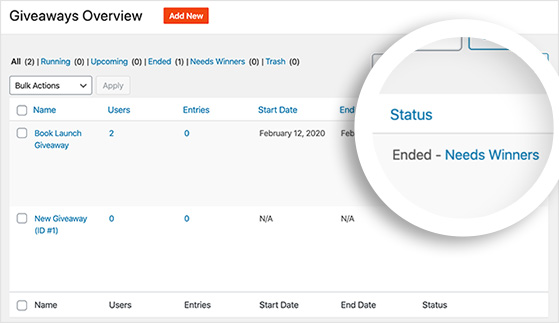 You'll see all the people who entered and how many entries each has on that page.
To choose a winner at random, click the Pick Winner button, select your options, and click Choose Winners Now.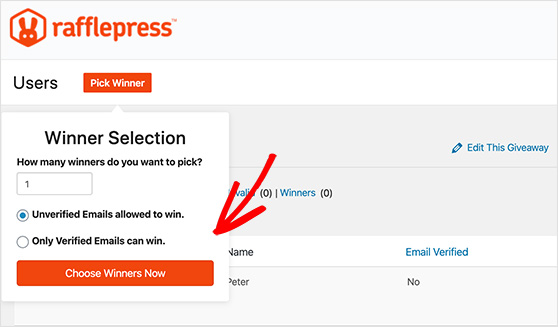 RafflePress highlights the winner instantly, and then you can click to email them and tell them the good news.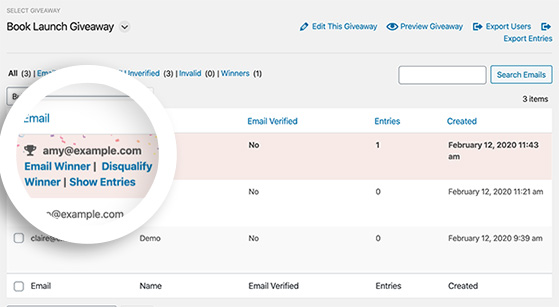 11. Learn From Your Results
Finally, analyzing your results and learning from them is the best way to make improvements in the future. The next time you run a giveaway, you can make it more successful than the last one.
The easiest way to get the information you need to improve your giveaways is with MonsterInsights, the best Google Analytics plugin for WordPress.
MonsterInsights makes it easy to track the following metrics:
Contest landing page visits
Website traffic
Referral traffic
Site activity
And much more.
You can see all the MonsterInsights dashboard reports right from WordPress.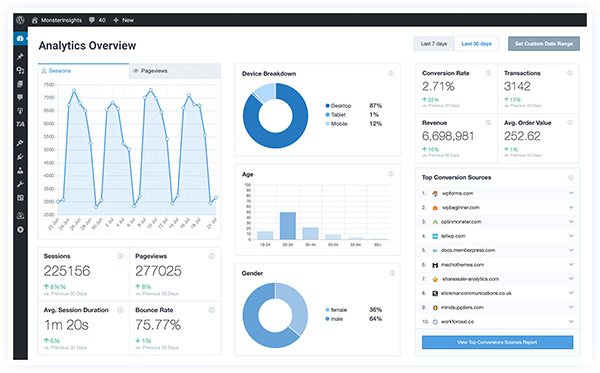 By reviewing your website data with MonsterInsights, you can identify which giveaway strategies drove the most traffic to your contest page and use that information to improve the success of your next giveaway.
And with MonsterInsights' real-time stats, you can monitor website traffic while your contest is live and make adjustments.
You can also use RafflePress's Entry Reports to see which entry option drove the most giveaway entries.

You can use similar actions in your next contest with this information.
And there you have it.
In this article, we've shown you how to run a social media photo contest to grow your social followers, get more engagement, and drive traffic to your website.
While you're here, why not check out the latest social media marketing statistics so you can improve your social media strategy?
And if you want to learn about other contest types, take a look at these tutorials:
We hope you found this article helpful. If you did, check out our YouTube channel. You can also follow us on Twitter and Facebook.