Are you looking for ways to increase the number of users of your product or service?
In this case study, we share how OptinMonster generated 3,500+ new users for their software with a single RafflePress giveaway and so much more. We'll also share examples and tips for how you can see similar results.
Meet OptinMonster
OptinMonster is the #1 lead generation software in the world. They offer a powerful conversion optimization toolkit that helps their users grow their lists and generate leads and sales for their businesses.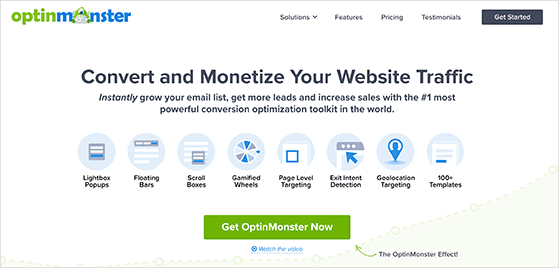 Despite OptinMonster's expertise in lead generation, they needed different ways to reach their target audience outside of their business website.
That's where RafflePress could help.
How OptinMonster Uses RafflePress to Increase Users
When OptinMonster was preparing to launch its annual Black Friday sale, they knew they needed a way to promote the sale to users on other platforms.
Sharing the promotion on social media was the perfect solution! But how could they encourage people to click through and view the sale offer instead of scrolling past in the news feed?
The best way to get the attention they needed was to run an online giveaway. So with the help of RafflePress, they created the giveaway below.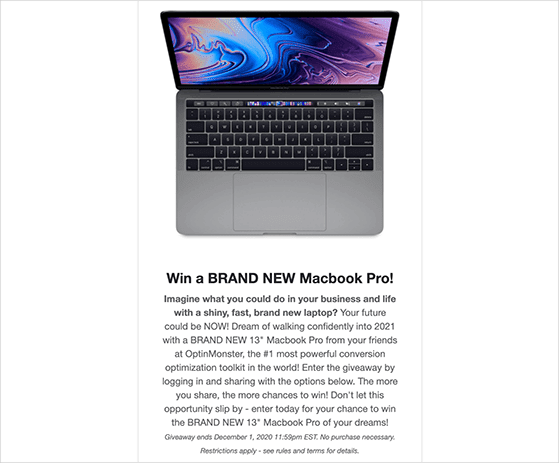 OptinMonster used several tactics to make its giveaway stand out to users on social media.
First, they offered a big-ticket prize that they knew their audience would love to generate excitement.
Then they included tasks people could complete to enter the giveaway, including:
Share on LinkedIn
Tweet a Message
Follow on Twitter
Visit on Facebook
Visit on YouTube
The most notable giveaway entry option is the Refer a Friend task, an action that works like traditional word-of-mouth marketing.
Here's how it works:
User A enters via Refer a Friend, which shares a message on social media.
User B sees the message and clicks to learn more.
User B enters via Refer a Friend, which shares a message on social media again.
User C sees the message and clicks to learn more.
As more people learn about the giveaway, more people enter, refer more people, and so on. It's an excellent way to spread the word about your giveaway, which is why many RafflePress users offer this as a bonus entry option.
Using this tactic, OptinMonster created a highly visible online presence, giving them more trust and authority. And as a result, their giveaway drove thousands of people to their landing page, where users could both learn more about their sale AND enter their giveaway.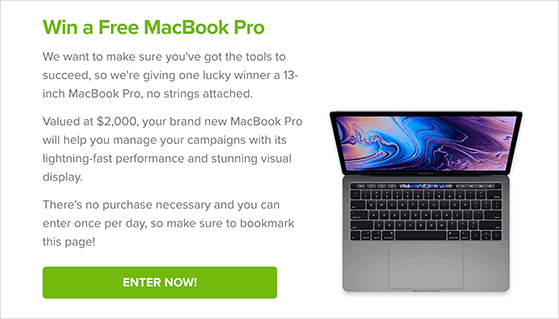 In fact, their giveaway generated a total of 24,372 entries!
But that's not all…
How OptinMonster Uses RafflePress to Grow Their Email List
Besides using RafflePress to attract users to their sales page, OptinMonster used their giveaway as an opportunity to grow their email list.
They added the ability for users to enter their giveaway by joining their email newsletter. And since entering only took a few clicks, many people chose this as their top way to enter.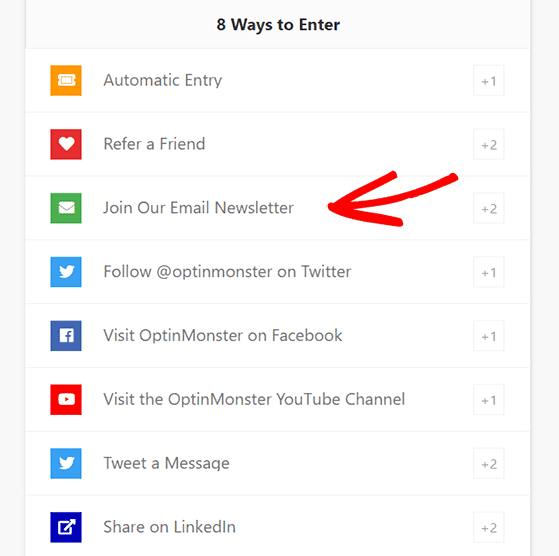 Running a giveaway to grow your email list is super easy with RafflePress. Our email newsletter giveaway action allows you to connect with a wide range of email marketing services, including:
ActiveCampaign
AWeber
Constant Contact
ConvertKit
GetResponse
Mailchimp (+ Mailchimp tag support)
MailerLite
Brevo (SendInBlue)
CampaignMonitor
MadMimi
iContact
Sendy
You can also paste your own HTML web form or connect with thousands of other marketing services via Zapier.
Results
OptinMonster's Black Friday Sale giveaway was a massive success and generated some impressive results:
24,372 people entered OptinMonster's giveaway, driving tons of traffic to their sales page.
OptinMonster generated over 3,500 new users from a single giveaway.
OptinMonster saw a 3X increase in their email list growth with the email newsletter giveaway action.
Thousands of people shared the contest on social media, creating viral brand awareness.
Summary
OptinMonster's success with RafflePress results from a thoughtful understanding of the best way to reach its audience.
They took the time to consider the behavior and psychology of their audience and the best way to convince them to take action. They then used a variety of RaflePress's giveaway actions to encourage them to do that.
Want to get similar results for your business?