Is your website struggling to get the best results from your online promotions?
SeedProd used RafflePress to increase its website traffic, Black Friday leads, and sales. In this post, we'll show you how SeedProd used viral giveaways to more than triple their sales revenue.
Meet SeedProd
SeedProd is a drag-and-drop WordPress landing page plugin with coming soon and maintenance mode functionality. It helps millions of professionals around the world to create high-converting landing pages for their WordPress websites, with extra features for building custom WordPress themes.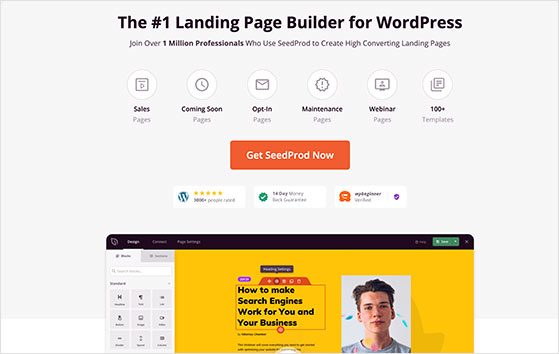 Black Friday is one of the biggest sales opportunities of the year. So, like many online businesses, SeedProd needed a way to ensure their Black Friday campaign was as successful as possible.
In the past, SeedProd relied on traditional methods, like email marketing campaigns, website popups, and so on. However, they knew they could be doing more to get their promotions in front of the right people, and one of those things was to run online giveaway contests.
John Turner, the co-founder of SeedProd, couldn't find a good WordPress giveaway plugin that wasn't buggy, slow, and didn't cost too much. So he decided to make one himself – RafflePress.
John told us more about how he used RafflePress for SeedProd's Black Friday sale with great success.
How SeedProd Uses RafflePress
SeedProd wanted to use RafflePress giveaways to increase sales for their Black Friday promotions, and they did!
Here's how.
First, SeedProd made a custom landing page for their Black Friday offer.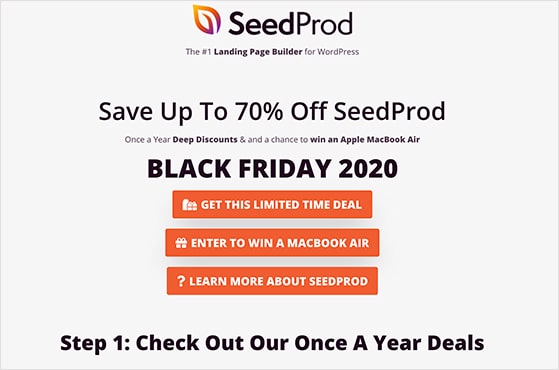 They then used RafflePress to run an online contest to win a MacBook Air and published the giveaway widget on the landing page.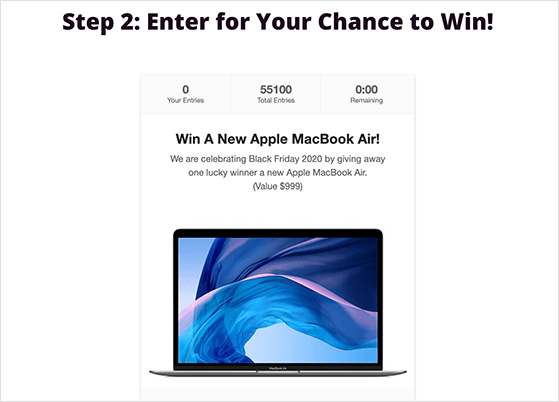 Users could automatically enter the giveaway by simply signing up on the giveaway widget. They could then earn bonus entries by:
Tweeting a message every day
Adding the Black Friday sale to their calendar
Sharing the giveaway on LinkedIn
Following SeedProd on Twitter
Visiting SeedProd's Facebook page
Visiting SeedProd's YouTube channel
Watching a YouTube video
The giveaway went live a week before the official sale, giving users plenty of time to add it to their calendars with the "add to calendar" giveaway entry option.
As a result, when the sale launched, they had an instant reminder to check back on the page and claim the deal.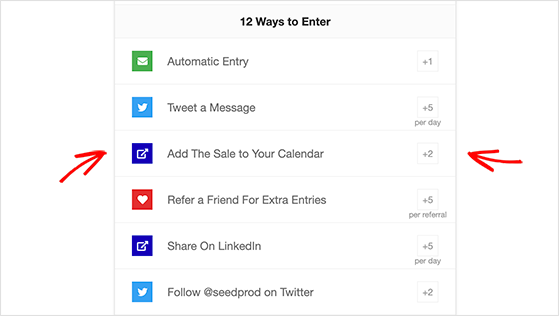 There are several reasons why this approach worked for SeedProd:
Excitement: The giveaway created a buzz for the upcoming sale
Automatic: Instant entry into the giveaway made it easy for people to take part
Bonus Entries: People took all the chances they could to win
Daily Entries: More chances to win meant more people sharing the contest
Viral Sharing: Refer-a-friend entries created viral brand awareness
The stand-out feature here is the Refer-a-Friend action. As more people learned about the giveaway, more people entered, referred more people, and so on.
It links into the halo effect, a cognitive bias where our mind takes a few things and bases an opinion about a person, brand, or organization on those impressions.
For SeedProd, their giveaway created a strong online presence, making them both more visible and seem more authoritative and trustworthy.
So what were the results?
Results
By combining their Black Friday sale with a viral giveaway, SeedProd was able to skyrocket the success of their campaign:
They generated over 4,000+ new SeedProd users who are 3X their average sales.
Over 50,000+ people entered the giveaway driving tons of traffic to their Black Friday landing page.
Thousands of people shared the contest on social media, creating viral brand awareness.
Summary
As you can see, you don't need tons of different marketing campaigns to get the results you want. SeedProd used RafflePress because it was the easiest way to reach its target audience without spending money on paid ads.
With an engaging giveaway, they could drive targeted traffic to their sales page, resulting in a highly successful Black Friday sales campaign.
Want to use RafflePress to grow your traffic, subscribers, and sales?