Do you want to learn how to run a competition on LinkedIn?
Even though Facebook seems to grab all the headlines, LinkedIn is the best social media platform for B2B (business to business) lead generation. So if your target audience includes professional adults and high-earners, it's the ideal place to market your brand.
And one of the most effective ways to do that is with a LinkedIn giveaway contest.
This article will show you how to run a competition on LinkedIn to raise awareness and grow your business.
Why Should You Run Contests on LinkedIn?
As we already mentioned, LinkedIn is the top platform to reach B2B audiences. But more importantly, the majority of users are on the platform to improve their professional lives. This means they're actively looking for opportunities to engage with other businesses.
It's also worth noting that LinkedIn has the best organic reach of all social media networks. So if you're running contests on LinkedIn, you have a much better chance of reaching your ideal audience.
Plus, 50% of social media traffic to B2B websites comes from LinkedIn, increasing traffic from LinkedIn contests.
Business Website vs. Company Page Competitions on LinkedIn
You might think that it's best to run your LinkedIn competition from your company page on the platform. After all, that's where people follow your brand for news and updates.
But if you want to get those users to spend time on your website, a better solution is to host your giveaway from your business site, THEN promote it on LinkedIn.
Plus, when you host your LinkedIn contest from your website, you can also:
Encourage users to subscribe to your email list
Get people to visit specific product pages
Suggest relevant content they'd like
Get valuable feedback from your audience
Promote your other social media profiles
And more.
Having more people engaging with your website is also an excellent way to reduce your website's bounce rate.
Before creating your LinkedIn contest, there are a few things to consider. It would be best if you planned each stage of your giveaway so that you can get the best results for your brand.
Follow the steps below to plan and run a successful contest on LinkedIn.
1. Set a LinkedIn Competition Goal
Your first task is to set a goal for your LinkedIn giveaway. With a primary goal in place, it's easier to determine your contest's success and measure the results.
The easiest way to choose your giveaway goals is to ask yourself a few questions.
Do you want to run a competition on LinkedIn to:
Pick a goal that's relevant to your business's marketing objectives. This will make running a successful LinkedIn competition easier and help you achieve your desired results.
2. Choose Your LinkedIn Contest Prize
While most people enjoy getting freebies, they won't make an effort to enter your giveaway if the prize on offer isn't any good. So, pick a prize that will excite your target audience and encourage them to enter.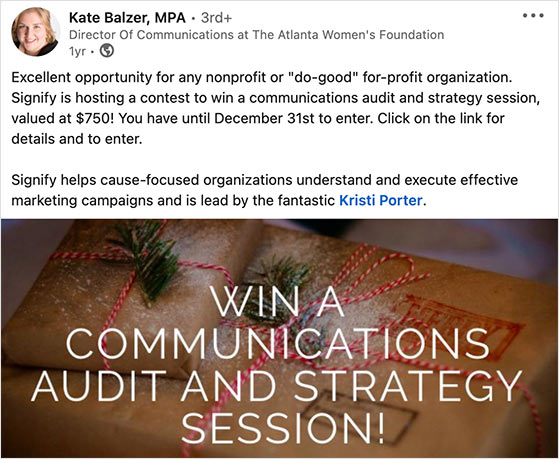 Some popular contest prizes include:
Cash prizes
Free products
Free subscription to your service
Consultations and coaching
Gift cards and vouchers
Take a look at these B2B giveaway prize ideas for even more inspiration.
By choosing a LinkedIn giveaway prize relevant to your brand and audience, you can achieve more contest entries, engagement, and leads, from your ideal customers.
3. Determine the Rules for LinkedIn Promotions
After setting your goals and picking an excellent prize, you should think about your LinkedIn giveaway rules.
LinkedIn doesn't have a specific promotions policy, but it does say that all users must comply with its general User Agreement. Based on the LinkedIn promotions guidelines, when you want to carry out a promotion on LinkedIn, you must follow these 2 crucial regulations:
State that LinkedIn is not responsible for the promotional action.
Do not use data scraping to get data from LinkedIn.
After considering LinkedIn's promotion regulations, you can focus on LinkedIn giveaway rules relevant to your brand.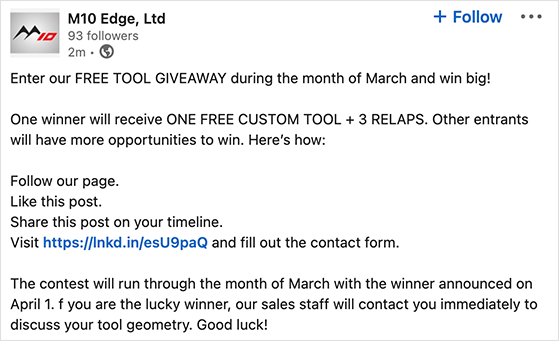 First, is your contest based on luck, or does it require some effort to enter? We call these chance and skill-based giveaways.
Chance-based contests allow users to enter for a chance to win by performing simple actions like entering an email address. The winners are typically drawn randomly from the pool of entries.
Skill-based contests require more effort to enter. For instance, users might have to submit a photo for a chance to win or write a blog post. You can pick the winners for this type of contest by judging which entry is the best.
Related: How to Promote a Blog on LinkedIn
The easiest option of the 2 is a chance-based, classic giveaway. More people are likely to enter if it doesn't take much effort.
A few other details you'll need for your LinkedIn giveaway rules:
Any age limits for entering
If your contest is limited to specific locations (US only, International, etc.)
The start and end dates for your contest
How people can enter, and how often
How you'll pick the winner
You should also ensure the methods for entering your contest align with the goals you set out earlier. For instance, if you're running a contest on LinkedIn to grow your LinkedIn followers, following you on LinkedIn should be a requirement to enter.
After planning your goals, prizes, and LinkedIn contest guidelines, it's time to create your LinkedIn competition.
4. Create a LinkedIn Contest in WordPress with RafflePress
If WordPress powers your website, the easiest way to run a LinkedIn competition is with a giveaway tool like RafflePress.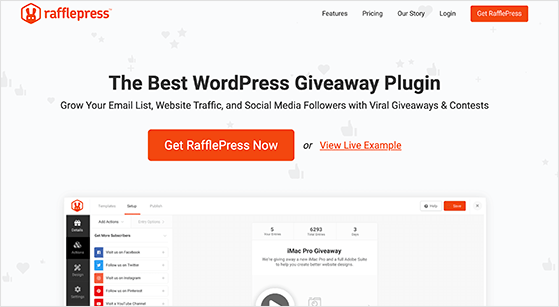 RafflePress is the best WordPress giveaway plugin on the market. It makes it super easy to run any type of contest right from your WordPress website.
This powerful WordPress plugin comes with everything you need to meet your giveaway goals, including:
Here's how OptinMonster generated 3,500+ new users from one giveaway if you're not convinced.
So if you want to create a LinkedIn contest in WordPress, here's how to do it with RafflePress.
Step 1: Create a New Giveaway
First, click here to get started with RafflePress and download the plugin to your computer. Then install and activate the plugin on your WordPress website.
Pro Tip: Don't make the mistake of getting RafflePress nulled – it could seriously harm your website.
If you need help with this step, here's a guide on how to install a WordPress plugin.
After installing and activating RafflePress, navigate to RafflePress » Add New to create a new giveaway.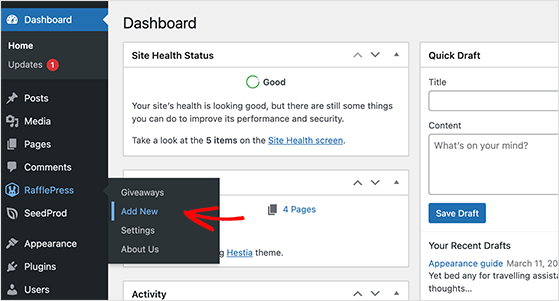 Step 2: Choose a Giveaway Template
On the next screen, you can choose from several pre-made giveaway templates. Each template aligns to a specific giveaway goal and, when launched, will include entry actions for achieving that goal.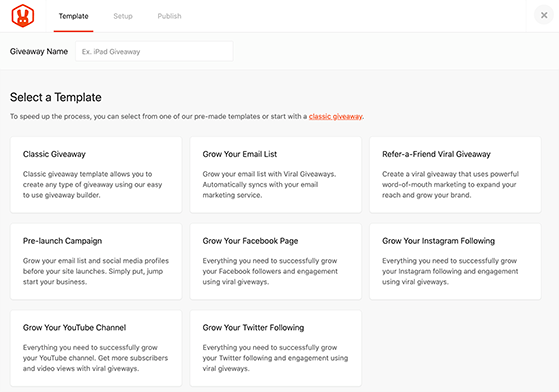 For example, if your goal is to get more email subscribers, you'd choose the Grow Your Email List template. And when you launch it, it will include a giveaway action for users to subscribe to your newsletter to enter the contest.
Today we'll choose the Classic Giveaway template, which allows you to start from a blank canvas.
Give your contest a name, hover your mouse over the Classic Giveaway template, and click Use This Template.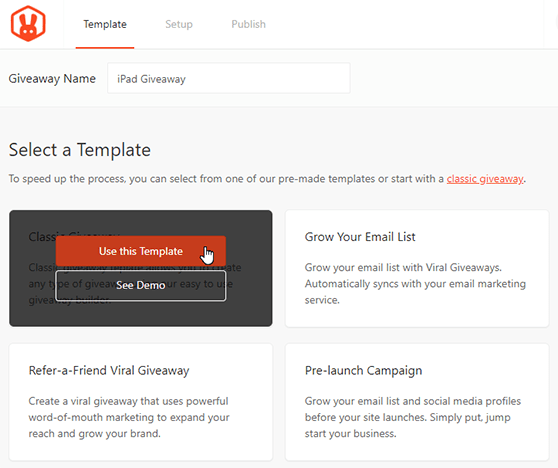 Step 3: Add the Contest Prize Details
After choosing your giveaway template, it will launch in RafflePress's drag-and-drop giveaway builder. You can enter your LinkedIn contest prize details on this screen, like the prize image, description, etc.
First, click the pencil icon under the Giveaway Prize Details heading.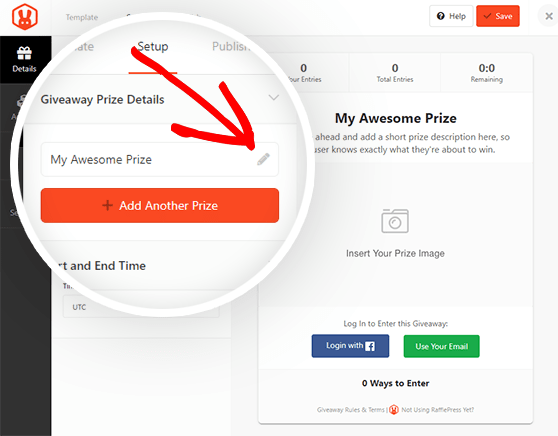 This opens a panel on the right side of your screen, where you can enter your prize name and description.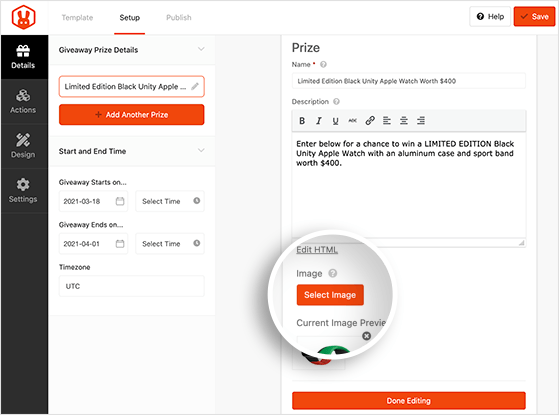 Under that section, you can also upload an image of your prize from your WordPress media library or computer by clicking the Select Image button.
When you're happy with your prize details, click the Done Editing button.
If you have more than one prize, click the +Add Another Prize button to enter more details.
You can set when your giveaway starts and ends on the left side of your screen and choose your preferred time zone under the Start and End Time heading.
Remember to click the Save button in the top-right corner often to store your contest settings.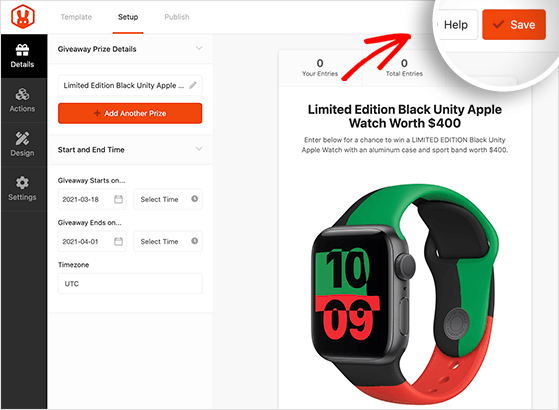 Step 4: Choose Your Competition Entry Methods
The next step is to add entry methods to your LinkedIn competition. RafflePress offers tons of ways for people to enter your contest. You can even add bonus entry methods to improve people's chances of winning while promoting your brand.
For example, you can award users 1 entry for following you on LinkedIn, a 2nd entry for sharing your contest on LinkedIn, a 3rd for subscribing to your email list, etc.
The majority of participants will take as many actions as possible because it improves their chances of winning your grand prize.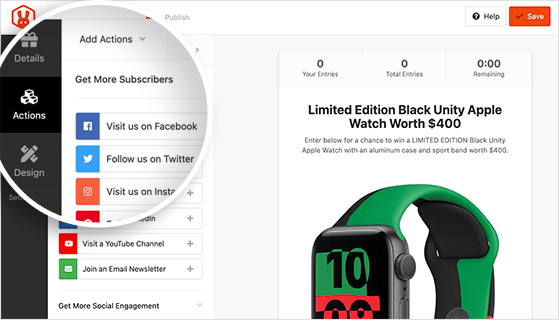 To add entry methods to your giveaway widget, click the Actions tab, where you can see the entry methods grouped by goal:
Get More Subscribers
Get More Social Engagement
Get More Traffic
Then go ahead and click the actions that align with your giveaway goals, to add them to your widget.
For this guide, we've picked the following actions:
Follow us on LinkedIn
Share on LinkedIn
Join an Email Newsletter
Refer a Friend – Viral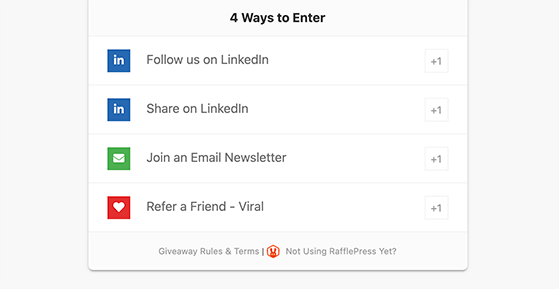 After choosing your actions, you can click each one to add entry options. These settings include the title, value (how many entries the action is worth) if the action is mandatory, and a field to add your LinkedIn profile URL.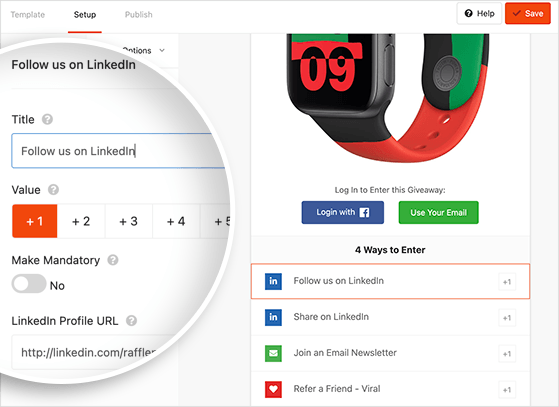 If you have many entry methods, make sure the most important ones are worth the most giveaway entries.
Click the Save button to store your changes, and repeat the process for each action you add to your contest widget.
You can also rearrange actions for your contest by dragging and dropping them on the left side of your screen. Alternatively, you can delete actions by clicking the trash can icon.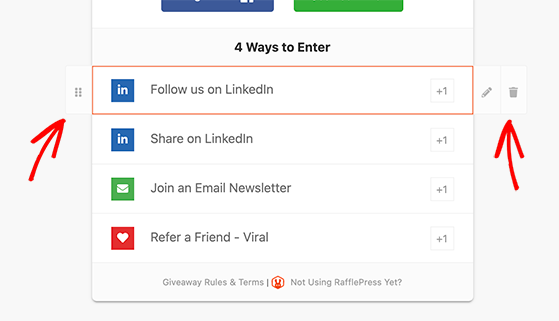 Step 5: Design Your LinkedIn Contest
Next, click the Design tab to customize the design of your LinkedIn competition. You can choose from 2 different layouts (display image, then header, or header, then image) and several fonts and button colors.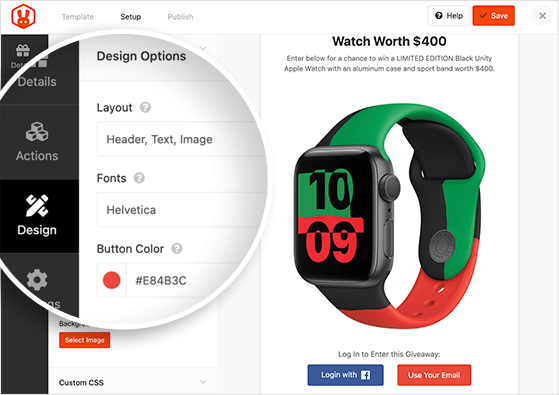 If you decide to publish your contest on a standalone landing page, you can set the page's background color or upload a custom background image. Just click the Select Image button under the Page Background heading.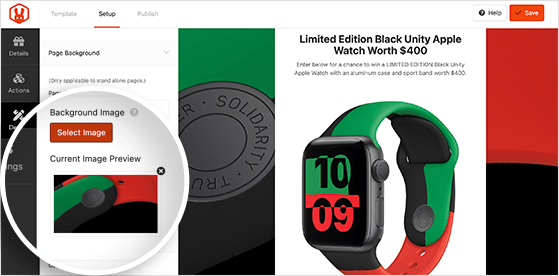 When you're happy with how everything looks, click the Save button.
Step 6: Configure Your Contest Settings
For the next step, click the Settings tab.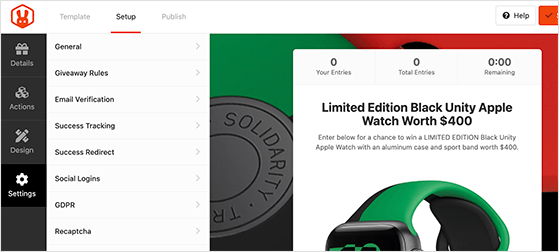 On this screen are 8 different settings you can customize for your giveaway, including:
General – Change your giveaway name, add a permalink for the giveaway landing page, show or hide total entries, display the giveaway winner, and more.
Giveaway Rules – Use the giveaway rules template to generate simple contest rules.
Email Verification – Automatically send an email to users to confirm their email address when they enter.
Success Tracking – Add Google Analytics tracking scripts and retargeting scripts that fire whenever anyone enters your contest.
Success Redirect – Redirect entrants to a specific URL after entering your giveaway.
Social Logins – Allow users to sign up for your giveaway using their social media accounts.
GDPR – Add a checkbox to your contest that users must agree to register for the giveaway.
Recaptcha – Prevent spam, fake, and fraudulent signups to your giveaway.
One of the most important settings is the giveaway rules.
RafflePress makes creating your contest rules super-easy. You can use the Rules Generator Template to get started quickly.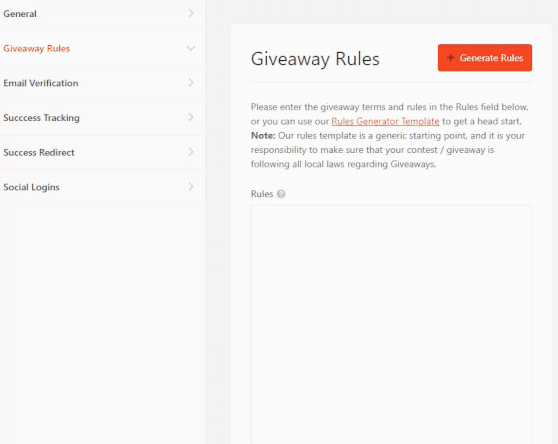 Clicking this button shows a window where you can enter your:
Sponsor name
Email
Address
Country
Eligible locations
Minimum age to enter
And more.
Then click the Generate Rules button to load the details into your widget automatically.
You can check out our documentation for details on all the RafflePress settings.
Remember to click Save before you move on to the next step.
Step 7: Publish Your LinkedIn Contest in WordPress
Now that you know how to run a competition on LinkedIn, it's time to make it live on your WordPress site.
Launching your giveaway is straightforward. Just click on the Publish tab at the top of the screen.

Here you'll see 3 options for publishing your contest:
RafflePress WordPress Block – Embed the giveaway widget in your WordPress post or page (new WordPress block editor).
WordPress Shortcode – Embed the giveaway in the classic WordPress editor, sidebar widgets, or inside your WordPress theme.
Giveaway Landing Page – Create a distraction-free landing page on your website for your giveaway.
The best option to secure the maximum entries is to create a giveaway landing page for your contest. Since there's nothing besides your giveaway widget on the page to distract users, they're more likely to sign up and enter.
So choose the giveaway landing page option. Then under the Giveaway Landing Page URL heading, click the link to enter your page's permalink.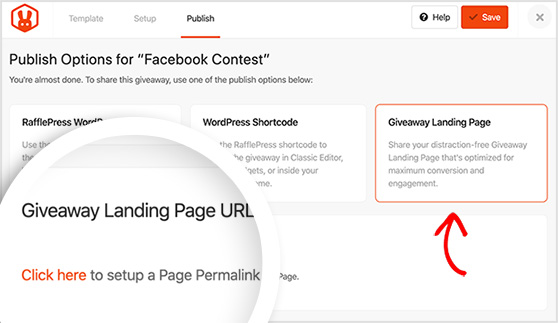 This takes you to the General settings, where you can add a custom URL for your giveaway page.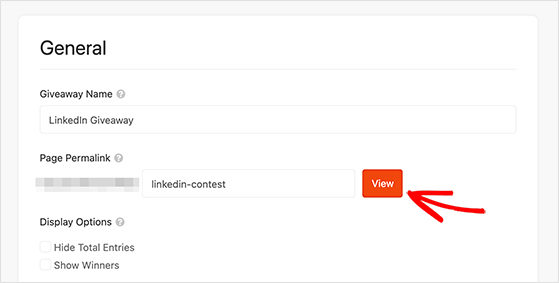 Now you can click Save, store your changes, and click the View button to see how your LinkedIn contest looks.
The result is a great-looking landing page for your LinkedIn contest.
5. Promote Your Contest on LinkedIn
After creating your contest, you can't sit back and wait for people to enter. Instead, promote it to spread the word to your audience.
Since your contest is for LinkedIn users, start by sharing it on your LinkedIn company page and profile. Write a short message detailing what your contest is about, how users can enter, and the link to your giveaway landing page.
Here's an example from the Porchlight Book Company: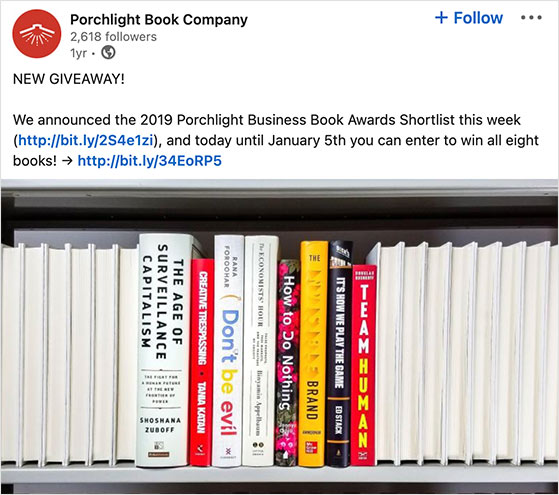 You can also promote your contest by:
It's vital to start promoting your contest weeks before it goes live to get plenty of traffic and entries from the day you launch.
Check out this article for even more contest promotion ideas.
6. Pick A Giveaway Winner
When your competition on LinkedIn is over, you'll need to choose a winner for your grand prize. If your contest is chance-based, the easiest way to pick a winner is to draw one randomly.
You can do this easily with RafflePress's random winner picker. When your giveaway ends, navigate to RafflePress » Giveaways from your WordPress admin area and click the Needs Winners link on the right.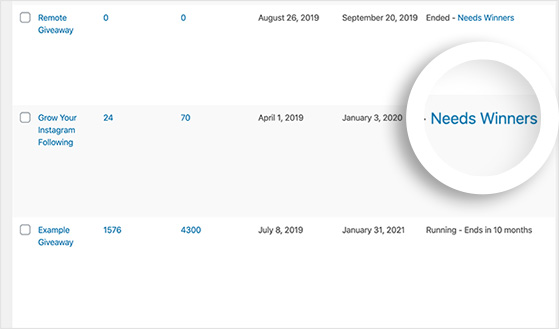 You can see who entered your giveaway and the number of entries each person has. To choose a winner randomly, click the Pick Winner button, select your options, and click Choose Winners Now.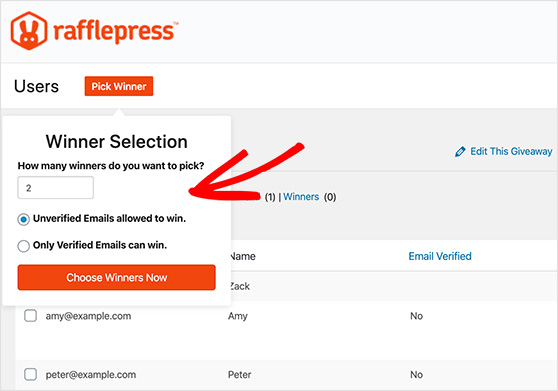 The winner is highlighted instantly, so you can click to email them with the good news!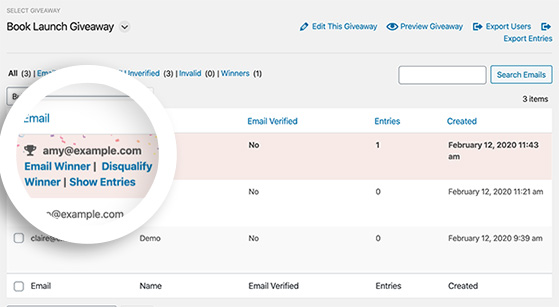 7. Follow Up with Participants
After drawing the winner of your LinkedIn contest, it's essential to follow up with all the other people that entered. This allows you to form better relationships with your new audience and mention your contest one last time.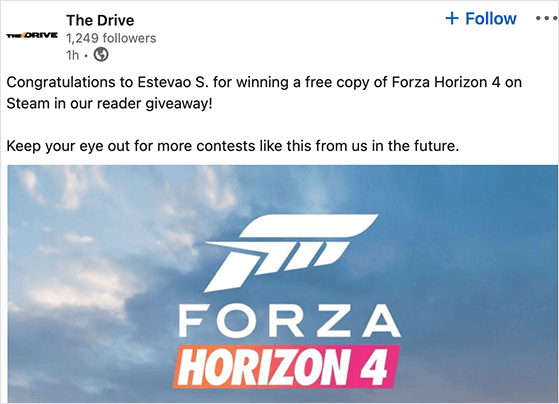 You can follow up with participants after the contest by:
In the end, you won't just have 1 happy giveaway winner but tons of new fans too.
8. Measure Your LinkedIn Competition Results
The final step for any online contest should be to measure your giveaway results. This enables you to learn what did and didn't work and how you can run a successful giveaway on LinkedIn next time.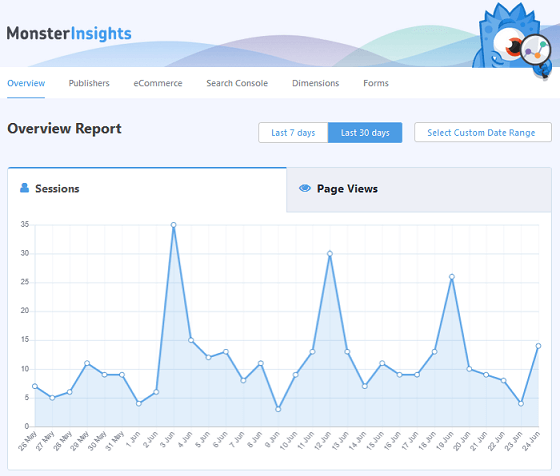 The easiest way to get the information you need to optimize your LinkedIn contest is with MonsterInsights, the best Google Analytics plugin for WordPress.
With MonsterInsights, it's easy to track your contest landing page visits, traffic to your website, referral traffic, website activity, eCommerce promotions, and much more. You can even see all of the data right in your WordPress dashboard.
By looking at your website data, you can see which strategies drove the most traffic to your giveaway page. You can then use that data to improve the success of future campaigns.
If you like, you can learn more about this powerful WordPress plugin in this MonsterInsights review.
And there you have it!
We hope this article helped you learn how to run a competition on LinkedIn that generates tons of awareness for your brand. Now all that's left is to make one for your business!
Ready to dive in?
If you found this article helpful, join us on YouTube, Twitter, and Facebook for more giveaway guides and tutorials.