Do you want to run a TikTok contest?
TikTok has over 1 billion monthly active users worldwide, with a popularity that exceeds LinkedIn, Twitter, Pinterest, and Snapchat. With numbers like that, TikTok is a popular social media platform to run a giveaway for growing your brand.
This post will show you to do a TikTok giveaway or contest easily from your WordPress website.
What Are the Benefits of Running TikTok Contests?
There are many benefits to running a contest or giveaway on TikTok. Aside from its large and growing audience, TikTok has fast become the leading social platform for Generation Z.
Gen Z is a demographic of users typically between the ages of 10-25. If your target audience falls in that category, TikTok is the ideal place to reach them.
The short-form nature of TikTok videos is another factor that makes this platform an excellent place to run a giveaway. The videos can go viral quickly, boosting your reach across multiple social media platforms.
Moreover, that surge in brand awareness can drive tons of traffic to your business website, resulting in more leads and potential sales.
How to Run a TikTok Contest in WordPress
You've decided to run a TikTok contest, and you know the benefits of doing so. The next hurdle is knowing where to start.
Follow the steps below to plan, launch, and promote a TikTok giveaway from start to finish on your WordPress website.
Step 1. Set Goals for Your TikTok Contest
The first step is to think about why you want to run a TikTok giveaway. What are your ultimate TikTok marketing goals?
Do you want to:
Get more followers to grow your TikTok account?
Raise awareness of your TikTok profile and brand?
Collect user-generated content (UGC) with TikTok challenges?
Send traffic to your website to boost leads?
You should also think about the type of TikTok account you have. For example, if you want to add a link to your TikTok bio and drive traffic to your site, you'll need to switch to a business account.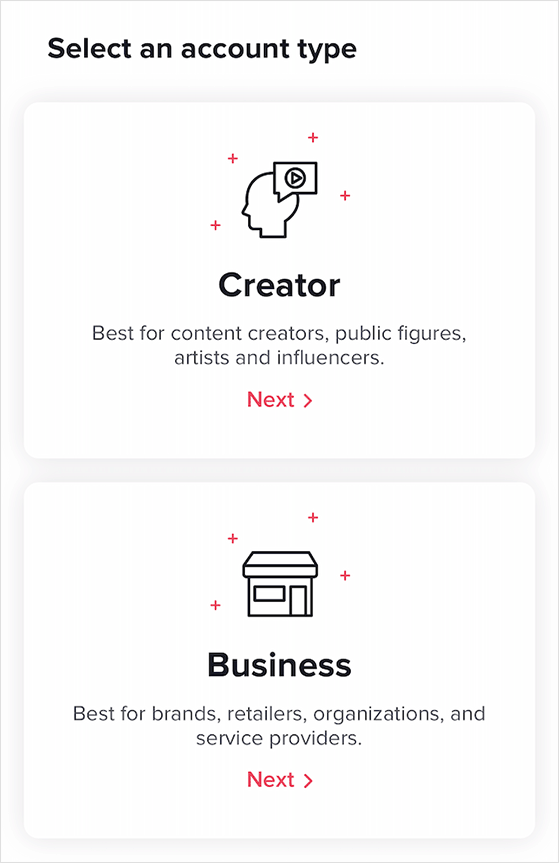 Note: You can only add a link to your TikTok profile once your business account reaches 5000 followers.
If you haven't made it to that milestone yet, it would be best to focus your strategy on using TikTok to increase engagement.
Defining a goal for your giveaway will make it easier to analyze your results when it's over. You can then learn from the experience and refine your strategy for your next giveaway campaign.
Step 2. Choose a Relevant Giveaway Prize
After setting a goal for your giveaway, it's time to choose a prize that will excite your target audience. Users won't enter your giveaway if the prize isn't desirable.
Moreover, people won't engage if the giveaway prize isn't relevant to your brand and audience's interests.
Some tried and tested prize ideas for brands with a healthy budget include:
Tickets to events and concerts
All expenses paid vacations
Large cash prizes
Consoles and tech equipment
Vehicles
If your budget is smaller, we have tons of giveaway prize ideas in this post.
Step 3. Define Your TikTok Giveaway Rules and Guidelines
Every giveaway contest needs a set of robust rules to ensure it runs smoothly, and TikTok contests are no different. Your rules will explain the ins and outs of your giveaway and should include the following key points:
Who can enter your contest, including age and location limits
How users can enter, such as visit a giveaway page, follow you on TikTok, etc.
That your giveaway is 'no purchase necessary.'
How you'll choose and notify the winner.
TikTok doesn't offer a lot of guidance about contest guidelines. However, if you look at TikTok's advertising guidelines, you'll see that there are several things you should do to stay compliant, which are similar to other social media platforms.
For example, you should:
Include official rules as mentioned in the points above
Not require users to use copyrighted material to produce their entry
Follow the laws and social guidelines of your state or country
Ensure you don't send participants to a non-functioning landing page
Many of these guidelines also depend on the type of contest you run. For more information, see this guide on Sweepstakes vs. Contests vs. Lotteries.
Step 4. Decide How Users Can Enter Your TikTok Contest
Now let's think about how people will enter your TikTok contest. Your entry methods should align with the goals you set out earlier to get the best results.
For example, if your primary goal is to drive traffic to your website, you can ask users to share your giveaway page for a chance to win. Alternatively, you can ask users to follow your TikTok profile if your goal is to get more TikTok followers.
You can also use unique hashtags to create fun and engaging challenges for your giveaway, like e.l.f cosmetics.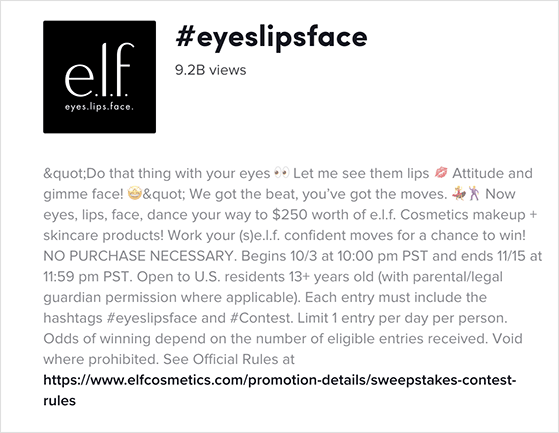 The cosmetics brand commissioned the "Eyes. Lips. Face." song for the challenge. They then asked participants to show their moves for a chance to win $250 worth of their skincare and cosmetics products.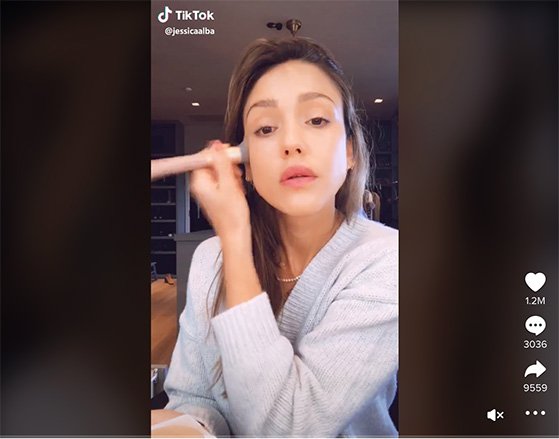 This campaign generated millions of entries, but it also attracted influencers like Jessica Alba. We'll share more giveaway entry ideas in the next step.
Step 5. Create Your TikTok Giveaway
By now, you know your goals, giveaway prizes, and official rules and have an idea of how users can participate in the contest. The next step is to build your giveaway and launch it on your website.
Running your giveaway from your website instead of directly on TikTok gives you more control over your campaign. You can also use a giveaway tool to simplify the setup process and management.
Because we're running a TikTok giveaway in WordPress, we recommend using RafflePress.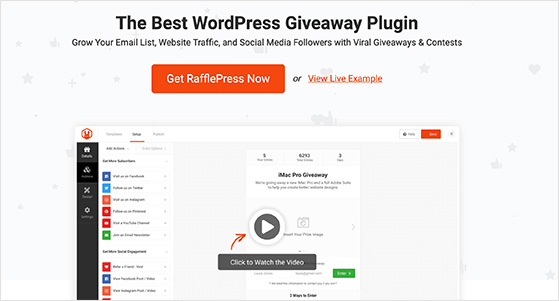 RafflePress is the best WordPress giveaway plugin. It lets you run any type of giveaway contest from your WordPress website and takes just minutes to set up.
You can get started with a pre-made giveaway template and build your giveaway app visually with its drag-and-drop builder. You can then choose from many different entry methods to raise brand awareness, boost your website traffic, and grow your social media followers.
The good news is you won't need any extra TikTok plugins for WordPress.
Follow the steps below to run your TikTok giveaway with RafflePress.
Install the RafflePress Giveaway Plugin
First, get a copy of the RafflePress giveaway plugin and install and activate it on your WordPress website.
Note: RafflePress offers a free version; however, you'll need a premium plan for the TikTok giveaway actions.
You can follow this guide on installing a WordPress plugin if you need help.
After installing the RafflePress plugin, go to RafflePress » Settings from your WordPress dashboard and enter your license key.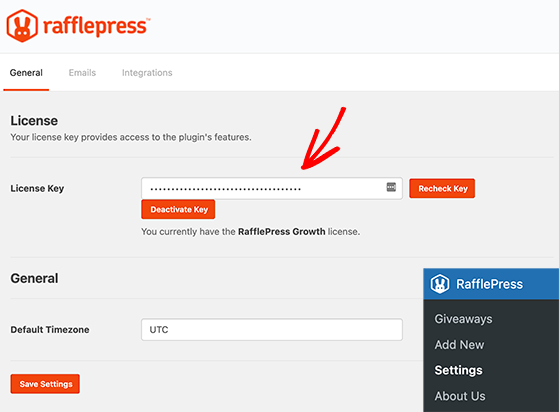 You can find your license key in your account area on the RafflePress website.
After verifying your key, click the Save Changes button and move on to the next step.
Choose a Giveaway Template
Next, go to RafflePress » Giveaways and click the Add New button to choose a giveaway template.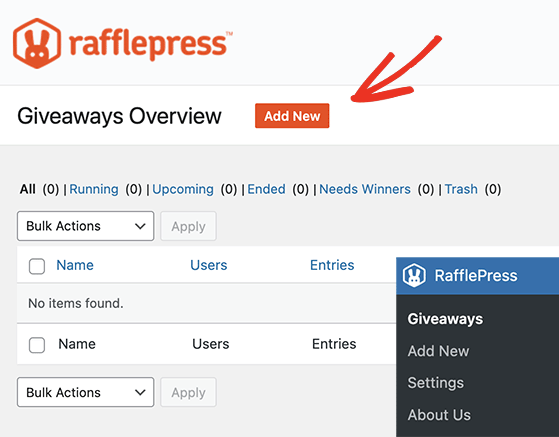 RafflePress comes with 8 pre-made giveaway templates that center on specific marketing goals, including:
Grow Your Email List
Pre-launch Campaign
Grow Your Facebook Page
Grow Your Instagram Following
Grow Your YouTube Channel
Grow Your Twitter Following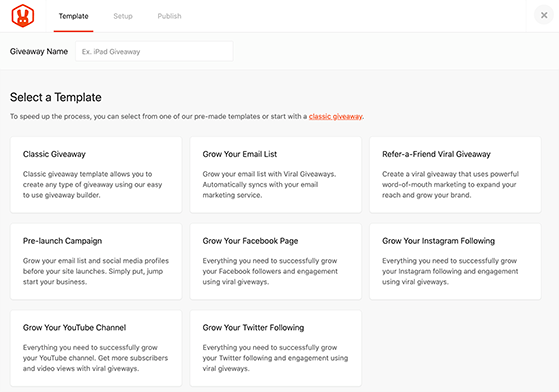 We'll go with the Classic Giveaway template for this tutorial, so enter a giveaway name, hover your mouse over the template, and click the Use This Template button.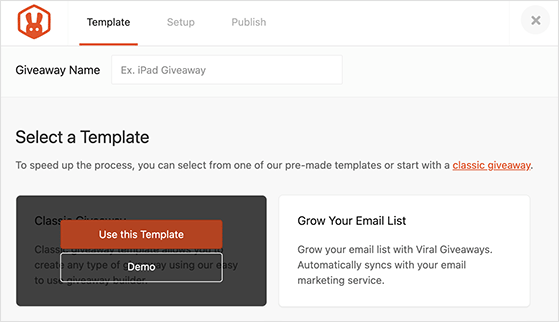 Enter Your Giveaway Prize Details
The giveaway template will now open in RafflePress's drag-and-drop giveaway builder. This is where you can enter your prize details and add more information about your TikTok contest.
Click the pencil icon to open the editing panel on the right-hand side. Then enter your prize name and description, and click the Select Image button to upload a prize photo.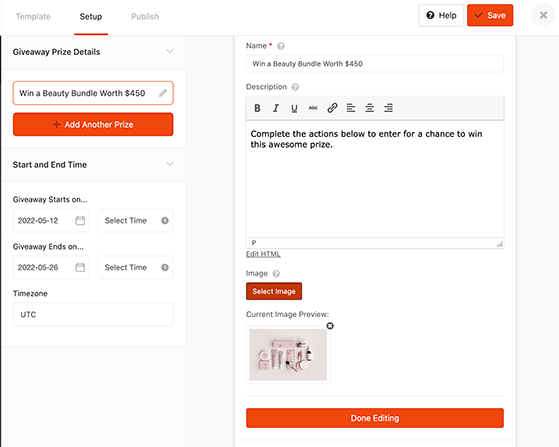 When you're happy with your prize details, click the Done Editing button.
You can also enter the start and end date and time in the left-hand panel and choose your preferred time zone.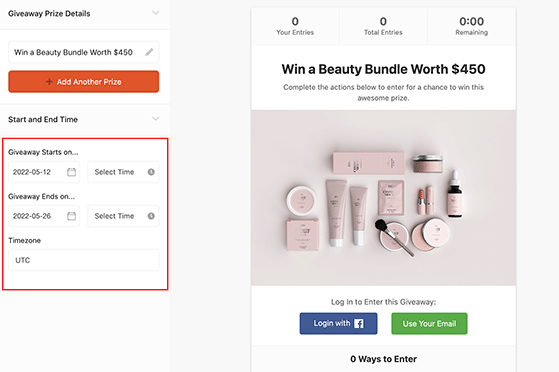 Add Giveaway Entry Actions
Now it's time to add ways to participate in the contest called Actions in RafflePress. Click the Actions tab on the left to see the different entry methods you can add to your giveaway widget.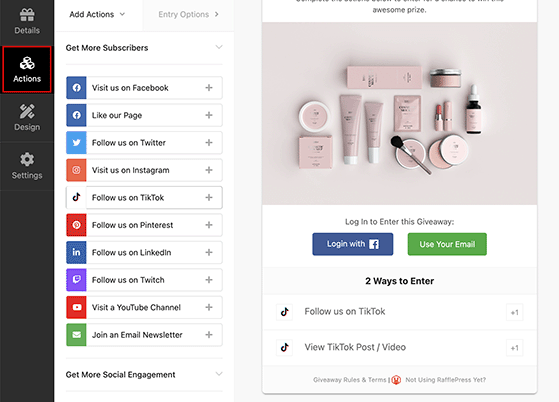 RafflePress separates its actions by goal to make it easier to find what you need:
Get More Subscribers
Get More Social Engagement
Get More traffic
Under each heading, you'll find actions that only take a single click to complete. For example, you can use the Follow us on TikTok action to grow your TikTok followers or the View a TikTok Post/Video action to increase engagement on your TikToks.
Click the plus icon on any action to add it to your giveaway widget. You can then click it from the widget to view its settings.
For example, inside the Follow us on TikTok action, you can choose:
Title: such as "Follow RafflePress on TikTok
Value: how many entries that action is worth
Make Mandatory: make following you a requirement for entering
Allow Daily Entries: let users complete this action every day
TikTok URL: the URL of the TikTok profile you want users to follow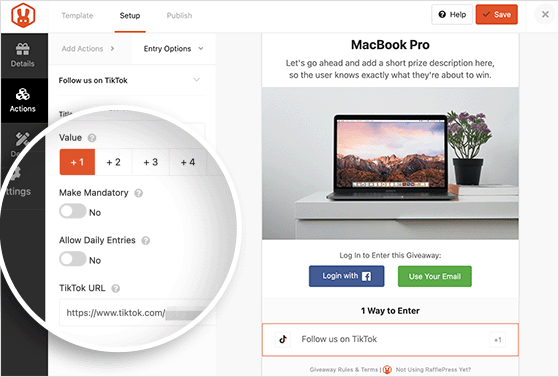 The View a TikTok Post/Video action is slightly different. Inside the action settings, you can do all of the above, but instead of pasting a URL, you need to paste the embed code of the relevant TikTok post or video.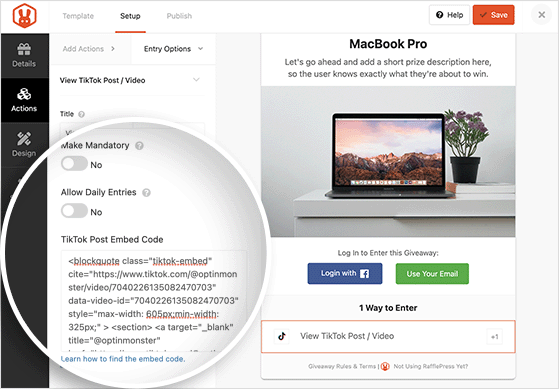 That will enable users to watch your post directly from your giveaway widget, which is an excellent way to keep them on your website longer.
You can use these TikTok giveaway actions with any other action to meet different giveaway goals, including:
Raise brand awareness: Watch a TikTok video and refer-a-friend
Get more blog subscribers: View a TikTok post and leave a blog comment
Promote a product: Watch a TikTok promo and visit a product page
Get more podcast subscribers: Watch a TikTok trailer and subscribe to a podcast
Promote your live stream: View a TikTok clip and follow you on Twitch
When you're happy with your giveaway actions, click the Save button in the top-right corner.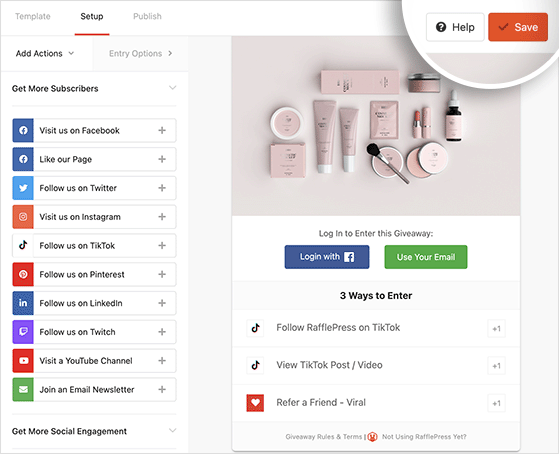 Customize the Giveaway Widget
RafflePress offers several ways to make your giveaway widget stand out. Click the Design tab to see the customization options.
First, you can choose from 2 layouts: Header, Text, Image, or Image, Header, Text. You can also choose different font styles and select a custom button color.
If you plan to use RafflePress's built-in giveaway landing page, you can upload a custom background image further down. You can also enter custom CSS if you have the technical know-how.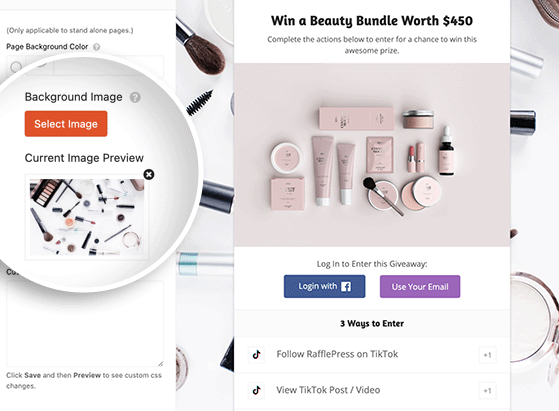 Remember to save your changes before moving on to the next step.
Configure Your Giveaway Settings
Now let's look at the different settings you can configure by clicking the Settings tab.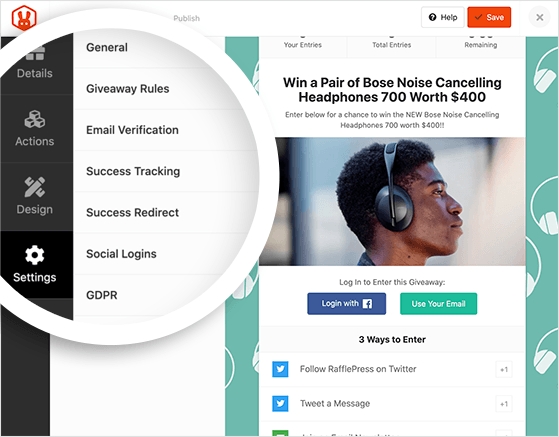 RafflePress offers the following giveaway settings:
General: change your giveaway name, permalink, show/hide winners, etc.
Giveaway Rules: enter your official rules and terms of service.
Email Verification: require entrants to confirm their email addresses.
Success Tracking: enter scripts such as your Google Analytics tracking.
Success Redirect: redirect contestants to another URL after entering.
Social Logins: this allows users to log in via Facebook.
GDPR: include a GDPR consent checkbox and message.
Recaptcha: enable invisible Recaptcha to reduce spam and fraudulent entries.
Webhooks: integrate your giveaway with 3rd party tools and software.
The Giveaway Rules section is handy for any giveaway. It includes a rules generator that automatically generates rules based on the information you enter.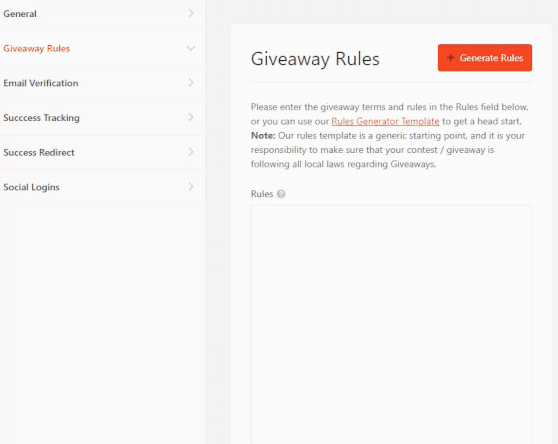 You can then display your rules inside your giveaway widget for users to see before entering.
Publish Your TikTok Giveaway in WordPress
Now you're ready to make your TikTok giveaway live on your WordPress website. Click the Publish tab at the top of your screen to see the different publish options.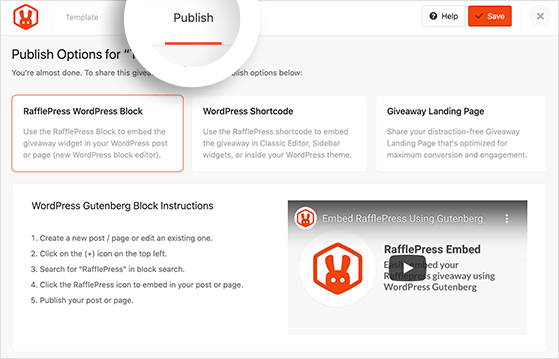 You can publish your giveaway in a post or page using the RafflePress WordPress block or use a shortcode to embed your giveaway inside your theme, sidebar, or the classic WordPress editor.
However, we recommend publishing your TikTok giveaway on a dedicated giveaway landing page to reduce distractions.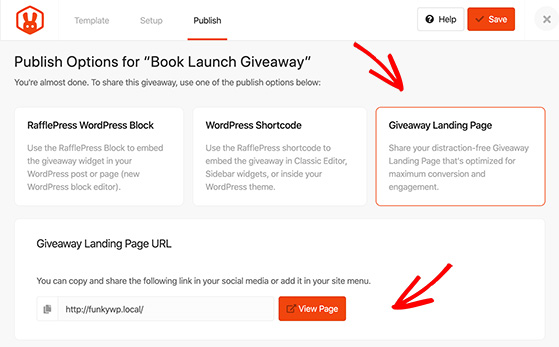 To do that, click the Giveaway Landing Page option. You can then click the View Page button to see a preview of your giveaway page.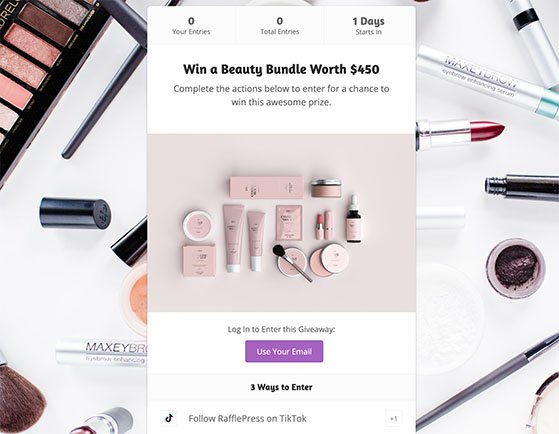 Congratulations, your giveaway is live! Now let's look at promoting your giveaway to boost traffic and entries.
Step 6. Promote Your TikTok Giveaway
There are many ways to promote your TikTok giveaway. One of the easiest ways is to share your giveaway on social media platforms like Facebook, Twitter, and TikTok.
For example, Essence Cosmetics shared and promoted a video on TikTok, asking users to tag a friend in the comments for a chance to win.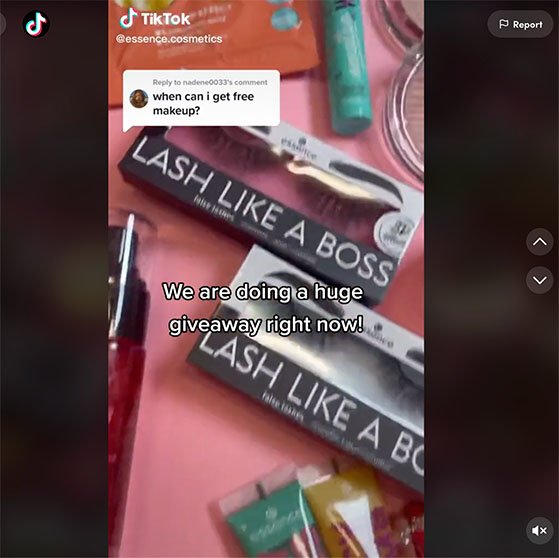 You can follow a similar approach by sharing your giveaway video on Twitter and including a link to your giveaway page.
You can also promote your contest by:
Sensing an email newsletter with a link to your giveaway page
Creating a popup with OptinMonster and displaying it on your website
Submitting your giveaway to contest and sweepstakes directories
Reaching out to relevant bloggers and influencers to mention your giveaway
We suggest starting to promote your TikTok giveaway weeks before it goes live to get tons of traffic and entries right away. Why not share a teaser video before, an announcement video when you launch, an update post during, and a last-minute reminder towards the end?
Check out this post for even more contest promotion ideas to help your TikTok giveaway go viral.
Step 7. Pick a Giveaway Winner
When your TikTok contest is over, you'll need to pick a winner and spread the good news. The easiest way is to select the winner randomly.
RafflePress makes choosing a winner super-easy. When your giveaway ends, go to RafflePress » Giveaways from your WordPress dashboard and click the Needs Winners link on the right.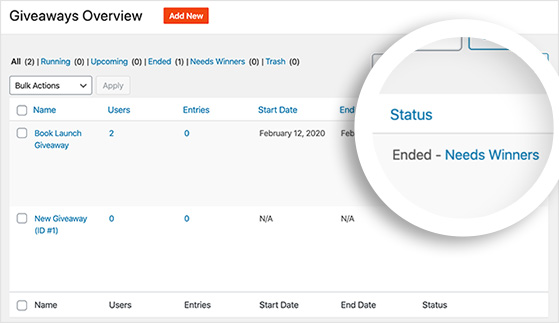 You'll see all the people that took part in your contest and how many entries each user has. To choose a winner randomly, click the Pick Winner button, select your options, and click the Choose Winners Now button.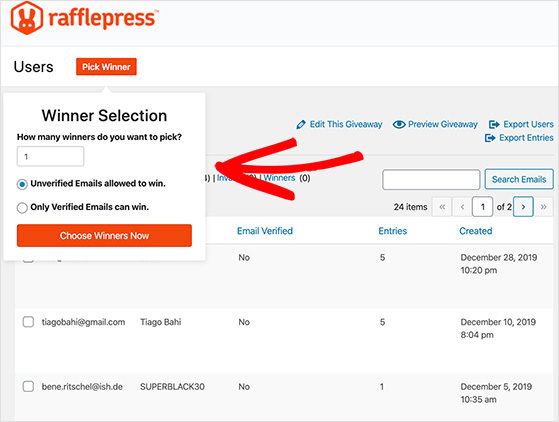 You will see the winner at the top of your list with a trophy icon. You can then click a link to email them and tell them the good news.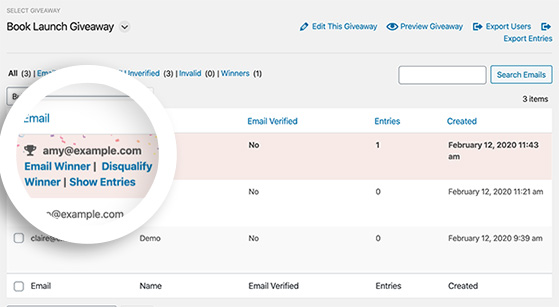 Step 8. Follow Up With Entrants
After choosing your TikTok contest winner, you should follow up with your contestants, even if they didn't win. Following up with your new leads will help you develop better connections and give you another chance to mention your contest.
For example, you can send an email broadcast to participants thanking them for taking part and inviting them to join in again next time. You can also announce the giveaway winner on social media and share a discount code to celebrate your contest's success.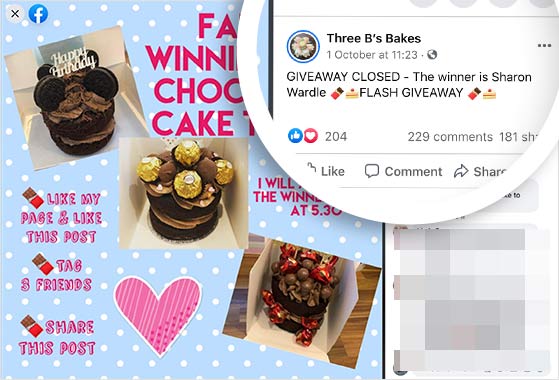 This approach will keep your brand top-of-mind, offer users more ways to engage with you, and eventually turn them into loyal fans.
Step 9. Measure Your Results
The final step in your TikTok giveaway is to look at your results. By analyzing your results, you can learn what worked and turn your next giveaway into an even greater success.
RafflePress includes Entry Reports (Growth plan+) that make it easy to see what worked best for your contest.
You can find it by going to RafflePress » Giveaways and clicking Users under your TikTok contest. Then at the top of the screen, click the Entries Report link.
You'll see a chart breaking down your giveaway actions by total entries. You can use this information to see which actions produced the most entries, helping you identify the best actions for future giveaways.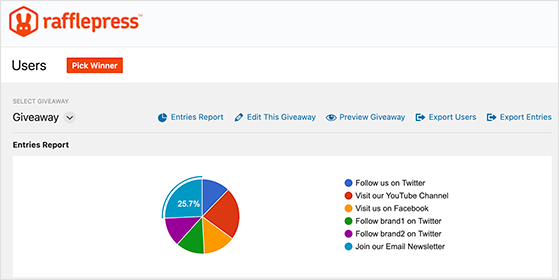 Another easy way to get the insights you need is with MonsterInsights, the best Google Analytics plugin for WordPress.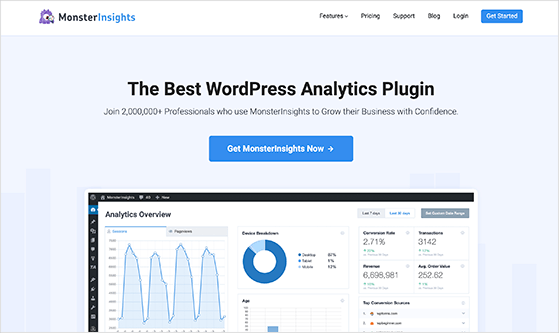 MonsterInsights makes tracking your giveaway landing page visits, traffic to your website, and referral traffic easy. It will also generate reports that you can view from your WordPress dashboard.
Moreover, MonsterInsight's real-time stats allow you to monitor your website traffic during your giveaway and make adjustments on the fly.
See our MonsterInsights review for more details.
Creating a TikTok Contest is Easy with RafflePress
You now know how to do a TikTok giveaway from start to finish. Creating a TikTok giveaway with RafflePress is so easy even beginners can get started right away.
Ready to grow your TikTok followers, engagement, and website traffic with a viral TikTok contest?
Get Started with RafflePress today.
You might also like these best WordPress plugins to grow your business.
If you liked this article, please subscribe to our YouTube Channel for RafflePress video tutorials. You can also find us on Twitter and Facebook.