Do you want to run a caption contest for your business? "Write the caption" contests are a fun and engaging way to build relationships with your audience. Plus, with the right tools, they can grow your email list, boost your social media followers, and attract paying customers.
This article shares several fantastic caption competition examples and how to run one to grow your business.
What is a Caption Contest?
A caption competition is where brands share an image and ask their audience to come up with a description for it. Usually, a winner is drawn by choosing the best caption and is rewarded with a prize.
Sometimes brands complement their contest by inviting users to carry out bonus actions for more entries into the prize draw. Bonus entries often include:
Subscribing to an email newsletter
Following specific social media profiles
Sharing the contest online
Tagging friends in the comments
These giveaways are popular because they're fun, light-hearted, and easy to enter. And depending on the type of caption image you use, they can have some hilarious results, providing you with fantastic promotional material.
What are the Benefits of Running a Caption Contest?
Caption contests can benefit your business in many ways, including:
Raise brand awareness with your target audience
Promote new products and services
Reward fans and increase brand loyalty
Increase email subscribers
Drive traffic to your website
Grow your social media followers
Boost leads and sales
10 Fantastic Caption Contest Examples
To help you understand how brands use these types of contests to increase brand awareness, and engage their audience, check out these examples. They're perfect for inspiring your next giveaway.
1. New Yorker Cartoon Caption Contest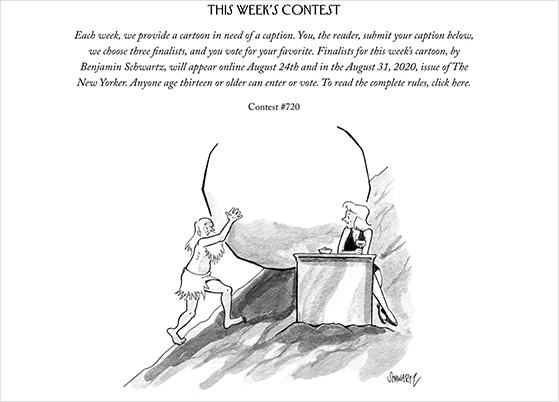 One of the most popular photo caption examples around is from the New Yorker. Their weekly contest invites readers to submit a caption for that weeks' cartoon.
The newspaper then picks 3 finalists from all submissions and lets their audience vote for their favorite. The winner gets to see their caption published in the following weeks' issue.
This is an excellent example of how you can engage your existing audience while simultaneously expanding your reach.
That's because to submit their caption, users must log in to the website (existing audience). Then if they're picked as a finalist, they'll likely share their submissions with their online networks to secure more votes, expanding the brand to a broader audience.
You can easily run this type of contest with RafflePress, the best giveaway plugin for WordPress.
All you need to do is add the caption image to the prize details area and write instructions for entering.
For users to submit their caption, you can use the "Answer a Question" entry action. We'll show you exactly how to do this later in this article.
2. Summer Photo Caption Competition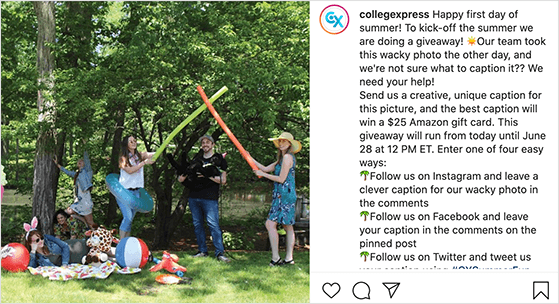 Our next example uses summer as the giveaway theme to boost engagement and followers on their social media channels.
For a chance to win a $25 Amazon gift card, users had to follow them on either Instagram, Facebook, or Twitter and comment with their caption, using the company's branded hashtag. They could also email their submission with the branded hashtag as the email subject line.
Related: What Happened to Amazon Giveaways? (+ How to Still Run Them)
An easier way to run this type of contest would be to use RafflePress's giveaway builder. By adding separate giveaway actions for each social media profile, users wouldn't need to leave the brand website.
Plus, with the contest entries all in 1 place, they wouldn't have to hunt through each network to collect and verify them. Instead, all entries are visible on the giveaway dashboard, making it much easier to draw a winner.
3. Facebook Caption Contest Example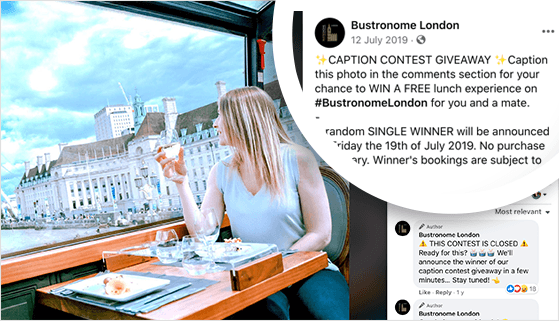 Similar to the previous example, this caption competition is aimed at the brand's Facebook audience. For a chance to win a dining experience, participants had to leave a comment with their caption.
This is an excellent way to engage with your existing audience on Facebook, but you could get even better results with a few small changes.
For instance, you could use the RafflePress Facebook giveaway template to build your contest. This would automatically add all the actions you need to grow your Facebook page, including "Visit us on Facebook" and "View Facebook Post/Video."
You can use the "Leave a Comment" action to collect captions, and supplement it with the Facebook actions to earn extra entries. Plus, for the potential to make your contest go viral, you can use the "Viral Refer-a-Friend" action to encourage users to share your contest with their friends online.
4. Funny Caption Competition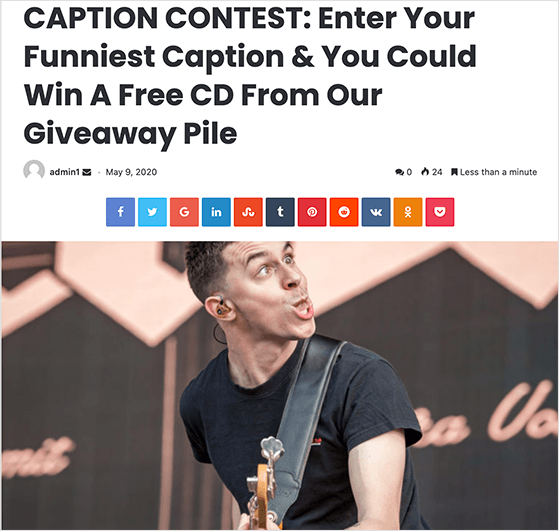 The next example uses humor to create a fun experience for participants while increasing blog engagement. For a chance to win a free CD, users have to leave their caption in the blogs' comments.
Encouraging more comments on your blog is a great way to demonstrate to potential subscribers that your audience is active and engaged. Yet, considering giveaways can attract hundreds and thousands of entries, sifting through all those comments can get overwhelming.
Instead, use RafflePress to create your contest and use the "Leave a Comment" action to collect giveaway entries. With this action, you can ask users to leave a blog comment and paste the comment's URL to verify their entry.
When the contest ends, it's as simple as using the built-in random winner generator to choose a winner.
5. Local Business Caption Contest Example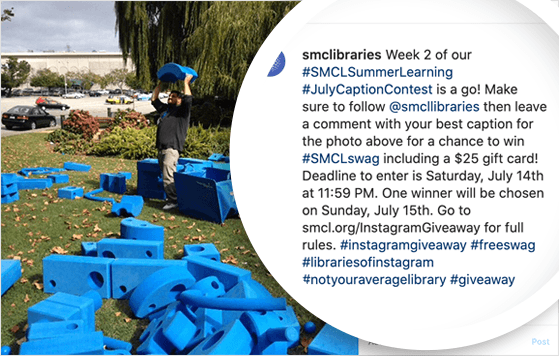 Caption competitions are also an excellent way for businesses to engage with their local community. This is what the San Mateo County Library did with their Instagram caption competition.
Using their branded hashtag, they used their contest to promote their local community's summer learning challenge. The winner could receive a $25 Amazon gift card and a bundle of their merchandise.
To boost the entries and engagement on this contest, they could have used the Refer a Friend action in RafflePress. This would let users share the contest on Facebook, Pinterest, Twitter, and email, helping them reach a much wider audience.
6. Movie Promotion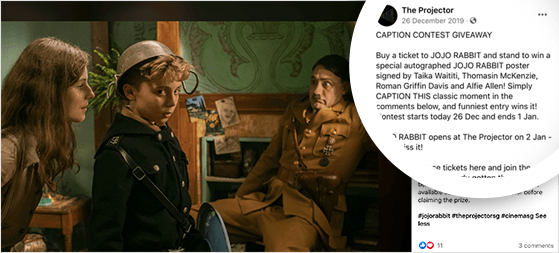 The next example requires users to buy a movie ticket and leave a caption comment to win an autographed poster. However, to claim the prize, the winner would have to display their ticket as proof.
An easier way to manage this contest would be to use the RafflePress "Invent Your Own" action. This lets you create your own entry method.
In this instance, you could ask users to add their ticket purchase number as proof of purchase and use the "Answer a Question" action to collect their captions.
7. Valentine's Day Caption Photos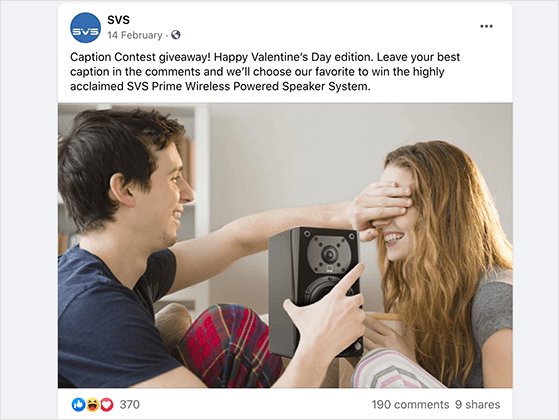 Holidays like Christmas and Valentine's Day are the ideal times to promote your business because you don't need to develop a creative theme.
In this example, a wireless speaker retailer used Valentine's Day to promote their product. The winner of the contest has a chance to receive the product for free.
As with many of the previous examples, this giveaway would be much easier to manage by using the RafflePress contest builder. Instead of simply sending traffic to their Facebook page, they could attract tons of traffic to their website, presenting more opportunities to convert those visitors into customers.
8. Twitter Caption Contest Example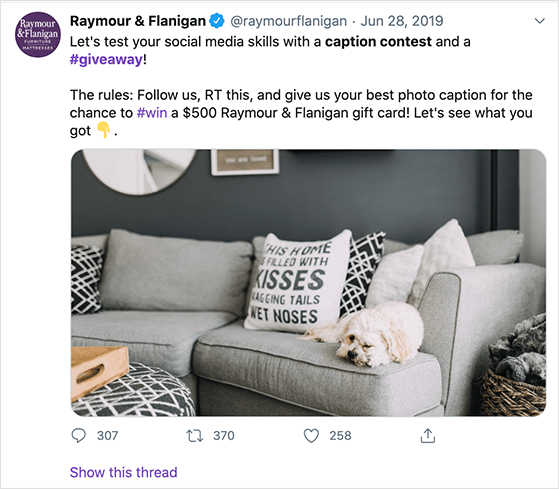 The next contest is an example of a smart brand awareness campaign. Furniture retailer Raymour & Flanigan ran their contest on Twitter, giving users the chance to win a $500 gift card.
Since the prize's value is so large, it's a great way to attract lots of entries. And because the gift card prize is for their store, it's highly relevant. The use of popular giveaway hashtags also ensured plenty of engagement, resulting in a successful Twitter contest.

You can learn how to do a Twitter giveaway in this step-by-step guide.
9. Follower Milestone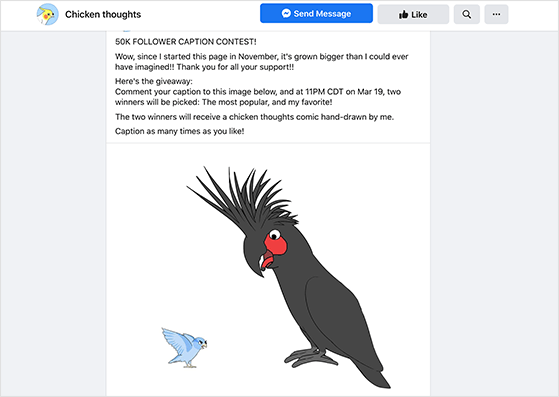 Even small brands can use caption competitions to drive more engagement and potential customers. Comic illustrator Chicken Thoughts used their 50k follower milestone to run a contest to win 1 of 2 hand-drawn comics.
To enter, participants had to leave a comment on their Facebook post, with the favorite 2 captions winning the grand prize.
This type of contest is an excellent way to thank your audience for their support and foster those good feelings. A community that feels valued is likelier to engage and promote your brand with its own circle of influence.
10. Cash Prize Caption Contest Example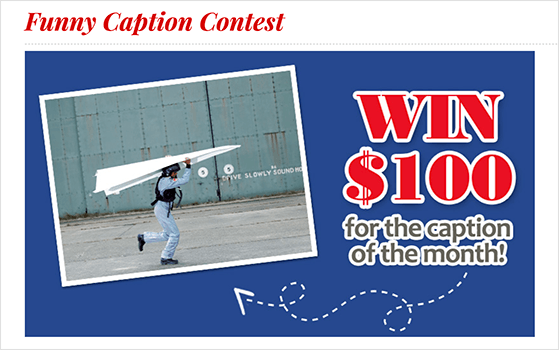 Our final example offers the chance to win a $100 cash prize. Money is a great prize incentive because it's relevant to everyone regardless of their tastes and interest. To enter this contest, users had to fill in a form with their caption and details.
This entry method can get complicated depending on which tools you use to collect submissions.
The easiest way to replicate this giveaway is to use a combination of the RafflePress giveaway builder, and WPForms, the best contact form builder for WordPress.
You can use the RafflePress "Visit a Page" entry action to direct users to a page with a form built using WPForms. Once users fill in the form, the entry is verified, and their details stored in the WPForms entry management dashboard.
It also allows you to add extra actions to your giveaway widget for users to secure bonus entries and drive more awareness of your contest.
How to Run a Successful Caption Competition
Now that you know the potential this type of contest has for growing your business let's look at running a successful caption competition.
1. Determine Your Contest Goals
Before creating your contest, you'll need to set a primary goal. This will help you learn if your giveaway was a success and measure your results.
The best way to set your contest goal is to ask yourself what you want to achieve by running a giveaway.
For instance, you might want to run a contest to:
Boost your brand awareness
Generate more sales
Get more email newsletter subscribers
Increase your social media followers
Promote a new product or service
Increase user engagement
Pick a goal for your contest that aligns with the marketing objectives for your business. This will make choosing a prize a lot easier and help you get the results you want.
2. Choose a Great Caption Image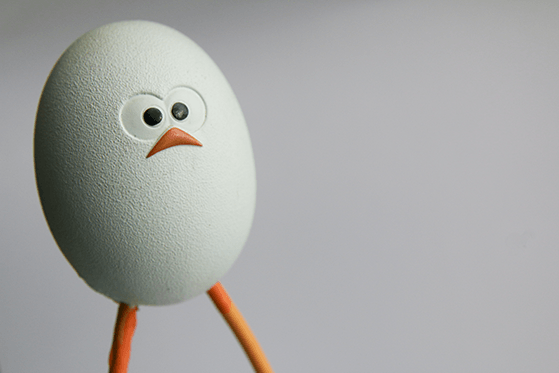 An engaging caption competition needs a fantastic image to help it stand out in the news feed, and encourage people to participate.
The most popular caption competitions use funny images as they have an emotional effect on people. Yet you can use almost any type of image such as:
Shots of your products in various scenarios
Behind the scenes photos
Photos from brand events
Illustrations/cartoons of your company
Pictures of customers with your product or using your service
Your brand's company mascot
The resident office pet
Funny team photos
The more character your photo has, the more creative users can be with their captions.
3. Pick a Desirable Prize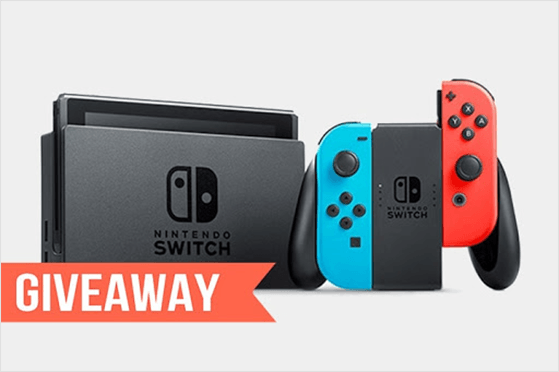 If your contest doesn't have a great prize, people won't be interested enough to enter. So choose a high-quality prize relevant to your brand if you want to get a ton of traffic, subscribers, and engagement.
Popular contest prizes generally include:
Gift cards or vouchers
Free products or services from your brand
Large cash prizes
Brand merchandise
You can take a look at our contest prize ideas article for even more inspiration.
The important thing is to ensure your prize is relevant to your audience's interests and your brand. Otherwise, they'll have no reason to engage with your brand once the contest is over.
Whereas if you choose a prize you know your audience loves, it'll help you generate more entries from your ideal customers.
4. Create Clear Contest Rules
The next stage of your contest creation is to set out the rules for entering. You'll need to create a clear set of rules that explains what you expect from participants and what they'll get in return.
You should generally include the following details in your giveaway rules:
The minimum age of participants
Which geographic location your contest is open to
The giveaway prize details
How users can enter your contest
The start and end times of your giveaway
Your method for drawing the winner
How you'll contact the winner
It's important to ensure your methods for entering the giveaway match your goals. For example, if you want to grow your email list, you'll need to add joining your newsletter as an entry requirement and leaving a caption.
Once you've planned your contest, it's time to start building it.
5. Build Your Contest with RafflePress
The easiest way to build your contest is with RafflePress, the best giveaway plugin for WordPress.
It includes everything you need to run a successful online contest such as ready-made giveaway templates and 1-click entry actions that only take a few clicks to launch. Plus, RafflePress lets you view and manage your entries all from your WordPress dashboard.
Let's explore the steps for creating your contest with RafflePress.
Step 1: Create a New Giveaway
First, click here to get started with RafflePress and download the plugin. If you need some help, here's a guide for installing a WordPress plugin.
After installing and activating RafflePress, hover over the RafflePress icon in your WordPress admin area and click Add New to create a new giveaway.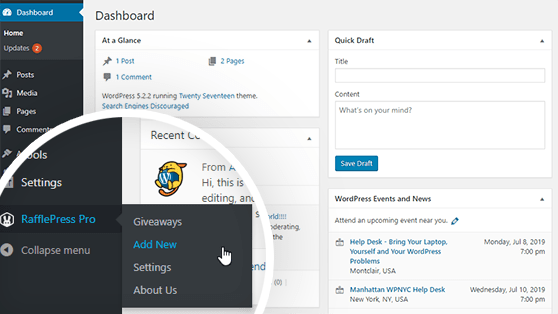 Step 2: Choose a Contest Template
On the next screen, you can choose a name and template for your contest. RafflePress has various templates to help you grow your Facebook page, Twitter Profile, YouTube channel, etc.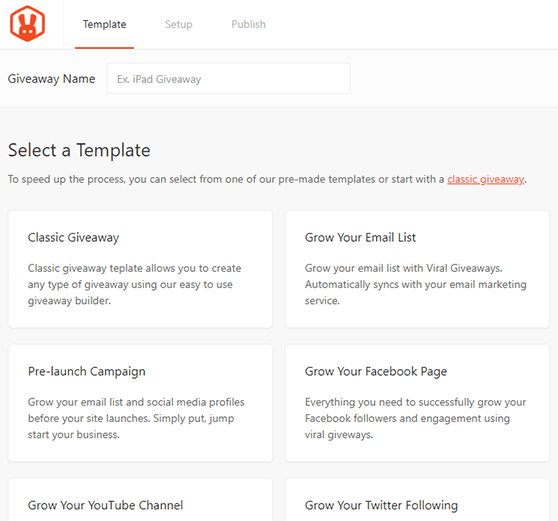 For this guide, we'll choose the Classic giveaway template, which lets you build any contest type. So go ahead and hover your mouse over the Classic template and click Use This Template.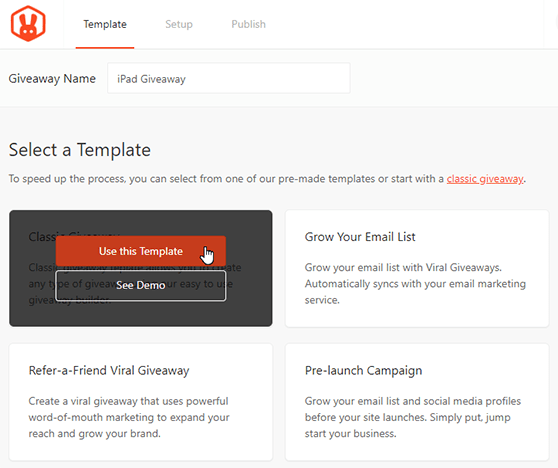 Step 3: Enter Your Prize Details and Photo
On the next screen, you can enter your giveaway prize details and upload a photo illustrating your giveaway.
First, click the Pencil icon under the Prize Giveaway Details heading.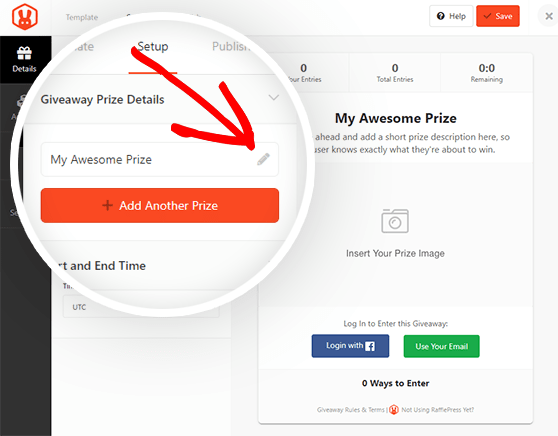 In this area, you can give your contest a title and enter a description. This is an excellent opportunity to explain how to enter your contest and describe what users can win.
Next, click the Select Image button below the description box to enter a photo for participants to caption. Doing so prompts you to either choose a photo from your media library or upload one from your computer.
Once you're happy with your caption and prize details, click the Done Editing button.
If you have more than one prize, click the +Add Another Prize button to enter the extra details.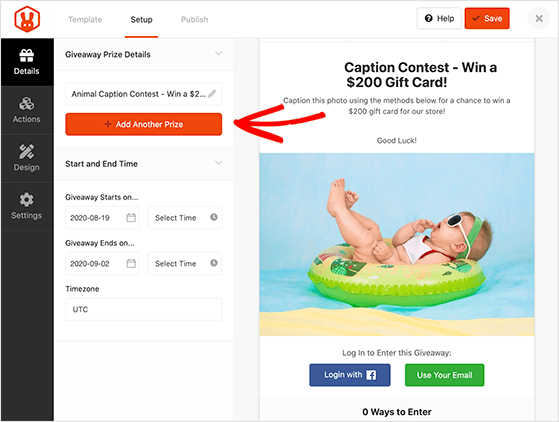 You can also set an end date for your contest in the Start and End Time section and enter your preferred time zone.
To preserve your settings, click the Save button periodically.
Step 4: Choose Your Contest Entry Methods
The next step is to add entry actions to your giveaway widget. This determines how users can enter your giveaway.
First, click the Actions tab to view all the available entry actions. Then add an action for users to submit their caption.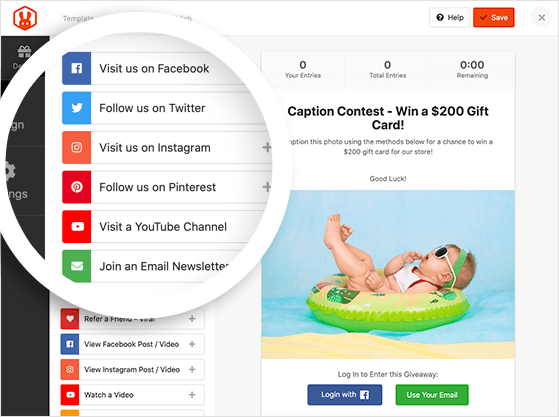 You can do this with either the "Invent Your Own" action or the "Answer a Question" action.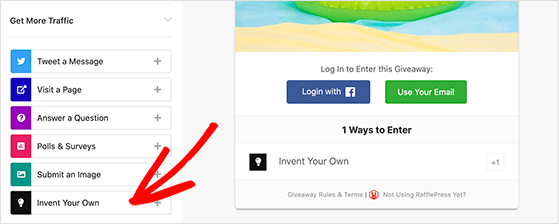 With the "Invent Your Own" action you can ask users to leave a comment on your desired platform and get them to leave a link to their comment to verify the entry. This is a useful way to encourage more comments on blog posts.

Alternatively, the "Answer a Question" action lets you ask something like, "What is your caption for this photo?" and requires users to leave their caption in the box provided.
Once you've chosen an action, you can click it in the giveaway widget to edit the details including:
The entry label
How many entries the action is worth
If the action is mandatory
Enable daily entries
Here's an example of how we customized the Answer a Question action: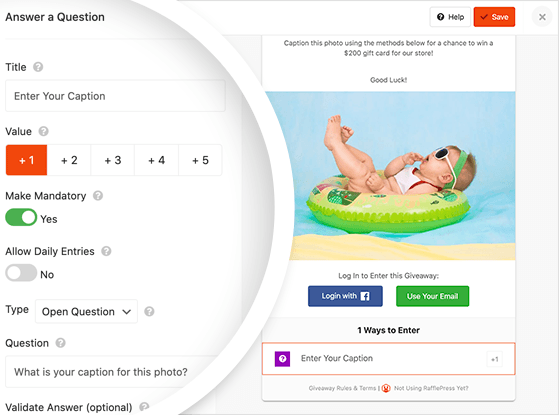 You can support your main entry action by adding bonus actions so users can earn more entries.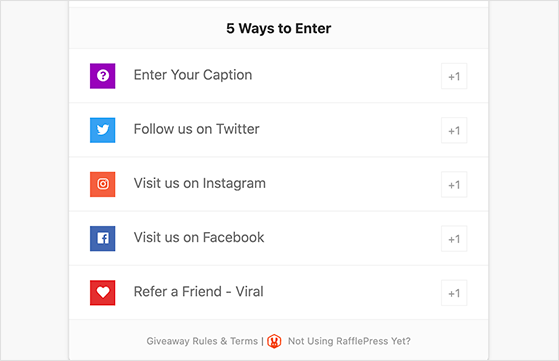 Remember to click Save when you're happy with your changes.
Step 5: Design Your Contest
For the next step, click the Design tab to customize how your contest looks.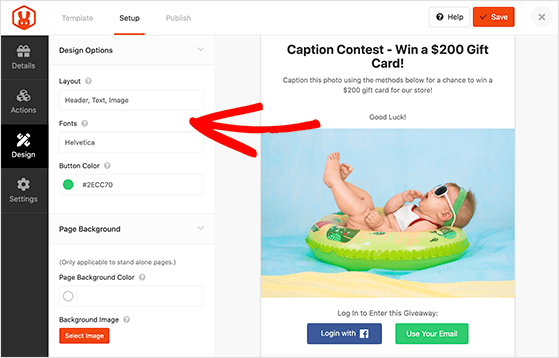 Here, you can choose 2 different layouts (image then header, header then image), and several fonts and button colors.
If you want to create a standalone web page for your giveaway, you can pick a page background color or upload a background image.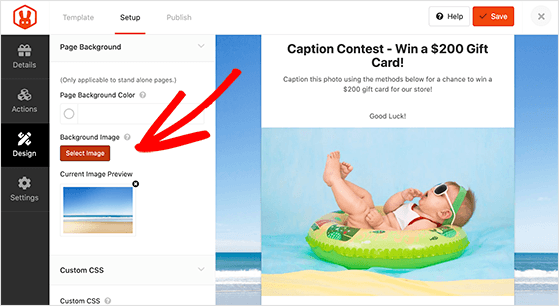 When your contest is designed how you want, click the Save button.
Step 6: Configure Your Settings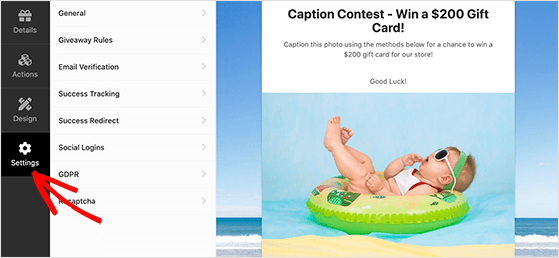 Next, click the Settings tab. This area has 8 different sections, including:
General – Edit the contest name, landing page permalink, etc.
Giveaway Rules – Generate a simple set of contest rules
Email Verification – Require users to verify their email to enter your contest
Success Tracking – Track your giveaway using Google Analytics
Success Redirect – Send users to a specific page after entering your giveaway
Social Logins – Let users log in to your contest using Facebook
GDPR – Include a consent checkbox for users to agree to before entering
Recaptcha – Prevent spam entries and fraudulent sign-ups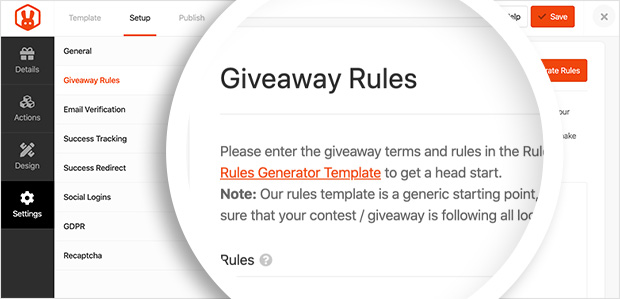 The Giveaway Rules section is one of the most important settings to configure. Clicking that option provides you with an area to enter your rules, terms, and conditions. You can also use the handy Giveaway Rules Generator to create a simple set of guidelines.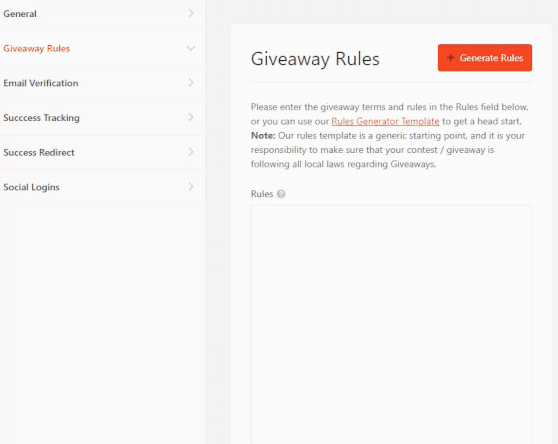 The generator lets you enter information like your sponsor details, email, eligibility, and more. Then it's merely a case of clicking Generate Rules to add your contest rules to the widget.
You can check out our documentation for details on all the RafflePress settings.
Remember to click Save when you've finished configuring your settings.
Step 7: Publish Your Giveaway in WordPress
The final step is to publish your contest in WordPress. To do this, just click the Publish button at the top of the screen to see 3 different publishing options:
RafflePress WordPress Block – Embed the giveaway widget in your WordPress post or page using the new WordPress block editor.
WordPress Shortcode – Embed the giveaway in the classic WordPress editor, sidebar widgets, or your WordPress theme.
Giveaway Landing Page – Create a distraction-free landing page on your website.
The easiest way to get more entries for your contest is to create a dedicated giveaway landing page. That means there is nothing to distract your visitors, making it more likely they'll sign up for your contest.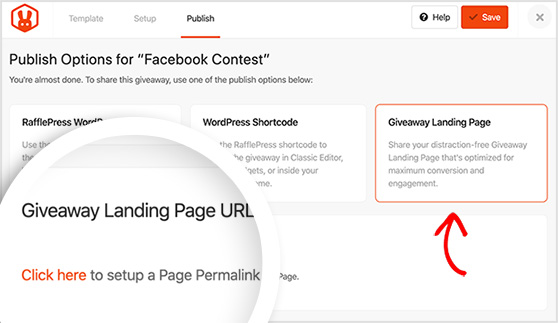 Go ahead and choose the Giveaway Landing Page option. This reveals a message below asking you to "click here" to set up your contest page's permalink.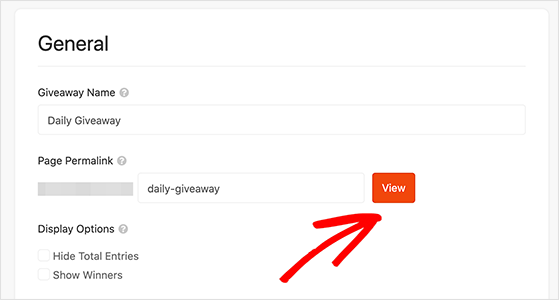 Upon clicking the link, you're taken to the General settings page. Scroll down to the Landing Page Permalink heading and enter a short permalink for your giveaway. This is then added to the end of your main website URL.
After, clicking the View button gives you a preview of your contest live on your website.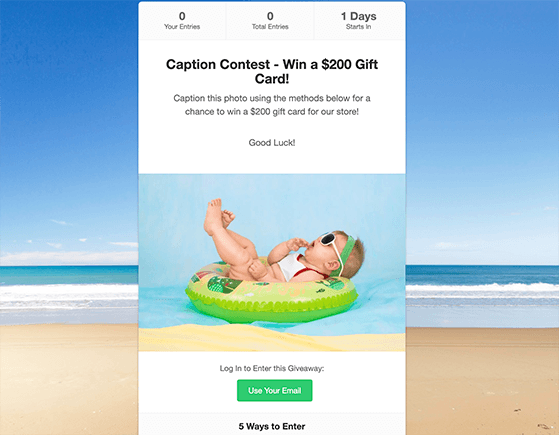 6. Promote Your Contest
Once your contest is live, you'll need to promote it with your audience to secure as many entries as possible.
One of the easiest ways to promote your contest is to share it with your social media followers on Instagram, Facebook, Twitter, etc. It's also a good idea to include a few giveaway hashtags to increase your post's reach.
You can also promote your contest by:
For more useful tips, check out these proven giveaway promotion ideas.
7. Choose a Contest Winner
Once your contest comes to an end, you'll need to choose a winner. The most popular way to select a winner for a caption competition is to pick your favorite entry. Alternatively, you can ask your followers to vote for their favorite caption.
If you prefer to make the contest 100% fair, you can randomly draw a winner with RafflePress's random giveaway winner picker.
Simply head to RafflePress » Giveaways from your WordPress dashboard and click the Needs Winners link on the right.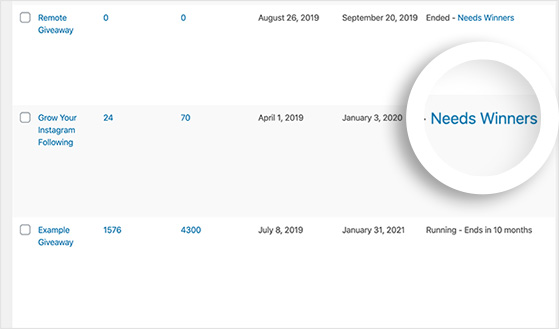 From there, you can see everyone who entered and how many entries they have. To choose a winner at random, click the Pick Winner button, select your options, and click Choose Winners Now.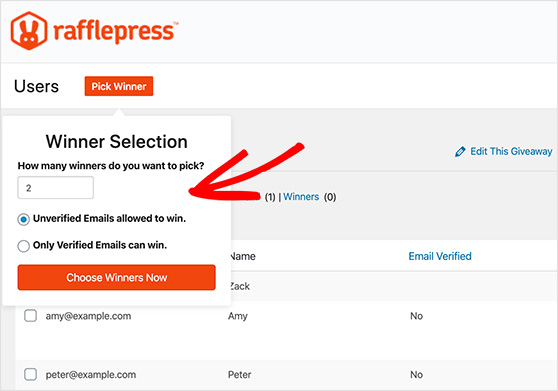 You'll see the winner highlighted instantly at the top of all entries. Then it's merely a case of clicking to email them the news.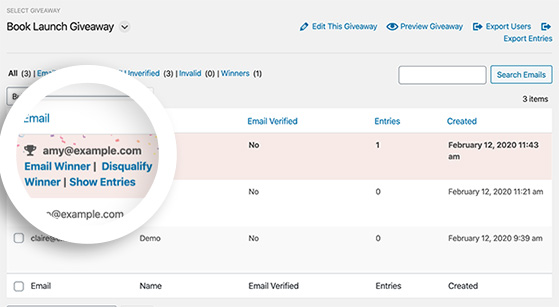 8. Follow up with Participants
After contacting the winner, it's a good idea to follow up with everyone who entered. This allows you to develop your relationship with them and thank them for taking part.
Following up can be as simple as announcing the winner on social media, or sending an email newsletter thanking everyone for entering. If you're in a giving mood, you can offer participants a discount code as a thank you.
9. Analyze Your Caption Contest Results
The final stage is to look at your statistics. Understanding how well your contest performed gives you a better idea of if you met your business goals.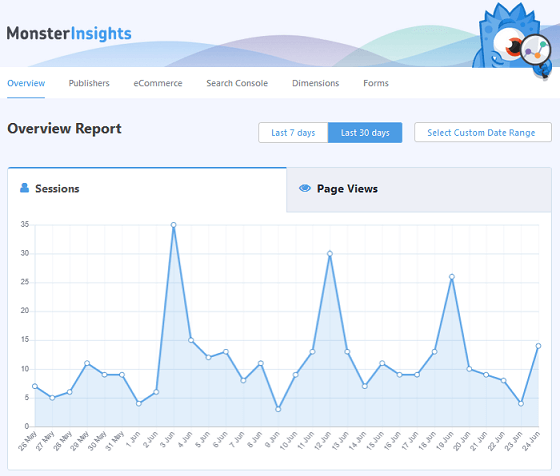 The easiest way to measure your giveaway success is with MonsterInsights, the best Google Analytics plugin for WordPress. It makes it easy to track visits to your giveaway page, other web pages, website traffic, giveaway referrals, and much more. What's more, you can view all that data in easy to understand reports right in your WordPress dashboard.
By analyzing your contest data with MonsterInsights, you can see which promotion strategies drove the most traffic to your giveaway. Then you can use that information to improve the success of your next giveaway.
FAQ
How do you run a caption contest on Facebook?
You can easily run this type of contest on Facebook by following the steps above. Just swap out the giveaway actions for Facebook-related tasks like, visiting your Facebook page, or liking and sharing your post. You can then paste the link to your contest in a new Facebook post.
And there you have it!
We hope this article gave you plenty of caption contest examples to use for your next giveaway.
And if you use our step-by-step guide for creating your contest with RafflePress, you can improve your subscribers, social engagement, and brand awareness to successfully grow your business.
Get Started with RafflePress Today
Don't forget to follow us on YouTube, Twitter, and Facebook for more great giveaway tips.