Do you want to run a free NFT giveaway on your WordPress website?
NFT giveaways are a popular way to engage your audience, increase your reach, and add value to your brand online. Whether you're a content creator or a small business, in this guide, we'll show you how to run a free NFT giveaway from WordPress quickly and easily.
What Are NFTs?
Non-Fungible Tokens, or NFTs, are digital collectibles you can own on a blockchain. Unlike cryptocurrencies such as Bitcoin or Ethereum blockchain, which you can exchange on a like-for-like basis, NFTs have unique attributes and are usually linked to a specific asset.
For example, NFTs can be digital files, such as art, music, games, and other creative work like wearable digital assets for your metaverse avatar.
Why Run a Free NFT Giveaway?
Running a free NFT giveaway can be a powerful marketing strategy. It can attract a new audience, engage your existing community, and create buzz around your brand or platform.
It's also a great way to introduce people to NFT collections and blockchain technology.
For example, your audience may need to become more familiar with the NFT marketplace if you're launching your first NFT project. A unique NFT giveaway can ease them into the space with plenty of information so it is manageable.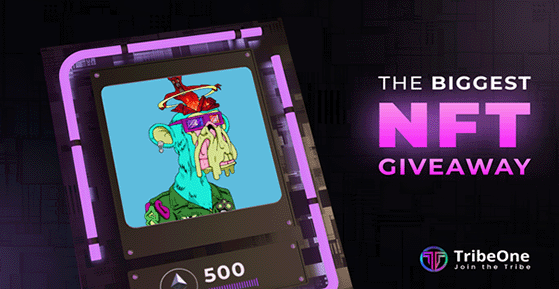 So how exactly do you run the best NFT giveaways for your business? We'll show you how next.
Preparing for Your Free NFT Giveaway
Before you set up your giveaway, you'll need to lay some groundwork. This will help you run a giveaway that aligns with your business goals and objectives.
Define Your Target Audience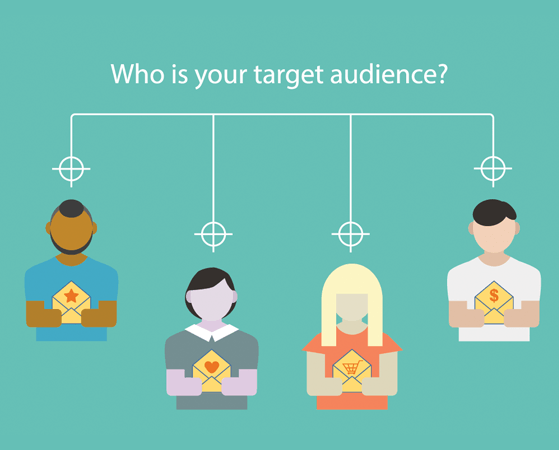 First, ask yourself who you're trying to reach with your giveaway. Are you targeting art collectors, music fans, gamers, or crypto enthusiasts?
Defining your target audience makes it much easier to tailor your giveaway to their interests and needs, ensuring your campaign is successful.
Here are some tips for narrowing down your ideal audience:
Look at your current customers. What are their demographics (age, gender, location, income level, etc.)? What are their interests and behaviors? This can give you a good starting point.
What problem does your product or service solve? Who would benefit most from it? These answers can help you identify who might be most interested in your NFTs.
Use surveys and other research methods to gather data about your audience. With this, you can better understand their needs, preferences, and behaviors.
Based on your research, create profiles of your ideal customers with their demographics, interests, behaviors, and needs. A well-rounded persona can help guide your marketing efforts and ensure you target the right people.
For more help with this, check out this guide on how to create a buyer persona.
Choose the Right NFT to Give Away
Once you know more about what your audience likes, you're ready to brainstorm ideas on the type of NFT to give away as your prize. The key is to choose a prize your audience values and finds interesting; otherwise, they won't make an effort to enter.
If your audience understands NFTs, you can look at NFT airdrops on marketplaces like OpenSea and Binance for an idea of what's trending. Some popular examples include music files, virtual real estate, and VIP passes for the metaverse.
However, if your users are unfamiliar with NFTs, you can keep things simpler. For instance, you can give away digital art like the following collection of profile pictures from the Bored Ape Yacht Club (BAYC).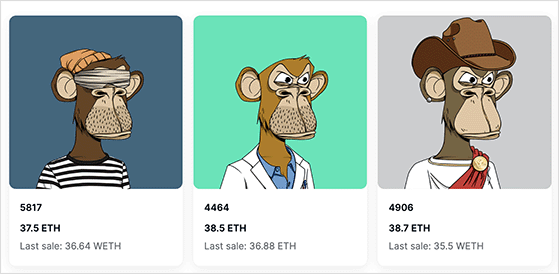 That way, the introduction to your own NFTs is less overwhelming. Just remember to keep your prize relevant to your business and target audience.
Set Your Free NFT Giveaway Goals
The next step is to come up with some goals for your giveaway.
What do you hope to achieve by running one? Do you want to attract new followers, engage your existing audience, promote a new product, or increase awareness about your own NFTs?
Setting clear goals helps you measure your giveaway's success when it's over.
For example, if your goal is to grow your social media followers, you can measure your success by comparing your total number of followers before and after your giveaway campaign. Similarly, to increase brand awareness, you can look at the total number of mentions, retweets, and conversations about your brand before, during, and after.
Our top goal-setting tip is to keep them specific, measurable, achievable, relevant, and time-bound. In other words, they should be SMART.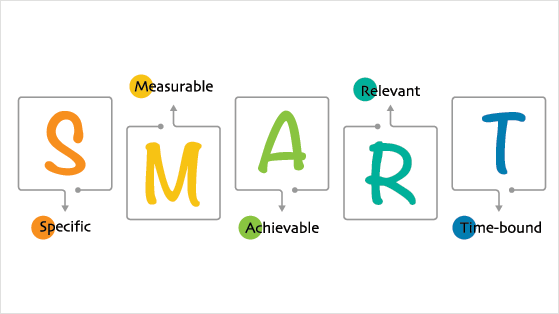 Here's an example of how that might look:
Specific: "I want to increase my brand's Instagram followers by 20%."
Measurable: "I want to receive 500 entries on my free NFT giveaway."
Achievable: If you're a new brand with a small following, expecting thousands of entries for your giveaway might not be achievable. Consider your current resources when setting this goal.
Relevant: If your aim is to promote a new product, make sure the NFT you're giving away is related to that product in some way.
Time-bound: "I want to increase my Instagram followers by 20% within one month of my NFT giveaway."
After setting your goals, you can look for the best way to build and publish your free NFT giveaway. That's what we'll cover in the next section.
Setting Up Your Free NFT Giveaway on WordPress
WordPress is a versatile platform ideal for running giveaways. It offers a variety of tools and plugins that make setting up and managing a giveaway straightforward, even if you don't have any technical expertise.
One of the most popular solutions is the RafflePress WordPress giveaway plugin. It's a powerful and user-friendly WordPress plugin that makes running any giveaway a breeze.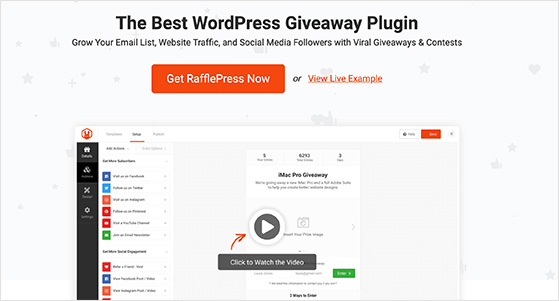 Setting up your NFT giveaway takes just a few minutes. You can choose from various pre-made giveaway templates and customize them using the visual drag-and-drop builder.
RafflePress also has powerful 1-click entry options, from joining your email newsletter and sharing on social media to referring friends and leaving a comment. You can also display your giveaway widget anywhere, including posts, pages, sidebars, or on a distraction-free giveaway landing page.
Simply follow the steps below to start running your free NFT giveaway with RafflePress.
1. Install RafflePress WordPress Giveaway Plugin
First, click here to get started with RafflePress and download the plugin. For this guide, we're using RafflePress Pro for its viral sharing features.
Now go ahead and install the plugin on your WordPress website. If you need help with this step, please see this guide on how to install and activate a WordPress plugin.
Once the plugin is active, navigate to RafflePress » Settings from your WordPress dashboard and paste your RafflePress license key. You can find this information under your account on the RafflePress website.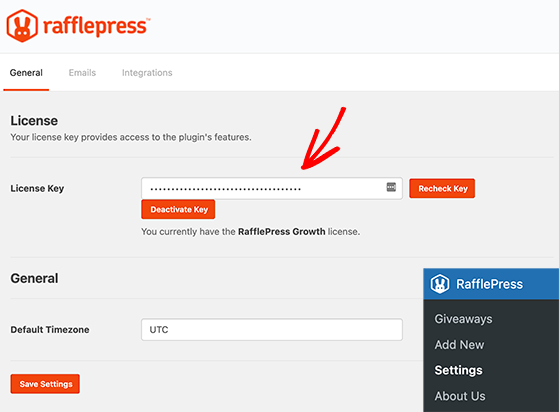 Now click the Verify Key button to save your license information.
2. Choose a Giveaway Template
RafflePress offers several pre-designed templates that you can use for your giveaway. They come populated with giveaway actions that align with specific goals.
For example, if you choose the "Grow Your Email List" template, it will automatically have the action for users to join your email list with 1 click. 
Enter your giveaway name, then choose a template that fits your brand and the theme of your free NFT giveaway. You can do this by hovering over one with your mouse and clicking the Use This Template button.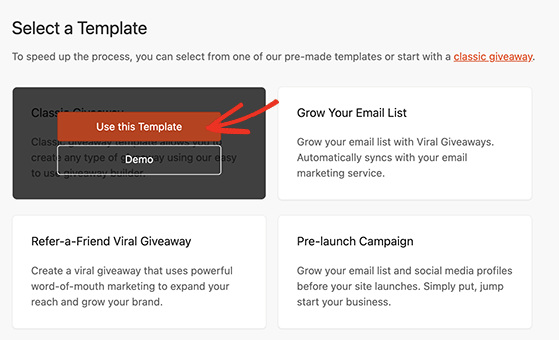 3. Enter Your NFT Prize Details
RafflePress will now take you to the visual drag-and-drop builder, where you can enter your free NFT prize details.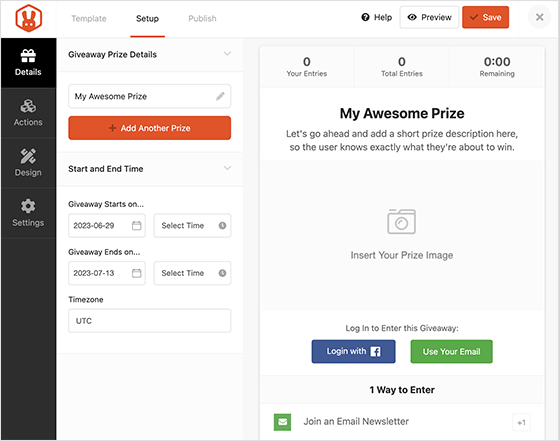 Under the Giveaway Prize Details heading, click the pencil icon to show areas of the giveaway widget that you can edit. This includes the name of your NFT prize, a brief description, and an image preview of what participants can win.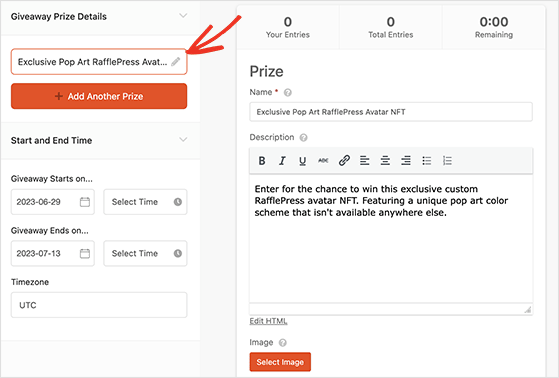 Click the Done Editing button when you're happy with those details.
On the same page, you can enter your giveaway duration, including the:
Giveaway start time and date
Giveaway end time and date
Preferred time zone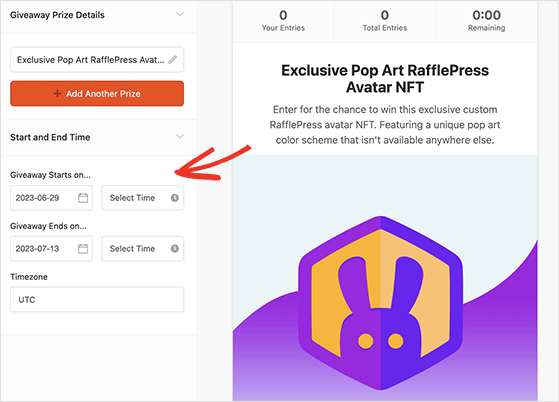 With this information, RafflePress can automatically launch and conclude the giveaway for you.
4. Add Your Giveaway Entry Methods
Now click the Actions tab in the left-hand sidebar. Here you can choose how people can enter for the chance to win your free NFT giveaway.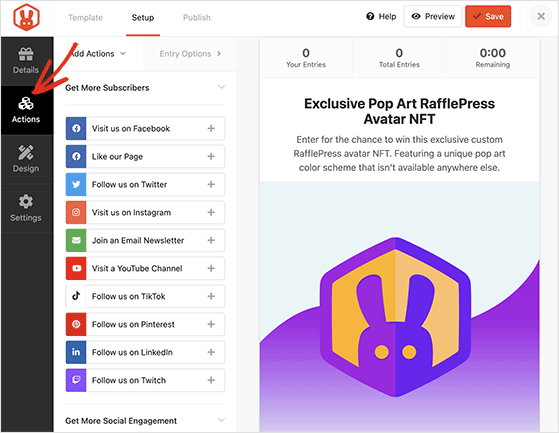 RafflePress displays these actions by goal:
Get More Subscribers: These actions include visiting various social media channels, following your Twitter account, joining your email newsletter, following you on Twitch, and more.
Get More Social Engagement: This set of actions is more about getting users to engage with your brand. For example, viewing a post, watching a video, or referring a friend.
Get More Traffic: For more traffic to your website, you can ask participants to visit a page on your site, submit an image, fill in a survey, or even leave a comment.
To add an action to your giveaway widget, simply click the plus icon next to it. From there, the action customization options will open in the left-hand panel.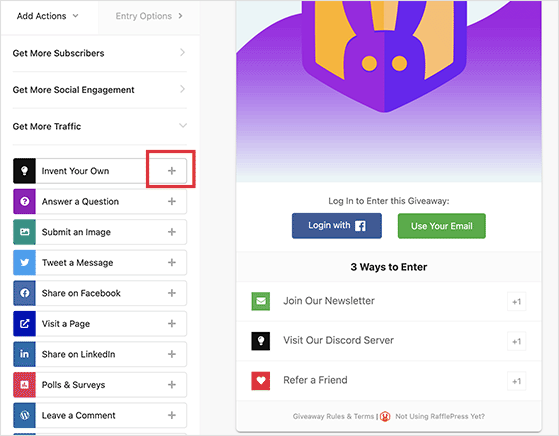 This is where you can fine-tune the action settings. In the following example, we customized the "Invent Your Own" action to ask users to visit a Discord server.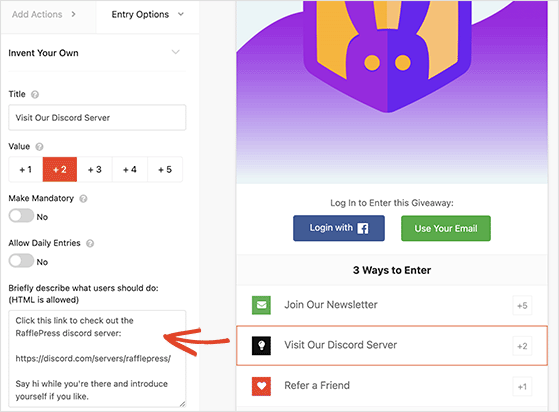 You can also give different entry actions certain values based on their importance. For instance, if your main goal is to grow your email list, you'd increase the value of that action to encourage more people to choose it.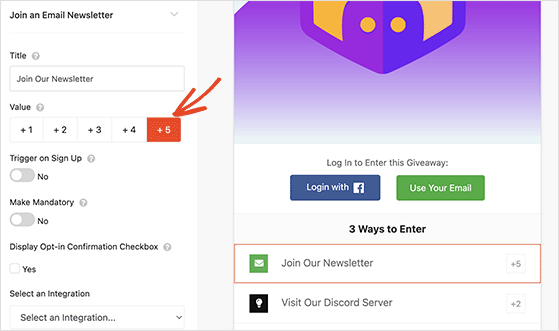 This particular action also integrates with popular email marketing services. Once completed, the emails collected through the action are synced to your list automatically.
5. Customize Your Giveaway Design
When you're happy with your giveaway entry actions, click the Design tab.
With RafflePress, you can customize the design of your giveaway to match your brand. You can choose different colors, fonts, and layouts for your giveaway widget.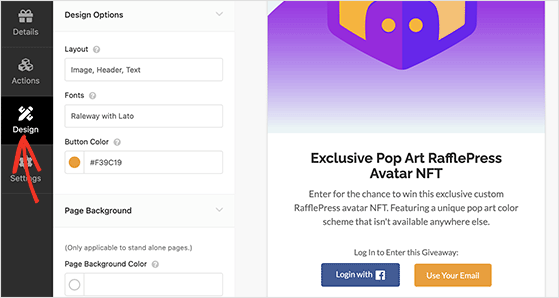 The same screen also has the option to assign a background color or upload a background image. It's best to use this option if you plan to publish your giveaway using RafflePress's giveaway landing page feature.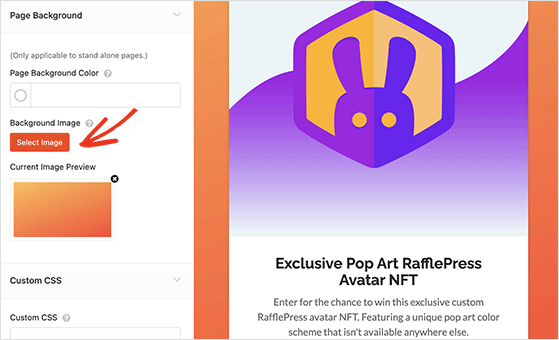 Remember to click the Save button before clicking the Settings tab to configure your giveaway settings.
6. Configure Your Giveaway Settings
On the settings screen, you can configure some important giveaway settings, such as your: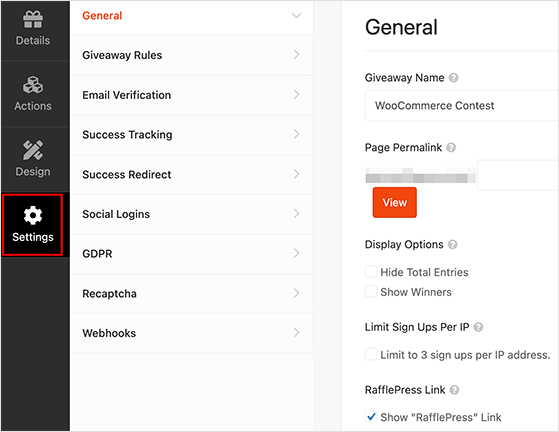 Giveaway landing page URL
Email verification options
Tracking scripts
Social media logins
Spam protection
One of the most important is the Giveaway Rules. Here you can enter some information about your free NFT giveaway and generate a complete set of rules with a few clicks.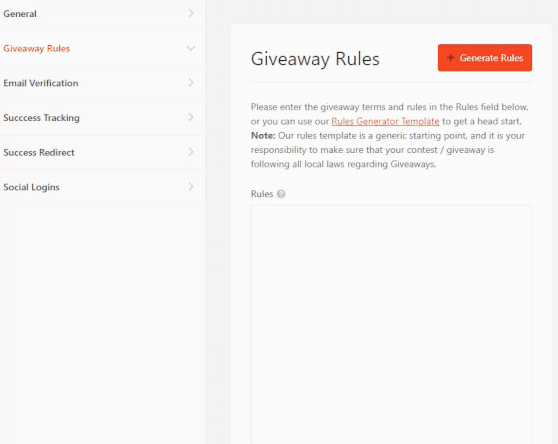 Configuring the Rules Generator Template is an excellent way to ensure your giveaway campaign is easy to understand, fair, and compliant with local laws and guidelines.
7. Publish Your Giveaway on WordPress
Once you've set everything up, it's time to publish your giveaway. RafflePress makes this easy with its Publish tab.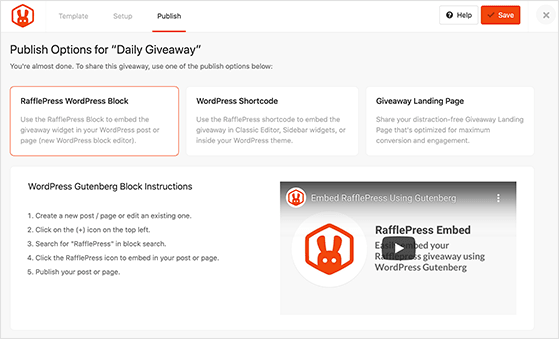 On this page, you can choose 3 different publishing options:
Adding the RafflePress WordPress block to a new post or page using the block editor.
Pasting the RafflePress shortcode anywhere in your WordPress theme.
Sharing your distraction-free landing page URL.
To use the WordPress block option, create a new post or page, and in the WordPress editor, click the plus icon to add a new block.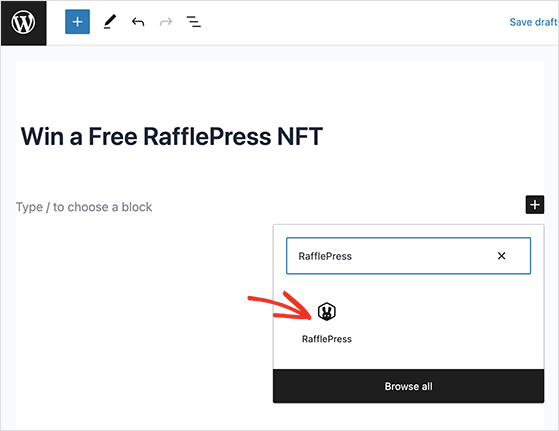 In the search bar, type RafflePress to bring up the RafflePress block.
Now click the block to add it to the editor and choose your NFT giveaway from the dropdown menu.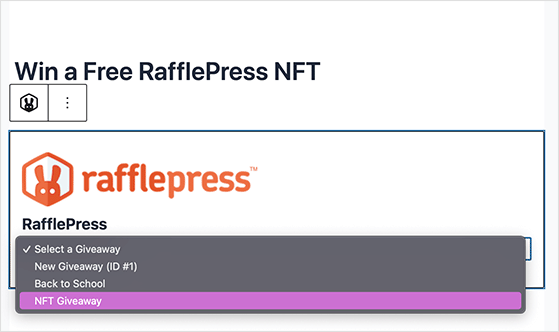 Once you publish the post or page, you'll see your giveaway widget live on your WordPress site.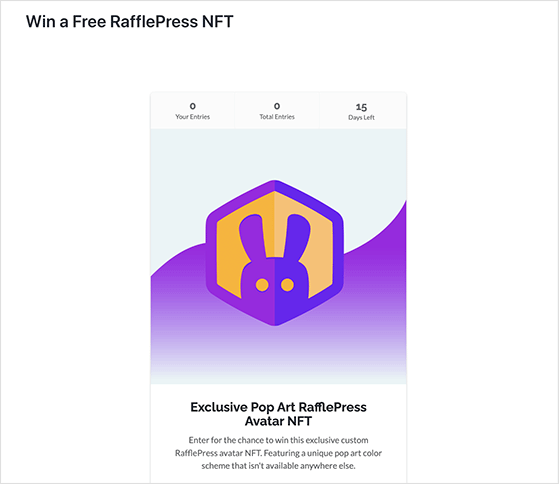 To share your giveaway landing page URL, first, go to the General settings tab.
Now, enter a slug for your landing page next to the Page Permalink heading. This is the part of the address that comes after your main domain name.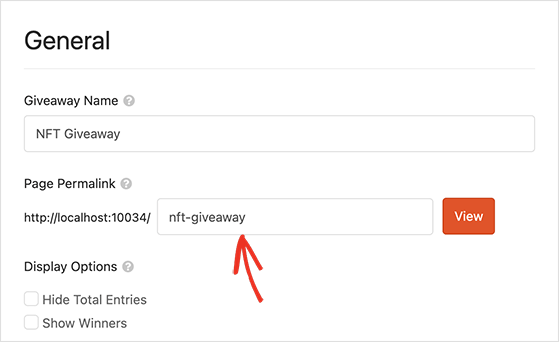 For example, if our domain is "rafflepress.com," the slug could be "nft-giveaway," making the entire URL for the landing page "rafflepress.com/nft-giveaway."
Once you've done that, click the View button to preview the page live on your website.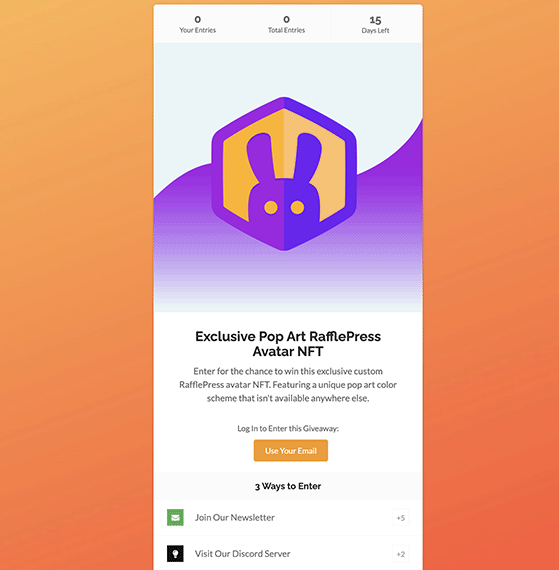 Promoting Your Free NFT Giveaway
Once your giveaway is live on your WordPress site, it's time to promote it to your target audience. Here are some effective strategies to help get the word out.
Send Push Notifications to Your Subscribers
If you have a list of subscribers who have opted in to receive push notifications from your website, send them a notification about your giveaway. This is a direct and effective way to reach your audience, even if they're not actively browsing your site.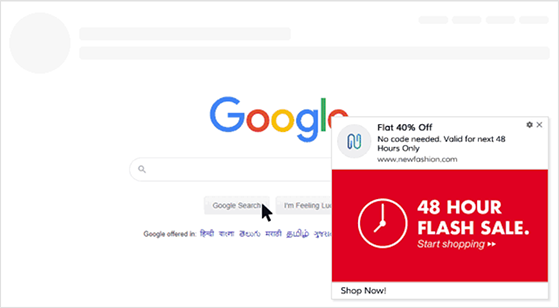 If you don't have push notifications yet, it's definitely worth considering. According to research, the average click-through rate (CTR) for push notifications can be as high as 8%.
Check out our step-by-step guide on how to add push notifications to WordPress for all the details.
Share Your Giveaway on Social Media
Social media platforms like Twitter, Instagram, and Facebook are excellent places to promote your giveaway. Create engaging posts about your NFT giveaway or raffle and encourage your followers to participate and share the giveaway with their networks.
Send an Email Marketing Campaign
If you have an email list, use it to promote your giveaway. Send a dedicated email about the giveaway, or include it in your regular newsletter.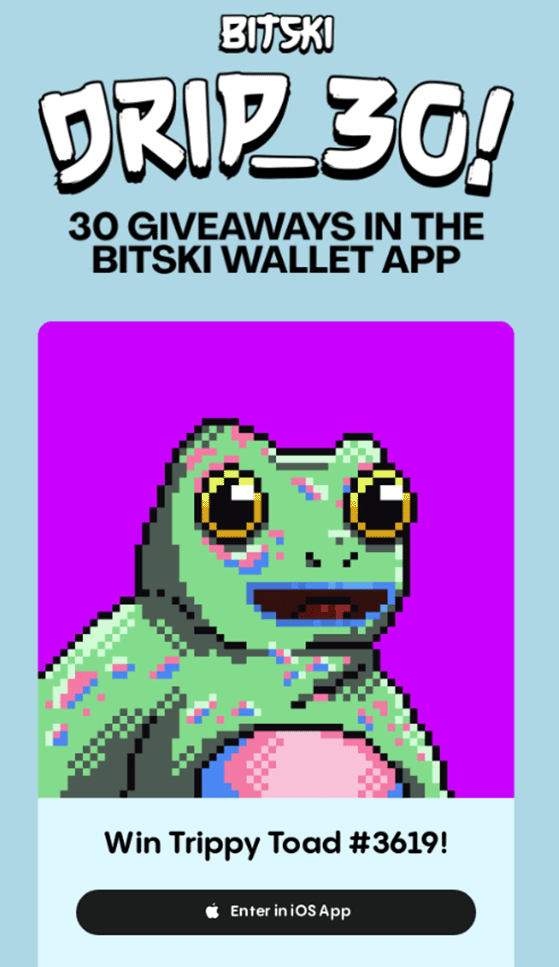 Include the key giveaway details, such as what users can win, how to enter, and when it starts and ends. It's also a good idea to use strong visuals to keep readers interested and encourage them to enter.
Collaborate with Influencers
Influencers can help you reach a larger audience. Consider partnering with influencers who have a following that matches yours.
For instance, you could partner with fellow NFT creators, reach out to popular NFT games, or connect with blockchain platforms like Polygon.
From here, the influencers can promote your giveaway to their followers, increasing your reach and visibility.
Post in Relevant NFT Communities
There are many online communities dedicated to NFTs and blockchain technology. These include forums, social media groups like Telegram, and websites like Reddit.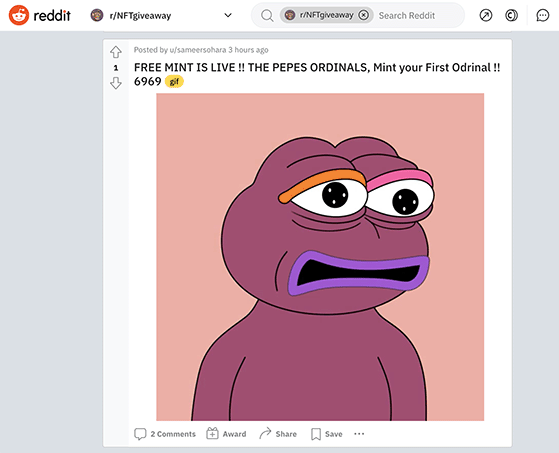 Sharing your giveaway in these communities can help you reach a targeted audience already interested in NFTs. However, when engaging with these communities, it's important to offer value rather than dropping a bunch of links.
If you need more inspiration, check out these proven contest promotion ideas.
Concluding Your Free NFT Giveaway
After the promotional period ends, it's time to wrap up your giveaway. This starts with choosing a giveaway winner.
Select and Announce the Giveaway Winner
Once your giveaway is over, you can use RafflePress's built-in winner picker to randomly select a winner from the pool of entries.
To do this, navigate to RafflePress » Giveaways from your WordPress dashboard, and click the Needs Winners link next to your chosen giveaway.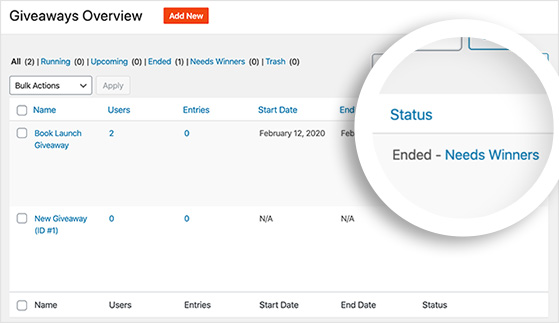 From there, enter how many winners you want and click the Choose Winners Now button.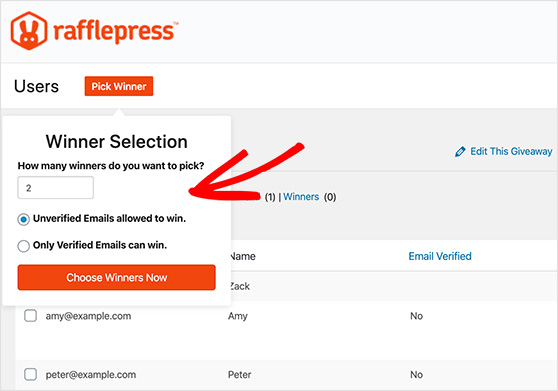 RafflePress will display the winning entries at the top of the user list, where you can click to send an email with the good news.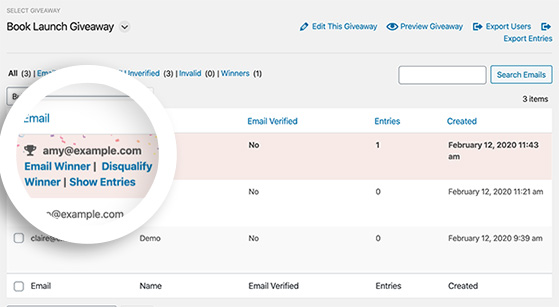 Afterward, announce the winner to your wider community by sending an email winner announcement or posting it on your social media platforms.
Analyze Your Giveaway Results
After the giveaway, take some time to analyze the results. You can do this by looking at your website's Google Analytics data.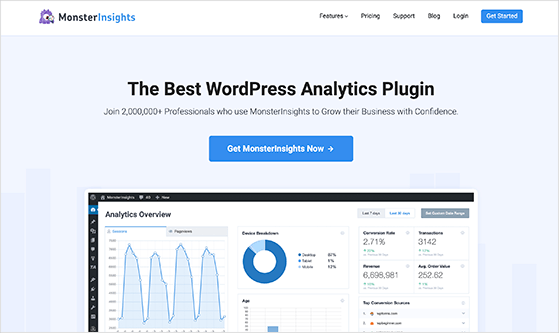 MonsterInsights is one of the best ways to see all your Google Analytics data right inside your WordPress dashboard. For help setting it up, you can see this guide on how to add Google Analytics to WordPress.
Now let's look at the data. Did you meet your goals? What worked well, and what could you improve next time?
This analysis can help you make your future giveaways even more successful.
Final Thoughts
Running a free NFT giveaway on WordPress can help you attract and engage an audience, promote your brand, and educate people about NFTs and blockchain technology. With the right planning, promotion, and analysis, your giveaway can be a great success.
Remember, the key to a successful giveaway is to make it valuable, engaging, and easy for your audience to participate.
So why wait?
Get started with RafflePress today.
You might also like our guide on how to promote a Kickstarter project if you're crowdfunding for your NFT drops.
If you liked this article, please subscribe to our YouTube Channel for RafflePress video tutorials. You can also find us on Twitter and Facebook.