Are you looking for contest promotion ideas? If you promote your giveaway contest to the right audience, you will attract more entries and build a targeted list of leads for your business.
There are lots of ways to promote your raffle contest, and we'll share some of the best (and mostly free) contest marketing ideas with you in this article.
Let's check out these 11 super-effective contest promotion ideas, from planning and creating the contest to getting as many entries as you can before time runs out!
Before we start, let's look at what contest promotions and raffle advertisements are.
What Is a Contest Promotion?
A contest promotion is an online promotion that gives people the chance to win a prize by completing specific actions. Conversely, there are many types of prize promotions, including:
Raffles
Lotteries
Contests
A contest is a promotion that involves skill to enter, and the winners are chosen on the quality or merit of their entry.
On the other hand, contest promotion can also refer to contest marketing, meaning how you promote your contest to the public to encourage them to enter. That's what we'll mainly focus on in this article: how to promote your giveaway contest.
What are the Benefits of Promoting Your Contest?
There are many benefits to promoting your online contest. The most obvious reason is it helps raise brand awareness with your target audience.
Sharing and promoting your contest across social media and other online platforms will introduce your brand to users who may have never heard of you. If they're interested in what you offer, a contest could be just the thing to get those users to learn more about your business.
Contest promotion can also help in the followings ways:
Introduce new products and services
Reward loyal fans and customers
Discover user-generated content
Boost email newsletter subscribers
How to Run an Online Contest
Before you look for web contest ideas and create your online contest, you should create a robust plan covering every step of your giveaway. This will help you build a more profitable contest with results you can learn from over time.
Your promo idea giveaway plan should include:
Your primary contest goals
Rules for entering your giveaway
Which giveaway tools you'll use
How you'll promote your contest
Your method for choosing a winner
Announcing the contest winner
Following up with participants
How you'll track your results
You can find all the steps in more detail in this detailed guide on how to run a successful giveaway.
How Do You Promote a Contest or Giveaway?
So, are you wondering, "What are the best promotional giveaway ideas?" Let's get started with the easiest ways to promote your contest or giveaway to go viral online.
1. Contest Promotion Ideas: Require Sharing on Social Media
When you're building your giveaway with RafflePress, you can require people to share the contest to earn more entries.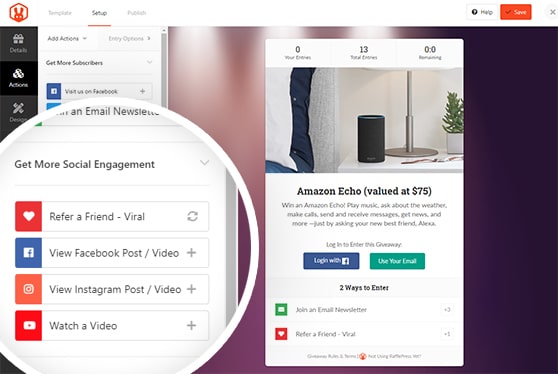 For each person that enters to win, you can multiply your leads if they're sharing the contest with their friends. This is the easiest promo idea to go viral and boost brand awareness.
When you choose how people can enter your contest, keep in mind your main goal.
For example, if your goal is to get leads to sign up for your email address, you should encourage them to subscribe by giving that action more value in RafflePress. If your goal is to gather user-generated content (UGC), you should ask users to upload a selfie or other media.
Related: How to Run a Selfie Contest (Easy Way)
You can even make it mandatory to subscribe to enter your raffle contest. This way, you can boost your chances of going viral while still growing your email list.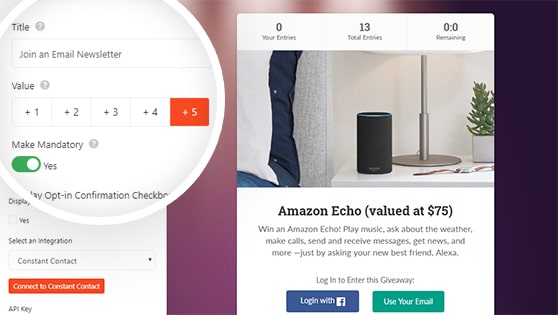 2. Optimize Your Contest Landing Page
Once you've designed your giveaway contest, it's a smart idea to create a contest landing page for your promo idea.
Your landing page is the link you should share when promoting your contest using all the tactics below.
Creating a contest landing page is easy with RafflePress. When creating a giveaway with RafflePress, you choose a custom URL for your landing page (such as www.example.com/spring-giveaway), and RafflePress will generate the landing page for you.
You can customize the background color and image of the landing page if you wish.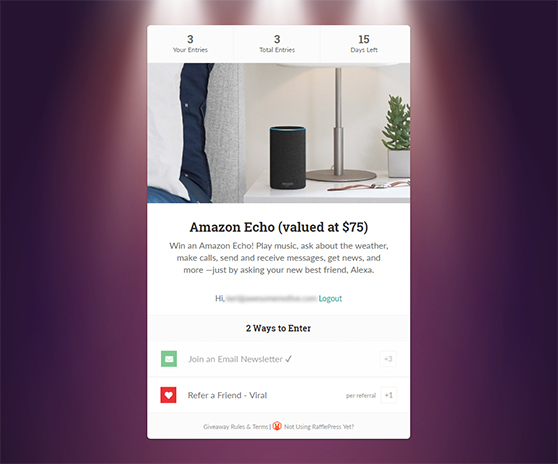 You can also create a blog post about your giveaway with details or a dedicated landing page without sidebars or other distracting elements. Read more tips about creating the perfect landing page here.
Some WordPress themes come with landing page templates, but you can easily create a landing page with a drag-and-drop page builder if yours doesn't. Your landing page should include contest details and at least one attention-grabbing image of your contest prize.
Your contest landing page or blog post should include:
a description of the contest
how to enter the contest to win a prize (eg, tag a friend)
what the grand prize is (for example, a gift card or your product or service)
how the winners will be selected (eg, by judges for photo contests)
Now that you've created your contest landing page, you're ready to start promoting it with the giveaway contest ideas we share below.
3. Redirect Visitors to Your Contest Landing Page
Everyone who visits your website is a potential lead. You will need to let them know about your giveaway so they can enter. That's where these promotional giveaway ideas come in handy.
You could do this by adding links to your giveaway contest throughout your site. However, links aren't very noticeable, plus you will have to remove them when the contest is over. Adding and removing links for the possibility of a few entries isn't a good use of your time.
The easiest way to promote your contest on your website is by using OptinMonster to create popups, floating bars, and other campaigns. That way, you can easily grab the attention of all your visitors and entice them to enter your contest.
A floating bar is a great way to do this because it stays in place and doesn't distract your visitors from reading.
But what if a visitor is going to leave without entering your giveaway?
In that case, you can create an exit-intent popup to capture their full attention right before they leave your site for good. For example, KnivesShipFree.com convinced over 8% of its visitors to enter their giveaway using a simple OptinMonster campaign: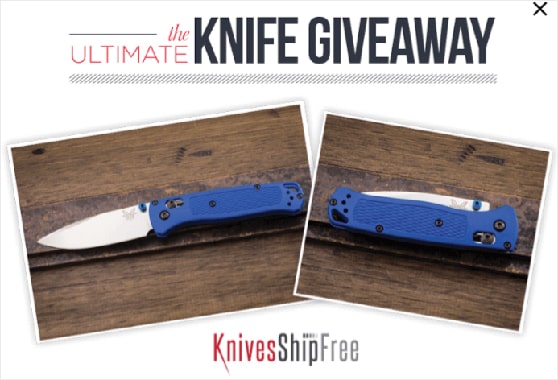 It's a smart idea to use a countdown timer on your campaigns so visitors know they should enter now and not wait.
You can also schedule your campaigns to stop showing when the giveaway ends, automatically saving you a lot of time and effort.
4. Send Emails to Your Subscribers
Your email list has all your biggest fans. So if you want to know how to promote a competition, it's these loyal subscribers who are the people who are most likely to sign up for your contest and share it with their friends. So, you should send an email to them to promote your sweet giveaway.
You can easily design an eye-catching email to promote your contest with an excellent email marketing service, much like the simple contest idea below from Anker.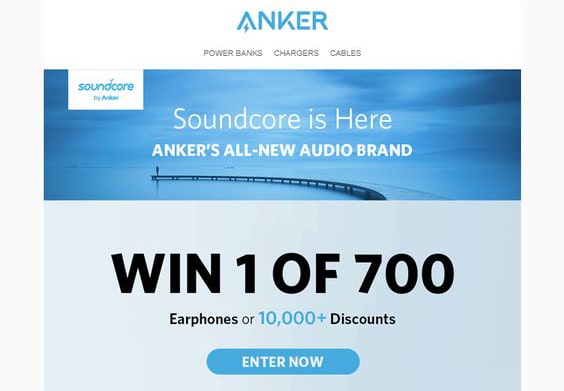 We recommend sending at least 2 promotional giveaway emails:
Send the first email right when your contest opens
Send another email a day before the contest closes to give subscribers one more chance to win
Be sure to include a strong call to action with a link to your contest landing page.
Don't have an email list yet? Build one and start to grow your email list today! That way, when your contest goes live, you already have an engaged audience to promote it to.
Now that you've promoted your contest to your existing audience, it's time to reach new people around the web.
5. Submit to Sweepstakes and Contest Directories
One of the most straightforward contest promotion ideas is to submit to sweepstakes and contest directories. These websites will link directly to your promotion. Plus, they already have a massive audience of their own who check out their sites daily for new freebies.
Submitting your contest to online contest directories will give your giveaway lots of exposure to a new audience. It's also a great way to find fun contest ideas for your customers, such as creativity contests, etc., while learning how to promote your contest.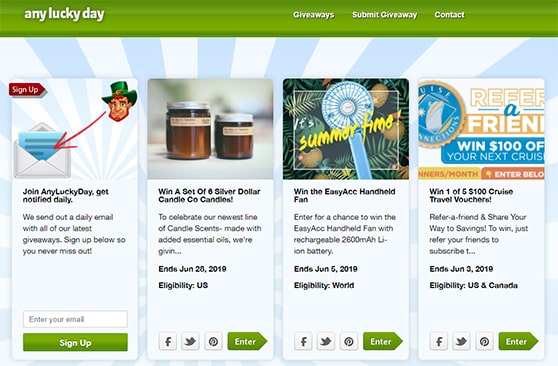 Check out these sweepstakes and contest directories where you can promote your contest for free:
It should just take a minute or two to submit your giveaway to each one.
Once you've submitted it to the best contest directories, it's time to take your contest to social media.
6. Free Promotion Ideas: Add Links to Your Social Media Bios
Before you get started posting your giveaway on all your social media accounts, take a minute to update your bio.
Most people don't think of this smart contest marketing idea, but it can get great results since your bio is so prominent.
Here's a simple example from Hudson Sutler and their Instagram giveaway contest idea:

If you have space, try to include some enticing information about your giveaway prizes.
7. Post Your Giveaway on Your Facebook Page
Next, a free and easy way to promote your social media contest is by posting it on your Facebook Business Page.
Create a post to share on your Facebook timeline that includes an eye-catching photo, a brief description of the type of contest, and what people can win. And, of course, include a link to enter your contest.
Take a look at how Amir and Aleks – Real Estate Team does it with this Facebook giveaway post. Their web contest idea includes a short description of the prize, how to enter, and a link to enter the giveaway. Plus, the use of emojis really grabs the attention of users online.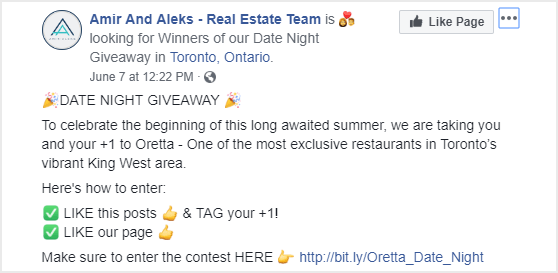 Also included is a high-quality photo of the prize (image of the restaurant) with text over the top to let users know this is a giveaway post. You can create a similar photo using a free online image editing tool like Canva.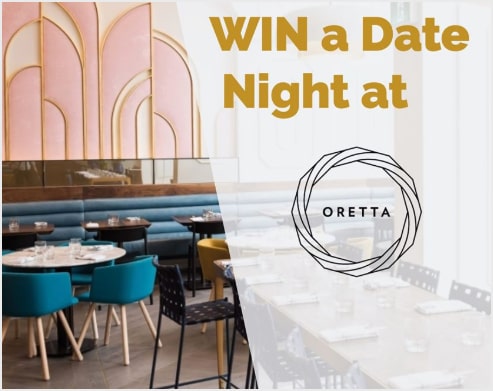 You can pin the post on your page so everyone visiting your page will see you're running a contest.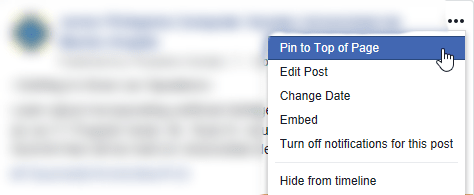 Then you can also share it on your personal timeline so your friends and family can help spread the word.
Here are some more social media contest ideas you can try.
8. And Promote it With Your Facebook Cover Photo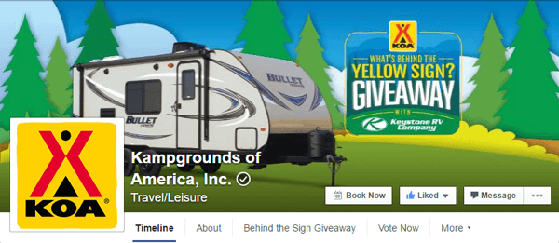 Aside from creating posts to promote your giveaway on Facebook, you can also create a custom cover photo to market your contest.
To create your own, head to Canva again and choose the Facebook cover template. You can choose any of their pre-designed templates for your promotional giveaway idea, upload an image of your prize, and customize the text to create a giveaway Facebook cover that fits your brand.
Note: Make sure to review Facebook's giveaway policies before starting since they require you to include certain information in your posts.
For more Facebook contest ideas, check this guide out.
9. Promote Your Contest on Instagram
Instagram is the perfect social media platform to promote your contest and grow your Instagram followers because it's so visual.
For this promotional giveaway idea, you will need to create a post on Instagram that includes a beautiful image to catch the attention of users and a description of the contest. You can easily create a nice image like the one below using Canva.
Instagram doesn't let you link to individual posts, but you can provide instructions on entering the contest or direct them to click the link in your bio (you did add the link in step 6, right?).
Don't forget to add hashtags to widen your reach, such as #giveaway, #contest, or #freebies. The right giveaway hashtags can make your contest go viral.
You can use up to 30 hashtags on your post, so go wild! Be sure to research each hashtag to see if you're using it correctly, and make sure it will help you reach the right audience when learning how to promote your contest.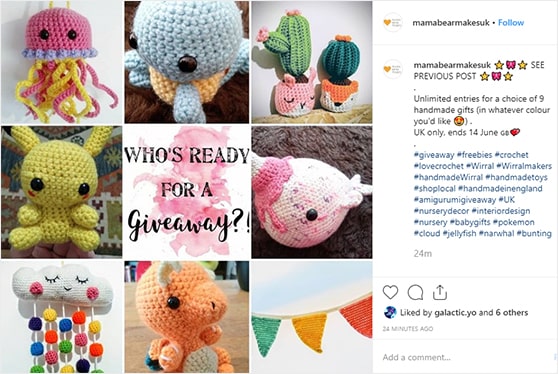 Related: How to Run a Hashtag Contest (Step-by-Step)
10. And Use Instagram Stories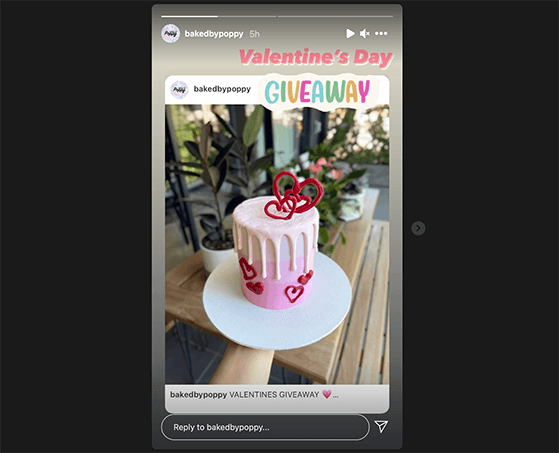 Some of the best online contest ideas involve creating an Instagram Story to promote your contest to your followers. Instagram Stories get a ton of engagement. Instagram Stories are used by 500 million users every day.
One big benefit of Instagram Stories is they include a swipe-up link. So all a user has to do is swipe up on your Story, and they'll go straight to your contest landing page.
11. Promote Your Contest on Twitter
Twitter can be a great place to promote your contest if you want to build your following on the platform. Promoting your giveaway on Twitter will work best if your target audience is younger. Nearly half of U.S. adults who use Twitter are aged between 18 and 29 years; usage among U.S. adults drops as age increases.
Send out some tweets announcing your giveaway, including a link to your contest page and a good hashtag like #WIN or #giveaway. Unlike on Facebook, Twitter posts are limited to 280 characters, so keep your tweets short and sweet by only including what's necessary.
You can learn how to write a viral tweet for your Twitter giveaway promotion here.
If you want your tweet to stand out in feeds, be sure to include an image. Tweets with images receive 18% more click-throughs, 89% more likes, and 150% more retweets.
Remember, timing is everything when it comes to Twitter. Check out the image below to find out what time of the day your tweet will get the most engagement.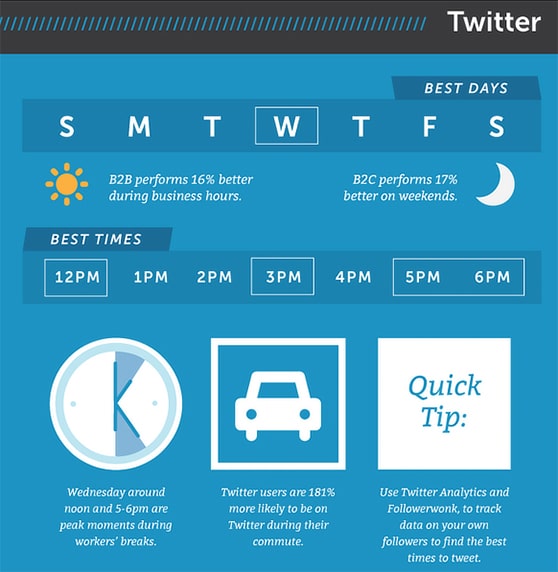 12. Share and Promote Your Giveaway on Pinterest
Promoting a giveaway on Pinterest is a great strategy if you want to attract a female target audience. According to statistics, 79.5% of Pinterest users are female.
Pinterest calls these female users "deciders" because they make 80% of the buying decisions in U.S. households. So, if you want to promote a giveaway prize and generate more sales for your business, create a pin on Pinterest.
To grab the attention of users, be sure to create an awesome Pinterest image. You can use the same image you created for your Instagram post in tip #8, but according to Pinterest, the optimal Pinterest image is vertical (taller than it is wide, about 735 X 1102 px). A vertical image is a Pinterest best practice.
You can also learn how to run a Pinterest contest here to go with this Pinterest giveaway promo idea.
13. Promote Your Giveaway on LinkedIn
For B2B contests, LinkedIn is a great place to promote your giveaway to your business connections and grow your LinkedIn followers.
For this promotional giveaway idea, include an image to grab the attention of your connections, a brief description of the giveaway, and a link to your giveaway. Don't forget you can add hashtags on LinkedIn too.
Add a hashtag like #giveaway or #contest and consider adding hashtags to attract users in relevant industries.
For instance, in the example below from Lead, they added #datascience and #bigdata to attract an audience interested in and searching for those topics on LinkedIn.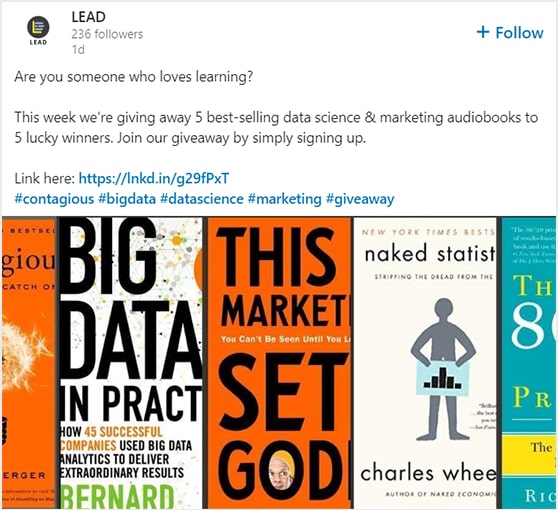 When promoting your contest on social media, remember to check the contest guidelines for each platform.
14. Share Your Contest in Online Communities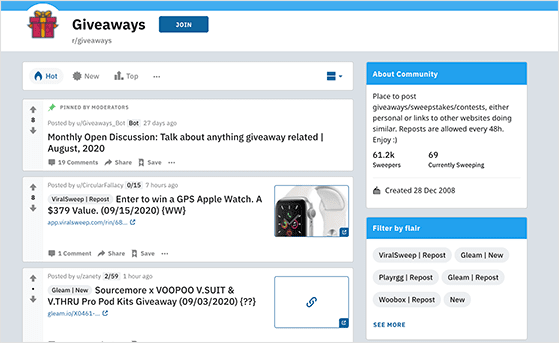 In addition to sharing the contest on social media, share it in online communities. Online communities like Reddit have subtopics like /r/Contest, where anyone can promote a contest or giveaway. Find topics relating to your niche and your target audience, check out their rules for promoting contests, and promote your giveaway there.
You can also search the internet for other online communities related to your niche. Simply type in something like "knitting forums" (but replace "knitting" with your actual niche) into the Google search bar to find more online communities you can join.
Facebook also has groups dedicated to specific topics where you can find a ton of your target audience to promote your contest to.
15. Create and Share a Simple Video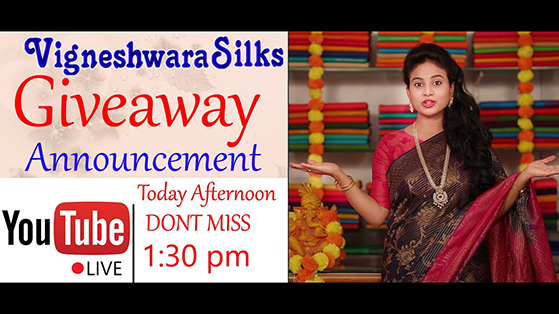 Did you know 1200% more shares are generated by social videos than text and images combined?
That's why using video is such an effective contest promotion idea.
You might think it would be difficult to create a video to promote your contest, but it's not. When learning how to market your contest, you can easily create a quick video to share on YouTube or your social media accounts by using only your smartphone.
Your video should include:
Prize details
Information on how to enter
A call-to-action (for example, tell users to click the link in the description to enter the giveaway)
Be sure your video has good lighting, whether it's natural or artificial, is filmed in front of an attractive background (clean your messy room!), and your appearance is camera-ready.
16. Promote Your Contest with Live Video
Live videos can get great engagement from your audience. With Instagram Live and Facebook Live, you can interact with your viewers in real-time, which is a great way to connect with your audience. Plus, a live video announcement will stir up a lot of excitement around your contest.
For your live video, you can include information on how to enter the giveaway, prize details (even better, show the prize itself), and take questions from your audience.
If you like, you can even run a video contest for a lot more engagement.
Now that you've used all your own channels to promote your giveaway, it's time to reach out for help. Here's how…
17. Try Influencer Outreach
When you partner up with others to promote your giveaway, it can boost your entries even more.
To get started, find bloggers with a big audience interested in what you're offering up. For instance, if your contest prize is a new camera, look for photography bloggers. Reach out to the bloggers you find with a personalized email and explain how your contest will benefit the blogger and their readers.
To be successful, it will need to be a win-win-win partnership benefitting you, the blogger, and their audience. Think about how to present those benefits when you reach out to influencers.
Here's an example of an influencer outreach email posted on Search Engine Journal.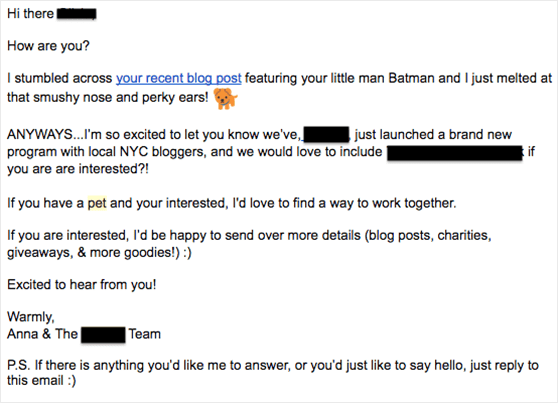 Like blogger outreach, you can also partner with YouTubers to promote your contest to a whole new audience. Find YouTube channels related to your niche and reach out to those with a decent amount of subscribers, views, and engagement.
If you know your target audience is very active on a certain social media platform like Pinterest or Instagram, you can also reach out to influencers on those platforms. If you're new to the world of influencers, check out this influencer marketing guide for beginners.
Alright, now that you've spread the word on your own platforms and also reached out to form partnerships, there's one more successful contest promotion strategy to try: paid promotion.
Here's how to get started.
18. Use Facebook and Instagram Ads
To reach an even bigger audience on social media, consider creating Facebook or Instagram ads. Facebook ads will not only allow you to promote your contest to more people online, but they also let you target the exact type of people most interested in your giveaway by criteria such as gender, age, location, interests, and more.
If ads are a little too complicated for you, you can simply boost your contest Facebook post. Boosting your post shows it to more users and costs as little as $5.
19. Invest in Google Ads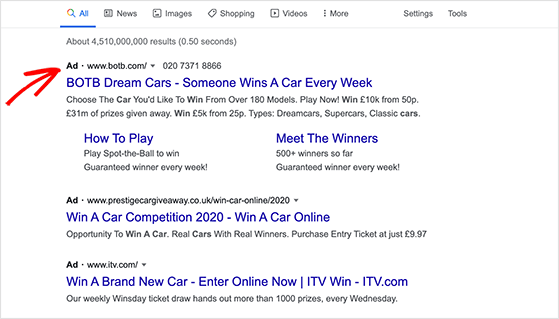 Aside from ads and promotional post ideas on social media, you can also push your contest to more people online with Google Ads. With Google Ads, you can get your contest featured on the Google search results of users searching for the exact keywords you want to target. This will make getting more entries from people who have never heard of your business before.
Last but not least, there's a whole wide world off the internet where you can spread the word about your content! Here's how:
20. Don't Forget Offline Marketing
Don't forget about promoting your contest to people in real life, too!
Some great advertisement ideas for competitions are to create flyers to hand out at local events or posters you can put up in community centers or other businesses. You can also use offline marketing to promote your contest to your existing customers by adding promotional cards to the packages you send out. These promotional giveaway ideas will ensure you won't miss out on extra participants.
Best Practices for Promoting Your Contest
Here are some best practices for promoting your contest to reach a wider audience and generate more entries:
Choose the right promotional channels. Where does your target audience spend their time online? Promote your contest on the social media platforms, websites, and forums where they're most active.
Use eye-catching visuals. People are more likely to click on and enter contests with visually appealing graphics. Use high-quality images and videos to promote your contest on social media and your website.
Write compelling copy. Your contest copy should be clear, concise, and persuasive. Highlight the benefits of entering and explain how to enter. Be sure to include a call to action, such as "Enter now!" or "Click here to learn more."
Offer a valuable prize. The more valuable the prize, the more likely people are to enter your contest. Choose a prize that is relevant to your target audience and that they will be excited to win.
Make it easy to enter. Don't ask people to complete a long or complicated entry form. The easier it is to enter, the more entries you'll receive.
Run your contest for the right amount of time. Too short of a contest period won't give people enough time to enter, and too long of a period will lose their interest. A good rule of thumb is to run your contest for 2-4 weeks.
Promote your contest regularly. Don't just promote your contest once and then forget about it. Keep reminding people about your contest throughout the entry period. You can do this by posting on social media, sending out email reminders, and running ads.
Contest Promotion Frequently Asked Questions
How can I ensure my contest is legally compliant?
To ensure your contest is legally compliant, consult with a legal expert or an attorney familiar with your jurisdiction's laws regarding contests and promotions. They can help you understand the rules and regulations and ensure your contest terms and conditions adhere to them.
How can I prevent cheating or fraud in my online contest?
To prevent cheating or fraud in your online contest, use a reputable contest management platform such as RafflePress that has built-in fraud detection and prevention features. Set clear contest rules, monitor entries closely, and require participants to provide verifiable personal information.
How do I measure the success of my contest promotion?
You can measure your contest promotion success by tracking various metrics, such as the number of entries, social media engagement (likes, shares, comments), website traffic, new email subscribers, and sales. Analyzing these metrics will help you understand the effectiveness of your contest and inform your future marketing efforts. A Google Analytics tool like MonsterInsights is a great way to do this.
Can I use user-generated content (UGC) in my contest promotion?
Yes, incorporating user-generated content (UGC) in your contest promotion is a great way to encourage engagement and generate buzz. You can ask participants to submit photos, videos, or stories related to your brand or product and use them as part of your promotional materials. Be sure to obtain proper permissions and give credit to the original creators.
There you have it!
Now that you've got a ton of awesome contest promotion ideas, your contest is sure to make a splash online. Remember, begin promoting your giveaway before it goes live to get many entries on day 1.
Don't leave your audience hanging after you choose the winner or people vote for their favorite entry! Be sure to announce the winner on your website and all of your social media accounts.
With these tips, your contest will be such a success; that you might even want to start brainstorming new contest ideas right away.
And if you're specifically looking for sports marketing and promotion ideas, this guide should help.
We hope this article helped you discover the best contest promotion ideas for your business. If you liked this post, make sure you subscribe to our YouTube Channel and follow us on Twitter and Facebook for the latest updates.