Are you looking for ways to promote your sports business? Raising awareness of your football game or sports team is tricky on a limited budget. But it IS possible with smart marketing tactics and a few powerful tools.
This article shares the best sports marketing promotion ideas to raise brand awareness. We also detail examples of using smart tactics in your sports marketing campaigns to grow your business in the sports industry.
But before we start, let's look at some winning sports marketing strategies in recent sporting history.
Best Sports Marketing Campaign Examples
The best sports marketing campaigns use imagery to connect emotionally with the audience and a clear message that gets to the heart of the event. The results are viral campaigns, spreading like wildfire across the web.
Here are 5 of the best sports marketing campaigns we've seen in recent years.
1. This Girl Can by Sport England
The English Sports Council created the This Girl Can campaign to tackle health issues like obesity through athletics.
They found more men took part in athletic activity than women, mainly due to women's fear of people judging their image.
This Girl Can features everyday women doing their fitness routines. And the goal was to motivate other women by example.
As a result, the original video has over 8 million views, with a hashtag that's still going today. More importantly, it got many more women into sports to improve their health.
2. Rule Yourself by Under Armor
Under Armour's target audience at the time of this campaign was young millennial men. The Rule Yourself campaign captured that audience with the story of Michael Phelps preparing for the 2016 Olympics.
The authentic message of the ad struck an emotional cord, which is pretty hard to achieve since young viewers lose interest if a message seems fake.
As a result, the ad became one of the most shared Olympic ads ever on social media. And to top it off, it won an award at the Cannes Lions International Festival of Creativity.
3. Thank You Mom by Proctor and Gamble
Proctor and Gamble took a different approach to the Winter Olympics of 2018. To link its products with a sporting event, it used mothers as the central theme.
With the Thank You Mom campaign, Proctor and Gamble position its products as ways for mothers to support Olympic heroes. The ads celebrate moms as their child's greatest advocates, despite how others see them.
The results were over 74 million global views and over 370 million Twitter interactions. Yet, they're still just a brand selling household products beneath such an emotional message.
4. Social Media with Paddy Power
Paddy Power is a sports betting site using social media marketing campaigns to significant effect. They're an excellent example of how knowing your audience can yield great results. Their marketing strategy focuses on controversy and disruption to engage with customers in real-time.
For example, leading to the 2016 World Cup, they pretended to carve "C'MON ENGLAND" into the Amazon rainforest, causing an uproar on social media. They then revealed further images highlighting their efforts to raise awareness about deforestation.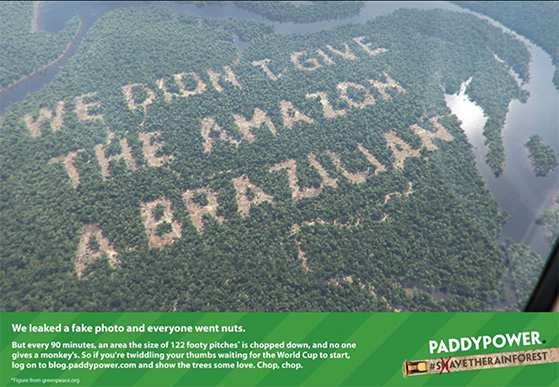 Paddy Power's marketing efforts resulted in over 160,000 visits to their blog in 24 hours. And it demonstrates how a smart campaign sets you apart from the competition.
Now that you've seen some inspirational examples of sports marketing in the wild, let's look at how you can promote your sports event.
Top Sports Marketing and Promotion Ideas
Now, we don't all have the advertising budget of big sporting brands. But that doesn't mean you can't see amazing results from your digital marketing efforts.
There are many ways to generate a buzz for your next basketball event or soccer game. And we highlight some of the best ideas below for you to use yourself.
5. Run a Sporting Contest or Giveaway
Running an online contest is a fun way to tell fans about your sports event. At the same time, you can create a buzz and encourage more people to attend.
Offering a prize draw raises anticipation, which helps you get more entries. And sharing your contest on social media platforms helps improve your reach.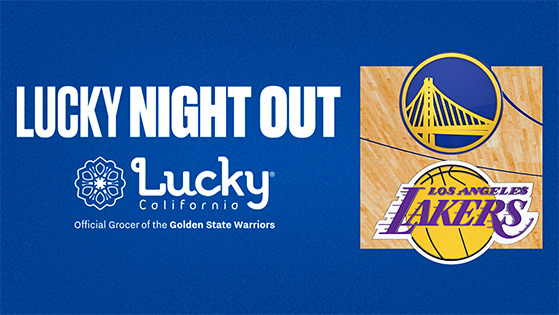 For example, the NBA teamed up with the Warrior's sponsor Lucky California to sponsor a giveaway for 2 sideline seats to the Warriors-Lakers game. Participants had to enter their name, email address, phone number, and opt-in for email updates.
You can take a similar approach using RafflePress to run sports contests on your website.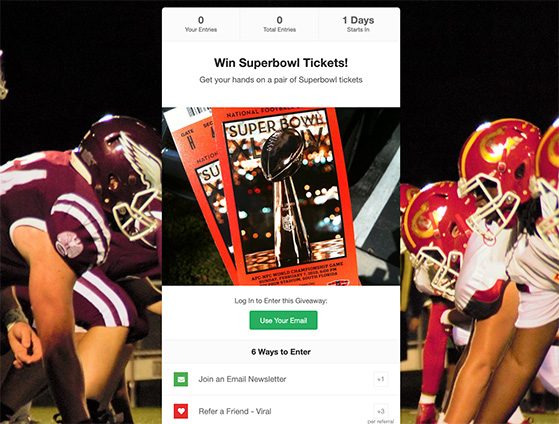 RafflePress is the best giveaway plugin for WordPress. The drag and drop contest builder lets you create stunning competitions in a few minutes. And with entry methods that encourage viral sharing, it's the ideal way to spread the word about your event.
To create an online contest similar to the NBA's, you could choose the Grow Your Email List giveaway template.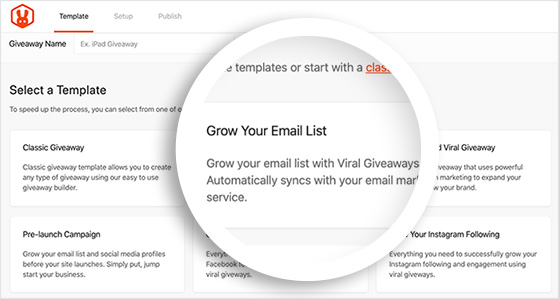 The template automatically adds the option for people to enter by signing up to your list.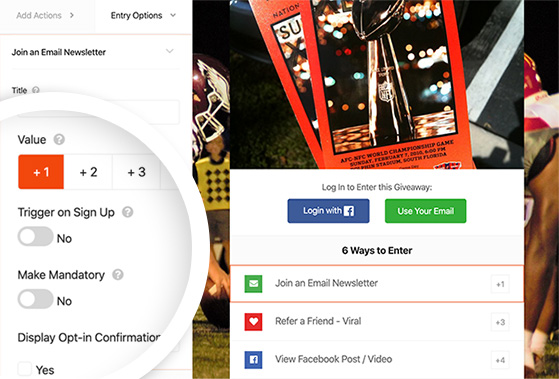 You can then include further actions to raise event awareness and engagement with the entry methods detailed below:
View a Facebook Post or Video
View an Instagram Post or Video
Watch a YouTube Video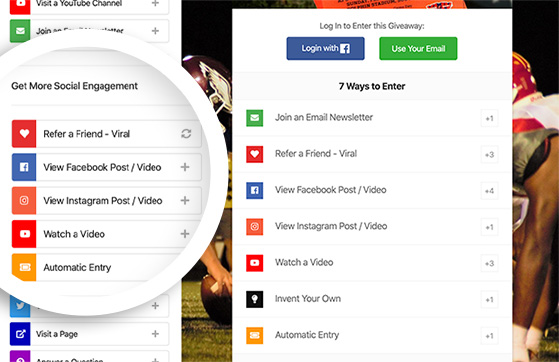 And if you're feeling creative, the Invent Your Own action lets you design your own way for people to enter your giveaway.
Then it's just a case of publishing your contest by easily embedding it on your site or creating a giveaway landing page.
You can learn how to publish a contest in the documentation here.
6. Retarget Contest Participants with Relevant Ads
Display advertising plays a huge role in attracting website visitors. They work by serving ads to people who've already visited your site. It's wise to use this tactic with your sports marketing and promotions.
You can easily use your retargeting strategy alongside giveaways in RafflePress.
The success tracking option lets you add retargeting pixels to your contest.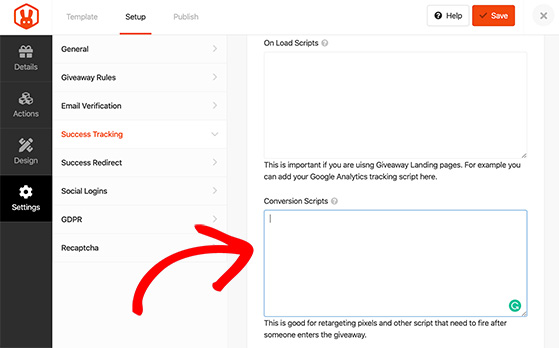 Then as soon as someone enters your giveaway, the scripts start working. As a result, that person will see your ads elsewhere online, increasing your reach and visibility.
7. Survey Your Sports Fans
Another robust sports marketing and promotion idea is to ask fans what they want.
Sending out a survey can help you gather crucial feedback on fans' preferences to improve your business and serve them better in the future.
Simple surveys are easy to create with RafflePress using the Polls and Surveys action.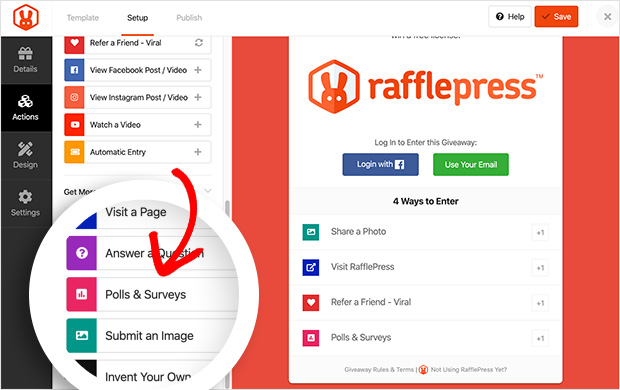 And you can offer a prize in return for people's efforts. There are some awesome contest prize ideas here.
But if you want to create a more detailed survey, WPForms is the best choice for beginners.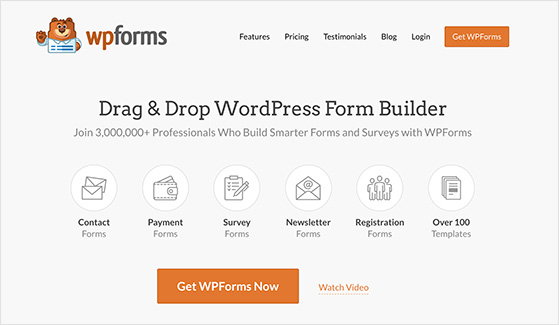 The drag and drop form builder lets you build survey forms with smart fields like Likert scales, star ratings, and even real-time polls.
You can then view beautiful reports which give you the insights needed to make data-driven decisions for sports events.
8. Reach Out to Your Email List
Chances are you've already started building an email list. But did you know your list is an ideal place to connect with people who already want to hear from you?
When visitors sign up to your email list, they express the desire to receive updates from you. So when you send a newsletter, they're more likely to open and read it.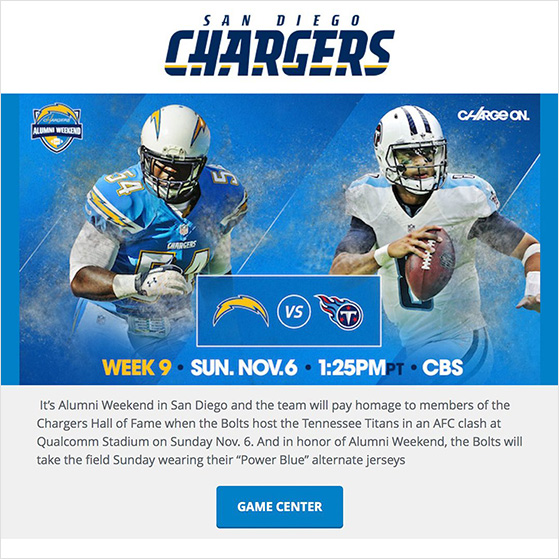 You can promote your sports event in this way, too, by sending out a broadcast to active subscribers. And if you include social sharing buttons within the email, they can spread the word to their network of friends.
9. Share Pre-Game Teaser Content
Sometimes your primary marketing objective is to sell as many tickets to your game as possible. A great way to do that is to share content during the lead-up on social media.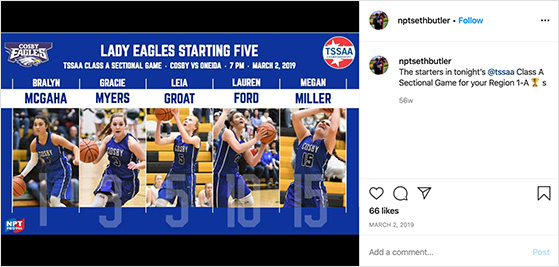 Here are a few ideas for what you could post before the big game:
Photos of individual athletes with a quick summary of their main strengths on Twitter
Image slideshows of prep-work at the event location on Instagram
Videos of your team warming up for a training session on YouTube
Flash sales for tickets at a discounted price on your website
By posting often, you keep your team visible in news feeds, which increases the chances of more people seeing your content and taking action.
10. Post Behind the Scenes Footage
Another way to create excitement for your sports brand is to share behind-the-scenes snap-shots on social media.
Real Madrid demonstrates that brilliantly with the behind-the-scenes tour of their state-of-the-art sports complex.
With over 30,000 views, it was an instant hit with fans.
11. Work With Sports Influencers
Influencer marketing has taken the world by storm, and with good reason. Teaming up with influential people in your industry can expose you to a broader audience.
Nike is an excellent example of how working with popular sports influencers can strengthen your brand and raise more awareness. And you don't even need their type of budget to see the results.
Think about working with smaller influencers with an engaged, tight-knit community. You can laser-focus your campaigns on the audience that matters most to you.
12. Share Memorable Moments on YouTube
Another way to create excitement for a future sporting event is to remember moments from the past. Uploading your favorite sporting memories to sites like YouTube can unexpectedly make your posts viral.
For example, the Icelandic Football Clubs goal celebration video went viral on YouTube. And the result was millions of views from people all around the world.
You can then capitalize on that success by cross-promoting your content to other social media platforms.
13. Post Live Updates of Your Sports Event
And finally, an effective way to promote any event is to post live updates on social media.
For example, live-tweeting events as they unfold help people who can't make the event stay up-to-date.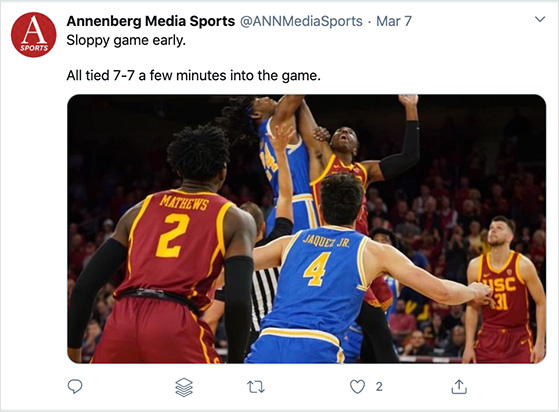 But if Twitter isn't where your audience hangs out, most other social networking sites have live posting features. For YouTube, there's live streaming, and Instagram has Instagram TV, while Facebook has Facebook Live.
Whichever network you choose, they all have tools available to keep your fans updated and engaged with your business.
And that's it!
Today you've discovered the best sports marketing and promotion ideas you can use for your campaigns. Ready to dive in?
Get started with RafflePress today.
You might also find this article on how to promote a new product and our guides on event promotion ideas or apartment marketing ideas helpful too.
And don't forget to follow us on YouTube, Twitter, and Facebook for more great tips to grow your business.