Do you need an easy way to attract new customers and engage your target audience?
WPForms have been using RafflePress to grow their Facebook Group and email subscribers since 2019. In this case study, we'll show you how WPForms use monthly viral giveaways to engage customers while growing their Facebook Group members consistently.
Meet WPForms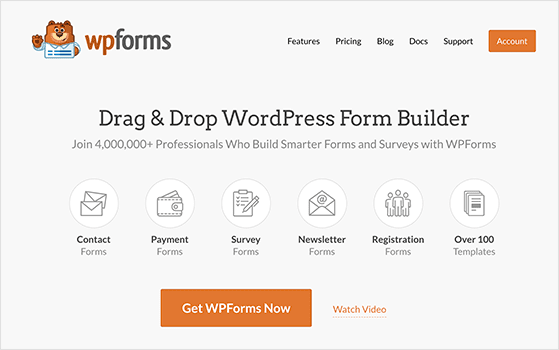 WPForms is one of the most popular form builder plugins for WordPress. It helps millions of website owners create powerful contact forms for their WordPress sites.
Because WPForms has so many active users – over 5+ million to be exact – they recognized the need to give back to their customers. If it weren't for their thriving community's support, they wouldn't be where they are today.
They also needed an easy way to keep their customers familiar with the customer account dashboard. This is where they'd manage their subscriptions, update their details and download the WPForms plugin.
When they discovered RafflePress, they found that they could meet their goals easily by running regular giveaways for WPForms customers. They told us how they did it below.
How WPForms Uses RafflePress
To recap, WPForms wanted to use RafflePress to give back to their customers and keep them familiar with the customer account dashboard.
To achieve this, they started running monthly RafflePress giveaways to customers right inside the customer account dashboard.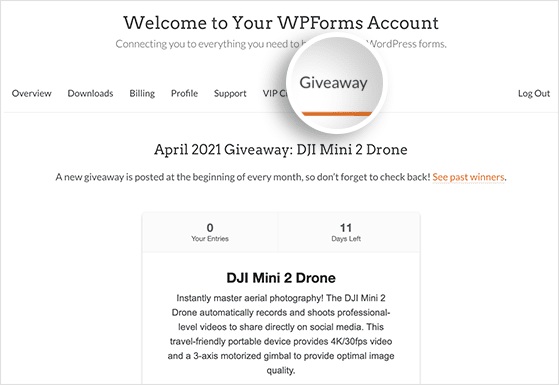 Users could automatically enter the giveaway by simply signing up on the giveaway widget. They could then earn bonus entries by:
Visiting the WPForms VIP Circle Facebook Group
Following WPForms on LinkedIn
Leaving a review
And more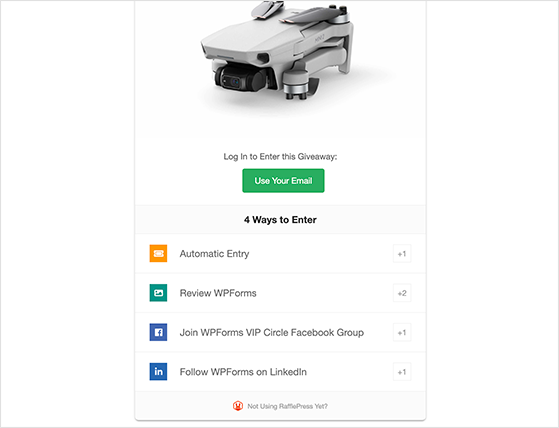 There are several reasons why this approach worked for WPForms:
Automatic: Instant entry into the giveaway made it easy for people to take part
Bonus Entries: People took all the chances they could to win
Excitement: The giveaway offered something exciting to existing customers
User Experience: Embedding the giveaway in the customer account area made it more familiar.
The stand-out action here is the decision to invite users to join their Facebook Group. Since the people entering their giveaway were already familiar with WPForms, they were more likely to join their Facebook Group.
So, what were the results? Let's find out.
Results
By running monthly giveaways in the customer account area, WPForms were able to dramatically increase their email subscribers, Facebook Group membership, and customer satisfaction:
They generated 50% more email subscribers since late 2019 when they started using RafflePress.
The WPForms VIP Circle Facebook Group has grown to 11k members since its launch in the fall of 2019.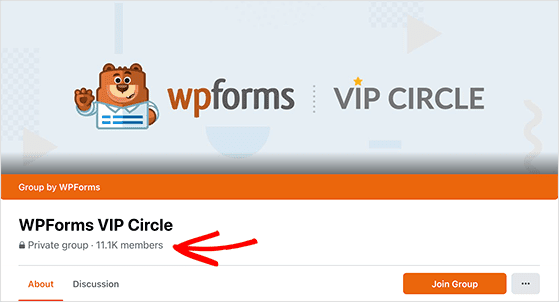 Here's what the WPForms team had to say about their results:
"We're thrilled about how the WPForms VIP Circle Facebook Group has grown with the help of RafflePress. We've been able to target active users who want to engage with our brand and other people, whether they're learning more about the plugin or helping others do the same."
Summary
As you can see, you don't need a massive budget to meet your marketing goals. WPForms used RafflePress because it was the easiest way to give back to their customers while growing their online presence.
With engaging monthly giveaways, they sent targeted traffic to their Facebook Group, resulting in tons of new members and twice as many email subscribers.
Want to use RafflePress to grow your traffic, subscribers, and sales?