Are you looking for some excellent social media marketing tools for your business? Savvy marketers know optimizing your social presence can do wonders to get more traffic and new customers.
But if you want your efforts to succeed, you need the right tools for the job.
That's why today, we're sharing the top tools for social media marketing to transform how you do social media in the future.
Is Social Media a Good Marketing Tool?
There's no doubt that social media marketing is one of the most inexpensive ways to reach your target audience. With social media, you have the power to grow your brand awareness and attract more potential customers.
But as your business grows, your social campaigns will need to grow too. You can't own the social landscape without having a set of tools to back you up.
That's why you should find some solid tools. The very best social media management platforms can help you with the following tasks:
Creating fresh content for your social media profiles
Scheduling posts on your social media channels to publish at optimal times
Measuring campaign effectiveness across major social media platforms
Getting actionable insights to improve your workflows
What's more, they save you a whole heap of time too. So you can focus on more pressing business matters.
Now that you know why social media is a great choice for content marketing, how about we discover the best tools? Let's get stuck in.
Social Media Marketing Tools for Lead Generation
Lead generation is all about identifying and encouraging your site visitors to be interested in what your business has to offer. As a result, they'll be eager enough to become a customer.
The following tools for marketing on social media are ideal for helping you to generate new leads.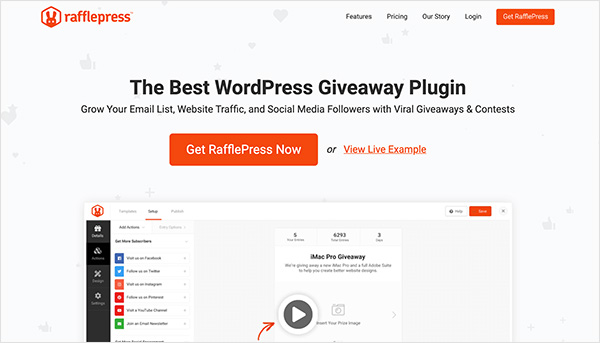 At first glance, this might seem like an odd choice, but the truth is, RafflePress is a lead-generation tool with the power to attract heaps of new customers to your site.
As the best WordPress Giveaway and Contest plugin on the market. It's packed with powerful social actions to explode your email list, drive real engagement with social actions, and grow site traffic with viral sharing.
It takes minutes to set up a giveaway, and the handy Landing Page option means you can share your giveaway on all your favorite social media platforms. Just paste the landing page link into your social posts.
With RafflePress, you can create instant giveaways for:
LinkedIn
Facebook
Instagram
Twitter
Pinterest
YouTube
TikTok
Twitch
You can also run giveaways to grow your email list, accept image submissions, and draw winners randomly. And with user-generated content popular with influencer marketing, it's one more tool in the box to grow your brand.
RafflePress is fully SEO optimized, ensuring your giveaways show up correctly in search engines like Google.
So why wait around for new leads to arrive on their own? Encourage them to flock to your site by creating an online contest.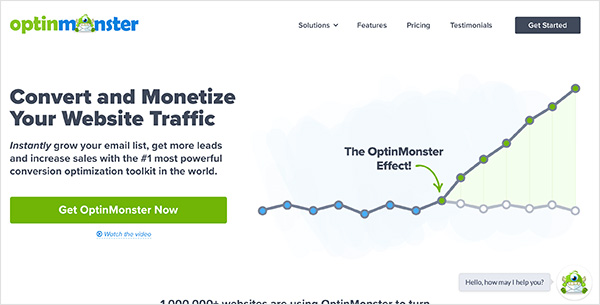 OptinMonster is a great social media marketing tool for generating new leads. This Software as a Service (SaaS) lets you engage with site visitors at the right moment when they're about to leave your site.
Alongside that, you can use the drag and drop templates to build stunning popups, lightboxes, and even landing pages to capture leads and add them to your email marketing workflow.
But where it really shines as a social media marketing tool is with the ChatBot element. This lets you connect to chat services where you can send your optins over Facebook Messenger. Doing this means you don't have to wait for your leads to come to you. You can take your optins to them instead!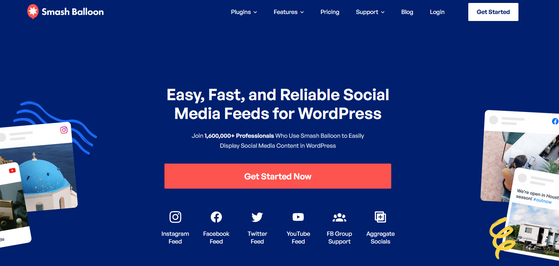 Smash Balloon is the best social media feeds plugin on the market. With Smash Balloon, you can easily embed Instagram, Facebook, YouTube, or Twitter feeds anywhere on your WordPress site.
There's also a Social Wall plugin that lets you combine feeds from your social media platforms into 1 fantastic feed.
By embedding social media feeds on your site, you can increase your following and boost social media engagement. Plus, you can automatically update your site with new social media content to keep it fresh and engaging for visitors.
Best of all, users can interact with your social media content right from your site. It's a great way to turn website visitors into fans.
Related: 11 Must-Have Facebook Marketing Tools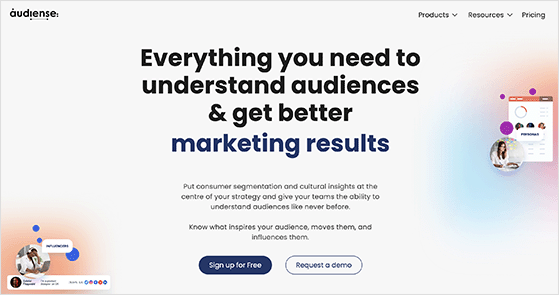 With Audiense, you can harness social intelligence by discovering and segmenting new audiences. It helps social media managers figure out what interests and excites users through actionable insights.
You can then discover the best ways to engage with those people across your social media accounts and offline methods. That way, you can build more solid relationships with potential new customers.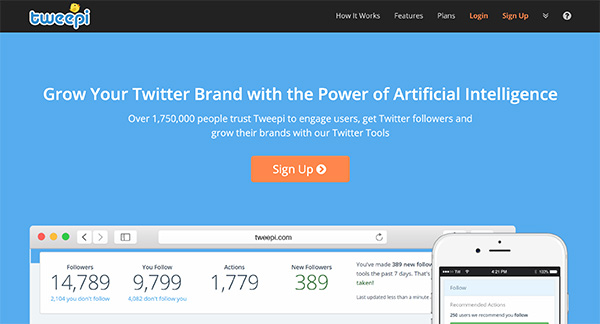 Tweepi is a solid tool if you want to get more Twitter followers. Tweepi finds relevant people for you to follow based on their interest in a topic you define.
You can then start engaging with them by tagging and mentioning them, liking their Tweets, adding them to lists, and following them.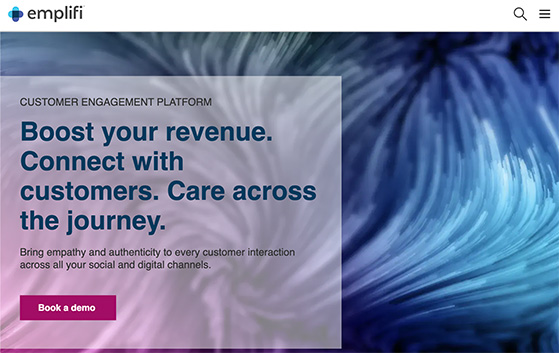 Emplifi, formerly Soicalbakers, is a complete suite of social media marketing tools that helps your business grow by giving you the features you need to understand your audience. Then, you can create the right kind of content to engage them further.
It also lets you manage your social media activities across all platforms with notifications. Then you can track the effectiveness of paid campaigns with the measurement and reporting suite.
Social Media Marketing Tools for Analytics
Regarding tracking your success, our next set of social media marketing tools will help analyze how well your social media campaigns perform.
Let's dig in.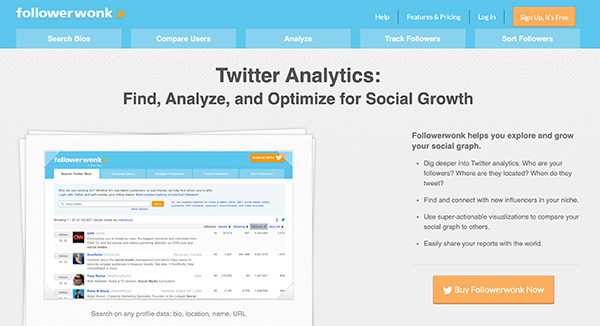 Another social media management tool exclusive to Twitter is Followerwonk. This tool is probably one of the most useful.
Followerwonk lets you search for new people to follow, compare users, and optimize your marketing strategies. You can also track and analyze your followers to find influencers in your niche.
So if Twitter is part of your social media strategy, this tool is one you should try.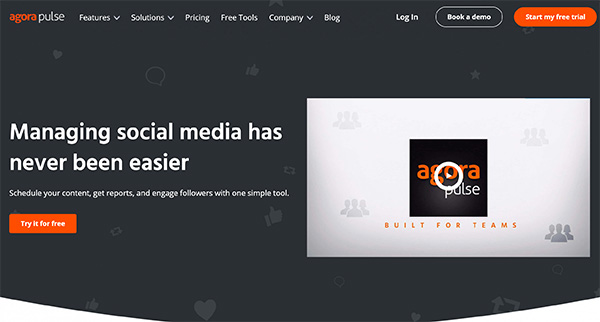 Agora Pulse is a pretty cost-effective solution to use in your social marketing efforts. It helps schedule content to your content calendar and has powerful analytics features that let you compare your campaigns to your competitors.
You can even run contests and quizzes with Agora Pulse. Because it's built for teams, it has real-time collaboration options for effectively communicating with your team members.
If you want to try this tool before you commit to buying, there's a free trial to take advantage of.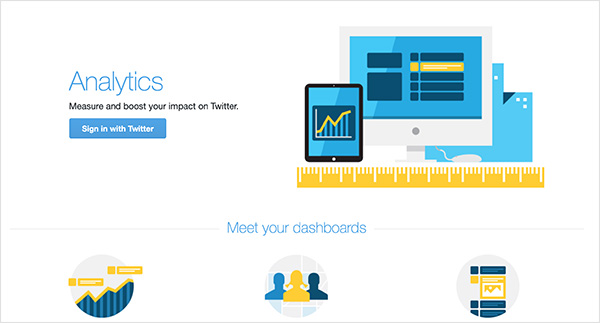 Twitter Analytics is a free tool you'll want to use to measure how well your Twitter marketing campaigns perform.
The easy-to-understand reports provide important information about the impact of your Twitter activity. You can then use that to learn how people interact with your content so you can improve it.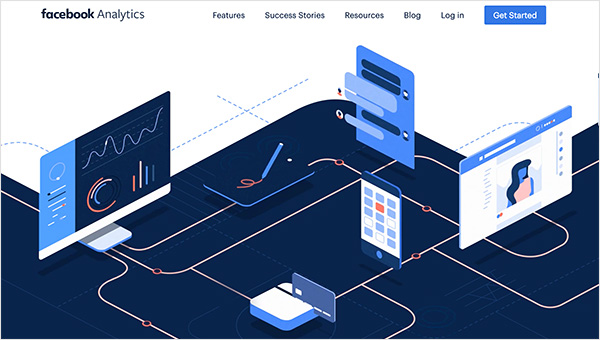 Facebook Analytics is pretty similar to Twitter in that it analyzes how people have reacted to your content.
But where Facebook differs with its analytics is in the detail. Instead of showing how people engage with your posts, Facebook Analytics offers information on who those people are and where they are in the world.
This makes sense since Facebook is far more feature-rich than Twitter. So while you're there, use the data it collects for Facebook Groups too.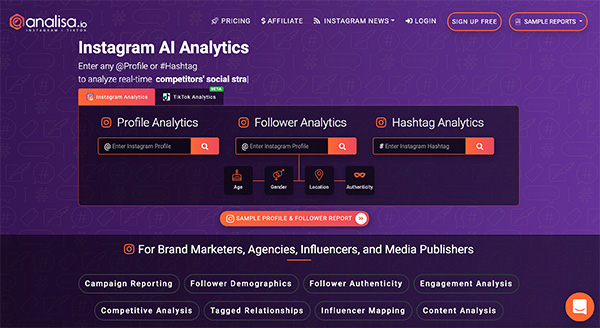 While some of the social media marketing tools we've covered here are geared more toward Twitter, Analisa.io comes with a complete range of tools for Instagram.
With Analisa.io, you can analyze the social strategies of your competitors in real time while getting detailed analytics for profiles, followers, and Instagram hashtags. And that's barely even touching the surface of what you can do.
Even better, the pricing for researching campaigns is free. However, there is a premium option if you need to dig into more detail.
Social Media Marketing Tools for Sharing & Monitoring
Now that you know the best social media marketing tools for generating leads and analyzing your data, how about we look at the sharing and monitoring side of things?
The following tools are ideal for sharing content and listening in on the conversations happening on your social networks.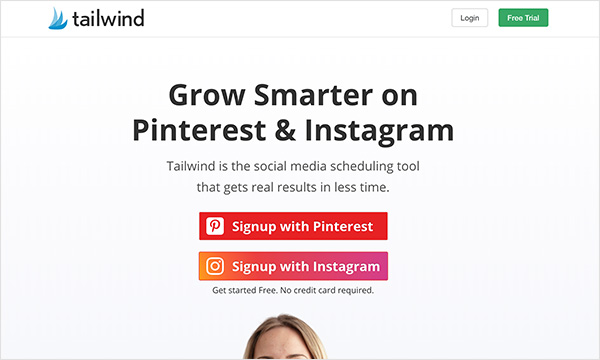 Tailwind is a social media scheduling tool aimed mainly at Pinterest and Instagram users. So if you want to learn the best times to post on those 2 social networks, this is the tool for you.
For Instagram, you can schedule posts and videos with the automation feature and multiply the reach of your posts with 1-click hashtag suggestions. While for Pinterest, you can create and schedule up to 10 pins in 1 click, which is great for getting more Pinterest followers.
For both platforms, in-depth analytics allows you to track your social media performance. And with Tailwind Tribes, you can team up with influencers to help grow your reach even more.
If you have old blog posts in your archives that you don't know what to do with, Revive Old Posts can breathe new life into them.
This social media scheduler lets you share old posts on social media so that you can drive traffic to the content you worked so hard on. By sharing those old posts, you offer regular content for your social channels, making filling up your posting schedule easier.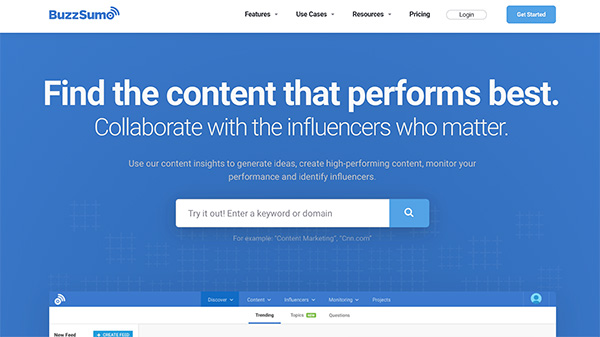 BuzzSumo is a fantastic tool for discovering popular content on the web. All you need to do is type in a keyword, and it will show you a list of popular trending content related to that topic.
You can even see a list of influencers who are sharing that content. And this list can help you develop new ideas for your own social marketing campaigns while also connecting with like-minded people in your niche.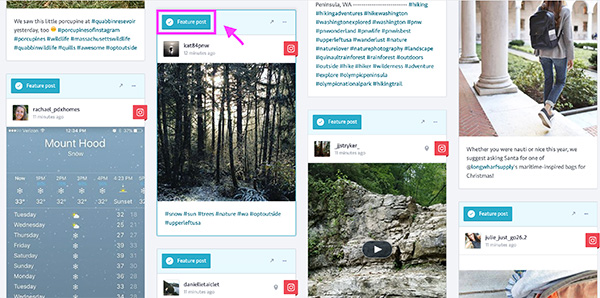 Tagboard is a social listening tool for exploring and researching content on social media. Enter a term, hashtag, or topic, and you'll get an overview of the conversations around it online.
This is a great way to monitor mentions of your brand. But you can also use this to create content around developing trending topics.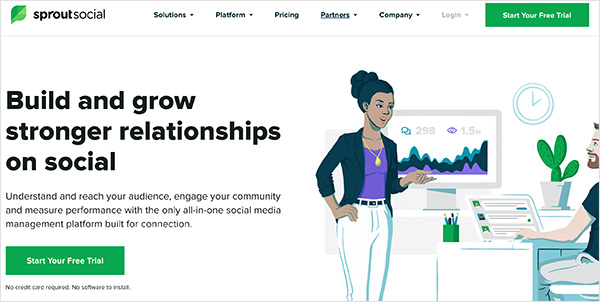 SproutSocial is a powerful social media marketing tool for managing your marketing efforts. You can work with team members using its multi-level access to coordinate your social scheduling.
Along with detailed analytics and a social listening tool, you can use it to understand your audience, their key demographics and learn how they interact on social media. SproutSocial also integrates with many CRM and digital marketing tools.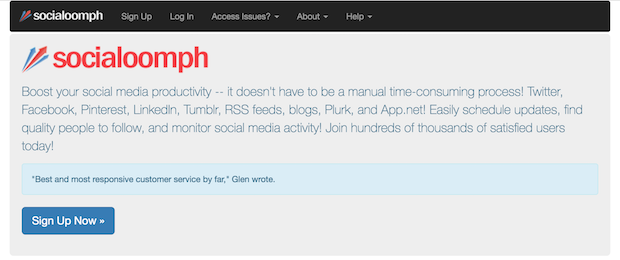 SocialOomph might seem like a simple social media tool, but there are many features to discover beneath the surface.
SocialOomph makes it easy to upload and schedule multiple posts at any time. And if control is your thing, you can choose where and when that content goes live and manage more than one platform at once.
You can tap into analytics data on your social media followers and use their tools to improve your engagement rates.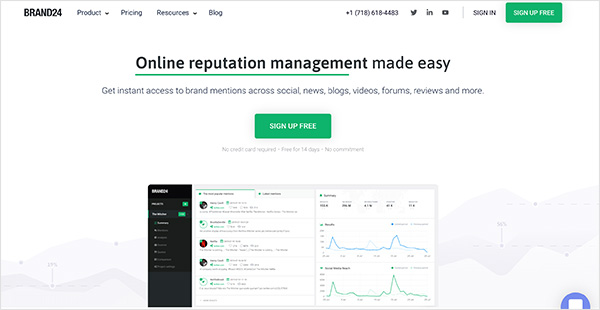 Brand 24 is another social monitoring tool giving you key insights into what users say about you online. This tool allows you to access mentions of your brand anywhere on the web, including on forums, reviews, blogs, and social platforms.
To get into even further detail, you can segment mentions based on negative, positive, or neutral posts.
Social Media Marketing Tools for Content Curation
Content curation on social media is about collecting awesome quality content that your social audiences will enjoy consuming. You can then share it on your social networks to increase engagement and interactions.
The following social media marketing tools make curating great content super easy without trawling through Google to find ideas.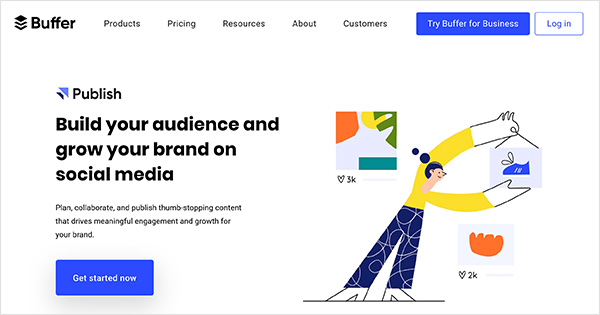 Buffer is a social media marketing tool that is probably one of the most well-recognized tools on the market. It's a tool for scheduling content to publish on social media at specific time slots.
With its handy chrome extension, you can schedule content from anywhere on the web, including pulling content from your RSS feeds, blogs, and more. It includes a URL shortener and lets you track the analytics of the content you post to see how well it performs.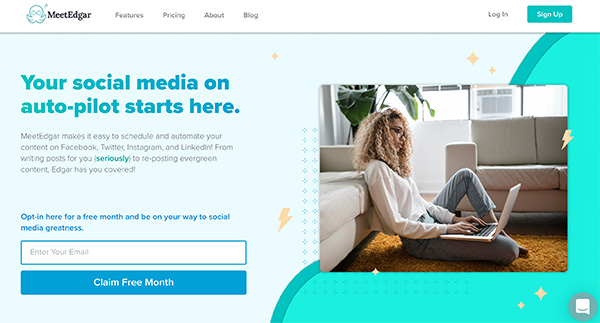 MeetEdgar is another social media scheduling tool that allows you to schedule content to publish on your social networks. Using this tool, you recycle many of those older blog posts and use them to attract more traffic.
To do this, get your posts organized by category and schedule them. MeetEdgar will then upload content from each one. When it's out of content from your categories, it'll start posting your older updates.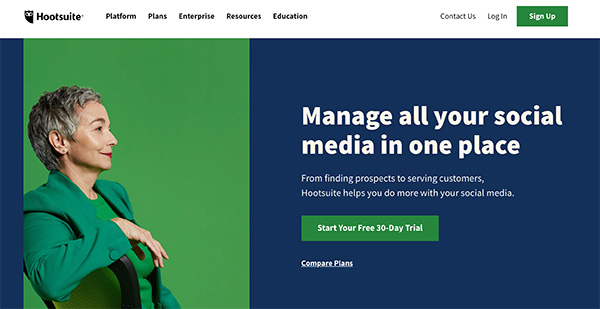 Hootsuite is a popular social scheduling tool similar to Buffer. With Hootsuite, you can add posts on your social media calendar to schedule on multiple social platforms. Then by using its own analytics tool, you can measure how well your social marketing campaign is doing and tweak it if necessary.
Hootsuite also has a free plan, but to get the full benefits from using it, upgrading to the paid version is usually a good choice.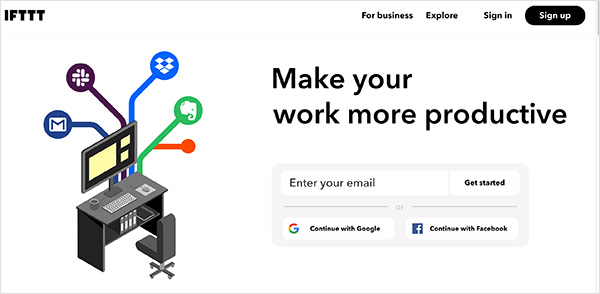 There's one social media marketing tool you might not realize is one, and that's IFTTT. To top it off, it's a free tool you can use right now. IFTT is an acronym for "If this, then that." You can use it to combine different tools and functionality to make what they call a "recipe." These recipes are sets of instructions that tell those tools to do something.
For example, you could create a recipe using an RSS feed and your Twitter account so that whenever something new is published on the RSS feed, it sends it out as a Tweet to your followers on Twitter.
Sure, it might seem a bit complicated. But once you spend some time looking at all the features, you'll get the hang of it in no time.
Oktopost is a social media marketing tool best used by business-to-business (B2B) companies. It lets you schedule content, analyze it, and curate content relevant to your business.
And if working with a lot of people is a problem, there's no need to worry. Oktopost works well with large social media teams and has all the tools you'll need to hit the ground running.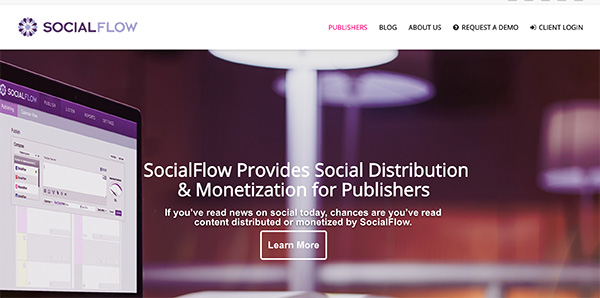 With SocialFlow, you can also schedule content to publish on social media, but it's slightly different. With this social media marketing tool, you can schedule social media posts based on when your audience is active and engage with them in real time.
Simply add your content to the SocialFlow queue and let it collect data. Afterward, it will post at the best times for your followers.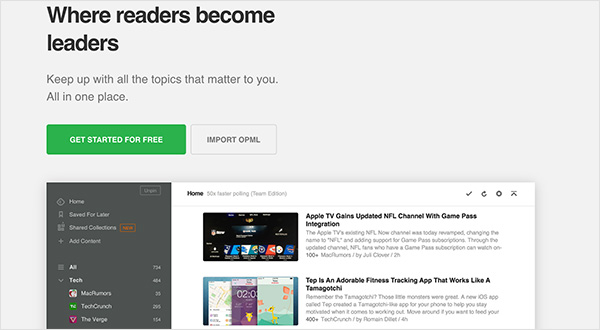 On the other hand, Feedly is better suited to discovering and curating content to share on social media. This tool collects content from multiple sources like blogs, and RSS feeds for you to read in a single feed.
While no analytics is available, it offers plenty of content solutions to keep your social media feeds full, including Slack integration. Plus, you can coordinate it with the likes of Buffer to schedule content and times that suit you and your audience.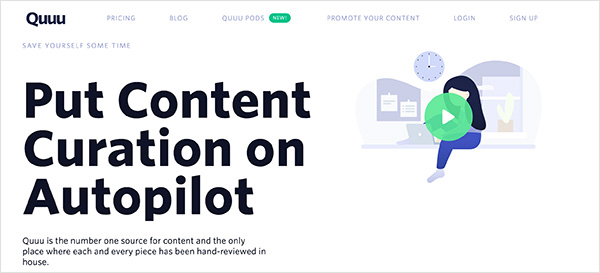 Quuu is a content curation tool that reviews all content suggestions to ensure the best quality content. To use it, you connect it to your social accounts and pick the topic you're most interested in. Then you can set it to auto-schedule relevant content to your Buffer, HubSpot, SocialBee, or Hootsuite queues.
This takes the time out of searching for great content yourself while ensuring what you share is of the best quality.
Social Media Marketing Tools for Design
No social media marketing strategy is complete without awesome images to capture your followers' attention.
The next set of social media marketing tools are perfect for helping you put together some great graphics for your social posts.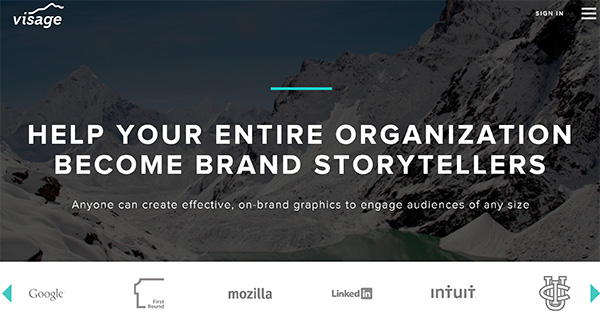 Visage is a graphic design tool that helps you optimize social media graphics for each social network. The templates included with Visage make getting your images on-brand pretty easy. And because each design is editable, you can share it with your team for updates and edits as and when needed.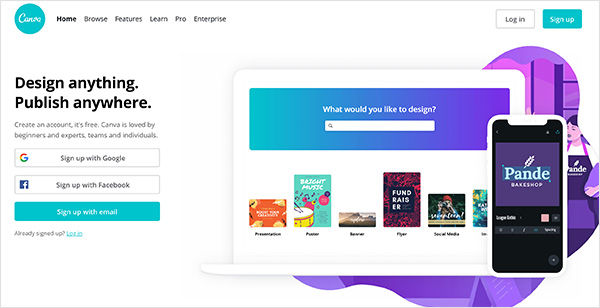 Canva is a popular free visual content tool for designing social media graphics and high-quality graphics of almost any type. To use it, you don't need graphic design skills.
Canva is packed with pre-made templates you can tweak and customize to suit your brand's content creation needs. Plus, it includes a full range of free photos, fonts, and graphic elements to make your graphics sparkle.
For example, you can create:
Infographics
Blog post images
Social media cover photos
Banner ads
Facebook ads
And more
To ensure more advanced features like team collaboration, transparent backgrounds, and free photos, you'll want to upgrade to Canva for Work.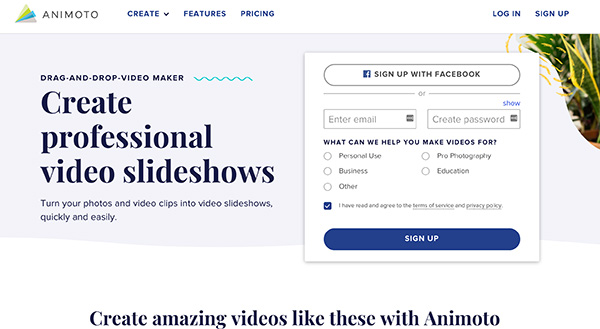 If building videos are more important for your social strategy, Animoto helps create professional videos for social media.
The drag-and-drop design tools and storyboard templates make things simple to navigate. If you're feeling adventurous, you can even start from a blank canvas and create your own video from start to finish.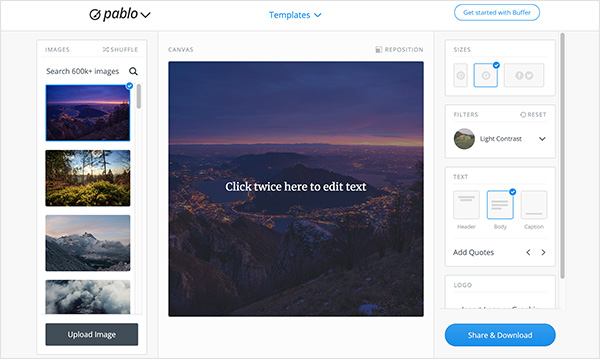 Pablo is a super simple social media graphics tool brought to you by the team at Buffer. It lets you choose from over 50,000 images so you can quickly create beautiful social media graphics to share with your content.
This tool also includes perfectly sized templates for relevant social networks. And needless to say, you can schedule your graphics right into Buffer and your favorite social profiles.
That's it!
In this article, we've covered various popular social media marketing tools that, you'd be seriously crazy to ignore.
So what are you waiting for? Get stuck in and find your perfect tool, so you can make your social media marketing campaigns generate great results for you and your business.
While you're at it, check out these social media marketing statistics so you know the best approach to your strategy.
If you found this article useful, please follow us on YouTube, Twitter, and Facebook for even more super helpful tips.