Do you want to learn how to do a giveaway on Etsy?
As an Etsy shop owner, you can use giveaways to generate excitement and buzz around your products, increase your social media following, and gain new potential customers.
In this guide, we'll show you how to do a giveaway on Etsy so you can grow your small business with viral giveaway marketing.
Can I Do Giveaways on Etsy?
You can definitely do giveaways on Etsy! They're a great way to generate excitement and interest in your Etsy store and are a powerful tool for attracting new customers and engaging with your existing audience.
While Etsy doesn't have a specific feature for creating and managing giveaways, there are several ways to promote your giveaway on Etsy and make it easy for people to participate.
One way is to create a listing specifically for the giveaway prize. This listing can include information about the giveaway, such as the rules, deadline, and how to enter. You can also use a third-party tool like RafflePress on WordPress to manage entries and choose a winner.
The only condition is you'll need to follow Etsy's guidelines and policies and any relevant laws and regulations. For instance, the guidelines state that Etsy sellers can run giveaways and contests on the platform if they comply with Etsy's policies and applicable laws.
For example, giveaways must be free to enter and must not require participants to purchase to be eligible. Additionally, sellers must clearly state the rules and terms of the giveaway, including the prize, the deadline, and any restrictions or limitations.
Overall, if you follow the rules and regulations, a giveaway on Etsy is a fantastic way to promote your shop and attract new customers.
How to Do a Giveaway on Etsy with RafflePress
Since we've already suggested using RafflePress to run your Etsy contest, this guide will walk you through doing exactly that. But first, here's some information on how RafflePress works.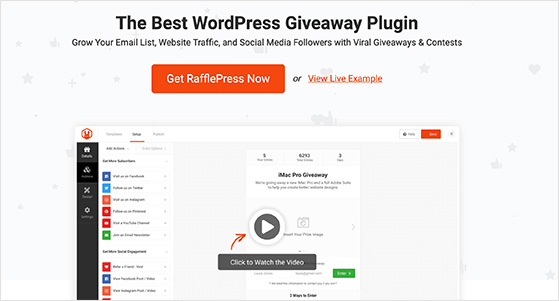 RafflePress is the best WordPress giveaway plugin, allowing you to run contests, giveaways, and sweepstakes easily from your WordPress website. It comes with pre-made giveaway templates, a drag-and-drop builder, and countless ways for your target audience to enter for the chance to win.
These are called entry actions, allowing you to require entrants to:
Follow you on social media platforms
Share your giveaway with friends
Visit an Etsy product page
Subscribe to your email list
And more
Completing those actions grants users a chance to win your grand prize. You can also use this powerful marketing tool to manage giveaway entries, display your giveaway rules, and draw random winners right from your WordPress site.
So if you're ready to dive in, follow these steps to run your first giveaway for your Etsy business with RafflePress.
Set Your Giveaway Goals
Setting clear and specific goals is essential in planning a successful Etsy giveaway. They help you define what you want to achieve and guide your decisions around the prize, promotion, and timing.
First, think about what you want to achieve with the giveaway. Do you want to increase your social media following, generate more sales, or promote your eCommerce store? Once you have a clear idea of your goal, you can start to think about how to achieve it.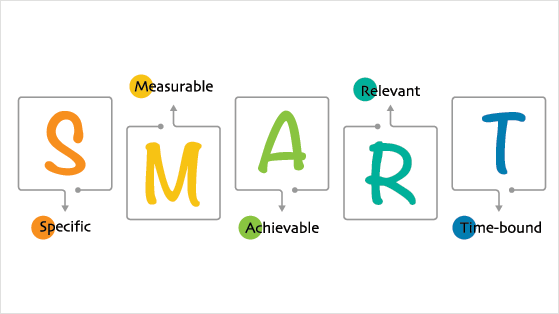 One approach to setting goals for an Etsy giveaway is to use the SMART framework. This stands for Specific, Measurable, Achievable, Relevant, and Time-bound.
Specific goals are clear and well-defined, so you know exactly what you're working towards.
Measurable goals are ones you can track and quantify, such as the number of entries or the amount of social media engagement.
Achievable goals are realistic and within reach, given your resources and timeframe.
Relevant goals align with your overall business objectives and priorities.
Time-bound goals have a clear deadline or timeframe for completion.
To use the SMART framework, start by identifying a specific goal that you want to achieve. For example, you might set a goal of increasing your Instagram following by 500 followers.
Next, think about how you'll measure your progress toward this goal. You might track the number of new followers you gain during the giveaway period.
Then, consider whether this goal is achievable, given your resources and timeframe. If you only have a small budget or a short timeframe, it might be more realistic to aim for a smaller increase in followers.
Ensure the goal is relevant to your business objectives, such as driving more traffic to your Etsy shop or increasing brand awareness. Finally, set a timeframe for achieving the goal, such as running the giveaway for two weeks.
Using the SMART framework, you can set clear, well-defined goals for your Etsy giveaway that align with your business objectives and are achievable, given your resources and timeframe.
Choose a Relevant Prize
Once you have your goals in place, you're ready to pick a prize to give away to your audience. This is a crucial part of your marketing strategy, and making the right choice is essential to ensure you get the best results.
Here are some hacks to help you choose the best prize for your giveaway:
Know Your Audience – Understanding your audience is crucial when choosing a prize. Consider who your customers are, what they find interesting, and what they value. Choose a prize relevant to your audience that they'll be excited to win.
Set a Budget – It's essential to set a budget for your giveaway, including the prize, shipping, and other pricing and costs. You don't want to overspend on the prize and end up hurting your bottom line, so set a realistic budget and stick with it.
Make It Relevant – Your prize should be relevant to your brand and your products or services. Consider offering one of your products as a prize, a gift card, or a bundle of products that complement each other. If you don't sell physical products, consider offering a service, consultation, or access to exclusive content.
Consider the Value – The prize's value should align with your goals and budget. It should be attractive enough to entice people to participate but not so valuable that it will attract the wrong audience. For example, a discount code or coupon code may not be enticing enough to attract entries.
Make It Exclusive – Consider making your prize exclusive to your Etsy giveaway. This can increase its perceived value and encourage people to participate. You could offer a limited edition product, a personalized item, or an experience you can't buy elsewhere.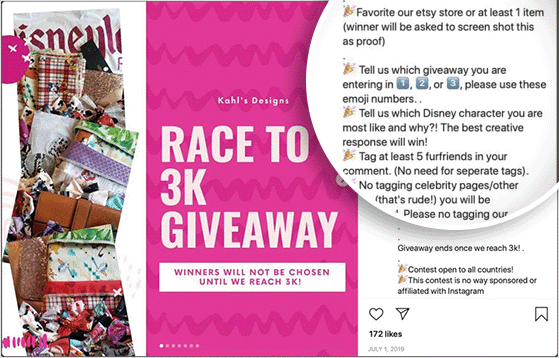 Simply put, choosing a prize for your giveaway requires considering your goals, audience, budget, and the prize's value. By following these tips, you can select a prize that will attract the right audience, generate excitement, and help you achieve your objectives.
Set Up Your Giveaway in WordPress
After planning your giveaway goals and prize, you'll need to start setting it up on your chosen platform. As we mentioned earlier, this guide will show you how to do a giveaway on Etsy from your WordPress website using RafflePress.
If you don't already have one, business owners can follow this guide on how to set up a WordPress website step-by-step. Otherwise, let's get to it.
First, you'll need to install and activate the RafflePress WordPress giveaway plugin. If it's your first time doing this, you can follow this tutorial on installing a WordPress plugin.
Note: You can use the free version of RafflePress to do a simple giveaway, however, we'll be using RafflePress Pro for its advanced features.
Once you activate the plugin, head over to the RafflePress » Settings page from your WordPress admin, and paste your license key.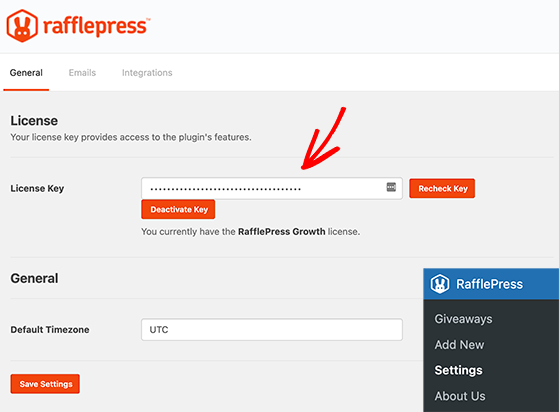 This information is easy to find in the downloads section of your account on the RafflePress website. Now click the Verify Key button.
With your license active, you can start adding a new giveaway. So go to RafflePress » Add New, to launch the RafflePress giveaway builder.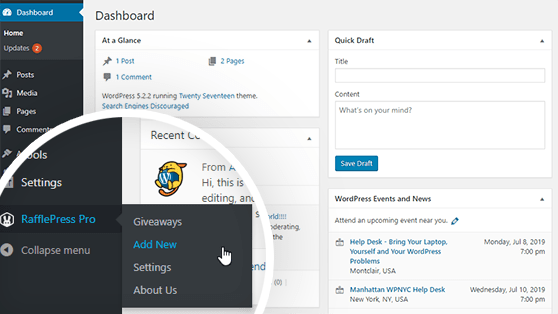 After doing that, you'll see several pre-made giveaway templates for different giveaway goals, like growing your email list, Instagram followers, and more.
First, enter a giveaway name, hover over the template you want, and click the Use This Template button.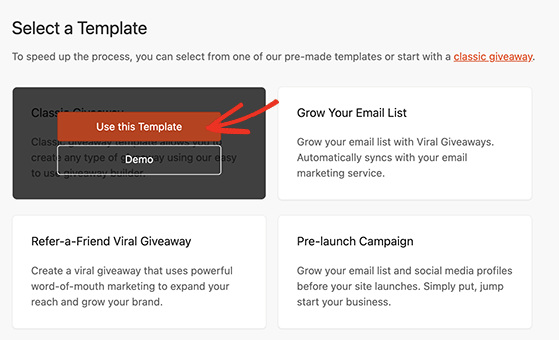 Afterward, you'll see the drag-and-drop builder, where you can enter your giveaway details.
Enter Your Etsy Giveaway Prize Details
On this page, you'll first want to tell entrants what they could win, so click on the 'My Awesome Prize' heading and type the name of your Etsy giveaway prize.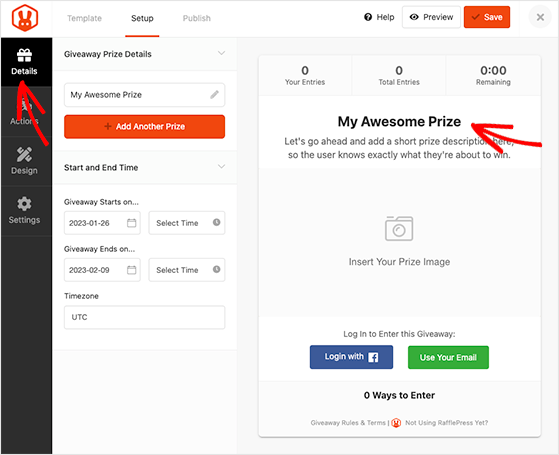 Next, enter some details about the giveaway to encourage your audience to enter. For example, you could add more information about the giveaway and upload a prize image to show what you can win.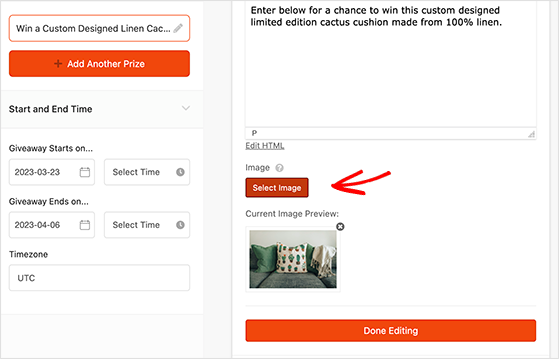 To do this, simply click the Select Image button and choose an image from your computer or WordPress media library. From there, click the Done Editing button to save your changes.
On the same page, you can also enter the giveaway duration, including the start and end date, times, and timezone.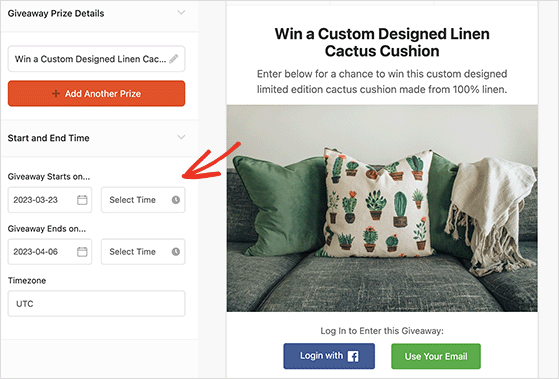 Remember to click the Save button in the top-right corner periodically to save your progress.
Add Ways to Enter Your Etsy Giveaway
Next, click on the Actions tab in the left-hand sidebar.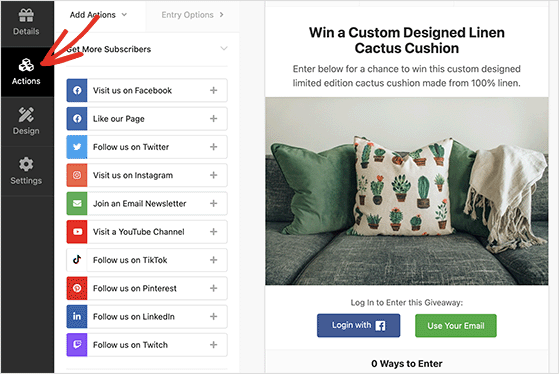 On this screen, you'll see various ways for visitors to enter your giveaway, such as:
Follow us on TikTok
Visit us on Instagram
Join an Email Newsletter
And more.
That said, choosing giveaway actions that align with your goals is important.
For example, if you want to drive traffic to a specific product page on Etsy, you'd use the 'Visit a Page' action. Or, if you want to boost brand awareness, the Refer-a-Friend action is an ideal choice.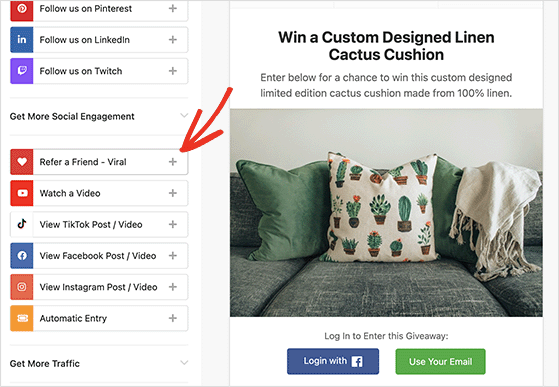 Click any action to add it automatically to your giveaway, and then you can configure its settings in the left-hand panel.
Each action has several customization options, including making the action mandatory. This is handy if you want to offer multiple entry methods but also ensure users complete certain tasks.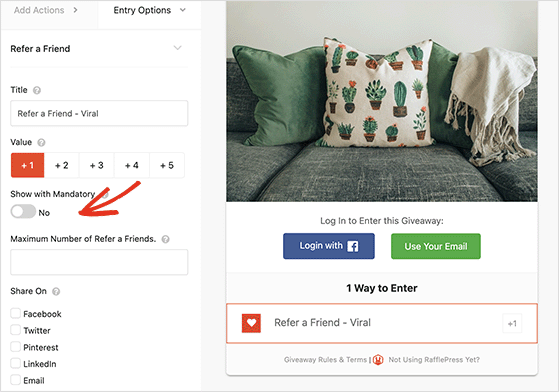 Typically every action is worth 1 entry, but you can change the value to make specific actions worth more. Consequently, users will prioritize more valuable actions, even if they can choose multiple ways to enter.
Aside from these settings, you may also see some action-specific options. For example, in the Visit a Page action, you'll need to enter the page's URL so users can visit it.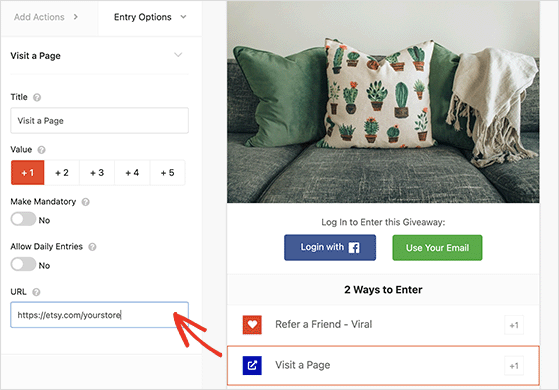 You can add as many giveaway entry options as you like, but putting the most important one first is best. For example, if your goal is to drive Etsy Sales, you'll want to put an action to visit your Etsy page at the top.
You can do that by hovering over an action, clicking the dotted button, and dragging the action to its new place.
Customize Your Giveaway Design
Now click the Design tab, where you'll see several options for customizing your giveaway's look and feel.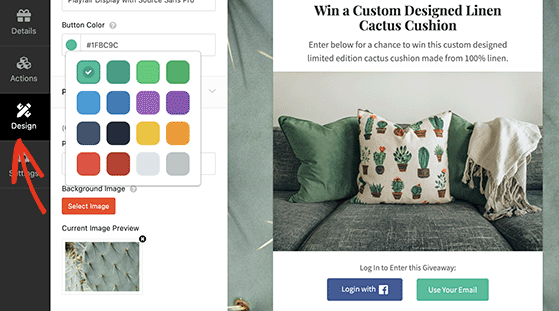 Here, you can change your giveaway fonts, button color, background color, and more. You can also use custom CSS to add your own specific customizations, but it isn't required.
Tweak these settings until you're happy with how your giveaway looks, then click the Save button to save your changes.
Configure Your Settings
For the next step, you'll need to click the Settings tab, where you can adjust how your giveaway runs. For example, the General section lets you change basic settings, like showing the contest winners, hiding the total entries, and limiting sign-ups.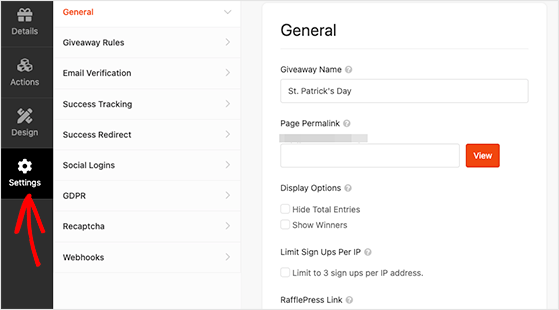 One of the most important settings to configure is your Giveaway Rules. In this tab, you can enter information about your giveaway and allow RafflePress to generate some rules automatically.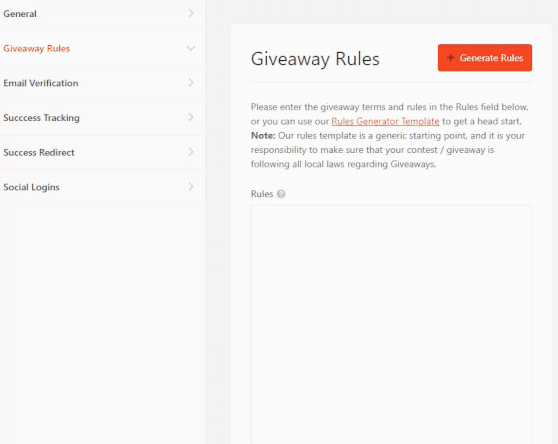 A few other settings to consider include:
Requiring participants to verify their email address
Adding tracking scripts such as Google Analytics
Redirecting users to another page after entering
Allowing contestants to sign up with their Facebook login
Activating a GDPR consent toggle
Enabling Recaptcha to combat spam entries
You can check out our Giveaway Settings documentation to learn more about these features.
Publish Your Etsy Giveaway on WordPress
With your giveaway set up and your settings configured, you're ready to publish your Etsy giveaway on your WordPress site.
There are 3 ways to do this with RafflePress, which are as follows:
Add your giveaway to a post or page with the WordPress block.
Embed your Giveaway in any post, page, or widget area with the RafflePress shortcode.
Publish your giveaway on a standalone giveaway landing page.
The easiest and most effective way to publish your Etsy giveaway is on a landing page because they're ideal for sharing across different online platforms. For example, you can add your giveaway page link to an Etsy product listing, share it in your Instagram bio, and post it on Twitter using popular hashtags to boost its reach.
More importantly, landing pages are free from distractions, making visitors more likely to enter.
To create a giveaway landing page, simply click the Publish tab from the giveaway editor, and choose the Giveaway Landing Page option.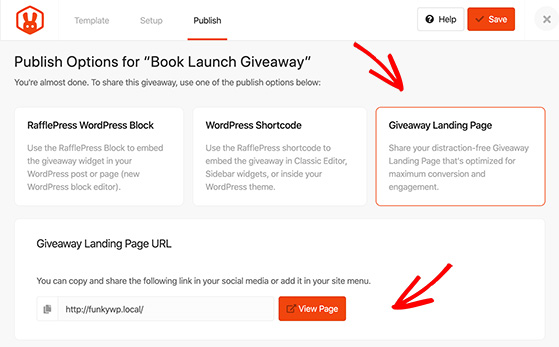 From there, select the "Click here" link, which takes you to the General Settings page.
Here, find the 'Page Permalink' heading, enter a URL for your giveaway page, and click Save.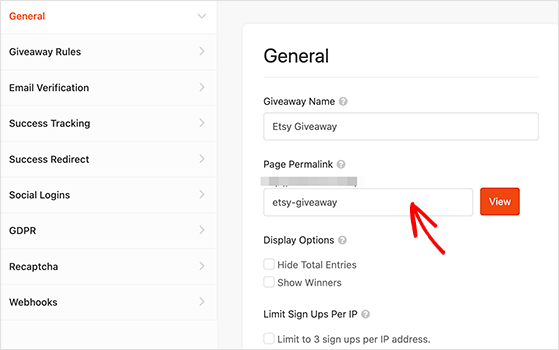 RafflePress will now publish your Etsy giveaway on a high-quality landing page. To see it live on your website, click the View button.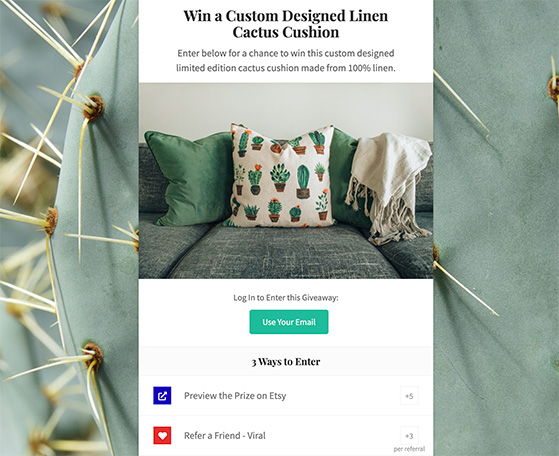 Promote Your Giveaway on Social Media
After publishing your Etsy giveaway, it's a bright idea to tell people about it so they can enter. You can even start promoting your campaign before it goes live so your audience is excited to join before it launches.
Additionally, you can use email marketing campaigns to tell your email subscribers, post about the giveaway on your social media accounts, or promote it on forums relevant to your brand.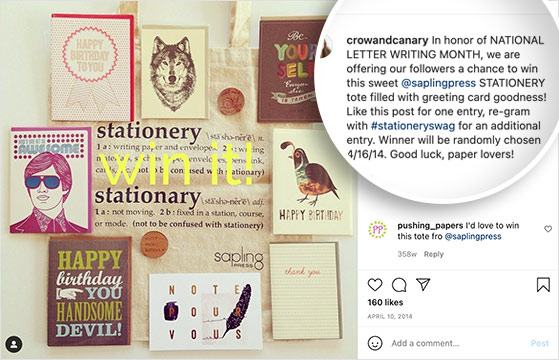 Plus, if there's room in your budget, you can run Etsy ads linking to your giveaway page for an extra boost in visits and entries.
For even more helpful marketing tips, check out these proven contest promotion ideas.
Announce the Winner of Your Etsy Giveaway
When your giveaway ends, and you're ready to draw the winner, you can use RafflePress to choose the winner randomly.
First, go to the RafflePress page in your WordPress dashboard, then click on the "Needs Winners" link. You'll see all the people who entered the giveaway and how many entries they have on this page.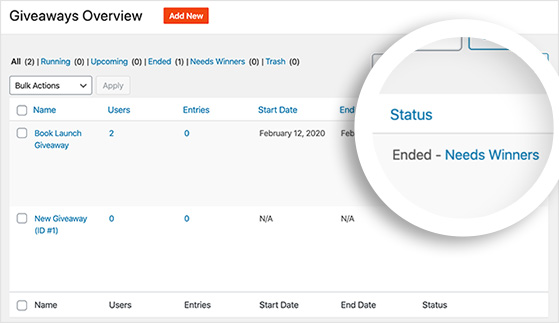 From there, find the "Winner Selection" panel and type the number of winners you want to pick. Then, click on the "Choose Winners Now" button.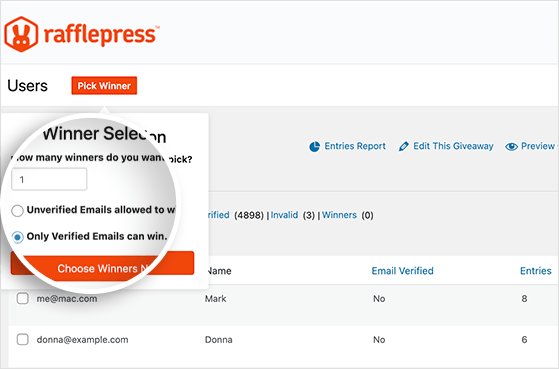 RafflePress will instantly draw a random winner and show you their name at the top of the list of participants.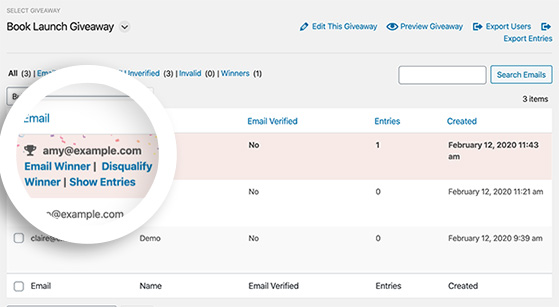 The final step is to announce the winner to let them know they won your Etsy giveaway.
There you have it!
We hope this article has helped you learn how to do a giveaway on Etsy to grow your small business. With RafflePress, it's easy to run any giveaway campaign without the hassle of complicated settings or code.
So what are you waiting for?
Get started with RafflePress today!
Before you leave, you may also like this guide on how to promote candles on Instagram for even more Etsy sales.
If you liked this article, please subscribe to our YouTube Channel for RafflePress video tutorials. You can also find us on Twitter and Facebook.