Do you want to run an Instagram photo contest?
The easiest way to run a photo contest on Instagram is with a giveaway tool like RafflePress that accepts image submissions. That way, you can collect user-generated content to improve your trust and credibility.
Check out how to run a photo contest on Instagram in this step-by-step guide.
What Is an Instagram Photo Contest?
An Instagram photo contest is a powerful marketing campaign that asks users to create and share photos for the chance to win a prize. For instance, you can get people to upload photos of your products, selfies with your products, videos of your products in action, and anything valuable and related to your business.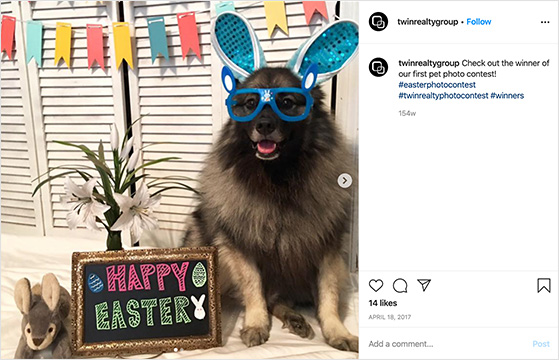 Before Creating Your Instagram Photo Contest
Before you get started, you need to understand the rules for running photo contests on Instagram. As a marketer, you don't want to put in all that time and effort to learn your giveaway violates Instagram's promotion guidelines, and they remove it from your Instagram feed.
One of the first things you need to ensure is including rules, terms and conditions, and eligibility requirements for entering your contest. You also need to clearly state that your giveaway isn't sponsored by or associated with Instagram.
Minor violations don't get flagged that often. But to make sure your Instagram photo contest is a success, you'll want to keep those rules in mind.
How to Run an Instagram Photo Contest: 11 Tips
Now that you know all about the rules, let's look at our top tips for running a successful photo contest on Instagram.
1. Create Branded Hashtags
The best Instagram photo contests make use of branded hashtags. A branded hashtag is a specific hashtag representing your brand, for example, #yourbrandcontest.
Branded hashtags help you track who's entering and the conversations about your giveaway. Yet when you use general giveaway hashtags like #contest and #giveaway, they're hard to track. That's because thousands of Instagram accounts and influencers use that same hashtag.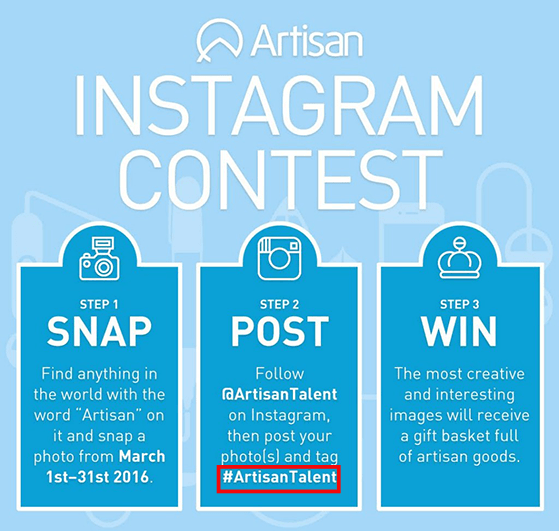 Using a hashtag unique to your brand makes it easier to pick conversations about your company out from the noise on social media.
You should still use generic hashtags in your post captions and Instagram stories. They'll make it easier for people to find your promotion when they search. But it's a good idea to separate your branded hashtag from the others by adding a few line breaks to make it clearer for users.
Related: How to Run a Hashtag Contest (Step-by-Step)
2. Use Eye-Catching Graphics
Instagram is a highly visual platform, so you need to make sure your post stands out and attracts the attention it deserves from your target audience. If it looks like you've put no effort into your post, people won't click to enter.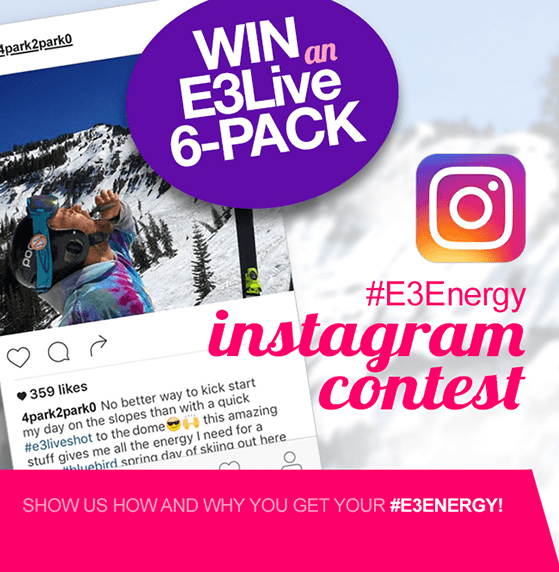 Come up with a design that communicates your message. Graphic design tools like Canva have tons of templates to create a professional image. Try to include a photo of your prize and brief instructions for entering, like tag a friend.
3. Offer a Relevant Prize
When running your photo contest on Instagram, you need to include a grand prize relevant to your brand and audience. Many companies mistake giving away an award that has nothing to do with their brand because they believe it'll get more entries.
Sure, offering amazon cards will probably net tons of entries. But those entrants will likely be low quality and won't contribute to your contest's end goal.
Generic and low-cost prizes will attract Instagram followers seeking freebies. Those people won't be interested in your brand or products and want to get something free.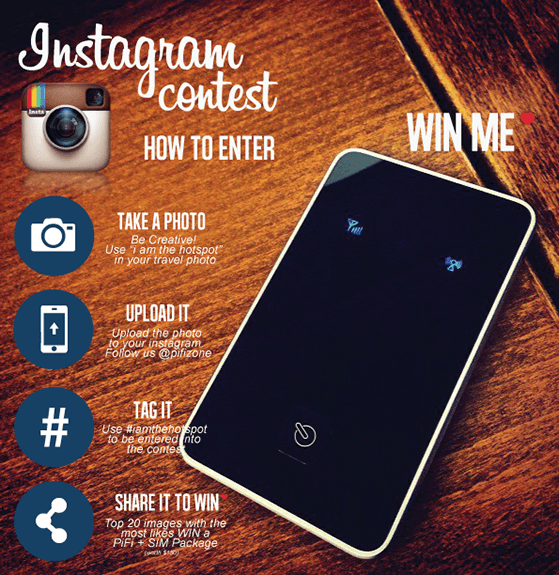 Instead of offering common prizes, choose giveaway prize ideas relevant to your brand and industry. These could be free products or gift cards for your store. Those types of prizes raise brand awareness and give participants a chance to try your products or services.
4. Make it Easy to Enter
Every type of Instagram contest should be easy for users to enter. Having tons of different ways to participate makes things confusing and challenging to track.
The most obvious way to enter a photo contest on Instagram is to ask people to send in a photo or selfie in return for an entry. Make sure you state this clearly in your post and instructions for where people should send their photos.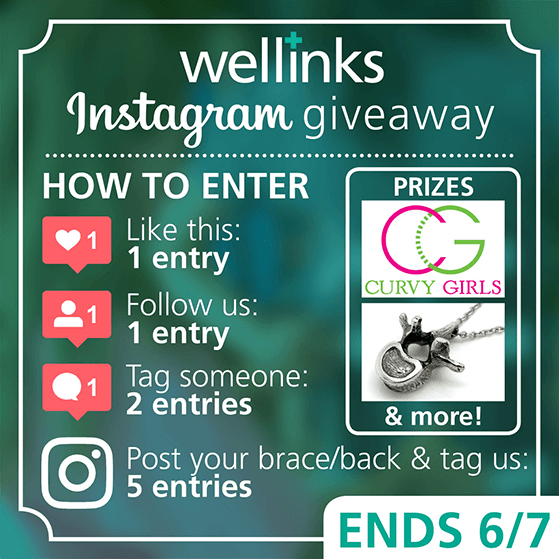 You should also add the contest rules to your Instagram post's caption and have a page on your website with all the information. This will reduce the number of questions you get and keep your contest compliant.
5. Collect UGC for Entries
The most common way to enter a photo competition on Instagram is to submit a photo. This is called user-generated content (UGC), and it's a great way to collect visual content related to your brand that you can use in your marketing messages on other social networks as social proof.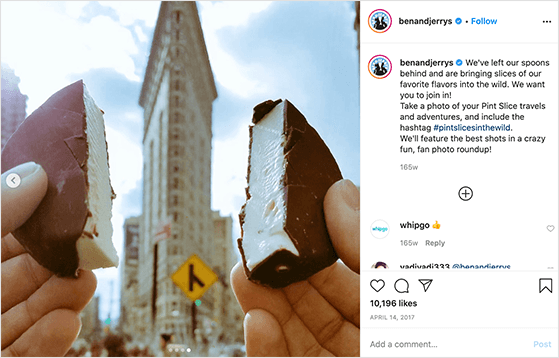 Most companies ask users to tag them in a photo to enter. But managing all those tagged photos can get confusing. To make things simpler and easier to track, use giveaway software to help you collect photo contest entries. Then all contestants will need is to visit your contest widget and submit a photo.
We'll use giveaway software to run your giveaway later in this article.
6. Offer Additional Ways to Enter
While having too many ways to enter your photo competition on Instagram can be confusing, it's worth having extra ways to enter for people who can't submit a photo. That way, you can make your giveaway accessible to everyone who wants to participate.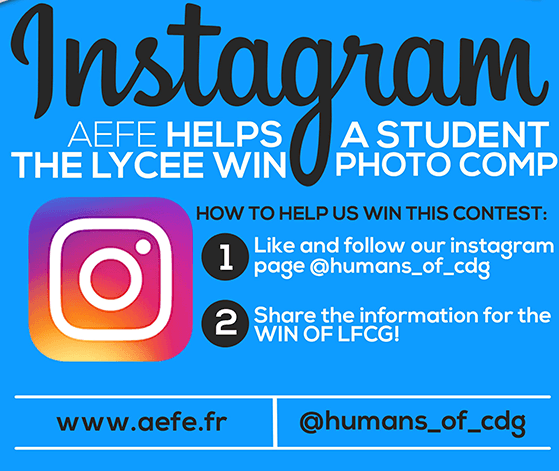 Asking people to share your giveaway is a great way to compliment submitting a photo. Instead of only gathering UGC, you'll get to increase the reach of your competition and secure more entries.
People who have entered with a photo submission can earn an extra entry by referring a friend.
7. Don't Run Your Contest for Too Long
Figuring out how long to run your Instagram contest is pretty tricky. While most contests on Instagram last for around a week, you want to give people a reasonable time frame to discover your giveaway, snap the perfect photo, and enter.
You don't want to run it for too long, either. A photo contest that goes on for longer than 30 days, for example, loses its' sense of urgency. People will leave entering to the last minute or forget to enter altogether.
Aim for somewhere in the middle, like 2 weeks, and make sure the start and end times are visible in your contest announcement post.
8. Let People Vote for Winners
There are many ways to pick a winner for your photo contest. Often people choose to draw a winner randomly. But with a bit of extra work, you can turn choosing a winner into an opportunity to drive more engagement for your giveaway.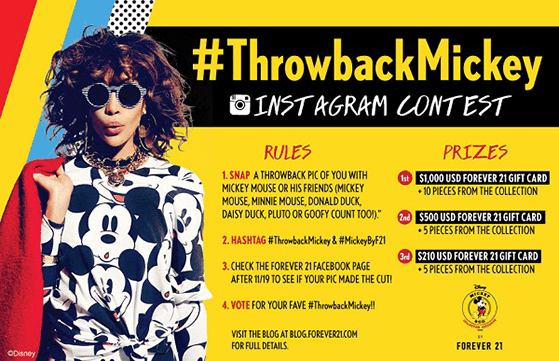 If you let people vote for the winner, it helps your photo content spread organically. People will start sharing it with their friends to get people to vote for them.
9. Promote Your Instagram Photo Contest in Your Profile
Most users won't scroll through your older posts to find your latest Instagram contest. Your giveaway post will get buried quickly if you're posting more than one photo a day.
To avoid that, add a sentence or two about your photo contest in your Instagram bio. You can also add a link to your giveaway landing page so people can enter and find more information.
Adding your photo contest to your Instagram bio is good practice for brands that run several contests throughout the year. It makes it easier for users to find your current giveaway and prevents them from scrolling through past content loads.
10. Make Your Giveaway Fun
It's tempting to run a photo contest on Instagram just for the likes and follows. But if your giveaway doesn't have a good plan, you won't see the results you want.
Part of that plan is to ensure taking part is fun for everyone. The best contests have fun and innovative themes.
A great example is this photo contest from the Asian Development Bank.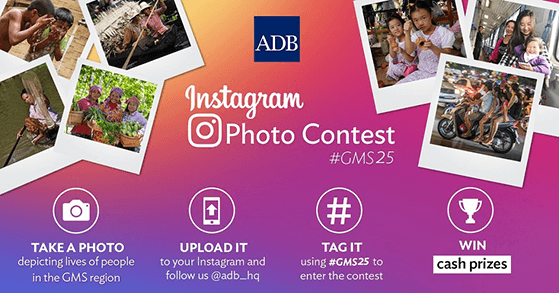 To enter, people had to take a photo depicting people's lives in the Greater Mekong Subregion. The giveaway aims to demonstrate how a focus on increased regional cooperation and integration can improve people's lives.
Try to think creatively about your giveaway idea. These types of contests work because they get the local community involved and highlight important issues.
11. Use the Right Giveaway Tools
Managing your photo contest on Instagram is difficult because there aren't any built-in features for running giveaways. You'll have to do everything manually, including tracking entries, finding votes, and keeping an eye on conversations.
That is unless you use a giveaway tool to make your life easier. Several contesting tools are available, but how do you choose the right one?
This comparison of the best giveaway tools, Rafflecopter vs. Gleam vs. RafflePress, is an excellent place to start.
After comparing the pros and cons of the available contest apps, it's easy to see why RafflePress is the best choice for running a photo contest on Instagram.
Instead of tracking every aspect of your giveaway manually, RafflePress makes the process super easy. Everything from creating your contest and designing its look in real-time to generating rules and creating a giveaway landing page is taken care of with a few clicks.
All you'll have to do after is create a post on Instagram to announce your giveaway.
How to Run an Instagram Photo Contest with RafflePress
Now that you've gathered the best tips for hosting a photo contest for Instagram, let's look at how to create one using RafflePresss on your WordPress website.
Follow the steps below, and you'll get up and running in no time!
Step 1: Install and Activate RafflePress
Your first step is to get your copy of the RafflePress WordPress plugin and upload it to your website.
Then, follow these instructions for installing a WordPress plugin if you need a little help.
When you've installed and activated RafflePress, hover over the RafflePress icon in your WordPress dashboard and click Add New to create a new contest.

Step 2: Choose the Instagram Giveaway Template
After clicking Add New, you'll see the giveaway template page. Here, you can give your contest a name and choose a template. RafflePress's giveaway templates automatically add entry options to your contest related to your goal.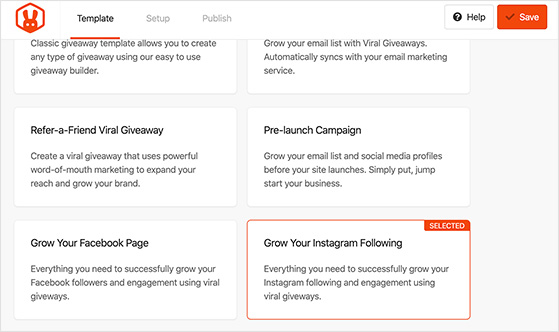 The best place to start when creating a contest for Instagram is to choose the Grow Your Instagram Following Template. This will add the options for people to visit you on Instagram and view a post or video to enter for maximum engagement.
So hover over the Instagram template and click the Use This Template button.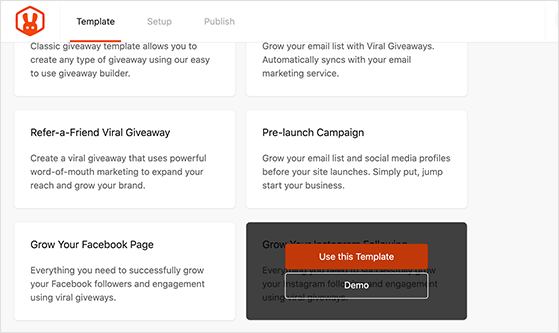 After you see the RafflePress giveaway builder, this is where you can enter your contest details.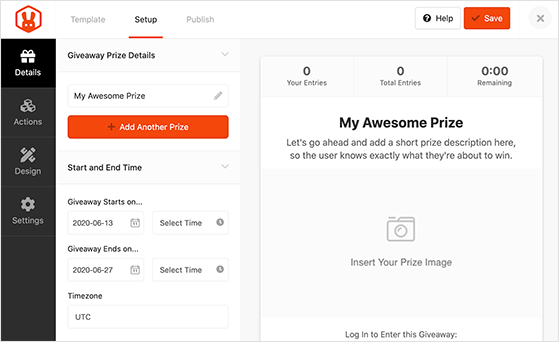 Step 3: Enter Your Prize Details
Now you enter the prize details for your photo contest. Start by giving your contest a title by clicking the pencil icon under the Giveaway Prize Details heading.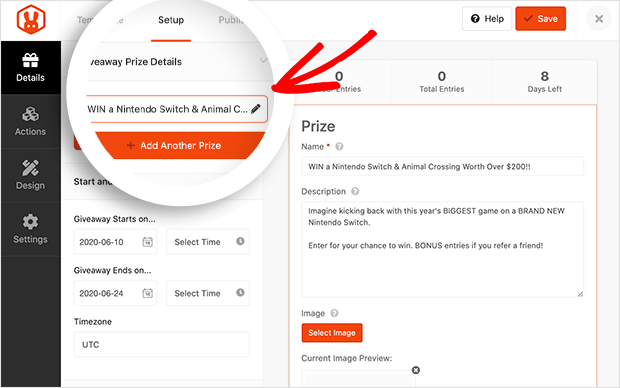 This opens the editor on the right-hand side of your screen. Clicking in any box in this section lets you change the title and description.
You can also enter your photo contest's start and end date and your preferred time zone on the left-hand side.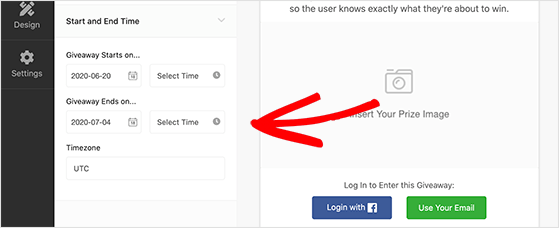 To add an image to your content, click the Select Image button in the contest builder. This lets you upload an image from your computer.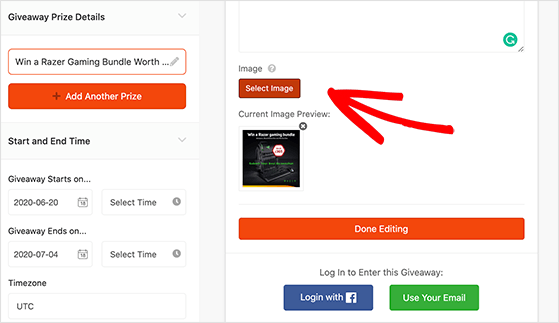 When you're happy with your prize details, click the Done Editing button.
Step 4: Design Your Contest Widget
You can edit the design of your photo contest by clicking the Design tab on the left. You can change your widget's layout, font styles, and button colors here.
Adding a background image for your contest's landing page is just as easy too. Click the Select Image button under the Page Background heading and upload your chosen image.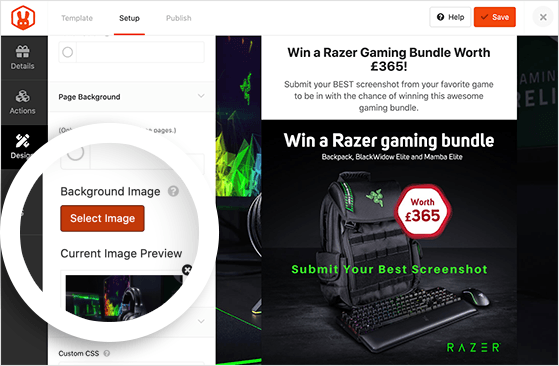 Remember to click the Save button periodically to preserve your settings.
Step 5: Add Easy Ways to Enter
The next step is to add ways for people to enter your contest. Since you're using the Instagram giveaway template, there are already 2 entry methods added to your widget:
Visit us on Instagram: add your Instagram profile URL so participants can visit your Instagram account and follow you.
Visit Instagram Post/Video: embed an Instagram post directly into your giveaway widget for users to view and earn entries. It also includes a button to view the post on Instagram.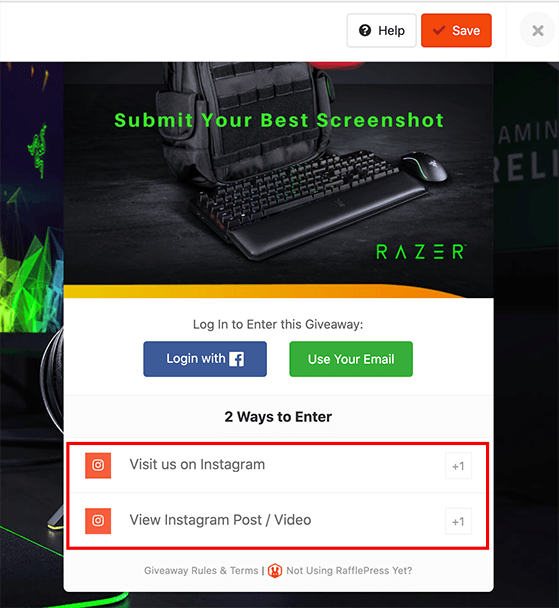 If you want to remove those actions, hover your mouse over the action on your widget and click the trash can icon.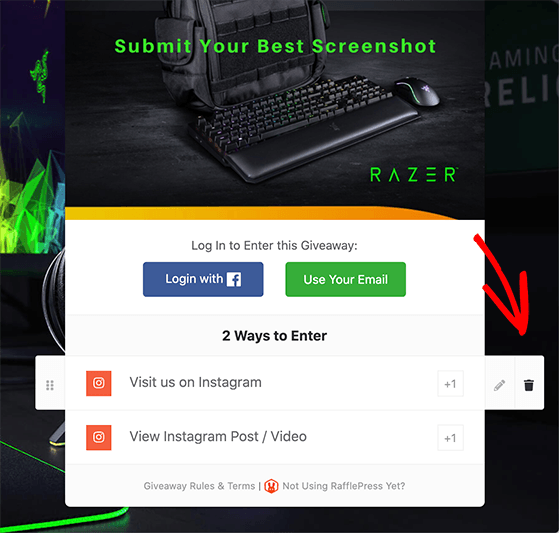 To add an easy way for users to upload a photo, click the Actions tab on the left of your screen. Then scroll down to the Get More Traffic section and click the plus (+) icon next to the Submit an Image action.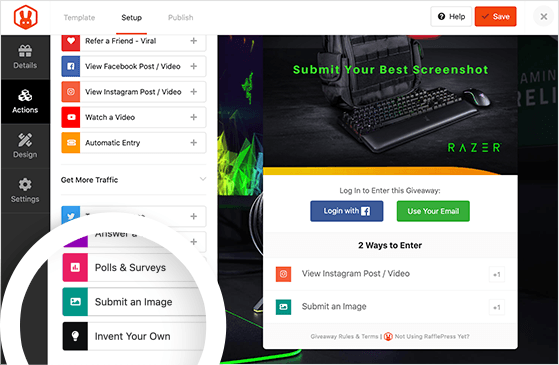 When you click the action in the contest builder, you can change the label title, choose how many entries the action is worth, and make the action mandatory.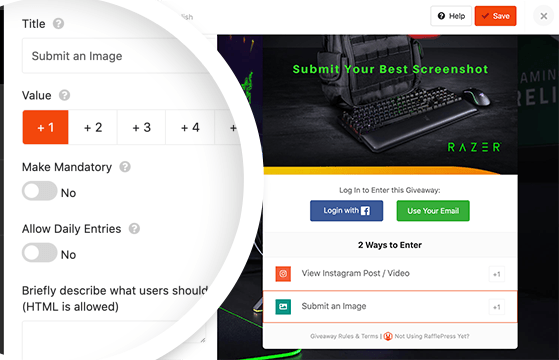 Below that, you can allow daily entries and enter a description of what people should do to submit their photos.
To get more people to refer your contest to their friends, add the Refer-a-Friend – Viral action to your contest widget.
With this action, users can share your contest via
Facebook
Twitter
Pinterest
Email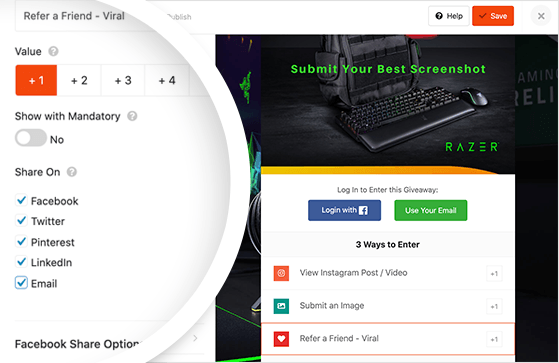 You can also add a custom message to share on each platform, making it easier for people to click and refer.
Related: How to Go Viral on Instagram: 12 Tip & Tricks
Step 6: Generate Your Contest Rules
RafflePress makes it easy to create a set of rules for your photo contest. The built-in rules generator asks a series of questions related to your contest and uses that information to generate them automatically.
Navigate to the Settings tab and click Giveaway Rules to set up your rules.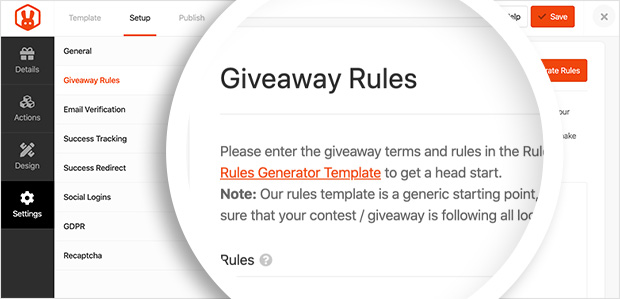 Then click the + Generate Rules button. Now an overlay appears where you can answer some simple questions about your sponsor, contest eligibility, and so on.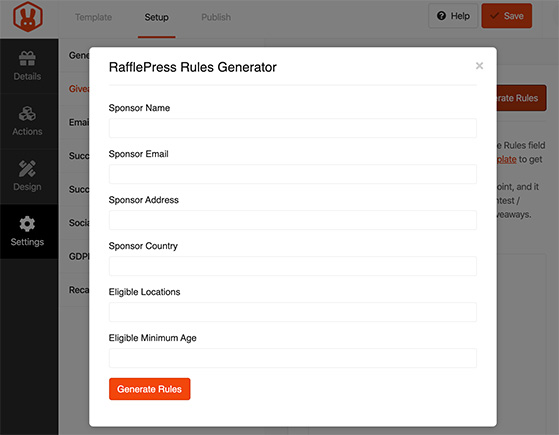 After entering your information, click Generate Rules. Now you'll have a basic set of rules and terms for your photo contest.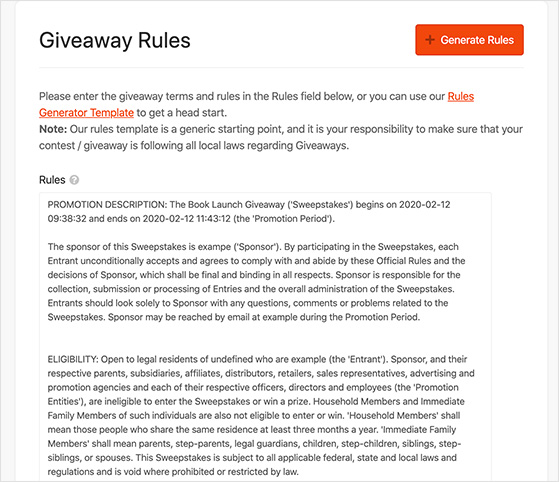 Step 7: Publish Your Contest in WordPress
There are 3 easy ways to publish your contest with RafflePress. Once you click the Publish tab at the top of the builder, you can see the options, which include:
Publishing your photo contest on a post or page with the RafflePress WordPress block.
Using a WordPress shortcode to embed your contest in the classic editor or within your WordPress theme or sidebar.
Publishing your giveaway on a dedicated giveaway landing page to remove distractions.
The easiest way to publish your contest for Instagram is to use the Giveaway Landing Page option. Then you can direct participants to a distraction-free page to secure more entries.
So click the Giveaway Landing Page option first. Then select the "click here" link as shown below to set up your page's permalink. This is the URL people will use to access your page.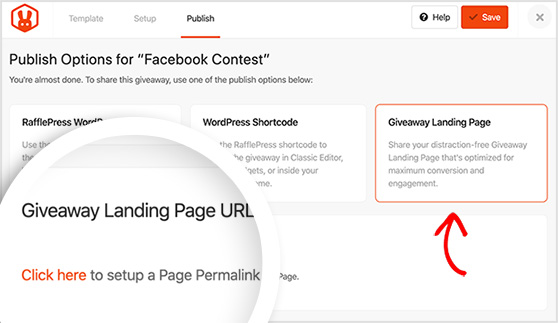 Now enter the permalink in the box under the Page Permalink header. Then save your changes and click the View button to preview your photo contest.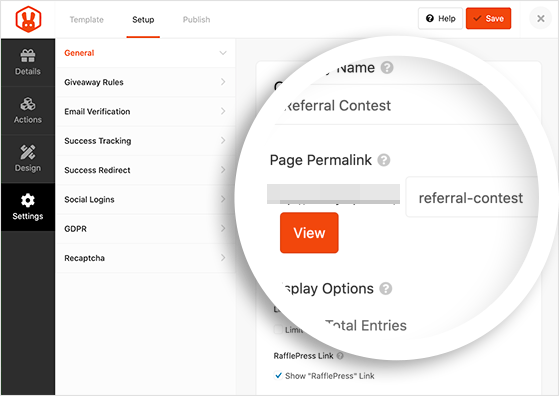 Here's a preview of how our Instagram photo contest looks.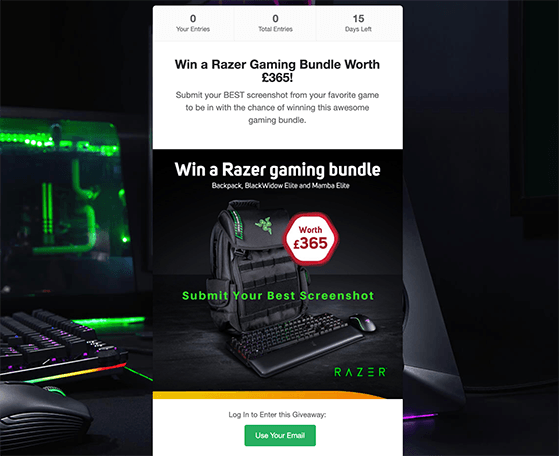 How to Post a Photo Contest on Instagram
You can copy your giveaway landing page URL and post it in your Instagram bio when your contest starts. You can then invite users to enter your photo contest by writing an Instagram post asking users to click the link in your bio.
Remember to include an eye-catching image and caption to motivate people to click. Then you can use these proven methods for promoting your contest.
After that, it's simply a case of picking a giveaway winner and analyzing your results and metrics.
Remember to follow up with your new followers after the giveaway and thank them for taking part. By following up, you show that you value them and can even invite them to participate in future sweepstakes.
FAQ for Instagram Photo Contests
How do you organize photo submissions?
It's easy to organize the photos that contestants submit with RafflePress. Head to RafflePress » Giveaways and click Image Entries on your current photo contest during your giveaway. This will show you all of the image submissions, who entered, when they entered, and how many entries they earned.
How long should you run an Instagram giveaway?
The ideal giveaway duration for Instagram giveaways is around 7 to 14 days. This allows plenty of time for users to enter and not too much time to forget about it.
There you have it!
We hope this article helped you learn how to host an Instagram photo contest. Now all you need is to get started. Then you can grow your followers, engage your existing Instagram audience, and grow your business with viral giveaways.
You can also check out these other successful Instagram contest ideas for more inspiration.
And don't forget to follow us on YouTube, Twitter, and Facebook for more great tips to grow your business.