Are you looking for quick ways to promote your giveaway? Adding your site to online sweepstakes websites is a great way to increase new entries. But with so many sites claiming to list legitimate contests, how do you find the right one?
Don't worry. We've searched the web for the best websites to promote your contest. So you can get even more entries, traffic, and grow your business.
If you're in a hurry, here's a quick summary of our findings. Click any option to jump straight to the explanation:
Shall we get started?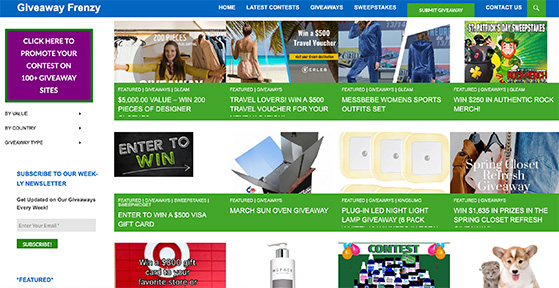 Giveaway Frenzy is a website offering free giveaways and sweepstakes. They feature the latest opportunities in a blog-like feed with contests filtered by price, country, and giveaway type. They also offer a weekly newsletter for their latest contests.
Submitting sweepstakes is free, or you can choose from a range of advertisement packages.
Their packages are as follows:
Free Listing – List your promotion on their giveaways page for 1 week.
Conservative – Homepage placement, newsletter promotion, and posts on Facebook and Twitter.
Moderate – All the above plus submission to 20+ websites.
Aggressive – All the above plus promotion on mom blogs and social media
The only rule is your listing should be good quality and easy to enter.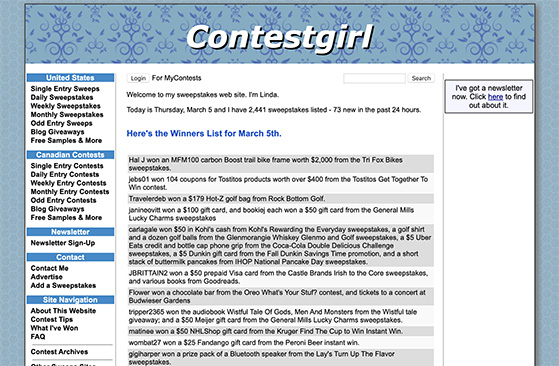 Contestgirl is a sweepstakes directory created to help people organize entries. Contests are on the website sidebar, and clicking any will reveal a feed of listings with the most recent first.
This site is mainly for U.S. and Canadian promotions. But, adding your own is free and straightforward. Simply click Add a Sweepstakes and fill in the form.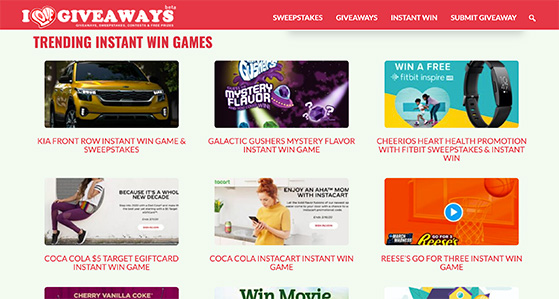 I Love Giveaways is a simple website for promoting sweepstakes and free prizes. Clicking any heading takes you straight to their current listings.
When submitting, this site accepts international promotions. All you need is to click Submit Giveaway and enter your contest details. Then click Submit, and you'll be listed for free.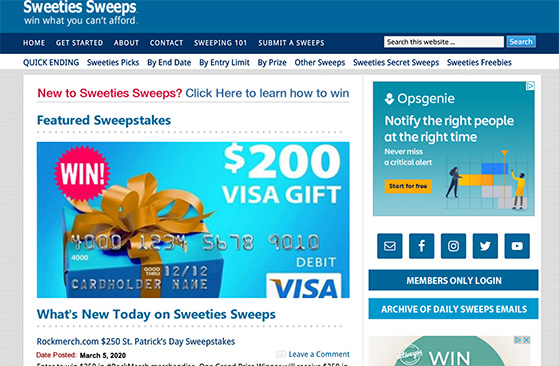 Sweeties Sweeps is a contest promotion site aimed at helping people learn to win what they can't afford. The opportunities added tend to be big-ticket items. For example, holiday sweepstakes and big cash sweepstakes are valued at over $25.
The feed is clearly organized, with the latest additions at the top. Or you can filter listings using the dropdown menus.
To add your contest, click the Submit a Sweeps menu link. Then carefully review the rules, which include:
Giveaways must be open to all U.S. states.
They do not allow mass Instagram follower giveaways, affiliates, or referral links.
Related: How to run an affiliate giveaway contest
Then scroll down to fill in the submission form. But adding your promotion isn't free. A guaranteed listing costs $25, while a featured listing is $50.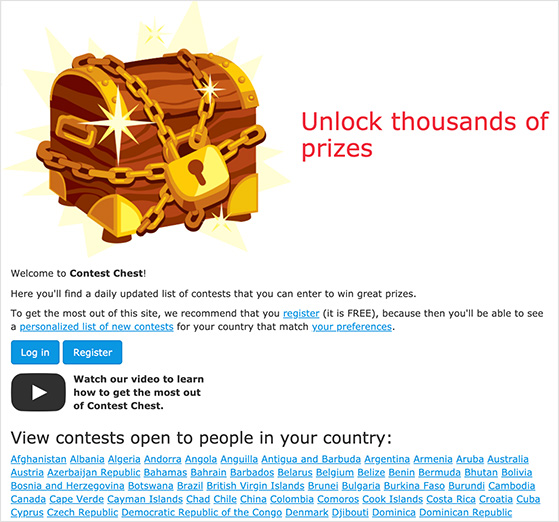 Contestchest is a contest submission site featuring listings for international entries. Once you join the site, you get contests filtered based on your preferences. This is, so you only see promotions open to your country.
Click the Add a contest link if you'd like to submit an opportunity. You'll need to sign up for an account to do this. But for every contest you add, you're entered into a monthly prize draw to win $300 cash.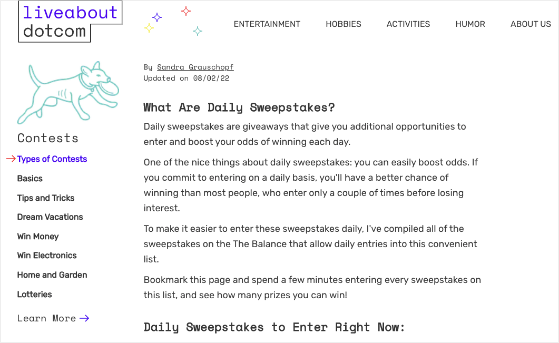 Liveabout.com is a website offering fresh entertainment, hobbies, sports, and humor to its audience with engaging blog posts. They also have a handy contest section listing free online sweepstakes.
Listings are categorized by subject. And there's even a section to win money. You can find contact details on their about page, with email addresses for submissions.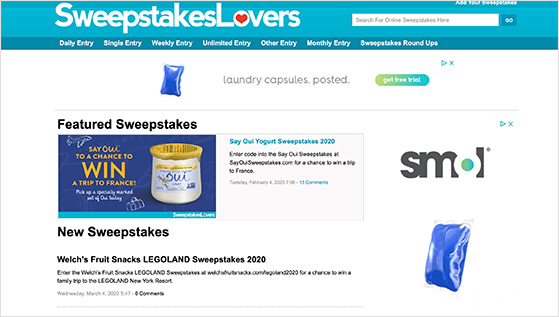 Sweepstakes Lovers is a directory featuring giveaways and instant-win games. It's simple to navigate and you can filter opportunities by clicking the menu links.
Hidden above the search bar, is a link to add your submission. This website gets a lot of queries so they can't always guarantee your promotion will be listed.
But to increase your chances, you can use one of the paid promotions instead of the free listing. These packages start at $5.99 and go up to $9.99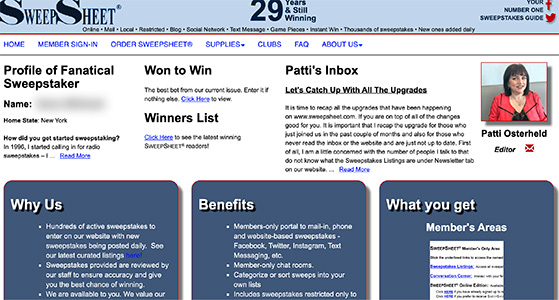 Sweep Sheet is like an online contest guide. It provides practical advice for entering and offers envelopes and other supplies. It also lets people send in contests they find while out shopping or online.
You can send your listing via email with the following information:
The contest name
Start date and end date
The link to your fine print rules
A link to the entry form
Your first name, last name, and state
You can also fax and mail your details if needed.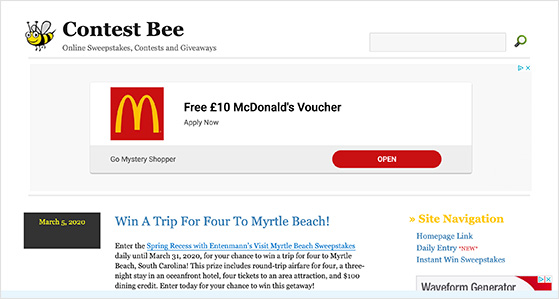 Contest Bee is a website with a collection of the best contests. And their aim is to give people a safe way to find and enter legitimate sweepstakes.
If you scroll down to the About section, you'll see the Submit link to send in your promotion. At times they close submissions due to the large volume they receive. But, this is only a temporary measure.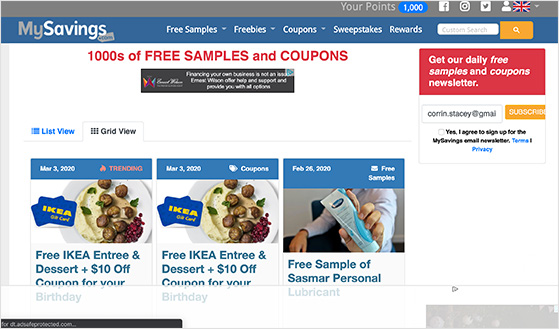 MySavings is a freebies website for users to find free samples, rewards, and coupons. But there's also a list of free competitions too. Simply click the Sweepstakes link in the menu to see a list or grid view of the latest promotions.
You can add yours to the list by using their contact form and filling in your details.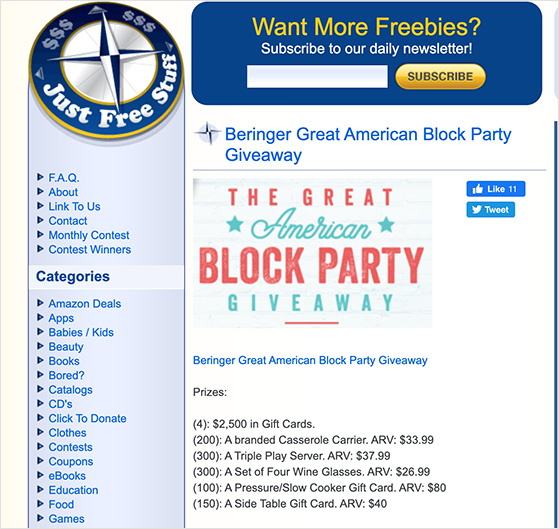 Just Free Stuff is a similar website listing thousands of freebies. If you navigate to the sidebar, you'll also see a category for contests. Opportunities are listed with the most recent submissions at the top.
So why not get your giveaway included by clicking the contact link and filling in the form?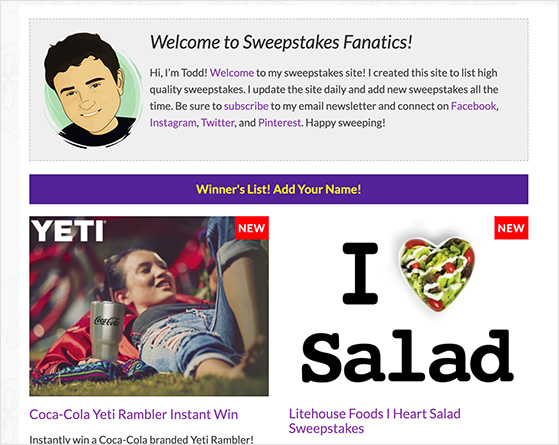 Sweepstakes Fanatics has high-quality promotions that are updated daily. And with that is a range of social media profiles and a newsletter to keep people up to date.
If you're a blogger, you can send your contest via the blogger submission form. While commercial sites should use the advertiser form to get in touch.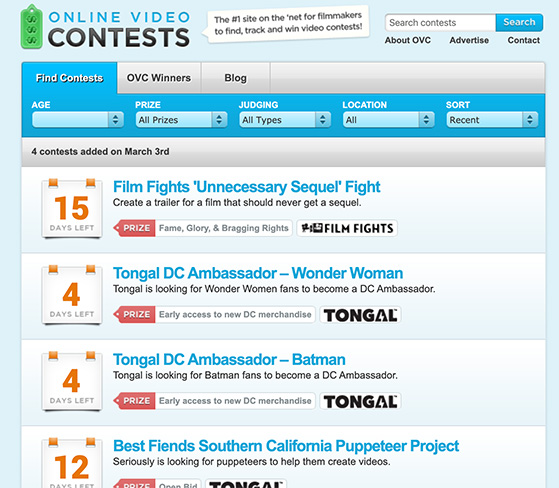 Online Video Contests is a contest aggregation site aimed at video giveaways. They're a resource for filmmakers and enthusiasts to find video competitions online.
You can promote your video contest by contacting their sales team member. Plus, they offer complimentary listings, as well as paid promotions.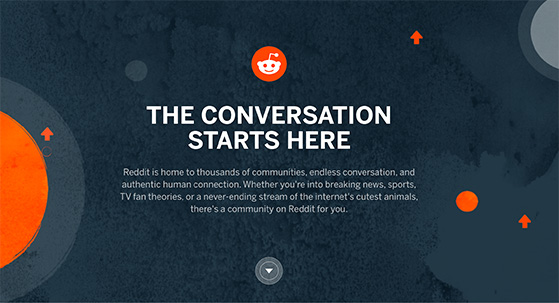 This might seem like a wild card, but Reddit has a thriving community of "compers". It just takes a little time to find the best subreddits for your sweepstakes.
So we've trawled Reddit and discovered the best subreddits for contest promotion:
But as with anything you post on Reddit, it's important to make sure you stick to the posting rules. Especially if you don't want your post to end up moderated.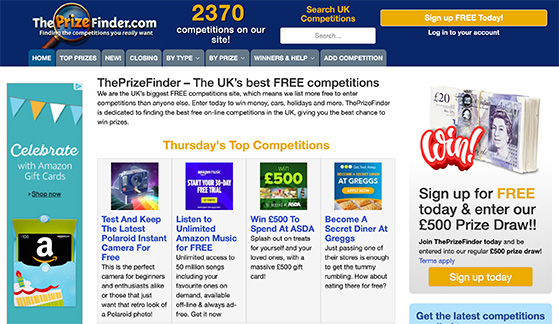 The Prize Finder is a place to find UK internet competitions. Plus, it's a great resource for competition enthusiasts.
You can add a contest to The Prize Finder for free by clicking Add Competition. But if you really want to:
It's worth signing up for a premium listing.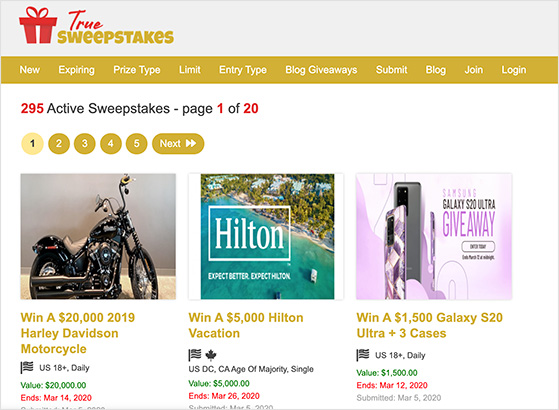 True Sweepstakes is one of the best places to find top sweepstakes to enter. Contests are filtered by category, and new sweeps are listed in the sidebar for quick access.
Clicking the Submit menu link will take you to the contest submission page. Here you can list all the details of your promotion. But it's worth pointing out that your contest should:
Have a prize valued at over $25
Not require a purchase to enter
Not be a repost of another contest
Have no affiliate links
For a traffic boost, you can also upgrade to a paid promotion which starts at $29.95.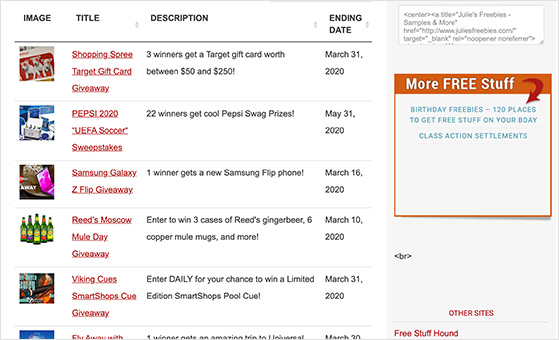 Julies Freebies helps users find freebies, discounts, and competitions. Their contests are listed on the sweepstakes and giveaways page. But the most recent submissions are featured at the top.
And if you click the List Your Giveaway tab, you can find details for submitting your competition.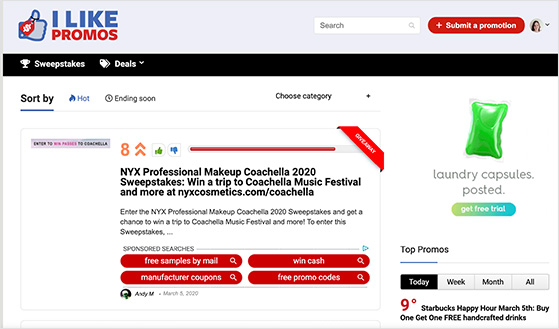 I like promos is another online sweepstakes website with a wide range of giveaways. To promote your opportunity on this site, you'll first need to register for an account.
Then click the Submit a Promotion button, where you'll see a page with a form. Here you can enter your contest information, including the end date, URL, and category. You can also save your submission as a draft to complete at a later time.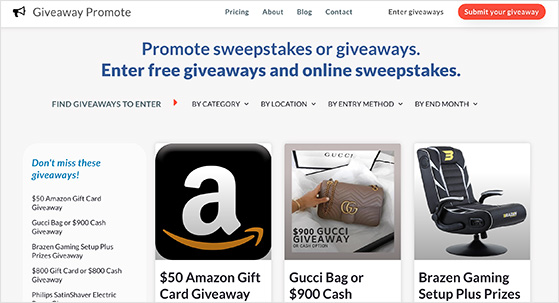 Giveaway Promote is a contest promotion service for bloggers and businesses. They offer a reliable giveaway promotion service and are experts in their field.
It should be noted that it will cost money to use this website. $10 will get you a simple 1-week promotion. Yet, you can add extras at an extra cost, such as:
So if you're really serious about driving huge traffic to your contest, it might be worth giving this site a try.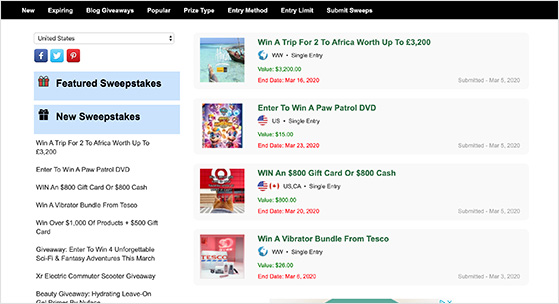 Win A Sweepstakes has a wide range of free online sweepstakes and contests for users to try their luck with. Contests can be filtered by end-time, popularity, prize type, and more.
When you click the Submit Sweeps button, you're taken a detailed submission form. Here you can also see the rules for adding your competition. In short, your prize should be valued at over $25, and the contest should be free to enter.
Basic submissions are free, but if you'd like a guaranteed listing, prices begin at $20.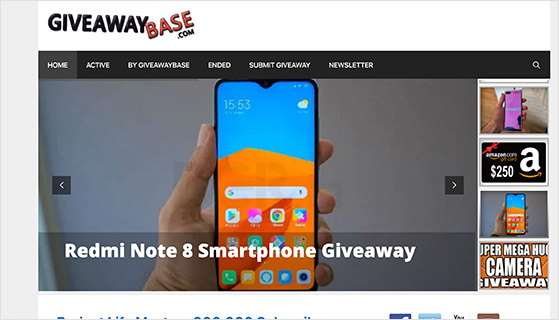 Giveaway Base is a simple site that aggregates the top sweepstakes online. It's not just for people entering giveaways, either. Businesses and bloggers can add contests to the site to reach large numbers of people in a short time.
Submissions to this site cost a minimum of $5 USD for a basic listing. But you can also add on extras to increase the chances of more people seeing your contest.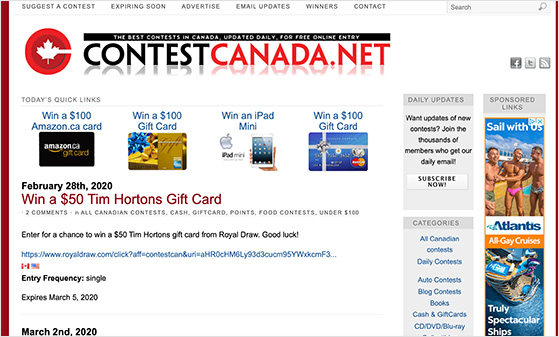 As the name suggests, Contest Canada is aimed at sweepstakes for Canadians. Giveaways are added every day, and the site is free with a light-hearted sense of humor.
If you have a Canadian contest to submit, click the Suggest a Contest link. From there, you can fill in a simple form detailing your competition. Basic listings are free, but you can scale this up with more promotional features starting at $35 for 1 day.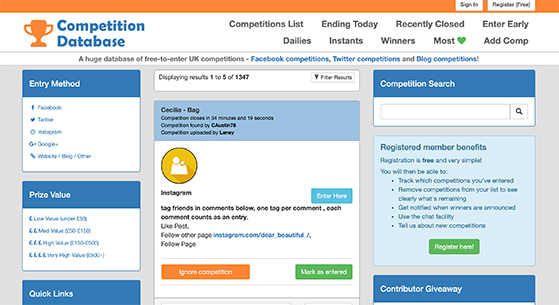 The Competition Database is a UK database with an updated list of current sweepstakes.
The rules for adding competitions to the database include the following:
And it's also worth noting that referral links will be stripped from submitted URLs, so it's best to leave them out too. Plus, you also need to register for a free account to add a contest.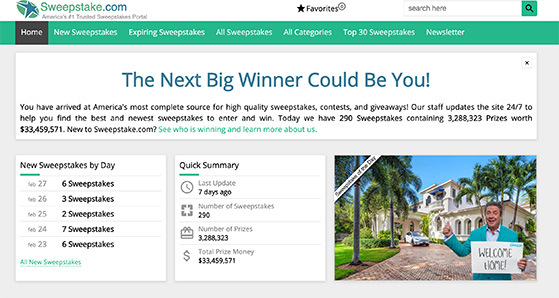 Sweepstake.com is America's #1 sweepstakes portal with high-quality opportunities to win. The directory is updated daily, and it's free to submit your own competition.
To add your contest, head to the submit page and paste your contest URL. Businesses should also tick the Business box to add further details. Then all that's left is to hit Submit.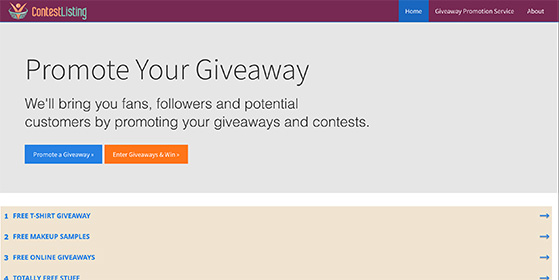 Contest Listing aims to help you grow your business by promoting your competitions. Plus, their directory is easily filtered for users to find the right contest for them.
Adding your opportunity to the list is pretty simple too. Simply head to the Submit a Giveaway page and fill in the form provided.
But if you want heaps more traffic and entries, you can use one of their paid promotion services starting at $14.99.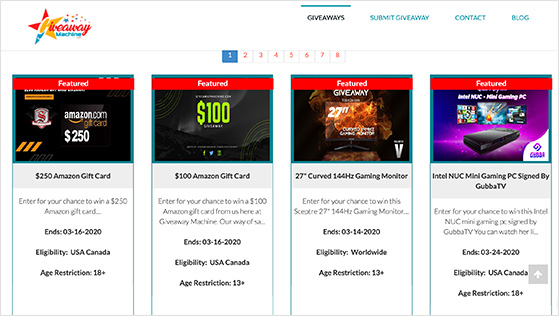 Giveaway Machine lists contests for worldwide and international participants. Plus, contests are in a grid layout and can be filtered by age restriction, location, and category.
Adding your own sweepstakes is as simple as clicking Submit Giveaway. Then go ahead and fill in the form provided. Submissions are free, but you can access advanced promotions for as little as $1.95.
How to Create Online Sweepstakes in WordPress
If you're still in the planning stages, you might be wondering how to create online sweepstakes for your website. Luckily, we have a solution that's easy, powerful, and takes only minutes to set up.
RafflePress is the best WordPress giveaway plugin. It lets you create an online contest in minutes without writing code or hiring a developer.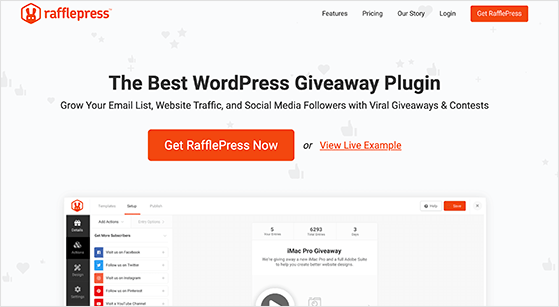 You can get started with several pre-made giveaway templates or use its drag-and-drop builder to build a giveaway quickly. From there, you can choose from tons of 1-click options that allow participants to enter your giveaway instantly.
To make it even easier, here's a step-by-step guide on how to create online sweepstakes with RafflePress.
Final Thoughts
And there you have it! That's a whole load of sites to promote your giveaway and get more leads. And don't worry, we'll check back and update this post when we find more to add.
So now you know where to find the best online sweepstakes websites. But what about the tools to run your contests? Check out this comparison of Rafflecopter vs Gleam vs RafflePress to find one!
And if you found this article helpful, be sure to join us on YouTube, Twitter, and Facebook for similar guides and tutorials.