Would you like to learn how to do a book giveaway? Looking for some excellent book launch ideas?
Promoting a book launch with a contest is a great way to raise awareness and skyrocket sales on publish day. But how do you get started? This article will share some of our easy steps for running a giveaway for a new book.
What Is a Book Giveaway?
A book giveaway is a marketing campaign where users perform specific tasks to win a book-related prize. For example, you might ask fans to write a book review in exchange for an entry into your prize draw.
Why Should You Do a Book Giveaway?
Running a giveaway contest for your new book launch is one of the most effective ways to spread the news to your target audience. Giveaways are hugely popular on social media platforms like Twitter, Instagram, Facebook, and YouTube, so promoting your book giveaway on those channels has the potential to make your book launch go viral.
Plus, with a successful giveaway, you can also:
Drive targeted traffic to your book website
Reach a wider interested audience
Grow your subscribers and email list
Increase your social media followers
Engage your existing audience
And much more
Not to mention, all of that attention can significantly increase the sales of your new book.
How Does a Book Giveaway Work?
Book giveaways work by offering your target audience the chance to win a book in exchange for completing specific tasks. And each task a user completes turns into another chance to win.
For example, you might ask participants to tweet about your giveaway on Twitter for 1 entry. You can then ask them to come back and tweet each day for bonus entries into your prize draw.
Similarly, you can include a number of different tasks that earn participants more giveaway entries, such as:
Following you on Twitter
Joining your email newsletter
Visiting a web page
Leaving a comment
And more.
How to Do a Book Giveaway Step-by-Step
Now that you have a few giveaway book launch ideas from real authors and brands, let's look at how to do a book giveaway for your book launch.
Step 1: Define the Goal for Your Book Giveaway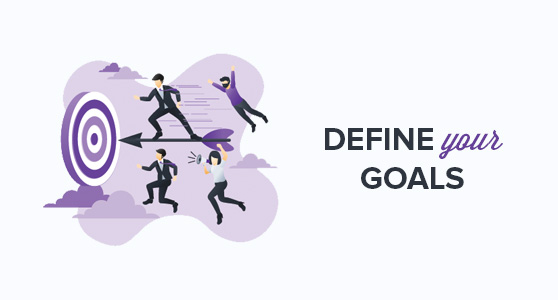 When learning how to do a book giveaway, you must have an end goal in mind. Your goal decides how you set up the rest of the contest and how you'll measure your results at the end.
Think about what you want the outcome to be. Here are a few goal suggestions to help you find what's right for you:
Generate a buzz – Your goal could be to raise awareness and create interest in your latest book on various social media platforms.
Pre-order sales – You might want to encourage potential readers to pre-order your novel.
Quality leads – Perhaps you want to gather verified leads like email addresses to use in email marketing campaigns.
Social media engagement – It could be that you want your audience to interact more on your social media channels.
Expand your audience – Or you might wish to grow your audience on social media.
Sell more books – And of course, it could be to sell more books.
Once you've figured out the goal for your book giveaways, you can move on to the next step.
Step 2: Choose Your Target Audience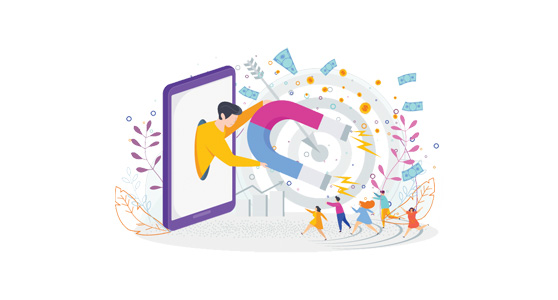 For your book promotion giveaway to reach the right audience, you need to understand how and where to reach them.
Authors and publishers might already have a good idea of who the contest will resonate with. But it's always worth digging deeper to get the perfect picture of your audience.
Consider putting together a buyer profile of your ideal customers. Then drill down into the aspects of their personality that leads them to visit your website.
Here are some ideas for what you can include in a book buyer profile:
Age range – What's the ideal age of your customers? Are they young adults, children, or more mature readers?
Location – Where is their location, and what language do they speak?
Social platforms – Which social networks do they use? Do they prefer to interact on a Facebook page, Instagram, or Twitter profile?
Interests – Do they prefer to read sci-fi over romance authors, or are they horror fans?
Then when you've uncovered your target audience, you can start coming up with good book launch prize ideas.
Step 3: Select a Great Free Book Giveaway Prize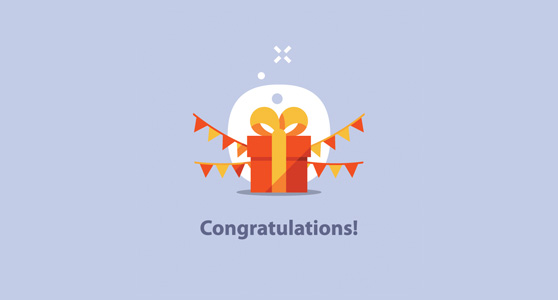 When choosing a prize for your free book giveaway, you need to make sure it's relevant to your audience. Mediocre prizes won't attract the kind of attention you'll need to get those all-important leads.
An easy option is to throw in an Amazon gift card as a prize. But then you'll have an email list bursting with people only interested in that prize, not your new book!
So you need to get creative and think of prize ideas your audience will love while promoting your book at the same time.
Related: What Happened to Amazon Giveaways? (+ How to Still Run Them)
Let's look at some suggestions for a prize you can use for your book contest or giveaway, along with the type of audience they'll suit:
Free book giveaway bundles from a chosen author
Bookends for design lovers
Historical replicas for history buffs
Tickets to a murder mystery dinner for fans of crime and mystery novels
Tickets to a ghost tour for horror book lovers
Sessions with a personal trainer for health-focused readers
Spa days for the wellness crowd
Free restaurant meals for the romantically inclined
Movie props for sci-fi and fantasy enthusiasts
But that's not all. There are a ton of proven contest prize ideas in this article. Go ahead and check it out!
Then come back and learn about the best tool for running your sweepstakes.
Step 4: Choose a Powerful Giveaway Tool
Successful book giveaway campaigns should have a powerful tool behind them. Having a giveaway platform that takes care of your contest for you reduces the time you have to spend gathering entries, marketing across social media, and even drawing a winner.
While there are many giveaway tools to choose from with varying benefits, RafflePress is the ONLY giveaway tool designed primarily for WordPress websites.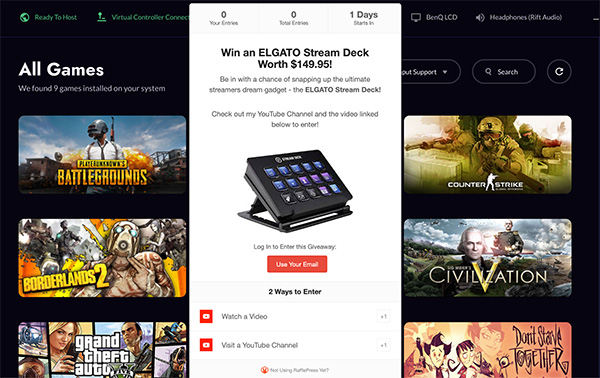 RafflePress's lightweight WordPress plugin is ideal for launching a book marketing giveaway and is packed with features for gathering qualified leads, growing your audience, and creating viral giveaways.
But that doesn't mean you can't use it elsewhere, either. The giveaway landing page option lets you publish contests on their own landing page. So you can share the URL on Facebook, Twitter, Instagram, YouTube, and anywhere else on the web.
So go ahead and grab your copy of RafflePress here, then we can move on with the instructions to do a book giveaway.
Further Reading: How to Go Viral on Instagram: 12 Tips & Tricks
Step 5: How to Do a Book Giveaway With RafflePress
So you know your goals, have pinpointed your audience, have an awesome prize and found the best tool for the job. Now it's the fun part of putting it all together to build competition to launch that new book.
When you've downloaded your copy of RafflePress, you'll need to install and activate the WordPress plugin. Then follow these instructions to create an online contest to set yourself up.
Add Ways to Enter
Next, decide how people will enter the contest. Remember this needs to align with your ultimate giveaway goals. So the actions people take will result in your goals being met.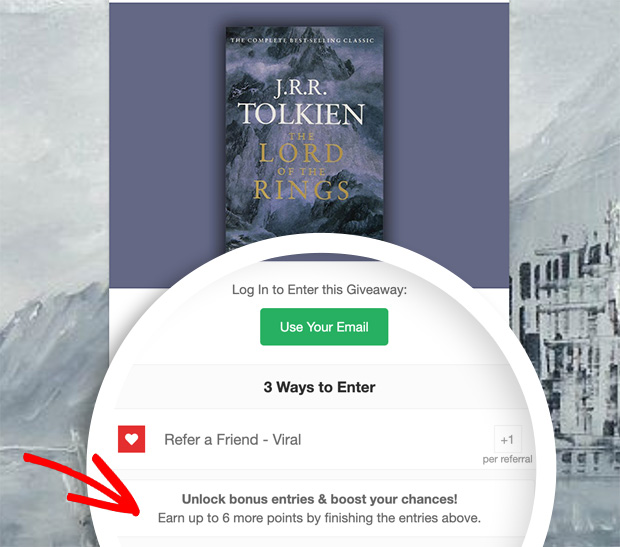 Here's an example we've put together to give you an idea. For our book launch promotion, the goal is to get more people to pre-order the book. Therefore we've chosen the following entry actions:
Refer-a-friend – This is a mandatory action where entrants have to share a link to the contest in order to unlock more ways to enter.
Visit a Page – Here, entrants can visit the pre-order page to unlock a single entry.
Pre-order – We've used the Invent Your Own action available in RafflePress to set this up. To confirm the pre-order of the book, customers need to add their order number, and it will unlock 5 extra entries for them.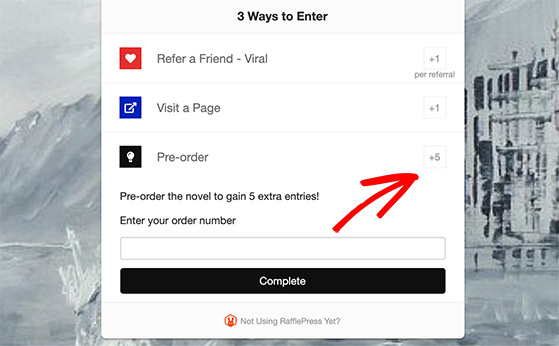 As you can see, each action leads the participant toward what we want them to do, which is to pre-order the book. And that's why we've made it more desirable for them to act with 5 extra entries.
It gives them more opportunities to win.
Some other entries you can use for book giveaways include:
Write a blog post – Ask users to write a book review on their blog to enter your contest.
Leave a comment – You can add a bonus entry option to comment on a recent blog post.
Subscribe to RSS – Ask people to subscribe to your RSS feed for new blog posts and updates.
Join a Newsletter – Get users to subscribe to your email list for another bonus entry.
Configure the Settings
Next, you'll need to confirm the settings for your giveaway. RafflePress comes with 7 different sections in the Settings tab: General, Giveaway Rules, Email Verification, Success Tracking, Success Redirect, Social Logins, GDPR, and Recaptcha.
The most important of these are the Giveaway Rules. It's easy to get a head start putting your rules together. RafflePress has a Rules Generator Template that asks a few questions to generate a set of rules automatically. Just click the button to get started.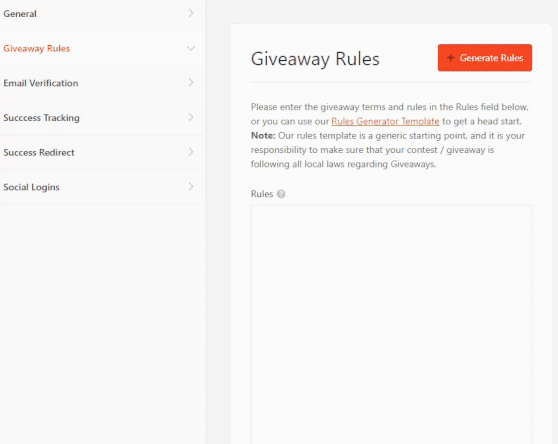 You can see our documentation for details on all the RafflePress settings.
Step 6: Publish Your Contest
Now it's time to make your book launch competition go live! Click Publish at the top of the screen, and you'll see 3 publishing options.
You can publish your contest in the following ways:
RafflePress Content Block – Embed the giveaway widget in a post or page with the new WordPress block editor.
WordPress Shortcode – Embed the giveaway in the classic WordPress editor, the sidebar, widgets, or theme with a simple shortcode.
Giveaway Landing Page – Create a landing page free of distractions on your site for the giveaway.
We'll choose the dedicated landing page option for this example because it's distraction-free and more likely to encourage people to enter.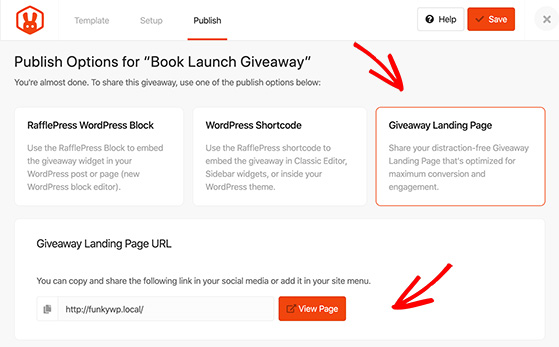 So go ahead and click the Giveaway Landing Page option.
You'll be asked to set the permalink for the landing page, which is pretty simple. Just enter your preferred URL parameters. Then click the View button to see what your competition looks like.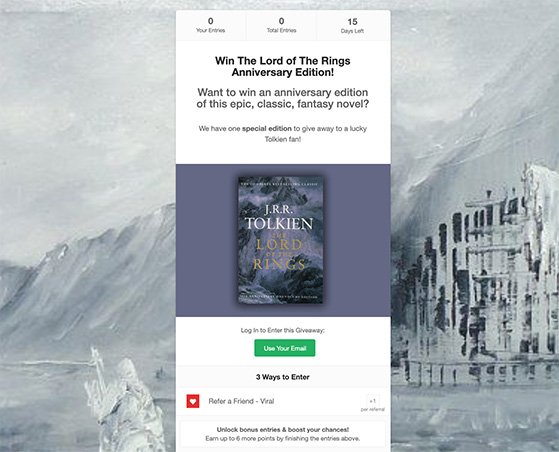 Great job! You've now got an amazing landing page for your contest.
Step 7: Strategically Promote the Contest
To create a super successful giveaway, you need a clear strategy that lays out all the steps you'll take to promote it. You can't just sit around and wait for people to enter.
There are plenty of ways to promote your book launch, but some of the easiest ways are to share the contest on social media.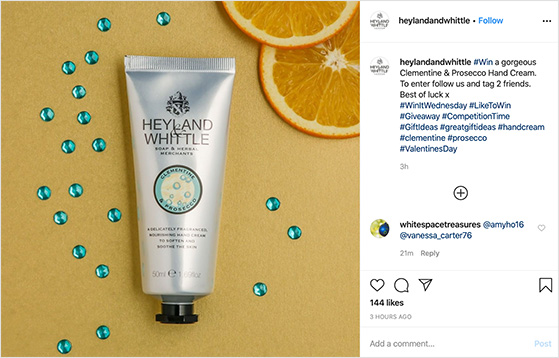 For example, this Instagram giveaway from Hayland and Whittle has a great photo showing followers what they could win and giveaway hashtags to widen their reach on Instagram.
Start promoting your giveaway a few weeks before the contest goes live, so you get heaps of entries on day 1.
You can also check our article on contest promotion ideas to make your contest go viral.
Step 8: Pick a Giveaway Winner
When your contest has ended, it's time to choose a winner. But how do you pick a winner for a giveaway? The fairest way is to draw a winner from all verified entrants randomly.
It's easy to do this with RafflePress. When the contest ends, head to RafflePress » Giveaways and click the Needs Winners link.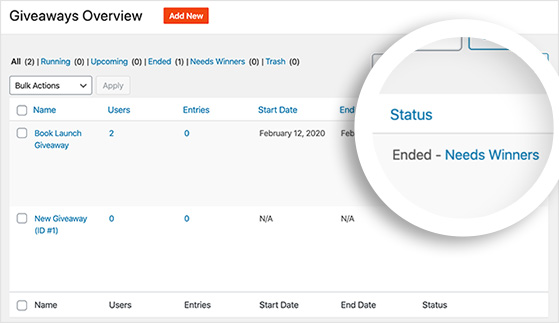 Here you can see everyone who's entered and how many entries they have. To randomly choose a winner, click the Pick Winner button, select your options, and click Choose Winner Now.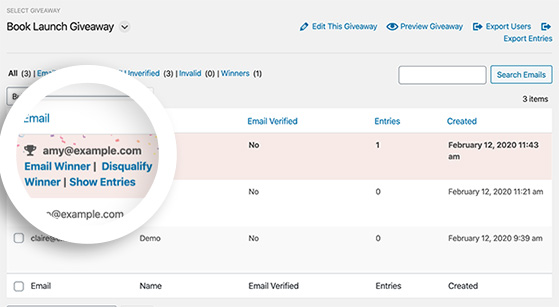 The winner is then highlighted so you can click to email them and deliver the good news and make them feel special.
Step 9: Measure Your Results
The final step for your book launch contest is to analyze your results and see if everything went according to plan. It can also highlight areas of improvement to achieve more success in the future.
The easiest way to collect actionable information for optimizing your giveaways is by using MonsterInsights. MonsterInsights is the best Google Analytics plugin for WordPress.
It's easy to track visits to your contest landing page, along with all site traffic, referral traffic, eCommerce sales, and much more. Even better, you can view all your reports within the WordPress dashboard.
By looking at your website data, you can see which book promotion strategies drive the most traffic to your contest page. Then you can use it to improve upon your next giveaway. And with real-time statistics, you can monitor traffic during your contest and tweak settings while it's live.
Book Launch Giveaway Ideas and Examples
Before we get started, here are some exciting book giveaway ideas you can use as inspiration.
Copperpots Twitter Book Giveaway Idea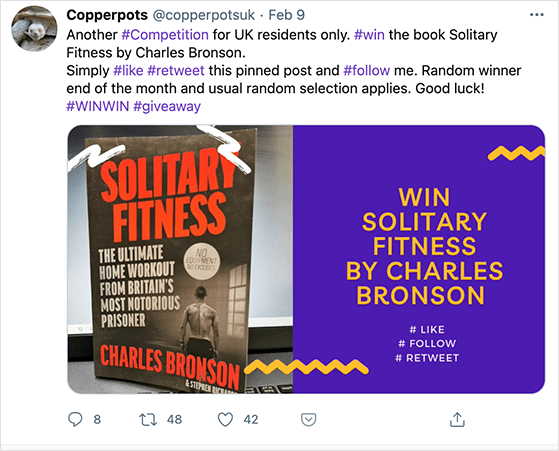 In this example, Copperpots used Twitter to promote a book by Charles Bronson. Users have to like and retweet the post and follow their Twitter profile to enter.
By using giveaway hashtags like #giveaway and #win, they help their post reach a much larger audience than they typically would.
Herbal Academy Instagram Book Giveaway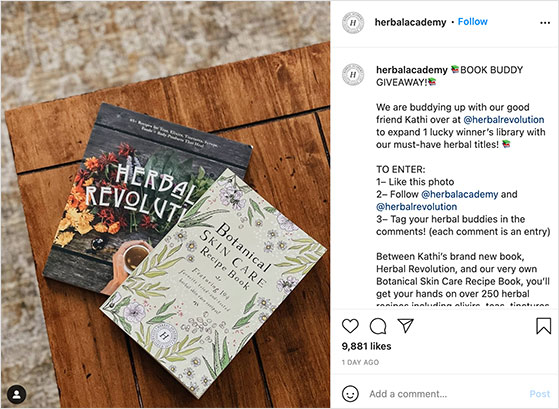 In contrast, Herbal Academy used Instagram to promote their book and run an exciting giveaway. They also used it to partner with a relevant brand to increase their reach.
To enter, users had to:
Like the photo
Follow them on Instagram
Follow their partner's account
Tag a friend in the comments
This book launch idea is a great way to support non-competing partners in your industry. And the result is everyone benefits from the promotion.
Valentine's Instagram Book Promotion Giveaway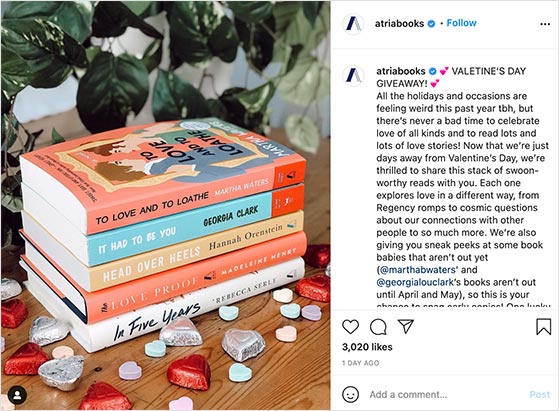 In this Instagram book giveaway example, Atria Books used Valentine's Day to promote their romance book collection on Instagram. The lucky winner could receive a bundle of free romantic books to celebrate the big day.
This is an excellent book launch idea to raise awareness about your new publication.
Facebook Book Giveaway Example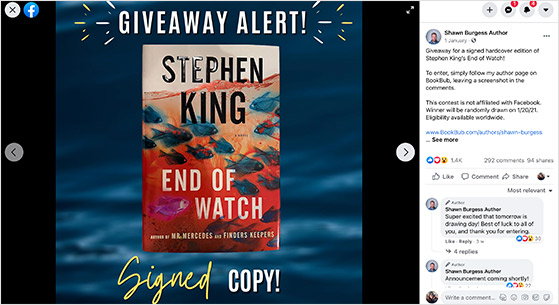 Shaun Burgess ran a book giveaway from his Facebook page to promote his author profile. The winner could receive a free signed copy of a popular Stephen King book.
To enter, users had to follow Shaun's author profile on BookBub and leave a screenshot confirming the follow in his Facebook comments.
Book Giveaway Frequently Asked Questions
Can I do a book giveaway on Goodreads?
Yes, you can host a book giveaway on Goodreads. The platform offers a giveaway program that allows authors and publishers to offer physical or digital books to readers. The program is designed to generate buzz and encourage reviews for your book. However, we recommend running a giveaway from your website to drive traffic directly to your business.
Can I give away an eBook instead of a physical book?
Yes, you can choose to give away an eBook instead of a physical book. Many authors and publishers opt for eBook giveaways as they are more cost-effective and easier to distribute. When hosting an eBook giveaway, ensure you provide clear instructions on how the winner can claim and access their digital copy.
How do I handle shipping costs for physical book giveaways?
When hosting a physical book giveaway, you'll need to factor in shipping costs. You can include shipping costs in your giveaway budget, use a print-on-demand service that handles shipping for you, limit the giveaway to specific regions to control shipping costs or offer a digital version of the book as an alternative to reduce shipping expenses.
And there you have it!
Today you've learned how to do a book giveaway on launch day, so you can get more book sales, grow your audience, and gather heaps of leads.
If you'd like even more leads, these lead-generation ideas are sure to explode the growth of your business.
And if you want to learn about other contest types, take a look at these tutorials:
To get even more great tips for running a giveaway, subscribe to our YouTube Channel and follow us on Twitter and Facebook.