Rafflecopter vs Gleam vs RafflePress: Which Is the Best Giveaway Tool?
Are you looking for quick ways to run WordPress giveaways and are unsure of which giveaway tool to use? Don't worry! In this article, we'll compare Rafflecopter vs Gleam vs RafflePress, the most popular giveaway tools. So you know the strengths of each option and can enjoy running viral giveaways.
But first…
What is a Giveaway Tool?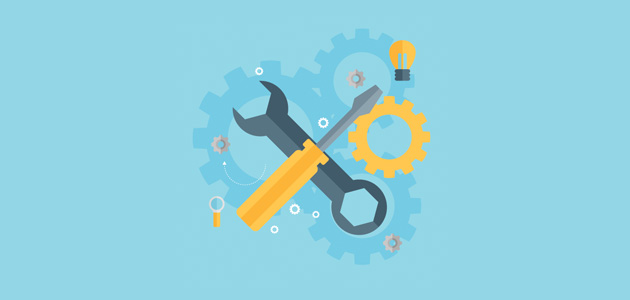 A giveaway tool is a web application or plugin that allows you to create and run contests and giveaways on your website.
Often the tool comes in the form of a giveaway widget, landing page, or an embed code that you can easily add to your site. The most popular giveaway tools let you add entry options so that visitors can enter the giveaway.
These entry options usually involve the following actions:
Following you on social media.
Joining your email list.
Visiting a URL.
Leaving a comment.
Sharing a post, and more.
And the benefits of using a tool for giveaways is that it helps you keep track of who's entering, while allowing you to grow your email list, social followers, and raise awareness about your business.
Rafflecopter vs Gleam vs RafflePress
We've identified 3 of the most popular giveaway tools, Rafflecopter, Gleam, and RafflePress. But which one is the best? Let's dig deeper and find out.
If you're in a hurry, here's a quick summary of our findings.
| Giveaway Tool | Rating | WordPress Plugin | Price |
| --- | --- | --- | --- |
| 1. RafflePress | Best Giveaway Tool for WordPress | Yes | $49 / year |
| 2. Rafflecopter | Basic Tool for Giveaways | No | $13 / month |
| 3. Gleam | Giveaway Campaign Platform | No | $10 / month |
Rafflecopter Overview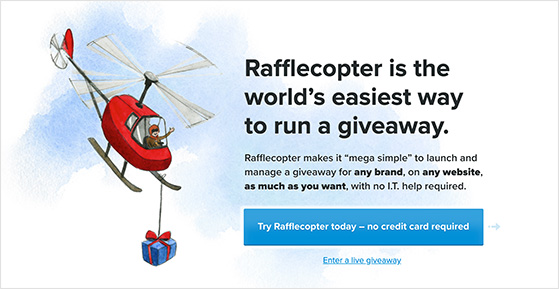 Rafflecopter is a popular free web-based giveaway tool, which means you can create a giveaway right there on their website. It bills itself as being super easy to use and allows small businesses to set tasks for people to enter the giveaway.
You can then add the contest on your website using the embed code it provides when you've set everything up.
How to Run a Rafflecopter Giveaway
To run a giveaway with Rafflecopter, create an account then click New Giveaway to get started.
Then click the Add a Prize button to set up your giveaway prize options and to give your prize a name.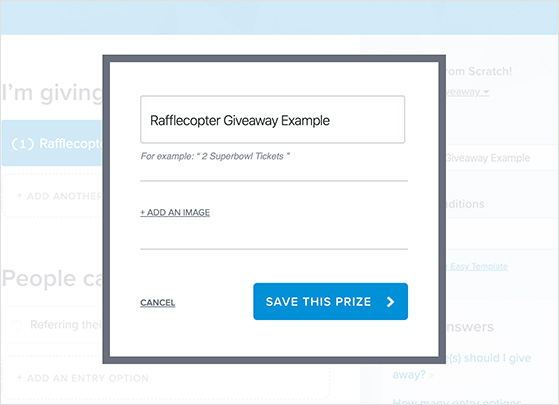 You can add more than one prize if you'd like by clicking Add Another Prize.
Next, add your entry options which are actions people should take in order to enter the giveaway.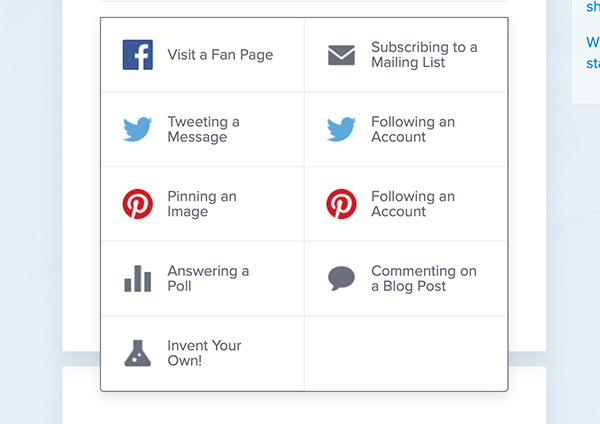 You can choose from the following actions on the free plan:
Follow on Twitter
Visit a Facebook page
Leave a blog post comment
Invent your own action
To unlock more actions, along with the ability to add a prize image, you'll need to upgrade to the paid plan.
Then add a start and end date for your contest.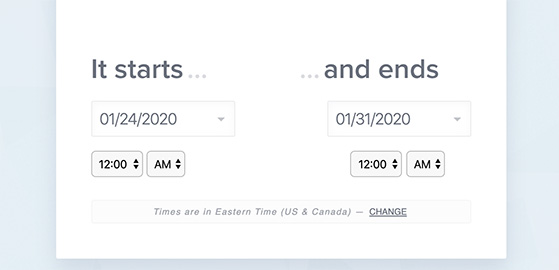 Again, to add set start and end times, you'll need to upgrade to a paid version of Rafflecopter.
On the right-hand side of the screen, you can give your giveaway a nickname and enter the giveaway rules.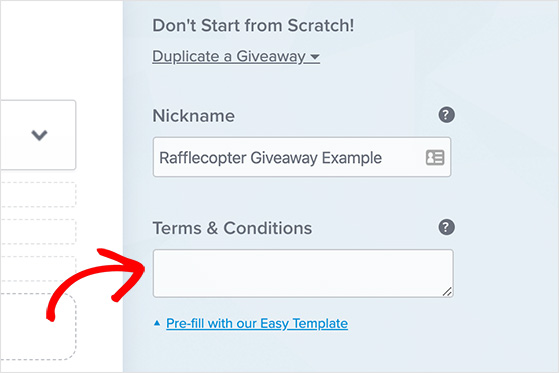 Now you're ready to publish your contest on your WordPress website!
Adding Rafflecopter to WordPress
Rafflecopter offers 3 different ways to publish your giveaway which are:
Via an embed code
Through a Facebook app
Sharing a link to your contest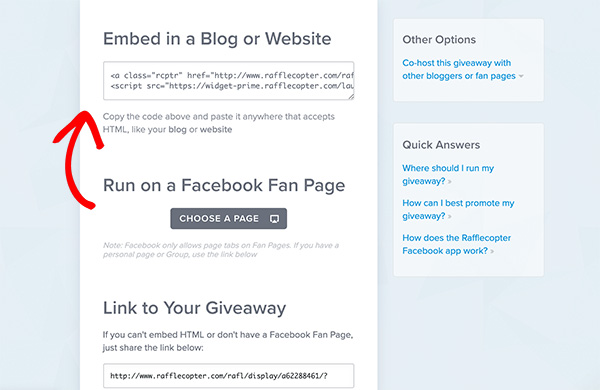 The easiest way to publish your giveaway on WordPress is to use the embed option.
To do this, create a new post on your WordPress website and add the HTML content block. Then copy your giveaway campaign code and paste it into the HTML block.
When you click to preview the block, it will look similar to the screenshot below: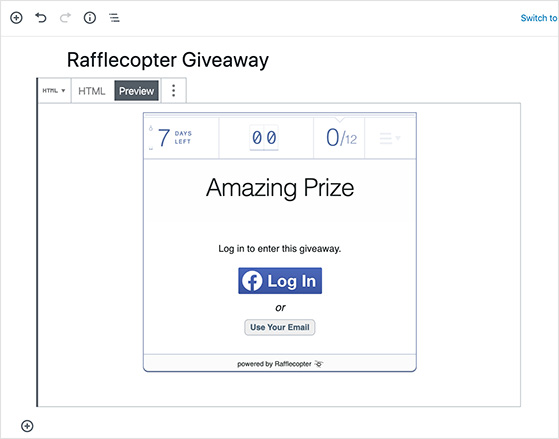 And this is how it would look on the front-end of your website to visitors: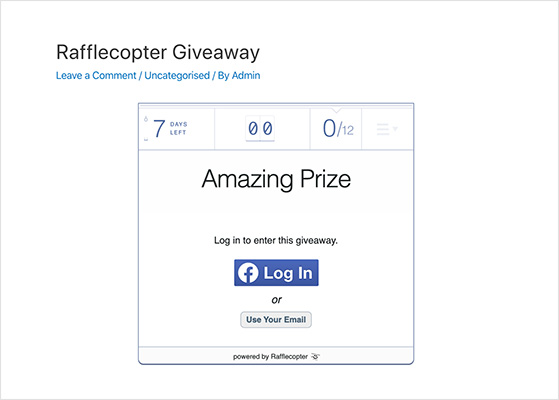 Rafflecopter Giveaway Tool Pricing
Rafflecopter's free plan is limited to basic actions, while the paid versions unlock more features such as:
Custom entry form design
Prize image gallery
Pinterest entries
Polls & surveys
Email integration
Viral refer a friend option
Branding removal
Form Themes
Real-time analytics
Rafflecopter's basic paid version begins at $13 per month and scales up.
Gleam Overview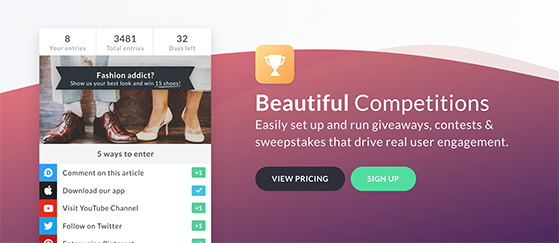 In comparison to Rafflecopter, Gleam is a marketing platform comprised of 4 different apps that helps promote your business and engage with your audience.
Each of the 4 apps offers a particular solution for businesses which include:
Capture – The Capture app lets you trigger popups to grab people's attention in order to encourage more email subscribers.
Competitions – Competitions is an app geared towards helping you run giveaways on your website and social media platforms.
Social Galleries – This app lets you build media-rich social image galleries from competitions and hashtags.
Rewards – Rewards lets you build instantly redeemable coupons in return for customers taking an action.
For this Rafflecopter vs Gleam vs RafflePress comparison, we'll be focusing on the Competitions app.
How to Run a Giveaway with Gleam
To run a giveaway with Gleam you can sign up for free. Then from your Gleam dashboard under the competitions tab in the sidebar, click the New Competition button.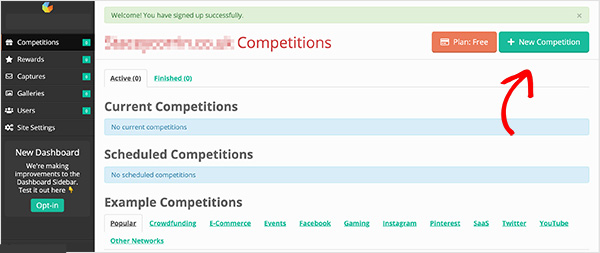 Then follow the setup instructions to give your giveaway a name, set your start and end dates and times, and enter your terms and conditions.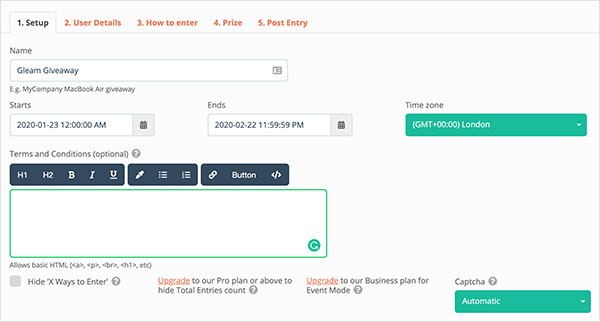 Next are the user details. This is how people will log into your giveaway and the information they'll need to provide.
You can choose a minimum age, allow people to login with their social platforms, and tick the checkbox to automatically build a subscriber list of entrants.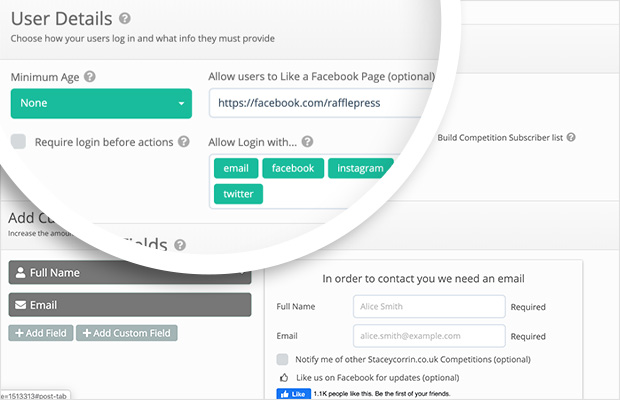 If you'd like to change the fields of your login form, you'll have to upgrade to Gleam's business plan.
Now you can add entry options to your contest. Gleam's free plan only includes Facebook, Twitter, blog comments, and custom actions as ways to enter. For other entry actions including entering via Twitch etc., you'll need to upgrade to a paid plan.

Once you've chosen the entry options, move on to the Prize tab. Here you can add the prize information.
Give your prize a name and add a description detailing what the winner will receive. You can also set how many winners there'll be. If you want to include an image or video you have to upgrade to a paid version of Gleam.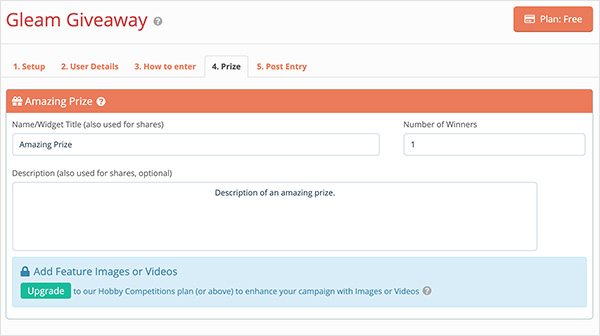 To confirm your giveaway entries, you'll again have to upgrade from the free plan to a paid version.
Adding Gleam to WordPress
There are 4 ways to publish your Gleam giveaway online. This includes the following options:
Embed in a blog post or page
A landing page hosted on Gleam
Add a tab to your Facebook page
Add a tab to your website (paid plan only)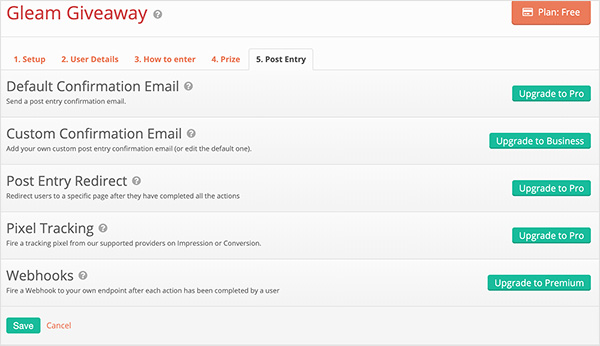 In order to keep things consistent with this giveaway tool comparison, we'll use the embed option to publish our Gleam giveaway to WordPress.
Before we start it's worth noting if you embed the Gleam widget to your website and you have Google Analytics set up, it will wipe out referrer data unless you have Cross-Domain Tracking enabled on your embed code.
To add the Gleam giveaway widget to WordPress first copy the embed code provided.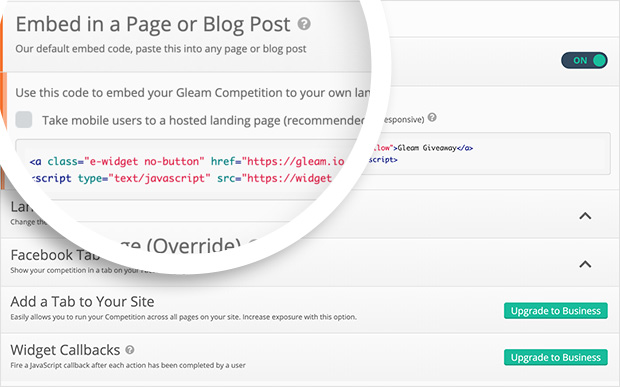 Then create a new WordPress post or page and insert the HTML content block as we did before with Rafflecopter. Paste the code into the content block and click preview.
Your Gleam giveaway will look similar to the following example: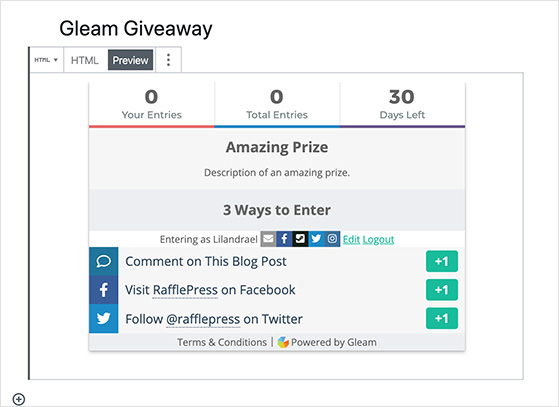 And this is how it will look to your site visitors: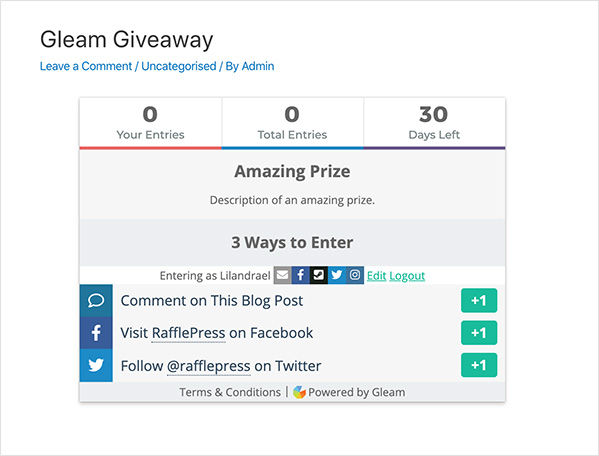 Gleam Pricing
As we mentioned earlier Gleam has a free plan that limits the level of customization and actions you can include in your giveaway. This means that if you want to benefit from the more advanced functions, you'll have to start paying for it.
There are a number of pricing plans with Gleam. For the Competitions app on its own, pricing starts at $10 per month which includes actions for Twitch, Steam, Goodreads, Tumblr, and SoundCloud. 
You can, however, buy all 4 of Gleams apps in a bundle at $97 per month.
Now that we've looked at Rafflecopter vs Gleam, it's time to add RafflePress into the mix.
RafflePress Giveaway Tool Overview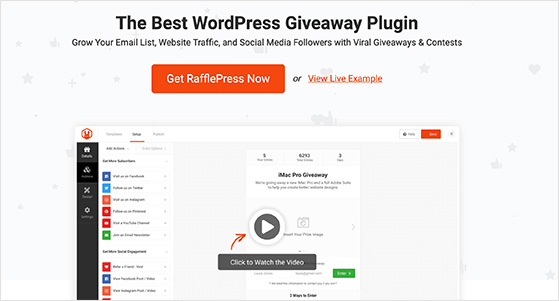 RafflePress is the only giveaway tool on this list that's designed to run contests and giveaways on WordPress.
Billed as the best WordPress giveaway plugin it aims to help you grow your email list, website traffic, and social media followers with viral giveaways and contests.
What's more, it is super user-friendly and comes with pre-built templates to help you get set up quickly.
How to Run a RafflePress Giveaway
Running a giveaway with RafflePress is really easy. Simply get your copy of RafflePress and add the plugin to WordPress. For help with installing WordPress plugins, follow these instructions.
Setting up your RafflePress giveaway is as simple as choosing a giveaway template, entering your prize information, adding entry actions, and hitting publish.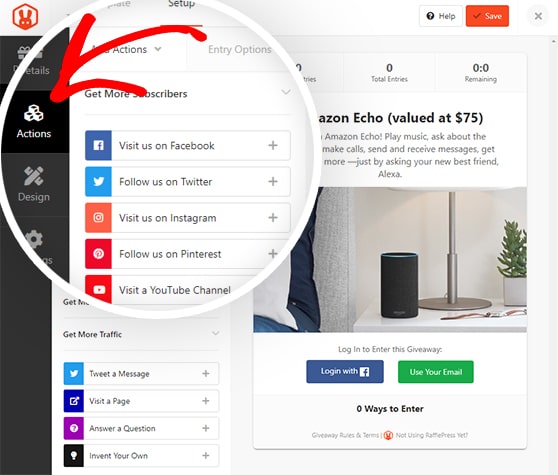 But to make things easier for you you can follow this easy step-by-step guide on how to run an online giveaway with RafflePress.
A few important things to take note of with RafflePress is that with the free plan, RafflePress Lite, you can add the following entry actions without having to pay a penny:
Visit a Facebook page
Follow on Twitter
Tweet a message
Follow on Pinterest
Visit on Instagram
Visit a page
The free version also includes a giveaway rules section with a rules generator template and a GDPR consent option.
Adding a RafflePress Giveaway to WordPress
RafflePress has 3 ways to publish WordPress giveaways which include the following methods:
A built-in RafflePress content block
Publishing with a WordPress shortcode
Creating a giveaway landing page (pro version only)
The easiest option is to use the RafflePress WordPress block.
To add your RafflePress giveaway to WordPress create a new post or page and give it a name. Then click the plus icon to bring up the content block finder in your WordPress editor.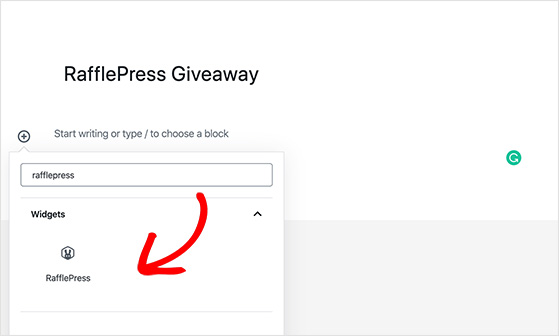 Type RafflePress into the search box to bring up the content block. Then click it to add it into your post.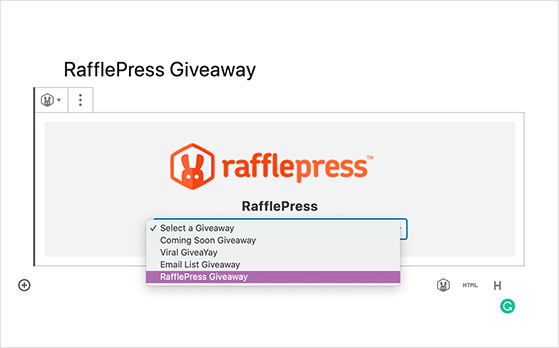 From the dropdown box in the block, scroll down until you find your giveaway. Once you click it, the RafflePress giveaway widget will appear in your post with a live preview.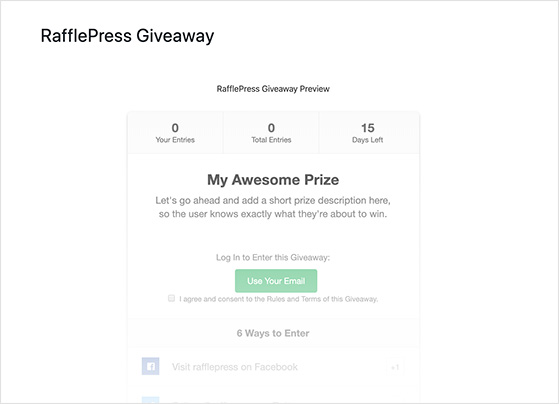 Click publish when you're ready. Then when you navigate to the live post, it will look similar to the example below: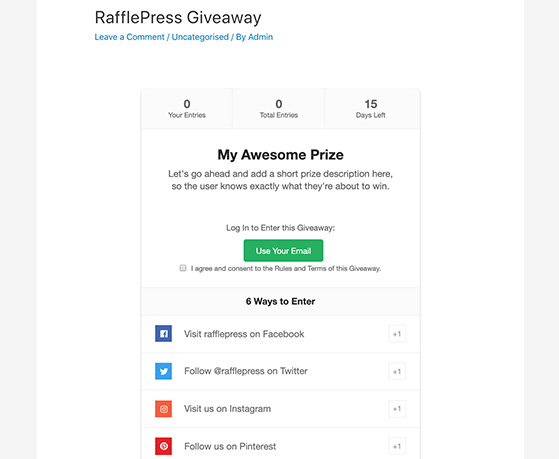 RafflePress Pricing
Compared to Rafflecopter and Gleam, RafflePress lets you run a pretty detailed giveaway using the free version.
But upgrading to the paid version unlocks more powerful features which include:
Multiple sites – Add RafflePress to more than one of your WordPress websites.
Time controls – Set the start and end time for your giveaways.
Multiple prizes – Offer more than 1 prize on the giveaway widget.
Email verification – Verify entries by asking participants to enter their email address
Prize image gallery – Display stunning prize images.
Design options – Customize the design of your giveaway widget and landing page.
Polls & surveys action – Run a poll or survey as a way to enter.
YouTube actions – Ask entrants to visit your YouTube Channel or watch a video.
File upload actions – Allow participants to upload a file to enter the contest.
Image upload actions – Run a photo contest with image uploads.
Email integrations – Grow your email list by integrating with your email marketing software and asking people to subscribe.
Zapier integration – Connect to thousands of other apps and services.
Mandatory actions – Make specific entry actions required to enter, and much more.
Upgrading to the paid version of RafflePress starts at $49 per year, which is around $4 per month, the most inexpensive option on this list by far!
However, if you start out using RafflePress Lite, you'll get a discount automatically applied at the checkout when you upgrade.
Which is the Best Giveaway Tool: Rafflecopter vs Gleam vs RafflePress
Now that we've compared Rafflecopter, Gleam, and RafflePress, which is the best?
Our pick for best Giveaway Tool and WordPress contest plugin is RafflePress. It's easy to use, incredibly beginner-friendly and is dedicated solely to running giveaways.
There are no unnecessary features bundled in to confuse you, and because it comes as a WordPress plugin, everything is handled right on your website. From picking winners to getting more email subscribers, it's all done on-site.
The free version of RafflePress has everything you need to run a successful giveaway, but because the paid version is so inexpensive, it costs very little to extend the functionality.
Get started with the premium version of RafflePress now! Or you can grab the free version here.
And once you've set up your first giveaway, check out these super-effective contest promotion ideas.
If you found this article helpful, be sure to join us on YouTube, Twitter, and Facebook for more giveaway guides and tutorials.