Are you looking for quick ways to run WordPress giveaways and unsure which giveaway tool to use? Don't worry! In this article, we'll compare Rafflecopter vs Gleam vs RafflePress, the most popular giveaway tools, so you know the strengths of each option and can enjoy running viral giveaways.
But first…
What Is a Giveaway Tool?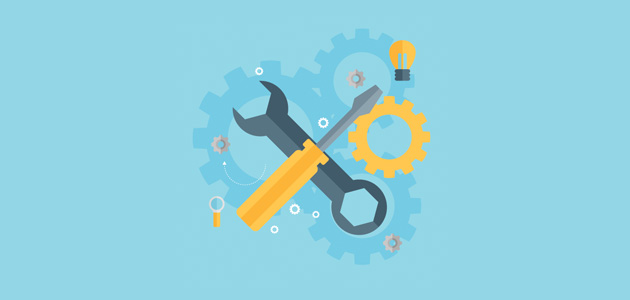 A giveaway tool is a web application or plugin that allows you to create and run contests and giveaways on your website.
Often the tool comes in the form of a giveaway widget, landing page, or an embed code that you can easily add to your site. The most popular giveaway tools let you add multiple entry options so visitors can enter the giveaway.
These entry options usually involve the following actions:
Following you on social media
Joining your email list
Visiting a URL
Leaving a comment
Sharing a post and more
Benefits of Using a Giveaway Tool
The benefit of using a tool for giveaways is that it helps you keep track of who's entering while allowing you to grow your email list, social followers and raise awareness about your business.
Here are the benefits of using a giveaway tool in more detail:
Better Tracking – Giveaway tools often have features that allow you to track your online contest more effectively.
More Traffic – Tools like RafflePress let you share your giveaway across multiple platforms, driving traffic back to your website.
Boost Followers – Online giveaway tools typically include the option to follow you on social media for entry into your contest. This can significantly help to grow your followers.
Generate Leads – You can use giveaway tools to reach more people and, in turn, generate quality leads for your business.
Increase Sales – Once you generate leads via your giveaway tool, you can turn them into customers and boost your business sales.
Rafflecopter vs Gleam vs RafflePress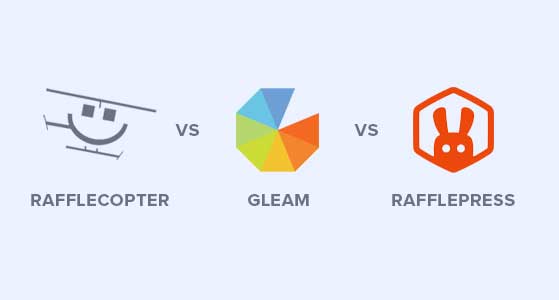 We've identified 3 of the most popular giveaway tools, Rafflecopter vs Gleam vs RafflePress. But which one is the best? Let's dig deeper and find out.
Here's a quick summary of our findings if you're in a hurry.
| Giveaway Tool | Rating | WordPress Plugin | Price |
| --- | --- | --- | --- |
| RafflePress | Best Giveaway Tool for WordPress | Yes | $39.50 / year |
| Rafflecopter | Basic Tool for Giveaways | No | $156 / year |
| Gleam | Giveaway Campaign Platform | No | $120 / year |
Features: Rafflecopter Vs Gleam Vs RafflePress
Let's look a little closer at the features of each giveaway tool so you can compare them with each other and choose the right one for your needs.
Rafflecopter Features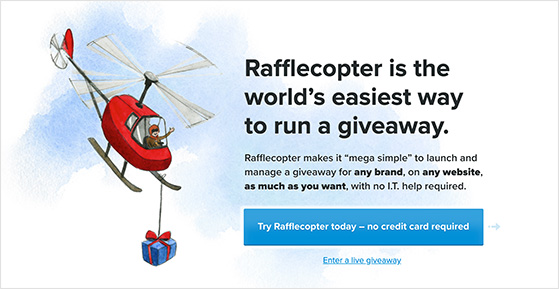 Rafflecopter is a popular free web-based giveaway tool, which means you can create a giveaway right there on the website. The Rafflecopter giveaway app claims it is easy to use and allows small businesses to set tasks for people to enter the giveaway.
Features
Standard entry form design
Add a prize image gallery to your widget (paid version)
Include surveys and polls in your contest (paid version)
Social media entry options (Facebook and Twitter only on the free version)
Integrate your Rafflecopter giveaway with email marketing services (paid version)
However, something worth noting is there isn't a Rafflecopter WordPress plugin. Rafflecopter is a web-based giveaway app, and without a Rafflecopter WordPress plugin, you have to rely on copying and pasting the Rafflecopter giveaway embed code to integrate with WordPress.
Are you looking for a different giveaway tool? Check out these top Rafflecopter alternatives.
Gleam Features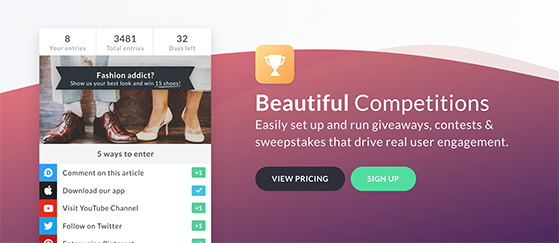 Compared to Rafflecopter, Gleam.io is a marketing platform comprised of 4 different apps that helps promote your business and engage with your audience. So you get a lot of extra features you may not even need to run your giveaway.
Features
4 individual apps for getting more email subscribers, run Gleam competitions, build social media galleries, and coupons
Run a gleam app giveaway with unlimited entries
Access giveaway winner data (limited to 10 winners on the free version)
Randomly draw winners from all entries
Multiple entry options include social networks, file uploads, and more, although this depends on which plan you choose
Integrate with popular email marketing software (paid plans only)
Now that we've looked at Rafflecopter vs Gleam, it's time to add RafflePress into the mix.
RafflePress Features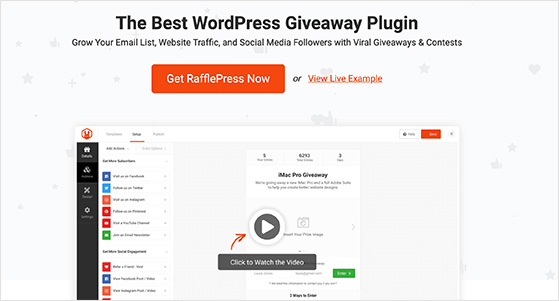 RafflePress is the only giveaway tool on this list designed to run contests and giveaways on WordPress.
Billed as the best WordPress giveaway plugin, it aims to help you grow your email list, website traffic, and social media followers with viral giveaways and contests.
As a viable Rafflecopter alternative, it is super user-friendly and comes with pre-built templates to help you get set up quickly.
Features
The drag-and-drop giveaway builder is super-easy to use for beginners.
1-click entry and fraud protection make it easier for people to enter and reduce spam.
Viral giveaway templates help you get more subscribers, boost site traffic, and grow your social media followers.
Easily run Twitter giveaways with the ready-made Twitter template.
Dedicated Instagram giveaway template helps you collect user-generated content quickly.
Facebook Like and Share actions make Facebook giveaways a breeze.
Viral refer-a-friend actions help you spread the word through word-of-mouth referrals.
Giveaway landing pages create a distraction-free environment for contest entrants to take action.
Social media integrations help you grow your following on Instagram, YouTube, Facebook, Twitter, and more.
Powerful retargeting features let you maximize your conversion goals.
Giveaway entry reports help you see which giveaway actions are the most popular.
Ease of Use: Rafflecopter vs Gleam vs RafflePress
Now you know what each contest tool includes, let's look at how easy they are to use in the real world.
Rafflecopter Ease of Use
Running a giveaway with Rafflecopter involves setting up your contest on their website. It's straightforward to start, and the contest widget lets you add more than 1 prize if you like.
The entry options included are limited with the base version of Rafflecopter and include the following choices: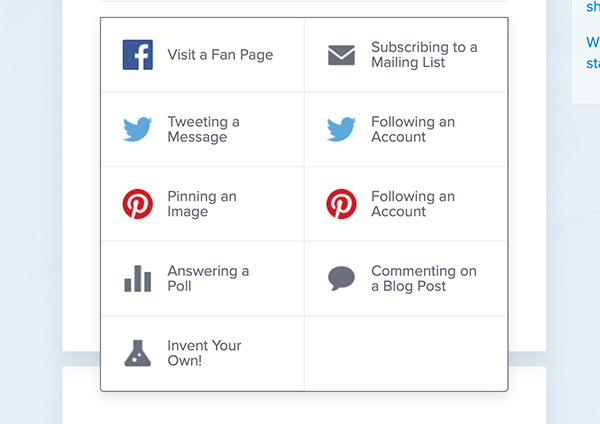 To unlock more actions, along with the ability to add a prize image, you'll need to upgrade to the paid plan.
Adding your contest to WordPress requires copying and pasting an embed code which can be scary for complete beginners. Unfortunately, it doesn't include a plugin to make the process easier.
You can, however, link to your giveaway using the URL provided.
Gleam Ease of Use
You can sign up for a free account to start running Gleam app giveaways. Then you can visit the Gleam dashboard to start creating your contest.
The admin area is pretty cluttered, making finding the settings you need tricky. With so many different features displayed, it isn't obvious if you're new to using the app.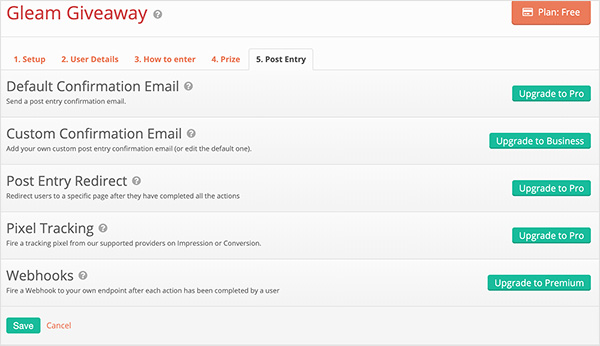 Typically, you can only access many options displayed in the Gleam giveaway dashboard by upgrading to one of their paid plans. So filtering what you can and can't use is a challenge.
There are 4 ways to publish your Gleam giveaway online. This includes the following options:
Embed in a blog post or page
A landing page hosted on Gleam
Add a tab to your Facebook page
Add a tab to your website (paid plan only)
And again, there isn't a WordPress plugin to make connecting to your site easier.
Related: 10 Free Gleam Alternatives for WordPress Contests
RafflePress Ease of Use
Running a giveaway with RafflePress is easy. Simply get your copy of RafflePress and add the plugin to WordPress. For help with installing WordPress plugins, follow these instructions.
How to Run a RafflePress Giveaway
Setting up your RafflePress giveaway is as simple as choosing a giveaway template, entering your prize information, adding entry actions, and hitting publish.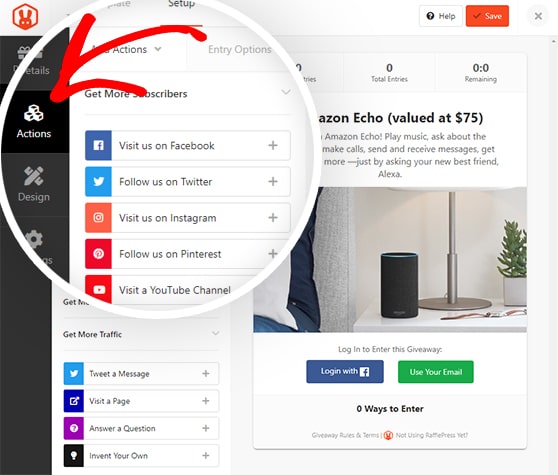 But to make things easier for you, you can follow this easy step-by-step guide on how to run an online giveaway with RafflePress.
A few important things to take note of with RafflePress is that with the free plan, RafflePress Lite, you can add the following entry actions without having to pay a penny:
Visit, like, and share a Facebook page
Follow and share on Twitter
Follow on Pinterest
Visit on Instagram
Visit a page
Upgrading to a premium plan unlocks many more giveaway actions.
The majority of RafflePress entry actions also allow users to enter your contest daily to secure multiple entries.
The free version includes a giveaway rules section with a rules generator template and a GDPR consent option. You can also include your Google Analytics tracking code to track the contest traffic of people virally sharing your giveaway.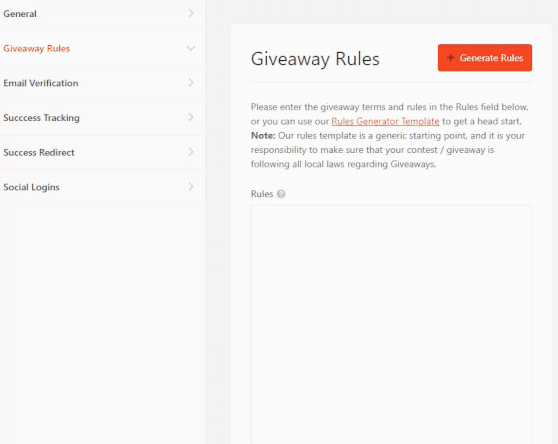 Adding a RafflePress Giveaway to WordPress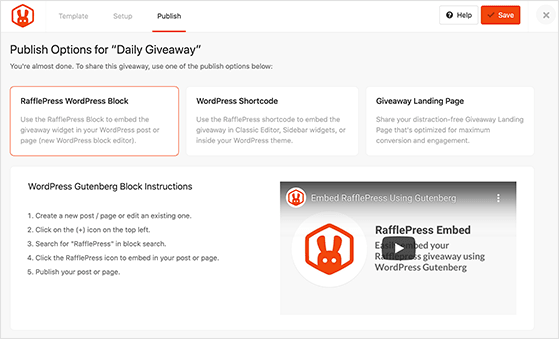 RafflePress has 3 ways to publish WordPress giveaways which include the following methods:
A built-in RafflePress content block
Publishing with a WordPress shortcode
Creating a giveaway landing page (pro version only)
The easiest option is to use the RafflePress WordPress block.
To add your RafflePress giveaway to WordPress, create a new post or page and give it a name. Then click the plus icon to bring up the content block finder in your WordPress editor.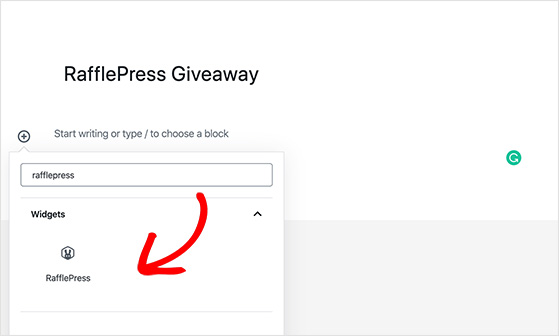 Type RafflePress into the search box to bring up the content block. Then click it to add it to your post.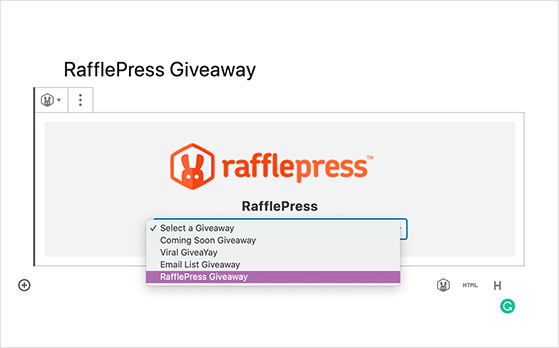 From the dropdown menu in the block, scroll down until you find your giveaway. Once you click it, the RafflePress giveaway widget will appear in your post with a live preview.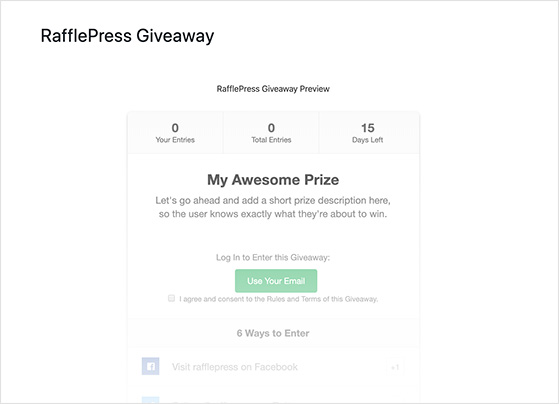 Click publish when you're ready. Then when you navigate to the live post, it will look similar to the example below: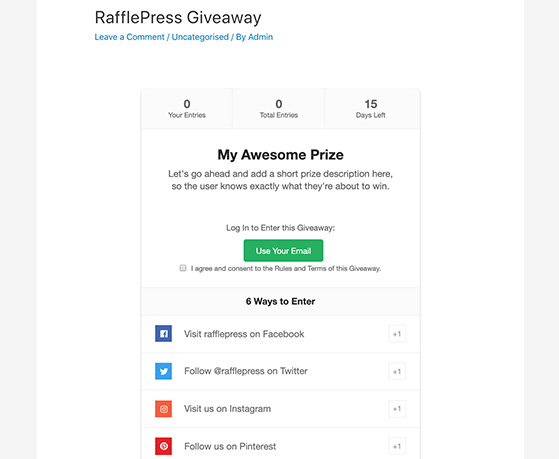 Suppose you'd prefer to create a standalone, distraction-free landing page for your giveaway. In that case, it's as simple as choosing the Giveaway Landing Page option and entering a unique permalink for your page.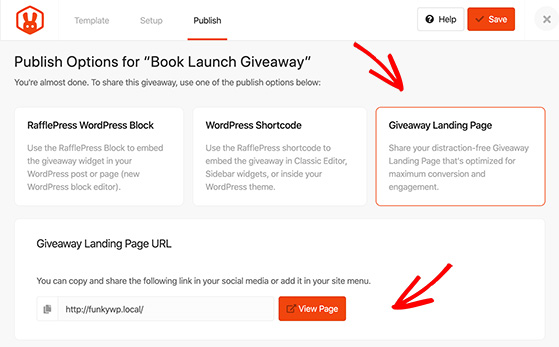 Then you can laser-focus your traffic to a single page to help you increase your contest entries.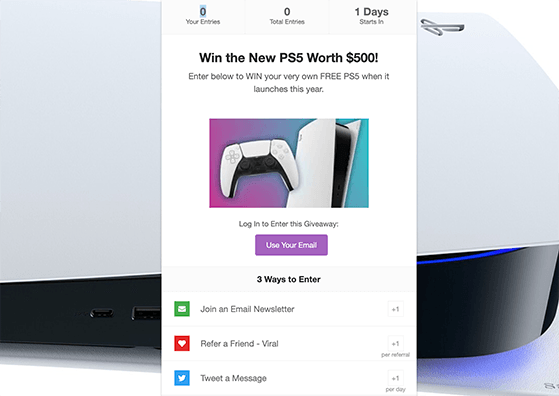 Support for Rafflecopter vs Gleam vs RafflePress
Accessing first-class support when hosting a contest is crucial to your overall success. With the proper support, you can make sure you're using your giveaway tool in the best way to maximize your results.
Let's see how each option looks regarding the support on offer.
Rafflecopter Support
The support for Rafflecopter consists of a resource center with helpful guides, videos, and rules for running contests on specific social media platforms.
They also have a knowledge base with many frequently asked questions and answers users can search through for solutions.
And if you're still stuck, you can submit a request ticket using the form provided on their website.
Gleam Support
On the other hand, Gleam offers email support to all customers on any plan, and users of their paid versions can also use chat support.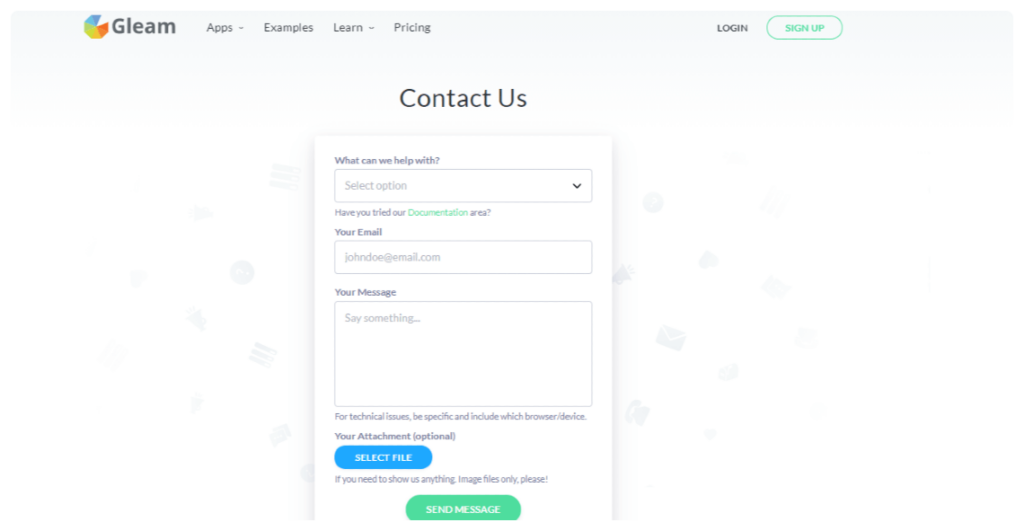 There's also a slack group for anyone on their pro plan or higher. Priority support is reserved for Business and Premium plan users.
Gleam has a range of resources for users to learn in their own time to go with their direct support.
RafflePress Support
When using RafflePress, you can contact the support team via their online contact form, where you get to speak to a human being. They aim to get back to you within 24 hours, and they're always happy to help no matter how simple your question is.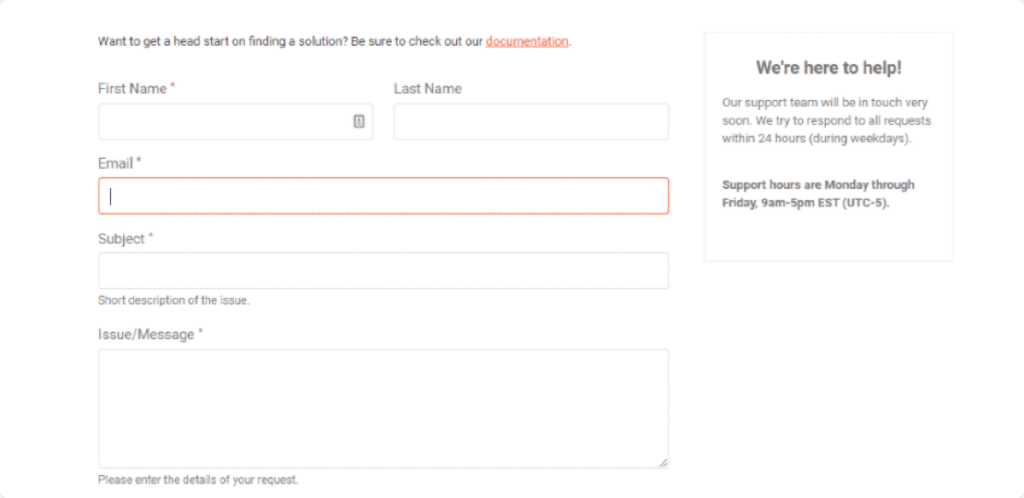 RafflePress also has detailed documentation for all available features. And to go with it, their blog is dedicated to providing the most up-to-date information about running contests. Plus, there are a ton of tutorials for growing your business on WordPress too.

RafflePress offers users a 100% money-back guarantee so that you can use the plugin with zero risks to yourself.
Pricing for Rafflecopter vs Gleam vs RafflePress
When it comes to learning how much each giveaway tool costs, it's pretty simple, as we detail below.
Rafflecopter Pricing
Rafflecopter's free plan is limited to basic actions, while the paid versions unlock more features such as:
Custom entry form design
Prize image gallery
Pinterest entries
Polls & surveys
Email integration
Viral refer a friend option
Branding removal
Form Themes
Real-time analytics
Rafflecopter's paid version costs $156 per year and scales up.
Gleam Pricing
As we mentioned earlier, Gleam has a free plan that limits the level of customization and actions you can include in your giveaway. If you want to benefit from the more advanced functions, you'll have to start paying for them.
So, how much does Gleam cost?
There are several pricing plans with Gleam. For the Competitions app on its own, pricing starts at 0 per year, including a range of social media actions.
You can, however, buy all 4 of Gleams apps in a bundle at $97 a month, which translates to $1,164 per year.
RafflePress Pricing
Compared to Rafflecopter and Gleam, RafflePress lets you run a pretty detailed giveaway using the free version.
But upgrading to the paid version unlocks more robust features, which include:
Multiple sites – Add RafflePress to more than one of your WordPress websites.
Time controls – Set the start and end times for your giveaways.
Multiple prizes – Offer more than 1 prize on the giveaway widget.
Email verification – Verify entries by asking participants to enter their email address.
Prize image gallery – Display stunning prize images.
Design options – Customize the design of your giveaway widget and landing page.
Polls & surveys action – Run a poll or survey as a way to enter. (You can learn how to get more survey responses here.)
YouTube actions – Ask entrants to visit your YouTube Channel or watch a video.
LinkedIn Actions – Ask people to follow your LinkedIn profile or share your contest on LinkedIn.
Image upload actions – Run a photo contest with image uploads.
Leave a comment actions – Require users to leave a comment to enter.
Write a blog post action – Ask users to write a blog post to enter your contest.
Subscribe to RSS action – You can require users to subscribe to your RSS feed.
Optional Facebook actions – Ask people to like your Facebook page or share your giveaway on Facebook to enter.
Email integrations – Grow your email list by integrating with your email marketing software and asking people to subscribe.
Webhooks – Connect to any 3rd party service with powerful webhooks support.
Zapier integration – Connect to thousands of other apps and services.
Mandatory actions – Make specific entry actions required to enter.
Entries Report – See a beautiful graph of your most popular entry methods.
Winner Announcement – Display the giveaway winner on your contest widget.
Upgrading to the paid version of RafflePress starts at $39.50 per year, which is around $4 per month, the most inexpensive option on this list!
However, if you start using RafflePress Lite, you'll get a discount automatically applied at the checkout when you upgrade.
What Is the Best Giveaway Tool: Rafflecopter vs Gleam vs RafflePress
Now that we've compared Rafflecopter, Gleam, and RafflePress, which is the best?
Our pick for the best Giveaway Tool and WordPress contest plugin is RafflePress. It's easy to use, incredibly beginner-friendly, and dedicated solely to running giveaways.
There are no unnecessary features bundled in to confuse you, making it an excellent Gleam.io alternative, and because it comes as a WordPress plugin, everything is handled right on your website. It's all done on-site, from picking winners to getting more email subscribers.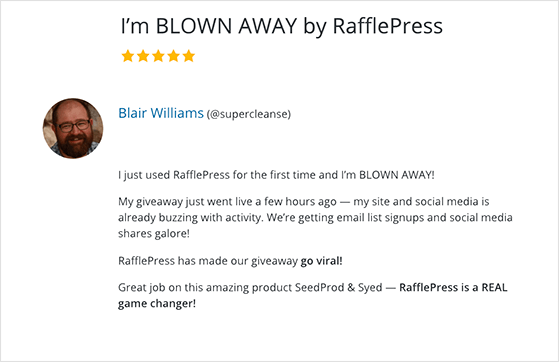 The free version of RafflePress has everything you need to run a successful giveaway, but because the paid version is so inexpensive, it costs very little to extend the functionality.
If you're not convinced, here's how RafflePress helped:
And once you've set up your first giveaway, check out these super-effective contest promotion ideas. Or you can see our comparisons of RafflePress vs KingSumo.
If you found this article helpful, join us on YouTube, Twitter, and Facebook for more giveaway guides and tutorials.