Are you looking for the best social media contest tools?
Running an online contest is one of the most effective ways to grow your social media followers, email subscribers, and website traffic. Social media contests can include raffles, giveaways, and sweepstakes and provide value to your target audience.
In this article, we'll compare the best social media contest tools and apps to help you run social media contests online.
Before we start, why should you run a viral social media contest for your small business?
Now that you know how effective social media contests are for improving your business, let's check out the best social media contest tools.
What Are the Best Free Social Media Contest Tools?
The best social media contest tools below have everything you need to make your next giveaway a viral success. They also work seamlessly with WordPress websites.
Best Social Media Contest Tool for WordPress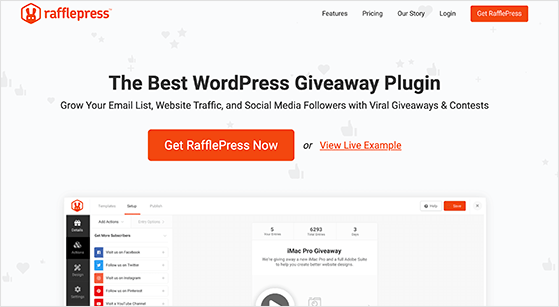 RafflePress is the best free social media contest tool and the best WordPress giveaway plugin. It offers both free and paid versions, with the free version providing a solid set of features to create engaging social contests and giveaways.
With RafflePress, you can run sweepstakes, photo contests to collect user-generated content, hashtag contests, video contests, and more. Almost all entry methods are 1-click and offer the option to verify entries to avoid spam.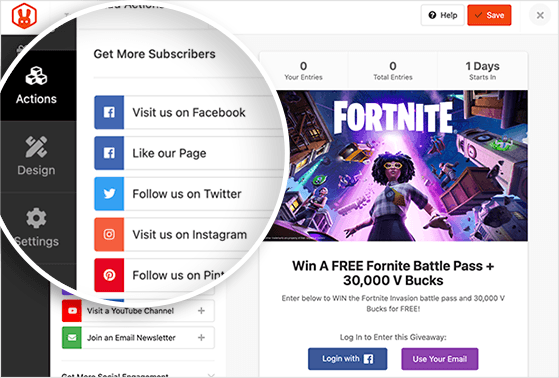 You can add your own branding, images, and descriptions to make the giveaway match your website's style. The plugin also includes pre-built giveaway templates to get you started quickly.
These templates are goal-based, helping you run a giveaway to:
Increase your Facebook following
Grow your Twitter followers
Boost your Instagram audience
And more.
One of the best benefits of RafflePress is that it allows you to set up multiple entry methods for your giveaway. This includes entry methods such as following you on social media, subscribing to your email list, leaving a comment, and more. You can choose which entry methods are mandatory and which are optional.
Another great feature is the ability to enable viral sharing. This means that entrants can share your giveaway with their friends, family, and followers to earn extra entries, helping to increase your reach and engagement.
In addition, this powerful tool comes with an easy-to-use dashboard where you can see how many people have entered, which entry methods are most popular, and more.
With the drag-and-drop builder and giveaway landing pages, it's easy to design giveaways to boost your website's performance.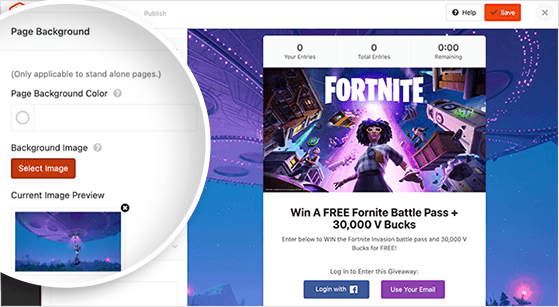 Plus, its winner generator makes picking a winner randomly and displaying it in the contest widget a breeze. You can also use its built-in giveaway rules generator to keep your giveaway compliant.
Pricing: The basic plan starts from $39. per year.
Popular Social Media Contest Tool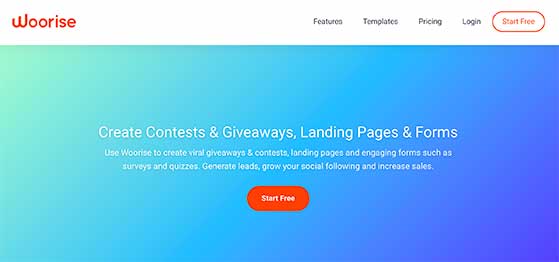 Woorise is a popular free social media contest tool that lets you create different types of campaigns to generate leads and engage with your audience.
With Woorise, you can create social contests, such as Instagram giveaways, Facebook giveaways, and Twitter contests. You can also create surveys and quizzes to collect data on your audience and improve your conversion rates.
Woorise has a landing page builder that makes it easy to create professional-looking pages for hosting giveaways. The tool includes a drag-and-drop editor that anyone can use, even if you have no coding experience. It also has a bio-link tool that's great for Instagram marketing.
One of the best things about Woorise is that it's perfect for agencies. Users can create separate workspaces to manage different accounts for brands and clients. This means that you can easily keep track of your campaigns and provide clients with the best results possible.
Check out our Woorise review for more details.
Pricing: Starts from $23 per month.
Social Media Management Tool with Giveaway Functionality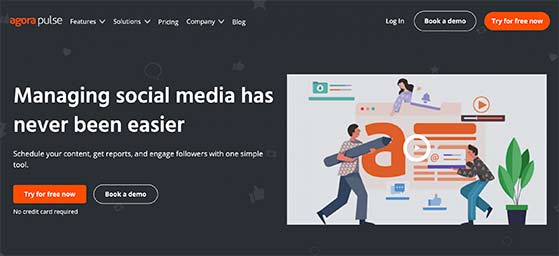 Agorapulse is a social media management tool, but it also allows users to run social media contests. Additionally, it offers a CRM, Facebook apps, and an analytics suite to help businesses grow.
One standout feature of Agorapulse is its reporting system, which provides insights on key metrics and is more intuitive than Facebook's own analytics tools.
Agorapulse offers a range of Facebook apps, including quizzes, photo contests, sweepstakes, and more. Users can try out the Timeline contest for free and choose from sweepstakes, photo contests, or quizzes for their Facebook page.
With Agorapulse's Facebook contest app, you can:
Create several different contest types, including quizzes, and photo contests
Filter contest entries by likes, shares, or comments
Select a random winner automatically
Marketing automation for various giveaway processes (such as seeing which entry has the most likes)
This free social media contest tool is limited. But if you're only creating Facebook contests, it's a good choice.
Pricing: Starts from €79 per month, billed yearly.
Social Media Voting Platform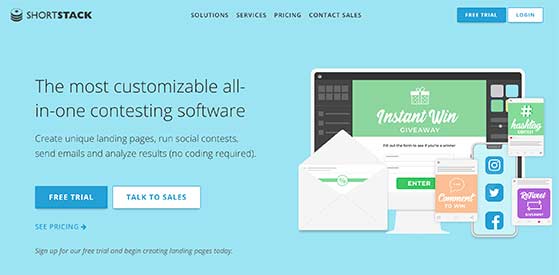 Shortstack is a social media contest tool, platform, and email marketing tool that can help you run contests on social media. Additionally, you can use it for hashtag contests on platforms such as Instagram and Twitter, as well as giveaways on Facebook and Pinterest.
With over 90 templates and 30 themes to choose from, creating a campaign is easy with its drag-and-drop functionality. Additionally, ShortStack offers custom URLs to align with your branding.
This tool can help you increase engagement and collect leads in several ways. For example, entrants can earn extra chances to win by referring a friend, or they can share their email address or location. ShortStack even has an action-gate function that lets you require entrants to fill out information like their email address to receive a discount or entry.
ShortStack offers detailed analytics, verified voting, and the option to restrict voting, making it a robust choice for your social media contests. The tool also allows you to create landing pages, allowing you to promote your campaigns on various mediums like social media, email, and blogs.
While ShortStack offers a range of paid plans to cater to your social media goals, you can also try it for free to access all its features. The tool is an all-in-one solution for creating powerful social media campaigns that deliver results.
Pricing: With ShortStack's free trial, you can accept up to 20 entries and 100 views per 30 days. Paid plans start at $99 per month.
Check out our ShortStack review for more details.
Free Social Media Contest App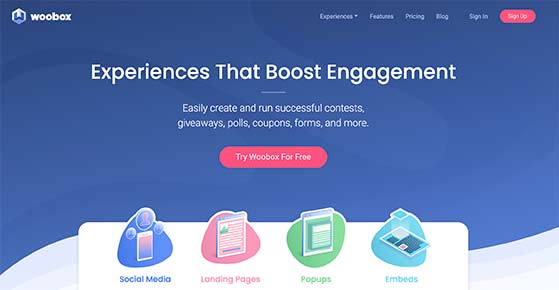 Woobox is a 100% free social media contest tool and online contest platform that makes it easy to create online contests for your brand. It's a great tool to use, especially if you plan to use Facebook. However, you can also use it for other platforms like Vine, YouTube, Instagram, and Pinterest.
Woobox has pre-made campaigns to help you get started, such as personality quizzes, polls, coupons, and sweepstakes. It's also easy to customize your campaign and add your own branding elements with the drag-and-drop feature.
You can customize the message that's shared on social media when someone enters your contest or giveaway. And, like with similar tools, you can use analytics to improve your campaign.
Pricing: Paid plans start from $37 per month.
Social Media Contest Marketing Platform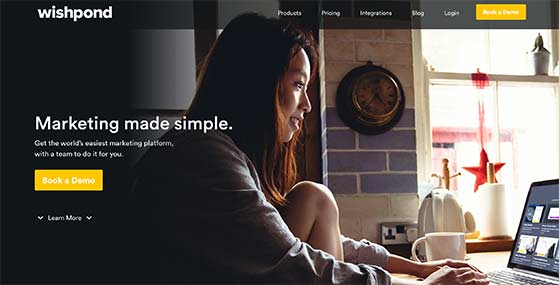 Wishpond is a social media marketing platform. It allows you to run social media contests, email campaigns, and more. This platform is affordable and includes all the tools you need to generate new leads, nurture existing ones, and ultimately turn them into paying customers.
One of the standout features of Wishpond is its ability to help you run social media contests, giveaways, and other promotions. You can create as many of these as you want and choose from a range of different contest types.
There are 12 options in total, including popular formats like photo contests and Instagram Hashtag contests. You can also create more unique contests like Pinterest contests, sweepstakes, and coupon giveaways.
Wishpond makes it easy to design professional-looking promotions using optimized templates, and it also provides tools to track performance and analyze the results of your campaigns.
In addition to social promotions, Wishpond can also help you manage your lead-generation efforts and automate email marketing campaigns. It has a user-friendly landing page builder, a funnel builder, payment, popup, and form tools to improve your customer journey and boost conversions.
Pricing: Wishpond offers a 14-day free trial, which is a fair amount of time to see if it suits your needs. Paid plans start at $49 per month.
Web Based Contest Entry Software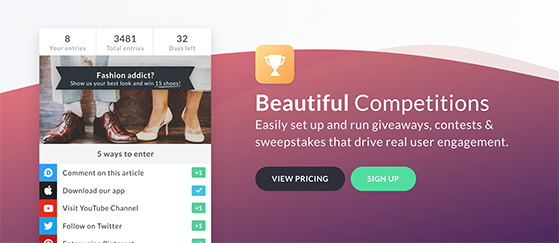 Gleam is a marketing platform with several tools to grow your business. One of these tools is their Competitions app, which allows you to create social media contests for your brand.
With Gleam, you can run contests that will help you grow your email list or social media following. You can add different ways for people to enter your contest, and you can easily rearrange them with drag and drop.
One unique feature of Gleam is that it verifies if users have completed all the actions required for your giveaway, which helps you get accurate data and saves you time. It's also quicker for users to fill out Gleam forms since some entries only require one click. Additionally, you can allow some entry actions to be repeatable daily for more points.
Gleam also lets you embed a YouTube video to show visitors what they can win or how to enter your giveaway.
Related: 10 Free Gleam Alternatives for WordPress Contests
Pricing: Starts from $79 per month for the full package or $10 per month for individual apps.
Free Social Media Giveaway Tool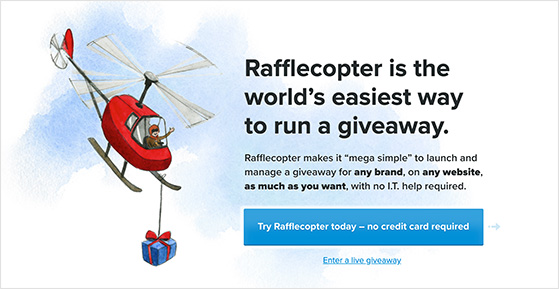 Rafflecopter is another popular free social media contest tool that helps you run contests quickly and easily. Whether you're a solo entrepreneur or a big brand, Rafflecopter is a popular choice for its user-friendliness and reliability.
You can set up a giveaway in less than three minutes and add it to your website by copying and pasting the code. You can also encourage contestants to enter your contest through various actions, like following you on social media or subscribing to your email list.
Rafflecopter offers one-click integration with popular social media platforms to help make this process even easier. You can even give different weights to different actions, such as offering more entries for following you on Twitter.
Rafflecopter offers a free trial of their Basic, Grow, or Premium plan, so you can try it out and see if it's a good fit for your business. Additionally, you can use Rafflecopter on your Facebook page for contests that are specific to your Facebook community.
Pricing: Starts from $13 per month.
Related:
Social Media Contest Tools FAQs
What other social media contest tools are there?
You can look at some other contest tools, including Vyper for contest leaderboards, Sweepwidget for milestone campaigns and instant coupons, Outgrow for chatbots and calculators, Kingsumo for web-based giveaways, and Easypromos for free Facebook contests.
Can I use social media contest tools to run contests on multiple platforms simultaneously?
Many social media contest tools offer integrations with multiple social media platforms, allowing you to run contests across platforms like Facebook, Instagram, Twitter, and others simultaneously. Check the specific tool's features and compatibility to ensure it meets your needs.
Are there any limitations to using free social media contest tools?
While free social media contest tools can offer a variety of features, they may come with limitations, such as fewer contest types, reduced customization options, limited platform integrations, and minimal customer support. If you require advanced features, consider using a paid tool or upgrading to a premium plan.
There you have it!
We hope this article helped you find the best social media contest tools for your business. If you like, you can check out the best WordPress plugins to grow your business.
Thanks for reading, and if you liked this article, don't forget to follow us on YouTube, Twitter, and Facebook for more great tips and tutorials.