Are you looking for the best social media contest tools? Do you want to grow your social media followers, email subscribers, and website traffic? If so, running an online contest is the easiest way to get the attention you need.
Yet, picking the best online giveaway tool to run social media contests is challenging. More so when there are hundreds of WordPress giveaway plugins to choose from.
In this article, we'll compare the best free social media giveaway contest apps for viral giveaways online. You can build popular giveaways to drive your business growth with these plugins.
Before we start, why should you run a viral social media contest for your small business?
Now that you know how effective social media contests are for improving your business, let's check out the best free social media giveaway tools.
Best Free Social Media Contest Tools, Platforms, and Apps
The best social media contest tools below have everything you need to make your next giveaway a viral success. They also work seamlessly with WordPress websites.
1. RafflePress – Best Social Media Contest Tool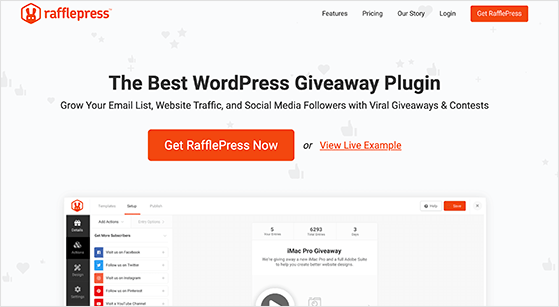 RafflePress is the best free social media contest tool and the best WordPress giveaway plugin. It comes with scores of features designed to help you run contests quickly, even if you only use the free version.
With the drag-and-drop builder and giveaway templates, it's easy to design giveaways to boost your website's performance.
The random winner generator makes picking a winner randomly and displaying it in the contest widget a breeze. Plus, it has a built-in giveaway rules generator to keep your giveaway compliant.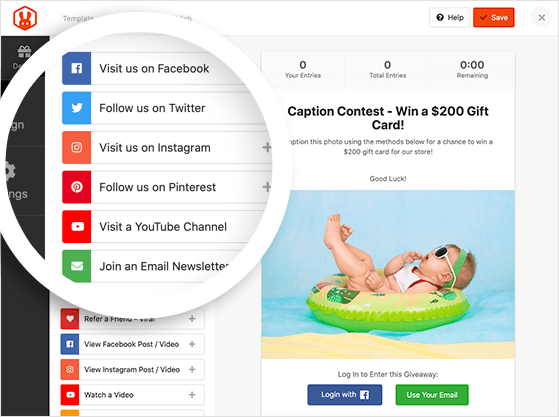 With RafflePress, you can run sweepstakes, photo contests to collect user-generated content, hashtag contests, video contests, and more. Almost all entry methods are 1-click and offer the option to verify entries.
Here are some of the top features of the RafflePress free version:
Gorgeous free giveaway templates
Drag and drop visual giveaway builder lets you see your changes in real-time
Mobile responsive giveaway widget
The builder and widget are optimized for SEO
Integrates with major social media platforms
Automate contest start and end times
Prevent fraudulent entries with anti-spam and fraud protection
Upgrading to the pro version of RafflePress unlocks more powerful features to level up your giveaways.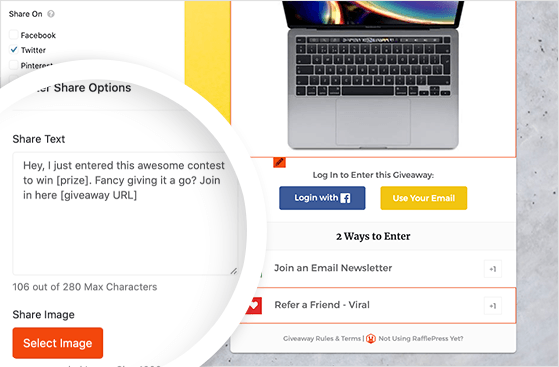 The pro plan of RafflePress includes:
Integration with popular email marketing services, CRM, and other API integrations
Customization and design options for giveaways
Build a distraction-free giveaway landing page
Go viral with the refer-a-friend social sharing referral action
Extra giveaway templates for Instagram, Twitter, Facebook, and YouTube
Allow entrants to login to your contest via Facebook or Twitter
Bonus giveaway actions like Facebook like and share, leave a comment, TikTok, LinkedIn, and more.
Export giveaway data by CSV
Pricing: The basic plan starts from $31.60 per year.
2. Woorise – Popular Online Giveaway Tools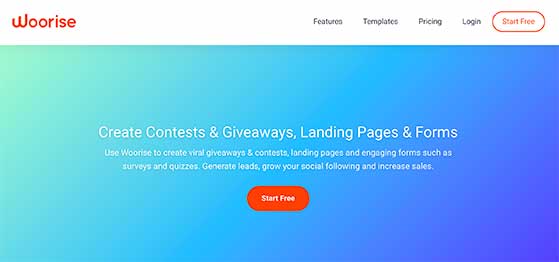 Woorise is a popular free social media contest tool for creating free online giveaways. It has various features in the free plan, like giveaway layouts, 1-click winner selection, fraud detection, and more.
To access more advanced features, you'll need to use one of the paid plans. The paid version of Woorise offers these features:
Drag and drop giveaway builder
Responsive giveaway templates
Polls, quizzes, and surveys functionality
Run giveaways in specific regions with country restrictions
Email marketing integration
Giveaway analytics reports to track contest data
Social buttons and viral sharing options
Check out our Woorise review for more details.
Pricing: Starts from $23 per month.
3. Agorapulse – Social Media Management Tool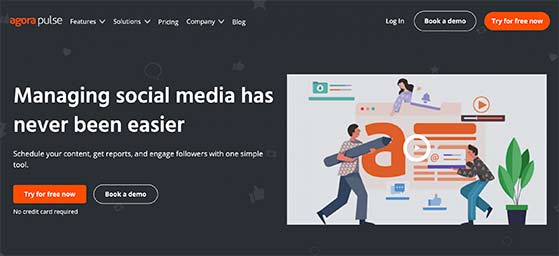 Agorapulse is a social media management tool with CRM, an analytics suite, and Facebook apps. While it's best for managing and scheduling social media, it also offers a free Facebook contest app, which is why we included it in this list of online giveaway tools.
With Agorapulse's Facebook contest app, you can:
Create several different contest types, including quizzes, and photo contests
Filter contest entries by likes, shares, or comments
Select a random winner automatically
Marketing automation for various giveaway processes (such as see which entry has the most likes)
This free social media contest tool is limited. But if you're only creating Facebook contests, it's a good choice.
Pricing: Starts from €79 per month, billed yearly.
4. Shortstack – Social Media Voting Platform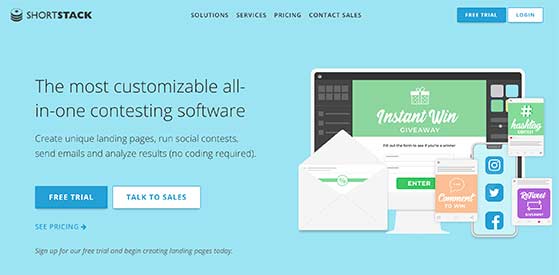 Shortstack is a social media contest platform and email marketing tool that allows you to create giveaways online. This contest app has a full suite of features with everything you need to create, launch, and control contests on your website.
The most stand-out free features offered by Shortstack include:
Unlimited giveaway and email campaigns
Collect entries through forms
Run sweepstakes, contests, giveaways, quizzes, essay contests, and more
Create contest landing pages
Verified voting and restricted voting
Built-in giveaway themes
Various customization options
Repeat entry and fraud protection
Automatic winner selection
Pricing: With Shortstack's free trial, you can accept up to 20 entries and 100 views per 30 days. Paid plans start at $99 per month.
5. Woobox – Social Contest App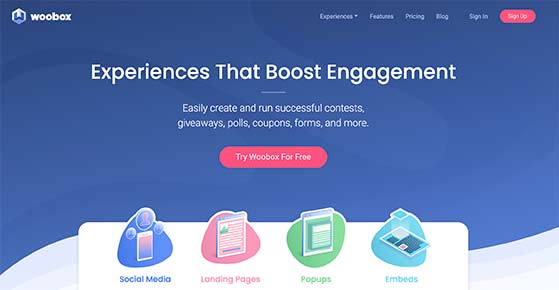 Woobox is a 100% free social media contest tool and online contest platform that makes it easy to create online contests for your brand. It has a drag-and-drop giveaway builder. And you can create contests for several social media platforms, like Facebook, Instagram, and YouTube.
What makes Woobox even more attractive are its other robust features, which include:
Giveaway landing pages
Embed giveaways anywhere online with copy-and-paste embed codes
Collect likes, comments, and hashtags on social media
Customizable contest templates
Instant wins
Giveaway winner picker tool
Create unlimited giveaway campaigns
Mobile responsive design
Pricing: Paid plans start from $37 per month.
6. Wishpond – Social Media Marketing Platform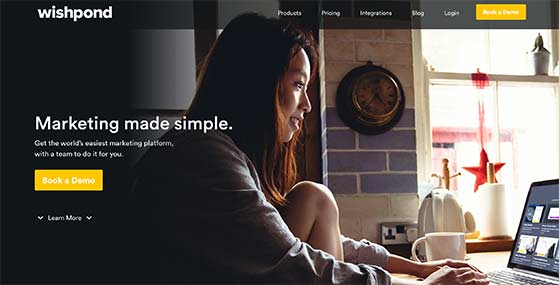 Wishpond is a social media marketing platform. It allows you to manage your email marketing, online forms, landing pages and automate your marketing campaigns. It also offers a social media contest and social promotions service.
With the social contests and promotions tool, you can:
Create 12 different types of social media contest
Offers a drag-and-drop landing page builder
Integrate with marketing tools like Zapier, Shopify, and email providers
Includes popup and form tools for interactive content
Take advantage of an easy-to-use interface
Pricing: Wishpond offers a 14-day free trial, which is a fair amount of time to see if it suits your needs. Paid plans start at $49 per month.
7. KingSumo – Social Media Giveaway Tools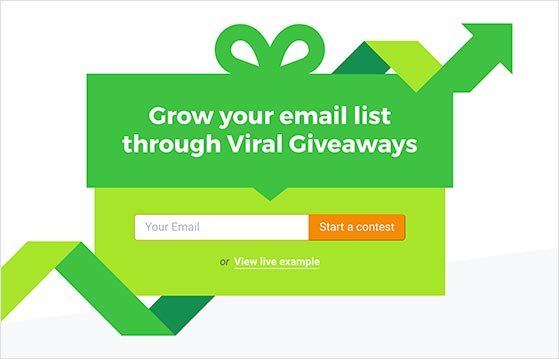 KingSumo is another free social media contest tool. AppSumo created it as an internal company tool. Yet, after seeing success, they released it for everyone.
It allows you to create a giveaway widget app to display online easily. And because it's a web app, you won't need a website to create your online contest.
The free version of KingSumo offers unlimited giveaways, social media sharing, and giveaway embed codes.
Yet, the paid version offers extra features like:
Facebook pixel tracking
Custom branding
Zapier integration
Customer support
Pricing: Starts from $49.
Related:
8. Easypromos – Web Contest Software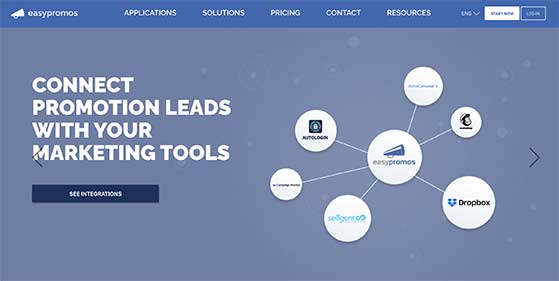 Easypromos is a popular social media contest tool with the most contest types on this list. The contest types are combined into 5 categories: giveaways, contests, quizzes, games, coupons, and codes. This allows you to create complex giveaways on many social media platforms and your business website.
With Easypromos online giveaway tool, you can also enjoy these features:
Mobile-friendly design and widgets
Detailed reports to check your contest performance
Reduce fraudulent giveaway entries
Combine over 30 apps for tailor-made campaigns
Multilingual promotions
Pricing: While Easypromos doesn't have a free version, it offers 2 months free on its annual plans starting from $25 per month. Or, you can pay for promotions individually.
9. Gleam – Contest Entry Software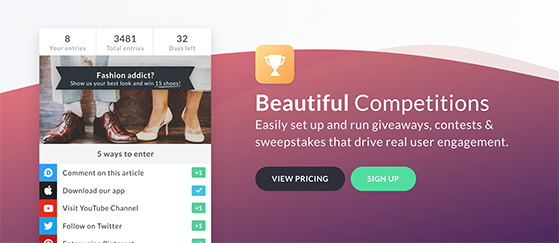 Gleam is a marketing platform with several tools to grow your business. One of these tools is their Competitions app, which allows you to create social media contests for your brand. The giveaway app is easy to use and offers all the right features for running successful giveaway contests.
The free version of Gleam's contest app includes the following features:
Drag and drop contest builder to customize your design
Show the giveaway winner in the contest widget
Automatic verification of social media accounts
Add your giveaway to your website, Facebook page, or custom landing page
Separate WordPress plugin for adding contests to WordPress
Mobile responsive giveaway widget
Related: 10 Free Gleam Alternatives for WordPress Contests
Pricing: Starts from $79 per month for the full package or $10 per month for individual apps.
10. Rafflecopter – Free Raffle Software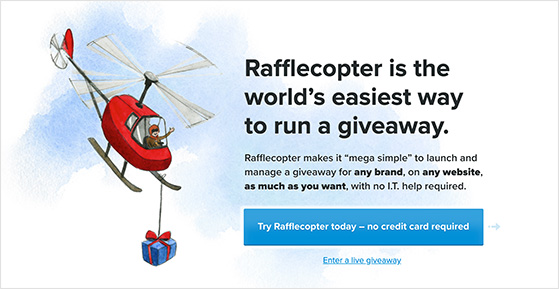 Rafflecopter is another popular free social media contest tool. It allows you to create and launch your giveaway in minutes with no coding required. The free plan has almost everything you need to get started. Yet, you'll need to upgrade to the grow plan to take advantage of email integration.
The free version of Rafflecopter includes the following features:
Unlimited giveaways and entries
Automatic random winner selection
Facebook page tab
Facebook and Twitter entry options
Standard entry form design
Mobile responsive widget
Pricing: Starts from $13 per month.
Related:
Social Media Contest Tools FAQ
What other contest tools are there?
You can look at some other contest tools, including Vyper for contest leaderboards, Sweepwidget for milestone campaigns and instant coupons, and Outgrow for chatbots and calculators.
There you have it!
We hope this article helped you find the best social media contest tools for your business. If you like, you can check out the best WordPress plugins to grow your business.
Thanks for reading, and if you liked this article, don't forget to follow us on YouTube, Twitter, and Facebook for more great tips and tutorials.