Are you looking for Christmas marketing ideas for small businesses?
Promoting your product or services over the festive season effectively attracts potential customers and boosts sales. But capturing shoppers' attention is challenging with so many promotions going live.
So how do you stand out from your competitors? This article will share our top Christmas marketing ideas to drive sales this holiday season.
How to Plan Your Christmas Marketing Strategy
The first step in launching your holiday marketing campaign is putting together a marketing strategy. Without a solid plan, it's harder to keep seasonal promotions on track and just as hard to measure your results.
So before you dive in, take a moment to define your goals and how you plan to accomplish them. The easiest way to do that is with the S.M.A.R.T method.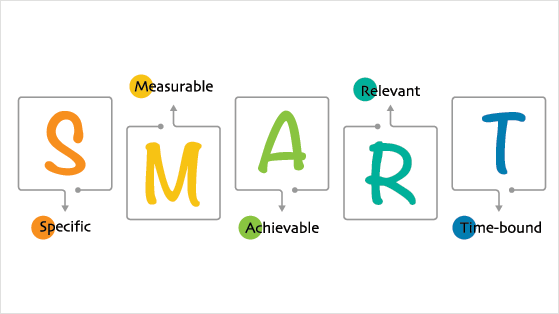 S.M.A.R.T is an acronym that means:
Specific
Measurable
Achievable
Relevant
Time-based
So if your goal over the holiday season is to make more sales, a S.M.A.R.T goal might look something like this:
To increase overall gross profits between October and December 2022, compared to the same period in 2021.
Instead of simply 'make more sales,' your goal is now:
Specific – Increase overall gross profits
Measurable – Compare it to the previous year
Achievable – Increasing gross profits is easier
Relevant – Holiday season is the best time of the year to sell products
Time-based – 3 month period
You can also check out this guide for more help with developing a marketing strategy.
14 Best Christmas Marketing Ideas for Small Businesses
Once you have a plan in place, you can start generating ideas that accomplish your marketing goals. But if you're not entirely sure which Christmas marketing ideas are the most effective, keep reading – we have all the best ideas below.
1. Run a Christmas Giveaway on Your Website
Giveaways are an excellent way to build a buzz around any holiday. But at Christmas, they're even more popular because they tie in with the gift-giving theme.
Moreover, giveaways and contests have the power to:
Send tons of traffic to your website
Increase your social media followers
Grow your email list
Promote seasonal products
And so much more
So one of the best ways to kick off the holiday season is to run a Christmas-themed giveaway on your website. And if you're a WordPress website owner, RafflePress is the best tool for the job.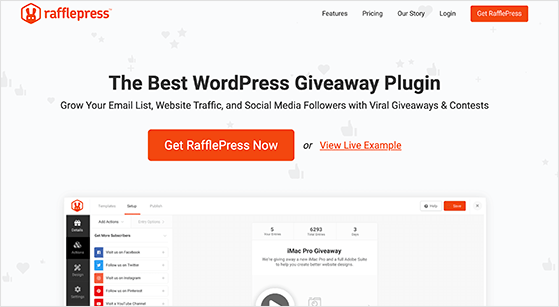 RafflePress is a powerful WordPress plugin that lets you create any type of online giveaway.
It comes with various premade giveaway templates to help you get started. And with a drag and drop giveaway builder, you can customize your giveaway to suit your business needs.
In addition, users can enter your giveaway using almost any method, including:
Following on Facebook, Twitter, Pinterest, Instagram, and LinkedIn
Signing up for your email newsletter
Subscribing to your podcast
Sharing your giveaway on social media
Uploading photos
Answering questions
And more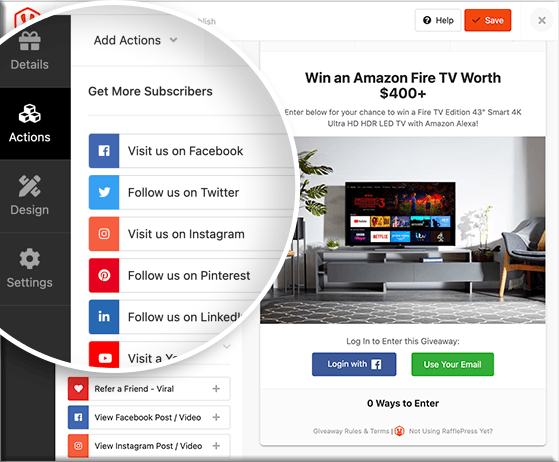 You can connect RafflePress with popular email marketing services, use the built-in giveaway rules generator to stay compliant, and even draw winners randomly.
And the best thing is, you won't need to leave your WordPress site to manage your contest.
Get Started with RafflePress Today.
Or follow this guide to create an online contest in WordPress.
2. Make a Product Page for Popular Christmas Products
Another way to start your Christmas marketing off with a bang is to create a dedicated landing page promoting your most popular products. This is an excellent Christmas promotion idea for retail.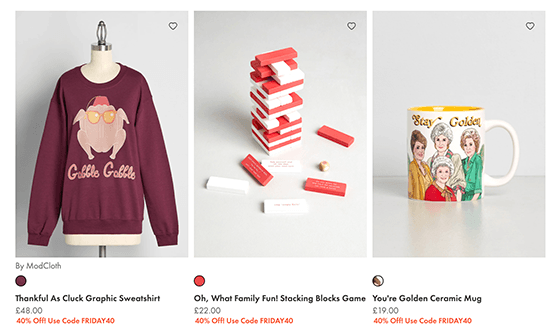 Landing pages are effective because they focus users' attention on what's right in front of them. They also use smart design features to keep shoppers engaged and follow through with their purchases, like:
Animated headlines
Contrasting call to action (CTA) buttons
Eye-catching images
Trust badges
So showing products on a landing page is an excellent way to drive sales on your top-selling products.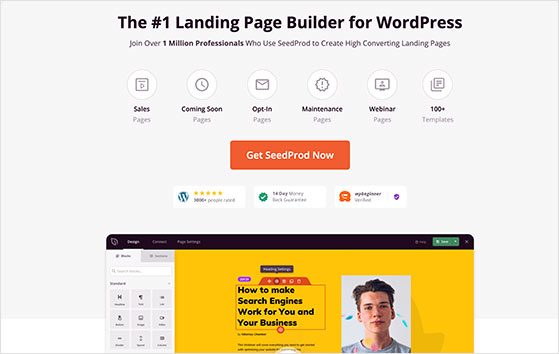 The easiest way to create a landing page in WordPress is with SeedProd, the best WordPress page builder plugin. With hundreds of customizable templates and an easy drag-and-drop page builder, you can create stunning landing pages in less than 30 minutes.
SeedProd also has all those smart design features we just mentioned, as well as dedicated blocks for:
Giveaways
Social media embeds
WooCommerce product grids
Checkout pages
Image carousels
Pricing tables
Google maps
FAQs
And more
You can also use SeedProd to put your site in maintenance mode or create a coming soon page. This landing page plugin is fast, bloat-free, and works with any WordPress theme.
Get Started with SeedProd Today.
Or follow this guide to create a landing page in WordPress.
3. Create Urgency with Countdown Timers
Do you want your website visitors to get the fear of missing out (FOMO)? Then you need to start using scarcity in your Christmas marketing campaigns.
Scarcity marketing is the idea that when something is scarce, it's more valuable. And as a consequence, shoppers are more likely to snap up a deal with a limited-time offer or limited stock.
For example, offering a discount code for buying a Christmas tree is much more effective, with a timer showing how long is left to get the offer. Without a countdown timer, it's just another promotion.
With that in mind, using countdown timers to create a sense of urgency is another top Christmas marketing idea. And creating urgency timers is easy with a tool like OptinMonster.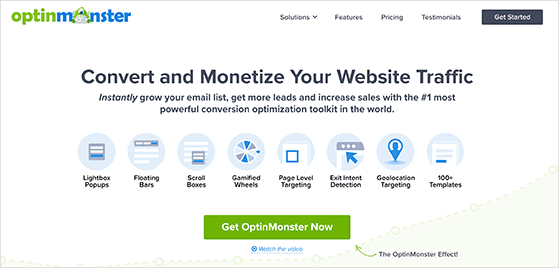 OptinMonster is the most powerful lead generation software for small businesses. It helps you increase leads and sales with opt-in campaigns like:
Floating bars
Scroll boxes
Gamified wheels
And more
And with its drag-and-drop campaign builder, you can create countdown timers to generate urgency.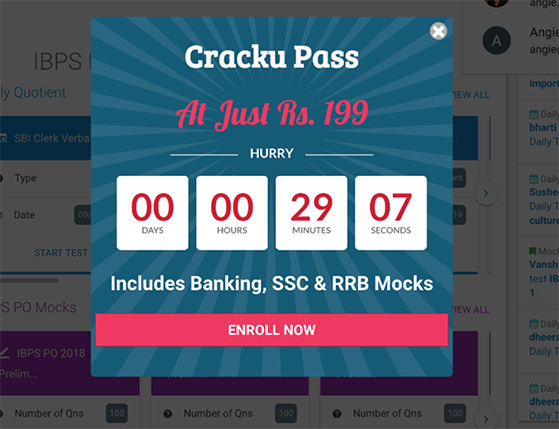 What's more, OptinMonster offers detailed targeting options so that you can show campaigns to the right people at the right time.
Get Started with OptinMonster Today.
Or, follow this guide to create scarcity with countdown timers.
4. Create a Digital Christmas Catalog
Next is a Christmas eCommerce idea online stores will love, involving online catalogs.
We've all flicked through glossy Christmas catalogs before. But with more and more businesses creating online stores and more shoppers browsing from mobile devices, physical catalogs are slowly becoming a thing of the past.
So why not make your Christmas catalog digital? People can browse gift ideas online, even if they're out and about.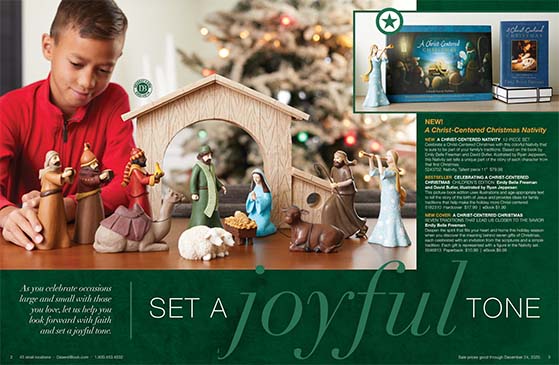 You can put a catalog of Christmas products together easily with tools like SeedProd. And with its built-in WooCommerce blocks, shoppers can buy any products they see right from your catalog page.
Plus, you can market your holiday catalog like any other piece of content, such as, on social media, in a blog, and a link in your website navigation menu. And as a result, you can boost Christmas sales easily.
5. Make a Christmas Gift Guide
Like the last Christmas marketing idea, you can also create a Christmas gift guide to promote seasonally appropriate products.
Gift guides are ideal for publishing on your blog because they're highly shareable on social media. And as a result, you can attract shoppers to your website who may not have been aware of your brand.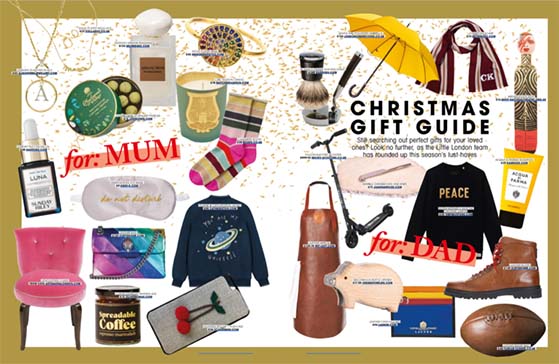 You can also use your gift guide as part of your giveaway campaign by embedding your RafflePress giveaway widget in your blog post. From there, you can ask users to comment with their favorite gift for a chance to win your grand prize.
Follow this guide to learn how to do a blog giveaway with RafflePress.
6. Use In-Browser Push Notifications
If you're not using push notifications on your website, Christmas is the best time to start. In-browser push notifications are short messages that show in visitors' browsers even after leaving your site.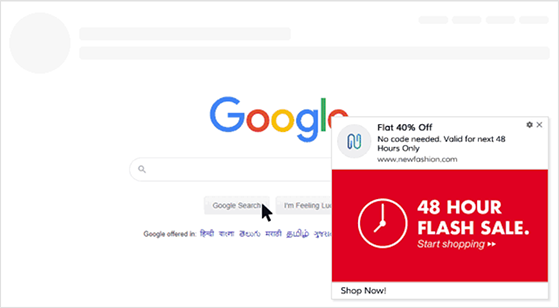 What's more, push notifications give you a direct line of communication to tell subscribers anything you like. For example, you can send notifications about:
New gift guides on your blog
Christmas flash sales
Last call for Christmas shipping
Use them sparingly; otherwise, you risk overloading subscribers with too much messaging.
With that in mind, it's easy to add push notifications to your site with tools like PushEngage.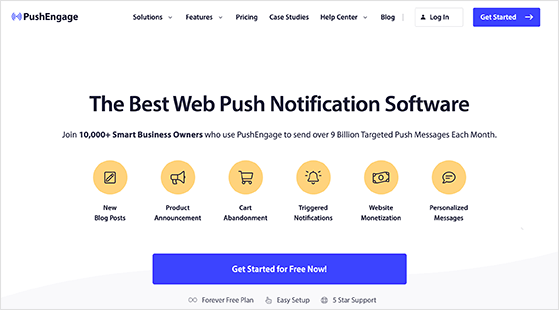 PushEngage is the most popular push notification software for small businesses. It takes minutes to set up and lets you send any type of push campaign to website visitors.
Get Started with PushEngage today.
Or follow this guide to create push notifications in WordPress.
7. Run A Holiday Themed Webinar
Webinars are a popular way to reach your target audience these days. But not many companies utilize this engaging marketing tactic over Christmas.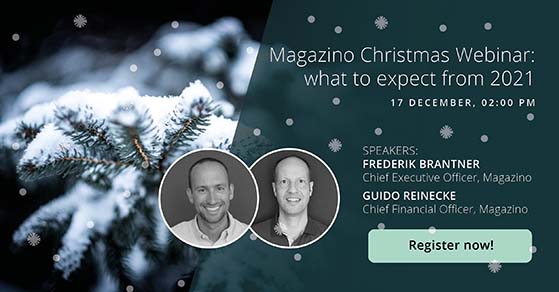 Running a Christmas webinar is an excellent way to add a fun spin on an otherwise typical webinar invite. Instead of educating your audience with a regular webinar, you can incentivize them to attend by holding a contest or rewarding them with a discount.
If you need a head start in setting up your webinar, here's a guide on how to create a webinar registration page in WordPress.
8. Run a Christmas Social Media Photo Contest
Social media explodes over the holiday season, so you'll need a Christmas marketing idea that stands out and grabs attention right away. One way you can tackle that is with a social media photo contest.
Photo contests go viral on social media networks like Instagram and Facebook. And they're an excellent way to increase brand awareness among your target audience.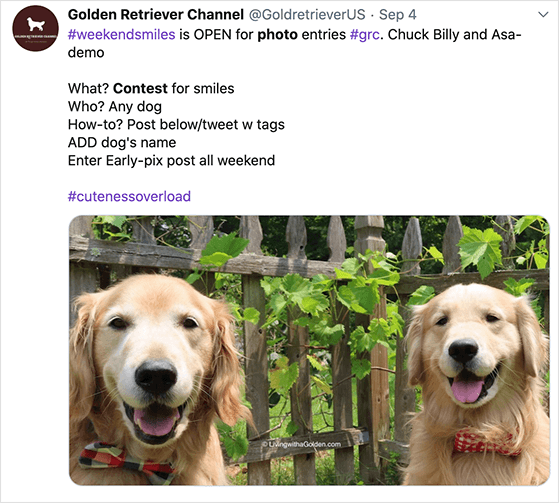 Social media photo contests work by asking users to share or submit a photo around a specific theme or product for a chance to win a prize. Often photo contests include branded giveaway hashtags that make it easy for people to find your giveaway.
For example, you could ask people to submit:
Ugly Christmas sweater selfies
Christmas gift hauls
Gift ideas
Christmas party outfits
You can create a social media photo contest easily with RafflePress. Because it includes a dedicated giveaway landing page, you can share your giveaway anywhere online, including on social media.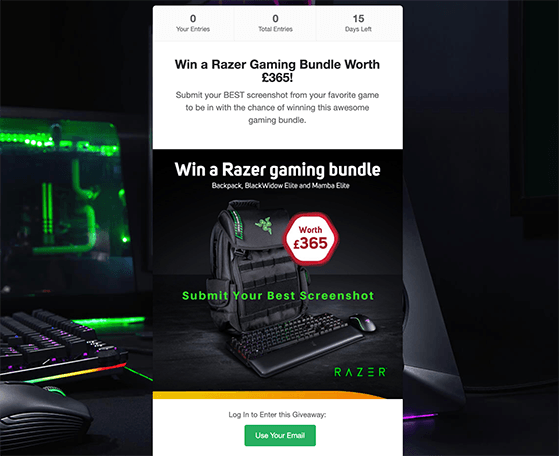 When running your Christmas photo contest to attract more entries, don't forget to share people's submissions.
9. Launch a Countdown to Christmas Campaign
You've probably seen many brands jump on the '12 days of Christmas' trend over the years. And the reason behind that is it works.
The idea behind this Christmas marketing campaign is that over 12 days, you focus on promoting discounted items one day at a time. So each day offers a discount for a different product.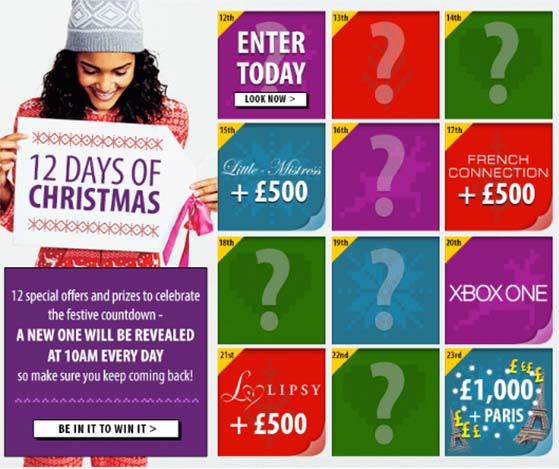 Besides mixing things up for your audience, Christmas countdowns add scarcity to your marketing efforts. Since each item has a discount for 24 hours, shoppers have to act fast to get the deal.
Some of the best 12 days of Christmas promotion ideas include:
Digital advent calendars
Charity offers
Gift bundles
Influencer takeovers
10. Share Christmas Social Content on Your Website
When you run your Christmas campaigns on social media, think about how you can use that to drum up excitement on your website.
You can do that by embedding social media feeds directly on your site. You can show relevant seasonal content to website visitors without manually updating your site with new posts.
The easiest way to add social media feeds to WordPress is with Smash Balloon.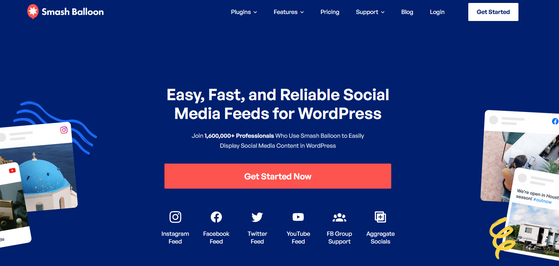 Smash Balloon offers a suite of social media feed plugins for Facebook, Twitter, Instagram, and YouTube. These plugins are super easy to set up, and with a few clicks, you can embed beautiful social feeds anywhere on your site.
Not only can you show your social updates in your feeds, but you can also filter each feed to show content based on:
Hashtags
Search terms
Specific users
Mentions
Media type
And more
Adding social feeds to your site is an excellent Christmas social media marketing idea that also engages website visitors with fresh, exciting content.
11. Run Remarketing Ads
You've likely seen remarketing before, even if you don't know it. A good example is an online advertisement for a product you've searched for.
It might seem creepy having past product research follow you around online. But remarketing is an effective way to bring people back to your website after they leave.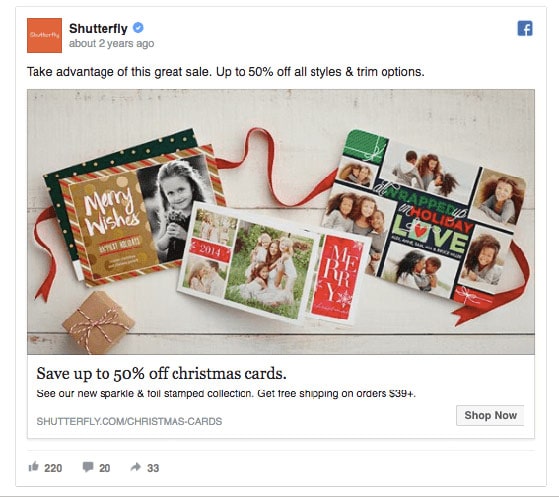 By showing ads related to your recent search, brands are effectively telling you to reconsider. They may even dangle an incentive like a discount to sweeten the deal.
So why not take the same approach for your holiday campaign? You can run remarketing ads with Google Ads, Facebook Tracking Pixel, and similar sites.
12. Run an Email Marketing Campaign
Another Christmas marketing idea for small businesses is to leverage your existing subscribers. Email marketing alone was responsible for 20% of holiday sales during the last holiday eCommerce season.
And that means your email list is a gold mine of untapped potential in the perfect position to increase revenue over the holidays. Since users signed up for news and updates from your business, they're more likely to open your emails and take notice of your offers.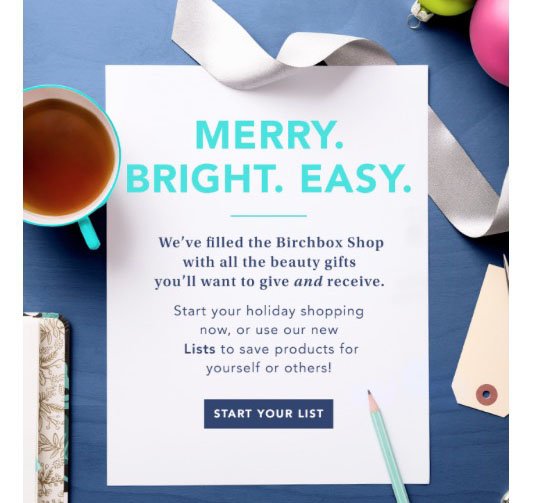 So if you're not already sending emails over the Christmas period, now is the time to start. And if you need some help getting started, check out these holiday email marketing tips.
13. Offer Free Shipping and Returns
When people look for gift ideas, they'll shop at many different places. And as a consequence, shipping fees can add up fast.
To stand out over the holiday season, offer free shipping to shoppers. Shoppers can easily choose a competitor that includes free shipping if you don't offer it yourself, so why give them the edge?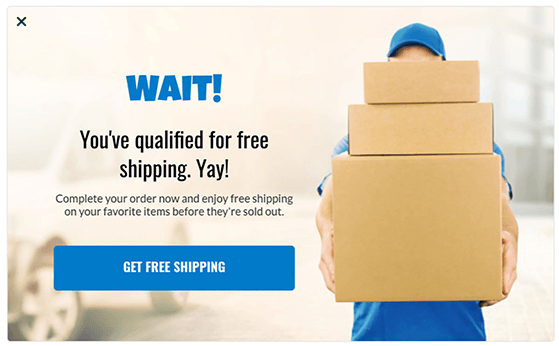 And while we're on the topic of free delivery, you can also throw in free returns. Your customers know that if loved ones don't like their gift, they can return it without extra fees.
Put it this way; if you ease your audience's concerns and worries, they're more likely to shop with you.
14. Promote Gift Cards: Christmas Marketing Ideas for Retail
Next are Christmas promotion ideas for retail stores of any kind – gift cards. Sending loved ones a gift card has to be one of the most popular gift ideas around.
Gift cards represent simplicity to people struggling for the perfect gift. But if you have gift cards for your eCommerce store, don't assume that shoppers know about them.
Instead, be proactive and promote your gift cards to your target audience during the holidays. For instance, you can promote your gift cards:
On social media, in your Christmas promotion message
In your email newsletter
As a giveaway prize
In on-site popups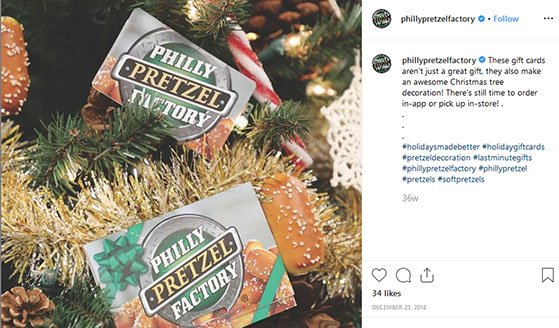 Even though it's an obvious tactic, you'd be surprised by how often gift cards can make the perfect last-minute Christmas gift for forgetful shoppers.
And there you have it!
We hope this article helped you find the top Christmas marketing ideas for your small business. You might also like these top eCommerce marketing tools to scale your store over Christmas.
If you liked this article, please subscribe to our YouTube Channel for RafflePress video tutorials. You can also find us on Twitter and Facebook.