Do you want to learn how to get more followers on Twitch?
Growing your Twitch following is an excellent way to reach people in the video game and entertainment community. You can promote your blog, products, or services and turn those people into blog followers, leads and customers.
So in this article, we'll share expert tips on how to get more Twitch followers fast.
Why Should You Grow Your Twitch Following?
In February 2020, there were around 15 million daily active users on Twitch, which continues to grow. For bloggers and small businesses, that means tons of people who may be interested in your content.
And the good news is if you actively engage that audience on Twitch, you can persuade them to engage with your brand on other platforms. For example, you can encourage your Twitch audience to follow you on other social media networks, visit your website, and even subscribe to your email newsletter.
Your Twitch following becomes a loyal audience excited about your business when that happens. They'll also be more likely to buy your products or services. So, in the end, growing your Twitch followers helps you grow your business.
15 Tips on How to Get More Followers on Twitch
There are many successful Twitch streamers out there – around 8 million, to be exact. So if you're new to streaming on Twitch, the prospect of growing your followers can feel intimidating.
We put together this list of expert tips to gain Twitch followers quickly.
Video Tutorial
1. Run a Twitch Giveaway Contest
One of the easiest ways to attract more viewers and followers on Twitch is to run a giveaway contest. Everyone loves a giveaway, and they can easily make your brand go viral.
While you could do this live on your Twitch account, running a giveaway on your website sends targeted traffic to your giveaway page. And as a result, people are more likely to read your content, join your email list, and even buy your products or services.
Running a Twitch giveaway on your website is easy with WordPress plugins like RafflePress.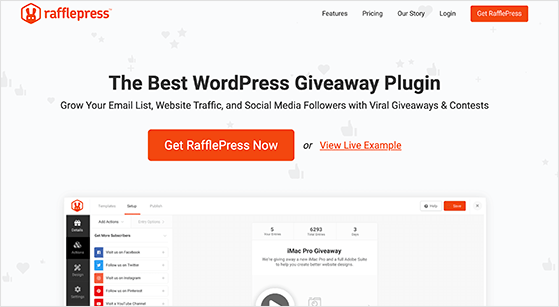 RafflePress is the best WordPress giveaway plugin on the market. It makes it easy to design, build, and run an online giveaway from your business or personal website.
With an easy and powerful drag-and-drop giveaway builder, you can launch your giveaway in minutes without coding. It also includes entry methods that meet your giveaway goals.
For instance, your Twitch audience can enter your giveaway by:
Following you on Twitch
Watching a video
Subscribing to your email newsletter
Submitting an image
Following you on other social networks like TikTok
And more
Related: How to Do a TikTok Giveaway in WordPress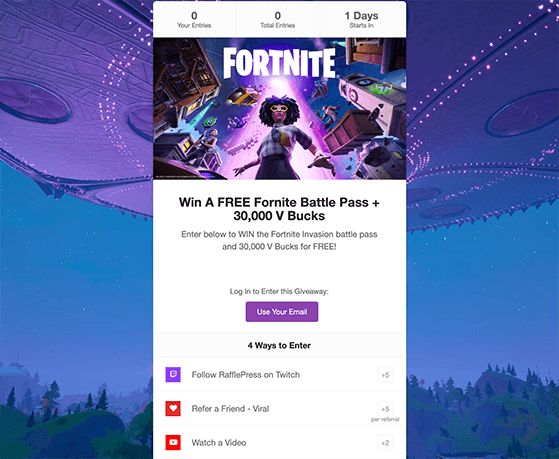 So if you want to grow your Twitch channel fast, running a giveaway is the easiest way to make it happen.
Check out this step-by-step guide to learn how to do giveaways on Twitch with RafflePress.
2. Stream the Right Twitch Content
Another effective way to get more followers on Twitch is to choose what you stream strategically. Twitch is much more than a gaming platform these days.
For example, there are categories for:
Just chatting
Music
Sports
Podcasts
Crypto
Food and drink
Crafting
And more
So it's even more important to create content that appeals to the right audience.
For instance, if your channel is about gaming, look at which video game genres and consoles are the most popular. You can choose a game to stream that attracts more viewers.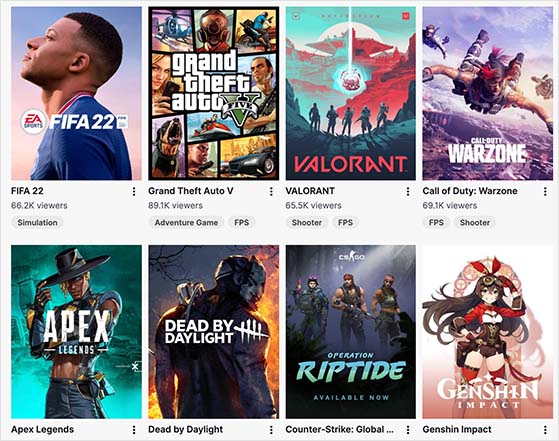 Or, if your business is related to podcasting, you could live-stream your podcast so your audience can see your setup and guests. But don't forget to experiment with different types of content to see what works best for you and your audience.
3. Keep to a Regular Streaming Schedule
One of the main things to remember when learning how to get more followers on Twitch is consistency is key. People have busy lives, so keeping your streaming schedule consistent makes it easier for people to catch your broadcast when you go live.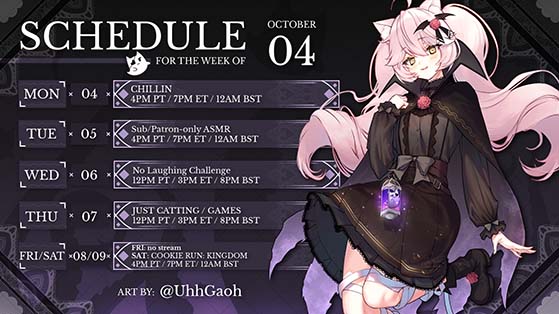 Create a streaming schedule that takes your audience into account so you reach them at the right time.
With that in mind, the best time to stream on Twitch to reach the largest audience is between 4 pm and 6.30 pm. That timing makes sense because it's when most people are coming home from school and work.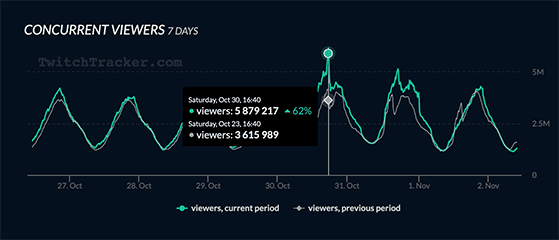 But if you want to stream when there's less competition, a decent time to stream is from midnight to 9 AM. There are still many viewers during that time, but fewer channels are vying for attention.
4. And Stream for Several Hours at a Time
Since we're talking about your Twitch schedule, it's important to remember that the length of your stream can influence your number of followers.
A general rule of thumb is to stream for no fewer than 2 hours and up to 4 hours.
Streams often don't reach their peak until they're around 20 minutes in, so short broadcasts can miss out on reaching the maximum viewers. And when that happens, you have fewer chances to convince those people to follow your channel.
5. Get Creative with Your Stream Titles
It's easy to overlook something as simple as what you name your streams. But that detail is crucial to helping people find your broadcast.
When people search for something to watch on Twitch, they'll likely use specific phrases and search terms. You should create stream titles tailored to what people may enter into the search box with that in mind.
Here's an example.
Let's say we're searching for a popular game. In that case, we'd probably type the game title into the search box. So if you're streaming that game, it's good practice to put its name somewhere in your stream title.
For more ideas on naming your stream, enter the game name in the search box on Twitch, and look at some of the search suggestions. Since these are terms that people search for, they're also terms you can include in your stream title.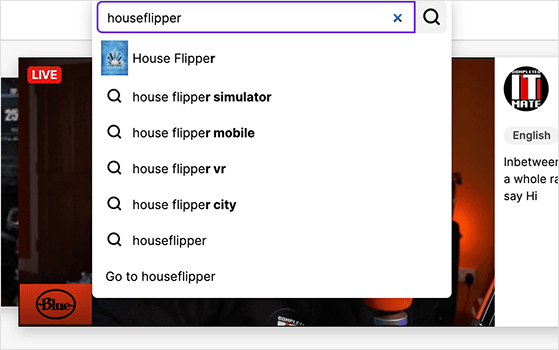 If more people can find your stream, they're more likely to follow you on Twitch.
6. Create an Attractive Twitch Layout
Given how competitive Twitch streaming is, you'll need to find ways to make yours stand out from the competition. One way you can do that is to make your layout eye-catching and attractive.
You can use free tools like Canva to create custom graphic layouts for Twitch that capture attention.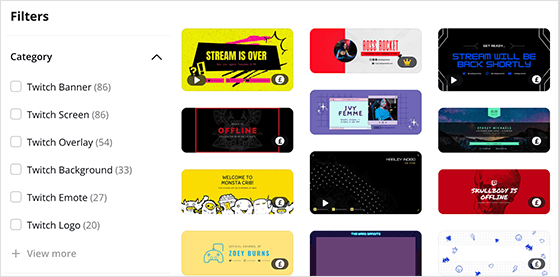 Here are some tips on the correct image sizes to use:
Profile Photo: Your photo should represent your brand with an avatar, logo, or headshot. And the size of your profile photo should be under 10MB as a GIF, JPG, or PNG.
Channel Banner: Your banner is an image at the top of your channel page and the background to your hosting, channel trailer, and recent broadcast videos. The best size for a Twitch channel banner is 1200x480px.
Video Player Banner: This is your 'offline image,' It shows when you're not actively streaming, so it's an excellent way to promote your website, social links, and more. The best size for your banner is around 1080×720px.
7. Publish Streams on Your Website
Adding your Twitch stream to your website is another excellent way to promote your Twitch channel and attract more followers. Plus, your website visitors can watch your stream live on your website when you do that.
And the chances are, if your visitors enjoy what they see, they'll likely head to Twitch and follow your channel.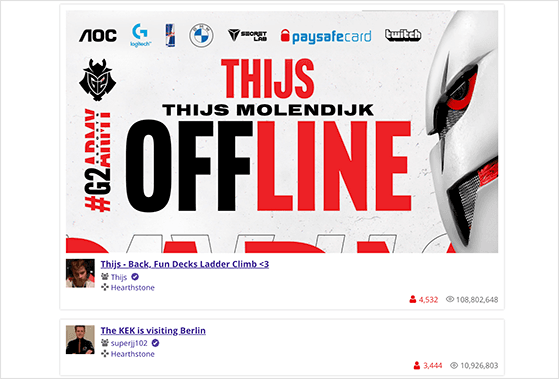 Luckily, you can embed your Twitch videos in WordPress easily. You can either copy and paste the Twitch embed code or automatically use a plugin to do it.
For the easy option, check out these best WordPress Twitch plugins.
8. Add Twitch Follow Buttons on Your Site
If your website visitors can't find your Twitch account easily, they probably won't visit and subscribe to your channel. So it makes sense to make it easy to follow you on Twitch from your website.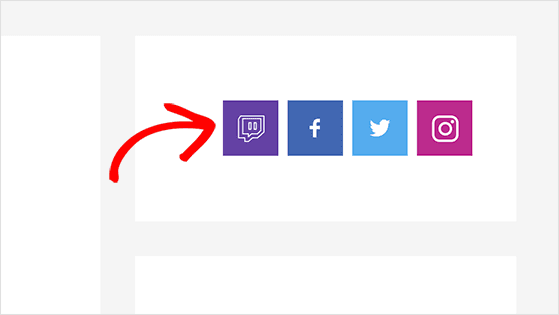 One way to do that is to add a Twitch follow button to your site. And you can do that easily with popular social media plugins without copying and pasting any code.
9. Promote Twitch in Your Newsletter
Don't forget about your email subscribers when you're looking for ways to get more followers on Twitch. If you have one, your email list is one of the best places to promote your channel because those contacts have signed up to hear from you.
So the next time you put together an email newsletter, invite your subscribers to come and follow you on Twitch. That way, you'll get many new followers with minimal effort.
10. Publish Streams on YouTube
YouTube is the king of video content, and it already has all the tools you need to post videos and reach a specific audience. But where YouTube shines is with its powerful search engine, which helps your videos show up in Google search results.
So if you want to get more followers on Twitch, one of the best things you can do is upload your streams to YouTube. When you do that, you're showing people on YouTube what your Twitch channel has to offer.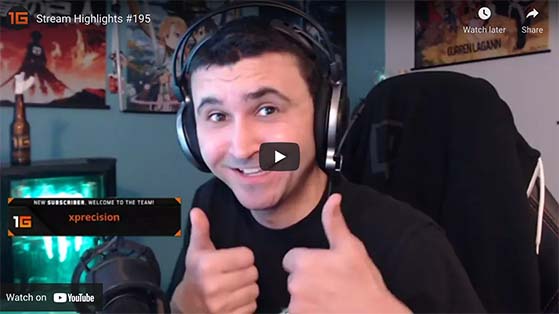 And chances are, if they enjoy the content that you stream, they'll seek you out on Twitch and follow you. Even better, because there's a high chance your YouTube videos will appear in search results, you can pull in tons of search engine traffic, resulting in even more new potential Twitch followers.
11. And Get Active on Other Social Media Channels
Like YouTube, there are many other social media networks where you can cross-promote your Twitch channel. Platforms like Facebook, Twitter, Instagram, and Tiktok allow video posts, so they're excellent places to tease content and attract people to your stream.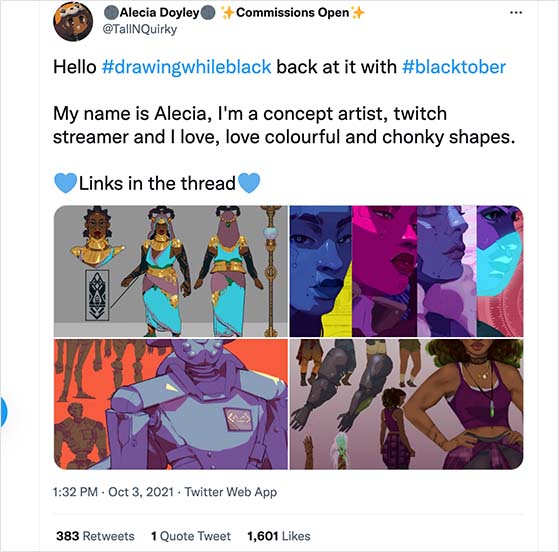 For example, you can use stories on both Facebook and Instagram to tell people about your next stream. And you can use almost all platforms to promote your Twitch giveaway on your website.
The more platforms you use to promote your stream, the more people you're likely to reach.
12. Make Your Stream Interactive
You might think Twitch streaming is as simple as sharing your screen, sitting back, and watching your audience flock in. But the truth is, streaming is a 2-way street.
People watch Twitch for a variety of reasons, including:
For entertainment
To learn something
For news and current events
To make friends
And more
So you need to interact with your audience and give them what they want; otherwise, they'll move on to the next streamer who can provide it.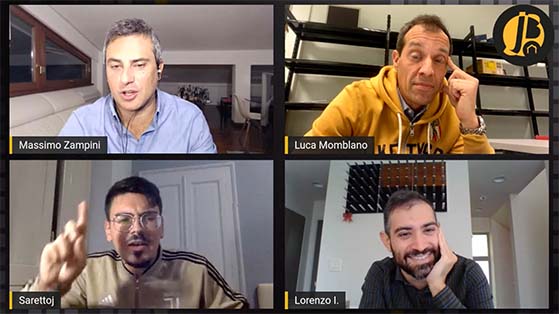 Here are a few ways to make your steam more interactive and improve your stream quality:
Show off your streaming setup – Give viewers a sneak peek at the gear you use for your stream. Doing so helps them get to know you better and offers a more personal experience.
Run a Q and A session – Answering viewer questions boost interaction and help you connect with your audience.
Share your expertise – If you have some tips or experience you think people will find helpful, share it with your audience. People love to learn and see you as an authority on your subject.
Do a fundraiser – Raising money for a good cause will attract people who also care about the same cause. And since it's a genuine way to show you're human and not just in it for the revenue, it's a great way to secure a few more loyal followers.
13. Observe Popular Twitch Streamers
Sometimes, watching what other people do is the best way to learn. So check out some popular Twitch streamers in your niche and note what works for them.
It could be anything from the time they broadcast their stream to how they engage with their audience. You might even pick up a few pointers you weren't aware of that you can use on your channel.
But whatever you do, don't simply copy other streamers. Take what you learn and personalize it to your channel and audience.
14. Collaborate with Other Twitch Streamers
As we mentioned earlier, streaming is all about being active and engaged with your audience. But it's just as important to engage with other streamers too.
Many Twitch streamers find that it generates excellent results for both parties when they collaborate. Not only does it create a fun stream with multiple hosts, but it also expands your reach to each other's audience.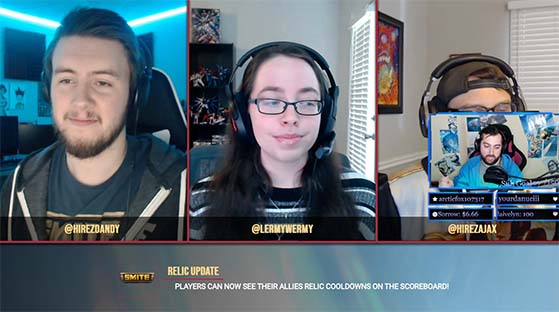 Try reaching out to other steamers in your niche and build a relationship that can eventually develop into a live collaboration. This approach may take time, but it's worth it for the audience you'll gain in the long run.
15. Stream on Other Websites
While Twitch is one of the most popular streaming platforms, don't forget about the many other ways to stream online.
Most social media websites, for instance, have live streaming options, like Facebook Live, Periscope, YouTube Streaming, and Instagram TV.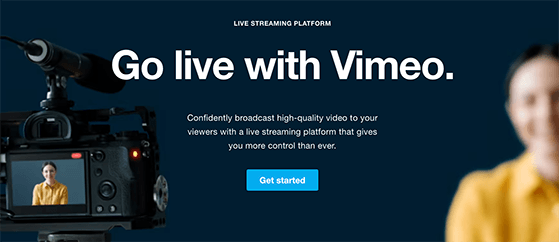 But there are also other streaming sites like:
If your streaming setup can handle it, you can stream simultaneously to multiple platforms and include a link to your Twitch channel to get people to follow you there.
There you have it!
We hope this article helped you learn how to get more followers on Twitch. You might also like this guide on how to get more likes on YouTube.
Don't forget to follow us on YouTube, Twitter, and Facebook for more great tips and tutorials.