Are you looking for an easy way to run a giveaway online?
Giveaways are an excellent way to drive targeted traffic to your website, grow your email list, and increase your social media followers. But starting a giveaway from scratch in WordPress is scary if you're not particularly tech-savvy.
That's why in this post, we'll share some highly customizable giveaway templates to make setting up an online contest much easier.
But first…
What Is a Giveaway Template?
A giveaway template is a framework that gives you all the essential elements for creating a successful giveaway. But, instead of working from scratch, it offers building blocks you can customize with your own giveaway content.
Many contest templates have a theme, enabling you to choose one that aligns with your giveaway goals. For instance, if you want to collect email addresses, it's a good idea to choose a template designed to grow your email list.
That said, every template aims to make creating your online contest easy without hiring expert help.
What Are the Benefits of Using Templates for Giveaways?
The primary benefit of using a giveaway template is it allows you to quickly create online contests without hiring a developer or writing code. This can significantly reduce the cost of running a contest.
And since templates allow you to set up a giveaway yourself, it also saves time and gives you more control over how everything looks.
8 Customizable Online Giveaway Templates
Now that you know what a giveaway contest template is let's look at some excellent template examples from RafflePress, the best giveaway plugin for WordPress.
1. Classic Free Giveaway Template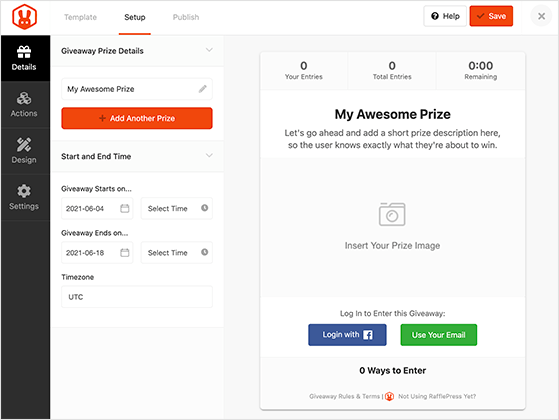 One of the most versatile solutions on this list is the Classic free giveaway template. This template is a blank slate, allowing you to create any giveaway from scratch and build it any way you want.
You can easily enter your prize details, choose when your contest starts and ends, and edit your design with the drag-and-drop giveaway builder.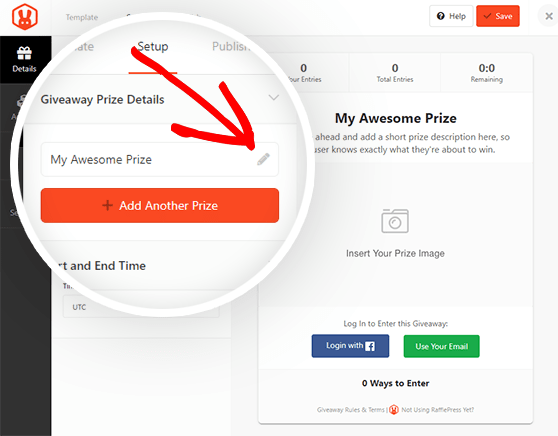 Because it's a blank canvas, you can pick any combination of user actions to enter your giveaway. For example, people can enter by:
Tweeting a message
Answering a question
Leaving a comment
Writing a blog post
Subscribing to your RSS feed
And more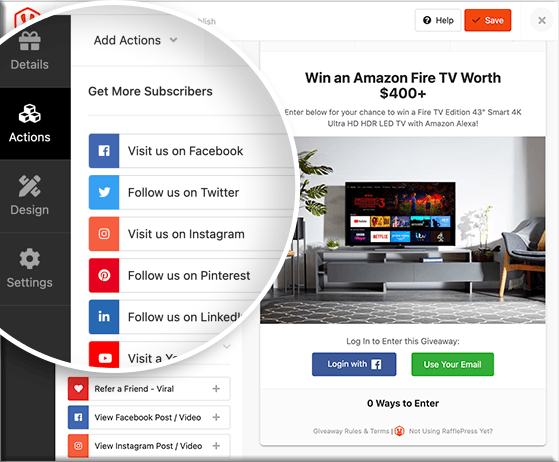 You can add as many entry actions as you like and assign a value from 1-5 for each action. This means that completing that task awards users with that number of giveaway entries.
Who Should Use This Template?
This template is a great solution for people who already know the goals for their giveaway. It's an easy way to build your contest exactly how you want, quickly and easily.
2. Grow Your Email List Template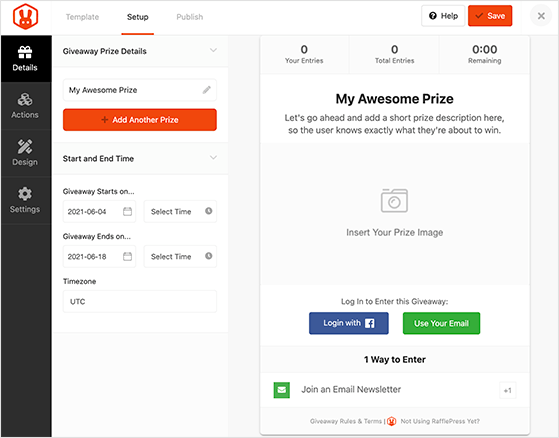 Up next is a template that makes it super-easy to collect email addresses to grow your list. It includes everything from the Classic template but automatically adds the 'Join an Email Newsletter' giveaway action to your contest widget.
From there, you can connect it to your email marketing service by choosing a provider from the dropdown menu.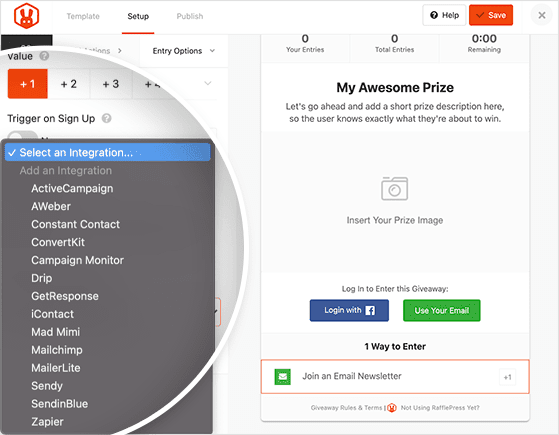 RafflePress's email integrations include:
ActiveCampaign
Campaign Monitor
GetResponse
iContact
Mad Mimi
Sendy
Zapier
As a result, anyone who enters your giveaway with this action is added to your email list automatically.
You can make this giveaway action a requirement for entering and set it, so users are automatically added to your list when they sign up for your giveaway. Plus, it includes the option to show an optin checkbox confirmation to help with GDPR compliance.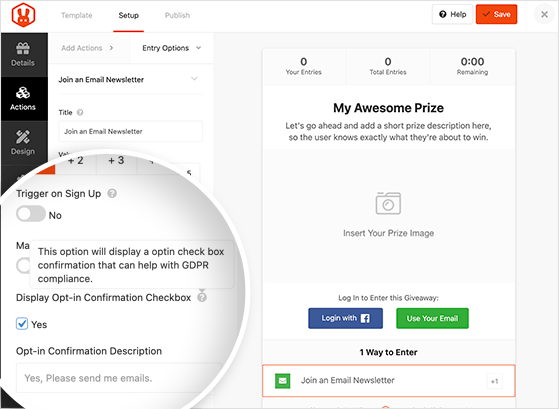 Who Should Use This Template?
This giveaway template is an excellent choice for website owners who want to start growing an email list from their WordPress website. You can also use it to boost your existing email list and generate more leads.
3. Refer a Friend Viral Giveaway Template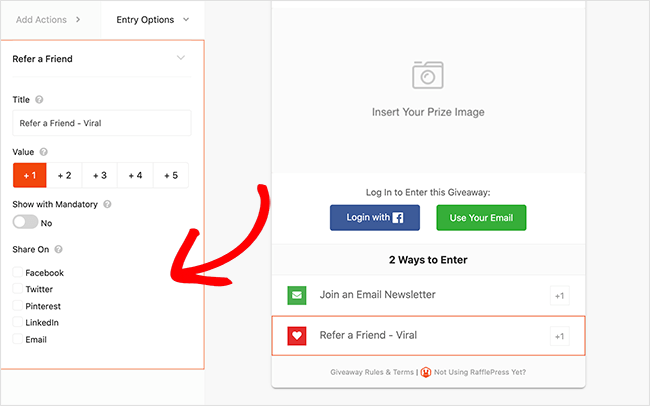 RafflePress's Viral Refer a Friend template allows you to easily create a viral giveaway that uses powerful word-of-mouth marketing to expand your reach and grow your brand.
It comes with the 'Join an Email Newsletter' and 'Refer a Friend – Viral' actions automatically added to the giveaway widget.
The Refer a Friend action asks users to share the giveaway on your social media network of choice. For example, you can ask people to share the contest on:

Facebook
Twitter
Pinterest
LinkedIn
Email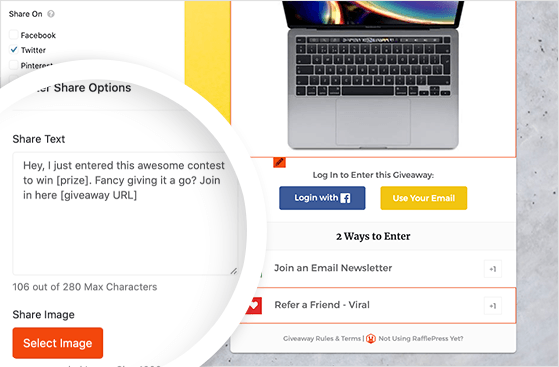 The idea behind this action is that as more people share your contest, more people enter using that same method and share it even more. So it creates an ever-growing circle of sharing that can quickly make your giveaway go viral.
Who Should Use This Template?
This contest template is a great choice for companies that want to raise brand awareness and attract a wider audience. Since it also includes the email newsletter action, you can use it to grow your list simultaneously.
4. Pre-launch Campaign Template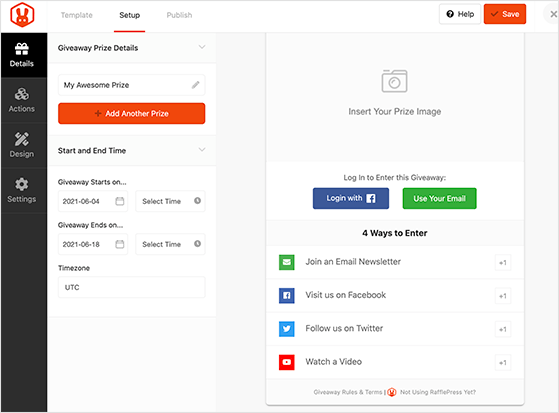 If you need an easy way to jump-start your business, RafflePress's pre-launch campaign template is an excellent place to begin.
This template automatically includes giveaway actions designed to grow your list, increase engagement, and grow your social media followers, including:
Join an Email Newsletter
Visit us on Facebook
Follow us on Twitter
Watch a Video
As a result, you can quickly generate a buzz around the launch of a new product or service, a new website, or even the launch of your business.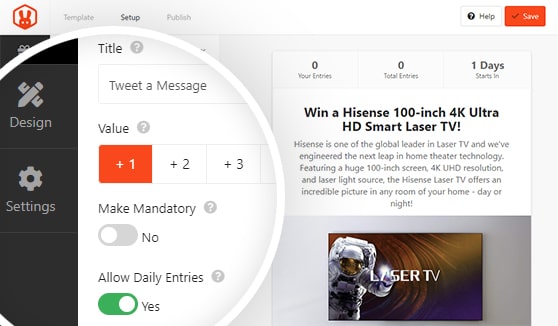 Many of these actions allow people to complete the same task daily to earn more entries. And since most people will take as many actions as they can, it results in repeated engagement and brand awareness.
Who Should Use This Template?
Use this giveaway template when you're preparing to launch your business, new products, or services to generate excitement.
5. Grow Your Facebook Page Template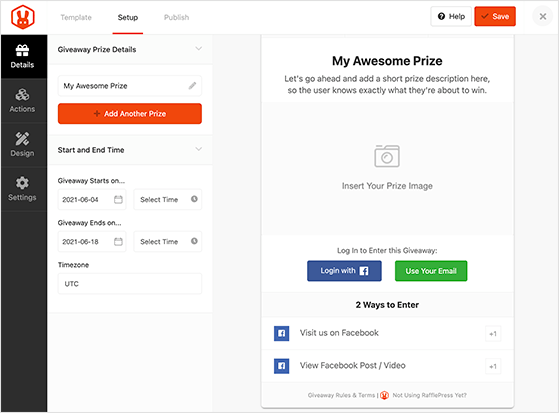 The Facebook giveaway template provides everything you need to grow your Facebook followers and engagement with viral giveaways successfully.
It's automatically populated with giveaway actions to:
Visit on Facebook
View a Facebook Post or Video
This means you can direct giveaway users to your Facebook content right from your WordPress site. There are several advantages to this approach.
First, when users visit your Facebook page, they're highly likely to Like your page if they enjoy your content.
Second, having more people reading your Facebook posts increases your engagement, making your content appear more in the Facebook newsfeed.
Guess what that means – more visibility!
If you like, you can add more Facebook-related giveaway actions, such as: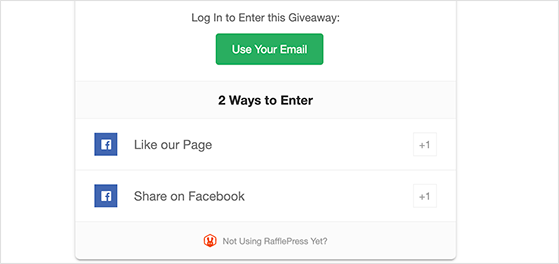 But you should use these at your own risk. This is because Facebook doesn't allow you to incentivize Likes and Shares.
Who Should Use This Template?
This giveaway template is one of the best solutions for increasing your Facebook page fans, likes, and engagement.
6. Template to Grow Your Instagram Following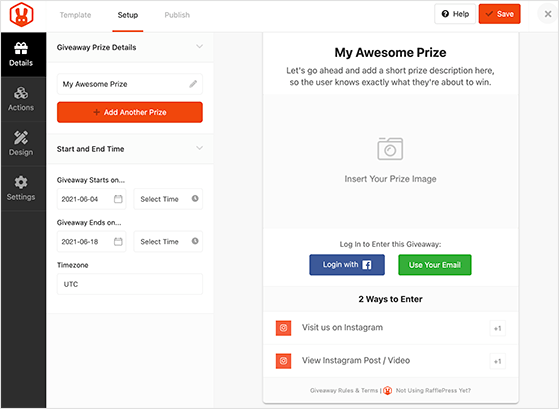 If one of your main goals is to grow your followers on Instagram, check out RafflePress's Instagram giveaway template. Just like the Facebook template, it adds Instagram-related giveaway actions to your widget automatically.
For example, users can:
Visit on Instagram
View an Instagram Post or Video
The chances are that by just visiting your Instagram profile, people are motivated to follow you, leading to more followers and engagement on your Instagram content.
Another action you can add to improve your giveaway is the 'Submit an Image' action. This lets giveaway participants enter by uploading a photo or image right on your WordPress site.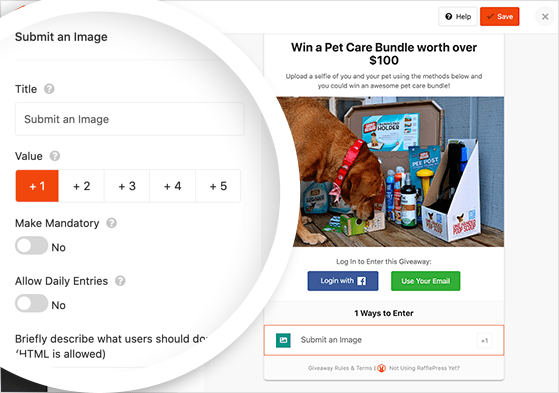 Since Instagram is a highly visual platform, running a photo contest like this is a popular way to collect user-generated content (UGC) like reviews and testimonials. You can then use that content for marketing your brand on Instagram in the future.
Who Should Use This Template?
This template is a great choice for any type of business to easily grow your Instagram followers, engagement, and brand awareness.
7. Grow Your YouTube Channel Template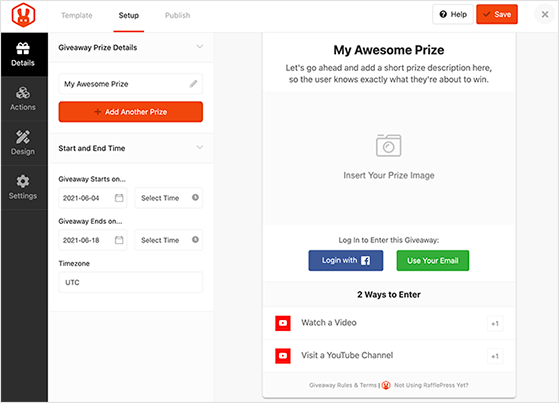 Next is a giveaway template that's ideal for increasing your video views and YouTube channel subscribers. The Grow Your YouTube Channel template does exactly what it says.
It comes with giveaway actions to:
Watch a Video
Visit a YouTube Channel
And is an excellent way to send traffic from your WordPress site to your YouTube Channel and vice versa.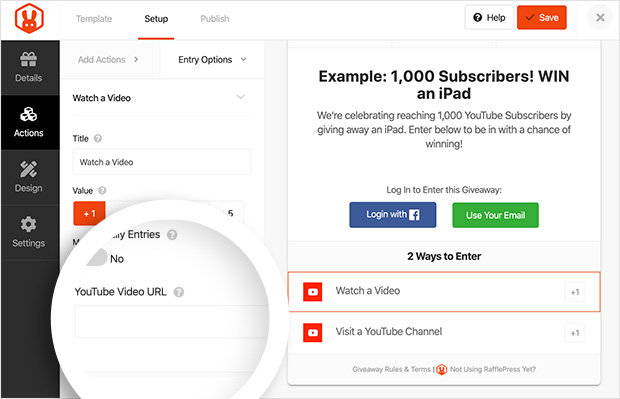 For instance, you can include a link to your giveaway page in your video description on YouTube to motivate people to visit your website. Or you can use the YouTube giveaway actions on your website's giveaway widget to send people to your channel.
Who Should Use This Template?
YouTubers, bloggers, and small businesses should use this template to boost their channel's traffic, increase engagement and website visitors.
8. Giveaway Template to Grow Your Twitter Following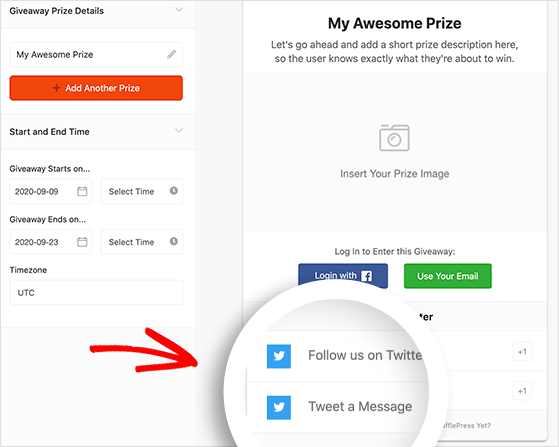 Last but not least is a template you can use to increase your engagement and followers on Twitter.
RafflePress's Twitter giveaway template automatically includes giveaway actions to:
Follow you on Twitter
Tweet a Message
This makes it super-easy to grow your Twitter followers and spread the word about your giveaway with a broader network of like-minded people. Combine it with the Refer a Friend action, and you can easily make your giveaway go viral on social media.
Who Should Use This Template?
Anyone can use the Twitter giveaway template to grow their business on Twitter.
FAQ
After looking at the contest templates in this list, you may have some questions about running an online contest on your WordPress site. Here are some FAQs to help answer them.
How do I create a giveaway for free?
You can create a free giveaway easily with the free version of RafflePress's WordPress giveaway plugin. Check out this step-by-step guide on how to create an online contest with RafflePress.
How do you make a giveaway on Instagram?
Creating a giveaway on Instagram is easy with RafflePress. You can build the giveaway and host it on your WordPress site with RafflePress, then share your giveaway landing page link in your Instagram bio, Instagram post, and more to attract entries.
What are good giveaway ideas?
There are many excellent giveaway ideas for running online contests. For example, you could run a simple comment to win giveaway, photo contest, and many more. Here are some simple contest ideas to help you get started.
How do you promote a giveaway?
One of the easiest ways to promote your giveaway is to share it on social media platforms like Facebook, Twitter, Instagram, LinkedIn, and so on. Check out these proven contest promotion ideas for more inspiration.
How do you pick a winner for a giveaway?
Picking a giveaway winner is easy with the RafflePress WordPress giveaway plugin. It includes a built-in random winner picker, so you can randomly draw winners with a few clicks.
And there you have it!
We hope this post helped you find some of the best giveaway templates for creating highly successful giveaways to grow your business. With RafflePress's drag-and-drop giveaway builder, customizable templates, and powerful giveaway actions, it's easy to get the results you need for your company.
So, what are you waiting for?
Get Started with RafflePress Today
While you're at it, don't forget to follow our YouTube Channel for a range of helpful video tutorials. You can also find us on Facebook and Twitter too.