Are you looking for the best digital marketing campaigns from recent years?
Successful digital marketing campaigns can capture attention and stick in our minds for a long time. By doing that, they influence our buying decisions, earning more brand awareness and revenue for the brand in question.
But what makes an effective digital marketing campaign?
In this article, we'll share some of our favorite online marketing examples so you have inspiration for your own digital marketing strategy.
What Is a Digital Marketing Campaign?
A digital marketing campaign is an online marketing initiative aiming to achieve a company's marketing goals. That goal can take many forms, including:
Improving your online presence with your target audience
Increasing webinar registrations
Driving revenue on new products or services
Getting more traffic to your website with content marketing
Marketing campaigns can reach countless audiences across multiple social networks and advertising platforms. They can also create marketing trends and consumer needs that define your industry.
Think about Nike's "Just Do It" slogan and McDonald's "I'm Lovin' it." By analyzing the marketing efforts of successful brands, you can learn valuable lessons and take steps toward creating a winning digital strategy for your small business.
Best Digital Marketing Campaigns to Swipe
Below, you'll find some of the best digital marketing campaigns in recent years from leading businesses. We've tried our best to find examples from several categories, including video ads, email marketing, and successful campaigns from social media platforms.
So sit back with your notepad and enjoy the inspiring examples we've hand-picked.
1. Hisense Sweepstakes Marketing Campaign
First is an excellent marketing campaign from the consumer electronics and appliance company Hisense. They used the 2022 World Cup hype to run a giveaway campaign for their fans.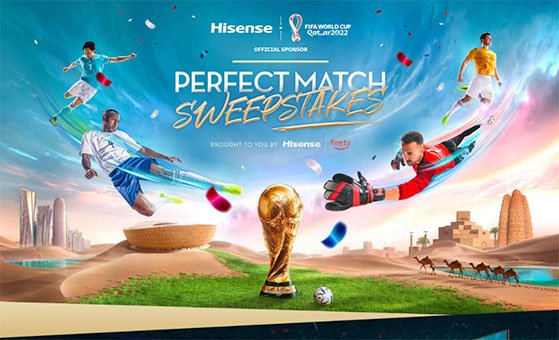 Users had to visit the Hisense website and fill in the web form to earn 1 entry into the sweepstakes. After completing the submission, they could earn extra entries by sharing the giveaway on social media.
There were 4 prize categories for this campaign, with the chance to win FIFA World Cup merchandise, Amazon gift cards, Fire TVs, and Hisense Laser TVs for multiple winners.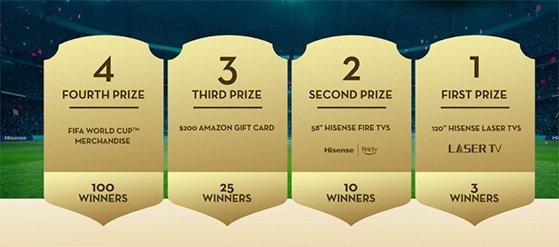 This type of marketing campaign works because it piggybacks off current trends and uses that momentum to promote the company's products. Moreover, the social sharing element helps increase brand awareness.
If you don't have the massive budget of a global brand like Hisense, you can still use giveaways to achieve your marketing goals.
Companies with WordPress websites can use the RafflePress giveaway plugin to run online viral giveaways that won't break the bank.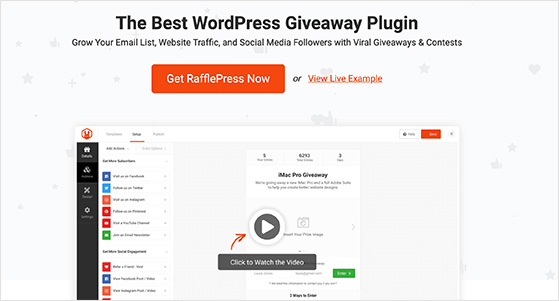 RafflePress is easy to set up, comes with many pre-made giveaway templates, and has a drag-and-drop builder so you can be up and running in minutes. You can add multiple giveaway prizes, optimize your giveaway design, and choose entry methods that align with your business goals.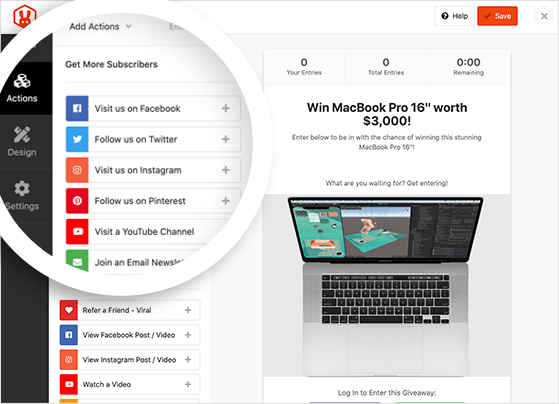 For instance, you can ask users to enter by signing up with their email address, answering a question, following you on social media, subscribing to your podcast, or even visiting a specific web page.
Participants can also earn bonus entries by sharing the giveaway with friends and using your branded hashtag to reach a broader audience.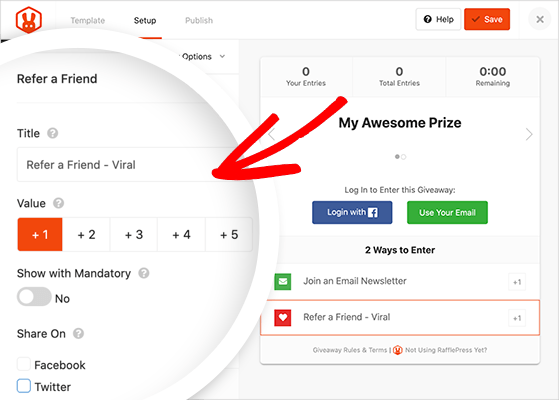 One of the best things about this plugin is you can embed your giveaway on your WordPress website in a post, page, sidebar, or as a standalone giveaway landing page. That way, you can optimize your campaign for SEO and attract website traffic from search engines.
Plus, choosing a winner is effortless. Simply use the built-in winner generator to pick winners at random.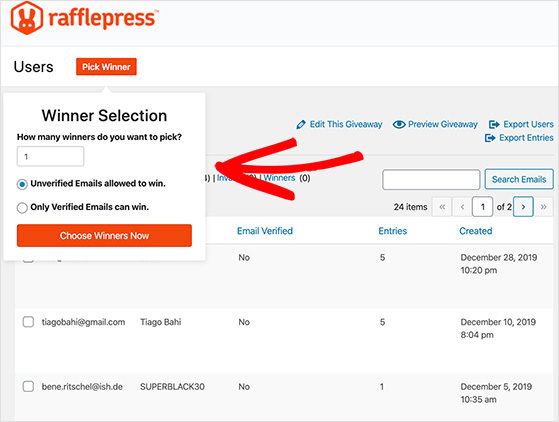 Why not take this plugin for a test run and get started with RafflePress today?
2. Nordic Socks Email Marketing Campaign
The holiday season is another fantastic opportunity to promote your business, especially if you're in eCommerce. It's the time of year when shoppers are looking for gift ideas, and a quirky marketing campaign can help you stand out.
When we found this subject line in our inbox: "Life's too short to wear boring socks," we couldn't help but open it.
Inside we found this fun and bold email marketing campaign from Nordic Socks, and in seconds, we were also saying "No!" to boring socks.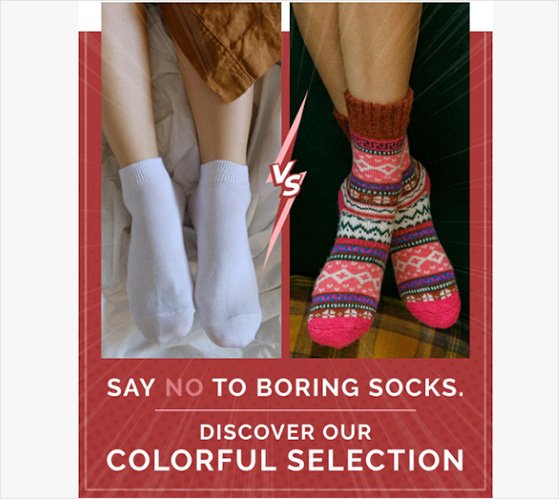 This campaign works because it's disruptive. Instead of bombarding you with the typical sales pitch, the email addresses your pain points – dull socks vs. awesome colorful ones.
Nordic Sock's marketing team then capitalizes on this in the email copy, describing its ethically sourced materials and how they're made locally in Europe.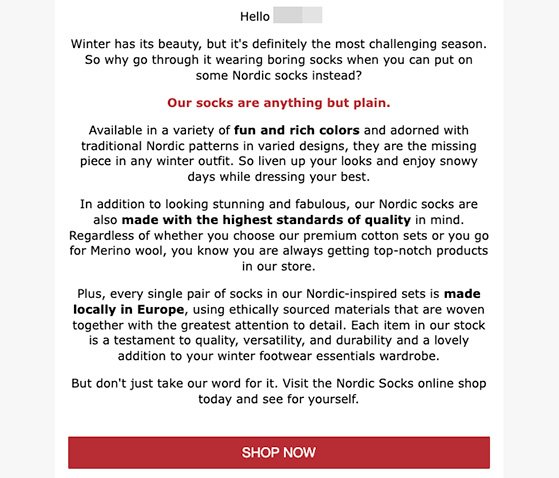 It's a simple email but includes the perfect combination of elements to succeed.
3. HubSpot Multi-Channel Marketing Campaign
When you want to get the word out about something as exciting as reaching a milestone, one of the best tactics is to use all the platforms where you already have a presence. That's what HubSpot did when it reached 1,000 app integrations in the HubSpot app marketplace.
The company got its partners involved in its multi-channel campaign by writing about them in case studies on its blog and asking partners to spread the news on social media and email on launch day. The result was a ton of activity on different social platforms, including a particularly successful LinkedIn post with comments from partners, community members, and customers.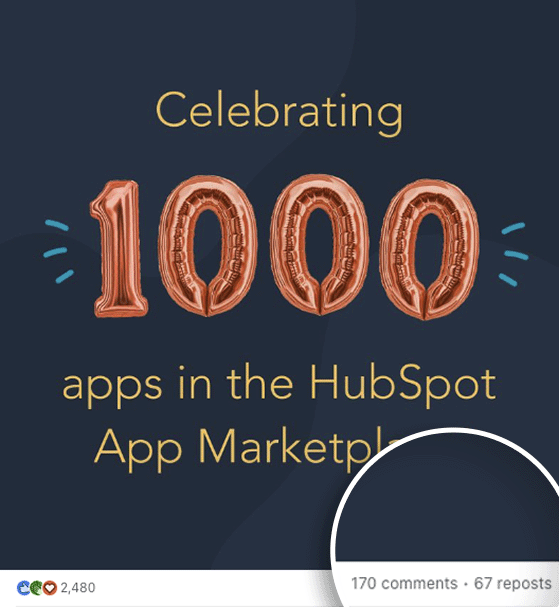 This is an excellent example of influencer marketing. By leveraging its partners, influential companies in their own right, HubSpot was able to reach many more people in its target audience.
4. Dominos Mobile Marketing Campaign
While mobile marketing isn't technically digital marketing, it's still a powerful tool that marketing agencies can use to drive awareness, engagement, and sales.
Dominos, for example, attributes over 91% of its sales to digital channels, and its app for mobile devices accounted for almost half of the system sales.
However, the pizza delivery giant isn't scared of testing the waters. So with the Super Bowl looming, they created the "Points for Pies" loyalty program, valid for 12 weeks.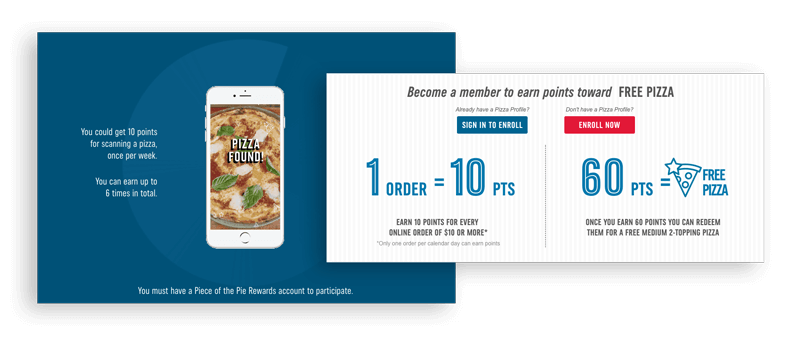 For every pizza that customers scanned in the Domino's app, they could earn points towards a free pizza.
How's that for improving customer experience?
5. Dove Video Marketing Campaign
Another powerful example is the Real Beauty Sketches campaign from Dove, the skincare brand. The video's premise is to empower women to have confidence in their natural beauty.
It involves a series of women describing their looks to an artist who cannot see their faces. Later, the same artist asks a stranger to describe each woman.
The result is 2 sketches of each woman, one from their description and one from a stranger. Inevitably, the stranger's description creates a more beautiful representation, highlighting the lack of self-esteem many women struggle with.
This empowering video content touched a nerve with millions of women. It drove massive online engagement and well over 114 million views.
6. Spotify Social Media Marketing Campaign
Spotify is an excellent way to discover new music, and its yearly "Spotify Wrapped" campaign is becoming a tradition its fans look forward to.
The Wrapped social media campaign involves building a personalized playlist of tracks based on your streaming habits over the past year. You can then click through slides of your top songs and listen to the entire list again to relive the year's memories.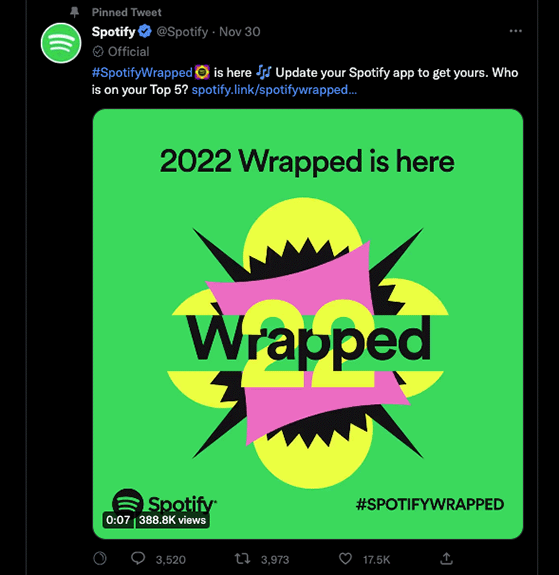 The campaign has seen tremendous success year after year.
For example, here are some metrics: in 2019, it generated almost 3 billion streams from wrapped playlists and was mentioned in around 1.2 million posts on Twitter. Then in 2020, Spotify saw a 21% increase in app downloads in the first week of December.
What about 2021? That year, users shared more than 2.1 billion tracks, albums, shows, and artists via Spotify.
We can only imagine this popular marketing campaign's impact in the future.
7. Airbnb User-Generated Content Campaigns
Our final example on this list of the best digital marketing campaigns comes from Airbnb. They've made waves in the accommodation industry, not from endless PPC ads but by sharing genuine content from their users.
Airbnb's digital marketing strategy focuses on social media user-generated content, including how-tos, images, videos, guides, and more. Because the content is mainly from genuine users of its service, it gives the brand more credibility.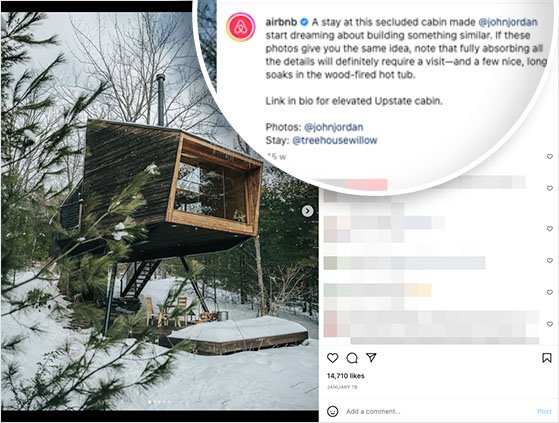 Airbnb's Instagram account has over 4.7m followers, and its Facebook page has 16m followers. It also collaborates regularly with influencers in real-time for increased engagement.
Since their social campaigns appeal to people's wanderlust and desire to visit exotic destinations, Airbnb has developed its brand to be much more than a booking service.
What's more, user-generated content is inexpensive and easy to collect. You can get this kind of content by running a photo contest with RafflePress and asking users to submit an image of themselves using your product or service for the chance to win a prize.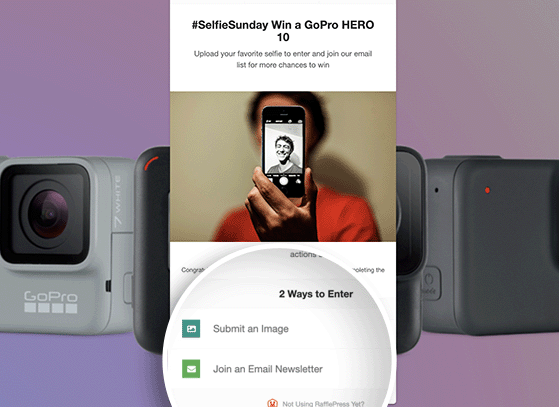 Later, with the user's permission, you can use that content in your digital marketing campaigns.
There you have it!
In this post, we've shared the best digital marketing campaigns from our swipe file. We hope you found them inspiring enough to spark a few creative ideas for your small business.
Since you're here, you might also like the following tips and tutorials:
If you liked this article, please subscribe to our YouTube Channel for RafflePress video tutorials. You can also find us on Twitter and Facebook.