Are you looking for the best push notification software for your business?
With web push notifications, you can send timely messages to subscribers, even after they've left your website. This allows you to promote your products, services and offers to your audience wherever they are online.
In this guide, we'll share the best push notification software and tools you can use to grow your business.
The great thing about push notifications is their directness and immediacy. Whether it's a new message from your favorite social networking site, a sale announcement from an online store, or an update from a news app, push notifications provide real-time information without requiring you to be actively engaged with the app or site in question.
Here's an example of how a web push notification looks:

What Is the Best Way to Use Push Notifications?
Many businesses use push notifications to drive engagement, increase customer retention, and foster user loyalty. The secret is to strike a balance: provide enough value to be helpful without overwhelming users with non-stop alerts.
Be strategic and smart about when and why you're sending notifications. Customizing notifications based on user behavior, interests, and location can greatly improve engagement rates. Timing is also important – use analytics to learn when your users are most active.
Above all, ensure your notifications provide genuine value, whether that's an exclusive offer, a timely reminder, or useful information.
Best Push Notification Software and Tools
With that groundwork laid, let's dive into the best push notification software and tools to enhance your digital marketing campaigns.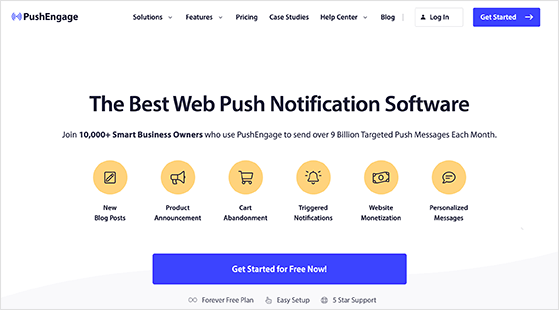 PushEngage is the best push notification software, with thousands of users sending 15+ billion messages each month. It's a powerful, feature-rich platform for mobile and web push notifications with a user-friendly interface that makes setup a breeze with no code needed.
This tool shines with its marketing automation features, allowing you to send new blog post notifications automatically. With audience segmentation and dynamic notifications, you can also set up push messages for abandoned carts, price drop alerts, and scheduled messages.
Moreover, PushEngage has additional features marketers love, including A/B testing, drip campaigns, opt-in reminders, interactive messages, and more.
You can send campaigns on all major web browsers, including Firefox, Chrome, and Safari. The platform also works on mobile devices, including Android and iOS, allowing you to send push notifications on mobile and desktop devices without installing separate mobile apps.
Additionally, PushEngage comes with a WordPress plugin, making connecting a WordPress site to your push notification campaigns even easier. They also have pop-ups to help grow your subscribers faster, and the resubscribe feature helps re-engage users.
Key Features
Unlimited push notifications
Customizable opt-ins
eCommerce cart abandonment campaigns
Personalize notifications
Custom timezone sending options
Powerful targeting and segmentation
Real-time analytics
CRM integration
API for omnichannel customer lifecycle campaigns
Price: Starts at $8/month for 50,000 subscribers and unlimited notifications. Push Engage also has a free plan for up to 200 subscribers and 30 campaigns per month.
Get started with PushEngage here.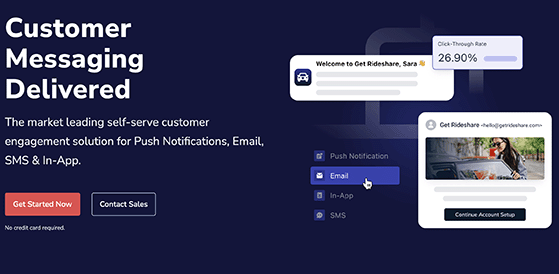 OneSignal is a highly respected player in the push notification field. It offers a free plan, making it another popular choice for startups and small businesses.
Like PushEngage, OneSignal lets you create automatic push notifications, abandoned cart notifications, announcements, and more. It also offers rich analytics metrics, A/B testing, segmentation, and automation tools.
Additionally, OneSignal's SDK integrates smoothly with mobile apps and web platforms, making it an incredibly flexible tool. You can also send email marketing campaigns, in-app push notifications, and SMS messages for mobile marketing.
One pitfall is that as you need more features, OneSignal can get more expensive. It also has fewer customization, automation, and personalization options.
Key Features
Mobile and web push notifications
Drag-and-drop email composer
In-app messages
Automation and segmentation
SMS messaging
Messaging workflow builder
Open source SDK
A/B Testing
Price: Starts from $9/month for up to 1,000 subscribers. The free plan allows up to 5,000 email sends.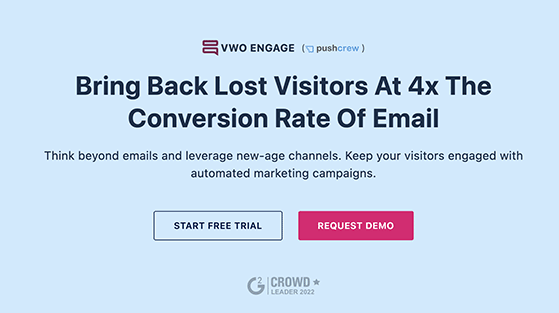 Formerly known as PushCrew, VWO Engage is a reliable push notification tool with particular strength in marketing applications. It offers a suite of features that work on both desktop and mobile devices, including audience segmentation and scheduling.
With this push marketing tool, you can make push campaigns with entry and exit triggers. This means campaigns can start based on user engagement, such as clicking a specific link.
Users can also opt out of campaigns by taking set actions like filling in a form or clicking a button. These interactive notifications ensure your messages encourage customer engagement and interaction.
Along with A/B testing and click-through analytics, VWO Engage offers a solid platform to boost conversion rates. However, its segmentation and engagement tools are relatively limited compared to other tools.
Key Features
Web and mobile app notifications
Server side testing
Segmentation and personalization
Behavior analytics
Customer data platform
API for app developers
Price: Starts from $99/month for up to 10,000 subscribers. There is no free plan available.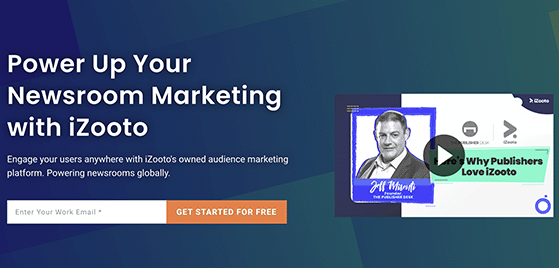 iZooto is a push notification software that stands out for its emphasis on eCommerce, making it an excellent choice for online retailers. This tool's notifications are designed to boost conversions with features like drip campaigns, personalized messages, and retargeting.
You can set your initial push prompt to appear when users scroll down, after a specific time, or after a button click. This helps increase the number of visitors subscribing to your push notifications.
iZooto integrates with major eCommerce platforms, including Shopify and WordPress, ensuring a seamless user experience. Because of this, it only works with HTTPS websites, meaning you'll need to add an SSL certificate to your site.
Key Features
Multi-channel push notifications
On-site interactions
A/B testing
Time zone notifications
User attribute and interest capturing
Price: Starts at $85/month for up to 30,000 subscribers. It doesn't offer a free plan but does have a 14-day free trial.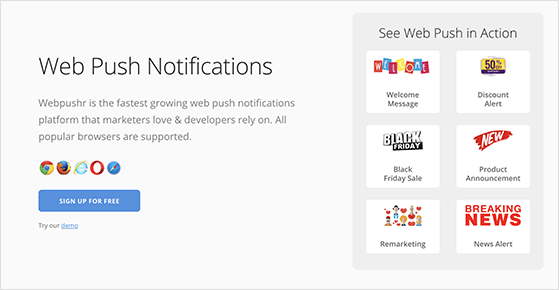 Webpushr is a popular push notification tool supporting web and mobile push notifications. Besides allowing unlimited messages, it has several customizable prompt templates.
With features like audience segmentation, triggered notifications, and advanced tracking, Webpushr provides robust functionality in a straightforward package. Plus, it offers easy integration with WordPress and WooCommerce.
WebPushr allows unlimited subscriber segmentation and team members. You can also use emojis, large images, custom branding, and action buttons for the best optimization.
Unlike other push notification software, Webspushr's free tier offers a generous allowance, making it an excellent choice for businesses on a budget.
Key Features
Automatic web push notifications
User segmentation
HTTPS support
Opt-in prompt customization
Subscriber statistics
Multi-browser support
Price: Starts at $29/month for up to 50,000 subscribers. The free plan allows for up to 10,000 subscribers.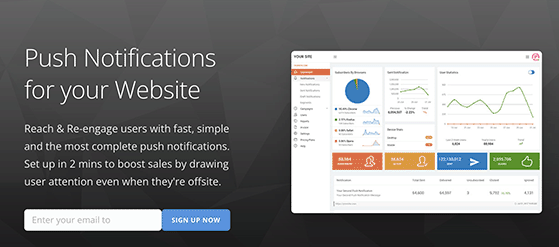 PushAssist is a user-friendly push notification software designed to make push notifications easy. It works across major web browsers and allows notifications for both mobile and desktop.
PushAssit boasts features like real-time tracking, segmentation, and automated notifications. The intuitive interface makes it simple to schedule and send push notifications, and the platform's scalability makes it suitable for businesses of all sizes.
Additionally, you can monetize your push traffic by letting advertisers send notifications to your audience. Plus, support for both HTTP and HTTPS is ideal for eCommerce sites.
The only pitfall to PushAssist is you can only remove its branding if you upgrade to the Business plan or higher.
Key Features:
Works on multiple web browsers
Cross-device support
Segmentation and personalization
Multi-channel messaging
Real-time tracking
Notification Scheduling
Price: Starts from $9/month for up to 3,500 subscribers. The free plan allows up to 3,000 subscribers.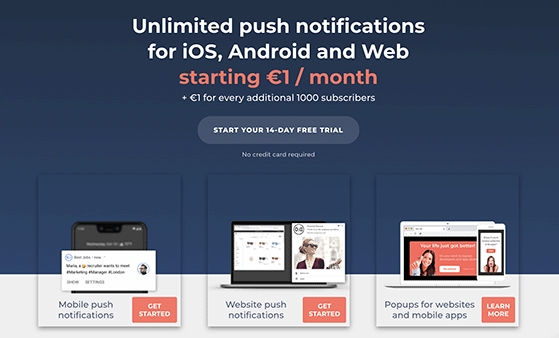 WonderPush is a performance-driven push notification tool perfect for those seeking quick results. With advanced automation features, deep analytics, and full GDPR compliance, WonderPush is a solid choice for businesses operating in the EU.
This push notification service also lets you create various notification types. For example, you can create eCommerce push notifications, like automatic abandoned cart notifications.
WonderPush's affordable pricing is the cherry on top, particularly for small to medium-sized businesses. You get all features, including A/B testing, personalization, unlimited staff members, and more, no matter how much you're paying.
Key Features
Rich notification formats
Unlimited notifications
Personalization
Unlimited team members
A/B split testing
Price: Starts from €1/month for up to 1,000 subscribers. WonderPush doesn't offer a free plan but does have a 14-day free trial.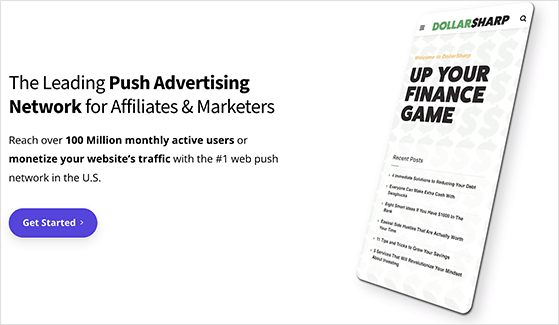 Last but not least is Pushnami, a top-tier push notification platform for affiliates and marketers looking to increase revenue from existing content. With its push advertising network, you can easily monetize and engage your website traffic.
Pushnami helps you find big publishers to partner with and offers its service in exchange for sending ads via push notifications. The revenue from these ads is split between publishers and Pushnami.
Similar to PushEngage, Pushnami has active partnerships with advertising platforms, including Taboola and Outbrain, to serve ads using push notifications. However, Pushnami focuses on big publishers who want partnerships with a push notification app.
Key Features
Native push ad network
Web and mobile push notifications
Email marketing
Visitor segmentation
Automation and scheduling
Social media analytics
Price: Starts from $0.01 per subscriber/month. You can also become a partner to pay nothing.
Push Notification Software FAQs
What features should I look for in the best push notification software?
The best push notification software should offer features like segmentation (the ability to target specific user groups), personalization (to tailor messages to individual users), automation (to schedule notifications), analytics (to measure performance), and integrations with other software tools you use.
Are push notifications suitable for every type of business?
While only some types of businesses might find push notifications necessary, they can benefit companies with a mobile or web application. Industries like retail, gaming, media, and fitness can benefit from push notifications to engage users and drive activity.
How does push notification software deal with user privacy?
The best push notification software respects user privacy by providing clear options for users to opt-in or out of notifications. They also comply with privacy regulations like GDPR and CCPA and should only collect minimal data necessary for delivering and personalizing notifications.
What other push notification tools are there?
Besides the tools on this list, you can also use Sendpulse, Airship, and Firebase to send push notification campaigns and cloud messaging.
We hope this guide has helped you find the best push notification software and tools for your business.
You might also like the following guides for further reading:
If you liked this article, please subscribe to our YouTube Channel for RafflePress video tutorials. You can also find us on Twitter and Facebook.