Are you looking for the best free email marketing tools?
Using a free email marketing tool or service is an excellent way to increase the number of subscribers you get from promoting your business. Yet, many marketing solutions come with a heavy price tag. So if you're on a limited budget, they may not be an option for you.
With this in mind, we'll share the best free email marketing tools and services to grow your business below. And you won't need to spend a single dime to see excellent results.
What Is a Free Email Marketing Tool and Service?
Free email marketing tools and services help you promote your business and encourage interested users to subscribe to your email list.
Email marketing tools are best for motivating users to join your list. They could be WordPress plugins, apps, and even social media platforms.
Email marketing services typically focus on managing your email list after users have subscribed.
Many of the most popular solutions offer both a free version and paid plans to give businesses more flexibility.
But what are the benefits of these tools?
Why Should You Use a Free Email Marketing Solution?
If you don't have effective tools, you may spend tons of time growing your email list and sending emails that don't get the results you need. This can hurt your productivity while impacting your return-on-investment (ROI).
Many businesses settle for this situation because they're not ready to pay for a tool to simplify the process. But, email marketing tools don't have to be expensive. You can find plenty of free tools to help you save both time and money, which we explore below.
Free Email Marketing Tools to Promote and Grow Your List
First, let's look at the best free tools you can use to convince website visitors to join your email list.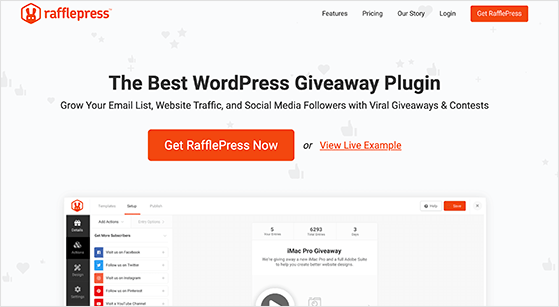 One of the easiest ways to drive traffic to your website and boost your email subscribers is to run an online giveaway. And if you have a WordPress site, RafflePress is the best tool for the job.
RafflePress is the best free WordPress giveaway plugin. With its drag-and-drop giveaway builder, you can run a giveaway to grow your list without hiring a developer.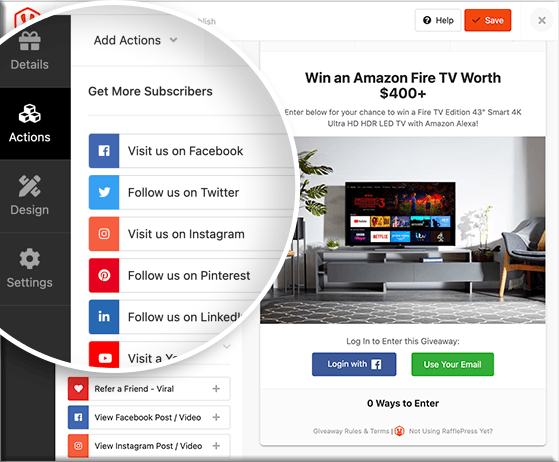 It comes with a variety of tasks for users to complete to enter your giveaway. It also allows you to reward extra entries when users complete bonus actions such as:
Visiting your Facebook page
Following you on Twitter
Visiting your Instagram profile
Visiting a specific website page
And more
You can use the built-in giveaway rules generator to create a simple set of rules for users to follow. And for drawing winners, RafflePress has a random winner picker to make things super easy.
The free version of RafflePress has everything you need to run viral giveaways. That said, the Pro version unlocks even more features like giveaway templates, refer friend actions, join newsletter actions, and more, helping you improve your marketing efforts.
Get RafflePress Free or Check out RafflePress Pro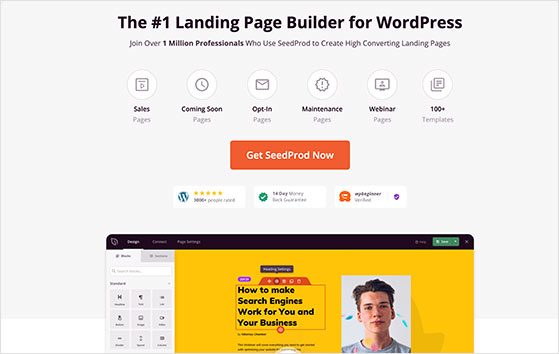 Another free WordPress plugin that can help you grow your email list is the SeedProd website builder.
SeedProd is a powerful drag-and-drop WordPress landing page builder. It allows you to create high-converting landing pages in WordPress to grow your list and increase conversions.
Landing pages are a fantastic way to give users information that motivates them to convert. For instance, you could create a squeeze page with a free download to encourage people to join your list.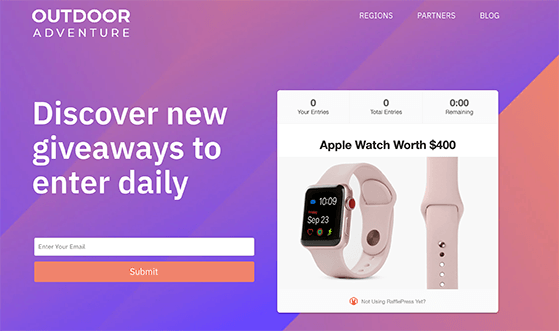 SeedProd makes this easy with its ready-made landing page templates and visual drag-and-drop editor. Instead of hiring a developer, you can make any page yourself with no coding required.
It comes with easy-to-use blocks for adding content to your page, including:
Giveaways
Contact forms
Videos
Headings
Images
Buttons
Lists
Columns
And you can customize your page with easy point-and-click settings.
SeedProd also comes with a built-in Coming Soon Page and Maintenance Mode. So if you're launching a new website, you can motivate users to join your list and receive email notifications when your site is live.
The free version of SeedProd includes all of the above. Yet, the Pro version unlocks more page modes, hundreds of templates, more landing page blocks, email marketing automation integrations, subscriber management, and more.
Get SeedProd Free or Check out SeedProd Pro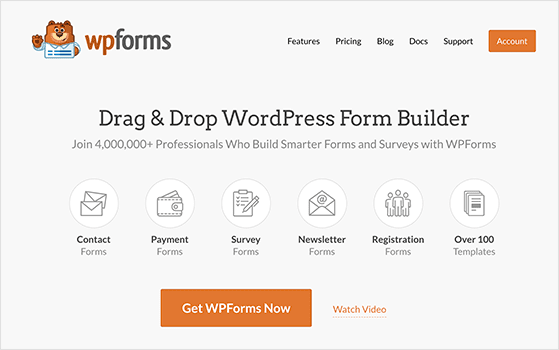 Making it easy for users to contact your company is a great way to build relationships with potential customers. So using a form builder plugin is a smart move.
The easiest way to add a contact form to WordPress is with the WPForms plugin.
WPForms is the most popular and beginner-friendly form builder plugin for WordPress. It comes with a user-friendly drag-and-drop builder. And you can make any form easily with no code.
You can start with a free form template, such as a simple contact form or sign-up form. Then you can customize it in the visual editor with extra form fields, custom messages, and more.
Moreover, WPForms integrates seamlessly with WP Mail SMTP to improve WordPress email deliverability. It also works beautifully with email marketing platforms like MailerLite and eCommerce sites such as WooCommerce, Shopify, and more.
The great thing is that you can create super-easy forms with a WPForms free account. That said, if you'd like extra options, such as file upload forms, survey forms, or more, you can always upgrade to the pro version.
Get WPForms Lite or Check out WPForms Pro
All 3 of the solutions above work seamlessly together.
For example, you can show RafflePress giveaways and WPForms contact forms on your SeedProd landing pages with their dedicated page blocks. Or you can ask users to visit your SeedProd landing page or fill in a WPForms survey to enter your RafflePress giveaway.
But if you need a free service to manage your list, keep reading for more options.
Free Email Marketing Services for Effective Email Sending
If you're asking yourself, "what is the best email marketing software that is free to use?" then read on. Below we share the top free services to send effective email marketing campaigns.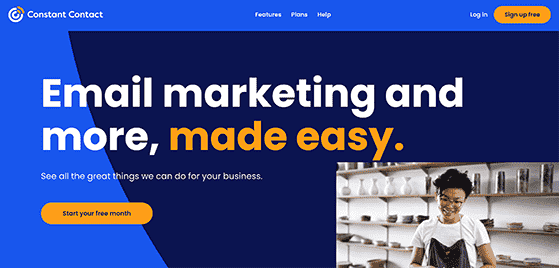 Constant Contact is one of the best free email marketing software on the market. It's both easy to use and an excellent solution for any business size.
Constant Contact is also an email provider that comes with seamless RafflePress integration so that you can grow your list with viral giveaways.
With Constant Contact, you can choose from over 100 email templates from its template library and customize them in the drag-and-drop editor. Plus, you can collect and manage emails from your website, mobile devices, and even social media with a few clicks.
Other powerful features include:
Manage your list by uploading it from Excel, Gmail, and Outlook.
Create personalized email subject lines.
See where users click with the heat-mapping tool.
Use advanced segmentation to segment lists based on the content they click.
Track unsubscribes, inactive emails, and bounced emails.
Send personalized emails to unlimited contacts from your business email address.
While Constant Contact doesn't have a completely free plan, it does offer a lengthy 60-day free trial that doesn't require a credit card to use. This gives you plenty of time to see if it's the right fit for your business. They also offer excellent customer support.
After your trial, plans start at $20/month.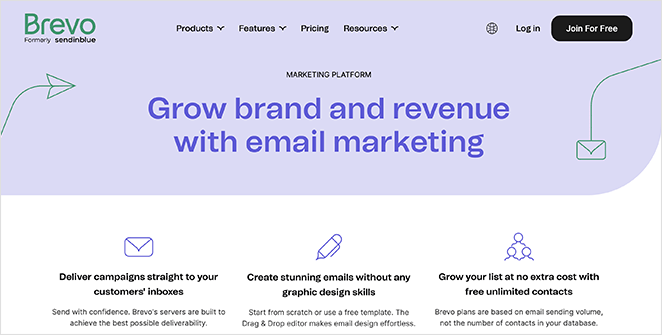 Brevo formerly Sendinblue, is another top free email marketing service for small businesses. It offers both email and SMS marketing software and is super easy to use, regardless of your technical ability.
You can use their drag-and-drop email builder to create personalized emails for your contact list. Or you can use their free responsive email templates and HTML email editor to get a head start.
Brevo offers tons of advanced features, including:
Automation workflows to ensure users get the correct email at the right time.
Automation features to send emails at the best time for individual subscribers.
Optimize campaigns with A/B testing, real-time stats, and detailed benchmark reports.
Send custom transactional emails.
Use the integrated live chat service.
Plus, Brevo (Sendinblue) integrates seamlessly with RafflePress to boost your list-building efforts.
Brevo's free plan includes unlimited contacts and up to 300 emails per day. Pro plans start from around $22 per month for 10,000 emails per month.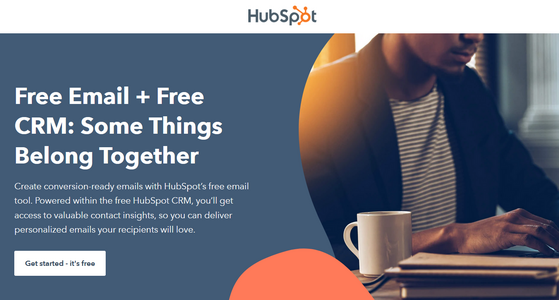 HubSpot is well-known for its CRM software, but it also offers a free email marketing tool for small businesses.
By combining email marketing and CRM software, you can send highly personalized campaigns based on your subscribers' country, device, list membership, or any other detail stored in their contact records.
Creating email campaigns is also easy, thanks to the drag-and-drop editor and ready-made, goal-based email templates. Plus, you get access to other powerful marketing tools such as a free form builder, landing pages, live chat functionality, and more.
Other awesome features include:
Detailed email analytics and A/B testing.
Easily set up complex automation flows.
Schedule emails in advance.
Easy list segmentation and email personalization.
Available as a free WordPress plugin to send emails without leaving the WordPress dashboard.
HubSpot offers a free plan that lets you send 2,000 emails/month to unlimited contacts. For advanced features, premium plans start at $45/month.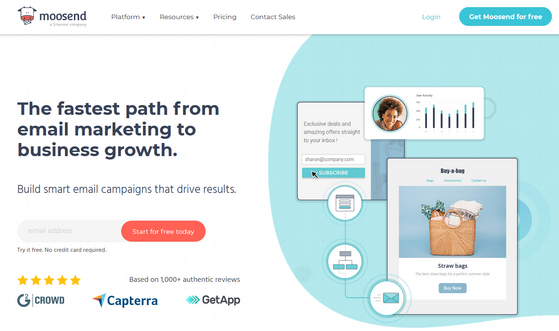 Moosend is another popular free email marketing service that makes it easy for beginners to create beautiful email designs.
It comes with over 70+ free email newsletter templates that you can customize with the drag-and-drop editor. The editor integrates with Stock Photos, Giphy, Dropbox, and the Instagram API so you can access all of your media in an instant.
With Moosend, you can also easily build unique automation workflows to automate welcome email series, drip campaigns, abandoned cart reminders, and more.
Moosend also offers these advanced features:
Separate mobile editor.
Detailed email analytics and heatmaps.
AI-powered product recommendations.
Email subscription forms and landing pages.
Personalization features to boost opens and clicks.
Moosend has a forever-free plan that lets you send an unlimited number of emails to up to 1,000 subscribers. Paid plans start at $8/month.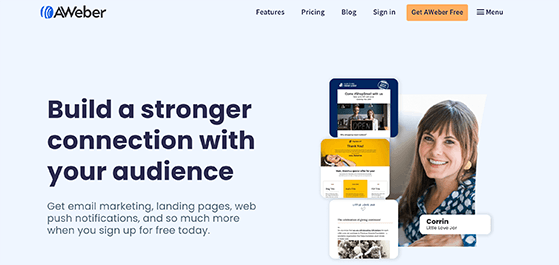 AWeber is a popular email marketing service with everything you need to generate leads, build your list, and grow your business. You can create and send email newsletters with the drag-and-drop email builder. And you can automate emails to promote new products and content easily.
AWeber connects easily with popular WordPress plugins like RafflePress, WPForms, and SeedProd. Plus, you can access a variety of other powerful features, such as:
Premade email templates
RSS to email to promote your blog content
Signup forms capture leads
Tags to organize emails based on opens and clicks
Simple subscriber and message analytics
With AWeber's free plan, you can send unlimited emails to up to 500 subscribers. For more email marketing features, the paid plan starts from $16.50 per month, billed annually.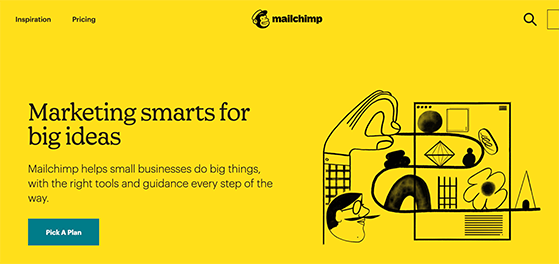 Mailchimp is a popular free email marketing service known for its generous free plan. It comes with a variety of features that let you collect and manage email addresses from your website.
Connecting your site to Mailchimp is super easy. It's a built-in integration for many plugins, including RafflePress, SeedProd, and WPForms. You can also use its landing pages, email campaigns, signup forms, and Facebook ad templates to reach a broader audience.
Mailchimp also shows data so you can see what is and isn't working for your campaigns.
You can see your data in one place, access real-time stats, and track your email ROI with revenue reports. This makes it easy to track open rates, click-through rates, and more.
More excellent Mailchimp features include:
Segment your list to send targeted emails.
Use Mailchimp tags to organize your contacts.
Schedule email delivery times based on user locations.
Integrate with other apps and tools like Salesforce and Zapier.
Create emails based on user behavior with autoresponders.
You might be thinking, "is Mailchimp really free?" And the answer is, yes, it is!
Mailchimp offers a free email service for lists of up to 2,000 subscribers before you need to pay. After reaching that limit, the paid plans start from $10 per month.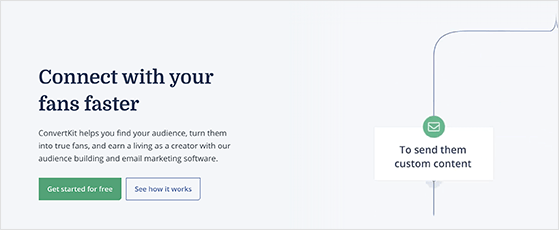 ConvertKit is a popular email marketing service for bloggers, marketers, and publishers. It aims to make email marketing easy for anyone, regardless of their ability.
You can use their customizable templates to create sign-up forms, popup forms, landing pages, and more. It also includes GDPR compliance to verify signups.
ConvertKit allows you to deliver lead magnets to your subscribers easily. Plus, users can double optin to your list to reduce spam and boost email delivery rates.
Other advanced ConvertKit features include:
Automated funnels based on your subscriber's actions
Segment lists to send targeted content
Send new blog posts as soon as they're published
Send plain text emails to prevent landing in spam folders
Drag-and-drop sequence builder for personalized automated emails
ConvertKit is free for users with up to 1,000 subscribers. After, their paid plans start at $29 per month for up to 1,000 subscribers.
Because we couldn't include every free email marketing tool in detail, here are a few other solutions you may like:
What Are the Best Free Email Marketing Tools and Services?
After comparing the list above, we're confident that when used together, RafflePress is the best free email marketing tool, and Constant Contact is the best free email marketing service.
They both integrate seamlessly together, include powerful features to grow and manage your list, and are easy enough for complete beginners to use.
We hope this article helped you find the best free email marketing tools for your business. You might also like these top video marketing tools to boost your leads.
If you liked this article, then please subscribe to our YouTube Channel for RafflePress video tutorials. You can also find us on Twitter and Facebook.