Are you looking for referral marketing ideas to boost your customer base?
Referral marketing programs are an excellent way to promote your products or services and increase conversion rates.
This article shares the top referral marketing ideas to secure loyal customers and grow your business.
What Is Referral Marketing?
Referral marketing is word-of-mouth marketing that incentivizes existing customers to refer new customers to your business. For example, a brand might reward you with a discount for referring friends and family to their products and services.
What Are the Benefits of Referral Marketing?
Having a customer referral program isn't just an excellent way to get more customers – it also improves customer loyalty. This ensures shoppers keep coming back to your business in the future, ultimately boosting revenue.
On top of that, around 84% of people consider referrals more trustworthy than traditional marketing. After all, you're more likely to trust someone you know than take a brand's word for it.
In addition, referral marketing has several other benefits:
People are most likely to suggest your brand to people interested in it. In other words, your target audience.
Referral promotions have a lower cost-per-lead than other marketing channels.
Referral marketing helps you find brand advocates and influencers who can amplify your message.
What are the best ideas to kick-start your referral marketing plan with the above in mind? Let's find out.
Top 11 Referral Marketing Ideas
Below you'll find the best referral marketing ideas to earn more loyal customers, fans, and revenue for your business.
Ready to spread the word?
1. Run a Referral Contest
One of the easiest ways to get successful referrals to your business is to run a referral contest.
Referral contests work by rewarding participants with contest entries for completing simple tasks. In most cases, the more tasks they complete, the more contest entries they earn for the prize draw.
For example, Autonomous AI ran a referral contest that gave the top referrer $2,000 cash.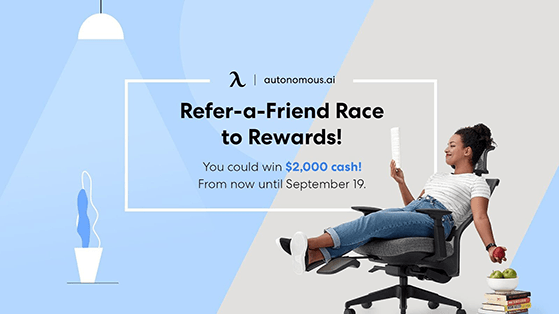 This type of contest focuses on ways to get more people to enter. For instance, you can award an entry for sharing on Facebook, a second entry for sharing on LinkedIn, and a third entry for sharing via email.
The easiest way to run a referral contest in WordPress is with RafflePress, the best WordPress giveaway plugin.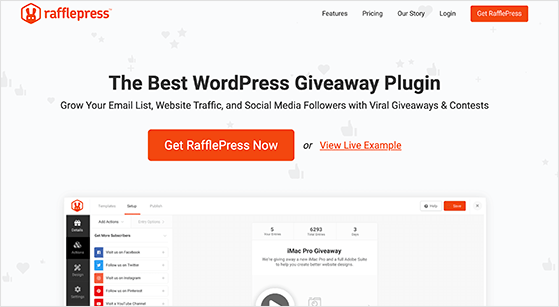 It comes with a drag-and-drop giveaway builder, making it easy to create any type of online contest in WordPress – no coding needed. In addition, it offers a dedicated refer a friend giveaway template to help you get up and running quickly.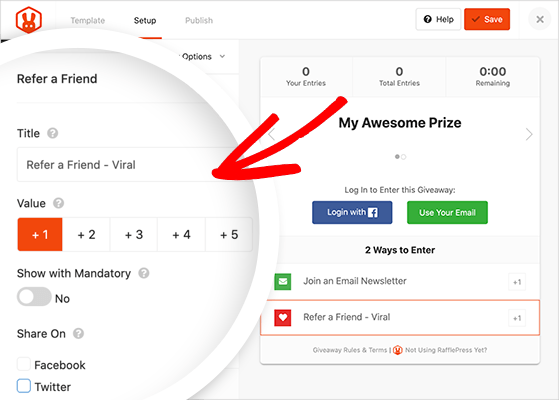 With the refer-a-friend template, you can automatically ask participants to share your contest on:
Facebook
Twitter
Pinterest
LinkedIn
Email
You can also add tons of other giveaway tasks, like writing a blog post, leaving a comment, submitting an image, following on social media, and more.
It's just as easy to make your contest live. For instance, you can add the contest widget to any post or page or create a distraction-free giveaway landing page to drive more entries.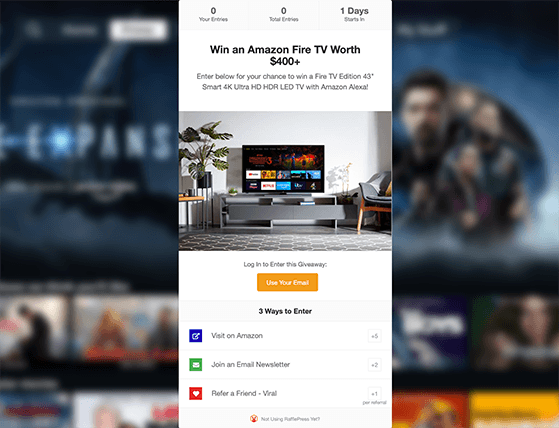 The result is a viral referral contest with the power to drive tons of targeted leads and customers to your business.
Get Started with RafflePress today!
2. Add Referral Forms to Your Website
Another popular referral marketing idea is to add a referral form to your website. With a submission form, you can capture visitors' attention and tell them about the rewards they can earn for referring new customers.
You can easily create any type of contact form in WordPress with WPForms, the #1 WordPress form builder plugin.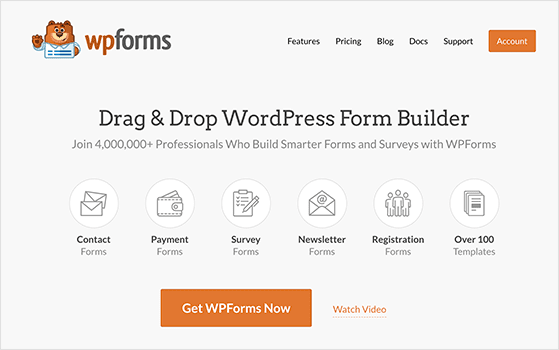 WPForms comes with a free employee referral form template perfect for any type of referral.
You can customize the form with its drag-and-drop form builder to include all the details you need for your referral program. Then, it's simply a case of embedding your form on your site and watch the referrals start pouring in.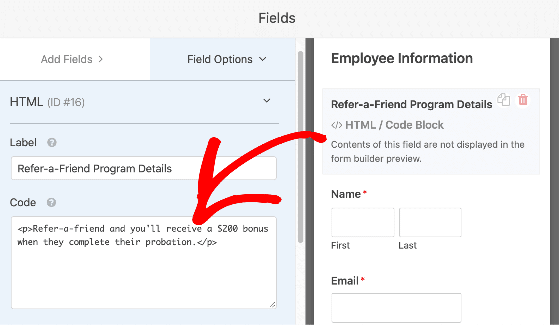 Check out this step-by-step guide on how to create a refer-a-friend form with WPForms.
3. Create a Referral Marketing Landing Page
Following on from the tip above, you can also make your rewards program easier to find by creating a dedicated landing page. Since landing pages are a proven way to boost conversions, you can also connect them to your advertising campaigns, such as your Facebook and Twitter ads.
The easiest way to create a landing page in WordPress is with SeedProd, the best WordPress landing page builder.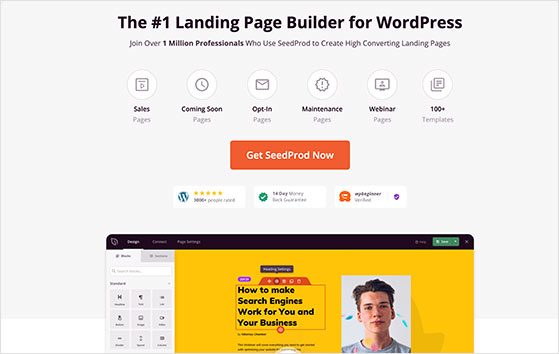 With SeedProd, you can build, customize, and publish any landing page without hiring a developer.
It offers hundreds of landing page templates you can customize in the drag-and-drop visual editor. Plus, with powerful content blocks, you add custom content designed to improve leads and customer acquisition, such as:
RafflePress giveaways
Referral forms
Social media icons
WooCommerce products
Pricing tables
Testimonials
And more.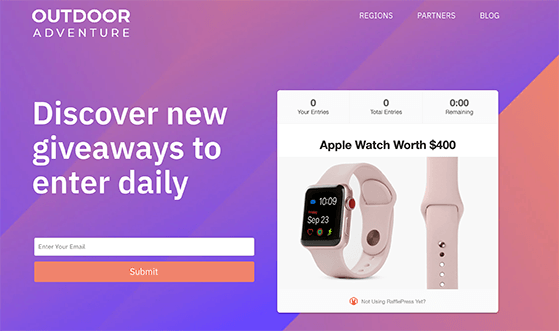 Moreover, SeedProd integrates with popular email marketing services, making it easier than ever to grow your list. And because it works with any WordPress theme, you won't experience compatibility issues.
Best of all, SeedProd is fast and bloat-free. This means it won't slow your website down, making it easier to rank your landing page in search engines like Google.
Check out this step-by-step guide to learn how to create a landing page in WordPress.
4. Create a Seasonal Referral Campaign
Seasonal campaigns are an excellent way to generate excitement during popular events. For example, you could run a campaign to earn free pizza during the super bowl or even run a refer-a-friend contest to win a mystery Christmas hamper.
The key with referral marketing ideas like this is they piggyback off the event or holiday's momentum. And as a result, it can generate much more interest in your campaign than you'd initially receive.
For instance, Rocket Mortgage ran a squares contest during the Super Bowl. To start, users had one square but could earn an extra square for every friend they referred, up to 10.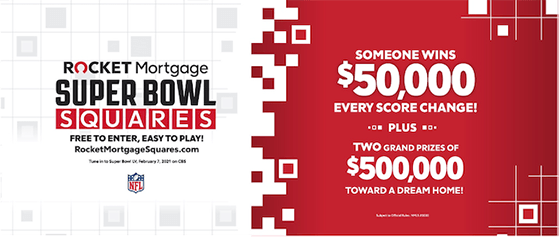 5. Try Social Gifting Referrals
Social gifting is another proven way to increase referrals. However, instead of the referrer earning the reward, it goes to the friend they refer.
This is a popular referral marketing idea for subscription box businesses. It works by giving customers a code that rewards their friend with a free box, and chances are, it will go to a friend they know will find it helpful.
The real benefit of this is after your free trial or free product, that person is more likely to turn into a return customer.
6. Run a Give-to-get Referral Campaign
Give-to-get referral programs are another excellent way to refer more customers to your business. They work by offering a reward to both parties when users are referred successfully.
For example, Casper runs a give-to-get referral program for their mattresses – give 20% off to get $75. New customers need to purchase their first mattresses using the referrer's personal link to qualify.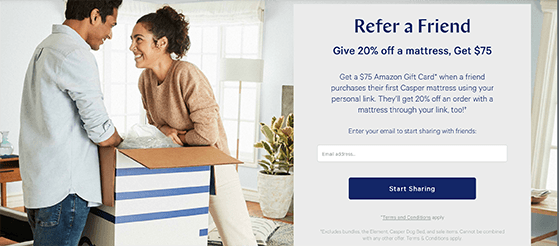 Upon completion, the referrer gets a free $75 Amazon gift card to spend on whatever they like.
You can run this type of referral program in many ways, such as:
Give $20 to get $20
Gift free shipping to get free shipping
Give a discount to get a free product
In the end, it increases the chances that both parties will eventually make a purchase.
7. Use a Points Referral System
Next is a straightforward referral marketing idea that any business can try. It works by awarding customers with points for every new customer they successfully refer.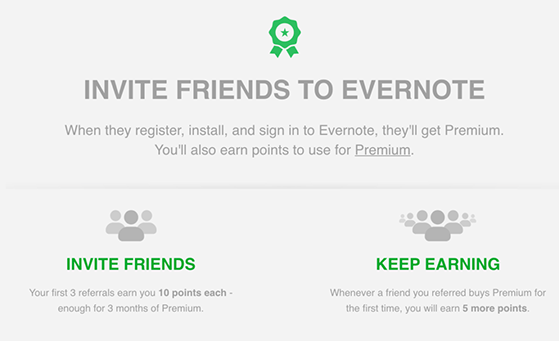 Users can then redeem their points for benefits, freebies, and activities that get them more involved with your brand.
For instance, if you run a cookery school, your customers could earn points for inviting a friend to a cooking class. They can then use their points for free recipes or even a free class of their own.
8. Use Tiered Referral Incentives
In addition to the example above, you can reward referrers with extra benefits as they send more paying customers your way. For example, after successfully booking a cooking class, you can give the original referrer more points to save for even bigger benefits.
We call these tiered referral incentives – the more people you refer, the bigger the reward you can receive.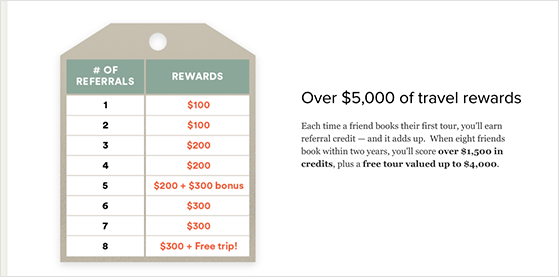 Your tiered incentives might look something like this:
1st referral 20% discount
2nd referral 50% discount
3rd referral free product or service
Campaigns like this keep your original client engaged and motivate them to persuade their friends to spend money with you.
9. Offer Exclusive Perks for Referrals
If you're looking for more effective referral marketing ideas, you can always give your program members something other customers don't have. For instance, why not offer successful referrers exclusive perks and rewards.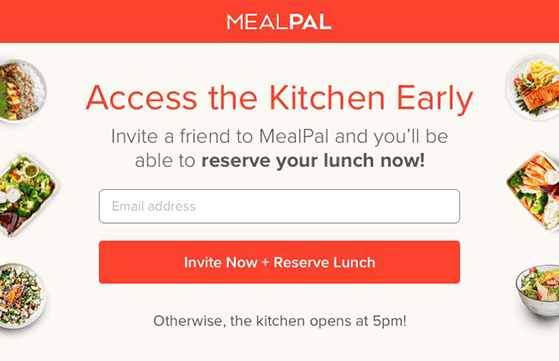 Offering "money can't buy" perks is an excellent incentive to produce referrals. For instance, you could invite top referrers to VIP events, offer early access to new products or services, and more.
The key to this idea's success is exclusivity. It needs to be something that people can't get anywhere else to encourage them to refer the most customers.
10. Create a Community Referral Program
Our final referral marketing strategy takes a non-traditional approach. Community referral programs reward the community, like a charity, instead of rewarding the customer.
This approach has 2 clear benefits:
It incentivizes users to promote your product
You give back to the community, improving your brand's image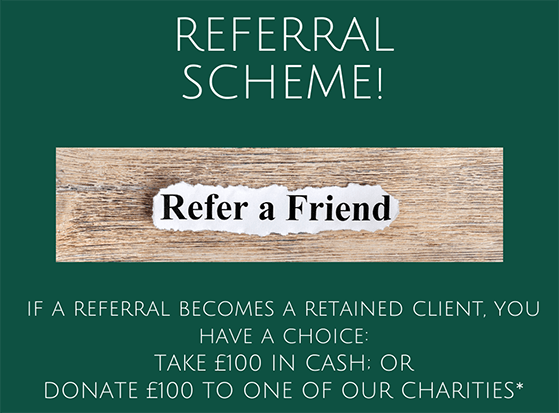 For example, you could donate to a local business, nonprofit, or school with each successful referral. And the great thing is, many of your customers will be willing to refer because they'd be doing something good for their community.
Why not go further and run a giveaway with this referral idea? Just create a refer a friend contest in WordPress with RafflePress and add a giveaway prize, such as a larger donation to your community organization of choice.
As more people use the refer-a-friend action to enter your contest, they'll automatically spread the word, raising awareness with even more potential customers. It means more customers for you and the good feeling of doing something selfless for your audience.
There you have it!
We hope this post helped you find some excellent referral marketing ideas to grow your customers, sales, and business. You might also like this post on the best free email marketing tools.
If you liked this article, then please subscribe to our YouTube Channel for RafflePress video tutorials. You can also find us on Twitter and Facebook.