Are you looking for affiliate marketing ideas to grow your business?
Affiliate marketing is an excellent way to promote your product or service to your target audience. But getting lots of people to join your affiliate marketing program isn't easy without the right tips and tools.
This article will share some of the best affiliate marketing ideas and tips to reach your ideal audience, boost revenue, and grow your business.
What Is Affiliate Marketing?
Affiliate marketing is a specific type of marketing campaign. Typically, you partner with influencers and publishers, giving them a trackable link they can use to promote your products or services.
When people click the link and purchase, the affiliate partner earns a small commission from the sale. As a result, it can help you promote and sell your products while helping affiliate partners earn money online and generate passive income.
Why Do You Need an Affiliate Marketing Strategy?
Affiliate marketing programs work well if the right people know about them and sign up. If few people know about the program, your products will reach fewer people and won't make much revenue.
Creating a digital marketing strategy for your affiliate products will help you reach the right communities of relevant content creators. After, you can nurture your relationships, get more eyes on your products, and increase conversion rates.
12 Best Affiliate Marketing Ideas and Tips to Boost Sales
There are many ways to promote your affiliate marketing campaign, ranging from email marketing to working with influencers. Instead of covering every solution, this article will focus on the best tips proven to get results.
1. Run an Affiliate Giveaway
One of the easiest affiliate marketing ideas is to run a giveaway for your affiliate partners. It works by offering affiliates an incentive beyond commission rates to promote your products or services.
For example, you can ask affiliates to participate in your giveaway by writing a product review on their blog. In return, you can offer the chance to win a high-quality prize, such as a free laptop or marketing tools.
Users can earn even more chances to win by sharing the giveaway with friends on social media, boosting brand awareness.
You can run an affiliate giveaway easily in WordPress with RafflePress.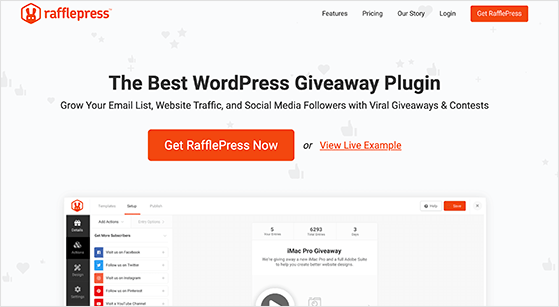 RafflePress is the best giveaway builder for WordPress. You can use it to grow your email list, website traffic, and social media followers with viral giveaways and contests.
It comes with premade giveaway templates for almost any goal, and it's easy to customize with the visual drag-and-drop builder.
You can choose many different ways for users to enter your giveaway with RafflePress, such as:
Write a blog post
Join an email newsletter
Share on social media
Follow on social media
Refer-a-friend
Visit a website
And many more.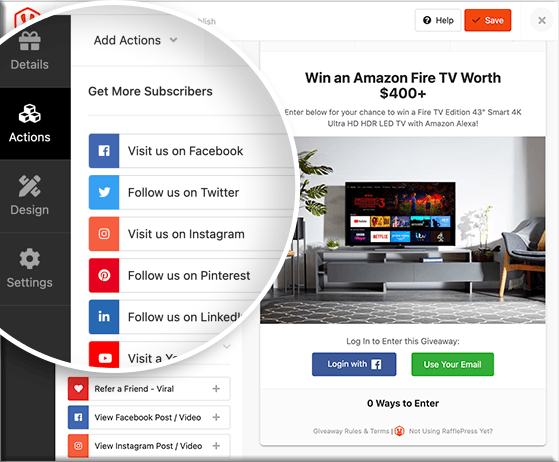 You can also publish your giveaway using WordPress blocks or create a distraction-free giveaway landing page with a few clicks. Even better, you can manage your giveaway right inside your WordPress dashboard, keeping the crucial aspects of your giveaway all in one place.
Follow this step-by-step guide to learn how to run an affiliate giveaway with RafflePress.
2. Offer Vanity Coupon Codes
Another easy yet effective affiliate marketing idea is to customize the links and coupons you offer to affiliates. We call these vanity coupons, and they're an excellent way for affiliates to put their stamp on their marketing.
Instead of sharing generic coupons with a string of random numbers and letters, you can allow affiliates to brand their coupons with custom words and phrases.
When your affiliate's audience sees a personalized coupon like "RPINSIDERGIFT," it creates a feeling of exclusivity. It's not just a random offer but a trusted business your affiliates have a relationship with.
Because of that relationship, users are more likely to click the affiliate link and buy the product or service.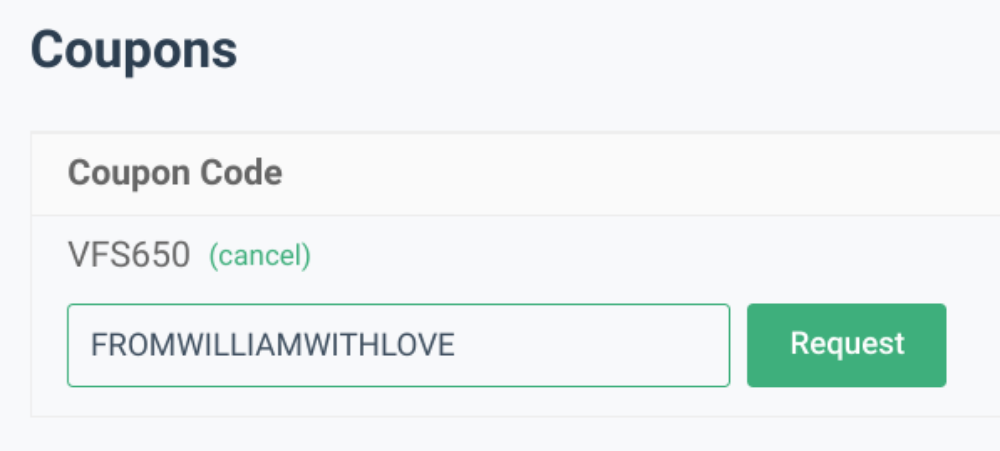 Creating vanity coupons for your affiliates is easy with Affiliate WP's Vanity Coupons Code Pro addon. It works seamlessly with WooCommerce, Easy Digital Downloads, and MemberPress, adding an "Edit" option to the Coupons section of the Affiliate Area.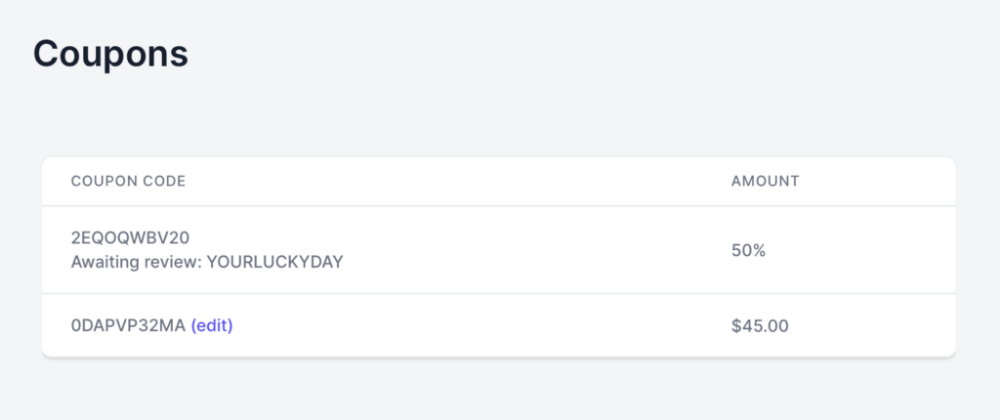 Your affiliates can create and request perfectly tailored coupons to share with their audience. You can also approve and reject coupon requests with a few clicks, allowing affiliates to use their new codes right away.
For more details, see these top affiliate marketing plugins for WordPress.
3. Use Referral Leaderboards
Have you ever heard of FOMO? It stands for "fear of missing out," and almost everyone gets it when they see other people doing something cool when you're not.
How does that apply to affiliate marketing, you might ask?
Imagine how you'd feel if your name was at the bottom of a top affiliate referrals list. Now imagine if being at the top of that list could earn you an awesome prize.
If you combine a referral giveaway with a leaderboard, you can make that happen, and it's pretty easy to do. I've already given you the 2 tools you need: RafflePress and Affiliate WP.
Here's how it works.
Follow this step-by-step guide to create a referral contest and offer a prize you know your affiliate partners will love. Then embed your giveaway in a new WordPress page with the RafflePress WordPress block.

Next, grab the free Leaderboard Addon from affiliate WP, and add the shortcode to your giveaway page. Anyone visiting your giveaway page will see a table of your top affiliates.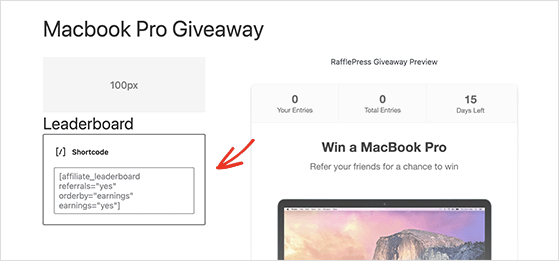 It's a visual prompt that will keep affiliates engaged and competing to get the top referrals and that much-coveted prize. In return, you get more website traffic, brand awareness, and more potential customers.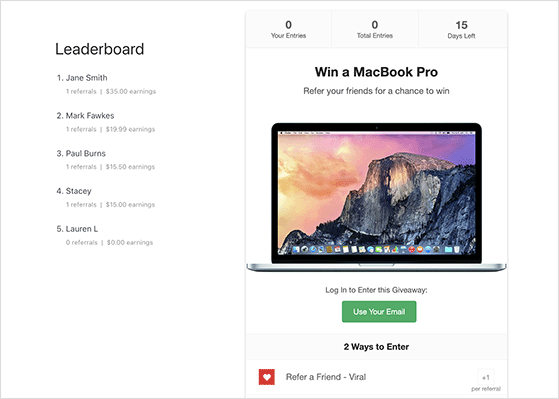 4. Create an Affiliate Program Landing Page
Landing pages are a super-effective way to drive conversions by getting people to take action. So if you're looking for another affiliate marketing idea, creating a landing page is a smart choice.
You can treat your affiliate landing page as a sales page and employ similar tactics used to sell your products, such as:
Compelling headlines
Reviews and testimonials
Product demo videos
Benefit-oriented copy
Convincing call-to-action (CTA)
You can also create one without hiring a developer with tools like SeedProd.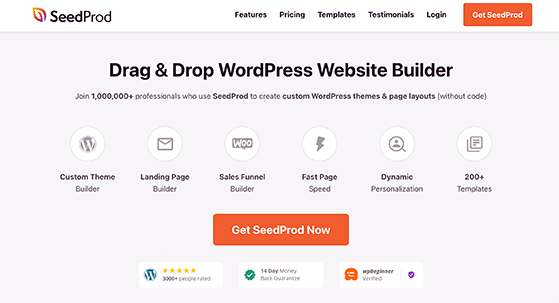 SeedProd is the best website builder for WordPress, with over 1 million users. It lets you create custom WordPress themes, online stores, and high-converting landing pages without code.
This powerful WordPress plugin comes with 200+ pre-made templates you can edit in its easy drag-and-drop builder. From there, you can add tons of customizable blocks and sections to build your affiliate landing page quickly and efficiently.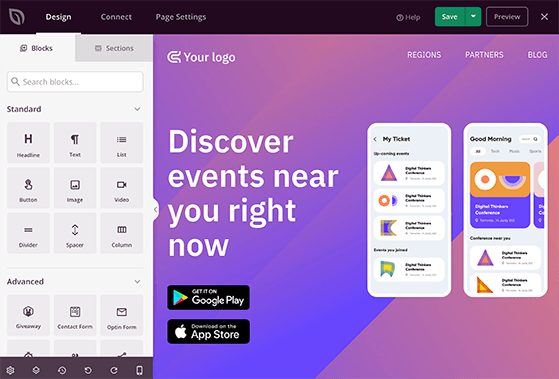 Need help getting started? Follow this guide to create an affiliate marketing landing page with SeedProd.
5. Optimize the Affiliate Signup Process
The primary theme in this article so far is excitement. It's what drives people to take action and either purchase your product or sign up for your affiliate program.
You need to capitalize on that excitement to get the best results for your business, and your signup form is often where that excitement falls short. For instance, the enthusiasm fades if you have to jump through hoops to pay for goods or fill in too many form fields to sign up.
Instead, make the process easier by optimizing your signup process with simpler forms that take a few minutes to create and seconds to submit.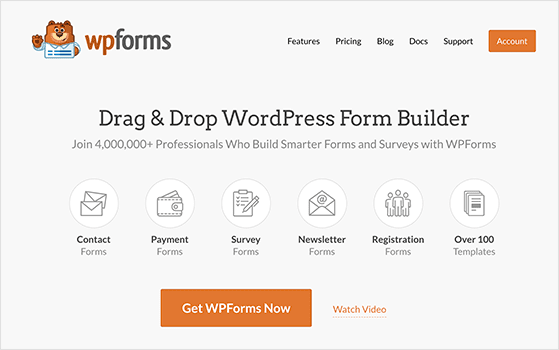 We recommend using WPForms for this. It's the best WordPress drag-and-drop form builder, allowing you to easily create contact forms and surveys, even if you're a beginner.
WPForms works seamlessly with Affiliate WP, SeedProd, and other popular WordPress plugins. It also comes with hundreds of pre-made form templates that let you get started with a few clicks.
For instance, you can use the Affiliate Signup Form template to create the ideal signup process for your program.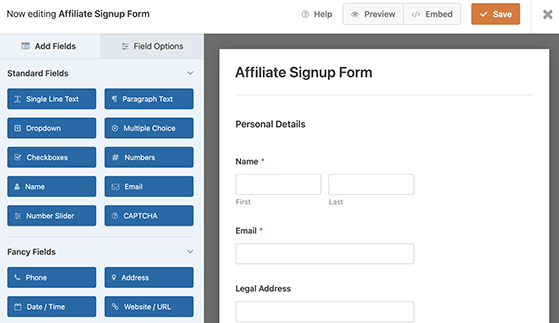 You can even embed it directly into your affiliate landing page with SeedProd's contact form block.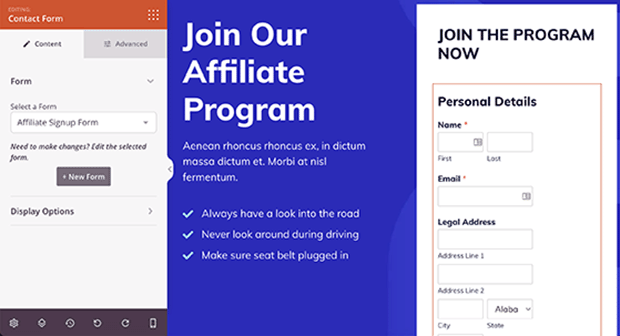 6. Improve Your Website's SEO Rankings
One of the best things you can do to market your affiliate program is to brush up on your search engine optimization (SEO) skills. Without good SEO, it's harder for potential affiliates to find your website in search engines like Google.
The first thing you can do is learn how to do keyword research. These are the words and phrases people type into Google to find your website.

Once you have a good idea of your target keywords, you can follow this ultimate SEO guide for beginners to optimize your site for search engines. It'll walk you through everything you need, including:
What SEO is
SEO basics
Best SEO plugins
SEO best practices
In the end, you'll be on the right path to helping your target audience find your affiliate program using their favorite search engines.
7. Communicate with Push Notifications
Communication is crucial for any digital marketing strategy, and affiliate marketing is no different. If your affiliates aren't aware of the latest opportunities, commission changes, creatives, etc., they can't promote your products effectively.
You can change that by using one of the most overlooked tools in marketing: push notifications. Push notifications are small browser notifications you can send to anyone that signs up to receive them, even when they're not currently on your website.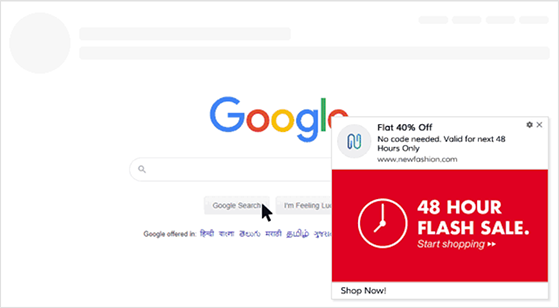 That way, you can tell affiliates about the latest news and offers, so they don't miss out. It's also an excellent way to get them back to your website.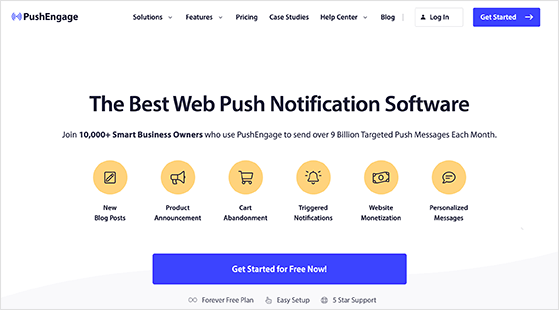 PushEngage, the best push notification software on the market, is the easiest way to send push notifications to your affiliates after they leave your site. It's super easy to set up, works on HTTP and HTTPS websites, and supports all devices and browsers.
PushEngage offers powerful marketing features like A/B testing, drip campaigns, opt-in reminders, interactive message options, etc. You can also track each campaign and calculate its revenue using goal tracking.
One cool idea you can use for your website is to set up browse abandonment campaigns. They send a simple notification to subscribers who browsed your content but didn't take any action.
For example, if an affiliate browsed a new affiliate product but didn't do anything, you can send them a push notification to get them to return and take another look.
Follow this guide to learn how to set up push notifications on your website.
8. Share Affiliate Success Stories
Earlier, we mentioned reviews and testimonials as a way to optimize your affiliate landing page. We call that social proof, and it's an excellent way to boost sales.
Social proof works by reassuring visitors that other people take the same action they're about to take and have a great experience. As a result, they're more likely to follow suit.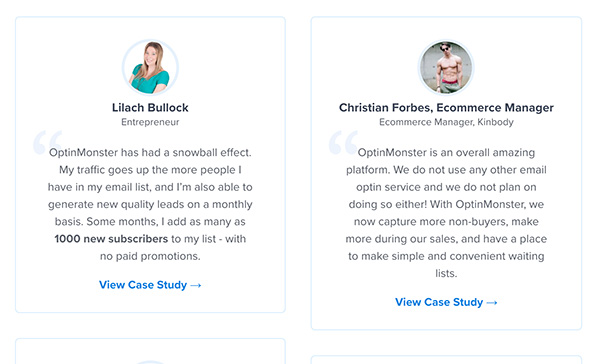 There are many ways to display social proof for your affiliate program, but the most effective are success stories. Get in touch with your affiliates and learn how being a part of your program has helped them make money.
You can then post that information on your website as proof to convince more people to sign up.
9. Network on Social Media
This goes without saying, but social media is a must-have for affiliate marketing. Over 4 billion people hang out on social media, translating to many potential affiliate partners.
Social media is a great place to highlight your affiliate program if you have an active social media presence. Because the people on those platforms already follow you, there's a good chance they'll find your program interesting.
You can engage your social media followers by:
Sharing success stories
Running a social media contest
Posting your affiliate landing page URL
Sharing your commission structure
Highlighting your top products
Sharing relevant industry news
Try to keep your content relevant, engaging, and varied. The 80/20 rule works perfectly here: 80% informational and helpful content, 20% advertising.
10. Promote Your Program via Multiple Sources
Social media is only one popular affiliate marketing idea, but there are many other ways to engage your affiliates on different online platforms. Get creative and look at the many places your audience hangs out online.
For example, you can reach out to niche bloggers in your industry for product review blog posts, gift guides, and product roundups.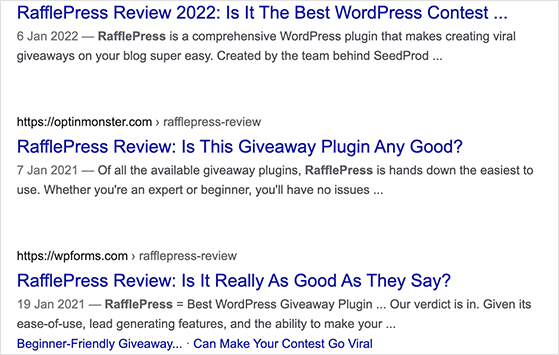 You can also promote your affiliate program through webinars, live streaming, and online events.
Alternatively, you can reach out to social media influencers in the affiliate marketing industry and build long-lasting relationships. As a result, you can harness their often massive social presence to promote your program.
11. Start an Affiliate Newsletter
Looking for another affiliate marketing idea to boost affiliate signups? Step in email marketing.
It isn't only a way to keep existing affiliates happy, but it's also an excellent affiliate recruiting tool.
People sign up to your email newsletter for many reasons:
New blog posts
Company updates
Product announcements
Sales and discounts
There's a good chance some people don't know your affiliate program exists. Make it easy for them to find out by promoting your program inside your newsletters.
You can also add a newsletter sign-up form to your affiliate landing page or a giveaway entry option. That means you can still keep the conversation going with those users, even if they don't sign up for your affiliate program right away.
12. Join Affiliate Communities and Networks
If you've been in the affiliate marketing industry for some time, you'll know that affiliate marketers are a close-knit bunch of people. Why not find their online communities and join them for some tips?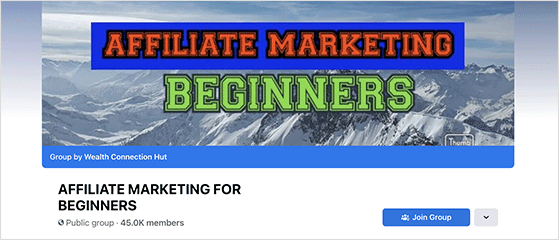 Inside those communities, you can learn what affiliates are looking for and how they find new programs to join. You can then use that information to run your program successfully.
Similarly, you can join affiliate networks, which allow you to offer opportunities to an established community of affiliates.
Some of the most popular affiliate networks include:
Amazon Associates
ClickBank
Refersion
ShareASale
eBay Partner Network
That way, it's a lot easier to get your new affiliate program off the ground.
That's it!
We hope this article helped you find the best affiliate marketing ideas and tips to grow your business.
Still in the planning stages? Check out this post to learn how much a WordPress website costs.
If you liked this article, please subscribe to our YouTube Channel for RafflePress video tutorials. You can also find us on Twitter and Facebook.