Are you looking for the best eCommerce marketing tools for your online store?
eCommerce tools can help grow your business by streamlining your marketing automation and scaling your revenue. That way, you can control your marketing strategy without checking every marketing campaign manually.
In this article, we'll share the best eCommerce marketing tools you can use to grow your eCommerce business.
What Are eCommerce Marketing Tools?
As mentioned above, eCommerce brands use marketing tools to help with the maintenance and growth of their eCommerce website. They fall into several categories, such as:
eCommerce Platforms: where you can sell your products and shoppers can buy them.
Email Marketing Services: so you can keep in touch with potential customers off your website and maintain an active email list.
SEO Tools: to help your website rank in search engines and attract organic traffic.
Analytics Tools: to provide actionable insights into buyer behavior and determine what does and doesn't work with heatmaps and user metrics.
Social Media Marketing Tools: for social media management and to promote your business on Twitter, Instagram, and even Facebook marketplace.
Customer Service Tools: to keep your customers happy and offer a top-notch customer experience.
Automation Tools: to perform marketing tasks automatically, saving you time and money and improving conversion rates.
For example, you can use social media marketing tools for greater product awareness and send automated email campaigns with popular email marketing tools.
But which tools are best for your eCommerce marketing strategy? Let's find out.
15 Best eCommerce Marketing Tools
The type of eCommerce marketing tools you need largely depends on the size of your business, your budget, workflows, and your business goals. That being said, here are the best free tools and premium solutions to start you off on the right foot.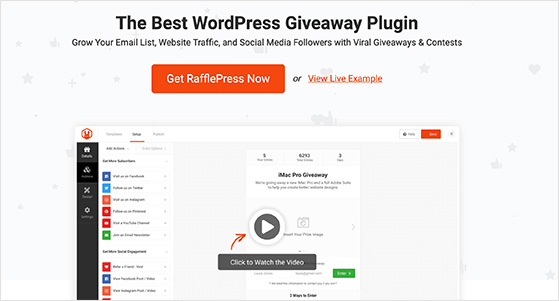 RafflePress is the best viral giveaway plugin for WordPress. It lets you create any type of giveaway contest for your eCommerce site with just a few clicks.
With this plugin, you can get people to interact with your website to drive brand awareness and promote product pages.
For example, you can run a giveaway to promote a new product, and for a chance to win, ask users to share your post on social media. That way, your existing audience has the chance to win a cool prize while telling more people about your business.
RafflePress is easy to use and includes drag-and-drop functionality to get started quickly. Plus, it offers powerful giveaway actions to help you:
Get more social media followers on LinkedIn, Facebook, and other social media platforms.
Get more podcast subscribers
Improve user engagement
So if you want to enjoy the benefits of going viral and promoting your products and services, RafflePress is an excellent choice.
Pro Tip: RafflePress offers a free plan on the WordPress plugin repository to try before you buy.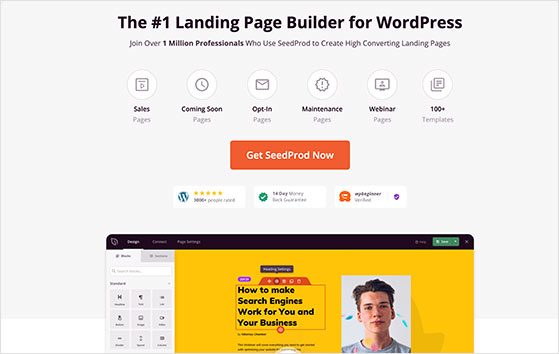 SeedProd is the best drag-and-drop WordPress page builder on the market. It allows you to create any type of landing page in WordPress without hiring a developer. And with the live preview, you can see the results in real time.
For example, you can create landing pages linked to your PPC, Google ad campaigns or Facebook ads. And you can make pages for social media campaigns on Facebook, Instagram, and more. Additionally, you can build personalized product pages tailored to your audience with built-in WooCommerce support.
With hundreds of landing page templates, creating the ideal customer journey is easy. What's more, you can customize every aspect of your page with powerful content blocks, like:
Email newsletter forms
Google maps
Social media posts
Pricing tables
Add to cart buttons
WooCommerce checkouts and carts
Animated headlines
Product grid layouts
And much more
The best thing about building landing pages with SeedProd is it focuses right on your content, encouraging shoppers to convert.
Alternative: Thrive Architect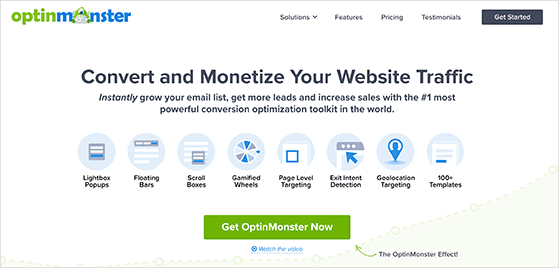 OptinMonster is the most powerful popup plugin and lead-generation tool on the market. It makes it easy to add user-friendly campaigns to your website to boost conversions and generate leads and sales.
Many of the campaign types include exit-intent popups, floating bars, scroll boxes, gamified wheels, and more. And you can customize them with the drag-and-drop builder easily.
You can use OptinMonster to show specific content to users as they browse your eCommerce website. That's because smart targeting rules allow you to choose when and where it displays your offer.
For example, you can:
Show free shipping coupons to users that return to your online store.
Create follow-up offers after users visit a specific page.
Trigger exit popups to prevent abandoned carts.
Show targeted offers to users coming from other sites like Facebook, Instagram, etc.
Integrate with Mailchimp and other CRM and marketing software to collect customer data.
OptinMonster is more than an easy way to show popups on your website. It's an excellent tool to serve your audience better and influence user behavior to choose your products over your competitors.
Alternative: Thrive Leads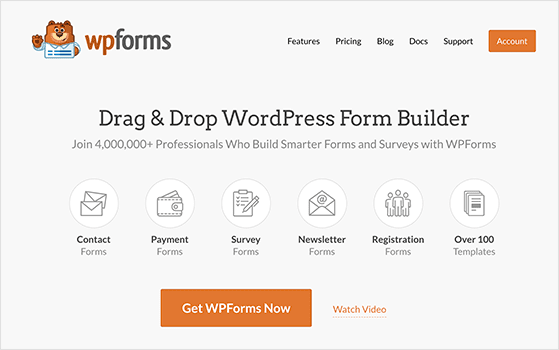 WPForms is the best WordPress form builder, with over 4 million professionals using it to build smarter forms and surveys. In addition to building user-friendly contact forms, you can use WPForms' vast library of form templates to streamline communication without starting from scratch.
It's easy to add those forms to your WordPress website with the drag-and-drop form builder. Plus, you can customize your forms to include as many custom form fields as your eCommerce site needs.
For example, you can use the polls and surveys add-on to create survey forms and gather valuable customer feedback. You can then use that information to improve your site and your marketing strategy to boost conversions.
Some of WPForms' other excellent features include:
Conditional logic for high performance.
Instant form completion notifications.
Post submission, file upload, and conversational form addons.
PayPal, Stripe, and Authorize.net support.
Popular email marketing service integrations, including Klaviyo.
Spam protection with Google Recaptcha.
And more.
For more information, you can check out WPForms Review here.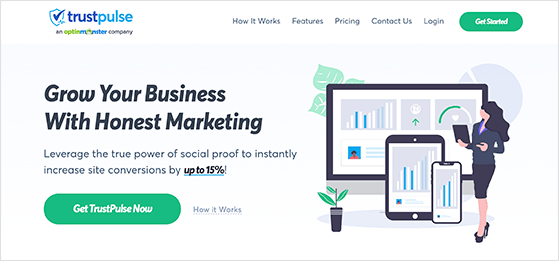 TrustPulse is the best sales notification app on the market. You can use it to give shoppers the fear of missing out (FOMO), which encourages them to purchase.
Social proof helps you increase trust in your business by showing the actions of REAL customers. And TrustPulse shows those actions as popup notifications, causing people to take action.
With the visual builder, it's super-easy to create recent sales notifications. For instance, you can change your popup colors, icons, and message to match your website's branding. It's also easy to display a live stream of activity on your sites, such as recent purchases, new registrations, contest entries, and more.
You can try TrustPulse Free to get an idea of what it's like. Yet, with the pro version, you can access:
Page-level targeting
Timed-control
Welcome messages
On-fire notifications
Mobile device support
And more.
Alternative: Thrive Ovation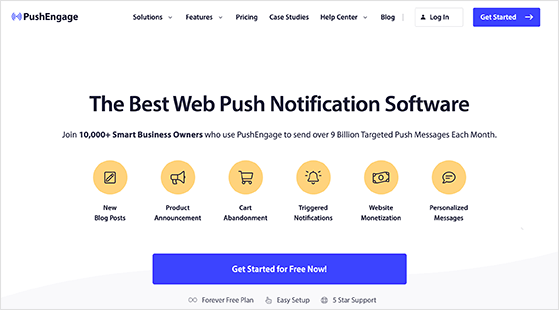 PushEngage is one of the best web push notification plugins for WordPress. It helps you send messages and announcements to your website visitors by using the push notification technology in your web browser.
PushEngage has a range of powerful features, such as:
A/b testing
User segmentation
Optin reminders
Goal tracking
Notification analytics for detailed metrics
And more.
It also works with the majority of website platforms, including WordPress, Shopify, Magento, and BigCommerce.
eCommerce websites can use PushEngage to trigger notifications for cart abandonment, price drops, and so on. Additionally, PushEngage won't ever sell your data, unlike many other providers in the notifications industry.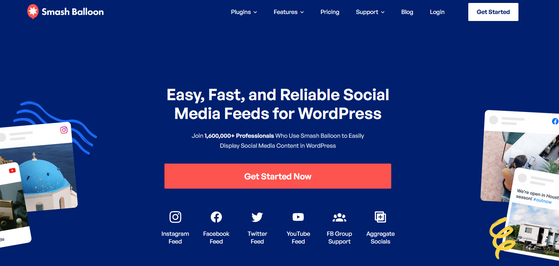 Smash Balloon is the best suite of social media plugins for WordPress. It's made of 4 individual plugins for creating customized social media feeds in WordPress.
As a whole, it covers the major social networks with the following plugins:
The real selling point of Smash Balloon is how easy it is to set up. Once installed, it takes less than a minute to get started, with no technical knowledge required.
eCommerce websites can use Smash Balloon to display shoppable Instagram feeds, product reviews, and user-generated content tailored to your customers. That way, they can see real people using your products which is a more powerful way to promote them.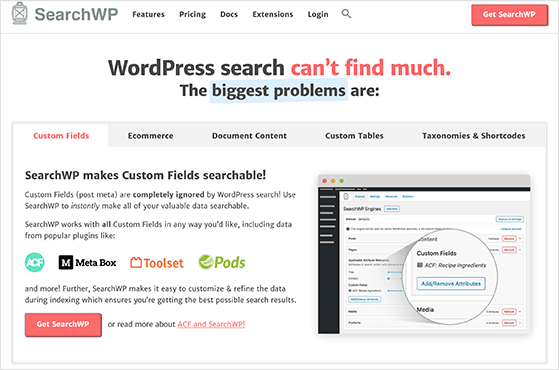 SearchWP is the best WordPress search plugin on the market. It's super easy to use and delivers accurate search results fast.
eCommerce website owners can use this plugin to add a search box to your online store. That way, shoppers can search for the products they need and get the results almost instantly.
With SearchWP, users can search in post or page titles, content, slugs, categories, tags, taxonomies, excerpts, and even comments. In addition, you can control the search algorithm by giving different content types a weight from 1 to 10.
As soon as you activate the plugin, it indexes your content automatically and replaces WordPress's default search feature. Plus, it works seamlessly with popular WordPress themes, custom themes, and WordPress page builders – no coding needed.
Some other powerful SearchWP features include:
WooCommerce integration for better product detail search.
Easily exclude content from search results, or attribute findings to more relevant results.
Log searches to learn what visitors search for.
Index the content of PDF, Office, and text documents in your WordPress media library.
Easy integration with bbPress and Easy Digital Downloads.
And more.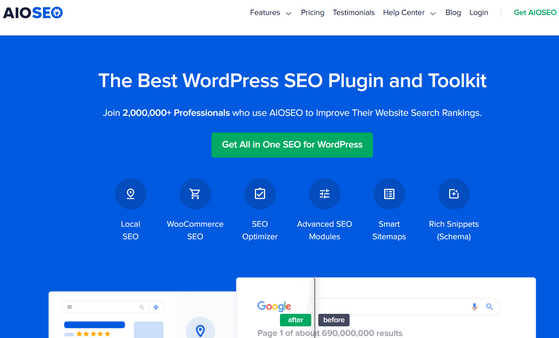 All In One SEO is the best WordPress SEO plugin for your eCommerce website. It has all the features you need to optimize your website content for search engines to improve your rankings.
The plugin has a user-friendly interface with no complicated settings. And it explains each optimization option in plain English, so even non-techy users can understand.
You can perform on-page optimization by adding meta titles, meta descriptions, keywords, and other tags. And with SEO support for WooCommerce, you can help your online store rank better, making it the ultimate eCommerce marketing tool.
With smart sitemaps, you can tell search engines about changes to your URL structure. Plus, Schema support helps your content show up in featured Google knowledge graph snippets, making them more visible and clickable to users.
Additional features for your online store include:
Social media integration to control how shared content looks on social networks.
Local SEO to help your store rank on Google Maps and Google My Business.
SEO audit checklist, so you always know which optimizations need your attention most.
Video sitemaps to rank in Google's video carousel widget and grow your traffic.
And more.
For more details, check out our All in One SEO Review.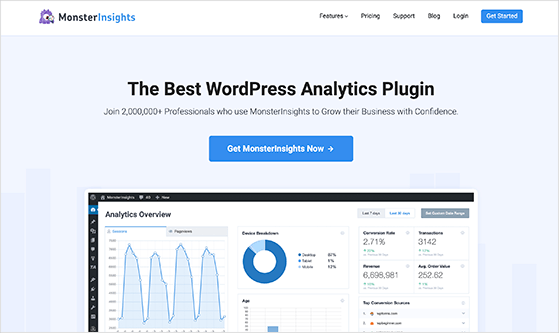 MonsterInsights is the best Google Analytics plugin for WordPress. Its user interface makes it easy to connect your online store with Google Analytics. Then you can see stats on who's visiting your site and what they're doing when they get there.
MonsterInsights analytics dashboard shows important information right in your WordPress dashboard. This means you won't have to navigate Google's often confusing analytics site.
Instead, you can see all the data that matters at a glance without leaving your website.
With just a few clicks, you can integrate Google Analytics Ecommerce tracking with your online store, giving you all the information you need. For example, some of the data you can track include:
Conversion rate
Transactions
Revenue
Average order value
And more
Not only that, but you can see your eCommerce data in a way that's clear and easy to understand. This helps you understand your customers and optimize your store for more sales.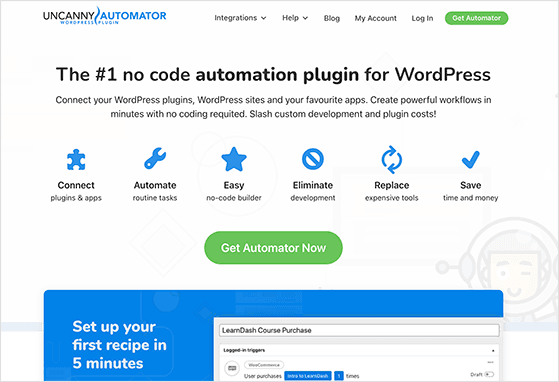 Uncanny Automator is the best WordPress automation plugin for your eCommerce store. It allows you to connect your existing WordPress plugins to work together without writing any code. That way, you can automate routine admin tasks and save both time and money.
The great thing about this eCommerce marketing tool is it integrates with popular WordPress plugins and third-party platforms. As a result, you can build automation recipes without hiring a developer.
Simply put, you can make your WordPress plugins talk to each other, so they work better together.
But that's not all; you can connect 2 separate WordPress sites to work together without writing any code, which is helpful for online stores.
For example, you can:
Sell products on one site while creating users & setting up access on another.
Create buttons that create user accounts and perform other actions in WordPress automatically.
Add custom user attributes to user profiles based on the user's actions.
Trigger recipes in one plugin from the action of another plugin (for example, form submissions in WPForms can create an order in WooCommerce).
And more.
Alternative: Thrive Automator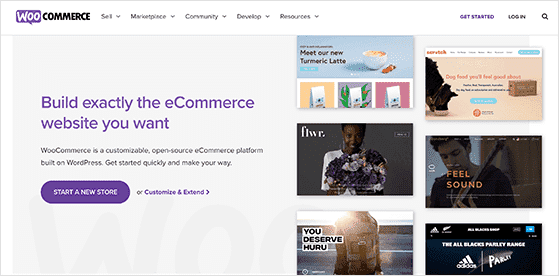 WooCommerce is the most popular eCommerce marketing platform for WordPress. It comes with an extensive list of features that allow you to create a highly successful online store.
This plugin is fully customizable, allowing you to enhance the base plugin with several useful add-ons. What's more, it has over 400 official extensions to customize your store with unrestricted settings.
For example, you can embed products and checkouts and even start blogging all on your WordPress website. And because it works with all of the other eCommerce marketing tools on this list, it's one of the best places to start marketing your business.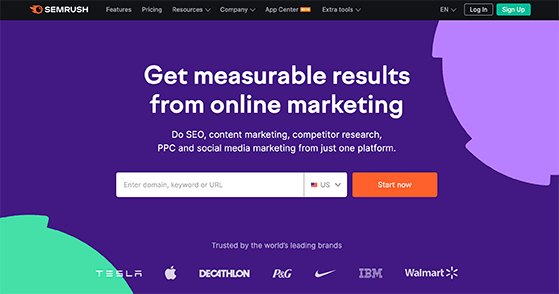 SEMRush is an all-in-one marketing toolkit for digital marketing professionals and business owners. It offers powerful tools to improve your search engine optimization, paid traffic strategy, social media, content marketing, and PR strategy.
And because it helps you gather information about your competitors, you can use that data to outrank them and dominate your industry.
For example, you can use SEMRush to:
Research popular keywords to help your product pages rank better
Audit backlinks to your website and online store
Track brand mentions seeing who's talking about your business
Spy on competitors to see what you can do better
Discover your best-performing posts and pages on social media
And more.
In short, SEMRush is a must-have eCommerce marketing tool for serious business owners.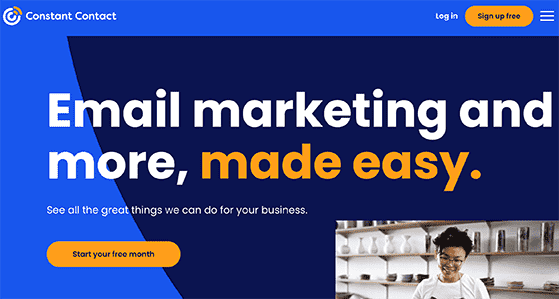 Constant Contact is one of the best email marketing services for small businesses. It helps you connect your website to your email list so you can collect email addresses quickly.
With tons of customizable templates, you can get started in no time at all. And based on the industry you select when joining, you'll get custom content and promotion ideas to help you with your eCommerce marketing efforts.
Constant Contact has a massive library of resources, making it easy to learn how to reach your customers right inside their inboxes. You can also use SMS text messages to reach your audience on mobile.
Alternative: Omnisend is a good alternative with similar automation features.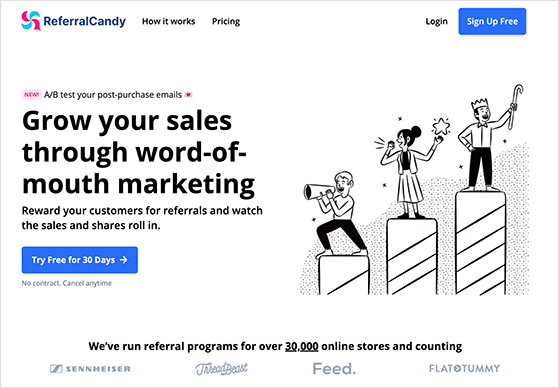 ReferralCandy is the best customer referral software for online stores. It makes it easy to set up and manage referral programs to engage existing and new customers.
For example, you can create referral programs to reward loyal customers with cash, store credit, discounts, free products, and more just for referring friends to your business.
Referrals have a huge impact on encouraging customers to make a purchase. When potential shoppers are referred by people they already know, they're more likely to buy.
With that in mind, referral programs are a great way to reward loyal customers so they know that their business and referrals mean a lot to you.
Some of ReferralCandy's most powerful features include:
Track referral engagement, customers' shares, and new sales
Cross-channel promotion so it's easy for customers to join
Distribute rewards like coupons, cash, or gifts automatically
And more.
In the end, ReferralCandy is an excellent way to bring back existing customers and attract new shoppers to your eCommerce store.
Which Is the Best eCommerce Marketing Tool?
Choosing only one isn't easy, with many excellent ways to market your online store on this list. That said, we'd pick RafflePress as the best eCommerce Marketing tool for several crucial reasons:
It takes only a few minutes to set up with giveaway templates
You can create stunning giveaways without writing code
Powerful giveaway actions can grow your traffic, subscribers, and followers
Refer-a-friend options raise brand awareness and attract more customers
It integrates easily with popular email marketing tools
And so much more,
So if you're ready to start marketing your eCommerce store, choosing RafflePress could be one of the best decisions you make.
Get Started with RafflePress Today
We hope this article helped you find the best eCommerce marketing tools for your business. If you liked this article, please subscribe to our YouTube Channel for RafflePress video tutorials. You can also find us on Twitter and Facebook.