Looking for an easy way to keep your customers coming back for more?
Offering coupons and discounts to shoppers is an excellent way to drive customer loyalty. Brands like Groupon are an excellent example of their success. Yet ensuring your coupon campaigns reach the right people is challenging if you're unsure where to start.
In this article, we'll show you how to distribute coupons for your eCommerce website for better brand awareness, loyal customers, and improved business growth.
Before we start, what is an online coupon? Let's find out.
What Is an Online Coupon?
Online coupons or digital coupons are promotional offers shoppers can use to claim a discount on purchases. Online stores offer them to existing or potential customers to entice them to make a purchase.
There are several popular coupon types available, including:
Downloadable coupons: Customers can access these coupons from various places like your website, via email marketing, social media, and more.
Mobile coupons: Some eCommerce platforms have mobile integrations that allow you to send mobile-only coupons via SMS.
Coupon codes: This form of discount is a short string of letters and numbers users can enter at the point of sale. It's a lot easier and faster than downloading coupons, removing several steps from the buying process.
Automatic discounts: These discount coupons are applied automatically at checkout and don't require shoppers to take any extra steps, making them a popular choice for online retailers.
Coupons and discount codes are growing in popularity because they make it easy to promote your products and services while simultaneously benefiting your customers. They're also an excellent way to promote brand loyalty.
How to Distribute Coupons Online
Now that you know what coupons are, how can you promote them to reach your target audience?
We've covered some of the best coupon marketing strategies below so you can start your marketing campaigns off on the right foot.
1. Run a Product Giveaway with a Free Coupon
One of the easiest and most effective ways to distribute coupons is to run a giveaway.
With a giveaway app like RafflePress, you can ask users to register for your contest with the chance to win a free prize. You can then encourage people to register by offering a discount coupon to all participants.
This is typically called a double incentive or double prize. While the final big prize is all about luck, a smaller, less valuable prize is given to everyone who takes part, creating a positive experience for everyone.
You can do this in RafflePress by following these steps to create an online contest.
You can then add a giveaway action for users to join your email list.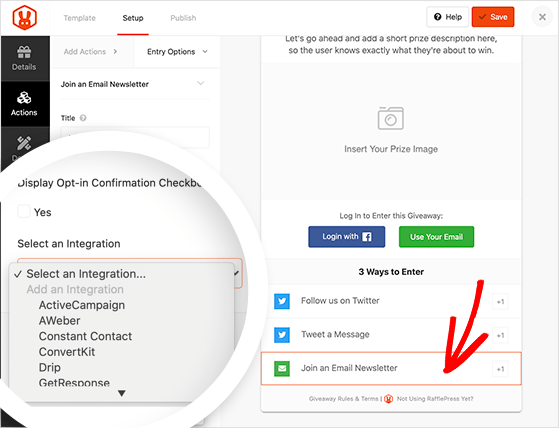 Once registered, you can send users to a thank you page with your coupon code, which they can go on to use on your online store, growing your customer base.
2. Give Coupons to First Time Shoppers
If your online store offers significantly expensive products, it can take longer for shoppers to make a purchase decision. One way to speed up this process is to create a coupon code for new shoppers and offer it in exchange for their email addresses.
Not only does this make your products more attractive, but this digital marketing tactic also provides you with a way to contact those shoppers in the future and build long-lasting relationships.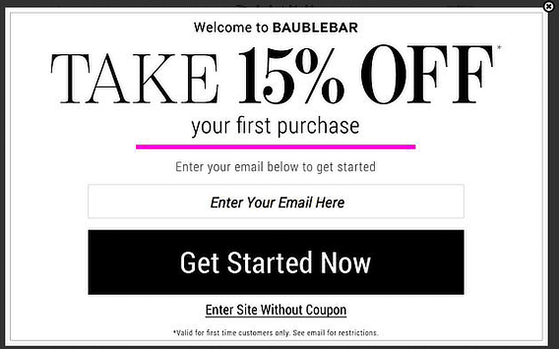 You should offer multiple ways for people to claim their coupons. Some people may not be comfortable with downloading a coupon and would prefer to enter a code at checkout, while other people might not be ready to buy there, and then, so they would need to save it in order to print coupons and vouchers later.
3. Use Coupons in Your Exit-Intent Offer
Exit-intent offers have the power to turn a negative action into a positive one for your small business. For example, leaving your store vs. staying to buy or subscribe.
They're often shown as lightbox popups that trigger when users are about to click away from your website, asking them to wait and take action, like showing exclusive offers or subscribing to your mailing list. This is the perfect opportunity to offer a discount or coupon to encourage people to stay on your site for longer and improve the customer journey.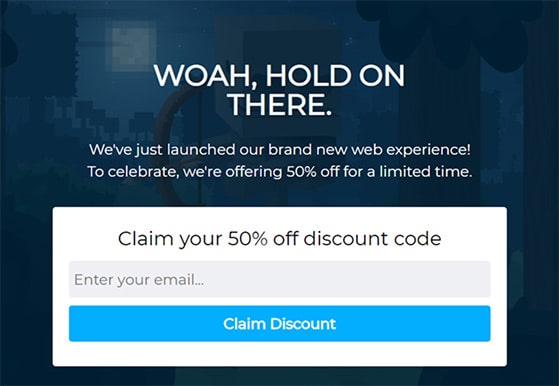 Game server provider Shockbyte doubled sales conversion rates with Exit-Intent popups from OptinMonster. As a result, they attribute 52% of sales to OptinMonster campaigns.
If you need more inspiration, check out these exit popup hacks to drive your revenue.
4. Email Coupons to Your List
Once you've collected email addresses for your list, it can be hard to keep those users engaged and prevent them from unsubscribing.
Why not use this as an opportunity to reward subscribers with regular offers? If people know that the email newsletters you send on a particular day will include a free coupon, they'll look out for it, keeping them on your list.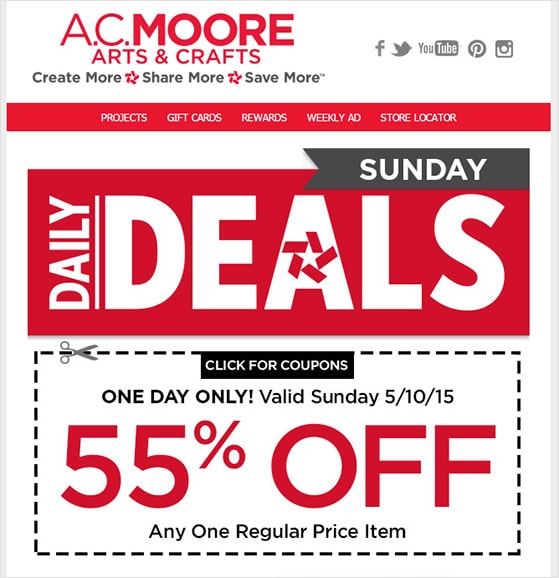 Just choose a time for your promotional email campaign and send an email with instructions on claiming the deal. Not only will people be more likely to open your email, but they'll also click through to your website, using the discount to make a purchase.
5. Include Coupons on Your Coming Soon Page
It's not just established stores that can benefit from coupon marketing. If you're still in the pre-launch phase, you can use discounts to drive interest and new customers when your online store goes live.
The easiest way to do this is to create a coming soon landing page. With a coming soon page, you can provide interested visitors with information about your store, such as the types of products you'll offer, etc.
You can also ask users to subscribe for notifications of when you go live and sweeten the deal with a discount coupon or unique coupon codes off their first purchase.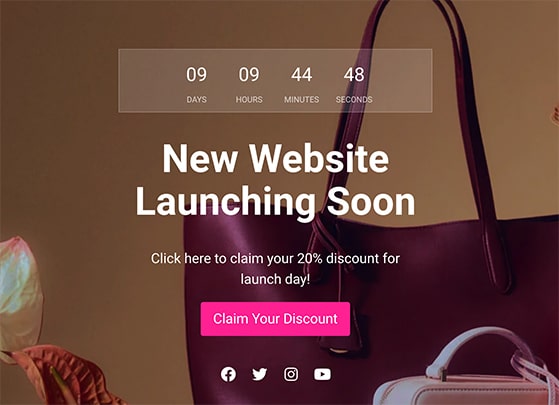 Check out these coming soon page examples for more inspiration to improve your prelaunch marketing efforts.
6. Add Coupons to Your Lead Magnets
Lead magnets are an effective way to generate new leads for your business. They're super-flexible and allow you to offer various incentives based on your target audience's likes and dislikes.
For instance, in exchange for their email address, users can download a free ebook, resource guide, or checklist or even register for a webinar.
The most popular type of lead magnet is a discount offer. Similar to exit popups, they appear when users either:
Scroll down a page
Browse your shop
Click a specific link
Read a blog post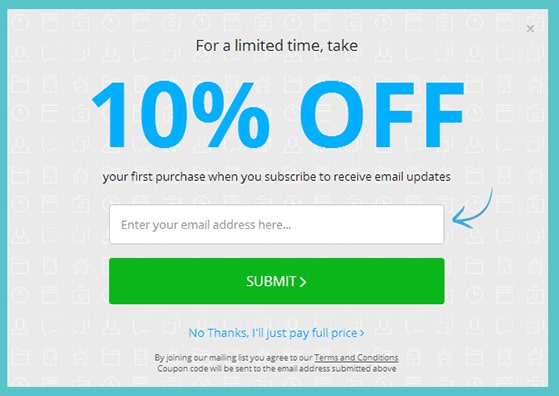 This type of lead magnet is beneficial for growing your email list. That's because people are more likely to hand over their email addresses for a special offer. Yet, it's essential to keep your offer relevant to your audience, or they'll ignore it and click away.
Related: 7+ Ebook Marketing Tips You Can Actually Use Today
7. Award Coupons for Completing a Survey
Another way to distribute coupons is to offer them to shoppers for completing a survey or questionnaire. If there's an incentive in place, users are more likely to complete the survey, helping you get valuable feedback for your business.
Puma took this approach by asking users to take a customer satisfaction survey for 20% off their next purchase.

Creating an online survey is easy with tools like WPForms. Their Surveys and Polls addon allows you to create user-friendly surveys in WordPress without writing a single line of code.
8. Offer Coupons for Abandoned Carts
With almost 70% of shoppers abandoning their carts before checking out, creating abandoned cart offers is a powerful way to bring those people back to your store. With the offer of a coupon or discount, it could be just what people need to persuade them to come back and check out.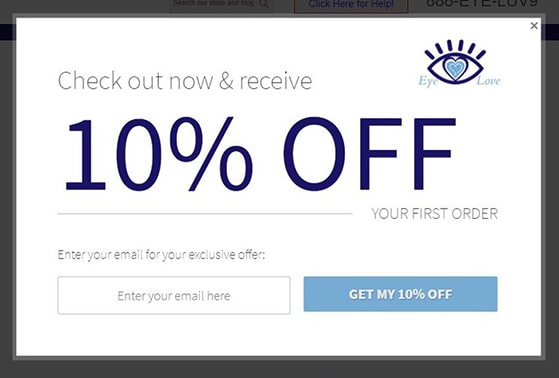 You can reduce cart abandonment with coupons by showing an exit-intent popup and discount when users are about to leave your website.
If you prefer, you can email abandoned cart users with a unique promo code, reminding them to come back and finish checking out.
Here are a few more ways to reduce shopping cart abandonment.
9. Share Your Coupon on Social Media
Many eCommerce businesses use social media to increase brand awareness and create a community of loyal brand advocates. If you want to improve customer loyalty with users who already follow you on social media, you can offer exclusive discounts or coupons.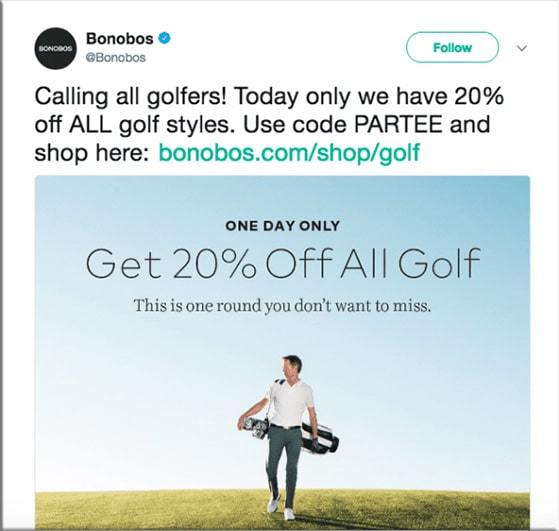 Distribution channels like this keep your audience engaged with your brand and gives other users a reason to like, share, and subscribe to your social channels. It's also a great way to reach users on mobile devices because social media is used more often on mobile.
You can even reach out to influencers to help distribute your coupons to a larger audience.
10. Add Your Coupon to a Website Banner
Another easy way to distribute coupons online is to display them on your website for everyone to see. It might seem obvious, but adding an eye-catching banner or notification highlighting the fact can make a massive difference to your sales.
We mentioned earlier about creating exit popups using OptinMonster templates. But did you know you can build a whole range of different campaigns with this lead generation tool?
Besides popups, you can create:
Fullscreen welcome mats
Slide-in scroll boxes
Floating bars
Coupon wheels
And much more.

The floating bar is an excellent choice for highlighting your coupon to users right when they land on your website. It sits at the top or bottom of your site, alerting them to your offer, and can be completely customized to suit your website's branding.
11. Award Coupons for Referrals
The biggest advantage of offering discounts or coupons for referrals is it builds customer loyalty, repeat purchases, and word-of-mouth marketing. It works by rewarding customers with a coupon for referring a friend to your store.
You can use loyalty programs as part of a giveaway campaign with RafflePress. Since it comes with a ready-made viral refer-a-friend entry option, it's as simple as clicking it to add it to your giveaway widget.
Here's an example using the giveaway tip from earlier in this article: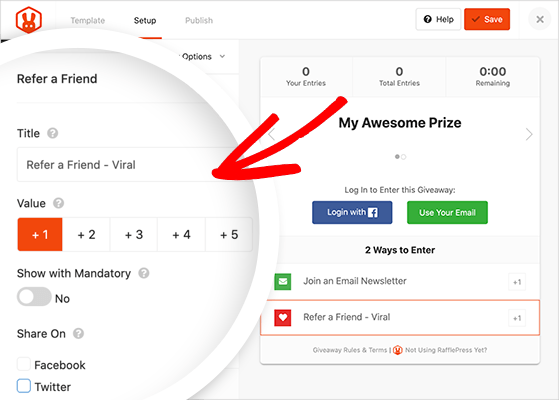 First, users sign up for your newsletter to register and claim their coupon. Then, they're required to share the giveaway to unlock extra chances to win. As more users enter your giveaway from that referral, they'll each refer more people, and so on.
Bottom Line: the result is a viral giveaway with tons of targeted leads claiming your coupon.
12. Offer Coupons for Reviews
You can use the approach above to secure more reviews for your business while distributing coupons to your target audience.
Instead of asking users to refer a friend for the 2nd step, you can ask them to visit a link to leave a review. This is easy to achieve with the Visit a Page entry action.
Just rename the action to "leave a review" and enter your URL for users to add their feedback.
Here's how this would look in RafflePress: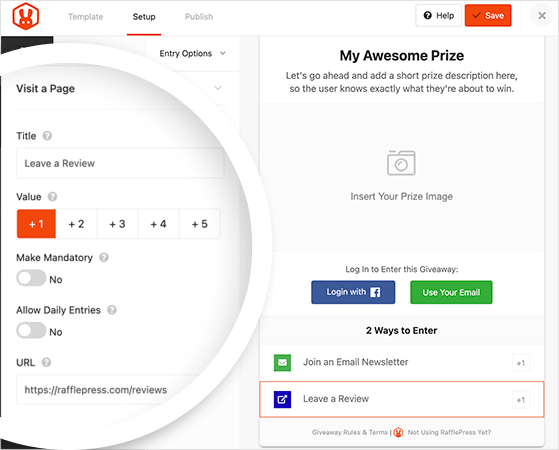 13. Use Retargeting to Distribute Coupons
Retargeting ads are an excellent way to reach shoppers after they've visited your store. Using tracking codes like Facebook's tracking pixel, you can show ads with a special offer to those specific users and persuade them to come back.
Since these users are already familiar with your brand, they're more likely to return with the right kind of incentive.
This example from Shutterfly serves as a reminder to come back to claim the limited-time offer.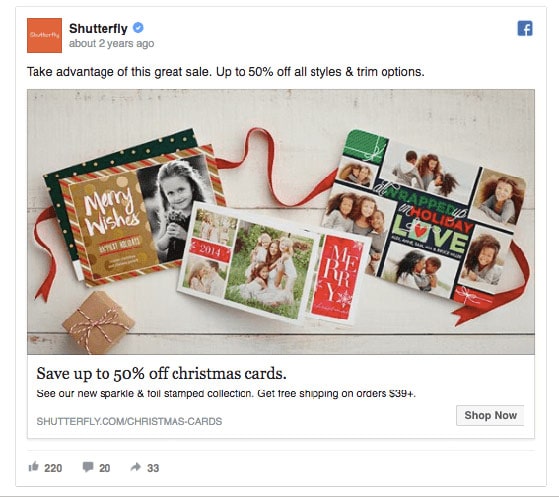 Check out this guide on creating a retargeting strategy for help.
14. Distribute Coupons to Affiliates
If your eCommerce store promotes products and services via affiliate programs, you can use the same programs to share your coupons too.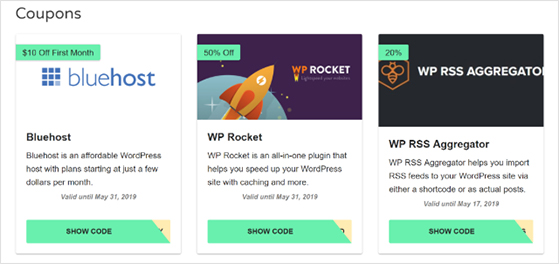 Since your affiliates will earn a cut of the sale, it's in their best interests to promote your offer to their audience. This effectively does your coupon marketing for you by tapping into their existing audiences.
Make sure you make your affiliates aware of your coupons and offer marketing materials like banners and other promotional media they can use on their websites.
Related: How to run an affiliate giveaway contest
15. Distribute Coupons During Holidays
The entire year is peppered with multiple holidays and events, with Black Friday and Cyber Monday being some of the biggest. This is the perfect time to share your discounts as shoppers are likely actively looking for them, putting them in the ideal position to buy.
Take this example from SeedProd: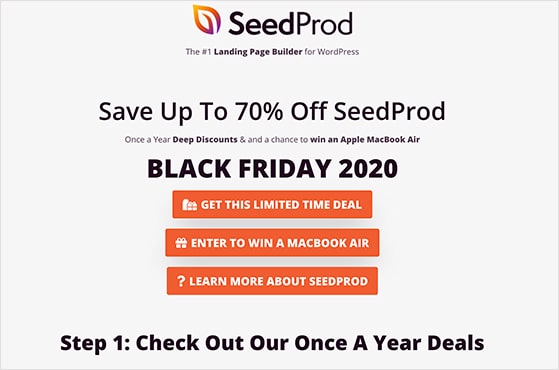 By offering strategic discounts for Black Friday and Cyber Monday, they dramatically increased their WordPress landing page builder sales.
16. Give Coupons to Returning Customers
Rewarding loyal customers with exclusive coupons and discounts can build a stronger bond with users who already spend money on your store. With this kind of incentive it shows you value their business.
You can send coupons to shoppers who come back to your online store with a simple email or text message that includes a link with a discount automatically applied on checkout.
Alternatively, you can use email marketing software to send a personalized email when someone makes a certain number of purchases.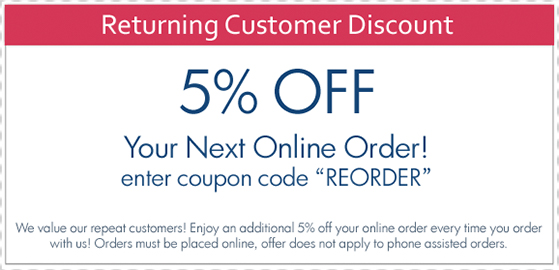 The result is happy, loyal customers and more revenue for your business.
There you have it!
We hope this article helped you learn how to distribute coupons for your eCommerce website.
If you're interested in using social proof to boost sales, check out this guide to create a live sales notification in WordPress.
Don't forget to follow us on YouTube, Twitter, and Facebook for more great tips and tutorials.