Are you interested in a Facebook flash giveaway?
With a flash giveaway, you can quickly grab your audience's attention and spur them into engaging with your fan page. Not to mention it's an excellent way to get your products in front of as many eyes as possible.
This article will show you how to run a Facebook flash giveaway easily with RafflePress, the best giveaway tool for WordPress.
What Is a Flash Giveaway on Facebook?
A Facebook flash giveaway is a short giveaway many businesses and bloggers hold on their Facebook pages. A flash giveaway is often used to get more Facebook page engagement, increase your page likes, and drive brand awareness.
That's because as more people interact with your giveaway post, with new comments, likes, and reactions, the Facebook algorithm will show the Facebook giveaway to more and more people who it thinks will find it interesting. As a result, you get more eyes on your content, leading to a page bustling with activity.
For smart business owners, more people seeing and clicking on your content can result in more leads and potential customers.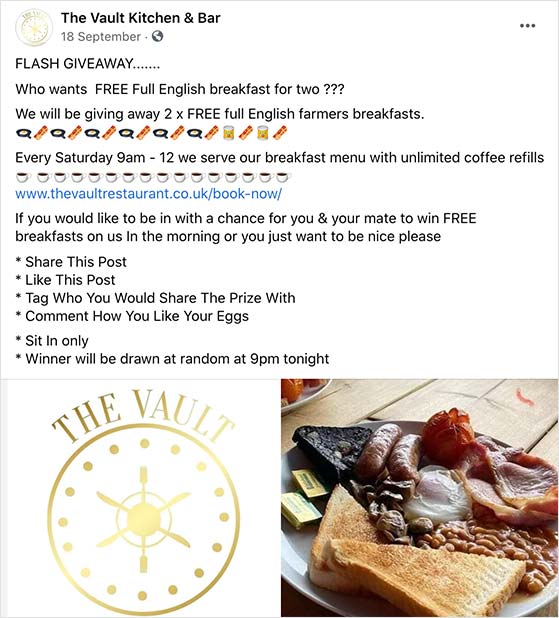 How to Run a Facebook Flash Giveaway: Step-by-Step
Despite its name, you can't just rush into building a Facebook flash giveaway or sweepstakes. Even the shortest giveaways need planning to ensure you get the results you want for your business.
But don't worry. Follow the steps below to run a flash giveaway your Facebook fans will love.
1. Determine Your Flash Giveaway Goals
The first step in creating any contest is to plan out your goals. Your goals are what you want to get out of running a giveaway.
So ask yourself, "what do I want to achieve for my page?".
You might want to run a flash giveaway to:
Get more engagement on your posts
Tell your fans about a new product or service
Encourage fans to visit your website or blog
Increase awareness of your brand
Promote free downloads like printables or checklists
Setting goals will help you ensure your giveaway stays on track as you follow the steps to create it. Then, when it's over, you can link up those goals with your results to see if your efforts were successful.
With your goals in place, you can move on to choosing a prize for your flash giveaway.
2. Choose a Facebook Flash Giveaway Prize
When picking a prize for your flash giveaway, it's essential that you choose one that excites your fans. If, for instance, your prize is low value, they won't make an effort to enter.
Your prize must be relevant to your brand and audience for flash giveaways and valuable enough to incite action. You want users to see your post in the news feed and get so excited that they enter immediately.
Some popular contest prize ideas include:
Money
Amazon gift cards
Free product bundles
Free service subscriptions
An excellent prize example is this Father's Day cooking bundle from Food in a Minute. Since the prize is relevant to their audience and brand, it's the ideal combination for generating tons of entries.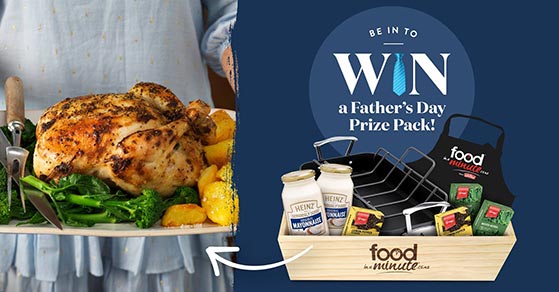 The above example generated over 899 comments, 50 shares, and 796 reactions on Facebook alone. Why don't you create something similar for Mother's Day or Christmas?
After picking the grand prize for your Facebook flash giveaway, you can move on to writing your rules.
3. Set Out Your Giveaway Rules
Your next step is to define the rules and logistics for your giveaway. Doing so will make it easier for people to enter and ensure you have a good benchmark for qualifying entries.
Since flash giveaways are short by nature, the most important rule you'll need to decide is how long the contest will run.
The duration of a flash giveaway is usually around 24 hours, yet some brands extend them to last up to 3 days. Any longer than that, and you're no longer running a "flash" giveaway.
Remember: flash giveaways on Facebook should be short enough to inspire people to enter for fear of missing out (FOMO). But they shouldn't be so long that you give users too much time to consider joining.
Next, you should consider how users will enter the contest. While it's tempting to ask people to do something to show they really want to win, like submitting a photo, you don't want to make it too hard to enter. Otherwise, people won't make an effort.
Instead, you could ask people to leave a comment to enter, or even better, grant users automatic entry where all they need is to register for a chance to win.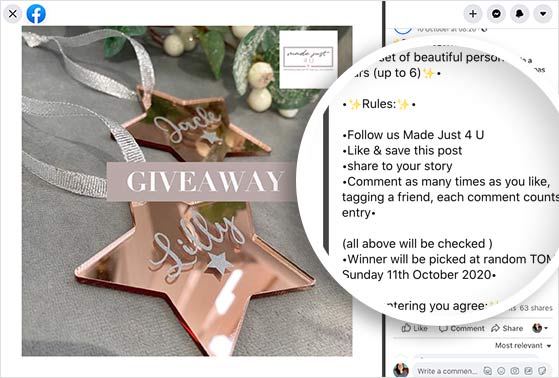 Other details you'll need to include in your flash giveaway rules, and disclaimer are:
The minimum age for entering
If the contest is limited to a certain location
The start and end dates and times
How you'll draw a winner
Including extra entry methods that align with your giveaway goals is also an excellent idea.
For example, if the primary way to enter your flash giveaway is an automatic entry for registering, you can include bonus entries for visiting your Facebook page and referring friends. We'll go into entry methods in a little more detail later.
With your Facebook contest rules in place, you can start creating your Facebook flash giveaway.
4. Create Your Facebook Flash Giveaway in WordPress
Many small businesses and bloggers choose to run flash giveaways directly on their Facebook pages. And while it's certainly possible to manage your contest manually like this, it poses a few problems.
First, keeping tabs on all the comments and likes you receive as entries is pretty hard. Second, choosing a random winner from users who have liked or commented on a Facebook post is just as tricky.
To solve that problem, we created RafflePress, the best WordPress giveaway plugin.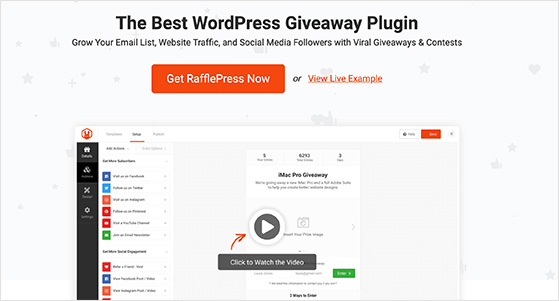 The RafflePress giveaway app makes it super-easy to create any type of online contest, including Facebook flash giveaways, right from your WordPress website. It provides everything you need to achieve your giveaway goals, whether growing your Facebook page, email list, or getting more website traffic.
You can manage all your giveaway entries in a single place inside your WordPress dashboard. When it's time to pick a random winner, you can use the built-in random winner generator to choose from all the qualifying entries.
Unlike other tools like Rafflecopter, for example, RafflePress offers entry options for many different purposes, including getting more TikTok followers, growing your Youtube channel, boosting podcast subscribers, and more.
If you're not convinced, here's how OptinMonster generated 3,500+ new users from one giveaway.
So if you want to know how to set up a Facebook Flash giveaway, here's how it works with RafflePress.
Step 1: Create a New Giveaway
To begin, click here to get started with RafflePress and download the RafflePress WordPress plugin. If you need help with this, here's a step-by-step guide on installing WordPress plugins.
Once you've installed and activated the RafflePress plugin, navigate to your WordPress dashboard. Then hover your mouse over the RafflePress icon and click Add New to create a giveaway.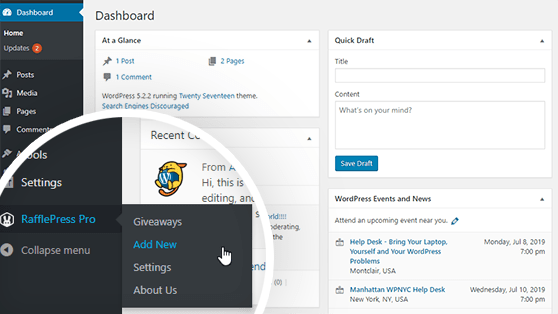 Step 2: Choose a Giveaway Template
After clicking to create a new contest, you'll head to a screen where you can give your giveaway a name and choose a pre-made template.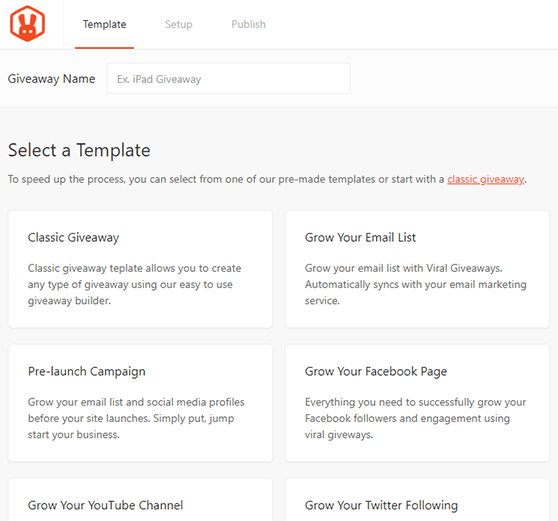 RafflePress comes with various pre-made giveaway templates designed to reach specific goals such as Grow Your Email List, Refer-a-Friend, Pre-launch Campaign, and more.
For this tutorial, we'll choose the Grow Your Facebook Page template. This template comes with everything you need to run a successful Facebook flash contest, including contest entry methods, to visit your Facebook page and view a post/video on Facebook.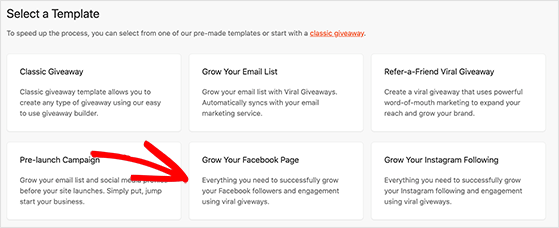 Choose the Facebook giveaway template by hovering your mouse over it and clicking Use This Template.
Step 3: Add Your Flash Giveaway Prize Details
After choosing a template, you'll head to the RafflePress giveaway builder. Here you can add your giveaway prize details to your contest widget.
First, click the pencil icon under the Giveaway Prize Details section.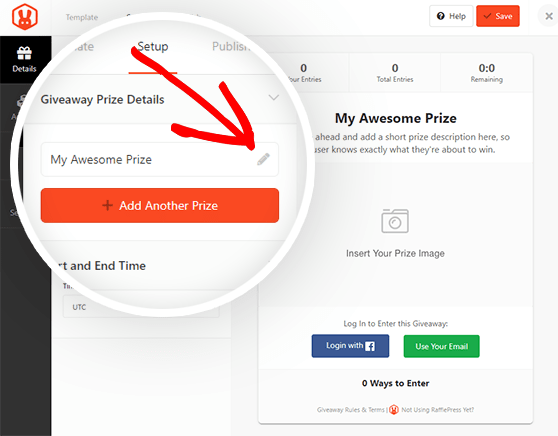 In this area, you can choose the name of your prize and write a short description of the prize and what people should do to enter.
It's also possible to upload a prize image by clicking the Select Image button below the description box. You can upload a photo from your computer or choose an existing image from your WordPress media library.
When you're happy with your prize details, click the Done Editing button.
On the left-hand side of the giveaway builder, you can set your giveaway duration and timezone under the Start and End Time section.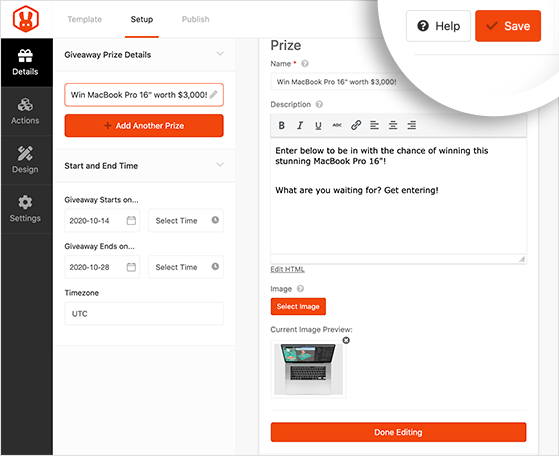 After, click the Save button to store your changes. You should do this periodically to save your work throughout the giveaway building process.
Step 4: Choose Your Flash Giveaway Entry Methods
RafflePress gives users multiple ways to enter your flash contest, which will help you reach the goals you set out at the beginning.
For instance, you can allow users to receive 1 contest entry for registering, a 2nd contest entry for visiting your Facebook Page, a 3rd entry for viewing a Facebook post, and so on.
Most people will take as many actions as possible because they'll get more chances to win.
Click the Actions tab to select how users can get entries for your flash giveaway. The giveaway entry methods are grouped by goal, such as:
Get More Subscribers
Get More Traffic
Click any action to add it to your giveaway widget.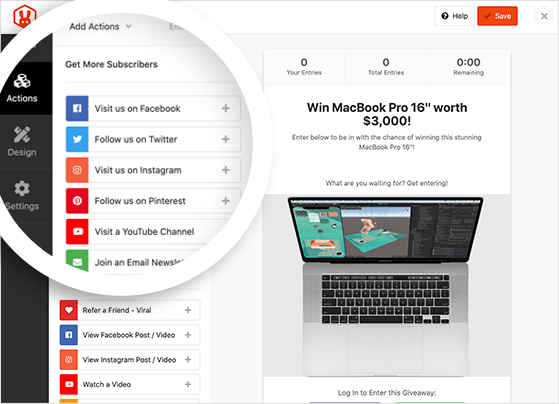 You can then customize the entry options by clicking the action in your widget, which reveals a panel on the left-hand side of your screen.
The settings you'll see include the action title, value (how many entries the action is worth) if the action is mandatory, and fields for your social media profiles or post URL (this changes depending on which action you choose).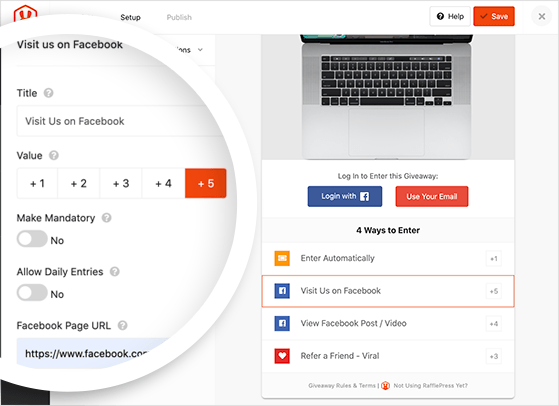 Don't forget to click the Save button to preserve your changes.
Repeat the same process for every entry method you want to add to your contest; you can add as many as you like and rearrange them by dragging them to a different place on the widget.
Step 5: Design Your Facebook Flash Giveaway
The next step is to click the Design tab to customize the look of your giveaway. On this page, it's possible to choose from 2 different layouts (display image, then header, or header, then image) and several fonts and button colors.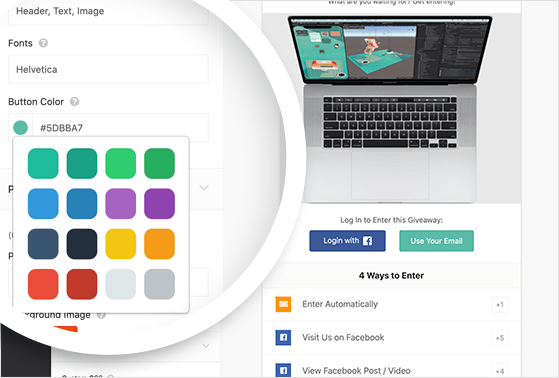 If you're creating a giveaway landing page for your flash contest, you can also pick a page background color or upload a background image.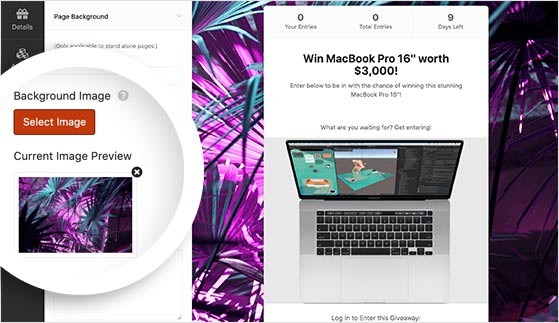 Once your contest looks the way you want, click the Save button.
Step 6: Configure Your Giveaway Settings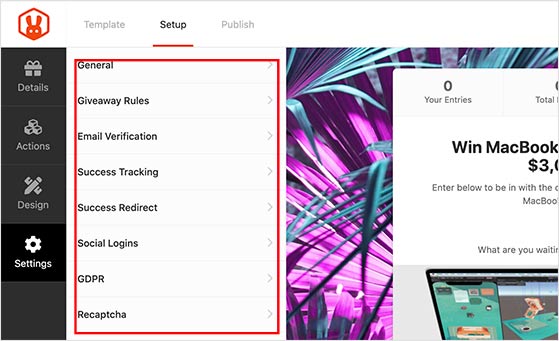 There are several different sections in the Settings tab, including:
General
Giveaway Rules
Email Verification
Success Tracking
Success Redirect
Social Logins
GDPR
Recaptcha
Of all these, the most important setting is the giveaway rules, as this will explain what is and isn't' allowed when entering your Facebook flash giveaway.
RafflePress makes it easy to add your contest rules with the Rules Generator Template.
Clicking the +Generate Rules button launches a window where you can enter the sponsor name, email, address, eligible locations, the minimum age to enter, and more.
Then, click Generate Rules to add your terms and conditions to the RafflePress widget.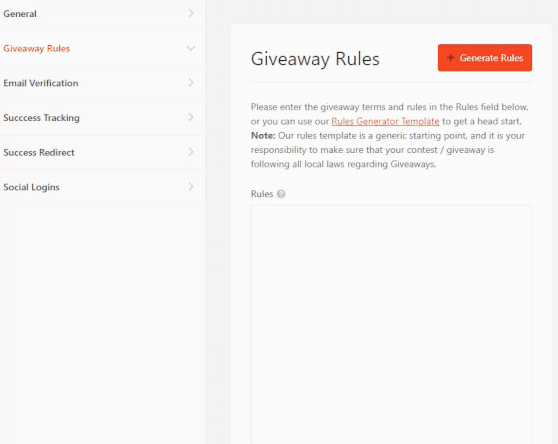 Once you're finished with your settings, click Save.
Step 7: Publish Your Facebook Flash Giveaway
Now that you know how to run a Facebook flash giveaway, it's time to make it live!
RafflePress makes it easy to launch your giveaway. All you need to do is click on the Publish tab at the top of the screen.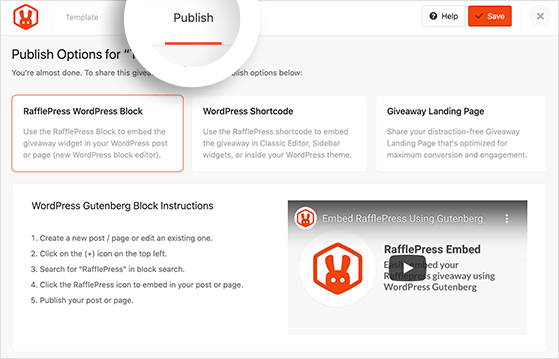 There are 3 giveaway publishing options available:
RafflePress WordPress Block – Embed the giveaway widget in your WordPress post or page (new WordPress block editor).
WordPress Shortcode – Embed the giveaway in the classic WordPress editor, sidebar widgets, or inside your WordPress theme.
Giveaway Landing Page – Create a distraction-free landing page on your website for your giveaway.
The easiest option is to create a dedicated landing page for your flash giveaway.
Because there isn't anything else on the page to distract people, it's more likely they'll sign up to enter. Moreover, you can link to your flash giveaway landing page from your initial Facebook post to collect entries.
So, go ahead and choose the giveaway landing page option.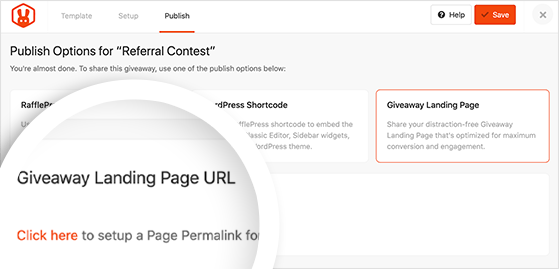 If you haven't already created one, you'll see a link asking you to "click here" to set up your page permalink.
The permalink is like the address of your landing page added to the end of your main website URL. The settings are under the Page Permalink heading in the General settings tab.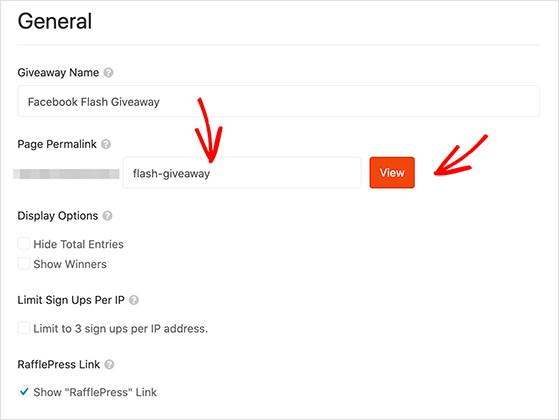 For instance, if you choose a permalink of "flash-giveaway," the address for that page would look like this:
https://example.com/flash-giveaway
After entering your giveaway page permalink, click the View button to see how the page looks.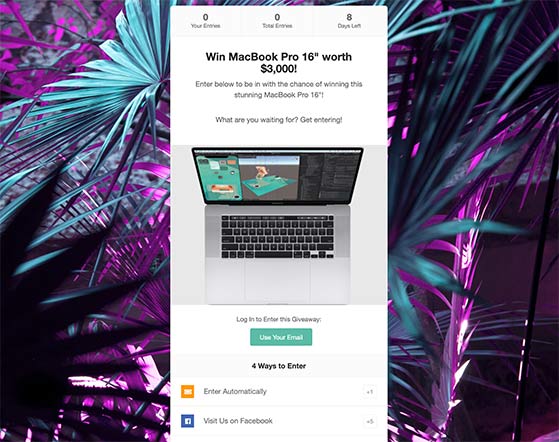 Congratulations! You've just created a Facebook flash giveaway using RafflePress!
5. Promote Your Flash Giveaway
Even though your flash giveaway is only running for a short time, you'll still need to promote it to spread the word and ensure as many people enter as possible.
The most straightforward way to promote your flash giveaway on Facebook is to create a new Facebook post, prompting people to enter via the link to your giveaway page.
You should publish that new Facebook post as soon as the giveaway goes live, then follow up with more posts throughout the contest's duration to remind people that they only have a short time to participate.
You can also promote your Facebook flash giveaway by:
Sharing updates on your other social media channels
Sending a newsletter to your email subscribers
Asking people to tag friends in the comments of your post
Tagging your giveaway sponsors to help spread the word
Using giveaway hashtags when cross-promoting on Instagram and Twitter
You can check out this article for even more contest promotion ideas.
6. Choose a Flash Giveaway Winner
When your giveaway has ended, it's time to choose a winner. Since you probably didn't ask users to submit their own content, you won't need to judge their entries based on creativity or merit. So the best way to choose a winner, in this case, is to pick one randomly.
RafflePress makes it easy to pick a random winner. When your flash giveaway ends, head to RafflePress » Giveaways from your WordPress dashboard and click the Needs Winners link on the right-hand side.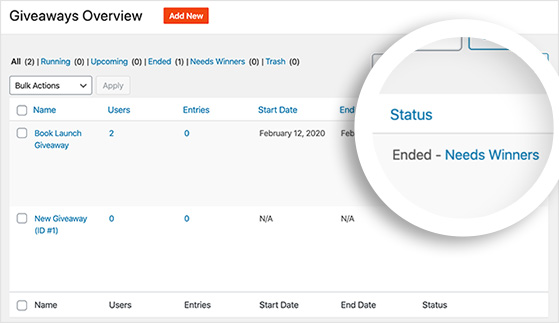 After that, you'll see a list of everyone who entered and how many entries each person has. To choose a winner randomly, click the Pick Winner button, select your options, and click the Choose Winners Now button.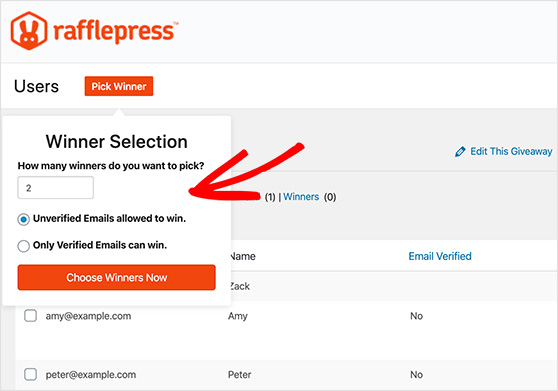 You'll see the winner highlighted instantly at the top of the list. Then you can click to email them and tell them that they won!
7. Follow Up After the Giveaway
Now that you've picked a winner for your flash giveaway, it's important you announce it to your community and everyone who entered but didn't win. This will help you form better relationships with your newfound Facebook audience and offer you the chance to mention your giveaway once more.
The easiest way to follow up and announce the winner of your flash giveaway is to create a new post on Facebook. You can tag the winner in the announcement post, and if you have one, you can include a picture of the winner with their prize.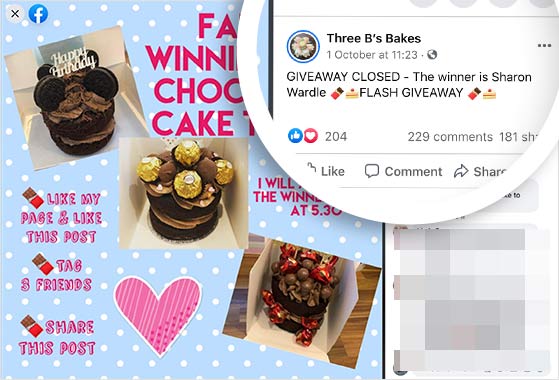 Another way to follow up with entrants is to send an email newsletter announcement. Make sure you thank everyone for taking part. You can also invite them to keep an eye out for your next contest so they can enter when it goes live.
Offering a coupon is an excellent way to simultaneously thank participants and boost sales.
Related: How to Email Non-Winning Giveaway Contestants (5 Tips)
At the end of this process, you'll have many happy fans eager to hear more from your business.
8. Review Your Flash Giveaway Results
With your flash giveaway over, how do you learn if it was a success? The easiest way is to measure your results with your website analytics.
Google Analytics is a great way to do that, but it's often far too complicated for beginners to understand. Instead, you can use MonsterInsights, the best Google Analytics plugin for WordPress.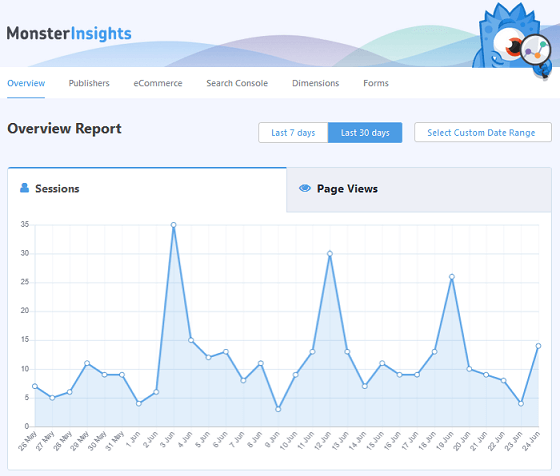 MonsterInsights makes it easy to track visits to your flash giveaway landing page, general website traffic, and referral traffic from Facebook and other social media networks. It takes all that crucial data and displays it in easy-to-understand reports right inside your WordPress dashboard.
You can then use that information to learn what did and didn't go well with your contest and plan improvements for the next one.
If you like, you can use MonsterInsights' real-time tracking to monitor your website traffic during your next giveaway and make improvements as you go.
That's it!
We hope this article helped you learn how to run a Facebook flash giveaway for your business.
With RafflePress, creating flash giveaways, social media contests, and almost any other type of competition is a breeze. You get everything you need to make your giveaway go viral and drive tons of traffic, engagement, subscribers, and sales.
So what are you waiting for?
Get started with RafflePress today!
Good luck, and don't forget to follow us on YouTube, Twitter, and Facebook for more great tips to grow your business.