Finding new and exciting apartment marketing ideas is a real struggle. With so many online channels ripe for promoting your business, there are tons of opportunities. But the key is choosing the right strategy.
So in this article, we'll share the best online apartment marketing ideas guaranteed to attract new renters today.
Benefits of Marketing Your Apartment
The clear benefit of apartment marketing is you can reach a broader audience. There are probably many people that know your company exists or that you have multiple apartments on the market.
Marketing your properties through various channels increases awareness, which can ultimately lead to more leads, sales, and happy clients.
The Basics: Know Your Audience
Before we dive in, make sure you have a clear idea of who your audience is. Without defining your ideal audience, you won't be able to reach them on their preferred online platforms.
One of the best ways to define your audience is to create a buyer persona. A buyer persona is a fictional person who represents your ideal customer. And it's an effective way to get a clear idea of the people you're marketing to. Until you get that right, you can't really be sure your marketing efforts are going to be successful.
Here's an idea of the areas to address in your buyer persona:
Demographics: Name, age, gender, location, race, income, education, and occupation.
Back Story: Birthplace, parents occupation, siblings, childhood memories, etc.
Personal Life: Marital status, children, pets, extended family, friends, political orientation, and hobbies.
Career: Industry, job title, company size, salary, career path, and retirement plans.
Personality: Introvert or extrovert, quiet or boisterous, practical or spontaneous, etc.
Online Behavior: Social media sites, online payment methods, device preferences, operating system, web browser, search engine preference.
The more detail you add to your buyer personas, the easier it is to pinpoint the best ways to reach your audience.
Online Apartment Marketing Ideas
Now you know who your ideal audience is and where they're likely to hang out online. The next step is to reach those individuals with the right messaging.
Below we share a variety of apartment marketing ideas, sure to excite and engage your audience.
1. Run a Giveaway on Instagram
Running a giveaway on Instagram is an excellent way to get people involved with your business. Everyone loves a freebie, and when you combine your giveaway with these proven contest promotion ideas, you're sure to raise awareness of your business and attract tons of entries.
Since Instagram is a highly visual platform, it's the perfect way to showcase your apartments in all their glory. And you can encourage your current residents to involve their families to boost the awareness of your giveaway.
One of the easiest ways to run a giveaway is with RafflePress, the best WordPress giveaway plugin. RafflePress makes it easy to run any kind of giveaway. Plus, it gives you everything you need to accomplish your marketing goals, such as growing your email list, increasing your followers on Instagram, and more.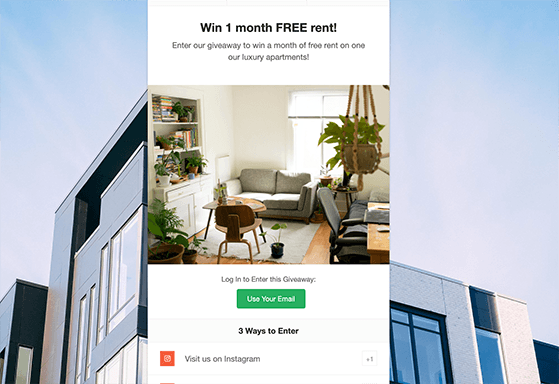 Even better, the ready-made Instagram giveaway template helps you get up and running in minutes.
Not sure where to start? Take a look at our guide to run a successful Instagram giveaway in 9 easy steps.
2. Add Property Pictures to Pinterest
Pinterest is the perfect social media network for highlighting your best properties. Especially with the number of people using Pinterest to look for home and garden inspiration. So if you're looking for marketing ideas that make a visual impact, it's worth jumping on the Pinterest bandwagon.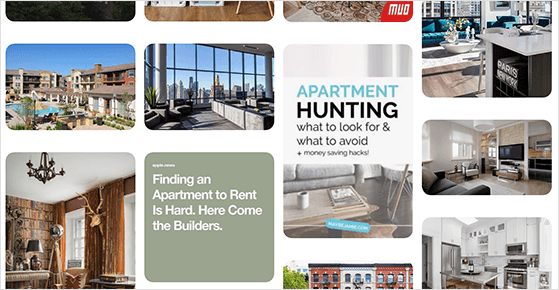 Here are some ideas for what to post on Pinterest:
High-quality property photos
Step-by-step DIY images
Interior design inspiration
Home decor hacks
Garden makeover ideas
Industry news and trends
Just be sure all the images you add to Pinterest links back to your property listings or blog post so that visitors can find further information.
You can even run a Pinterest contest to drive more interest.
3. Promote Open Houses With Facebook Events
Facebook Events is a tool that's often overlooked by marketers. Through Facebook Events, you can invite people to both in-person and virtual events through the Facebook platform.

This is the perfect apartment marketing idea for promoting open houses to your community. Simply add the event to your Facebook page and encourage people to attend by offering a discount on their application fees to the first 10 people to RSVP.
You can even add extra incentives for people to share the event with their circle of friends, like an entry into a giveaway. This adds a sense of urgency and excitement to your event to increase attendance.
Related: 11 Must-Have Facebook Marketing Tools
4. Post Engaging Twitter Polls
Twitter polls are another way to engage your followers and support your marketing efforts. Try to create polls that are highly relevant to your business and audience, and provide several answers users can choose from. Then round off your poll with a great call to action (CTA) to encourage people to share your poll with their followers.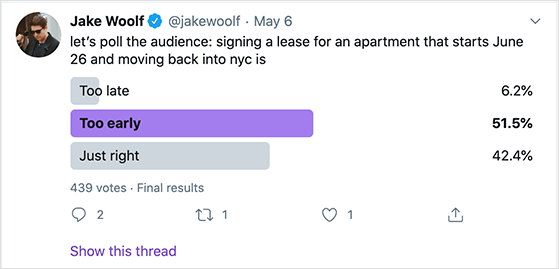 Make sure your poll question is stimulating enough to create conversations that encourage users to share. Then you can use the answers as market research to improve your business.
Here are some questions to spark conversation for your polls:
Which amenities matter most to you?
What is your preferred payment method?
Which furnishings do you consider to be essential?
What's your ideal lease duration?
How important is the ability to customize your apartment to you?
5. Host Q and A Sessions on Facebook Live
Answering your community's questions is crucial for ensuring the happiness of your renters. But it's not always easy to offer a venue that's accessible to everyone. To make it easier to connect with your community, consider hosting a live question, and answer session on Facebook.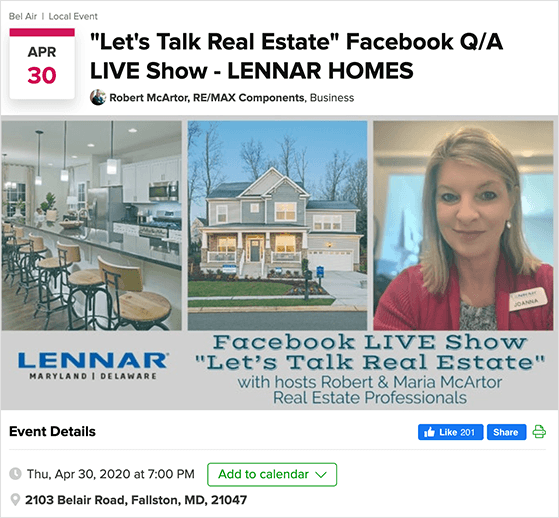 Before you go live, ask your community to submit their most pressing questions, then you can answer them in a live stream and ask followers to tune in. Being able to see you face-to-face helps instill confidence in your residents and shows potential renters you care about they have to say.
6. Create a Community Facebook Group
As we just highlighted, a happy community can improve the reputation of your business as a whole. So why not build an online community for your renters using Facebook Groups.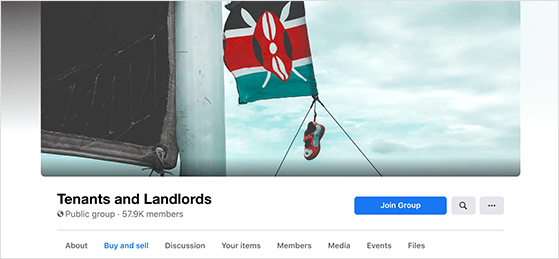 In Facebook Groups, you can address questions as they arise, share news and events, and learn about what matters most to your renters. It also offers the perfect opportunity for renters to build relationships with their neighbors and help each other with more everyday situations, like carpooling, budgeting, and local attractions.
Once your group becomes a bustling community, users are likely to recommend it to others, helping you to attract more clients.
Related: How WPForms Got 11K+ Facebook Group Members with RafflePress
7. Run Facebook Ad Campaigns
Facebook offers plenty of advertising opportunities to help you reach your ideal audience. And the wealth of customization available lets you tweak them to match specific business goals.
For example, here are some of the ad campaigns you could run:
Awareness: To help more people learn about your business.
Consideration: To get more engagement on your posts, traffic to your website, and generate leads.
Conversion: To convert people interested in your apartments into paying renters.
When running Facebook ads, it's best to start small, so you can see what works, and to avoid spending too much money. Then you can experiment with different customizations to improve the outcomes.
8. Create DIY Videos for YouTube
YouTube has a bustling community of people eager to watch the next best videos. This makes it the ideal place to carry out your creative apartment marketing ideas.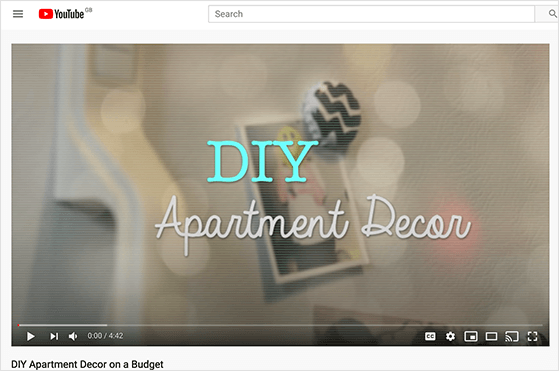 If you have the time, you can create DIY videos for renters to improve their homes, then add them to your YouTube Channel to raise awareness of your business. Videos educating renters about the real estate industry will also go down a treat.
But if time is limited, you can embed popular YouTube videos on your website to add value to your visitors. You can even display them in a stunning YouTube feed that users can interact with without leaving your site.
Offering site visitors valuable information they can relate to has the potential to attract quality leads.
9. Host A Social Media Takeover for Residents
A social media takeover is a great way to expose your business to a whole new relevant audience. And they work by giving a user limited access to your social media accounts for a set period. During that time, the host engages with your audience in how they see fit, offering value and excitement to your social media feeds.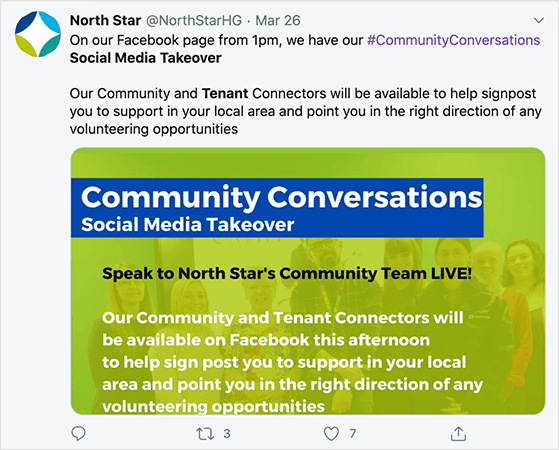 You can take advantage of social media takeovers by hosting them for your residents. Each week you can ask a different resident to join in and discuss what it's like living in one of your properties, what the local attractions are like, or even give your followers an apartment tour.
Not only does this engage your audience, but it also lets you tap into your resident's audience, too, increasing your reach beyond your circle of influence.
10. Use Branded Hashtags for User Generated Content
Coming up with a branded hashtag for your business is an online apartment marketing idea with massive potential. Branded hashtags help improve the visibility of your business and provide a rallying point for your followers to gather around.
Here are some tips for getting the most out of your branded hashtags:
Make it unique to your business so it's not confused with other brands.
Use it in all your marketing messages so followers are familiar with it.
Encourage users to use your hashtag when posting content about your business.
Use your branded hashtag as a focal point for giveaways and promotions to build awareness.
Once your branded hashtag is memorable, you can use it to collect user-generated content (UGC) in the form of property images, customer reviews, and more. This is free advertising from your fans, which you can use to promote your business elsewhere.
11. Offer Discounts for Facebook Check-Ins
People use Facebook Check-ins to show off the places they've been to recently. And chances are, when you see a check-in post, you'll want to learn more about it yourself.
Why not use Facebook Check-ins as an apartment marketing idea with an incentive to sweeten the deal?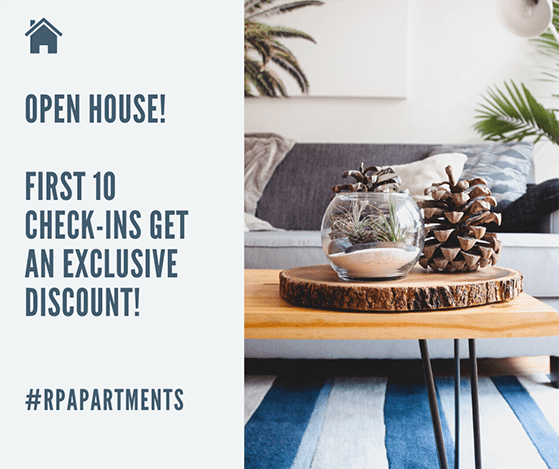 For example, for people checking in to one of your apartments for a viewing, you could offer a discount on their application fees. Alternatively, you can offer coupons for local attractions and restaurants.
That way, if people choose not to rent one of your properties, they're still rewarded for taking the time to check you out.
12. Write City Guides On Your Blog
Writing city guides for your blog is the perfect way to attract organic traffic to your website. Organic traffic is people who land on your website after searching the internet for the information they're after.
For example, someone searching for "palm beach guides" might land on your visitor guide to palm beach articles.
City guides are an ideal way to help people learn about the world around your properties. They can offer ideas for what to do on days out, the best places to eat, and the local nightlife.
Write local guides for all your different property locations and publish them on your blog, accompanied by property listings for that area. That way, people interested in the area have the opportunity to see what it might be like to live there.
13. Review Local Businesses
You can also use your website to review businesses local to your properties. That way, you can support your local economy while promoting your properties in the same area.
Consider teaming up with local businesses to offer discounts and promotions alongside your reviews. You could even run a blog giveaway for a free ticket to a local attraction or a day living in one of your properties to give potential renters an idea of what living there might be like.
14. Capture Amabdoning Visitors With Popups
Chances are, many people leave your website without taking any kind of action. For you, that's a wasted opportunity. After all, you put tons of effort into attracting the right types of visitors, right? So why let those visitors leave so quickly?
One way to capture the attention of potential customers is to trigger a popup just as they're about to leave. Then the popup can ask them to take action, turning them into a lead.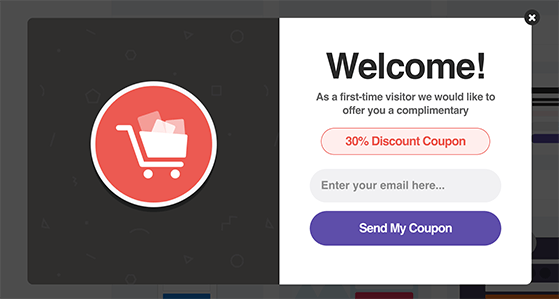 Here are a few ideas to include in your exit popup:
Ask visitors to sign up for your newsletter to hear industry news and updates.
Encourage visitors to follow your social media accounts.
Remind visitors to enter your latest contest or giveaway.
Offer users a free industry report in exchange for their email address.
Offer first-time visitors a discount coupon to encourage them to return
It's easy to create an Exit popup using software like OptinMonster. Its drag-and-drop popup builder lets you use pre-built templates to design and customize your popups in minutes.
And with powerful targeting options, you can trigger your popup to launch at just the right moment before visitors abandon your website.
15. Highlight Positive Resident Reviews
Earlier, we talked about UGC and how you can use it as an apartment marketing idea to improve the reputation of your business. One way you can do that is to showcase positive reviews from residents on your property listing pages.
Reviews work as positive social proof, where if visitors see residents talking about your property services in a positive light, it can give them the confidence they need to give your business a try.
There are several ways to display reviews on your website. One way is to show them in a social media feed, which you can do with Smash Balloon. The suite of social media feed plugins from Smash Balloon lets you quickly show feeds of content gathered from your social media profiles.
For example, you could show a feed of property reviews from Instagram using the Instagram Feed Pro plugin. And you can filter the feed to display posts containing your branded hashtag to keep the content relevant.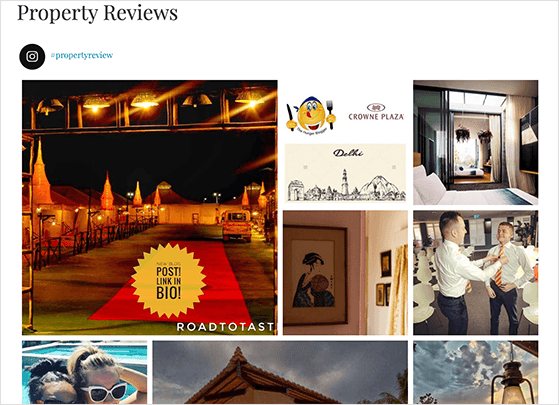 Then you can show it in the sidebar of your property listing page to boost social proof.
16. And Always Ask For Reviews
Following on from our previous point, you must always ask for reviews from your customers. That way, you'll always have material to use in your marketing promotions.
Plus, reviews help you identify areas where you can improve your business. And you can address common issues to ensure renters have the best possible experience.
For example, a review might draw attention to the fact that a neighbor is causing too much noise. To fix it, you can talk to those residents and work out a solution.
For tips on how to get more reviews, take a look at this guide.
17. Optimize Your Calls to Action (CTA)
Calls to action encourage people to carry out a specific task on your website. So creating the perfect call to action is essential for ensuring your visitors take action where you want them to.
Optimizing your CTAs can also increase conversions, such as more people filling in your contact form or leaving a review.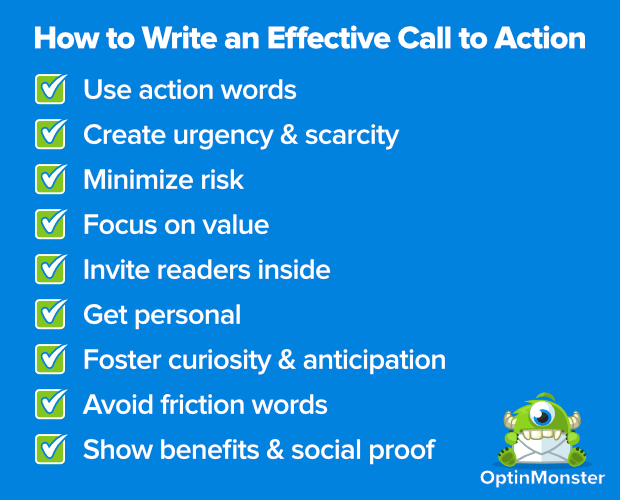 Here are a few ideas to optimize your CTAs:
Pick the best CTA button color to ensure it stands out and spurs people into clicking.
Keep the design of CTAs simple and free of distractions.
Use a sensible button size. Not too large and not too small. It needs to stand out and appear inviting.
Make clicking your CTA button the step that makes sense for people to take on your website.
Keep your CTA copy short, snappy, and actionable.
18. Retarget Recent Website Visitors
Remember the last time you researched a product? How many times did you then see that product show up in ads on other websites? Well, that is an example of website retargeting in action.
Retargeting is an effective way to re-engage people who've recently visited your website, and with carefully tailored retargeting ads, you turn those people into qualified leads and customers.
Let's say a visitor arrived on your site after searching for properties to rent. Maybe they got distracted and left your website without taking action. With a retargeting strategy in place, you can serve ads to that person, reminding them to book a viewing of the property they were looking at. Then the ball's in your court to persuade them to rent from your business.
There are tons of ways you can make retargeting work for your website. If you're running a giveaway with RafflePress, you can easily add retargeting scripts in the giveaway widget settings. Then your ads will fire as soon as people enter the contest.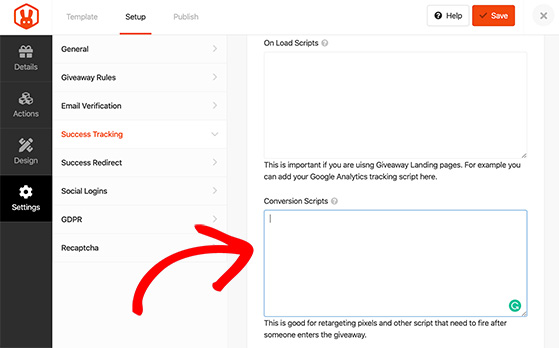 19. Use Live Chat to Improve Customer Service
Customer service also goes a long way to securing new customers. And chatbots offer the perfect opportunity to ensure potential renters have all their questions answered before they commit to leasing your property.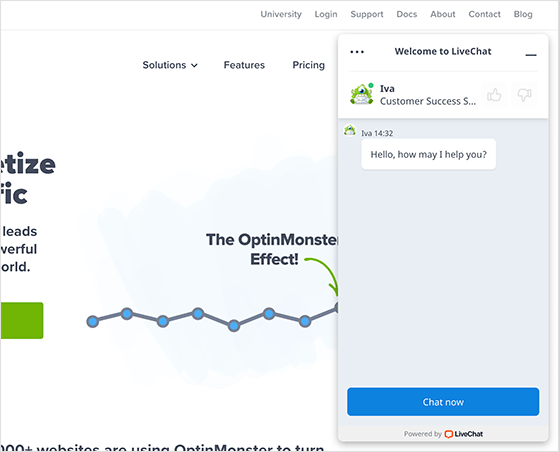 So adding a chatbot or live chat widget to your website offers that chance for visitors to ask questions. Plus, it helps you understand your visitor's pain points so that you can serve them better in the future.
To give you a hand in the right direction, here is the best live chat software for small businesses.
20. Make it Easy to Get in Touch
On a similar note, it's also crucial you make it easy for potential customers to get in touch with you. Some questions might be too complex to ask over live chat and better suited to a contact form that offers room for more details.
You can create a contact form easily with WPForms, the best contact form plugin for WordPress. With over 2 million active users, it's the most user-friendly form builder on the market.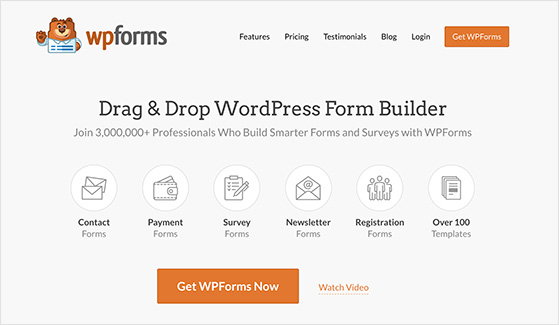 And with its drag and drop interface, you can create any kind of form in a matter of minutes. You can even create multi-step forms to make them easier for users to complete.
On the other hand, some customer queries might be personal and better suited to a phone call for a more human touch. For that situation, you can create a click-to-call link that visitors can click or tap from any device to get in touch.
21. Create a Referral Program
Probably one of the most straightforward apartment marketing ideas is to create a referral program for residents to encourage friends and family to lease from your business.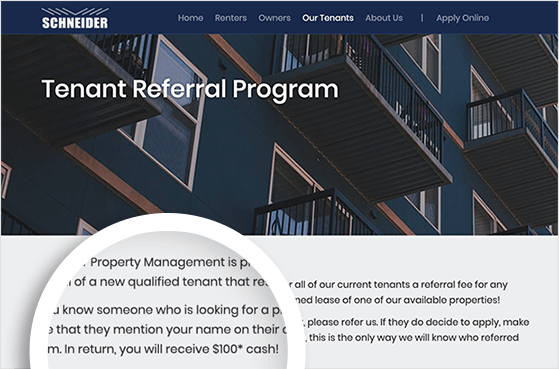 Here's how it would work.
For every person a resident successfully refers to your business as a new tenant; you'll reward them with an incentive. That incentive could be anything from a small cash reward to discounts for home appliances or local businesses.
To take it a step further, you can create a leader board showcasing residents with the most referrals. This would encourage other residents to step up their referral game and ultimately win you more customers.
22. Guest Post on Local Blogs
The great thing about a local community is that all businesses are trying to find new and exciting ways to land new customers. While you're trying to rent more properties, the local garage is trying to attract more business from people needing their vehicles repaired.
You can tap into that need by guest posting on the blogs of local businesses and offering the same opportunity in return. That way, both companies get exposure to their desired audiences and can nurture relationships that can prove beneficial in the future.
And there you have it!
We hope this article helped you discover more online apartment marketing ideas to improve your rental rates and grow your business.
If you're looking for some great prizes to incentivize your audience, take a look at these proven contest prize ideas for inspiration.
And if you liked this article, don't forget to follow us on YouTube, Twitter, and Facebook for more great tips to grow your business.