All the text in the RafflePress plugin is translatable and should work with any translation plugin There is a .pot file in the languages folder in the plugin.
If you just want to change or translate the text string on the giveaway the easiest way we have found is to install the
This plugin will allow you to change or translate any text. So say for example we want to change or translate the text "Total Entries"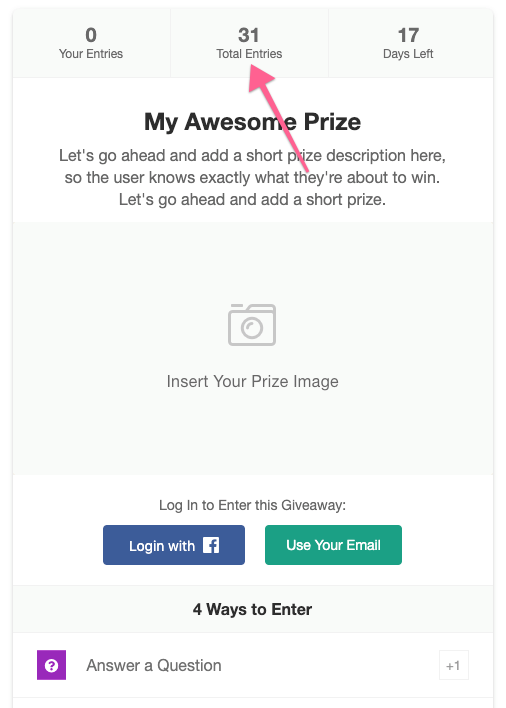 After you install the Gettext override translations simply add the text you want to translate or change then what you want it to be like below.

Now the text will be changed on the giveaway. Make sure to clear any caching if you do not see the changes.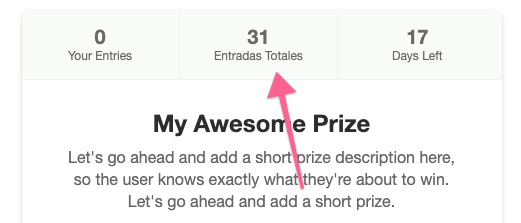 Here's a list of text strings for a Giveaway:
Total Entries
Your Entries
Log In to Enter this Giveaway:
Enter
Logout
Hi
Ways to Enter
Giveaway Rules & Terms
Days
Hours
Remaining
Starts In
Winners
Use Your Email
We need this information to contact you if you win
per referral
per day
come back and earn more in
Left
To start earning entries please log in above.
Share your unique URL:
Yes, Please send me emails.
Join
To get credit for this entry, visit this page.
Visit Page
I Visited!
Get Entry!
Like our Page (optional)
To get credit for this entry, visit our Facebook page. Likes are welcomed, but not required.
To get credit for this entry, Tweet a message.
Step 1
Step 2
Tweet
What's the url of the tweet?
Learn how to find the url of the tweet?
I Tweeted!
To get credit for this entry, follow us on Twitter.
Follow
What's your Twitter username?
To get credit for this entry, visit our Instagram page. Follows are welcomed, but not required.
Visit us on Instagram
To get credit for this entry, follow us on Pinterest.
Follow us on Pinterest
What's your Pinterest username?
To get credit for this entry, visit our YouTube channel.
Visit Channel
To get credit for this entry, answer the question below.
To get credit for this entry, select an answer below.
Submit
Complete
Unlock bonus entries & boost your chances!
Not Using RafflePress Yet?
You have earned
entries through referrals.
Get an extra
entries for anyone that enters via this link.
entry for anyone that enters via this link.
Earn up to
more points by finishing the entries above.
Name
Email
Please Enter Your Name and Email.
Please Enter Your Name.
Please Enter a Valid Email.
Login with