We live in a world dominated by video. Ultimately, video marketing can be the most effective form of content marketing for attracting new leads and boosting conversion rates. But, with so many tools available, it can be hard to determine which one is best.
That's why in this article, we'll share the best video marketing tools to boost your leads and grow your business.
To make it easier to find the information you need, we've broken this list down into handy sections. Click one to jump right to the section you need.
Now let's dive in with the best video creation and editing tools.
Video Creation and Editing Tools
After brainstorming your concept, you'll need a few tools to help bring your ideas to life. Besides a camera, you'll need a way to digitally record, store, and edit your videos for use online.
Here are some of our favorite video creation and editing tools.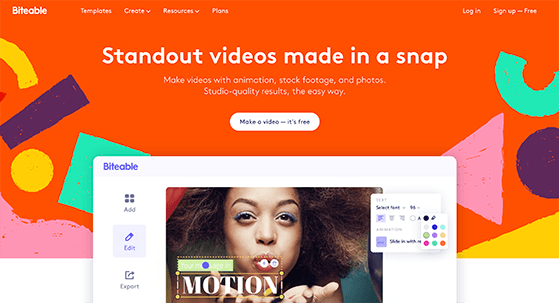 Biteable is an online tool that allows you to create professional videos in minutes. You can create videos from scratch using their stock footage and animations. Or you can use one of their many video templates for instant results.
Biteable is excellent for quickly making:
Video ads
Animated video
Explainer videos
Social media videos
Promotional videos
And more.
Adding text, sound and customizing your video is easy with the visual editor. Plus, there are plenty of tips and tutorials in the resources section to help you learn.
Biteable Pricing
Biteable is free to use for a single user, but any video you make will have the Biteable watermark. To remove watermarks and access advanced features, the plans start from $19 per month.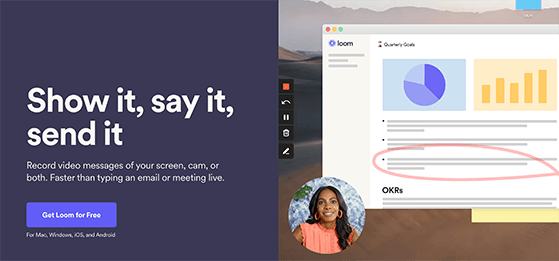 Loom is a video messaging tool designed for the workplace. It lets you record your screen or face and share it instantly with anyone you like.
You can share videos via a handy link or download the original file to your computer. Recipients can then watch your videos anywhere online.
Loom is a great way to create quick marketing videos and explainer videos. It works as a Chrome extension and is one of the easiest ways to record a screen share with or without your face showing.
Loom Pricing
There's a free Loom starter plan for up to 100 videos and 5 minutes recording length. Paid plans start from $8 per month billed annually.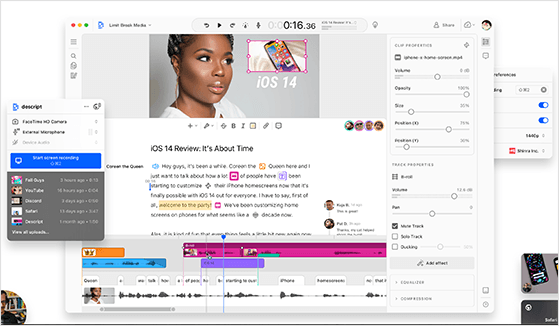 Descript is a complete video editor that makes video editing work like editing a document. It includes video transcription, screen recording, publishing, multi-track editing, and more.
Its powerful A.I. tools allow you to add your own voice to your videos. And just like Google Docs, you can collaborate with team members in real-time on the same video.
Other features include:
Remote recording
Podcasting
Overdub
Filter word removal
Audiogram
Subtitles
And more.
Descript Pricing
You can start using Descript for free with limited editing features. After, plans start from $12 per month.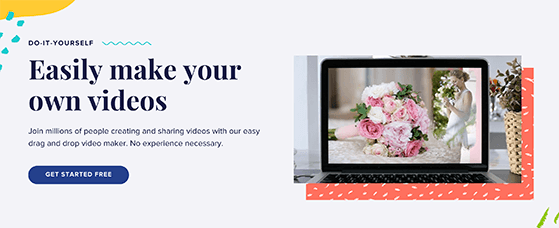 Animoto is a free video creator that makes it easy to make almost any type of video. It comes with a vast library of video templates, easy customization tools, and tons of licensed stock images and audio tracks.
You can use Animoto to create:
You can also log in from anywhere, whether it's your mac or PC, using your preferred web browser.
Animoto Pricing
Animoto is free to use with their business branding. To remove the branding and access advanced features, the pricing starts from $16 per month.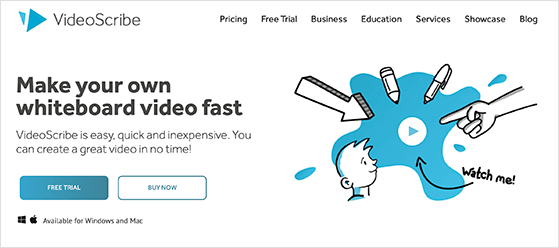 If you want to create compelling and straightforward videos that look like whiteboard animations, VideoScribe is an excellent tool. It lets you make hand-drawn style animations with a running commentary, which is ideal for making explainer videos.
It comes with a drag-and-drop video editor, so no editing skills are required. You can choose from thousands of images, video soundtracks and publish and share your video anywhere online.
Whether you're a marketer, educator, or trainer, VideoScribe is an easy and effective solution for creating animated videos quickly.
VIdeoScribe Pricing
You can access a 7-day free trial of VideoScribe to explore its features. Pricing then starts from $14 per month per user.
Video Hosting Tools
Since video is a lot heavier than text content, it can strain your web servers. As such, choosing a video hosting site or platform should be part of any modern marketing strategy.
You need the ability to upload and share high-quality videos with your audience without server lag or your website going down. With this in mind, here are some of the best video hosting tools to boost your video marketing efforts.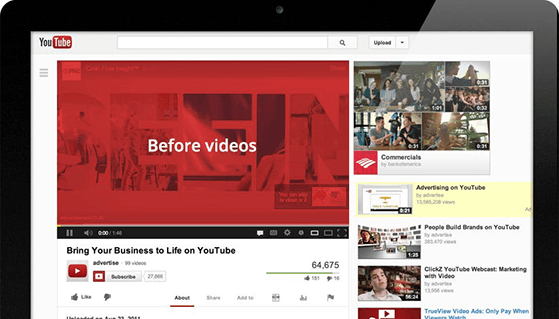 YouTube is the biggest video sharing and hosting platform in the world. With billions of active users logged in to the site each month, no other platform compares.
Since YouTube is the next biggest search engine next to Google, it's a great place to boost your video SEO. There are no limits on bandwidth or data storage, and you can upload a single video of up to 128 gigabytes.
You can also embed YouTube's branded video player almost anywhere online. For example, WordPress users can simply paste their video link into a post or page and embed the player automatically.
YouTube Pricing
You don't have to spend a thing to host your videos on YouTube's video platform. It's completely free!

Unlike YouTube, a social sharing platform, Vimeo is a powerful video hosting and collaboration tool designed for professionals. Since Vimeo is a popular platform for creative professionals, only certain types of video content perform well.
This includes:
Short films
Animations
Music videos
Outdoor sports and nature videos
If your videos don't fall into those categories, you may find it hard to attract an audience on Vimeo.
Vimeo Pricing
You can try any Vimeo plan free for 30 days. After, plans start from $7 per month billed annually.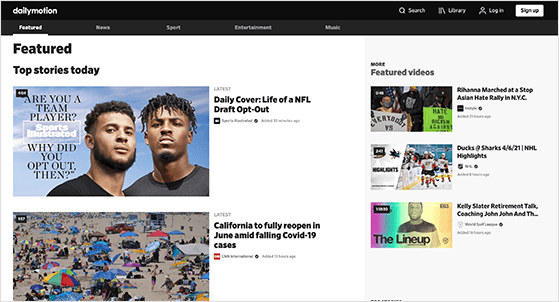 Dailymotion is another video-sharing platform with over 300 million unique users. It offers free unlimited video hosting and the ability to password-protect videos or make them private.
Since Dailymotion is a smaller platform, there is less competition. So if you're building your video audience from scratch, you may find it easier on this platform. That said, the growth potential is much lower than YouTube.
Dailymotion Pricing
It's free to upload and host your videos on Dailymotion.
Facebook is one of the only other platforms that can compete with YouTube for audience size. Yet, Facebook is a social media messaging platform rather than a video hosting site.
Adding videos to the timeline and Facebook Watch made Facebook one of the leading video distributors on the internet. As such, billions of videos are watched on the platform every week.
The max upload size for Facebook videos is around 4GB with up to 2 hours of run-time. And total file storage is unlimited.
Facebook video is best for content creators who want to build their brand from scratch. Or for marketers wanting to build brand awareness.
Facebook Pricing
Uploading and hosting videos on Facebook is free.
WordPress website owners may not know this, but the popular Jetpack plugin offers video hosting with its premium and professional plans. It includes unlimited video hosting with 2TB soft storage limit and max file size of 2GB.
Jetpack's video player is unbranded and embeds seamlessly into any WordPress post or page. It has advanced options like autoplay, mute, and loop. Plus, you can hide all playback controls.
This plugin is an excellent choice for WordPress website owners who already have premium Jetpack subscriptions.
Jetpack Video Pricing
Jetpack's premium plans start from $19.95 per month, billed annually.
You may also find these Jetpack alternatives helpful.
Video SEO Tools
After creating and uploading your videos, you need to make it easy for your target audience to find them. Whether it's helping users find videos on your website, or YouTube, brushing up on your search engine optimization (SEO) skills will help attract organic traffic to your video content.
Here are our top picks for optimizing your videos for SEO.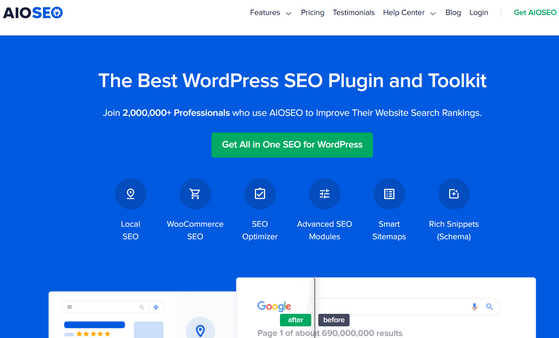 All in One SEO is the best WordPress SEO plugin on the market. It allows you to optimize your WordPress content for search engines, so it's easier to find through Google, Bing, and other search platforms.
You can use it to add important metadata to your content, like:
Title tags
Meta descriptions
Image alt tags
And more
And more importantly, you can create video XML sitemaps for your video content. A video sitemap is a specially formatted file listing all pages on your website that contain videos.
With a video sitemap, you can tell Google the category, title, description, running time, and audience for each video you add to your site. This helps Google know about all your video content, which improves your chances of boosting your rankings in video search results.
In other words, video sitemaps allow search engines to better index and crawl your site for video content. And with All In One SEO, you can generate video sitemaps with a single click.
All In One SEO Pricing
For access to video sitemaps, you'll need at least the Pro version of All In One SEO, which starts from $199.50 per year.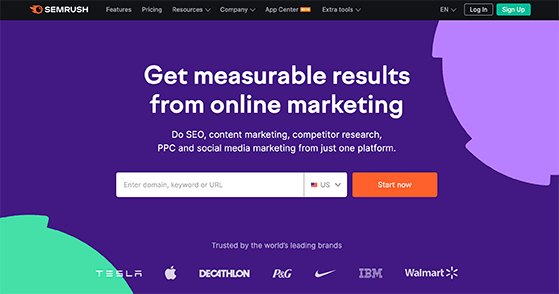 SEMRush is another excellent video marketing tool to improve your video SEO. It's a powerful keyword research and monitoring platform that can help increase traffic to your videos.
You can use SEMRush to find search terms and organic keyword opportunities that your videos can rank for. It also allows you to research your competitors to see their ranking search terms to create effective video content that beats theirs in search.
With the built-in SEO Writing Assistant, you can compare your blog posts and pages to the top 10 sites ranking for your chosen keyword.
You can also use SEMRush's position tracking feature to monitor daily rankings for a set of keywords. It has tons of features like tagging, sorting, filtering, and exporting reports that make it easy for you to find exactly what you're looking for in your website and video SEO.
SEMRush Pricing
The pricing for SEMRush starts from $99.95 per month.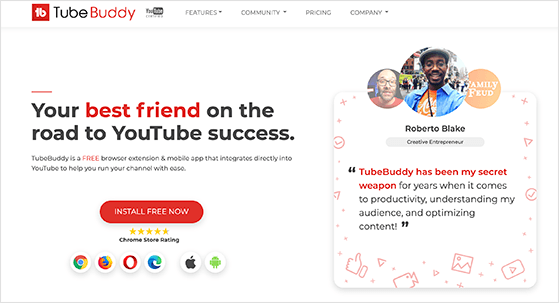 If you primarily host your videos on YouTube, TubeBuddy is an excellent video marketing tool to use. It's a free browser extension and mobile application that integrates with YouTube to help run your channel.
You can use Tub Buddy to find high-performing, searchable video topics for the perfect video titles and tags. It also helps you optimize your videos based on YouTube's best practices.
Other features include:
Video card templates and end screens
Comment filters and formatting
Bulk processing options
Complete video SEO
Promotion tools
Research and monitoring
TubeBuddy Pricing
TubeBuddy is a freemium video marketing tool so that you can get started for free. Pricing plans start from $7.20 per month.
Video Promotion Tools
You can't simply wait for people to watch your videos after you publish. You need to get them in front of your ideal audience.
Besides optimizing them for SEO, you can also promote your video content on your website, social media channels, and elsewhere online. That way, you can grow your online presence faster and start generating leads and conversions.
Here are some of the best video promotion tools for the job.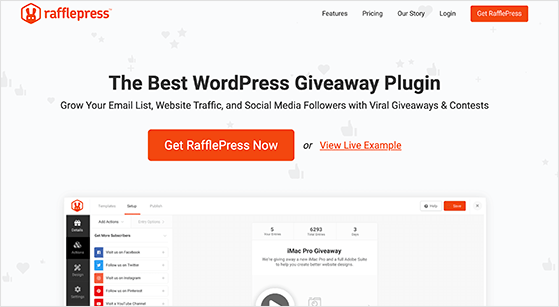 RafflePress is the best WordPress giveaway plugin on the market. It's a powerful WordPress plugin that allows you to create any giveaway contest and host it on your WordPress website.
It comes with various giveaway templates designed to promote your business, drive traffic to your site, and generate leads. And its drag-and-drop giveaway builder makes it super easy to get your giveaways looking the way you want.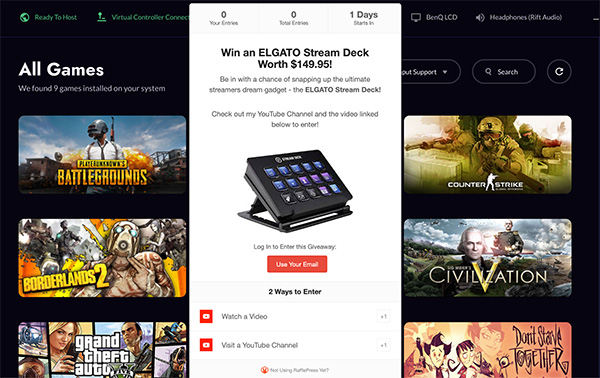 RafflePress has tons of giveaway entry options to excite and entice your audience. For YouTube content specifically, you can use the Grow Your YouTube following giveaway template and ask users to:
Watch a video
Visit your YouTube channel
You can also use RafflePress giveaways to grow your email list, website traffic, followers on other social media platforms, and more.
With built-in giveaway rules, entry management, and a random giveaway picker, running contests to promote your video content is easy and effective.
Why not see how SeedProd 3x their sales with viral RafflePress contests.
RafflePress Pricing
RafflePress offers a free version with everything you need to create a simple contest in WordPress. But for the best features, RafflePress paid plans start from $39.20 per year.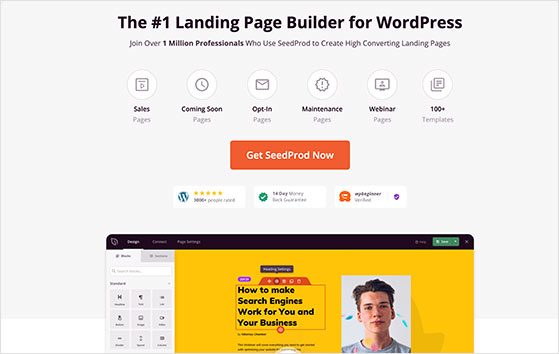 SeedProd is another powerful WordPress plugin you can use as a video marketing tool. It's the best WordPress page builder with coming soon and maintenance mode functionality.
With SeedProd's drag-and-drop landing page builder, you can create stunning video landing pages to promote your video content. You can start from scratch with their blank template or use one of the many specialized landing page templates, which include:
SeedProd's landing page blocks let you add lead-generating content to your page, like optin forms, social sharing buttons, contact forms, and more.
Plus, with email and WooCommerce integration, you can encourage people to purchase after watching your videos, right from your landing page.
SeedProd Pricing
You can get started with SeedProd with the free version available from WordPress.org. But for the best features and 100+ landing page templates, you'll need the paid version of SeedProd, which starts from $39.50 per year.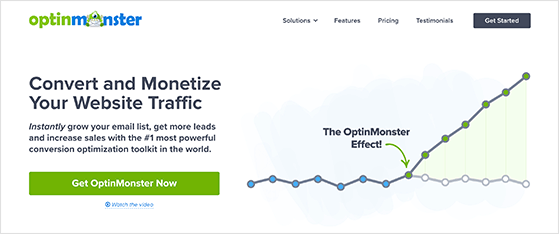 OptinMonster is the most powerful lead generation toolkit on the market. It makes it easy to instantly grow your email list, get more leads, and increase sales right on your business website.
It does this with powerful opt-in campaigns like lightbox popups, slide-ins, floating bars, and more, which capture visitors' attention as they're browsing your website.
OptinMonster helps you create a responsive lightbox video popup that's suitable for viewing even on mobile devices. With an estimated 14 billion mobile devices in use, having mobile-friendly video popups is crucial.
OptinMonster also has advanced targeting features (like page-level targeting and campaign scheduling) that let you decide who'll see your video popup campaign and at what time for maximum impact and engagement.
Once your visitors are engaged through this video marketing tool, they'll be more likely to opt-in to your email marketing campaigns.
Here's a step-by-step guide on how to create a video popup with OptinMonster to promote your videos.
OptinMonster Pricing
The price of OptinMonster starts from just $9 per month.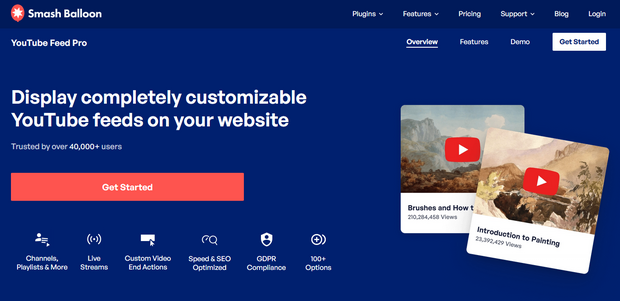 Smash Balloon is a suite of powerful WordPress plugins that allow you to show social media feeds right on your WordPress website. Its YouTube feed plugin, Feeds for YouTube Pro, helps you display your YouTube videos, galleries, and even playlists on your site.
It's so beginner-friendly that you can embed YouTube videos in WordPress in just a few minutes — without coding knowledge! Use it to showcase as many feeds as you like, either on the same page or on different pages.
You can also choose from several feed layouts to display your YouTube content: grid, list, gallery, or carousel view.
Feeds for YouTube Pro is made with users in mind and looks great right out of the box. This means it automatically copies your website theme's design, so it's consistent with your branding.
You can also customize your feed's style with just a few clicks. Just by clicking options, you can design your Subscribe button and make it stand out more. This way, your site visitors can subscribe to your YouTube channel right on your website.
Did you know that Feeds for YouTube Pro also lets you show feeds of your currently playing and upcoming live streams? This means that users can view your live streams directly on your site.
And because live streams encourage user engagement, there's a greater chance that your viewers will interact and subscribe.
Smash Balloon Pricing
The pricing for Smash Balloon's Feeds for YouTube Pro starts from $49 per year.
Checkout how Smash Balloon use RafflePress to increase email subscribers.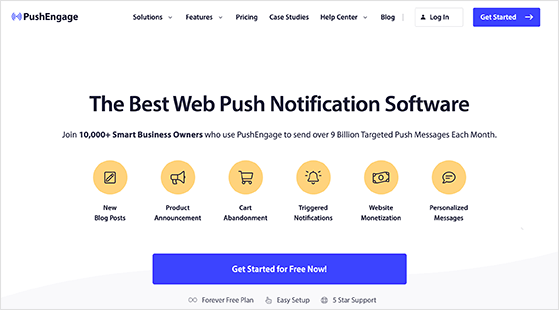 PushEngage is one of the best web push notification software around. You can use it to send targeted push messages to your target audience.
With carefully targeted messages, you can tell people that subscribe to your notifications when new content is live on your site. For instance, right after you add new video content.
PushEngage is easy to set up on almost any platform, including WordPress, Shopify, and more. And with custom opt-in triggers, you can target your audience at the right time to grow your subscribers.
In the end, it's a super-effective way to promote your video content to your website audience.
PushEngage Pricing
You can get started with the free version for up to 2,500 subscribers per month. But for advanced features and support, the paid version of PushEngage starts from $25 per month.
Video Analytics Tools
By now, you know the best video marketing tools for:
Creating and editing videos
Hosting videos
Optimizing your videos for SEO
Promoting your videos online
All that's left is to find a tool that helps you analyze your video marketing results so you can make improvements. For this, we have 2 suggestions that you can view below.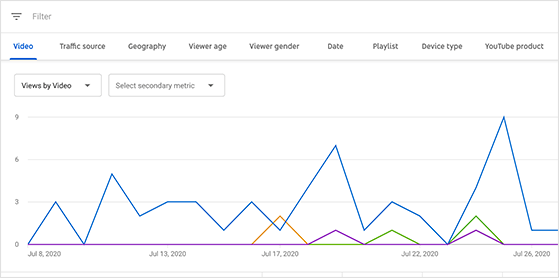 The first video analytics tool is a no-brainer: YouTube Analytics. YouTube's native analytics dashboard allows you to measure the success of your video marketing efforts.
You can use it to track your progress toward achieving specific goals like growing your subscribers or increasing video views and see what does and doesn't work. Plus, you can track just about everything in the YouTube Studio dashboard, from YouTube channel analytics right down to real-time video metrics.
So if your video content is mainly hosted on YouTube, you'll want to use its built-in analytics dashboard to collect the data you need.
YouTube Analytics Pricing
Analytics for YouTube is free for anyone to use.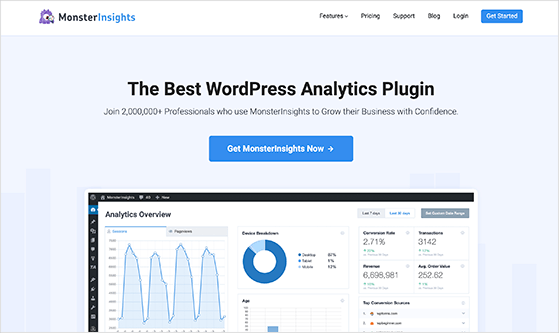 An even more powerful tool to track your video analytics is MonsterInsights. MonsterInsights is the best Google Analytics plugins for WordPress.
It makes it easy to add Google Analytics to your WordPress website and see analytics reports right inside your WordPress dashboard; no coding required.
MonsterInsights intelligent reporting includes:
Universal tracking
Outbound and inbound link tracking
Post type tracking
Focus keyword tracking
Media tracking
And more
MonsterInsights is also compatible with Vimeo Pro's analytics events, so you can measure who watches your videos, for how long, and how often videos are re-watched.
MonsterInsights Pricing
You can get started with MonsterInsights Plus from $99.50 per year.
And that's it!
We hope this article helped you discover the best video marketing tools to boost your leads and grow your business.
You might also like these video contest ideas to skyrocket your subscribers.
If you liked this article, then please subscribe to our YouTube Channel for RafflePress video tutorials. You can also find us on Twitter and Facebook.