Are you looking for excellent Facebook giveaway examples to inspire your next contest? Since Facebook has a massive user base, it makes sense to do a Facebook giveaway to reach your ideal audience and improve your marketing strategy.
But what's the most effective way to run your giveaway on Facebook? This article shares our favorite Facebook contest examples you can use as a framework for your next giveaway.
Before we dive in, let's look at why giveaways work particularly well on Facebook.
With that in mind, there are a few ways to publish your giveaway on Facebook. Let's look at some examples.
Native Facebook Giveaway Example
The most common of all giveaway ideas is to create a post on Facebook, asking people to comment and tag a friend to enter.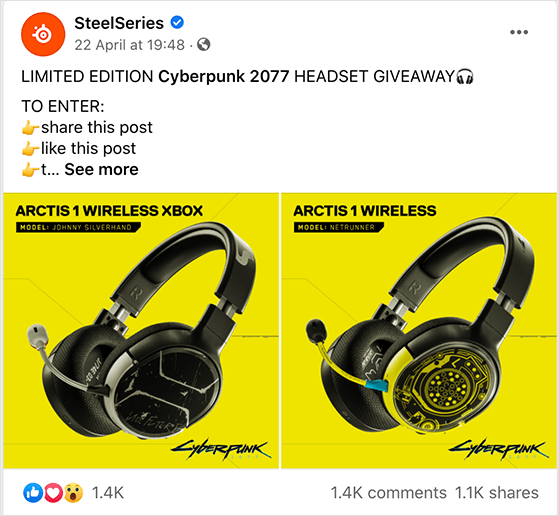 Here are the pros and cons of setting up your giveaway post in this way:
Pros
Quick and easy to set up and post on your page
Generates lots of Facebook engagement
Increases your Facebook impressions
Easy to tag other users
Cons
Tag and comment requirements go against Facebook's policies on promotions
Collects limited user information, making it harder to analyze results
Makes it difficult to add extra actions to incentivize entries
Exists only on the platform you post it on, limiting cross-promotion opportunities
Fewer customization options for consistent brand messaging
Contest Builder Facebook Giveaway Example
Using a contest builder to run your Facebook giveaway offers a lot more flexibility. Plus, it lets you easily cross-promote your contest to other platforms and makes it easier to meet your business goals.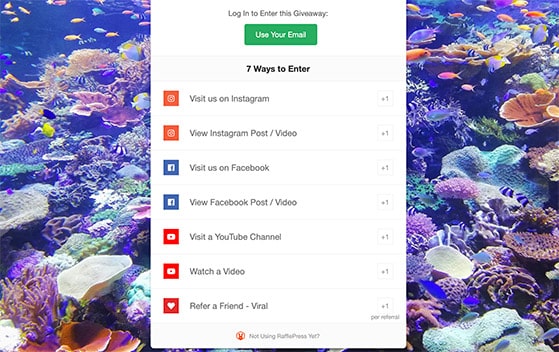 Here are the pros and cons of using a giveaway app or builder to run your Facebook giveaway:
Pros
Collect more user information, such as email addresses, names, and more.
Offer more ways for users to enter and unlock extra entries, like signing up to grow your email list, like your Facebook page, watching a video, etc.
Target multiple platforms at once by adding actions to follow you on other social networks and to share your giveaway there.
Control the overall look and feel of your giveaway through powerful customization and design options.
Host your Facebook giveaway directly on your business website, sending more direct traffic to your site.
Cons
Takes a little longer to set up.
Costs a small amount of money (which you can quickly get back through new sales linked to your contest).
16 Amazing Facebook Giveaway Examples
Now that you know the benefits of running a giveaway on Facebook, here are some Facebook contest examples to inspire your next giveaway.
1. Win It Wednesday Hashtag Giveaway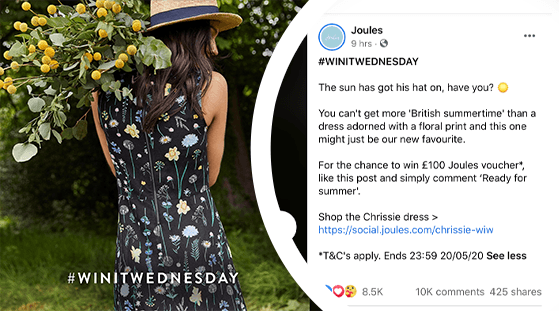 This Facebook giveaway example from clothing retailer Joules generated over 8,500 reactions, 10,000 comments, and hundreds of shares across Facebook.
It's a simple like and comment contest that uses the #winitwednesday hashtag used on other social platforms like Instagram. Facebook photo hashtag contests are a great way to boost the giveaway's reach, and with the link to their website, users can easily browse their products and make a purchase.
If Joules were to use a contest app like RafflePress to build their giveaway, they'd be able to send traffic directly to a distraction-free giveaway landing page to increase entries.
By including actions to like their Facebook page, they could grow their following. After entering, users could be directed to their product pages, keeping potential customers on their site longer.
You can also use this type of campaign to run a Facebook money giveaway.
2. Refer a Friend Facebook Contest Example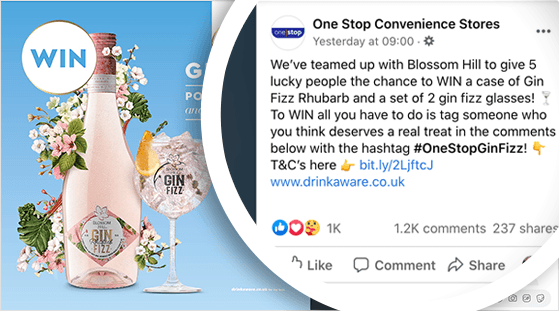 For this giveaway, participants have the chance to win the grand prize of a case of gin and a set of 2 gin classes. And the giveaway image is a great example to take inspiration from because it shows you exactly what you'd win.
The entry requirements are to tag someone in the comments using the branded hashtag.
Because this is a brand awareness contest, there are several other ways they could have used their audience to increase their reach even further.
Using RafflePress to create an online contest, they could use the Viral Refer-a-Friend action to encourage users to share the contest across multiple social networks and email.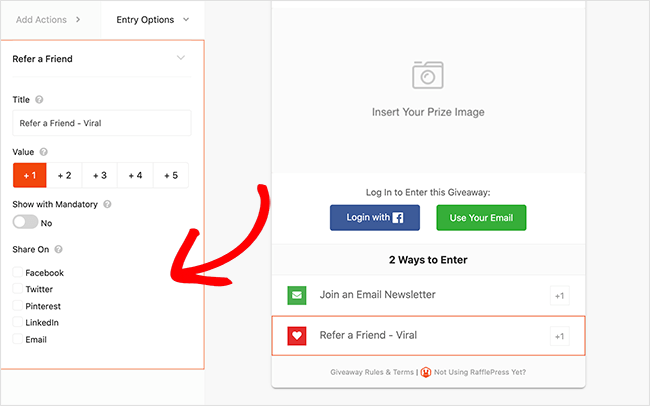 3. Facebook Like, Comment, Share Giveaway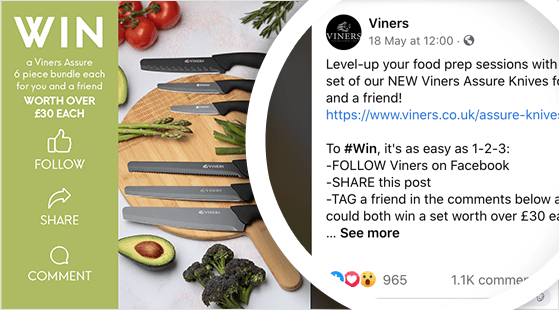 What we love about this Facebook giveaway example is the visual step-by-step Facebook contest graphics. This makes it easier for people to enter and provides an overall positive user experience.
To make the experience much better, Viners could have used the RafflePress giveaway plugin to send visitors to a giveaway landing page. This removes unnecessary distractions, making it more likely they'll enter.
They could then support that with extra entry options such as sharing the contest on other social platforms, liking their Facebook page, or visiting the product page for more targeted traffic.
4. High-Value Giveaway Bundle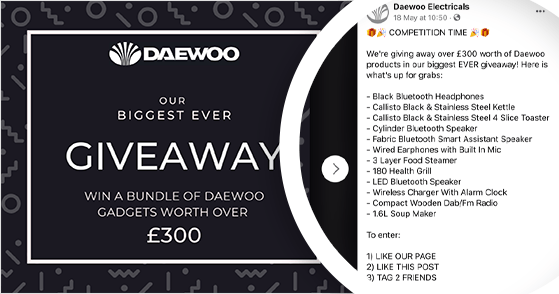 Sometimes bigger is better when it comes to successful giveaways. And this Facebook contest example from Daewoo demonstrates how a high-value giveaway bundle can generate tons of interest and entries. Because it's such a valuable prize, people won't want to miss out on the chance to win.
To increase the chances of attracting more participants, Daewoo could have used a contest builder to host the giveaway on their website while broadcasting the fact on their Facebook page.
After entering, their entry is recorded in the app's database, making it easier to verify entries and pick a winner.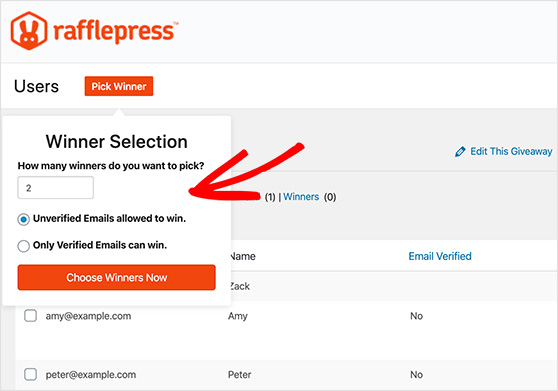 5. Engagement Facebook Giveaway Example
Boosting engagement is a fantastic reason for running a Facebook giveaway, and in this example, Richer Sounds are offering a super-valuable prize to the winner. To enter, users have to leave a comment on the best movie they've watched recently.
But it would take a lot of work to verify that each comment has a relevant answer.
To combat that, Richer Sounds could run their contest with RafflePress and use the Invent Your Own entry option to ask people to leave a comment. Then when they check the RafflePress database, they can verify entries at a glance.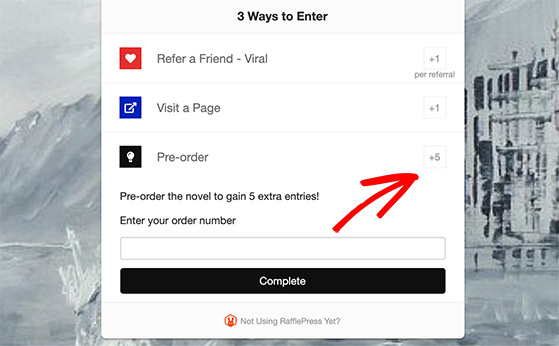 6. UGC Facebook Giveaway Example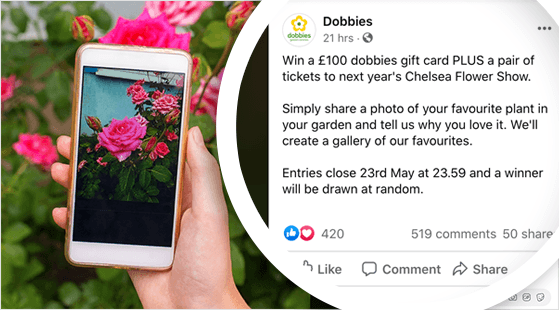 This giveaway example from Dobbies makes use of user-generated content for entries, which they'll use to create a gallery. Users have to share a photo in the comments to enter. It's also a great Facebook hashtag photo contest.
But with over 519 comments, it isn't straightforward sorting through them all. Instead, Dobbies could use the Submit an Image option from RafflePress to collect photo submissions on their website. Then with a few clicks, they can see all submissions right from their website dashboard.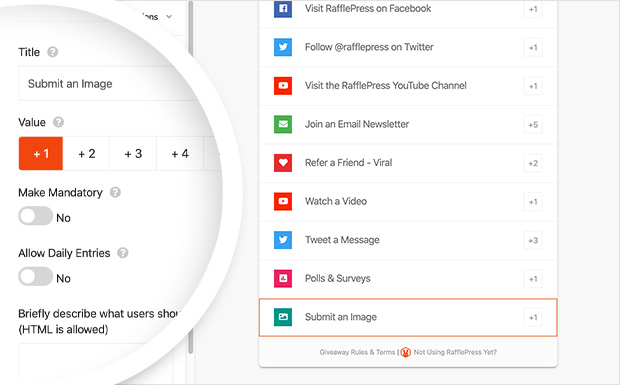 Pro tip: This is a great way to hide other people's entries to avoid copying and to ensure entries are original.
7. Multiple Entries Facebook Contest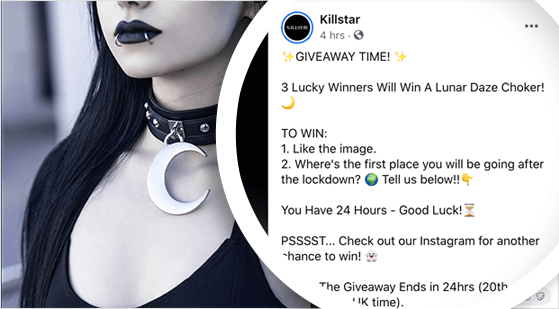 Offering only 1 way to enter your giveaway limits the number of entries you'll receive. Killstar understands this perfectly with their choker giveaway because they encourage users to head to their Instagram profile for more ways to win.
But there's a more natural way they could send participants to Instagram.
Using the RafflePress contest builder, they could include a 1-click action for users to visit Instagram and other social networks to grow their followers. And with the Invent Your Own action, they can ask people to leave a comment to improve engagement.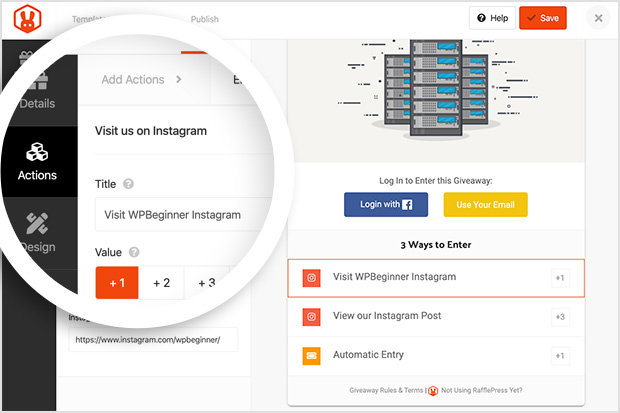 8. Brand Partnership Giveaway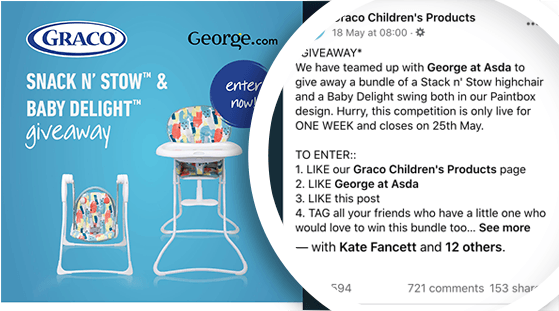 Brand partnership giveaways are an effective way to tap into multiple audiences and raise brand awareness.
In this Facebook giveaway example, users have to like both brand pages to enter and tag friends and like the post.
With RafflePress, it's super-easy to re-create this contest with the Grow Your Facebook Page template, which automatically adds actions to like your page and visit a post.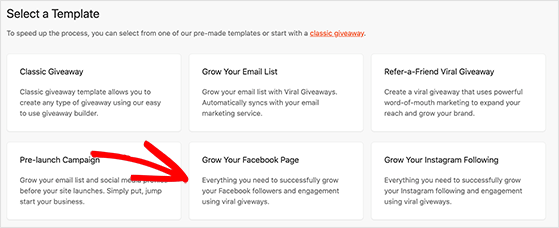 You can also add the option to like another Facebook page if you're promoting more than 1 brand.
9. Facebook Photo Contest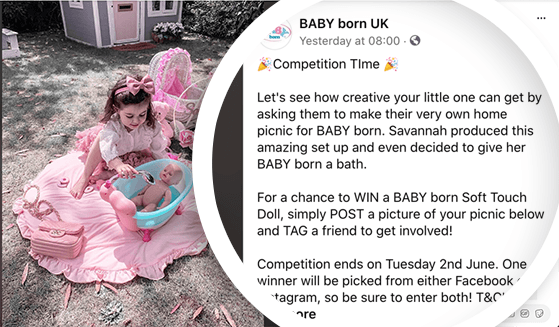 As we mentioned earlier, photo contests are highly engaging ways to promote your business. In this example, users have to post a picture of their picnic and tag a friend to enter.
Using a contest builder like RafflePress is the easiest way to create a contest like this. The Submit a Photo action lets people upload their photos with a few clicks.
And to avoid having to break facebook policies by tagging a friend, you could use the Viral Refer-a-Friend action, which shares the contest with your social audience.
10. Pick Your Own Prize Facebook Giveaway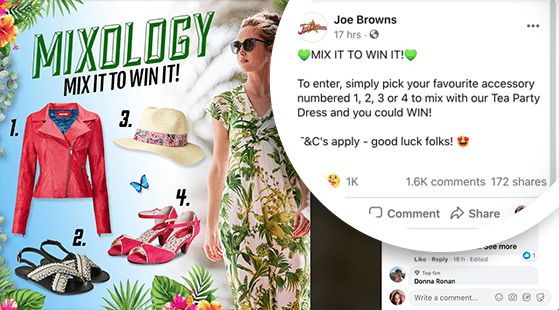 Allowing people to choose their own giveaway prize is a fantastic way to get them involved and interested. Joe Browns did a great job with this image, clearly showing the different prizes up for grabs.
But they could have made it easier for people to enter by using RafflePress's Surveys and Polls action.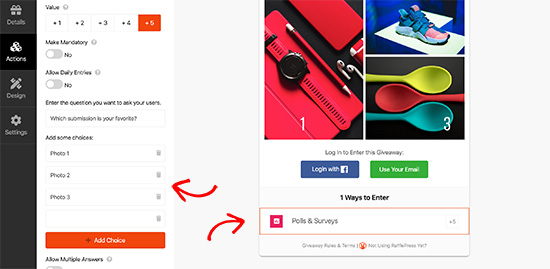 Using the same image, they could have added poll options for each of the 4 prizes. Then all entrants would need to do to participate is click the appropriate number and submit their entry.
11. Share a Story Facebook Contest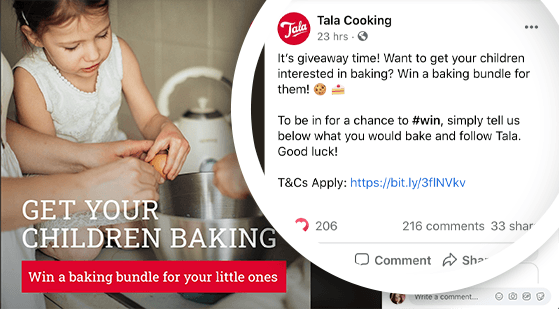 Sparking conversations with your audience is a helpful way for users to discover new ways to use your products. Tala Cooking took this approach with their giveaway of a baking bundle.
To enter, users had to tell them what they'd bake and follow their page.
Because popular giveaways like this can get hard to manage, Tala Cooking could have used RafflePress to include actions to leave a comment and like their page. Then they could manage entries in one place with the RafflePress giveaway dashboard.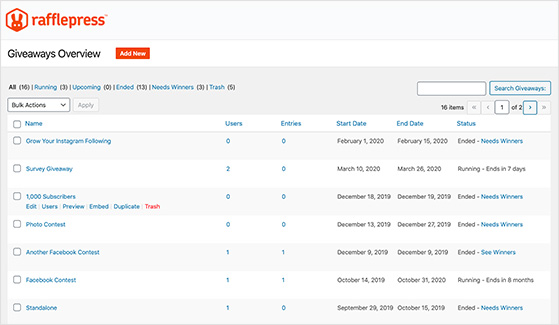 12. Seasonal Giveaway Example With Bonus Entry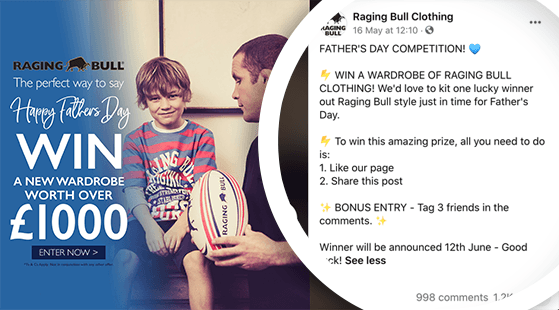 Seasonal events are a marketers' secret weapon because they offer regular opportunities to promote your business. Raging Bull Clothing used that opportunity to run a Father's Day Facebook giveaway. And to enter, users had to like the page and share the post.
As a bonus, entrants could tag 3 friends in the comments.
Since tagging people in comments is a grey area that Facebook is cracking down on, Raging Bull Clothing could have taken a different approach.
Instead, they could use the Grow Your Facebook Page template from RafflePress to build the giveaway quickly. With automatic entry methods designed to boost your page, it could be up and running in minutes.
13. Treat a Friend Facebook Giveaway
Another way to get more people involved in your contest is to offer participants and their friends a prize. Similar to a friend referral giveaway, it encourages widespread social sharing. And when it's a big-ticket prize like a bed and mattress combo, it's sure to attract massive engagement.
In this giveaway example from The Cotswold Company, they could have maximized participation by using a contest app like RafflePress to create their own entry option for receiving comments. With the Viral Refer-a-Friend action, they could share the contest with their chosen friend to encourage them to enter.
14. Like, Tag, and Share Facebook Giveaway Example
For this Facebook giveaway example, users were asked to like the post, tag a friend in the comments, and share the post to enter.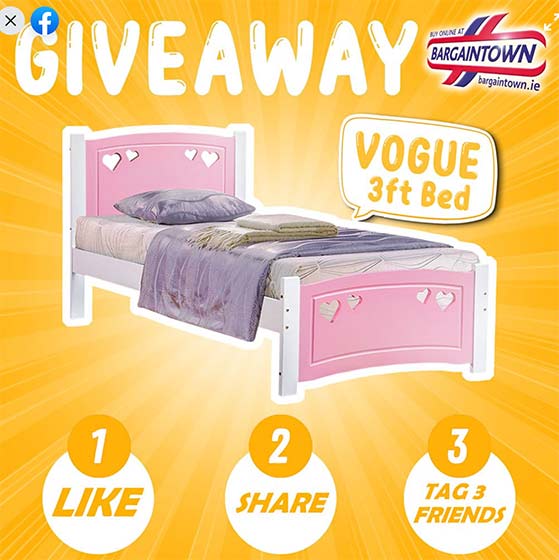 Since we already know that requiring likes and shares is a grey area for Facebook giveaway campaigns, you should probably look for an alternative solution.
You can replicate this type of contest by asking users to visit the post in question. This will mean liking your post is optional. But the chances are that users will like the post out of instinct.
To encourage shares of your contest, you can use the RafflePress viral refer-a-friend action without worrying about breaking any Facebook rules and guidelines.
15. Book Facebook Giveaway Example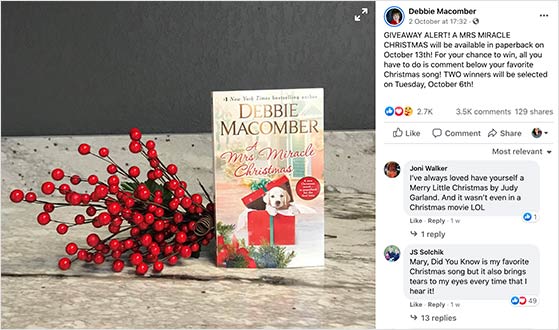 Our final Facebook giveaway example is a simple comment to win contest. To enter, users have to comment with their favorite Christmas song for the chance to win the free book.
Managing tons of comment entries can be time-consuming, so your best bet in replicating this giveaway is to run a book contest with RafflePress.
16. Grow Your Group Giveaway for Facebook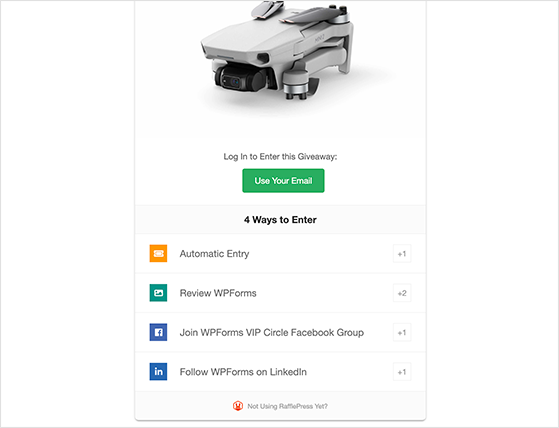 In this example, WPForms, the best WordPress form builder plugin, used RafflePress to grow their Facebook group with a giveaway.
They held the giveaway on their user account dashboard and used the Visit us on Facebook action to encourage users to visit their Facebook group. As a result, many of their existing customers chose to join the group for tips, tutorials, support, and special deals.
You can check out the full WPForms case study here.
Facebook Giveaway FAQ
Final Thoughts
Running a contest doesn't have to be complicated and stressful. We hope these Facebook giveaway examples have given you the confidence to drive targeted traffic to your website and grow your business with successful contests.
And if you want to find out why you should NEVER buy Facebook likes, check this out.
Don't forget to follow us on YouTube, Twitter, and Facebook for more great tips to grow your business if you liked this article.