Are you looking for restaurant contest ideas?
Running a giveaway or contest is an effective way to kickstart your restaurant marketing strategy and raise brand awareness. As a result, you can drive traffic to your website, boost customer engagement, and attract new customers.
This article will share some exciting restaurant contest ideas to help you grow your business.
Why Run a Restaurant Giveaway Contest?
Running an online marketing campaign, like a giveaway or contest, is an excellent way to increase engagement with your target audience, improve your restaurant's brand awareness, and attract potential customers.
You can run your contest via social media channels and send people to a dedicated giveaway landing page on your website. This helps you draw a larger audience while using your contest as a lead-generation method.
Whenever someone enters your giveaway, you can collect their email address. Then you can nurture your relationship with those users and, in time, grow your customer base.
How Do Restaurant Contests Work?
A restaurant contest works by allowing your target audience to enter for the chance to win a prize. The entry requirements often involve completing tasks like entering an email address, following you on social media, or visiting a specific web page.
You can run your restaurant contest in several different ways:
Via Social Media: You can create a post on social media platforms like Pinterest, Instagram, Facebook, and Twitter, and ask entrants to like, comment, or share for the chance to win. While this is an easy solution, it's harder to manage your giveaway and doesn't offer tools to draw a winner or bonus entries.
Via a Giveaway Tool: You can run your contest from your website using third-party tools and plugins (like RafflePress). This makes managing your giveaway easier, providing more ways for people to enter and draw winners randomly.
With a well-planned and successful contest, you can accomplish several marketing goals for your restaurant, including:
Growing your social media followers
Collecting user-generated content
Promoting seasonal restaurant sales and offers
Raising brand awareness
Attracting new customers
And much more.
With the above in mind, let's explore some restaurant contest ideas you can use to grow your business.
Creative Restaurant Contest Ideas
Below, you'll find some of the best contest ideas in the restaurant industry. They'll help you find creative ways to improve your marketing strategy, reach a broader audience, and secure new customers.
1. Favorite Dish Instagram Photo Contest
Instagram is a fantastic platform for food lovers. Just a quick scroll through the newsfeed is likely to unearth endless photos of delicious meals, making it an ideal place to promote your restaurant.
A popular type of Instagram contest is a photo contest. You can ask your fans to create their favorite dish from your menu, photograph it, post the photo on their Instagram profiles, and tag your business for a chance to win a prize.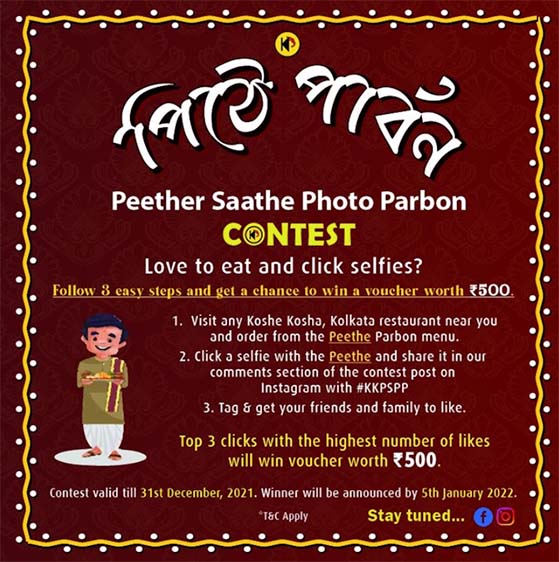 With a social media contest like this, you can collect user-generated content relevant to your brand for use in future marketing messages. Plus, if you include a branded giveaway hashtag, you can attract a larger audience to your giveaway.
If you have a WordPress site, you can also run this type of contest with RafflePress, the best WordPress giveaway plugin.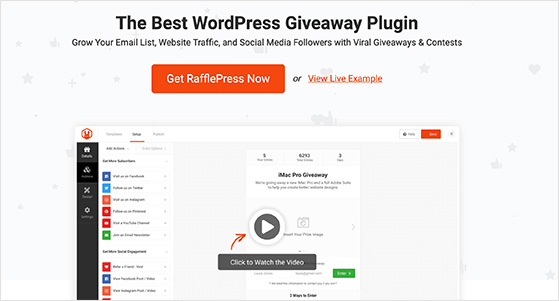 It comes with a powerful drag-and-drop giveaway builder that makes creating any online contest a breeze.
You can get started with a pre-made giveaway template, then customize your contest with giveaway actions to grow your brand's email list, social media followers, and website traffic.
Instead of searching through hundreds of tagged posts on Instagram, you can use RafflePress's Submit an Image feature to accept photo submissions directly to your website.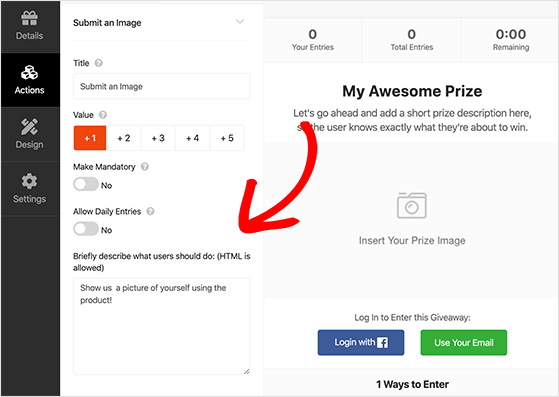 Additionally, it offers 1-click giveaway actions for Instagram, helping you grow your followers and engagement on the platform.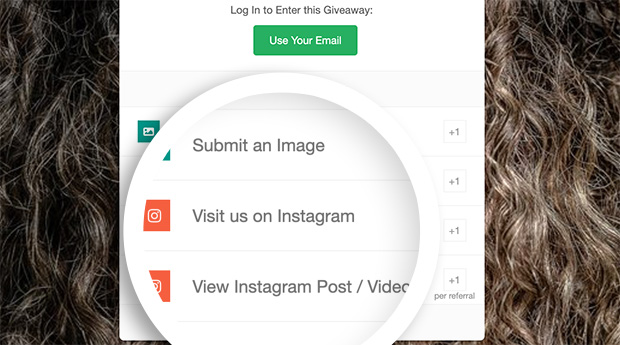 2. Restaurant Memories Facebook Contest
Here's another excellent restaurant contest idea. Instead of focusing on food, you can ask your audience to share their favorite memories of your restaurant on your Facebook page.
You can run it as a photo contest or simply ask users to write out their memory in the comments to enter. This will encourage your audience to think about your brand while promoting their loyalty to potential customers.
In this example from Zhender's of Frankenmuth, users can enter by filling in a web form. It's an effective way to drive traffic to their website while keeping the contest entries organized.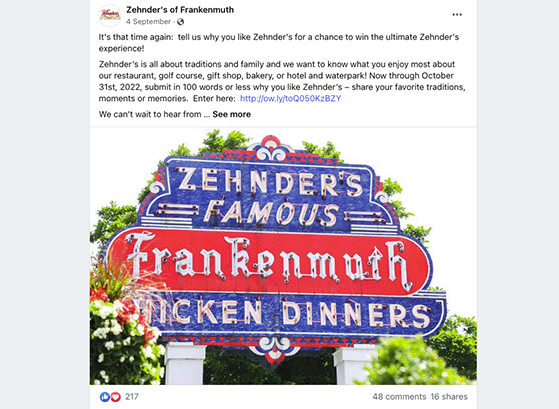 You can use RafflePress's Facebook giveaway actions to run contests like this. For example, you can start with the View a Facebook Post/Video action which lets you embed a Facebook post directly into your giveaway widget.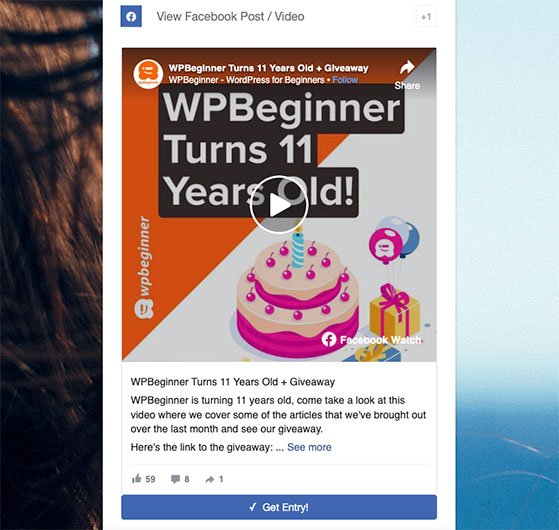 Once users have completed that action, you can use the "Leave a Comment" action.
Inside the action settings, paste the link of the relevant Facebook post and ask participants to comment with their best memories. You can then ask them to paste their comment link to help you verify the entry.
3. Seasonal Restaurant Sweepstakes
The holiday season is an excellent time to ramp up your restaurant marketing efforts. At this time of year, tons of potential customers will want to make bookings for significant events like Thanksgiving and Christmas.
You can leverage the popularity of seasonal holidays by running sweepstakes on your restaurant's website to win a free meal or gift card.
Take this example from Basil Thai Cuisine. They ran a giveaway with RafflePress, offering five lucky winners the chance to win a $20 gift certificate.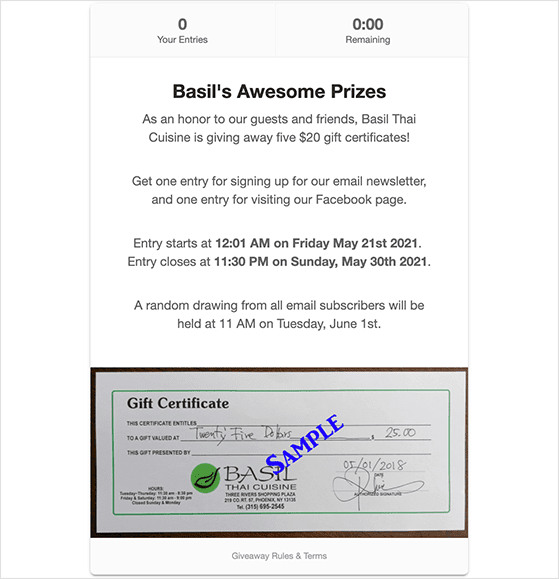 Users could sign up for the restaurant's email newsletter, visit their Facebook page, and refer a friend, with each action awarding them extra giveaway entries.
With a simple online contest like this, Basil Thai Cuisine was able to grow its email list by 52%, improve engagement and increase brand awareness.
4. Recipe Research Essay Contest
You can't go wrong with a recipe contest if you're thinking about shaking up your menu with some new dishes. They're a great way to get existing customers involved with your business while helping you attract new people to your restaurant.
While this example isn't from a restaurant, it shows how you can make a recipe contest work for your business.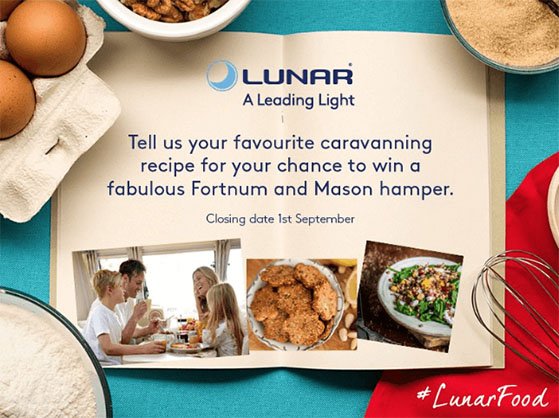 You can run this type of contest easily with RafflePress's Leave a Comment action mentioned earlier.
Alternatively, you can ask your audience to write a blog post with the recipe and post it on their website. They can then paste the link to their post to verify their entry.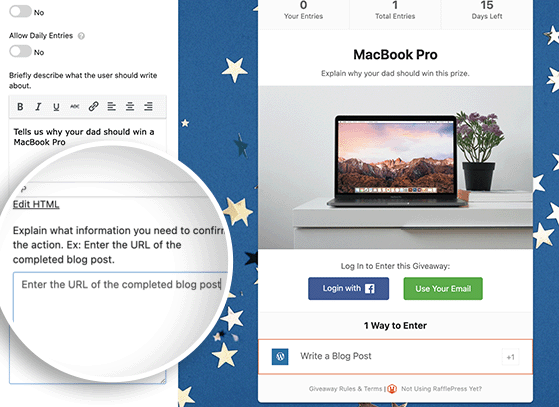 You can also ask participants to share the giveaway post on social media for more chances to win.
5. Caption This Photo Contest
Caption contests are an excellent way to have fun and get your audience's creativity flowing. The idea is simple: post a photo and ask users to comment with their best caption.
A restaurant caption contest could involve kitchen fails, funny events, or your venue's behind-the-scenes photos. You can even get users to turn your photo into a meme for the chance to win a prize.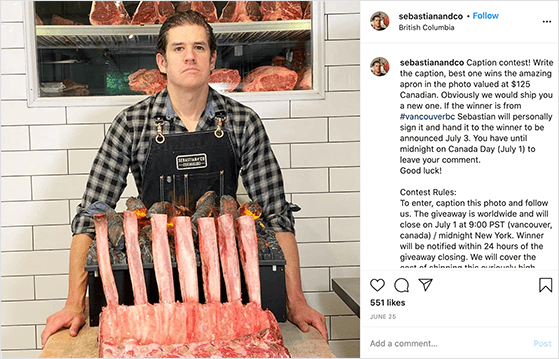 You can run a caption contest in RafflePress by adding your caption image to the Prize Details section of the giveaway builder. From there, you can ask users to answer a question to submit their captions.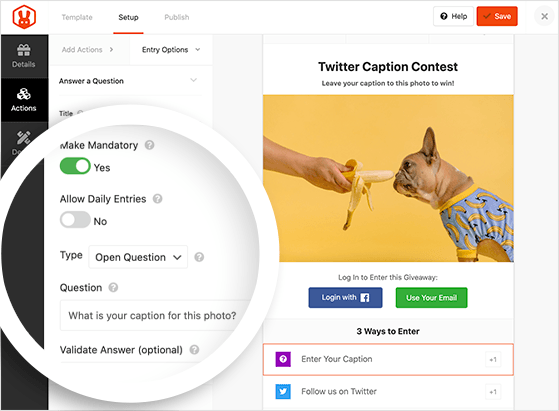 6. Menu Naming Restaurant Contest
Here's a quick and easy restaurant contest idea that requires minimal effort on your part. It's also a fun way to include your audience in your restaurant management.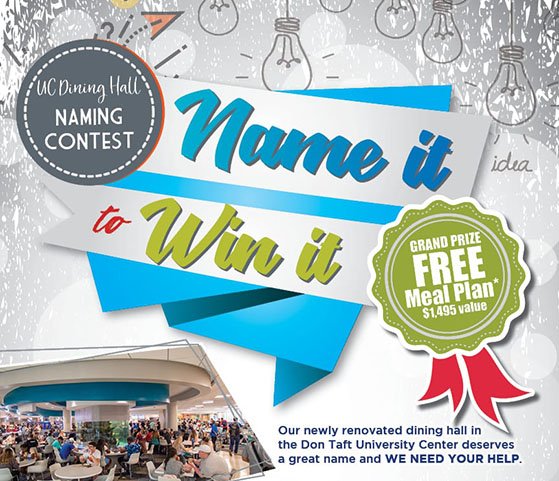 If you're developing a new menu item or a complete menu refresh, get your audience involved by asking them to name it. Besides the satisfaction of using their suggestion on your menu, you can reward the winner with a discount coupon or free meals for a month.
RafflePress's Answer a Question action is perfect for this type of contest. You can even run a follow-up voting contest using the Polls & Surveys action to ask fans to choose their favorite name.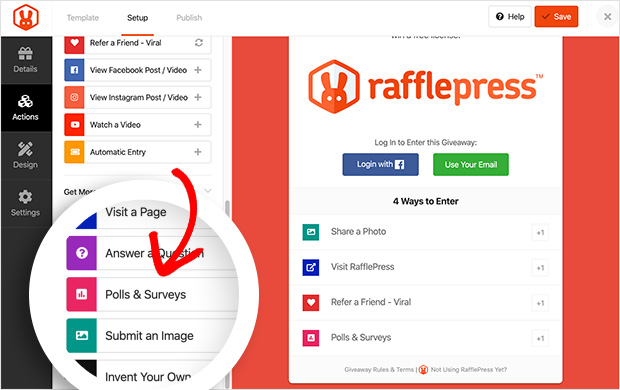 7. TikTok Dish Tutorial Video Contest
With TikTok's popularity on the rise, it's an excellent place to promote your restaurant. From chefs to people who simply love eating, TikTok's vast audience is primed for the next best restaurant suggestion.
Why not run a TikTok contest asking your audience to recreate your most popular appetizer, entree, or main dish?
RafflePress offers dedicated actions that make running a TikTok giveaway super easy. You can use the watch a TikTok video action to show users how to make your dish and ask them to watch it for one entry.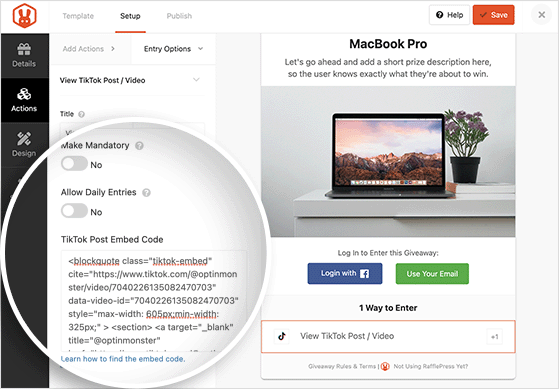 You can then ask people to stitch or duet with your video to demonstrate their recreation. After that, you can use the Follow on TikTok action to grow your followers.
Restaurant Contest Prize Ideas
By now, you have plenty of restaurant contest ideas to help you think of a campaign for your restaurant. Now let's look at the prizes you can offer to incentivize your target audience to enter.
8. Gift Cards
Gift cards are always popular prize ideas for any giveaway or contest. They pretty much guarantee a sale and have the potential to create repeat customers.
Consider adding an expiry date to your restaurant's gift card to encourage winners to redeem their prizes quickly. That way, the prize won't sit gathering dust in the bottom of a drawer or purse.
9. Dinner for a Year
Another popular restaurant prize idea is free dinner for a year. Giving away free yearly dinners is a prize idea that will help you improve conversions on your restaurant's contest page.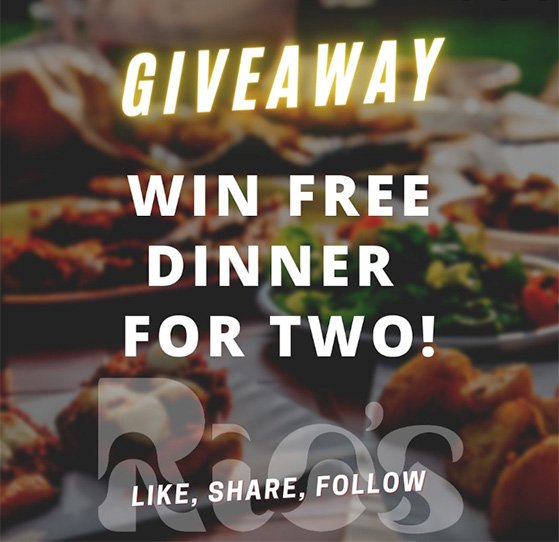 Free dinner for a year is also an excellent way to build loyalty because the winners will regularly get into a routine of returning to your restaurant. They may even bring friends during events like Valentine's Day or sporting events like the Superbowl, which will help drive your sales.
10. Recipe Book Bundle
Although your giveaway's goal should be to get people into your restaurant, a compelling prize idea is a book of recipes from your restaurant's best-selling dishes. Now, we're not saying go and give away your trade secrets, but offering a tailor-made book of some of your favorite restaurant dishes is an exciting prize idea.
Restaurant giveaway ideas like this can help to generate more excitement around your business and get people more interested in trying your food. A promotion with a limited-edition recipe book is also relatively exclusive so the prize will bring in a lot of attention from interested foodies.
11. Cooking Class
This is another fun restaurant contest idea. Offering a giveaway experience like a cooking class exclusive to your restaurant creates an experience people can't get anywhere else.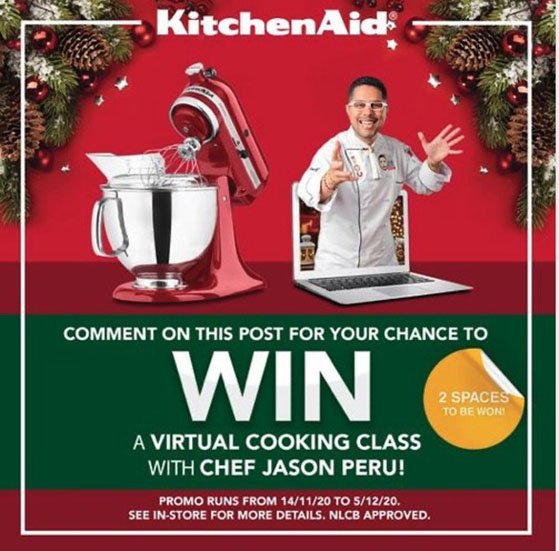 Potential customers interested in your restaurant and the food you serve will likely enter because it's unique. If the experience is good, participants will probably become your restaurant's customers after the promotion.
Here are some more contest prize ideas to inspire your creativity.
There you have it!
We hope this article has helped you find some creative restaurant contest ideas to delight your diners.
Ready to launch a successful restaurant giveaway contest?
Get started with RafflePress today!
Here are some other valuable tips and tutorials you can use to grow your business:
If you liked this article, please subscribe to our YouTube Channel for RafflePress video tutorials. You can also find us on Twitter and Facebook.