Posting Instagram stories is an excellent way to reach your ideal audience and drive engagement. But how do you run Instagram story giveaways? And what tips and ideas can you borrow from to make your giveaway a raging success?
In this article, we explore Instagram story giveaway ideas, tips, and how to create your own. So you can drive engagement, contest entries and ultimately skyrocket your business growth.
What Are Instagram Stories?
An Instagram story is a type of Instagram post that disappears from your profile after 24 hours. Only people who follow your Instagram account can see stories and story posts appear separately from the traditional tiled Instagram gallery.
Many people use Instagram stories to share moments from their day. It's an informal format that doesn't require the same high-quality photo standards as other types of Instagram content. For example, you can share quick behind-the-scenes shots, short videos, gifs, and more.
Why Use Instagram Stories for Giveaways?
Instagram stories generate high engagement because of their informal nature. People watching a story are more likely to like, comment, share, and visit your bio link.
It's also easier to repurpose Instagram stories for other platforms like YouTube shorts, TikTok posts, and Twitter. Plus, an Instagram Story giveaway can help you:
Instagram Story Giveaway Ideas
Chances are you're asking yourself the question, "What are good giveaway ideas?".
For Instagram stories, the best giveaway ideas are those that excite your fans so much that they fear missing out. The fear of missing out (FOMO) incentivizes fans to take action now because they're competing against everyone else for your prize.
With that in mind, let's look at some Instagram story giveaway ideas that leverage FOMO to secure maximum exposure, engagement, and entries.
1. Offer a Once in a Lifetime Experience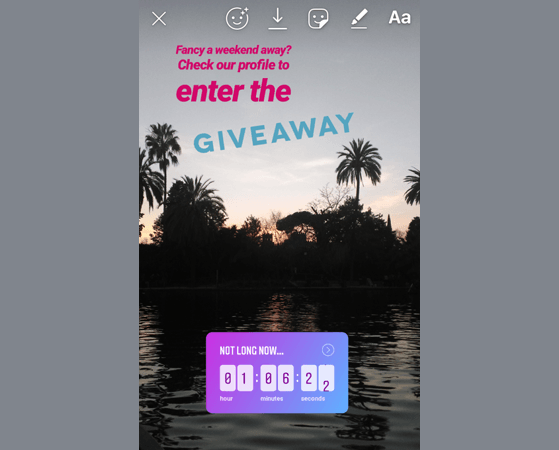 Our top Instagram story giveaway idea is to offer your fans a once-in-a-lifetime experience. These are opportunities that don't come around often, so they're sure to create tons of excitement.
Think about the interests of your target audience, and put together a prize you know they'll love. Here are a few ideas to get you started based on different business types:
Fashion: High-value gift voucher for your store with a personal shopper.
Travel: Dream holiday to a top location with spending money, all expenses paid.
Sports: Spend a day with a top footballer and a tour of the home stadium.
Games: Tour your headquarters with a sneak peek at upcoming games.
Food: Cooking lessons with a Michelin star chef.
Music: A day in a recording studio to record your own single.
Since these are big-ticket prizes, consider partnering with a complementary brand to share the cost of your giveaway. That way, you can also tap into each others' audiences when the time comes to promote your giveaway and reach even more people.
2. Collect User-Generated Content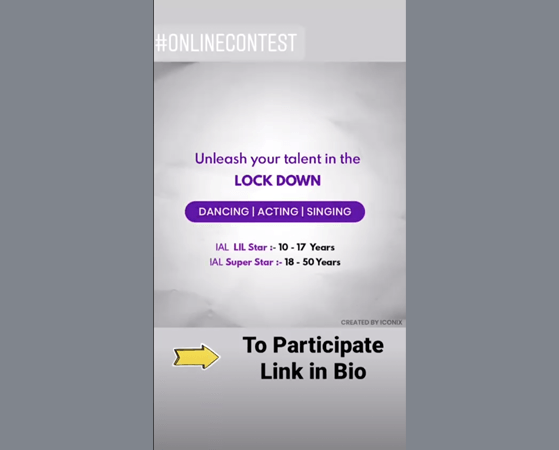 User-generated content (UGC) is where contest participants submit content to enter your giveaway. Then you can pick a giveaway winner based on the quality of entries or through random selection.
Here are some examples of UGC you can ask for in your contest:
A photo of fans using your product
Followers taking part in a video challenge (like the ice-bucket challenge)
Custom designs of a limited edition product
Fan-made trailers for your next commercial
Unboxing videos of your product
Creative product placement photos
The key here is to offer a fantastic prize to make taking the effort needed to enter worth it. Check out some of these contest prize ideas to find the perfect reward.
3. Promote Your Event With Free Tickets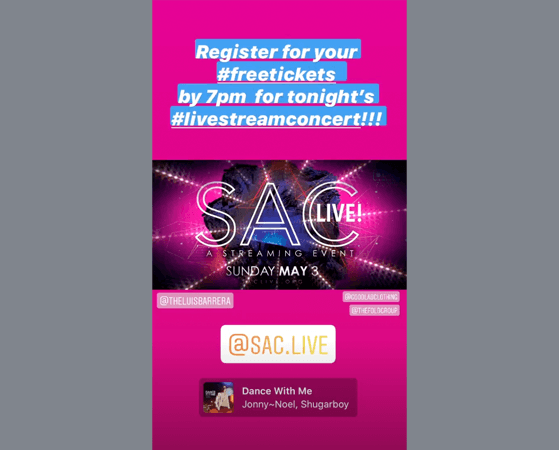 Imagine you've got a critical football match coming up, and you want to ensure as many people fill the stands as possible. A great way to achieve that is to run a giveaway offering free tickets to the lucky winner.
And you don't have to offer 1 set of tickets either. Maximize entries by having multiple sets of tickets up for grabs.
Then, have ways for people to unlock extra entries to increase their chances of winning, such as:
Tagging a friend they'd take to the match with them
Sharing the giveaway on other social media networks
Following your Instagram profile
Commenting on your latest blog post
You can also borrow some of these sports marketing and promotion ideas to boost your efforts.
4. Build Hype With Merchandise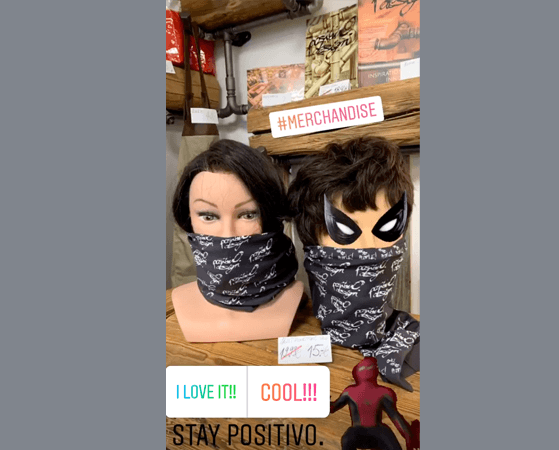 Merchandise is another excellent Instagram story giveaway idea, mainly if they're limited edition items. Going back to our football match example above, you can offer merchandise as another way to encourage fans to attend, as well as provide something for people unable to secure a ticket.
The prize could be your team's jersey customized with the winner's name, signed wall-art, or even personalized water bottles.
To make things more interesting, have different tiers of prizes, with top entries winning the most valuable prize and smaller prize bundles for runners up.
5. Leverage Holiday Excitement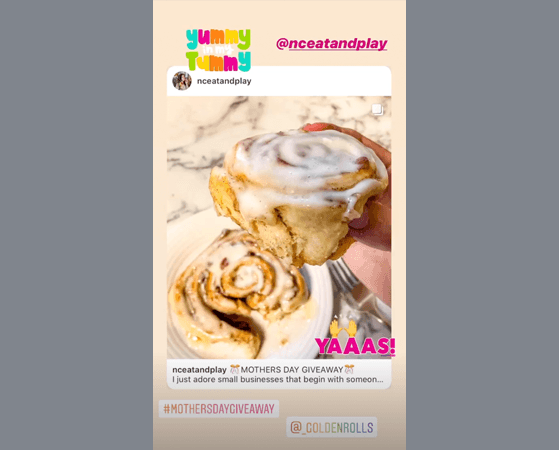 There's nothing better than a seasonal holiday to get people pumped up. Holiday giveaways are popular because they tap into a regular event that people look forward to every year. And this builds excitement, which is ideal for attracting maximum contest entries.
Think about the different holidays through the year you can leverage for giveaways such as:
Valentines Day
4th of July
Summer Break
Thanksgiving
Black Friday
Cyber Monday
To help your holiday marketing efforts, here's a last-minute holiday marketing guide. Or you can jump right in with these summer contest ideas.
6. Reward Loyal Customers
Let's not forget about the people who return to your business over and over. Loyal customers help to grow your business, so rewarding them is a good step in the direction of securing their dedication for years to come.
Why not reward loyal customers with an exclusive Instagram story giveaway.
You can do that by locking your giveaway behind a password-protected page. Then you can search your database for customers who've used your business more than once and send them an email with a unique link or password to access your exclusive giveaway.
Alternatively, you can add a requirement for people to submit the email they used when buying from you, and you can verify their loyalty that way.
7. Promote New Products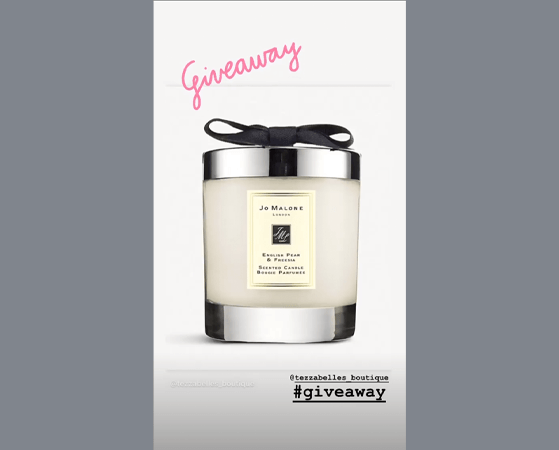 If you're about to launch a new product, running an Instagram story giveaway is an excellent way to build a buzz and get people excited about the launch.
Before launching your giveaway, you can post sneak peek stories revealing tidbits of info about your product to build the tension. Then you can post the giveaway story with your new product as the prize. That way, the winner gets the item before anyone else, making it even more sought after.
8. Create Urgency With Flash Giveaways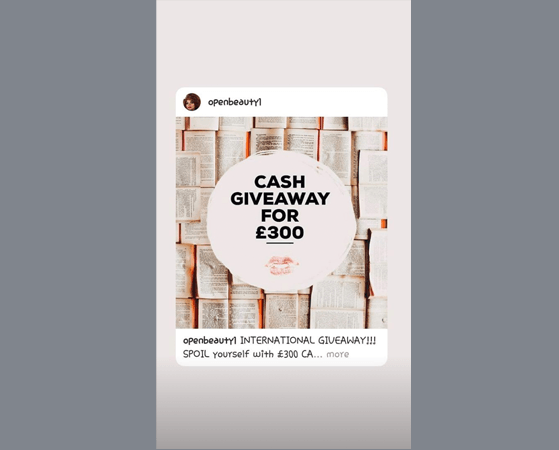 Another way to generate FOMO in giveaway participants is to run a flash giveaway for a cash prize.
The short time span gives people a limited time to enter, and most people love the idea of free money, so it's sure to be a raging success.
Just remember to let people know you're going to launch a giveaway soon to increase the chances of people entering to win.
9. Celebrate Business Milestones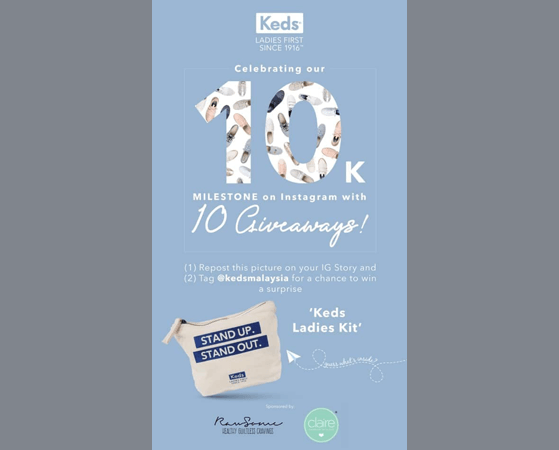 Our last Instagram story giveaway idea is to celebrate a business milestone by running a giveaway. It's an easy way to reward your fans and reach more people in your target audience.
Here are some milestones you could celebrate:
Reaching a large number of Instagram followers
Getting a massive amount of likes on a particular post
Winning an industry award
Your business birthday
Praising an employee of the month
Selling out of a specific product
Instagram Story Giveaway Tips
Now that you have some great Instagram story giveaway ideas, it's time to look at the best ways to ensure you reach a massive audience and achieve the results you desire.
So let's dive into some of our best Instagram story giveaway tips below.
10. Use a Mix of Giveaway and Topical Hashtags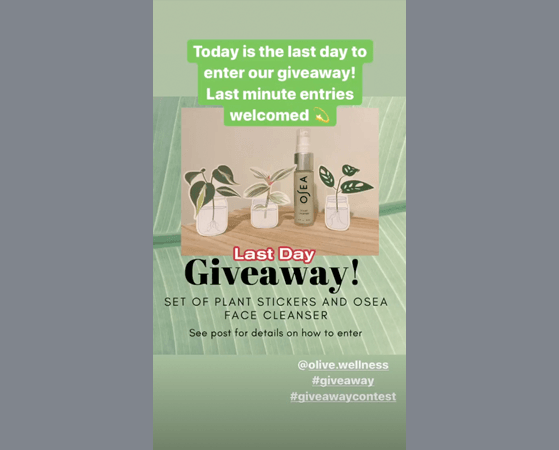 Hashtags are the lifeblood of Instagram. Not only do they logically categorize posts, but they also help to make your posts more discoverable to your target audience.
When putting your giveaway together, make sure you include a good mix of hashtags in your story.
Your Instagram story giveaway should include a combination of the best giveaway hashtags such as:
#giveawaycontest
#giveawaytime
#freegiveaway
#contesttime
And topical hashtags related to your business or products like:
#art
#skin
#fashion
#beauty
#homedecor
11. Add the Giveaway Prize in Your Story Image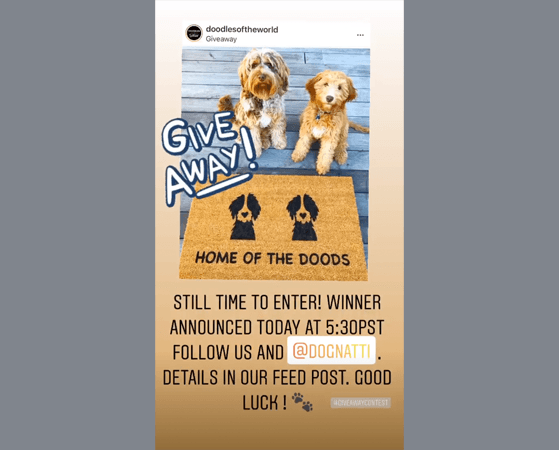 When running your giveaway through your Instagram story, you'll want to make it clear what your contest is about so you can maximize entries.
With that in mind, have your prize center stage in your story with a good-quality image or video, so people are in no doubt what they could win.
Your photo could demonstrate you using the product. For example, if it's an item of clothing, post a lifestyle shot showcasing it in the best light to build desire.
If you're sharing a video, talk through the product benefits and how fans can use it. For makeup prizes, why not share a quick video tutorial.
12. Add "Giveaway" in Bold Text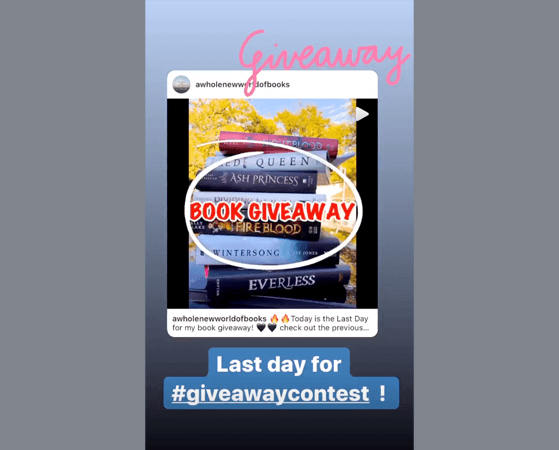 Instagram stories make it super-easy to highlight essential elements with stickers, doodles, and more. So make use of the tools available to you so people viewing your story know that it's a giveaway.
If you search through the stickers for Instagram stories, you'll see there are tons related to giveaways. Some are static images, while others are animated to help draw viewers' attention.
Adding those stickers to your story is as simple as tapping, instantly making your story much more engaging.
13. Post Multiple Stories Explaining How to Enter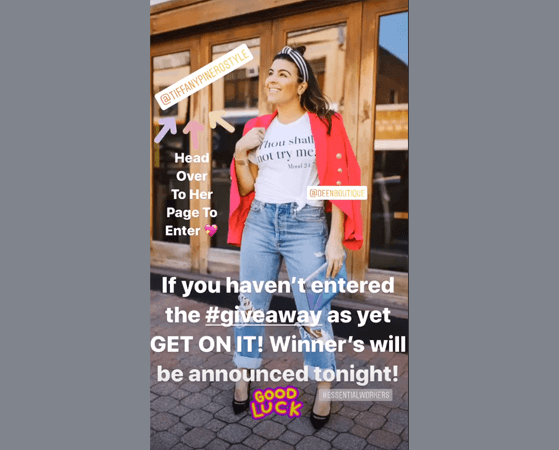 No one likes to discover a giveaway with confusing instructions on how to enter. If people can't quickly enter your giveaway, it'll make them frustrated, and they might even abandon trying altogether.
Your job is to make participating a breeze so it's a fun and enjoyable experience. You can do that by releasing a series of Instagram stories after your initial giveaway post. Each story can have specific instructions for entering.
Then you can highlight the stories on your Instagram profile so they're easy for people to find.
14. Share a Video Clarifying The Details
If words and pictures don't cut it, think about including a short video explaining the steps people should take to enter your giveaway.
This removes any confusion, paving the way for a successful giveaway. If you have the time, you could combine both the previous tip with this one to make sure you cover all possibilities.
15. Post a Story Sending People to Your Bio Link
Instagram stories have a nifty feature that lets you add a link to your posts so you can send people to your website. But the catch is, that you need at least 10,000 followers to unlock it.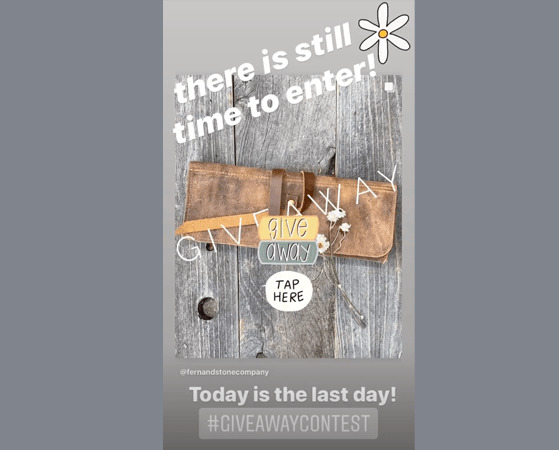 It's a bummer if you haven't met that milestone yet, but there is a way you can get around that little detail, and that's by directing people to click the link in your bio.
So if you're running a giveaway using a giveaway builder like RafflePress, you'll add the giveaway link in your Instagram bio. Then, to let people know where to look, you can post a story explicitly telling users to click the link in your bio to enter.
When you do this, make sure you save all your giveaway story posts as highlights so people can find them after the 24-hour cut-off time when they disappear.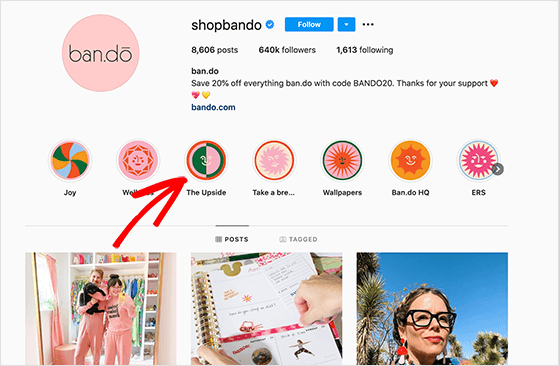 16. Use Ads to Reach More People
Our final giveaway tip is to use paid advertising to reach the maximum amount of people on Instagram.
Paid ads might seem a little scary at first glance, but with the right setup, they have the power to attract tons of people to your giveaway and secure a massive amount of entries.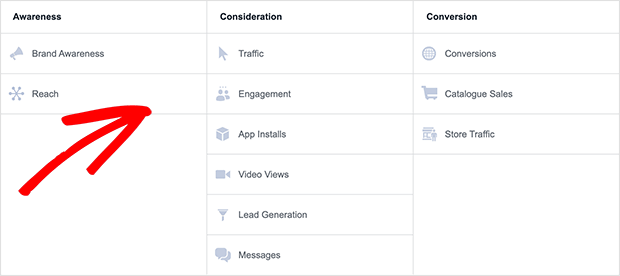 To create an Instagram ad for your stories, follow these steps.
Visit ads manager and use guided creation or quick creation to make your ad.
Choose the Brand Awareness, Reach, Video Views, Conversions, App Installs, Lead Generation, or Traffic objective. To reach a broad audience, use the Reach option.
Select Automatic placements or Edit placements.
Add your image assets and other details to build your ad.
Click Confirm when you're happy with your advertisement.
Now you have all the tips and ideas you need to run your Instagram story giveaway, let's look at how to create one.
How Do You Do a Giveaway On Instagram Stories?
To do a giveaway on Instagram stories, it's a good idea to use a contest builder like RafflePress. RafflePress helps you build stunning contests and giveaways on your WordPress website so that you can then promote your giveaway through Instagram stories to grow your followers and email list, drive more website traffic, and much more.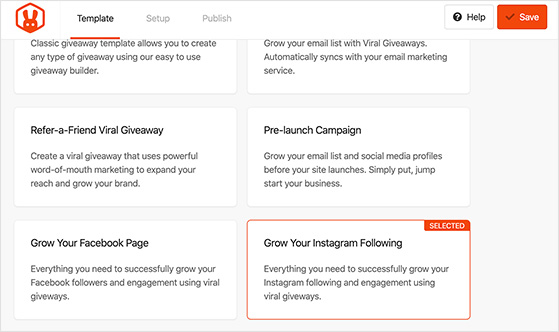 It even has ready-made giveaway templates to run Instagram giveaways. And those templates have a range of pre-built entry methods to help grow your Instagram profile with a few clicks. Then you can publish your giveaway on stunning distraction-free giveaway landing pages designed to maximize participation.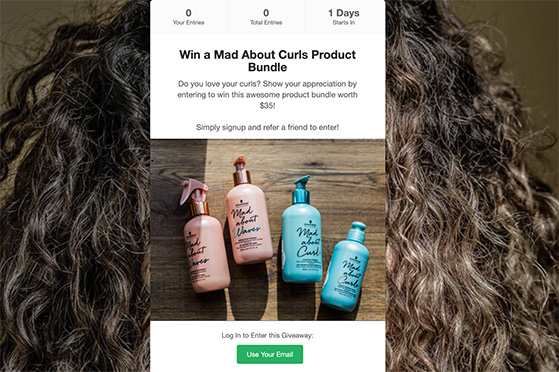 You can get your copy of RafflePress here, then move on to building your giveaway.
Building Your Instagram Story Giveaway
To build your giveaway, follow the steps outlined in this tutorial for running a successful Instagram giveaway. It tells you everything you need to know, such as:
How to choose your giveaway goals
Setting the entry criteria
Choosing a prize
Picking the right hashtags
Defining the giveaway rules
Launching your giveaway
Adding Your Giveaway to Instagram Stories
To add your giveaway to an Instagram story, first plan your series of story posts, taking in to account the tips we mentioned earlier.
Your plan might look similar to this example:
1st post: Teaser saying something exciting is coming soon to build interest.
2nd post: Giveaway post with prize image, bold headline, hashtags, and a note asking people to keep an eye out for instructions.
3rd post: Instructions for how to enter with a note directing users to the link in your bio.
4th post: Reminder post with a call to action to click the link in your bio to enter.
5th post: Reminder that the giveaway is ending soon, so enter before the time runs out.
6th post: Winner announcement.
When you've planned your posts, design each one to stand out and make an impact. Graphic design tools like Canva, have tons of Instagram story templates to get your designs looking just right.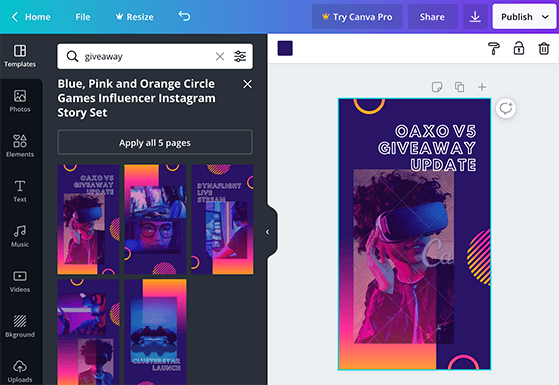 Then share your stories to Instagram, spacing each post apart appropriately. We'd recommend sharing any teaser posts 1-2 days before launching your giveaway. Then share your giveaway and instruction posts all on the same day.
Space reminder posts out with a day in between for the duration of your giveaway to keep up the momentum.
After Your Instagram Story Giveaway
When your Instagram story giveaway is over, there are a few more tasks to carry out before you can sit back and take stock.
The first is to pick a winner for your giveaway, which you can learn how to do here.
And the final task is to analyze the results of your giveaway. This helps you learn which promotion strategies worked the best and what improvements you can make for future giveaways.
The easiest way to get data-driven insights to optimize your next giveaway is with MonsterInsights, the best Google Analytics plugin for WordPress.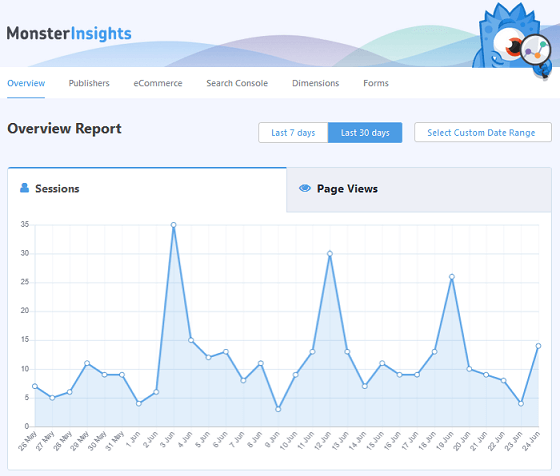 With MonsterInsights, you can track your giveaway landing page visits, referral traffic, website activity, eCommerce promotions, and more. Then with dashboard reports, you can see all the data you need within your WordPress dashboard without having to leave your website.
And there you have it!
We hope this article helped you discover some great Instagram story Giveaway ideas to make your next giveaway a massive success.
And if you're using the power of viral giveaways to promote your next event, these event promotion ideas are sure to help out.
If you liked this article, don't forget to follow us on YouTube, Twitter, and Facebook for more great tips to grow your business.