15 Amazing Instagram Giveaway Examples to Try Now
Running a giveaway on Instagram is a great way to boost your audience and increase brand awareness. But how do you know what does and doesn't work? Researching Instagram giveaway examples can provide great insight into what works for other brands.
So in this article, we'll share the best Instagram contest examples so you can try them out for your own business and reach the same level of success.
But first, let's take a look at how running giveaways on Instagram works.
How Do Instagram Giveaways Work?
You can make an Instagram contest work in any number of ways. And there's no right or wrong way to do it. How your contest will look largely depends on what you want to achieve for your business.
Here are a few reasons why you might want to do an Instagram giveaway:
Get more Instagram likes and Improve engagement
Promote a specific product or service
Reward loyal fans and brand evangelists
Furthermore, your contest's goal will define the actions you'll need fans to take to enter. So think about what you can ask participants to do that will result in meeting your goals.
For instance, you could ask people to refer friends or visit your Instagram profile to increase your followers.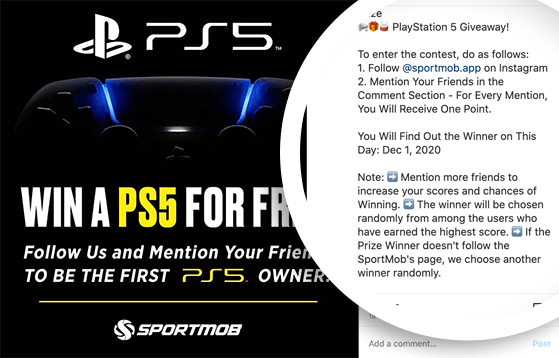 Or, to improve website traffic, you can ask them to leave a comment on a blog post or visit a product page in return for more entries.
However, when creating any giveaway, you should take your fans' likes and dislikes into account. There's little point in giving away something your fans aren't interested in.
So keep your contest prize ideas and methods of entering as relevant to your audience as possible.
Now let's explore how to do a successful giveaway on Instagram.
How Do I Do A Giveaway on Instagram?
There are many ways to run competitions on Instagram and plenty of tools to make the whole process easier. A giveaway tool takes the pain out of organizing your contest's details and offers a way to keep everything all in one place.
If you're interested, we've compared a number of the best contest tools in our comparison article: Rafflecopter vs. Gleam vs. RafflePress.
And from comparing all the pros and cons, we settled on RafflePress as the best tool for creating an online contest.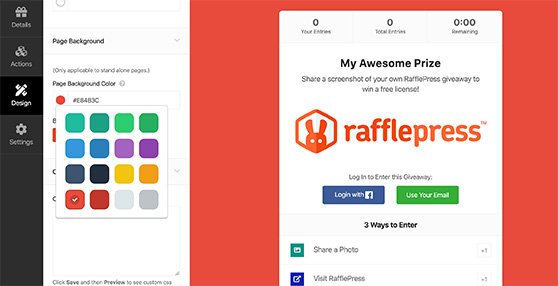 RafflePress is the best WordPress giveaway plugin around right now. And with its modern interface, drag and drop giveaway builder, and viral giveaway templates (Including an Instagram contest template), you can create any contest.
Even better built-in social actions help you grow your email list, website traffic, and social media followers with viral contests.
We've also put together a step-by-step guide for running an Instagram giveaway with RafflePress here.
How to Track Instagram Giveaways
You might also be wondering how to track your contests on Instagram. And RafflePress has this covered too. Because your promotions are in one central dashboard, it's easy to manage multiple giveaways all at once.

From there, you can quickly check the number of entries, end-dates and draw winners for your contests.
But if you want to go a step further, you can use a WordPress analytics tool like MonsterInsights to track visits to giveaway landing pages, referral traffic, and website activity.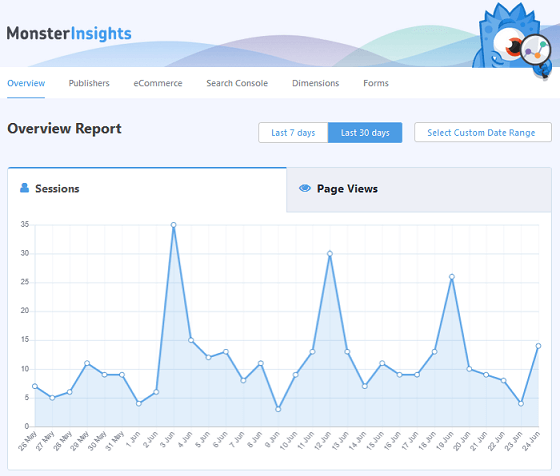 And with MonsterInsights dashboard reporting, you can see the results right from within WordPress. Then you can see which strategies have the best results for your promotions, which you can use in future giveaways.
Check out this MonsterInsights review to learn how it works.
Now we've covered the basics, how about we look at some of the best Instagram contest examples for you to try.
13 Instagram Giveaway Examples to Try
Below you'll find some excellent examples of Instagram Giveaways and ideas to use for your account.
1. News-jacking Instagram Contest Example
Our first offering is a classic example of what we call news-jacking. Newsjacking is when a brand or business uses trending news topics to boost engagement and attract potential customers.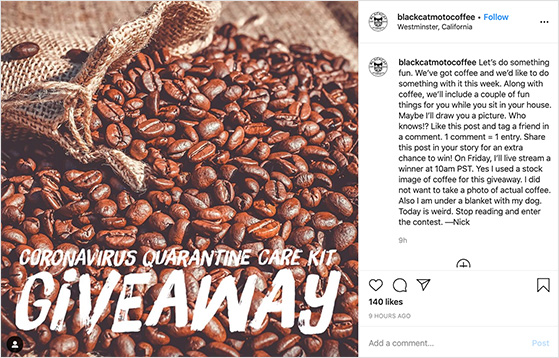 In this example, a famous coffee brand uses the news of a virus spread as an excuse to promote their brand with a giveaway. And their main goal is to grow their audience.
To be in with a chance to win the contest and get extra entries, fans should take the following actions:
Like the post
Tag a friend in the comments
Leave a comment
Share the post in their Instagram story (optional)
If you were to run this type of Instagram contest using RafflePress, you could use the Instagram giveaway template. It comes with actions to visit your Instagram account and to view an Instagram post or video.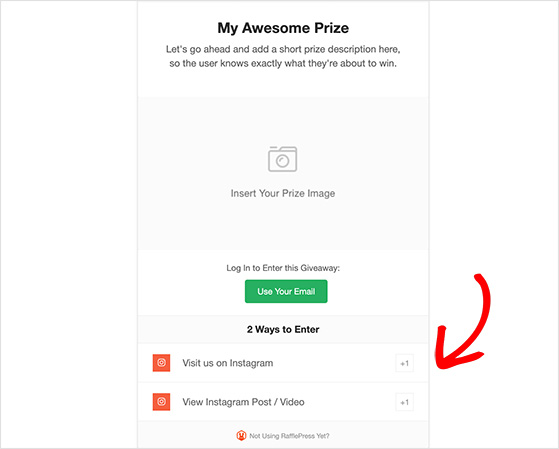 2. Pick A Favorite Product Instagram Giveaway
Next up, we have a giveaway post that promotes a product range. The post includes a slideshow of 4 different versions of the product and gives people the chance to win 1 out of the 4 by picking their favorite.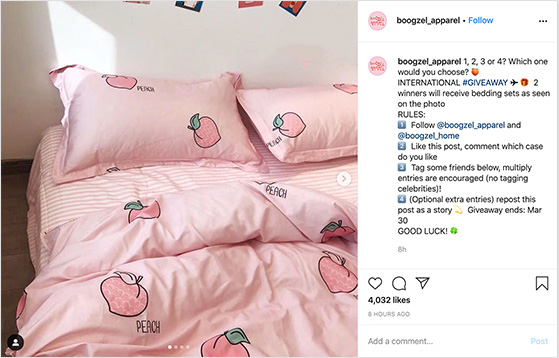 The fans have to take the following actions:
Follow 2 brand Instagram accounts
Like the post
Comment with their favorite version of the product
Tag some friends
Repost the contest as a story (optional)
You can create these types of Instagram contests in RafflePress by choosing the Instagram template as suggested above and including the Surveys and Polls entry action.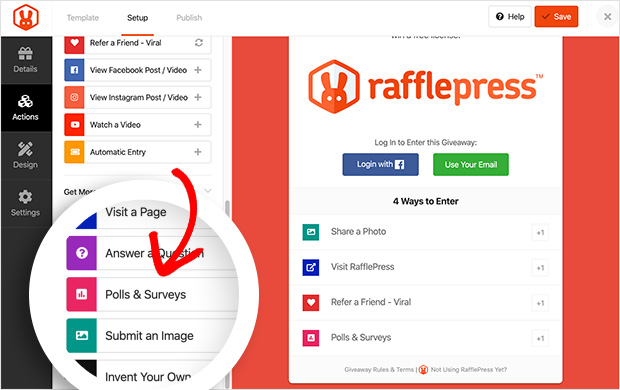 This action lets you set up a quick poll where people can easily vote on their favorite. Just make sure you include an image with all prize options labeled clearly.
3. Seasonal Instagram Giveaway Example
This cute Instagram contest example uses the start of a new season to promote their account and products. They're giving fans a chance to win a seasonal edition of their product in return for engagement on their giveaway post.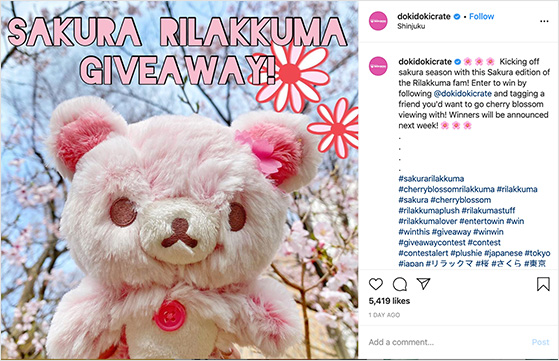 Fans need to simply tag a friend to enter.
Smart brands can capitalize on this idea by turning it into a social media photo contest with viral refer-a-friend entries. All you'd need is to ask people to post a picture with your product in different seasons and refer friends for extra entries.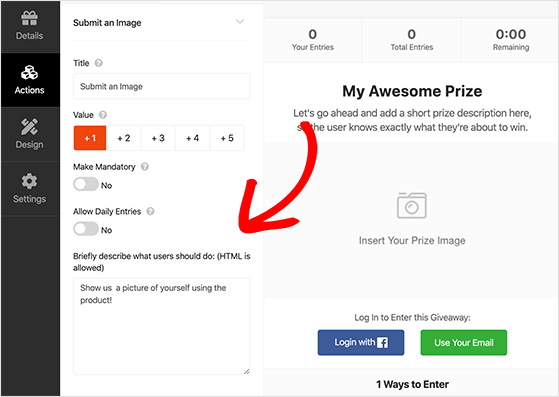 4. Instagram Contest With Multiple Winners
There's no rule saying you can't have more than 1 winner of your giveaway. In fact, including multiple winners can help you promote different products.
In this bright example, a tattooist gives followers 3 chances to win, with the first prize being a free tattoo.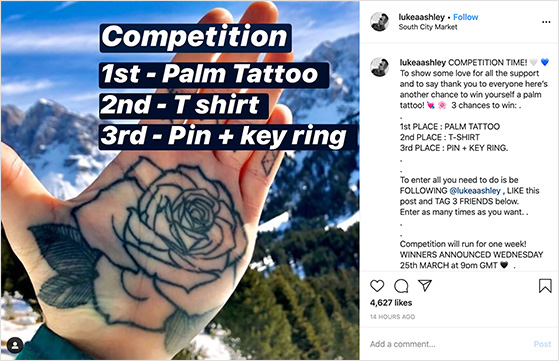 To enter, fans need to:
Follow the brand account
Like the giveaway post
Tag 3 friends
Because this contest is all about building a following, the Instagram contest template from RafflePress would be ideal.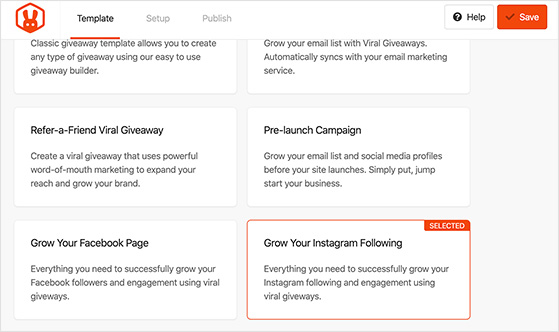 You could even go a step further by creating a branded hashtag to keep track of and promote your contest.
5. Trending Product Instagram Contest Example
Next is an excellent example of a business using the popularity of a product to grow its account. The product is high value and popular due to the impending launch of the game included.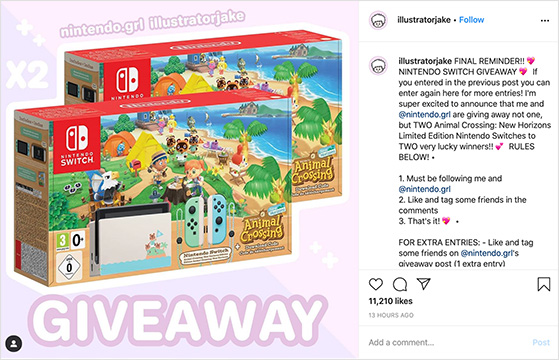 Big-ticket items such as this are highly desirable, so that they will drive tons of entries. What's more, it induces the fear of missing out on those people who are desperate to get their hands on it.
Because this is a simple like, tag and comment contest, it's easy to recreate in RafflePress with the social and refer-a-friend actions.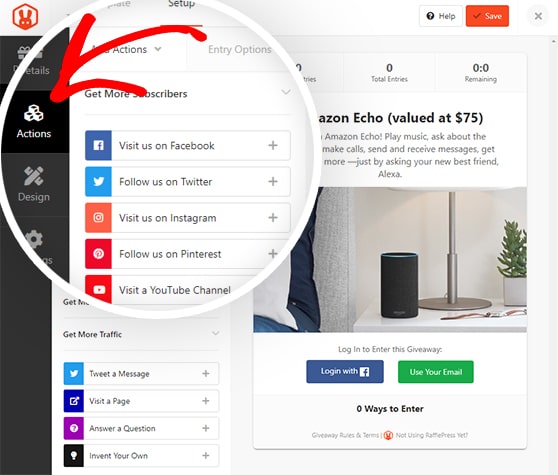 This action saves your contest post from being clogged with comment spam and helps you keep everything organized.
6. Holiday Giveaway on Instagram
Smart marketers know the best time to run a promotion is when there's a public holiday or event. The holiday in question will be at the top of peoples' minds, making relevant content more noticeable.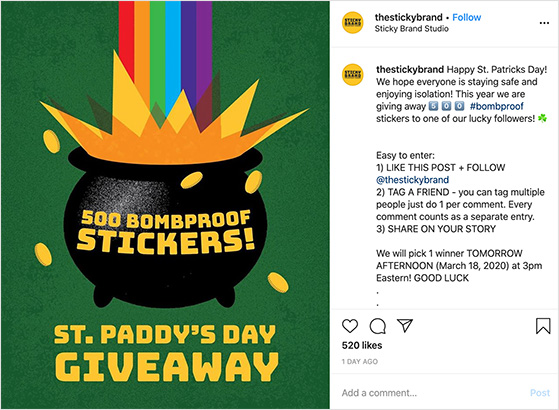 In this case, the holiday is St. Patrick's Day, and the brand uses it to promote its sticker business by giving away a ton of stickers.
Even though it's a simple prize, it's an effective way to reward loyal followers and grow your following simultaneously.
7. Product Feature Instagram Giveaway Post Idea
Next up is a contest from a larger brand that features their products as part of a prizes bundle. It's a great example of 2 related brands working together to promote their businesses. And it works because it taps into the audience of both brands for a greater reach.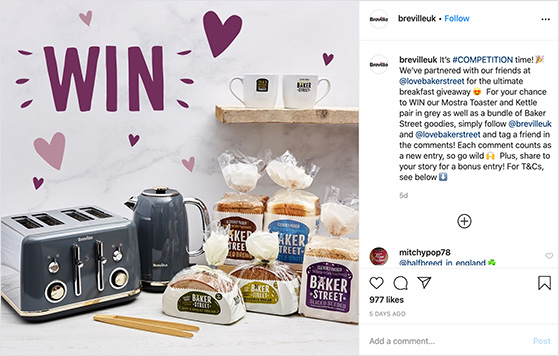 For a chance to win this bundle of breakfast goodies, fans need to follow the 2 brands featured and tag a friend in the comments.
8. High-Value Beauty Instagram Contest Example
In this example, the beauty brand Benefit Cosmetics team up with a relevant brand to raise awareness for their products. Again, they're using their combined audiences to run their contest and promote it to a broader audience.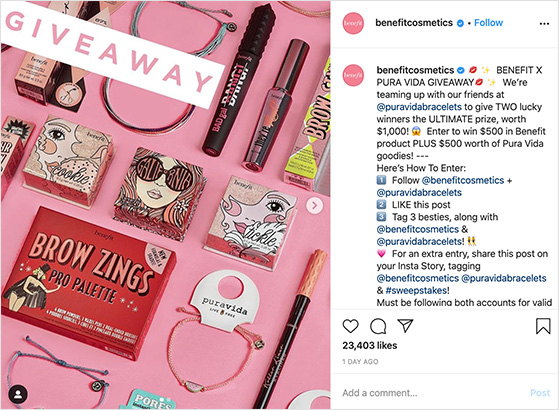 To enter, users need to complete the following actions:
Follow both brand accounts
Like the contest post
Tag 3 friends and each brand in the comments
Share the post to their Instagram feed via stories (optional)
An easy way to improve the quality of contest entrants for this giveaway, they could use RafflePress to accept user-generated content.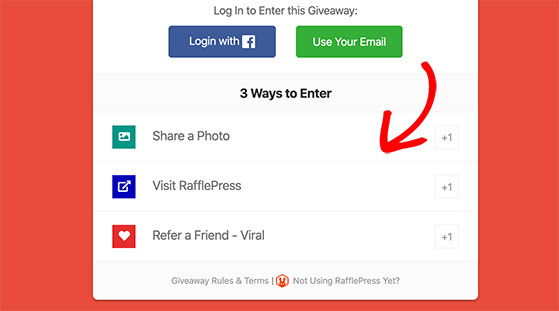 By asking people to upload photos of their best beauty looks, they could feature the content on their websites to gain extra traffic.
9. Choose Your Prize Instagram Competition
For this contest, entrants get the option of choosing any bike of their choice as the prize. This giveaway idea encourages people to visit the product website and browse the opportunities on offer, resulting in more traffic.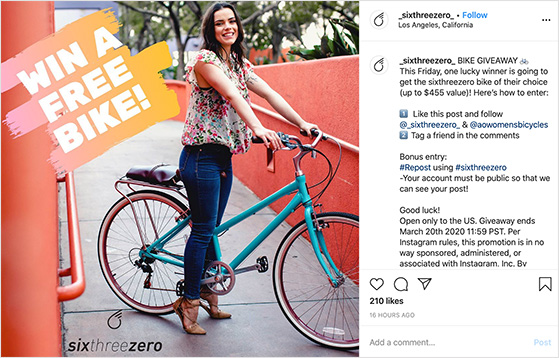 Furthermore, the entry options encourage friend referrals to reach a wider audience by:
Liking the post
Following the brand accounts
Tagging friends in the comments
Reposting using the branded hashtag
You could quickly improve engagement in this contest by including a question or poll asking for their favorite choice.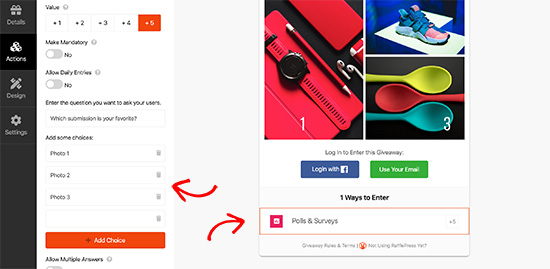 10. Follower Milestone Instagram Contest Example
Sometimes reaching a milestone can be a great excuse to run a contest and celebrate. And this brand's giveaway post does just that for achieving a 7k follower milestone. In return, they're offering 2 surprise boxes, which improves the chances of people entering.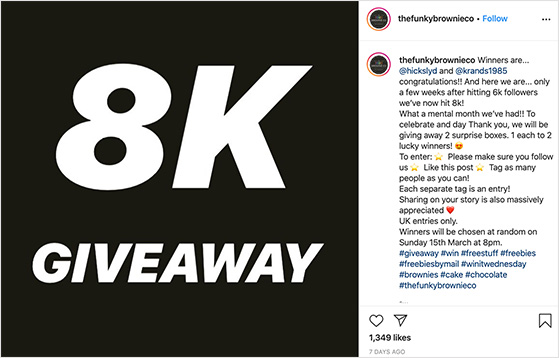 Let's face it; a surprise is much more tempting. What if you miss out on something awesome?
If you're feeling extra generous, you could include an automatic entry option, which lets visitors enter instantly without any further actions needed.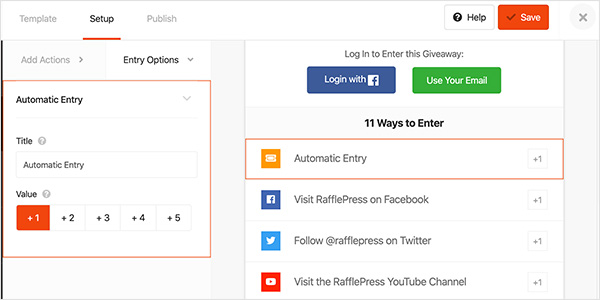 11. Instagram Hashtag Promotion Contest
You may have noticed there are hashtags for everything nowadays. And the same can be said for giveaways. Instagram has a giveaway hashtag specifically for Wednesdays called #winitwednesday.
Regular giveaway hashtags can increase the reach of your contests. This is down to the hashtag being so popular that people actively seek it to find cool competitions to enter.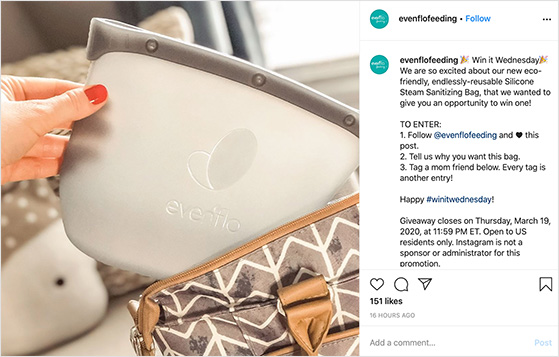 This brand uses a hashtag contest to promote its product and increase contest entries. They also encourage engagement by asking people to explain why they want the product.
You can even use this tactic to gather market research.
12. Influencer Instagram Giveaway Idea
Ever thought about working with an influencer to promote your brand? Doing so can open you up to a whole new audience of engaged potential customers.
Even better, because influencers have significant 'influence' over their followers' purchase choices, it's an excellent opportunity to increase product sales.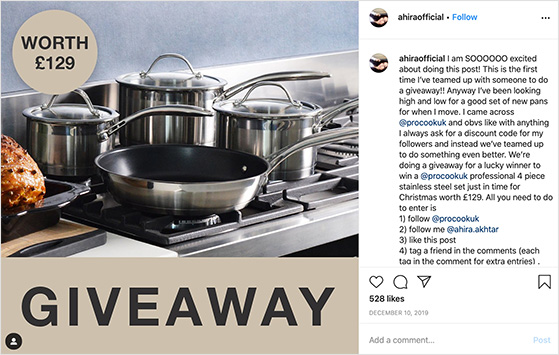 In this Instagram giveaway post example, a brand clearly partnered with an influencer to promote their products, resulting in tons of engagement and traffic to both parties.
13. Instagram Cash Giveaway Example
Offering cash as a prize for your contest can be a quick win for all businesses. There are no fancy product shots to take. And money is easy enough to transfer via the likes of PayPal and so on.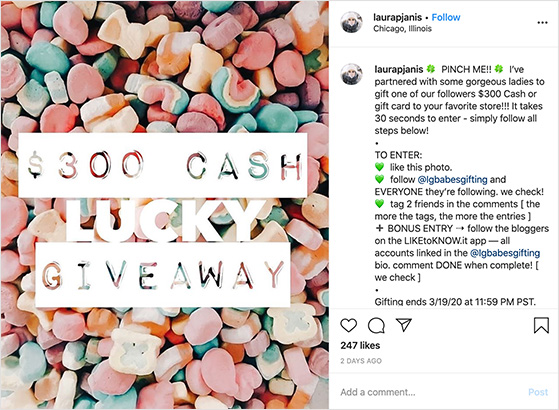 And to ensure that everyone's entered correctly, you can use the entry verification methods included in RafflePress.
They're particularly helpful for high-value prizes like cash to ensure all entrants have followed the rules. You can learn more about verifying actions in the documentation here.
14. Like and Comment Instagram Contest Example
Instagram like and comment contests are probably some of the most popular giveaway ideas on Instagram. It's easy for people to enter and requires minimal effort on the brands' part.
Yet managing and verifying all those likes and comments can be difficult if you attract tons of entries.
This Instagram giveaway example generated almost 6,000 likes and almost as many comments. That's a whole lot of people to qualify.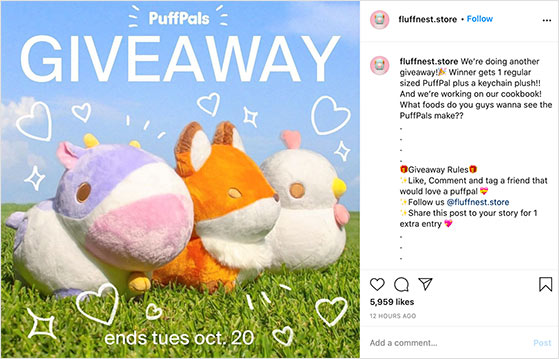 To make things easier, you could use RafflePress to run your like and comment Instagram contest.
Just include the action for users to visit your Instagram post and invent your own, asking them to leave a link to their comment.
The great thing about taking this approach is all the entries will be right inside the entry management dashboard. This makes it easier to see at-a-glance who has qualified correctly.
Then you can use the built-in random winner picker to announce the winner of your contest.
15. Tag a Friend Instagram Contest Example
You can use a similar approach to the previous Instagram contest with this example. In this giveaway post, users are asked to tag a friend in the comments and follow 2 different Instagram accounts to enter.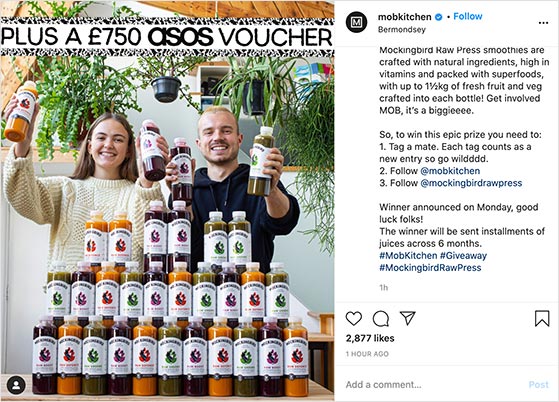 With RafflePress, you can simply ask users to visit each Instagram account. After encouraging people to tag a friend in the comments, you can ask them to link to their comment using the Invent Your Own entry action.
That way, everything's all in one place.
Instagram Giveaway FAQ
Is it legal to do giveaways on Instagram?
A: Yes. Running an Instagram giveaway is legal. However, you should check any laws that might apply in your area to stay compliant. You should also include the rules and terms of eligibility when running your giveaway or contest.
How long are Instagram giveaways?
A: Your giveaway duration depends on the type of Instagram giveaway you run. Most giveaways last around 7 days to give users plenty of time to enter but keep a sense of urgency.
And that's it!
In this article, we've shared successful Instagram giveaway examples you can use for your promotions.
If you'd like to find more places to promote your website, check out our list of the best online sweepstakes websites here.
You can also follow us on Twitter, Facebook, and YouTube for more great content.