15+ Best Promotional Giveaways to Easily Market Your Brand
Want to promote your brand with a giveaway contest? Promotional giveaways are among the oldest tricks for marketing your small business. And if they're done correctly, they can increase your website traffic, boost brand awareness, and grow your customer base.
In this article, we'll share the best promotional giveaways for marketing and growing your business.
What Are Promotional Giveaways?
A promotional giveaway is typically a product that has your business logo or slogan printed on it. These items are often referred to as promotional products or swag, and their purpose is to keep your company's information right in front of your target audience.
Often businesses give these items away for free at events and trade shows to build brand awareness. Yet, they're also the perfect type of prize for online giveaways and sweepstakes because they're relatively inexpensive.
By combining several custom promotional products into a high-value bundle, you can offer a highly effective giveaway prize your audience will love.
Best Promotional Giveaways to Market Your Brand
So what are the most effective promotional items? Below you'll find all the best promotional giveaways to delight your fans and market your brand.
1. Promotional Food and Drink
The great thing about offering food and drink as your promotional giveaway prize is it's so versatile. You can offer it all year round or as special seasonal prizes such as:
Valentine's Day chocolates
Festive Christmas hampers
Spooky Halloween treats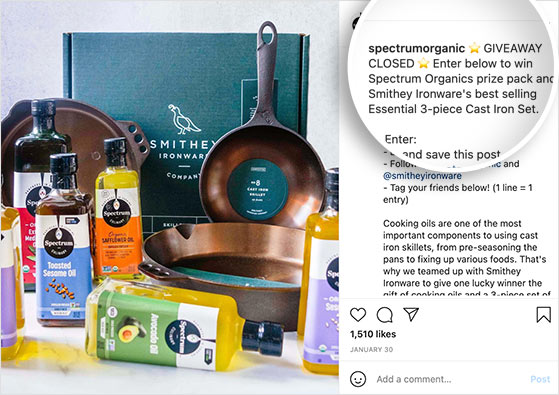 If you're a food brand, this is the ideal opportunity to showcase your delicious food products with a personalized hamper for your winner.
And if you're not, you can always team up with a local business and create some custom treats. Why not ask people to vote for their favorites? After, you can award the top choice as the main prize.
2. Branded Stationery Sets
When you're looking for promo items to giveaway, it can be tempting to go with something simple like a branded pen set. Yet, to many people, this isn't appealing enough to entice them to enter.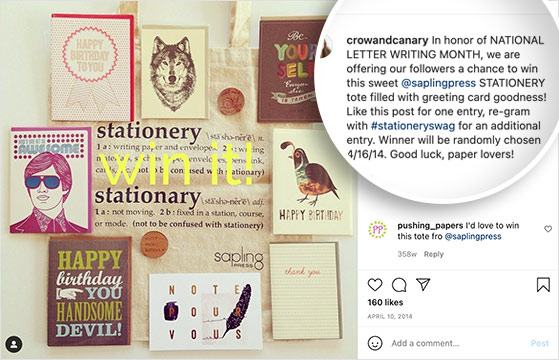 Instead, why not put together a full stationery set complete with:
Pens
Pencils
sticky notes
Notepads
Calendars
Stickers
And print it all with your company logo. The result is a promotional giveaway that's more significant, desirable, and much more useful.
3. Promotional Desk Toys
Even with the growing trend of remote working, many people still enjoy fun and exciting desk toys. They brighten up their desks, can help focus attention, and even reduce stress.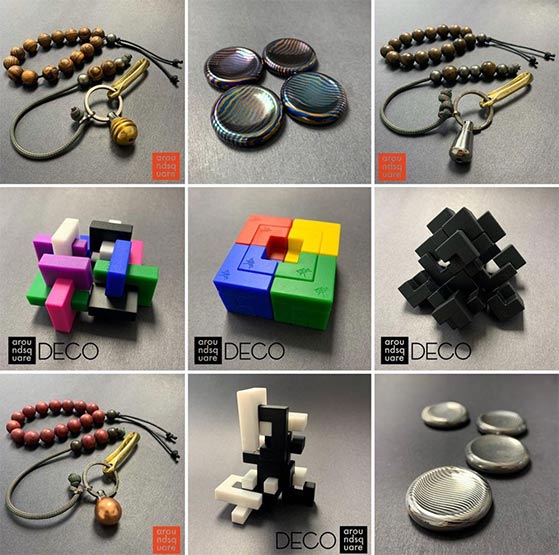 Here are some quirky desk toys you can print with your custom logo and give away to some lucky winners:
LED Newton's Cradle
Fidget Spinners
Rubix cubes
Stress balls
Infinity cubes
Desktop basketball
You could even put a collection together for the ultimate stress-relieving workspace.
The great thing about choosing desk toys for your promotional giveaways is they'll sit on the winner's desk long into the future. As a result, they're exposed to your brand daily, along with the chance of showing it off to colleagues in future Zoom calls.
4. Branded Plushies and Mascots
If your company has a mascot, it's an ideal opportunity to turn it into a full-size plush or teddy bear. Not only do they represent your brand in a cute and quirky way, but they're also not available in the shops, making them limited items.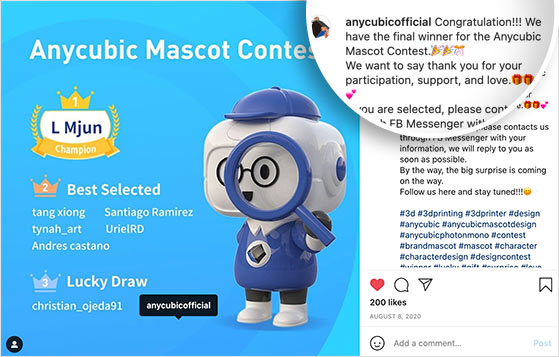 If you don't currently have a mascot, you can challenge your audience to design one as a requirement for entering your contest. The winner can receive their design brought to life for free.
5. Promotional Drinks Bottles
These days people are a lot more climate-conscious than ever before. So it makes sense that they expect brands to follow suit with the goods they offer. This is why sustainable promotional giveaways like reusable water bottles are must-have giveaway items.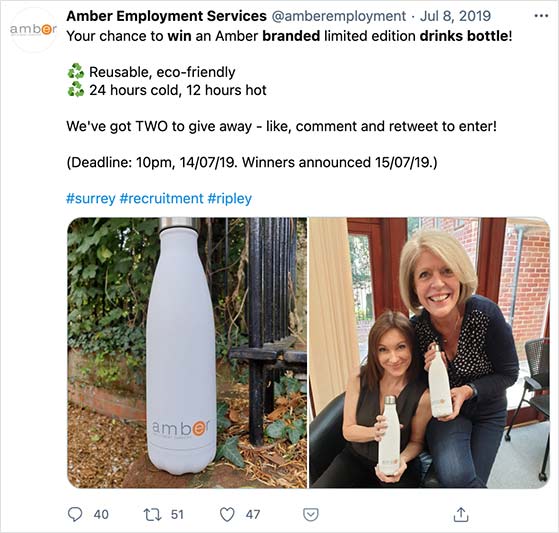 Some of the top choices include:
Thermal bottles
Travel coffee cups
Metal straws
Water bottles
You can give these items away individually or put them together as a custom drinkware bundle for the lucky winner.
6. Branded Tech Merchandise
Technology is a massive hit with most audiences because it's practical and highly desirable. To get the most out of this promotional giveaway, you should tailor the item to your audience's likes and needs.
For instance, a Stream Deck is an excellent choice for gaming audiences but isn't relevant to people outside that niche. Yet, multi-USB ports are more versatile and useful for a broad range of people.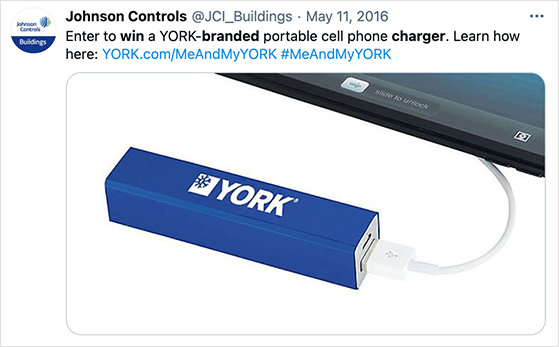 Here are some more tech items that the vast majority of users will enjoy:
Wireless chargers
Power banks
Bluetooth keyboards
USB flash drives
7. Promotional Audio Products
Similar to tech merchandise, branded audio devices are sure to be a massive hit with your audience. Despite having different tastes, most people have a shared love of music, so anything that can help your audience enjoy it is a win.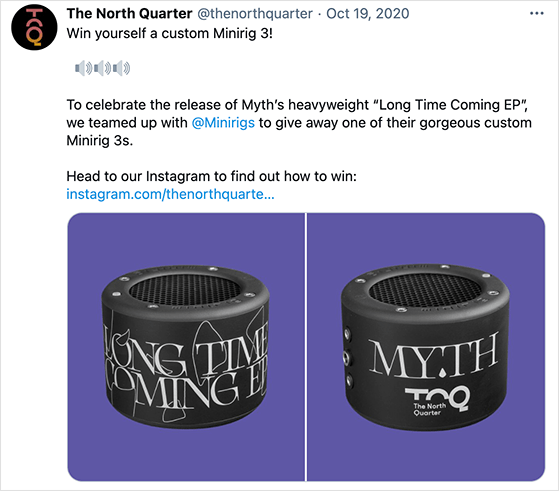 You could give away branded:
Earbuds
Wireless headphones
Desktop speakers
Classic corded headphones
Why not have 1 grand prize winner for your most valuable item and several runners up. If people see that more than 1 prize is up for grabs, they're more likely to enter because they have a greater chance of winning.
8. Branded Clothing
Promotional clothing and wearable brand merchandise is a great way to maximize the value of your giveaway prize. This is because it provides double the benefits:
Great-quality clothing is highly desirable and valuable, so it'll leave a good impression on your audience.
People will wear the clothes regularly, so it offers on-going advertising for your brand.
To get the most out of this promotional giveaway, go for stylish and wearable clothing custom printed with your brand logo.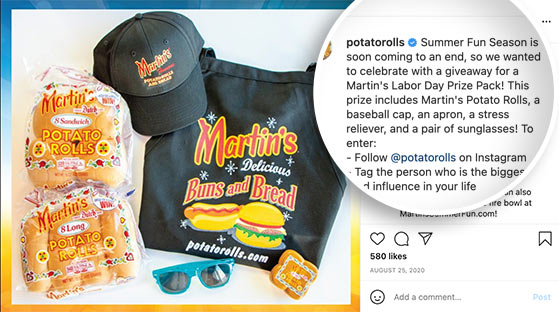 You should also focus on comfortable styles that people wear often. There's little point in investing in branded clothes if people don't wear them and promote your business.
9. Branded Travel Products
When it comes to promotional giveaways, the most useful products have the best results. With that in mind, travel products are always a hit because they're useful in everyday scenarios that your audience will thank you for.
Whether it's for business trips, shopping excursions, or even a vacation, here are some branded travel items you could offer:
Universal travel adaptors
Travel pillow and eye masks
Mini toiletries and beauty products
Wash bags
Passport holders
You can even bundle all of the above together for the ultimate branded travel pack.
10. Promotional Umbrellas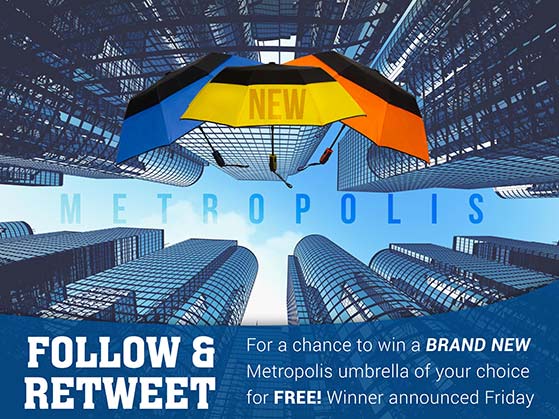 As we all know, the weather can be pretty unpredictable. But you'd be surprised how few people are prepared for handling it.
Buying an umbrella is usually way down on our priorities, so we're often left chancing it on the off chance we'll miss the rain. That said, they're items most people want and need but usually don't have.
This is the perfect opportunity for brands to capitalize on a much-needed item. It isn't just the recipient who sees your branded umbrella, but it's also seen by everyone else on rainy days, exposing them to your brand.
11. Branded Bags
Just like travel products, bags and luggage are handy items that people use daily.
Since almost all bags are reusable, people can use them repeatedly at the grocery store, commuting to work, and for general travel. This all adds up to quality, repeated brand awareness.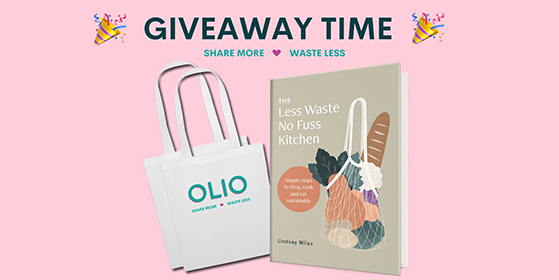 Some of the best promotional bag giveaways include:
Tote bags
Backpacks
Laptop bags
Duffel bags
Drawstring bags
You can even use eco-friendly materials like cotton or jute for added sustainability.
12. Promotional Homeware
Having people promote your brand outside is an excellent choice, but what about when they're relaxing at home? Smart businesses can turn this into an extra opportunity to keep your company top-mind, even if your audience is just curled up on the sofa.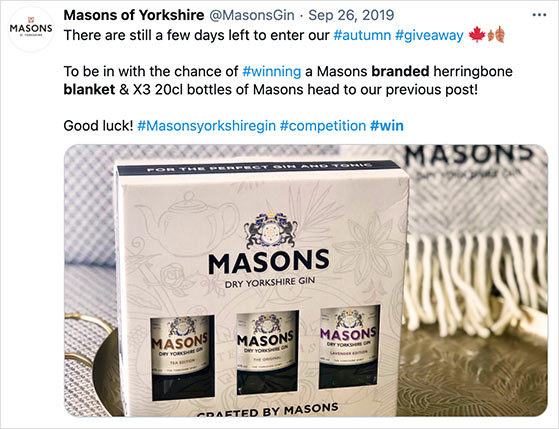 The solution is branded homeware like:
Throws and blankets
Cushions
Scented candles
Decorative planters
Novelty egg cups
Bean bag chairs
And more
Promotional giveaway items like this are seen by your audience every day. They can also be as inexpensive or luxurious as your budget allows.
Let's face it, who doesn't love snuggling under a sherpa throw on chilly evenings? With a branded blanket, people can do it in style and will thank you for it.
13. Branded Health Products
Staying safe and well is a top priority for most people. We all want to protect ourselves from common bugs and illnesses.
As a business, you can show you value people's health and well-being by offering branded health products.
For example, you could offer reusable face masks printed with your company logo as your giveaway prize. You could even throw in some wipes and hand sanitizer to create a well-rounded bundle.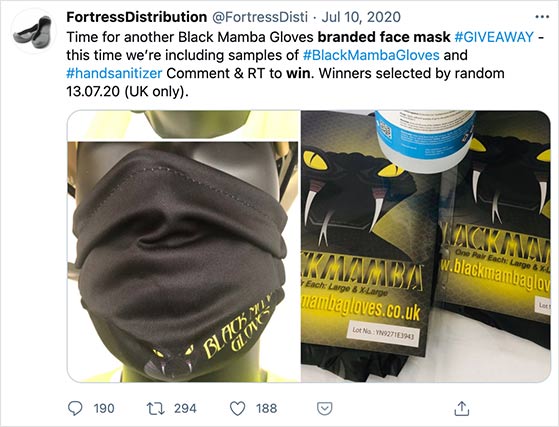 The great thing about face masks is they're highly visible. Whenever people wear them, everyone will see your logo, fixing your company in that person's mind.
14. Promotional Fitness Products
Just like staying safe from bugs and colds, most people are pretty conscious about their physical health. This means you can get creative with fitness-related promotional giveaways that you know your customers will use and love.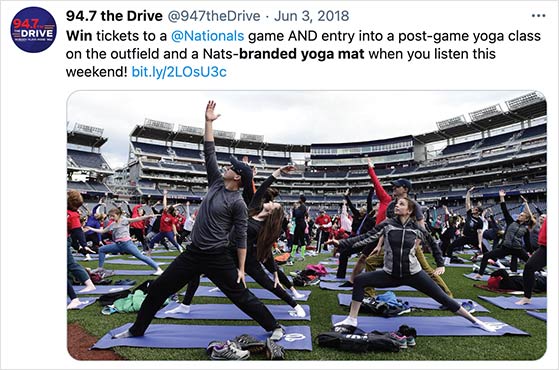 It could be anything like:
Branded yoga mats
Pedometers and calorie counters
Personalized exercise bands
Armband phone holders
You could even team up with a local gym or fitness class and put together a bundle of promotional fitness items with free classes for the lucky winner.
15. Branded Eco-Friendly Items
As we mentioned earlier, eco-friendly promotional products are a massive hit with most people. So put your best climate-conscious foot forward and design some sustainable merchandise you can give away to your audience.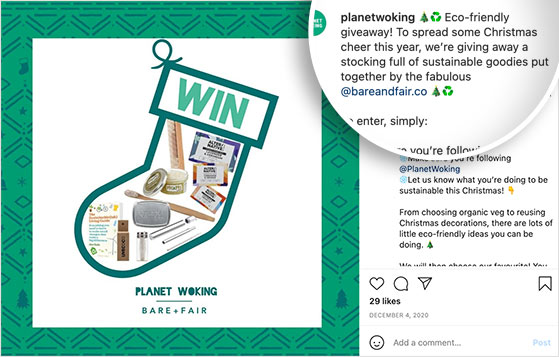 Some popular choices can include:
100% cotton towels
Bamboo bento boxes
Bamboo toothbrushes
Recycled pop sockets and phone holders
Natural cork fanny packs
Organic cotton oven gloves
Wooden desk toys
These items are perfect for giveaways all year round. For an extra boost in visibility, you can offer them on important days like "World Ocean Day" or "World Environment Day" when more people pay attention.
16. Free Tickets and Gift Cards
Our final promotional giveaways are probably the most valuable for both you and your audience.
First up are gift cards which are a dream come true for savvy shoppers. This is a great promotional giveaway prize if you're an eCommerce company looking to boost your sales.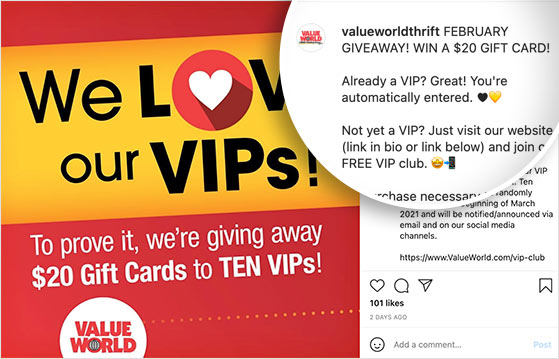 When shoppers receive a gift card, they're more likely to spend more than the initial gift card value. This can result in your giveaway paying for itself multiple times over.
You can also do the same for any events, webinars, or seminars you have planned and give away free tickets to a few lucky people.
How to Run a Promotional Giveaway
The key to your promotional giveaway's success is knowing how to run one correctly. Running any contest starts with a robust plan that should include:
Your giveaway goal
Giveaway entry methods
Giveaway prizes
The rules for taking part
Which giveaway tool you'll use
How you'll pick a winner
An essential step on the list above is which giveaway tool you'll use to run your contest.
Our top choice for running the best promotional giveaway, especially if you have a WordPress website, is to use RafflePress.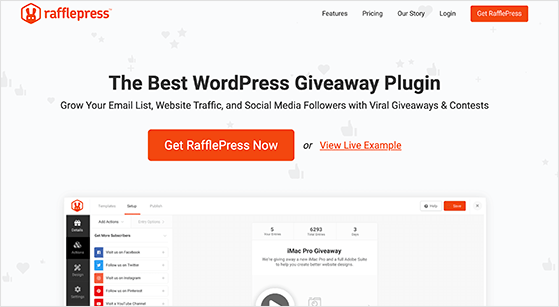 RafflePress is the best WordPress giveaway plugin on the market. It's the easiest way to grow your email list, website traffic, and social media followers with viral giveaways and contests. 
This giveaway app comes with a drag-and-drop giveaway builder and flexible giveaway templates for making any type of giveaway.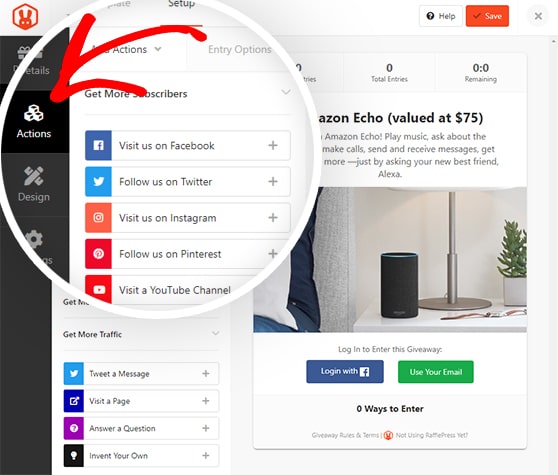 It also has tons of 1-click entry options designed to grow your business leads and sales, such as actions to:
Follow your social channels
Share on social media
Subscribe to your newsletter
Leave a comment
Write a blog post
Refer a friend (viral sharing)
Visit a web page
And more
Best of all, RafflePress lets you host your giveaway in any WordPress post or page or on custom distraction-free giveaway landing pages. This means you can share your contest anywhere online while sending targeted traffic to your business website.
Check out this step-by-step guide to learn how to create an online contest with RafflePress from start to finish.
And there you have it!
We hope this article helped you find the best promotional giveaways to market your brand easily.
While you're here, you might also like this article on how to run an Instagram giveaway.
If you found this article helpful, be sure to join us on YouTube, Twitter, and Facebook for more giveaway guides and tutorials.