Are you looking for quick and easy contest ideas for customers?
Running an online contest is the easiest way to increase brand awareness and convert website traffic into leads and sales. In this article, we'll share the top contest ideas that turn your target audience into paying customers.
What Are the Benefits of Running Contests?
There are several reasons why giveaways, contests, and sweepstakes can help your business grow. Not only do they excite your audience with the chance to win a free prize, but they can also help you reach your business goals.
For example, running a giveaway contest can:
Drive targeted traffic to your website or online store
Increase brand awareness on social media platforms
Collect email addresses to grow your email list
Increase followers on your social media accounts
Help you promote new product lines or services
Reward your existing customers and turn them into brand advocates
In the end, an online contest is an excellent way to secure more customers and grow your business quickly.
What Are the Best Contest Ideas for Customers?
Finding the right contest ideas for customers interested in your brand isn't always easy. Many ideas are out there, but learning which ones get the best results is often hit-and-miss.
With that in mind, we've put together a list of the most popular contest ideas that are proven to increase customer engagement and help your business grow.
Customer Video Contest Ideas
Video contests are a fun way to get your target audience involved with your brand. Since they require effort to enter, participants are typically of higher quality and more likely to engage with your brand after the contest ends.
And with the user's permission, you can use video contests to collect user-generated content (UGC) that promotes your products or services. Here are some popular video contest ideas for customers that you can use:
Product tutorials – Ask your audience to film a video of them using your product in a creative way. You could offer them a bundle of related products as a prize in return for their submission.
Talent contest – Have participants film themselves performing their top talent. For instance, singing your brand's jingle, a creative dance routine, or even a magic trick.
Funny home videos – Get users to dust off their funniest home videos on a topic related to your brand. For example, funny pet videos for pet care brands or funny fashion fails for fashion retailers. You can reward the winner with a gift card to spend online or in-store.
Best unboxing video – Unboxing videos are super popular on sites like YouTube, so ask customers to record them unboxing your latest product to boost awareness. The contest winner could get a discount on their next purchase or even a new camera to record even better videos in the future.
How to Do It with RafflePress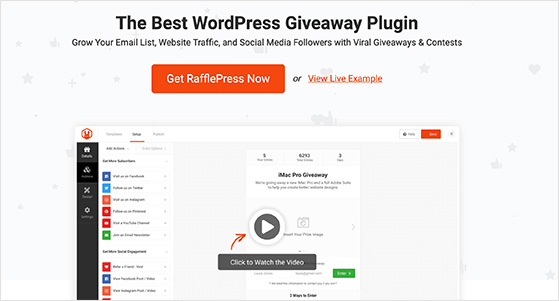 If you're a WordPress website owner, you can run video contests easily with RafflePress. Its drag-and-drop giveaway builder lets you spin up an online contest in just a few minutes.
And with RafflePress's powerful giveaway actions, users can submit their videos to enter your contest easily. For instance, you can use the "Invent Your Own" giveaway action and get participants to paste the link to their video.

For all the steps, check out this guide to learn how to run a video contest with RafflePress.
Holiday Contest Ideas for Customers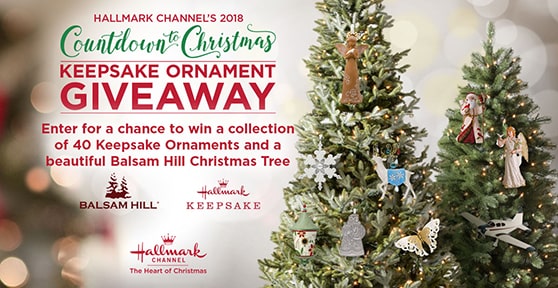 The holidays are another excellent time to run contests and giveaways because people love grabbing last-minute gifts and treats. Think about the big holiday events you cover at your business and combine your marketing efforts with a holiday giveaway to skyrocket your results.
Here are some fun holiday contest ideas to get you started:
Easter Bunny photo contest – Ask your audience to submit creative photos of themselves with the Easter bunny. You can reward the best photo with a bumper hamper of Easter chocolate and goodies.
Ugliest Christmas sweater contest – We've all got an ugly Christmas sweater in the back of our closets. So get your fans to dig them out and showcase them in a festive photo contest. You could reward the ugliest submission with a super stylish Christmas sweater or a bundle of that year's top Christmas gifts.
Spring clean contest – This type of contest is an excellent way to start a new year. You can ask users to send photos of rooms after a declutter or even their top spring cleaning tips. If you're feeling especially giving, the prize could be a day's professional deep clean service.
Mother's Day essay contest – Mother's Day is a popular event globally, and it's a great way to get users to interact with your brand. Ask your audience to write down what makes their mom amazing. The grand prize could be a treat for the user's mom, such as a free spa day or pamper package.
Best dad jokes Father's Day contest – Even though Father's Day is a smaller event, dads still deserve celebrating. Why not run a contest asking for your audience's best (or worst) dad jokes and reward the winner with a gift of their choice for their father?
Best Halloween costume – If you're a retail brand, you can use Halloween as a way to promote your fashion lines. Put together a mood board of your top spooky clothing and ask users to design a Halloween costume from your ideas. You could reward the winning idea with all the items on your mood board for free.
Creative homemade Valentine – Spread the love over Valentine's by asking your audience to get creative. Task them with making a homemade Valentine's gift out of items around their homes. You could reward the most creative ideas with a romantic meal for 2.
How to Do It with RafflePress
You can easily carry out all of these contest ideas for customers with RafflePress. For instance, you can use its "Submit an Image" feature for photo contests, allowing users to upload photos directly to your website.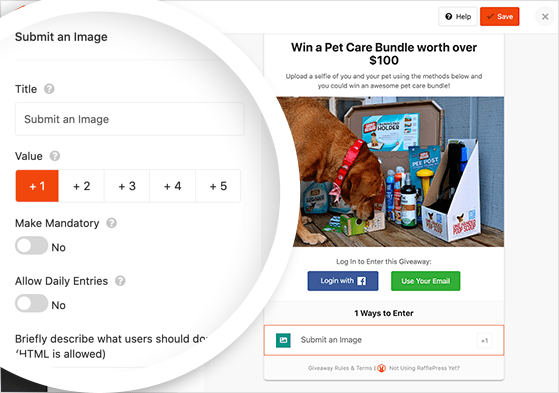 And if your contest idea requires written submissions, you can use the "Leave a Comment" entry action. With that action, users can leave their comments on a blog post, social media post, or any other page. Simply enter the URL of the page where users should leave the comment.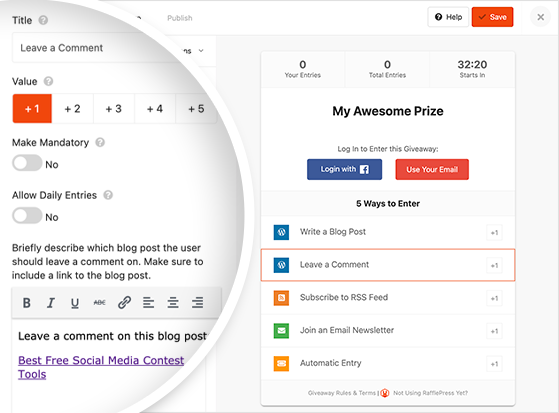 Alternatively, you can use the "Answer a Question" action. For example, if you're asking for dad jokes, enter the question, "What is your best dad joke?" and to enter, users simply need to reply with their answer.
Local Business Contest Ideas for Customers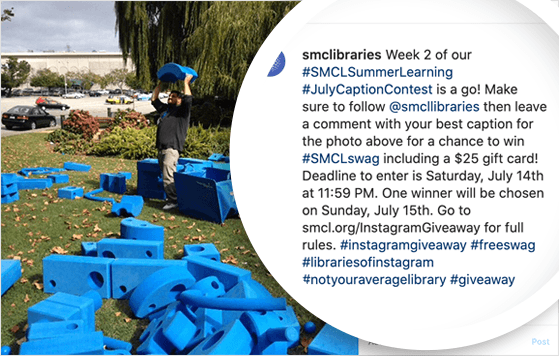 Don't worry; we haven't forgotten about local businesses. Since attracting local customers is one of your top priorities, you'll need some ideas that get the locals to interact with your brand.
Take a look at these contest ideas that are sure to get local users excited:
Design a brand mascot – People of all ages can get involved with this contest idea. Get your target audience to design a brand-new mascot for your business. You can even team up with local schools to increase your reach and get parents involved. From there, the best idea could win their mascot as a custom plushie.
Share your top product or service – This idea is more straightforward and involves less effort to enter. Ask users to tell you what their favorite product from your store is and why. And for the giveaway prize, you can give them their top product for free.
Local event tickets giveaway – Why not support other businesses in your area and run a contest offering free tickets to a local event? To enter, you can ask users to sign up for your email newsletter to learn about future events, deals, and special offers.
Caption a photo – Chances are your team has a few amusing behind-the-scenes photos of daily work life. So share the photo on your Facebook page or other social profiles and run a caption contest.
Logo design contest – If your business is new or you're rebranding, ask your audience to design a brand new logo you can unveil on launch day. The winner gets to see their design used regularly, or you could reward them with money off their next purchase.
Trivia contests – This idea tests your audience's knowledge and requires only a little effort to enter. Simply put together some questions related to your business and get your audience to answer them. You can choose a pool of winners based on the correct answers and choose a winner randomly from that pool.
How to Do It with RafflePress
There are several ways you can run the type of contests above with RafflePress. For example, you can use the "Join an Email Newsletter" entry action with the tickets giveaway.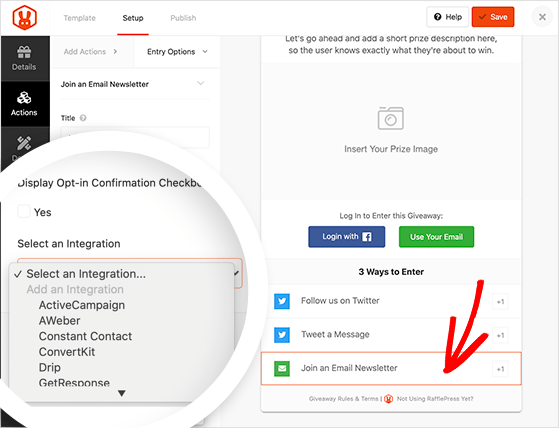 With that action, you can connect to your email service provider to automatically add anyone who enters to your list. And for trivia contests, you can use the "Answer a question" entry action.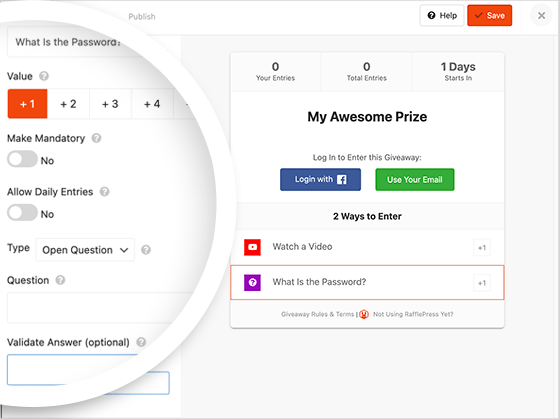 eCommerce Contest Ideas for Customers
Online stores and eCommerce sites face fierce competition that makes standing out online challenging. But if you run a giveaway or contest, you can rise above the noise and get your audience excited about your products or services.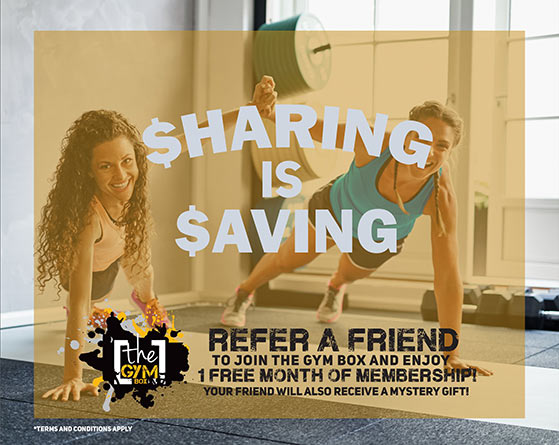 Check out these contest ideas for customers for online stores:
Refer a friend contest – For a chance to win a prize, you can ask existing customers to refer their contacts to your business. They could do that by emailing a link to your giveaway or even sharing it on social media. From there, you can award the grand prize to the user with the most referrals.
Win for you and a friend – Ask your audience to tag a friend on social media for the chance to win a prize for both people. This type of giveaway works particularly well on Instagram and Facebook and can help boost your engagement on those platforms.
Selfie Hashtag contest – Another contest idea for customers on Instagram is to post a selfie with your product. You can also ask participants to share the post on Instagram with your branded hashtag to boost your reach.
Social media contest – If you need a more straightforward contest idea, you can run a social media contest and ask users to follow your social media profiles and share the giveaway post to enter. You can then draw the winner randomly from all contestants.
Product customization contest – Here's an idea with a creative angle you can use for a product launch. Ask people to customize an upcoming product and reward the best submission with the customized item when it launches.
Ask for ideas – Social media is an excellent way to crowdsource new ideas for your business. So run a contest and ask your audience to send in their best product ideas for the chance to win a prize. You never know; the idea you run with could be your next bestseller.
Monthly contests – If you want people to keep engaging with your business, monthly contests can help. Your audience will come to expect your contest each month and will come back to engage and enter. Check out WPForms' results from running Monthly contests.
Review to win – Customer testimonials and reviews are the best way to convince new visitors to buy your products. You can get more feedback by running a contest asking users to leave a review to enter. It's a win-win. You get powerful social proof, and the participants get the chance to win a fantastic prize.
How to Do It with RafflePress
Let's see how you can run these types of contests. First, you can run a referral contest with the refer-a-friend giveaway action in RafflePress.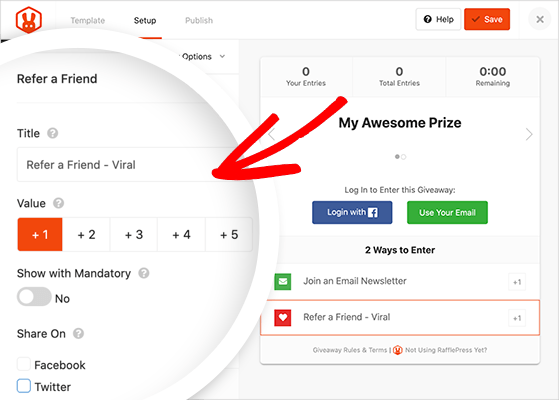 Referral contests are the quickest way to get more eyes on your products. They work by requiring users to refer a contact in exchange for a giveaway entry. And since the referee has to make a referral to enter, it creates an ongoing cycle of entries and referrals.
Social media contests are also super easy to run with RafflePress. It includes giveaway actions to:
Like and share on Facebook
Follow and tweet on Twitter
Visit and view posts on Instagram
Follow and share on LinkedIn
Watch a YouTube video
Follow on Twitch
As a result, you can increase brand awareness and grow your social media followers simultaneously.
Next Steps
We hope this post has helped you find tons of contest ideas for customers you can use for your business. When you've decided on the best type of contest for you, check out these steps to learn how to create an online contest in WordPress.
If you liked this article, please subscribe to our YouTube Channel for RafflePress video tutorials. You can also find us on Twitter and Facebook.