Are you looking for the best Twitter giveaway ideas for your business?
With over 396.5 million active users, Twitter is an excellent social network for raising brand awareness. Yet when it comes to running a giveaway on the platform, you'll need a robust strategy to make your contest a success.
To help you with that, we put together the best Twitter giveaway ideas you can use to grow your brand effectively.
But before we start, how can Twitter contests help your brand grow?
Why Twitter Giveaways Can Help Grow Your Brand
A Twitter giveaway can grow your brand by increasing your engagement and reach on the platform. By encouraging users to retweet or share your giveaway, you can increase brand visibility and attract new followers.
Additionally, by requiring users to follow or tag friends in order to enter your giveaway, you can further expand the reach of your brand to a wider audience. Furthermore, it can also create buzz and excitement around your brand, which can lead to increased brand awareness and loyalty among existing followers.
You can also post longer tweets and video clips of up to 220 seconds on Twitter. This gives you the ability to leverage video content, the most engaging type of media online.
Not to mention, Twitter is known as the go-to platform for consumers to voice their opinions and concerns. So building an active presence and offering fantastic customer service on Twitter will give you an excellent reputation among your target audience.
Bottom line: running a giveaway on Twitter is a fast, cost-effective, and easy way to build a buzz around your brand, grow your audience, and reward loyal followers.
Best Twitter Giveaway Ideas for Viral Brand Growth
Now that you know why running a Twitter giveaway is an excellent strategy for growing your business let's explore some of the top Twitter giveaway ideas for your next promotion.
1. Twitter Retweet and Follow Giveaway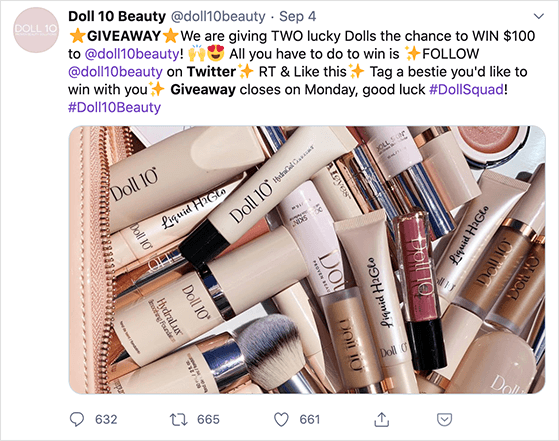 Retweet competitions on Twitter and follower giveaways are the most straightforward contests you can run. It's easy to explain to your audience, easy for them to participate in, and easy to manage if you're using a contest tool like RafflePress.
RafflePress is the best WordPress giveaway plugin for creating viral contests. It helps you turn your visitors into brand ambassadors, resulting in more traffic, subscribers, and engagement without paying for ads.
Our drag-and-drop giveaway builder lets you create a Twitter contest with a few clicks. Simply choose the "Grow Your Twitter Following" giveaway template.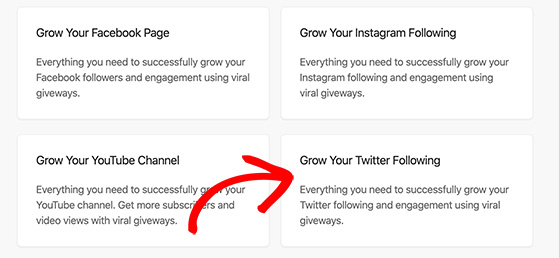 Then the option for users to follow you on Twitter and tweet a message to enter your contest is automatically added to the widget.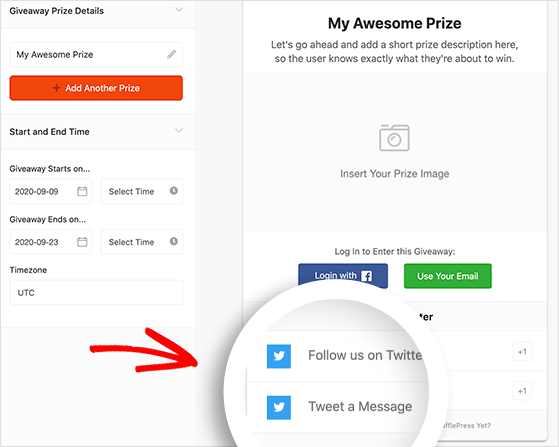 After, all you need to do is tweet the link to your giveaway page so that people can join in.
Where most brands have to scroll through hundreds of retweets and new followers to confirm how many people have entered correctly, if you're using RafflePress, you won't need to.
Our entry management dashboard provides a simple overview of everyone who's entered and how many entries each person has earned. You can also see who has and hasn't carried out the required actions, making it easy for you to draw a winner randomly.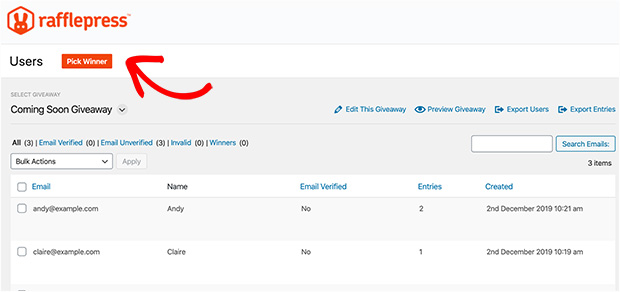 As a result, you'll have tons of new followers and engagement without the hassle of manually calculating and managing your giveaway entries.
2. Twitter Reply to Win Contest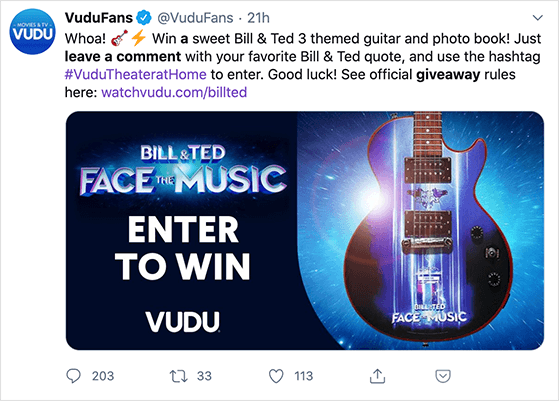 Another easy Twitter giveaway idea is a reply-to-win contest. This type of contest asks users to reply to a specific Tweet to win a prize.
A giveaway like this is an excellent opportunity to engage with and get to know your audience. For instance, you can ask people to respond with an emoji or phrase. Or you can give them a prompt like, "What are you most excited about this fall?"
You can create a Twitter reply to win contest in RafflePress easily. With the Invent Your Own entry action, you can ask users to reply to your Tweet and enter the link to their response to confirm the entry.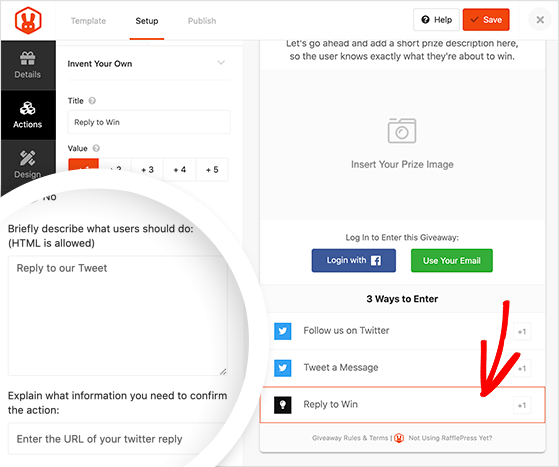 If you like, you can add the reply action to the follow and retweet actions to improve your giveaway's reach and success.
3. Tag a Friend Twitter Giveaway
Like the reply-to-win contest, you can ask Twitter users to tag a friend or multiple friends in the comments to earn an entry.
This is a great way to reach a broader audience and gain meaningful followers interested in your brand. That's because people usually tag a friend with similar interests to themselves.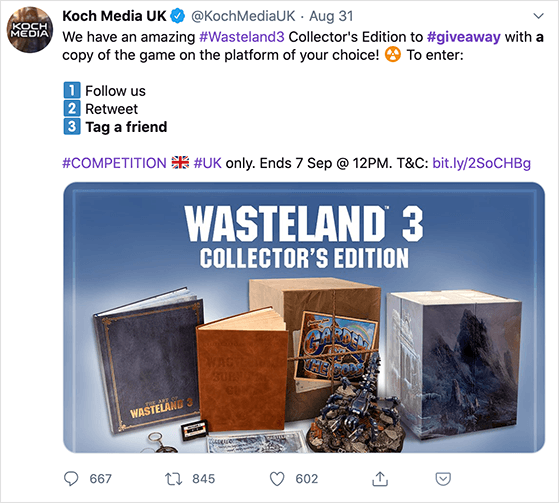 Building a Twitter tag-a-friend contest with RafflePress is the same as the previous idea. Choose the Invent Your Own entry action, rename it to "Tag-a-Friend," and write instructions for users to paste the comment link with their tag for a chance to win.
As with the other ideas, you can ask people to follow and retweet to earn bonus entries. It's also a fantastic way to get more Twitter likes.
4. Join an Email Newsletter Twitter Contest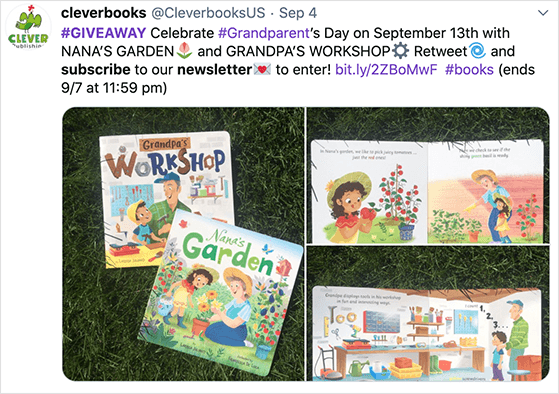 Email marketing has the power to persuade users who are on the fence about your brand to become paying customers. So using a Twitter giveaway to grow your email list is an excellent way to turn your ideal audience into subscribers and potential customers.
You can use the RafflePress Join an Email Newsletter entry action to grow your list. It integrates with major email marketing services like Constant Contact, Drip, GetResponse, etc.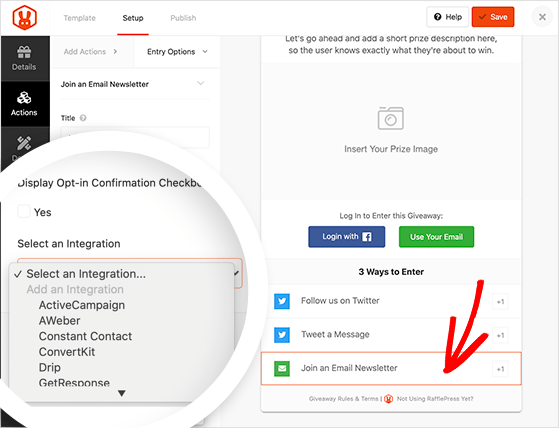 Then, you can use the Refer-a-Friend action to attract a wider audience.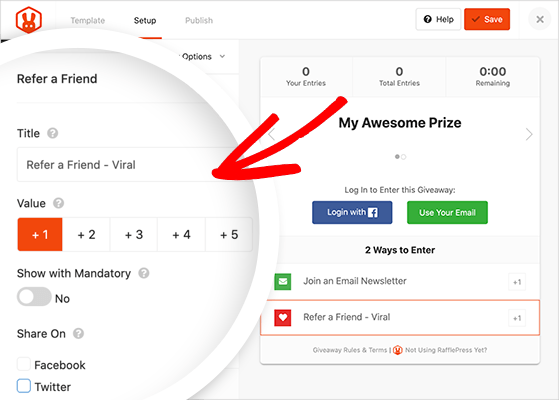 When users click that action, they're asked to share your Twitter giveaway on either Twitter, Facebook, Pinterest, LinkedIn, or Email. And if their contacts enter your contest, they'll share it with their network, and so on.
As you can see, it allows you to reach way more people than you usually would, resulting in growing your email list and brand exponentially.
5. Twitter Photo Contest
If you're not using user-generated content (UGC) as part of your marketing strategy, you're missing out on the massive potential for your brand.
UGC is content like images, photos, and videos, created by actual users, and online brands use them to give their products and services authenticity to secure loyal customers and fans.
It's a simple psychological trait.
As humans, we find reviews and recommendations from our peers more relatable. If a real customer talks favorably about a product, it is easier to imagine how it can solve our problems. And, in turn, we're more likely to trust that it'll work.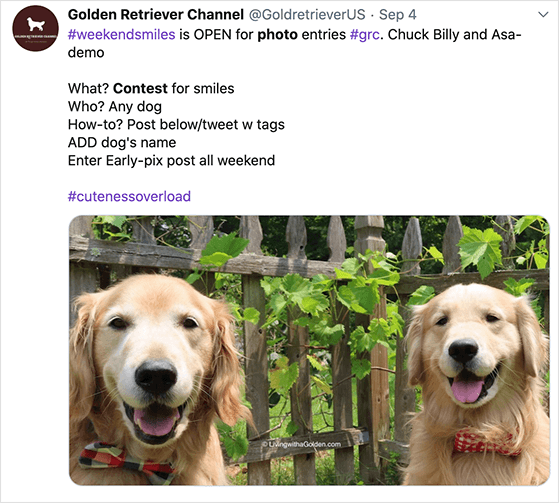 Running a Twitter photo contest is an effective way to collect and utilize UGC for your business. All you need to do is ask users to submit an image or photo for a chance to win.
Managing multiple photo entries is challenging on social media, so it's best to use a contest app like RafflePress to do the hard work for you.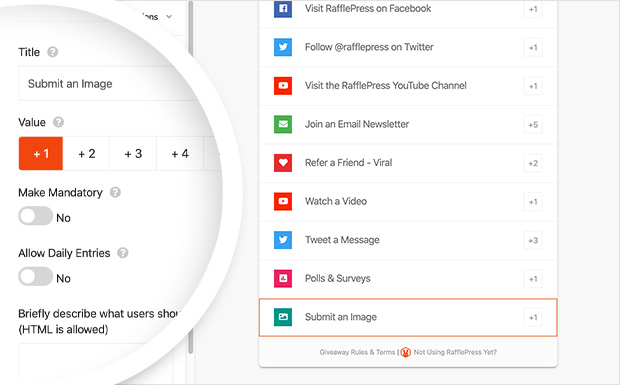 With the Submit an Image action, all it takes is a single click for people to enter.
And it's easy for you because you can view all the image entries in the contest management dashboard. So you won't need to scroll through tons of Twitter comments to find out who qualifies.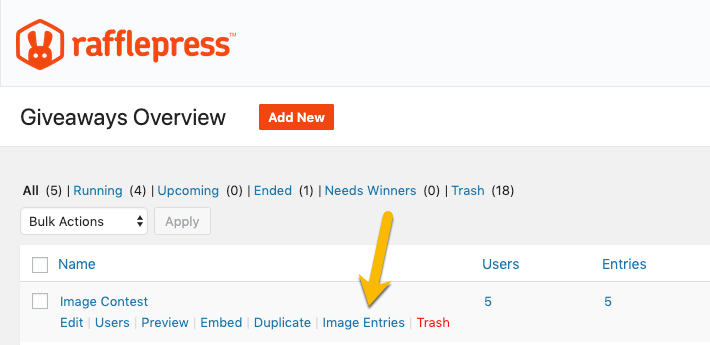 Even better, it also allows you to accept submissions from users on other social media platforms.
6. Product Launch Twitter Giveaway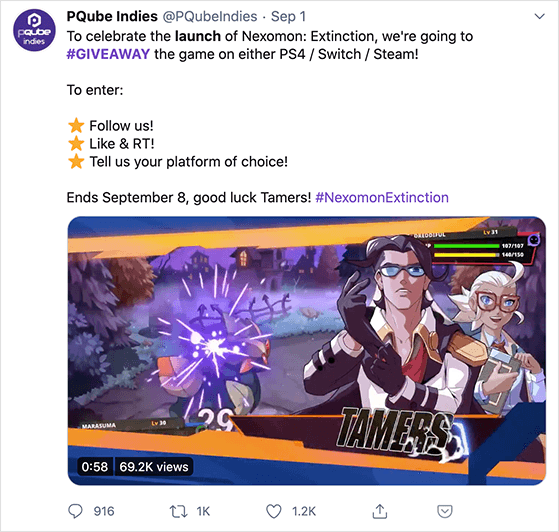 As mentioned earlier, Twitter is an excellent platform for raising brand awareness. So if you're in the process of launching a new product, what better way to make it go off with a bang than to do a giveaway?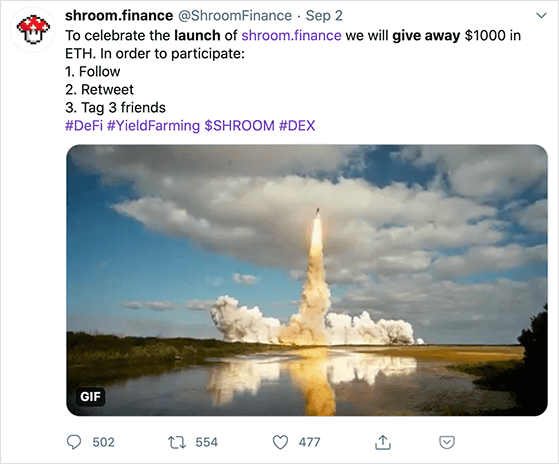 That way, you can let your current followers know about the launch while simultaneously attracting tons of new followers.
RafflePress makes it easy to run this type of Twitter giveaway idea. For instance, you can require users to visit your new product page with the "Visit a Page" action to enable them to unlock bonus ways to win.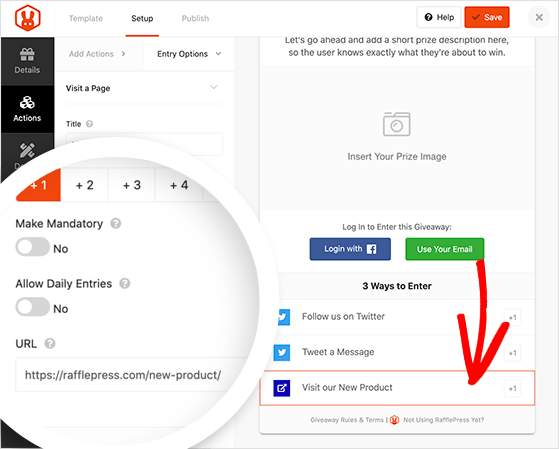 One of the bonus entries can be to refer-a-friend, which, as we explained earlier, exposes you to a new audience interested in your brand, which could easily make your contest go viral.
7. Creative Answer Twitter Giveaway Ideas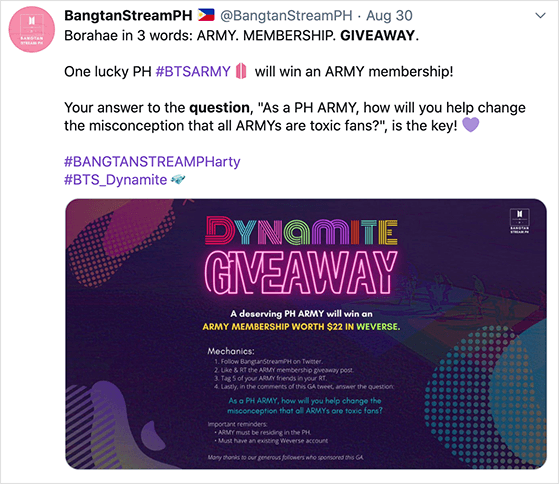 People tend to be more creative than we think. And where there's creativity, there are plenty of ways to promote your business. Think about how you can get your audience's creative juices flowing and run a Twitter giveaway where the best creative answer is crowned as the winner.
You could ask people to:
Come up with a new tagline for a product
Tell a story about how your brand changed their life
Create a catchy product jingle
Explain who they'd take on vacation and why (a great idea for travel brands)
It's also super-easy to create this Twitter giveaway idea in RafflePress. Just use the Answer a Question entry action, which lets you ask an open-ended or multiple choice question.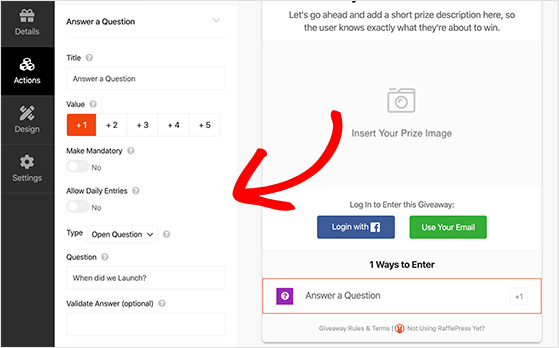 Then all users have to do is type their answer in the field provided for a chance to win.
8. Twitter Caption Contest
Next up is a fun Twitter contest idea that's proven to create a buzz – a Twitter caption contest. The idea is, that you post an interesting photo, and users caption it for a chance to win.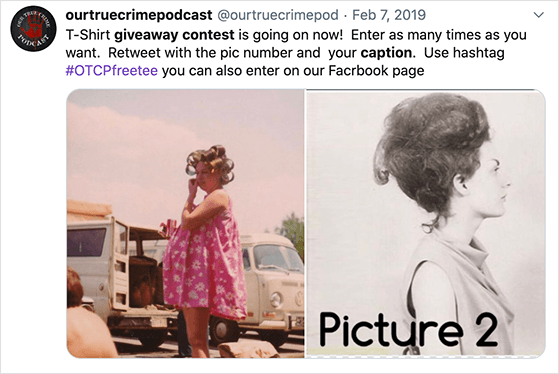 You can pick a contest winner by choosing who has the best or funniest caption or draw a winner randomly.
This type of contest works because it's easy and fun to take part in. Anyone can enter, which gives you plenty of space to attract a large audience. However, it would help if you tried to keep the image you use related to your brand in some way to ensure users engage with you once the contest ends.
You can create your caption contest in 2 ways with RafflePress:
The 1st way is to add the photo you want people to caption in the prize details section, which shows up in the giveaway widget. Then you can use the Answer a Question entry action for people to submit their captions and enter the contest.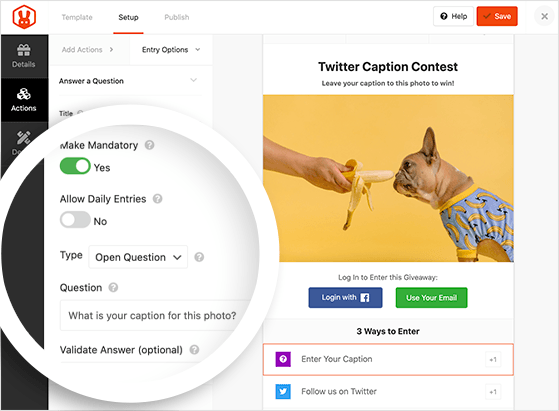 After that, it's simply a case of tweeting the contest out to your followers with a link to your giveaway page.
Alternatively, you can post the photo in a regular tweet and include a link to your giveaway page for users to enter.
9. Vote to Win Twitter Contest
Other good Twitter contest ideas that are fun and effective are vote-to-win contests. This type of giveaway asks participants to vote in exchange for entries.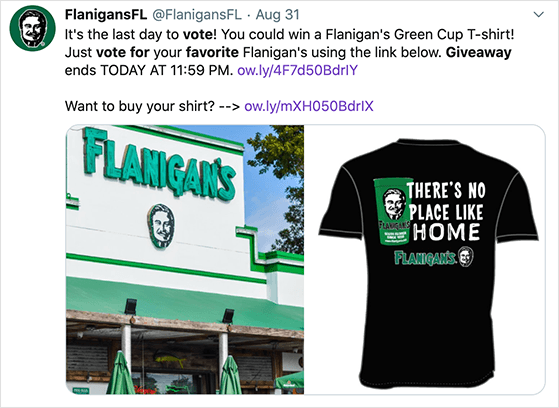 You could ask users to vote for:
Their favorite products from your website
Which products they'd like to see next
The content of your next blog post
Most useful special offers or discounts
If you prefer to keep things light-hearted, you could ask seasonal questions like, "What do you want Santa to leave under the tree for you this year?".
While Twitter does have a poll option in the native platform, it's pretty limited. For instance, you can only run a Twitter poll for up to 7 days. This doesn't give you enough time to promote your giveaway and build good hype.
Your giveaway duration should be around 14 days or more to run a successful contest, so you'll see better results with a contest app.
With RafflePress, a vote-to-win contest is easy, and you can run one for as long as you like.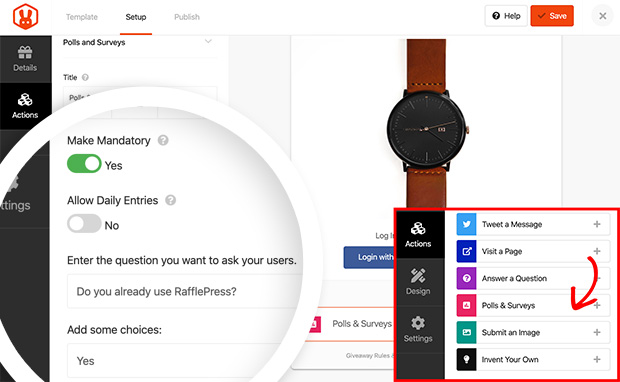 Just choose the Polls and Surveys entry action, add your poll question, provide a range of possible choices, and go.
10. Twitter Hashtag Contest
Hashtag contests are a great way to run a campaign across multiple social platforms that include hashtag functionality.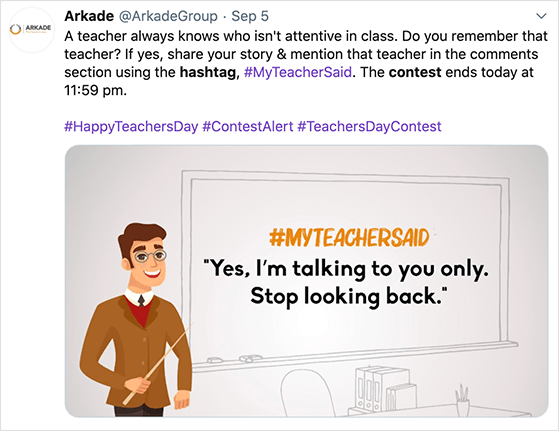 They work by asking users to post on Twitter using your giveaway hashtag. Since Twitter contest hashtags are highly searchable, they're excellent for increasing awareness and encouraging users to use your company's branded hashtags.
Creating a Twitter hashtag contest in RafflePress follows the same process as the Retweet and Follow giveaway.
Just use the Tweet a Message entry action and enter the tweet caption with your chosen hashtag. To enter, users simply have to click the action to automatically tweet the message you chose, spreading your hashtag far and wide for tons of potential followers to discover.
11. Design a Meme Contest
If you haven't already noticed, Twitter users love a good meme. They're highly shareable, fun, and often touch upon important events light-heartedly. So why not make memes the focus of your next Twitter giveaway?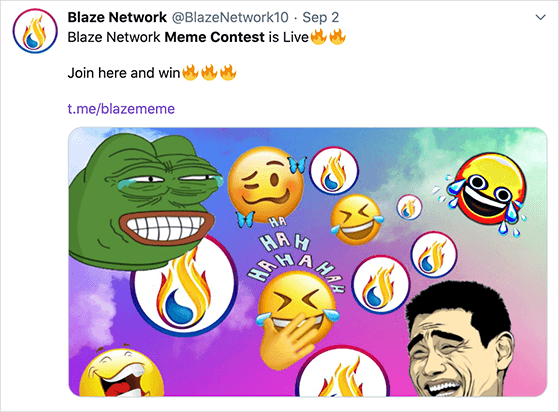 Ask people to design a meme using one of the many free meme generators online and submit them for a chance to win a fantastic prize.
Participants can submit their memes using the Submit an Image action in RafflePress. They can earn bonus entries by referring a friend, following you on Twitter, and retweeting the contest.
12. Twitter Brand Partnership Giveaway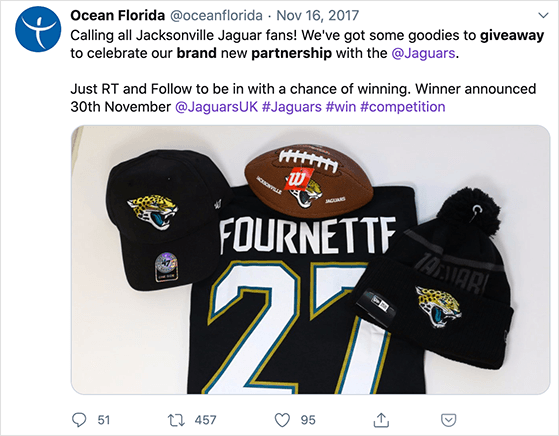 Did you know that teaming up with a relevant (non-competing) brand can drive tons of new followers and engagement to your Twitter profile? It can also open you up to a larger audience of potential customers.
That's because relevant brands likely have a similar audience to yours. So partnering with them to run a Twitter giveaway exposes you to their followers and vice versa. That way, everyone wins, your audience, your friendly brand, and you!
You can set up a Twitter brand partnership contest with RafflePress easily. Just follow the instructions we detailed earlier in this article for adding the Twitter follow and tweet a message actions. Then, add similar actions directing users to follow the partnered brands' Twitter profiles and tweet a message tagging them.
In the end, both you and your partner should see a tangible boost in your results.
That's it!
We hope this article gave you plenty of Twitter giveaway ideas to grow your brand.
Just remember that creating an online contest with RafflePress is the easiest way to grow your email list and traffic and go viral on Twitter.
And do follow us on YouTube, Twitter, and Facebook for more great tips to grow your business.