Are you looking for strategies to increase Instagram followers?
Instagram is an excellent platform to grow your business audience. With over 700 million active users, it helps increase brand exposure, leads, sales, and overall Instagram growth. But how do you get to that point?
This article will walk you through the best strategies to increase followers on Instagram fast.
Why Boost Followers on Instagram?
Increasing your Instagram follower count has many benefits for your business. First, it's an excellent way to boost brand awareness with your target audience.
From January 2021, 14.5% of global active Instagram users were women between 18 and 24 years old. Over half of the global Instagram population is 34 years or younger.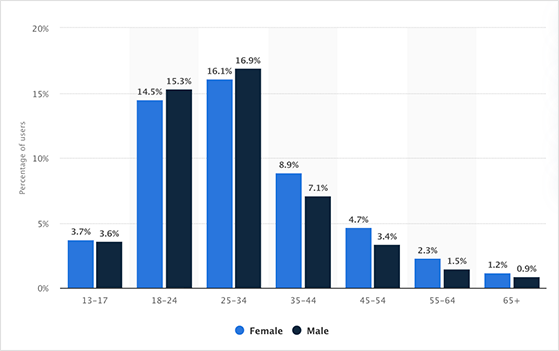 If that sounds like your ideal audience, Instagram is one of the best social media platforms to grow your brand.
Why don't you check out these Instagram marketing statistics for more details?
By finding ways to get more Instagram followers, you can also:
Drive more traffic to your website
Grow your email newsletter subscribers
Increase engagement with your existing customers
Cross-promote your other social networks
Collect user-generated content (UGC) from your fans
Promote new products and services
Improve your brand voice and reputation
A large Instagram following can help grow your business fast, with minimal cost.
So what is the best way to get more followers on Instagram?
Top Strategies to Increase Instagram Followers
Social media marketing might seem challenging at first, but there are several strategies you can use to increase Instagram followers for your business.
So what is the trick to get more followers on Instagram? Check out the tips below, and we'll show you how to attract new Instagram followers for free consistently.
1. Run an Instagram Giveaway
Running a giveaway is one of the easiest ways to attract Instagram followers to your business profile. Giveaways and contests generate tons of users, and the different giveaway formats are easy to customize to your Instagram marketing goals.
Many brands fall short by limiting their giveaways to the Instagram platform. Doing so prevents you from driving all that Instagram traffic to your website and other social media profiles.
We recommend using RafflePress to run an Instagram giveaway from your WordPress website.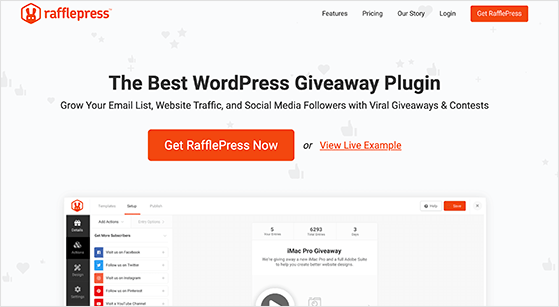 RafflePress is the best WordPress giveaway plugin on the market. It allows you to grow your email list, website traffic, and social media followers with viral giveaways and contests.
Whether you want to get 20 or 700 followers on Instagram, a giveaway is a super-effective way to make it happen.
Giveaway Templates to Grow Your Followers
With several premade giveaway templates, it's easy to run a giveaway to grow your Instagram followers. And because its giveaway builder has drag-and-drop functionality, you won't need to write a single line of code.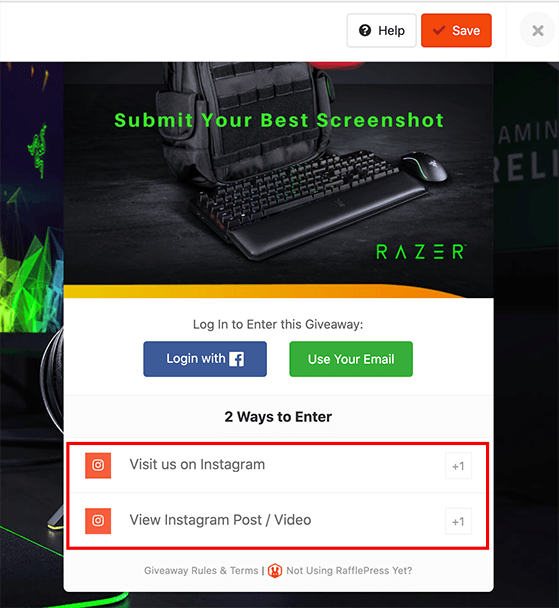 RafflePress has a variety of ways to increase your Instagram following, including:
Visit us on Instagram giveaway action – Ask giveaway participants to visit your Instagram profile. The majority of users will click the follow button when they visit.
View Instagram post/video action – Ask users to view a specific Instagram post or video.
Submit an image action – Allow users to upload an image as part of an Instagram photo contest.
Besides actions dedicated to Instagram accounts, RafflePress has tons of other 1-click actions people can perform to enter your giveaway.
Bonus Giveaway Entries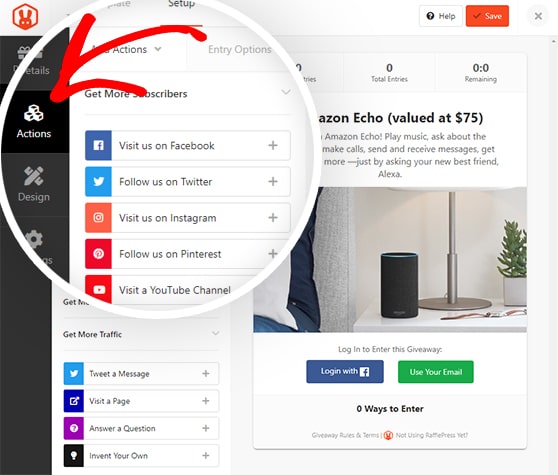 You can ask users to:
Leave a comment
Write a blog post
Answer a question
Subscribe to RSS feed
Visit your other social media profiles
Share your giveaway on social media
Visit a web page
and many more.
Giveaway Landing Pages
After creating your giveaway, you can publish it on your WordPress website's dedicated giveaway landing page. It allows you to focus on getting as many giveaway entries as possible.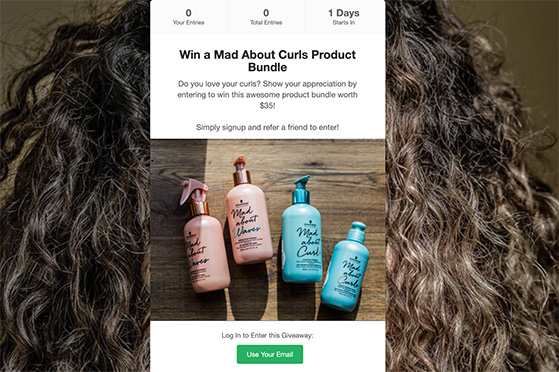 It also makes it easier to share your contest elsewhere on the internet, including your Instagram bio, Twitter, Pinterest, Facebook, and more.
Plus, you won't need to hunt online to find out who entered your giveaway. RafflePress records anyone who enters your contest in its user dashboard.
You can see who entered, what actions they took, if they verified their email, and more. Doing that makes it easier to pick a giveaway winner with the built-in random winner generator when the time comes.
Giveaway Entry Reports
When your Instagram giveaway is over, you can use RafflePress's Entries Report to measure your contest's performance. You'll see an overview of which giveaway actions drove the most entries so that you can make your next giveaway an even greater success.

You can check out this step-by-step guide to learn how to run an Instagram giveaway with RafflePress.
2. Show Instagram Feeds on Your Website
Another effective way to get more followers on Instagram is to show your Instagram feed directly on your business website. It helps your website visitors get a feel for your Instagram presence before following you.
Plus, pushing new Instagram content straight to your website helps keep your site fresh, updated, and interesting for your visitors.
You can easily add Instagram feeds to your WordPress website with Smash Balloon.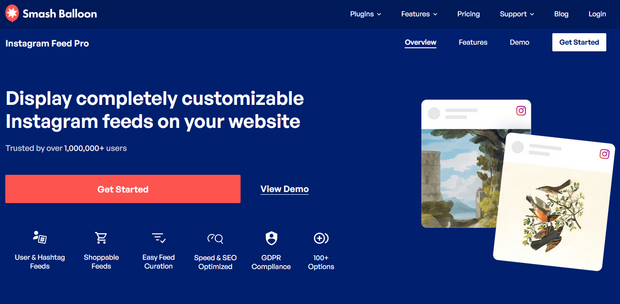 With Smash Balloon's Instagram Feed Pro, you can display standard Instagram feeds, hashtag feeds, "shoppable" feeds, Instagram Stories, IGTV videos, etc.
And you can create completely customizable Instagram feeds tailored to your website's branding.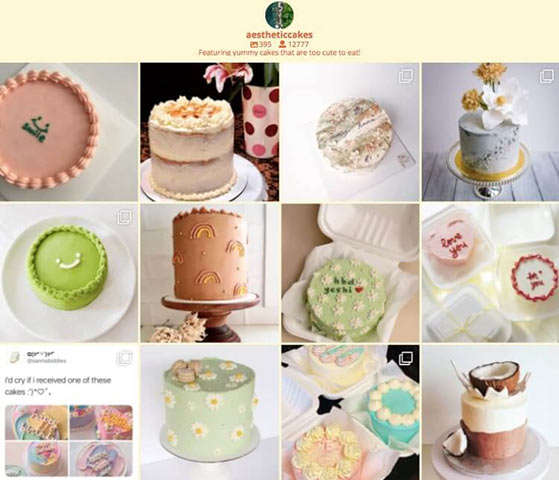 Best of all, you won't need a developer to make your feeds look stunning. It's super-easy for beginners, and you can get set up in minutes.
Check out this step-by-step guide on displaying your Instagram feed on your website.
3. Make Shoppable Instagram Feeds
Buying products right inside Instagram is a popular way to shop online. And as we mentioned earlier, many people use Instagram to find the ideal purchase.
With this in mind, it makes sense to create shoppable Instagram feeds for business. Shoppable feeds link directly to your product page, so people can browse, click, and buy instantly.
As a result of this direct shopping experience, those same users will likely follow you for more product recommendations and suggest your brand to others.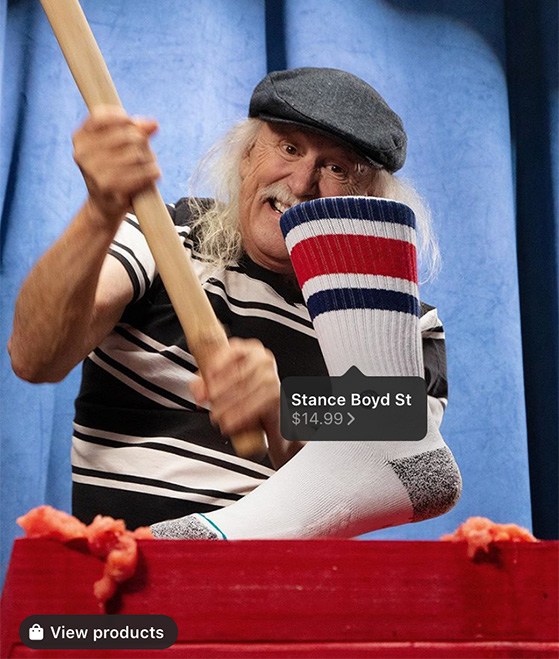 Adding shoppable Instagram feeds to your website is easy with Smash Balloon's signature Shoppable Feeds feature. Just follow these instructions to set up Instagram shopping on your website.
4. And Make Sharing Your Instagram Posts Easy
Allowing people to share your Instagram content is another excellent way to increase your Instagram followers. It means you can reach people that may not have an Instagram account and know nothing about your brand.
Besides cross-posting your Instagram content to other social media networks, there's an easier way to make your content more shareable. And again, Smash Balloon's Instagram Feed plugin has the solution.
The plugin includes easy sharing buttons that let people share your Instagram posts from your WordPress website.
Users can share your content on:
Facebook
Twitter
Instagram
LinkedIn
Email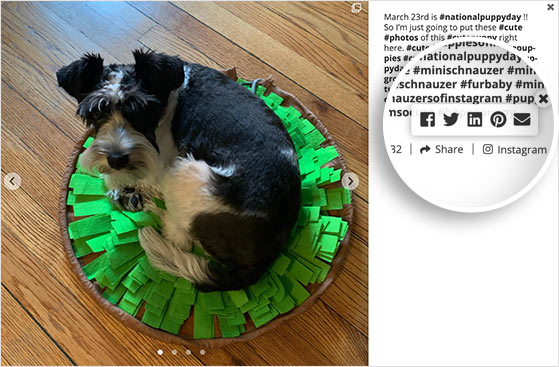 From there, it's as simple as posting great content like memes and Instagram reels, etc., and watching people spread the word to potential new Instagram followers.
5. Optimize Your Instagram Profile
Another easy way to get more followers on Instagram is to ensure your Instagram profile is optimized correctly. Since your profile is the most crucial part of your account, it's here that users will learn more about your brand and decide if they want to follow you.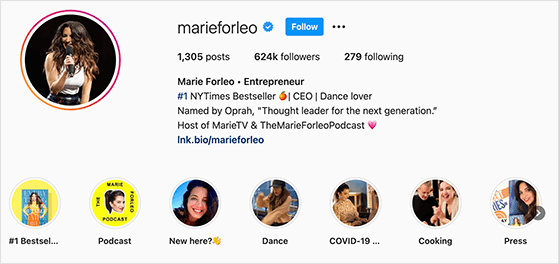 So make sure you complete every inch of your Instagram profile and make it attractive to users.
Tips for optimizing your profile include:
Describing your brand accurately within the 150 character limit
Making good use of emojis to convey personality
Use relevant hashtags, so it's easy to find your profile
Using the name field to reveal more about your brand
Tagging a friend or tagging related accounts
Pinning Instagram stories and highlights to your bio
Adding a call-to-action directly above the URL field
Turning on notifications, so you never miss any engagement
By completing your Instagram bio, you can provide users with more information about your brand and convince them to follow you.
6. Add a Clickable Link in Your Bio
If part of your Instagram marketing strategy encourages users to visit your website or product pages, you'll need to add your website link to your bio. Your bio is the only place on Instagram where you can show a clickable link, and since it's prime real estate, you should use it wisely.

Many brands use their bio link to share recent articles and blog posts. You can also add links to special offers here and tell your fans to click the link in your bio to get the deal.
That space is also an excellent place to paste the link for your giveaway landing page. You can dedicate your post on Instagram to encouraging users to click and enter.
If more people see that you post regular content and link to it, they're more likely to follow you for future updates.
7. Curate a Distinct Instagram Style
If you look at any brand on Instagram, you'll see they each have a unique look or aesthetic. They do this to stand out from the thousands of other companies vying for people's attention.
Make sure your profile and Instagram content have a distinct style that sets you apart from your competitors. This will help you stand out, but it helps your fans recognize your brand in their news feed.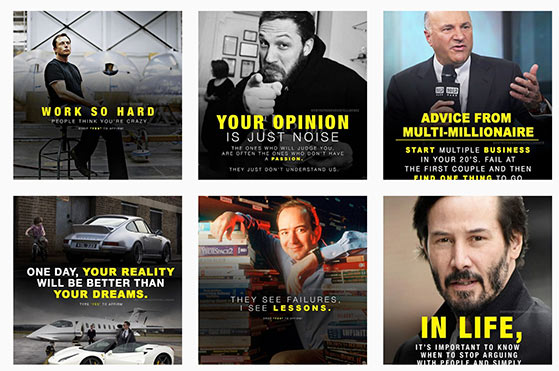 And don't forget, Instagram is a visual platform. People want to be inspired by what they see and follow you if your aesthetic aligns with their interests.
8. Share High-Quality Images
You might think that any image posted on Instagram is a good image. But thanks to the Instagram algorithm, people are used to seeing fantastic quality photos.
Sharing content that isn't of the highest quality won't excite people enough to follow you. They can even cause people to avoid your brand if they don't like what they see.
The thing is, you don't need super-expensive tech for creating content on Instagram. A good smartphone photo with a few adjustments and the right filter is often enough.
For instance, someone took this photo of the Brooklyn Bridge with an iPhone.
9. Post-Regular Instagram Stories
Besides the perfectly curated photos on your main Instagram feed, users also want to see a more authentic side to your brand. This is where Instagram stories are super-helpful for marketers to create an engaged audience and loyal Instagram followers.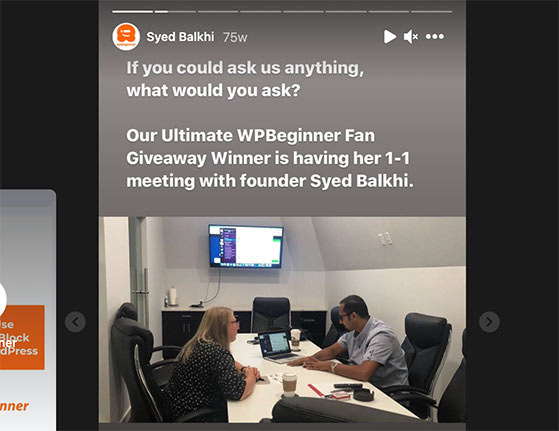 Since stories have a shorter lifespan (around 24 hours) than normal Instagram photos, you can afford them to be less polished and more off-the-cuff. Users enjoy this type of content because it makes your brand more human and highlights your personality.
Even better, stories allow you to skip the line in your followers' feeds, allowing users to see your updates instantly. With greater access to your content comes an increased chance of attracting more followers.
You can also use fun editing tools that include stickers, text, and more to make your stories more engaging.
10. Share Video Content on Instagram
Posting regular video content, Instagram live videos, and Instagram reels is another surefire way to get new followers on Instagram. With how-to videos being the most popular video content on the platform, it's an excellent opportunity to educate your audience about your products.
If people have more information about your business and the products or services, they're more likely to stick around.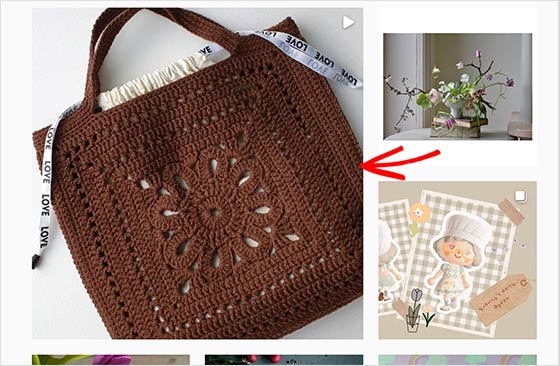 When creating video content, consider using IGTV. It's Instagram's answer to YouTube, and the new feature allows you to post mobile-optimized content either on Instagram or its dedicated app.
The great thing about this is that IGTV videos are 4x larger than standard feed photos on the Explore page. As a result, it's a great way to draw a sizeable number of followers.
You can also cross-post videos from TikTok to your Instagram stories, allowing you to reuse content.
11. Have a Consistent Posting Schedule
One of the worst things you can do when attracting more followers on Instagram is to post content randomly. Sharing content at random leaves new followers guessing when they might see your posts.
They might even forget they followed you in the first place.
To avoid this, keep your posting schedule consistent. Most brands post on Instagram at least once a day and choose the best times to post carefully.
But considering there are millions of active daily Instagram users, you could post more often. Make sure your schedule is regular, so people know when to expect your newest content.
There are many automation tools to schedule content for Instagram, including Buffer, Hootsuite, and more.
12. Write Creative Instagram Captions
It's easy to overlook Instagram image captions, but it's here that you can spark conversations with your ideal audience.
You can tell a story about what inspired your photo and ask for people's opinions. Or you can use this space to explain how to use a particular product or service.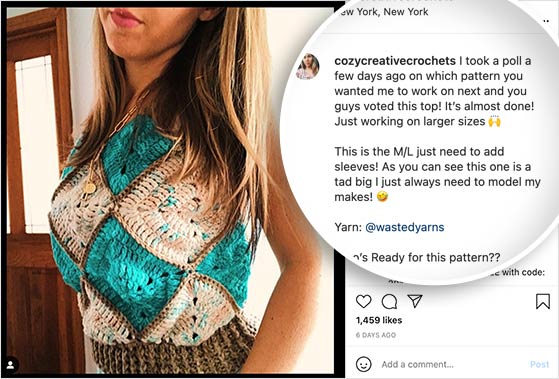 The key is to get people talking about your brand, not just scrolling past your latest photo. It keeps your audience engaged and shows potential new followers that you care about their opinions.
13. Include Caption Calls-to-Action
You shouldn't forget a few other things when crafting creative captions for your Instagram posts. One that will drive more engagement, likes, and visits to your profile, is to include a call-to-action (CTA).
A CTA on Instagram is a short sentence telling people what they should do next.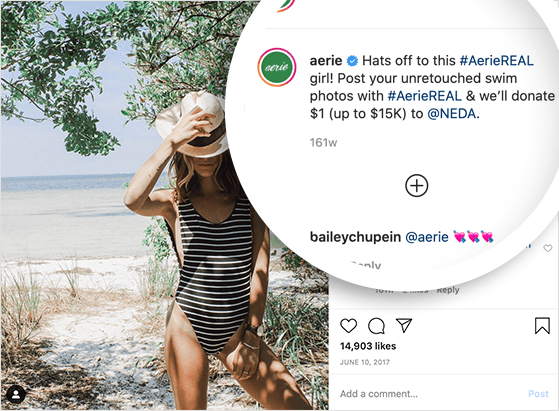 For example, after reading your post, you can ask users to visit your profile link to enter your online contest. Alternatively, you can use your CTA to ask people to follow you on Instagram directly.
The easiest way to get people to do what you want is to ask. So, it's a good idea to finish a post with a clear CTA telling users the next steps.
That's even more important if you use Instagram Ads to promote your account.
14. Use Popular Industry Hashtags
Instagram hashtags are excellent tools that help people find content that interests them. And when potential followers find you via a highly-targeted hashtag, they'll follow you after seeing your top posts.
With this in mind, you should use hashtags relevant to your industry for every post on Instagram. For instance, a photography brand might use #photooftheday, #photoart, or #photogram.
The best way to find relevant hashtags is to use the Instagram app and tap the explore tab. From there, you can see trending hashtags that many people use.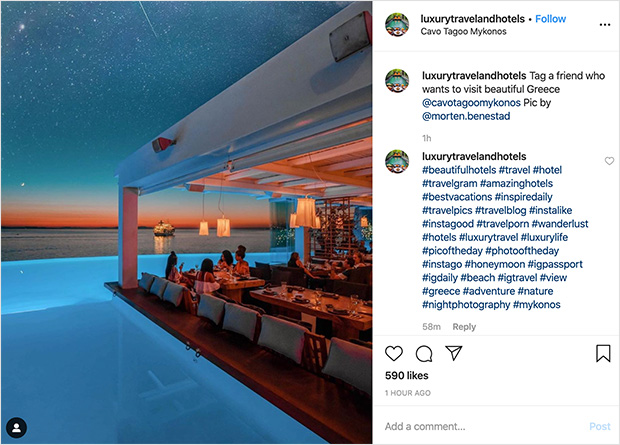 The key here is to keep your hashtags relevant to your business. Otherwise, you can attract followers that aren't interested in your brand.
15. Create Branded Hashtags
Business accounts will love this tip. You can also create your own branded hashtags on Instagram as part of your content strategy. These are hashtags that you make specifically for your Instagram marketing campaigns.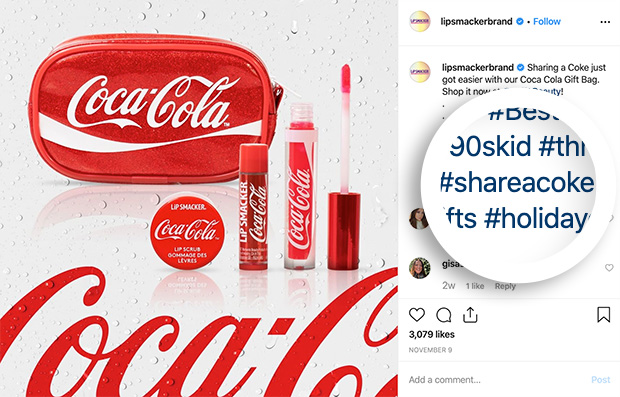 Campaign hashtags like this are popular because they focus people's attention on a single theme. They can also quickly go viral as more people use them and capture the attention of their connections.
If those people have similar interests, they can follow you too.
16. Avoid Fake Instagram Followers
It's easy to forget that there's a lot of spam online, especially on social media networks. When you try to get more followers on Instagram, you should avoid buying fake followers.
If someone visits your Instagram profile and sees thousands of fake followers and inactive feeds, it can hurt your credibility.
Plus, fake followers and bots won't add value to your audience. Since they're not visiting your website or buying your products, they won't offer a good return on your investment.
Then there's the lack of engagement. 10,000 new Instagram followers might look impressive. But they won't be liking, commenting, or interacting with your content.
So avoid the temptation of buying fake Instagram followers and build your audience organically, with intention. The benefits of doing so are active, engaged fans, genuinely interested in your business.
17. Join Popular Conversations
Many companies focus on Instagram likes and comments without thinking about the real people behind those metrics. The thing about growing a following on Instagram is it takes time and effort. You can't just post a few photos and expect the followers to roll in.
If you want to get more followers for your Instagram account, you need to participate in the Instagram community, engage your fans, and spark conversations.
Search Instagram for relevant but not competing posts to your brand and add your thoughts to the comments. Don't mistake leaving one-word comments, either—weigh in with well-thought-out conversation starters that offer value to other users.
If potential followers see that you have authority and expertise in your industry, they'll want to follow you to see similar content.
18. Pre-approve Tagged Photos
Allowing other Instagram users to tag your Instagram page in photos is an excellent way to increase brand awareness. But at times, you could be tagged in poor quality or unrelated posts that can paint your brand negatively.
You can change your Instagram setting to avoid this, so tagged photos won't show unless you approve them.
You can find this setting under Privacy and Security » Photos of You and click the Add Manually option.

As a result, you can avoid some potentially embarrassing situations.
19. Remove Unwanted Photo Tags
But what if people have already tagged you in Instagram photos that can harm your brand's reputation? The simple answer is to remove them and hide the photos from your profile.
To do that, follow these steps:
Open the photo in Instagram's mobile app. (You can't remove a tag from the desktop version)
Tap the photo to see the tags
Tap on the tag
Click Remove Tag
It's also possible to remove the posts shared from the list of photos. It is separate from the black tag, so you can leave one or remove both.
In the end, your tagged feed will only show photos you want to display to the public, creating a clean, curated image.
20. Share User Generated Content to Build Trust
It's a fact that around 81% of people use Instagram to research products and services. That makes it ideal for sharing product reviews and testimonials that celebrate your brand's positive aspects.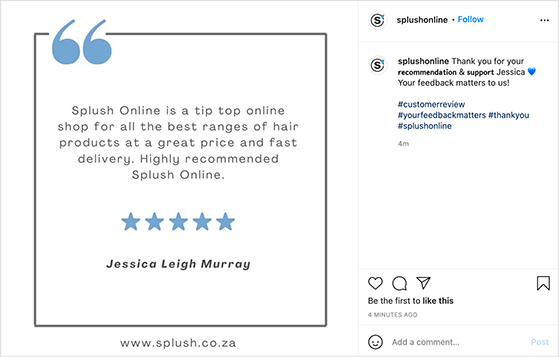 User-generated content (UGC) and social proof help build trust and credibility for your company. If people see that other genuine users think your products are great, they'll follow you on Instagram and even become a customer.
So make sure you regularly share positive customer reviews and feedback on Instagram. You can also add those posts to a curated feed of reviews on your website with Smash Balloon.
Just create a feed filtered to show Instagram posts with a specific hashtag. You can check out this guide to add an Instagram hashtag feed to WordPress.
21. Work with Influencers in Your Niche
Did you know that 60% of consumers say they would follow an Instagram brand if they see it promoted by an influencer they trust? Influencer marketing is not only an excellent way to increase your authority, but it also exposes your profile to a highly engaged audience.
So reach out to influencers and bloggers in your field of interest, and invite them to work on partnerships with you. Just keep in mind that these people get tons of collaboration requests daily. You'll need to build your relationship before asking them to help.
22. Bonus: Use Instagram Analytics Tools to Grow on Instagram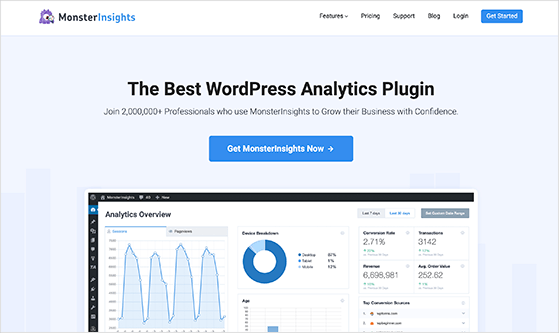 Although Instagram analytics can provide you with information about your following, other free tools can provide more valuable data about your new audience.
Instagram engagement rates, new followers, Instagram unfollows, and inactive accounts are valuable indicators that could shape how you reach more people on Instagram.
Some helpful Instagram analytics tools include:
They all offer valuable information to help you understand your audience. These tools could also help you find areas to improve your Instagram SEO and promote your Instagram account.
There you have it!
We hope this article helped you learn the top strategies to increase followers on Instagram for your business. With a robust Instagram marketing strategy, quality content, and a few helpful tools, you can grow your followers quickly.
And if you're planning to run an Instagram giveaway to get more followers, check out these best promotional giveaways for inspiration.
If you found this article helpful, join us on YouTube, Twitter, and Facebook for more giveaway guides and tutorials.