Want to learn how to run a giveaway on Facebook? And do you want to find a quick way to get more likes on your Facebook page and increase brand engagement?
Facebook giveaways and contests can help you reach those goals with minimal effort. Since Facebook is a great way to get people to visit your website, it makes sense to use it for your lead-generation efforts.
But it's not easy getting your content seen in people's feeds. So, today we're sharing our step-by-step guide on conducting a giveaway on Facebook that'll be sure to pop up in everyone's news feed.
Why Run a Giveaway on Facebook?
Running a giveaway on Facebook is an effective way to increase engagement and reach on the platform. Giveaways can help to increase brand awareness, generate leads, and drive website traffic. Additionally, they help to build community and foster loyalty among existing customers.
Giveaways are a great way to increase the chances of many people seeing your page, and the more people see your page, the more likely they'll follow you, leading to even more visibility and reach.
Some popular reasons why businesses run Facebook giveaways include:
Get new Facebook followers
Increase engagement with your existing audience
Raise awareness of your Facebook business page
Promote new products or services
You can run contests on other social media sites like Instagram and Twitter, but Facebook giveaways are effective because Facebook is the most popular social media network.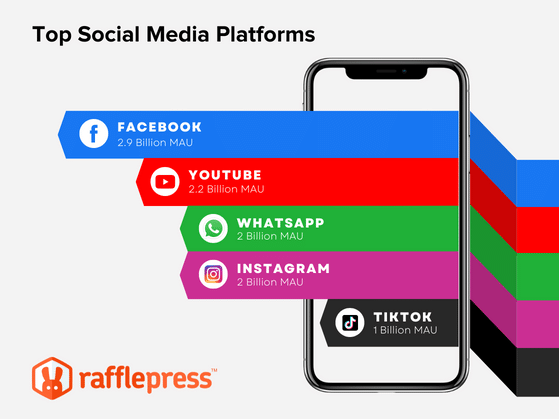 If you're trying to reach the most people, Facebook is the best platform. It doesn't mean that giveaways on other platforms aren't effective. Once you know the basics, you can run giveaways on other platforms simultaneously.
What Are the Facebook Giveaway Rules?
Before learning how to do a giveaway on Facebook, you need to understand the rules. Facebook has several guidelines for running a giveaway you should follow, such as:
You can only run Facebook contests from business accounts, not personal profiles.
You should show your Facebook contest has no connection to or sponsorship from Facebook.
Ensure the official Facebook contest rules, terms, and entry requirements are visible on your giveaway.
Your Facebook contest promotions and prizes should align with applicable rules and regulations.
You cannot allow people to share or tag your contest to enter.
For a full run-down of these rules, check out our Facebook giveaway rules guide.
How to Do a Giveaway on Facebook: 7 Easy Steps
Now that you know the rules let's dive in and learn how to do a giveaway on Facebook step-by-step.
Video Tutorial
Step 1: Set Your Facebook Giveaway Goals
Before learning how to run a giveaway on Facebook, the first thing to do is decide your goals. Your goals help you define the right strategy for your giveaway and measure the results at the end.
There are many goals to choose from, so think carefully about what you want to achieve.
Some examples could be:
Once you've decided on your giveaway goal, the next step is to determine what prize you'll give to your Facebook giveaway winner.
Step 2: Choose a Giveaway Prize
Selecting a prize for your giveaway is the fun part of the process, and when you run a giveaway on Facebook, your prize must align with the goal of your contest.
For example, if you're highlighting a new product, you could give one away to your audience, as Soak & Sleep did with the contest below.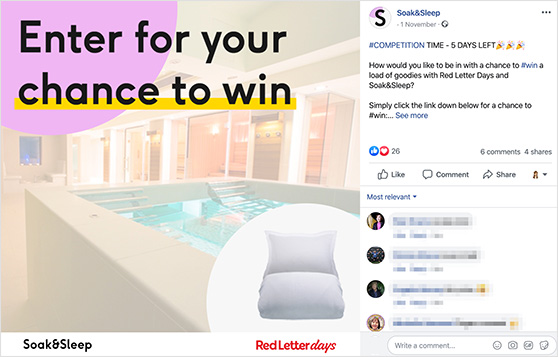 Alternatively, you could offer a bundle of goodies to the lucky winner based on the time of year or your giveaway theme (more on that coming up). For even more prize ideas, check out this article.
Step 3: Run a Giveaway on Facebook With a Theme
Choosing a theme for your contest is a wonderful way to get people invested in your contest, especially when it's a seasonal one.
Christmas giveaways, for example, are popular because people can grab a festive prize that might be perfect for gifting to a loved one.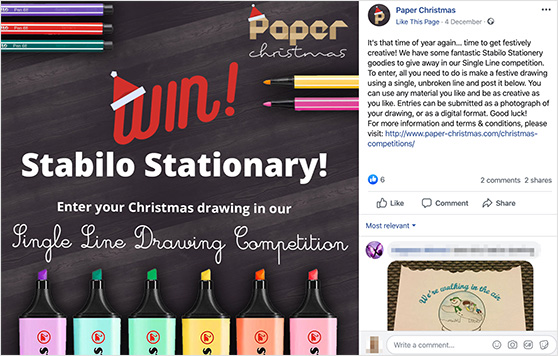 Paper Christmas offers a stationery bundle to the best festive line drawing entry in this Facebook giveaway example. Isn't that creative?
Here are some other giveaway themes you can try:
Have fun coming up with your theme. The more fun you have, the more fun your audience will have entering!
Learn how to run a Facebook photo contest here.
Step 4: Use a Facebook Giveaway Template
Our next step for learning to run a giveaway on Facebook is to decide how you'd like people to enter.
The entry method primarily depends on the goal of your contest. Let's face it; there's no point asking people to visit your Facebook Page if your goal is to get more newsletter subscribers.
RafflePress, the best tool for creating viral giveaways, makes choosing the method of entering simple. It has several pre-built contest templates, including a Facebook Giveaway Template, which automatically adds actions for people to take based on your overall goal.
Let's see how it works.
First, you'll need to grab a copy of RafflePress here. Next, install and activate the plugin as highlighted in this guide for installing plugins in WordPress.
From the RafflePress icon, click Add New to create a new giveaway.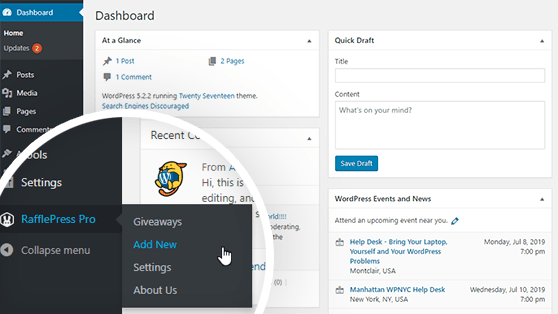 On the next screen, you'll be asked to choose a template. Click the Grow Your Facebook Page template to run a giveaway on Facebook.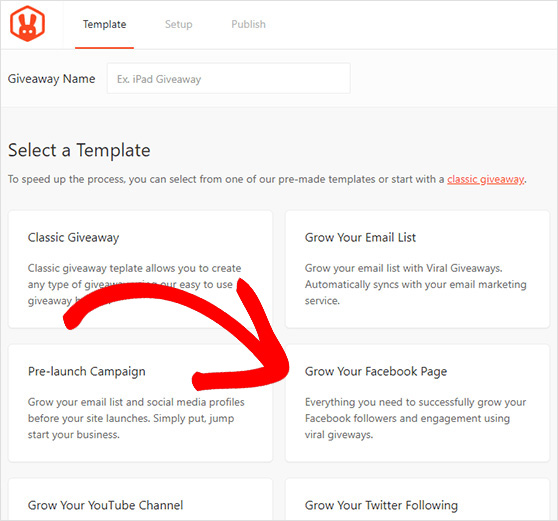 The giveaway details page will appear next, showing you a preview of your contest. As you can see below, your giveaway already has several actions entrants can take, aligning perfectly with your goal.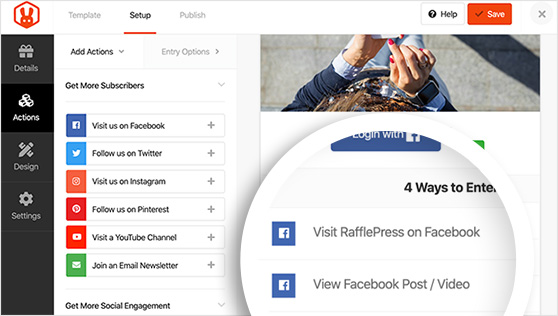 For the Facebook Page goal, the pre-set actions are:
Visit Us On Facebook: paste your Facebook page URL for users to visit and follow your page.
View Facebook Post / Video: paste a post or video URL to embed it directly inside the giveaway widget for users to view and enter without leaving your website.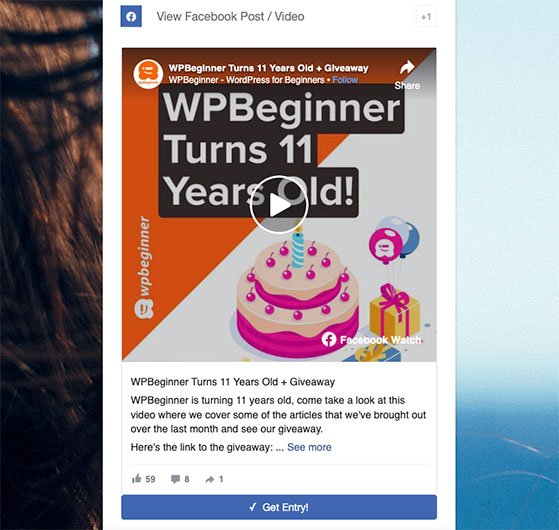 But you can easily add more actions based on your needs. As demonstrated in the above image, you could add the Refer-A-Friend action, which is a great way to go viral or get inventive by creating your own entry method.
The possibilities are endless!
Further Reading: How to Go Viral on Instagram: 12 Tips & Tricks
Step 5: Build Your Contest
Now, it's time to put the finishing touches on your giveaway. This includes giving your giveaway a fantastic image, description, and rules.
Upload an Image
To upload an image to your RafflePress giveaway, click Insert Your Prize Image on your preview screen, as shown below.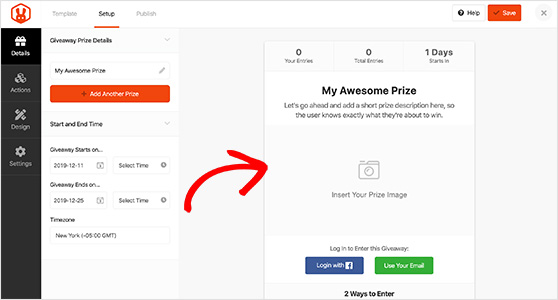 Then click the orange Select Image button to browse your media library or upload an image from your computer.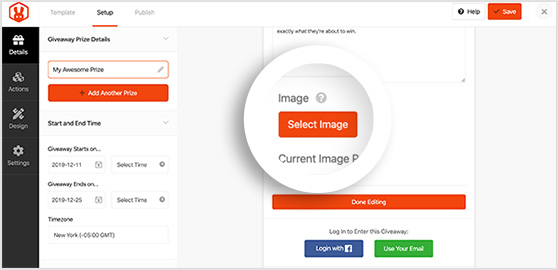 Add a Description
Now, with the same window open, click the description box to write an interesting description for your prize and giveaway.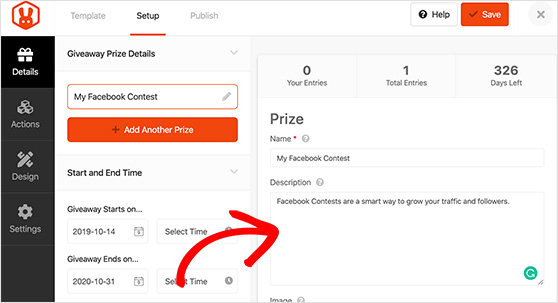 Next, it's time to give your contest some terms and conditions.
Add Your Facebook Giveaway Rules
RafflePress makes adding rules to your contest pretty easy too. To do this, go to Settings and click on Giveaway Rules.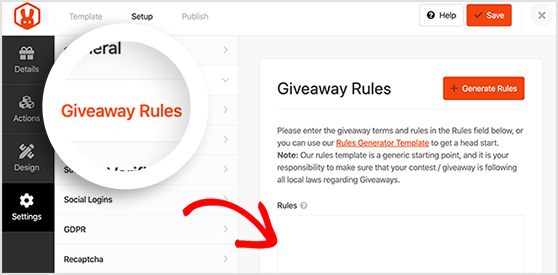 This reveals a content box where you can enter the terms and rules for your giveaway. If you're stuck on what to include, click the Rules Generator Template to open up a lightbox of questions to answer to use as a starting point.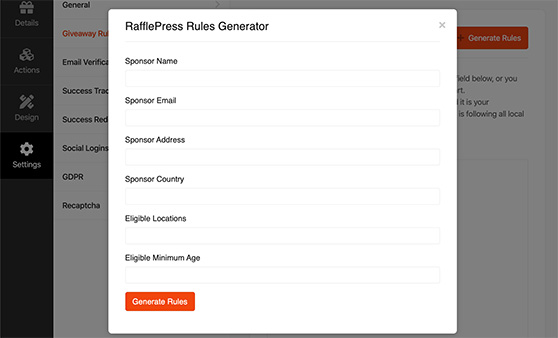 When you're happy, click Save.
It's important to note that Facebook's rules don't let you require likes, sharing, tagging, etc., in exchange for giveaway entries which is why RafflePress's Facebook Visit Page action has Likes marked as optional. Instead, you can use the Refer A Friend action to have people share your giveaway on Facebook.
With your contest built, it's time to publish!
Step 6: Publish Your Giveaway on Facebook
Great work! You're now at the stage where you can publish your giveaway on Facebook and share it with the world.
There are a few ways you can publish your Facebook contest, but we think the best way is to follow this process.
Publish Your Giveaway on a Landing Page
In RafflePress, you can publish your giveaway in two ways:
Through a widget displayed in a blog post or page.
On a dedicated website landing page.
We think when trying to conduct a giveaway on Facebook, the smart move is to publish your giveaway on a Landing Page because you can easily link to it in your initial Facebook post. Plus, it will send all that traffic to your website and your Facebook page.
Here's how to do it.
From your RafflePress giveaway editor, click Publish. You'll then see a new page with 3 options. Click the Giveaway Landing Page option. Then click the click here link to set up the permalink for the landing page.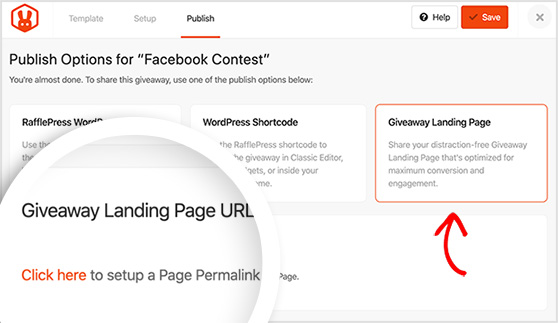 Now enter your chosen URL parameters and click Save.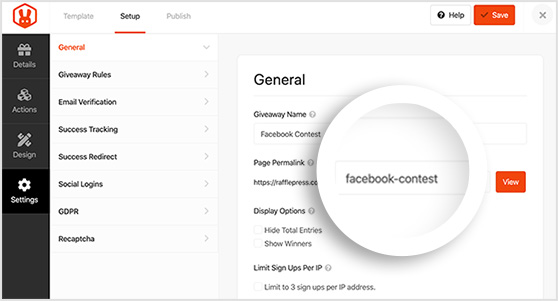 Pasting the URL you just created into your browser will show you the landing page of your giveaway. You can share this link with people so they can enter your contest.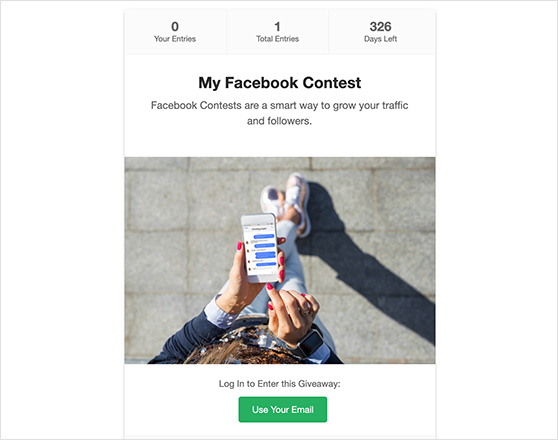 Post the URL on Facebook
Now all you need to do is create an eye-catching Facebook post with the URL for your giveaway landing page.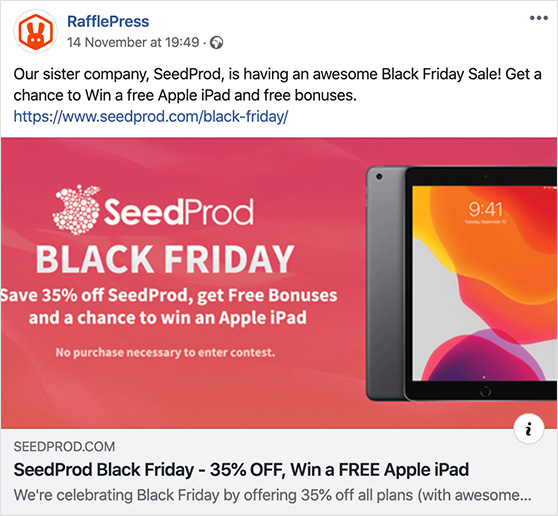 Here's a great example from SeedProd, who used the landing page option for their Black Friday contest on Facebook. You can see SeedProd's giveaway results in this case study.
A good description, an excellent image, and a link to your landing page are all you need!
Step 7: Promote Your Facebook Contest
You can't just sit around and wait for people to enter your contest. Instead, you should start promoting your contest to help spread the word.
A good contest marketing strategy will help your giveaway to go viral so you can grow your audience and generate as many leads as possible.
There are several ways to promote your Facebook contest. One of the easiest ways is to share it on social media platforms such as Instagram, Twitter, and Pinterest and ask people to tag a friend in the comments section.
You can also promote your Facebook contest by:
Creating an email newsletter
Creating a popup with OptinMonster
Adding a link to your website home page
Submitting your giveaway post to contest and sweepstakes directories
Reaching out to relevant bloggers to mention your giveaway
Start promoting your contest weeks before it goes live to get tons of traffic and entries on day 1.
Step 8: Announce the Winner
After all that work that went into creating, publishing, and promoting your contest, the time will eventually come to announce the winner.
RafflePress has a super-easy way to do this with the automatic random winner generator. You can learn all about drawing winners in RafflePress here. Using this option takes the pain out of selecting a winner yourself manually. Even better, there's a link you can click to email the winner right away.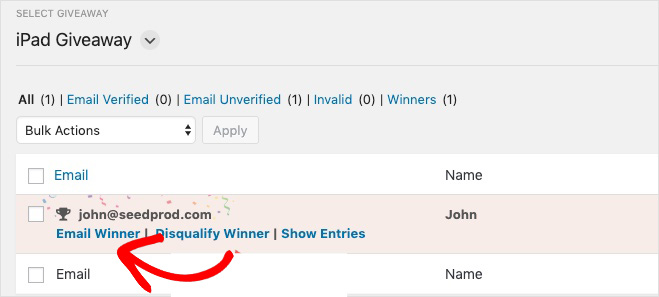 Facebook Giveaway Frequently Asked Questions
Can I run a giveaway on my personal Facebook profile?
According to Facebook's guidelines, you should only run giveaways or contests through a Facebook Page or within a group managed by your Page. Running giveaways on personal profiles is against Facebook's terms of service.
How can I ensure my Facebook giveaway complies with Facebook's rules and regulations?
To ensure compliance, review Facebook's Pages, Groups, and Events Policies, as well as the Promotion Guidelines. Be transparent with your giveaway rules, prize details, and eligibility requirements. Additionally, include a clear release of Facebook from any responsibilities related to your giveaway in your terms and conditions.
Are there any restrictions on the type of prizes I can offer in a Facebook giveaway?
Facebook has certain restrictions regarding the prizes you can offer. You must comply with all applicable laws and regulations, and you cannot offer certain items like alcohol, tobacco, firearms, or other items that are regulated or restricted.
How long should my Facebook giveaway last?
The duration of your giveaway depends on your goals and the type of engagement you want to generate. Typically, giveaways can last anywhere from a few days to a few weeks. Shorter durations often create a sense of urgency, while longer durations allow for more people to enter and share the giveaway.
And there you have it!
You've successfully learned how to run a Facebook contest to increase likes and engagement with hardly any effort. Now you can enjoy engaging with all the new people who are now part of your audience.
If Instagram is more your thing, this guide for running giveaways on Instagram is pretty handy too. It has some great step-by-step instructions and excellent contest examples for inspiration.
We hope you liked this article. If you did, please follow us on YouTube for some great video tutorials. You can also find us on Facebook and Twitter here.