Want to increase your LinkedIn followers? Growing your LinkedIn presence can lead to greater organic reach, brand awareness, and more growth for your business.
But finding the best way to get more followers on the platform isn't always straightforward. So in this article, we'll share our top tips on how to increase your LinkedIn followers.
Why Should You Grow Your Followers on LinkedIn?
With over 700+ million members and a focus on businesses, LinkedIn has an audience that's worth noticing. If used wisely, it's an ideal place to connect with business professionals and influencers from around the globe.
Compared with other social media platforms, LinkedIn is 3x more effective at lead generation than other social networks like Facebook and Twitter. Plus, nearly 50% of social traffic to B2B websites comes from LinkedIn.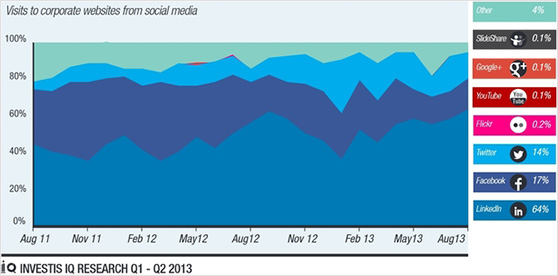 So if one of your marketing goals is to increase leads and sales, LinkedIn is one of the best places to start.
But that's only true if you have a website.
If you're serious about growing your business or personal brand, you'll need a professional website. That way, you have somewhere to send all the traffic and interest you generate on LinkedIn. And even better, you can convert that traffic into leads and potential customers.
While there are many ways to create a website, the most popular choice is WordPress. Not only is the platform free, but it also comes with thousands of WordPress plugins to give your website the functionality you want.
If you don't already have a website, check out this guide on how to make a website with WordPress.
How to Increase Your LinkedIn Followers
Now that you know the benefits of growing your followers on LinkedIn, how do you do it? Below we'll show you how to increase your LinkedIn followers easily.
1. Run a LinkedIn Giveaway Contest
One of the most effective ways to increase your connections on LinkedIn is to run a giveaway contest. Giveaways are a popular way to generate excitement online.
People love having the chance to win a prize, and with effective giveaway promotion tactics, you can make your giveaway go viral online.
With a viral giveaway contest on LinkedIn, you can:
Increase your LinkedIn followers
Promote your LinkedIn company page
Drive traffic from LinkedIn to your website
Promote products or services
Increase engagement with your followers
And more.
The easiest way to run a LinkedIn giveaway is to host it on your business or personal website. That way, you can grow your LinkedIn followers AND send highly-targeted traffic to your website.
And if you have a WordPress website, RafflePress has everything you need to create a successful online giveaway contest.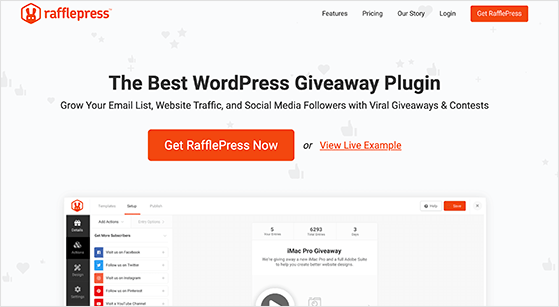 RafflePress is the best WordPress giveaway plugin on the market. It makes it easy for anyone to run giveaways from their website, even if you have no technical knowledge or design skills.
With its pre-made giveaway templates and drag-and-drop builder, creating your giveaway is super easy. You can build your contest visually and see the changes in real time without getting help from an expert.
RafflePress has powerful giveaway entry options to boost your LinkedIn followers, such as:
Follow us on LinkedIn
Share on LinkedIn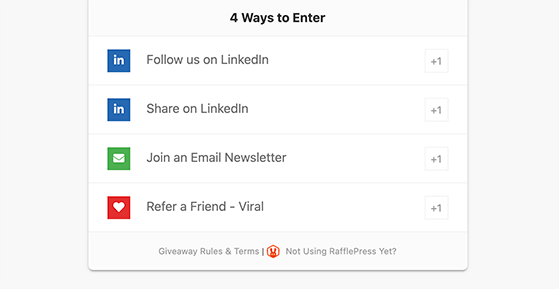 All people need to do is click the action and perform the task to enter your giveaway.
You can also add bonus actions for people to earn more giveaway entries like:
Join an email newsletter to grow your email list
Refer a Friend to go viral with word-of-mouth marketing
Leave a Comment to increase engagement
Submit an Image to collect user-generated content
Answer a Question for easy entry
Surveys and Polls to collect user feedback
Subscribe to RSS Feed to increase your subscribers
And many more.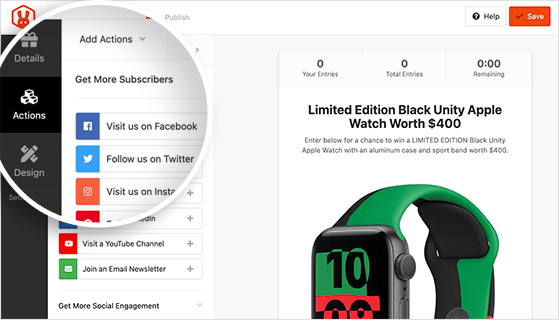 Publishing your LinkedIn giveaway on your site is just as easy. You can embed the giveaway widget in a WordPress post or page.
Or create a standalone giveaway landing page free of any distractions. With this option, you can then share your giveaway anywhere online.
For help with setting up your giveaway, follow this guide to run a LinkedIn Competition with RafflePress.
2. Optimize Your Linkedin Profile for SEO
Did you know that your LinkedIn profile and company page shows up in search results? It's true!
If your LinkedIn page is optimized for SEO, users searching for keywords related to your business can find your page in search engine results.
To make it easier to find you in search engines, add words to your profile that you know people use to search for your brand. You should include these words and phrases in your tagline, about section, and in any other company details.
Much of the information about your business is probably covered on your website. So include your website URL on your LinkedIn page to drive traffic to your site.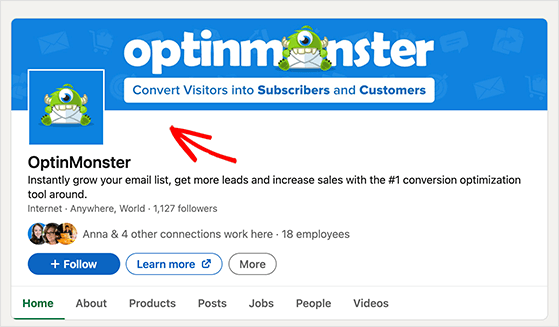 A complete LinkedIn Page should also include a logo and banner image. Potential followers are likely to move on quickly if they're met with a generic and bland page.
The logo displayed next to your company name should be around 300 x 300 pixels. And the recommended size for your LinkedIn banner image is 1536 x 768 pixels.
Once you've fully optimized your LinkedIn Page, it will be much more inviting for visitors, making it more likely they'll follow you.
3. Ask Your Employees to Follow Your Page
Another easy way to grow your LinkedIn followers is to get your team members involved. Ask employees and colleagues to follow you on LinkedIn and spread the word with their connections.
This is an essential step for new LinkedIn pages, as it helps you grow your page quickly. When team members and colleagues tag your page in updates and share the benefits of following you, it adds up to a much-needed boost.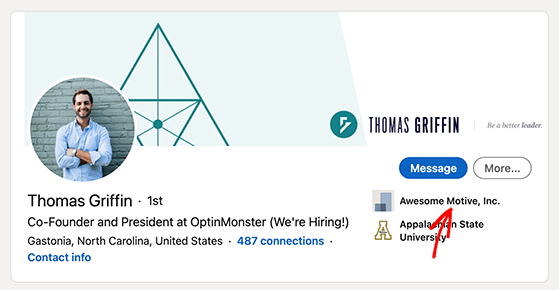 You should also ensure employees accurately cite your page in the work experience section of their profiles. This is because whenever they make a new connection, that connection gets a prompt to follow your LinkedIn Page.
4. Add a LinkedIn Follow Button to Your Website
There are several things you can do on your website to grow your LinkedIn Followers. The most obvious is to add a LinkedIn follow button.

There are several ways to do this in WordPress with a social media plugin.
The easiest solution is to add social media icons in your WordPress sidebar, menu, or even your footer area. That way, when someone clicks your LinkedIn icon, they head straight to your profile, where they can follow you.
5. Make it Easy to Share Your Content on LinkedIn
After you add a follow button to LinkedIn from your website, it's also a good idea to add social media sharing buttons.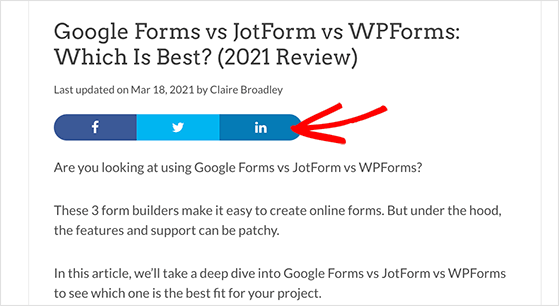 Having share buttons on your website makes it easier for website visitors to share your content on LinkedIn. This increases the chance that people who don't already follow you will see your content. And as a result, it can encourage them to follow you on LinkedIn for more updates.
Check out this helpful guide to learn how to add social share buttons to WordPress.
6. Use Website Popups to Promote Your LinkedIn Profile
Another way to boost the visibility of your LinkedIn profile is to add popups to your website. They're a great way to capture people's attention and come in many different styles.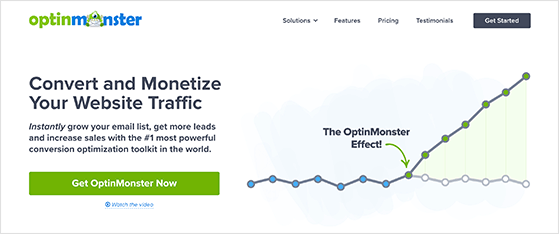 OptinMonster is the best way to add popups to your website. It comes with a variety of popup types, including:
Slide-in scroll boxes
Floating bars
Welcome mats
And more
Plus, each popup includes templates specifically designed to grow your followers on popular social media platforms like LinkedIn.
Here's an example: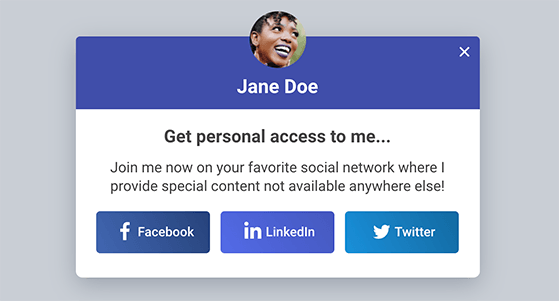 With campaigns like this, you can take advantage of OptinMonster's powerful lead-generation tools and use them to benefit your LinkedIn marketing efforts.
For instance, you can:
In the end, you have a tool that can both increase leads on your website and connect with more people on LinkedIn.
7. Link to Your Profile from Your Email Signature
Don't forget about your email account when promoting your LinkedIn page. With nearly 105 billion emails sent each day, it's an easy way to reach your target audience.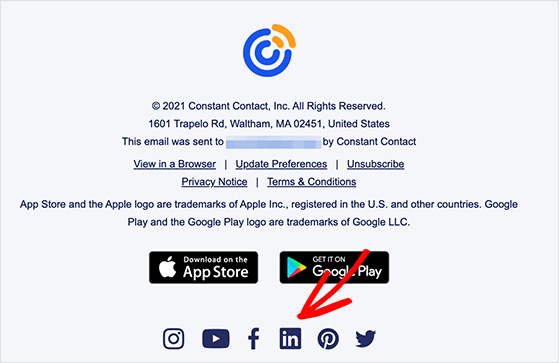 Include a link to your LinkedIn page in your email signature, and encourage recipients to follow you. If you're talking to them over email regularly, there's a good chance that they'll find your page interesting enough to follow.
8. Post Regular Content on LinkedIn
Besides adding links to LinkedIn in your signature and on your website, it's also essential to focus on posting regular quality content.
Posting updates on LinkedIn regularly will give your page more visibility in people's news feeds. Plus, content published at least weekly can almost double your engagement. This can lead to increased organic reach and added appeal for your followers.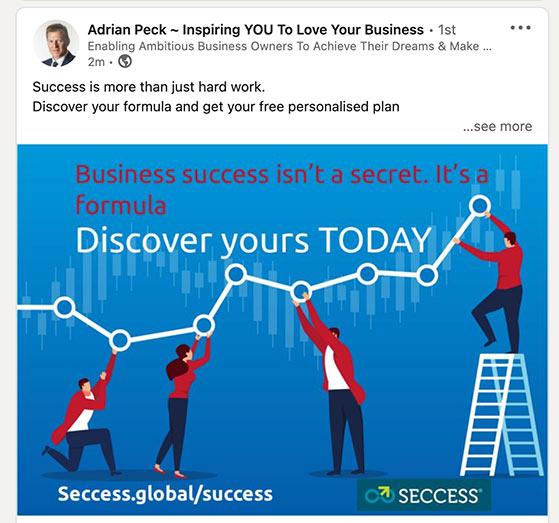 Some of the best pieces of content to post on LinkedIn include:
Content like this adds plenty of variety to your feed, making it attractive to potential followers.
9. Post Quality Visual Content
As mentioned earlier, visual content can add variety to your updates and make them more engaging.
Videos especially stand out in the LinkedIn feed and help your business get noticed more. They're better for people browsing on mobile and can earn up to 3x the engagement of text posts.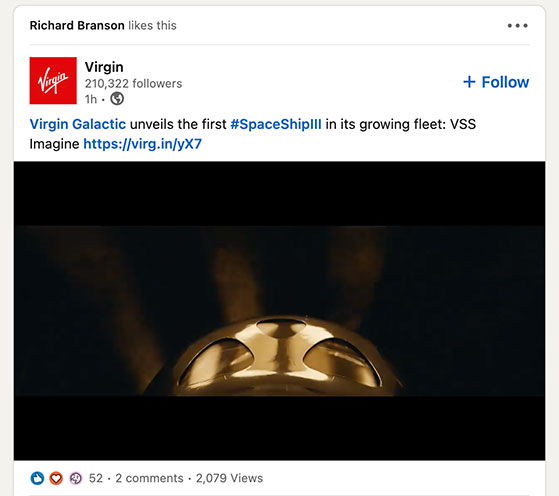 Other visual content like image collages and infographics also drive tons of engagement. Plus, they're highly shareable, making them more visible to users who don't follow you yet.
10. Use Relevant Hashtags in Your Posts
When sharing updates on LinkedIn, it's good practice to use relevant hashtags in your posts. By adding anywhere from 3 to 5 hashtags, you can reach new communities relevant to your business.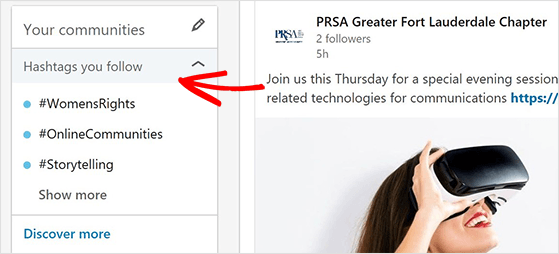 You can also associate your LinkedIn Page with relevant hashtags in your Communities Hashtags panel. Here you can enter a feed and react or comment on conversations, exposing your business name to new, like-minded audiences.
11. Tag Other Users in Your LinkedIn Updates
You might not associate LinkedIn with influencers, but there are plenty in the B2B marketing world active on LinkedIn. If there are people in your industry you admire that don't compete with your brand, mention them in your updates.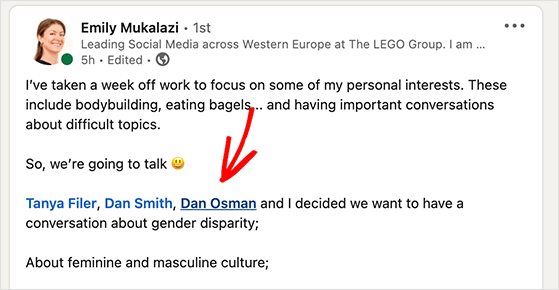 By tagging those people in your posts, you have an increased chance of being seen by their audience. This is especially true if they share your post with their followers.
But don't make the mistake of overdoing it. Tagging people too often can look spammy and might put people off.
12. Encourage Other Users to Mention Your Page
Besides tagging relevant people in your LinkedIn posts, you can also ask other people to tag you in their updates. Think about important figures in your industry and ask them to talk about your brand and link to your page.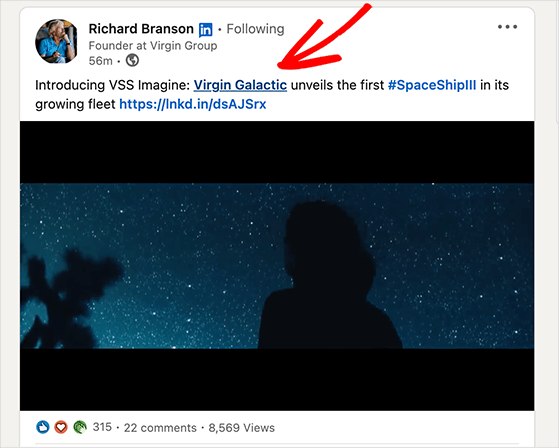 These people could be:
Current or past employees you have a good relationship with
Partners that work with your company
Existing customers who love what you do
Loyal brand advocates and influencers
When these people talk about you on LinkedIn, it can help drive more traffic and followers to your page.
13. Join Relevant LinkedIn Groups
LinkedIn Groups are an excellent way to join engaged conversations between like-minded people. Since groups include people interested in niche topics, you can join these discussions and share your brand's expertise.
By contributing to groups as an expert on relevant topics, it can raise brand awareness and position you as an authority. If you have the time and workforce, you can create your own LinkedIn group and have your team members help generate discussions.
14. Promote Your Page on Other Social Media Platforms
Don't forget that there's a variety of other social media platforms online with audiences that might be interested in what you do. Look at where your target audience hangs out and share your LinkedIn page on those platforms to reach them.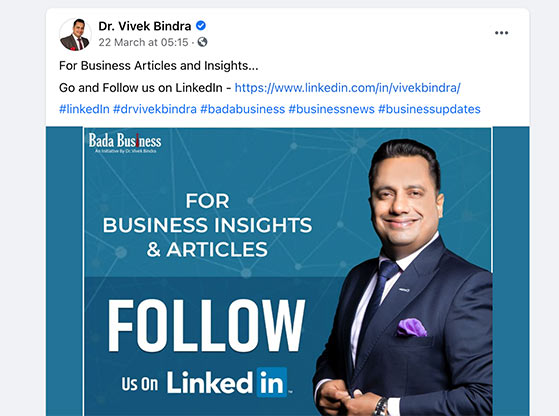 Here are some social media marketing demographics to get you started:
Facebook is evenly split between male and female users between the ages of 25-34.
Instagram's largest age group is around 25-34, with a larger proportion of female users.
Twitter has a predominantly male audience between the ages of 25-34.
Pinterest is more popular with women around the age of 30-49.
TikTok has a younger age group of 18-24, with slightly more female users than male.
Snapchat is broadly used by 13-34-year-olds, with an even split between genders.
Similarly, YouTube is equally popular with both men and women between 15-25.
15. Run a LinkedIn Follower Ad Campaign
Our final tip to increase your LinkedIn followers is to run a LinkedIn ad campaign. With LinkedIn ads, you have more control over the type of audience you target and can personalize your ads to your ideal users.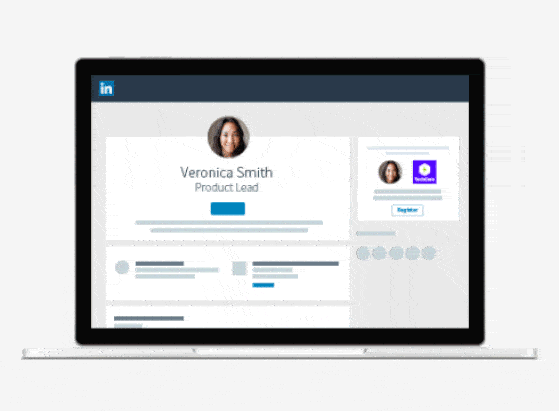 A Dynamic Ad campaign with the Follower Ad format is an effective way to do this. It allows you to expand your audience and acquire more followers for your LinkedIn or Showcase Page. As a result, you can grow your influence when people engage with the content you share on LinkedIn.
LinkedIn has detailed documentation on how to set up this type of ad. Just visit LinkedIn's help section for a step-by-step guide.
And that's it!
We hope this article helped you learn how to increase your LinkedIn followers. With a bit of work, you can expand the reach of your LinkedIn page or profile to more relevant people, boost your followers, and grow your business.
And if you're looking for more ways to boost your business engagement, check out these expert tips to get more blog comments.
Don't forget to follow us on YouTube, Twitter, and Facebook for more great tips and tutorials.