Are you looking for Etsy marketing tips to promote your products and services?
Making an Etsy shop is an excellent way to reach potential customers. But as with any small business, you'll need a marketing strategy to achieve the best results.
This article will share some of the best Etsy marketing tips to increase brand awareness and boost sales.
Why Do You Need an Etsy Marketing Strategy?
Marketing is crucial for running a successful online business. You could create the best products in the world, but if no one knows about them, they won't sell.
You can solve that problem by brushing up on your marketing efforts, which will raise your brand's awareness and help you develop a reputation. As a result, you'll help shoppers find your products, build trust with potential buyers, and convert them into customers.
Best Etsy Marketing Tips to Boost Your Sales
So far, you know why you need to market your Etsy shop. Now, let's look at some Etsy marketing tips to make your Etsy business successful.
1. Run a Product Giveaway
One of the best tips to grow your Etsy business is to run a product giveaway. Creating a giveaway is an excellent way to:
Increase brand awareness
Boost social media followers
Increase engagement
Promote specific products
Generate leads
Boost sales
All it takes is giving away an Etsy product to the successful winner. You'll attract a large audience of users interested in your goods in return.
After, you can send promotions and special offers to previous entrants and convert them into paying customers.
If you're a WordPress website owner, the easiest way to run a product giveaway is with a giveaway tool like RafflePress.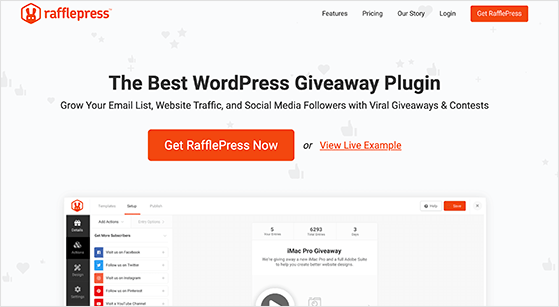 With RafflePress, you can create a giveaway on your WordPress site, capture participants' details, incentivize users to share on social media channels, and make your giveaway go viral.
Here are some of the types of giveaways you can create with RafflePress: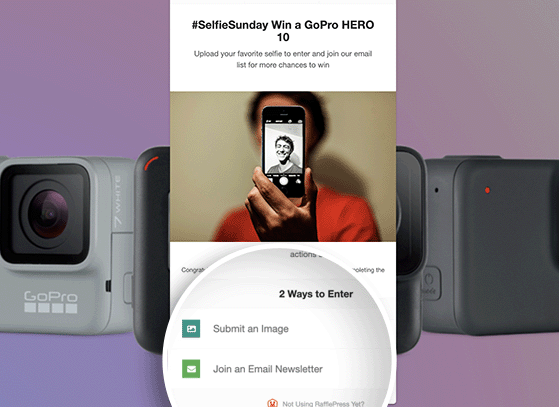 Creating an online contest involves a few easy steps:
Choose a giveaway template
Enter your prize details
Add ways to enter
Set your giveaway rules
You can also customize your giveaway widget with the drag-and-drop builder in minutes.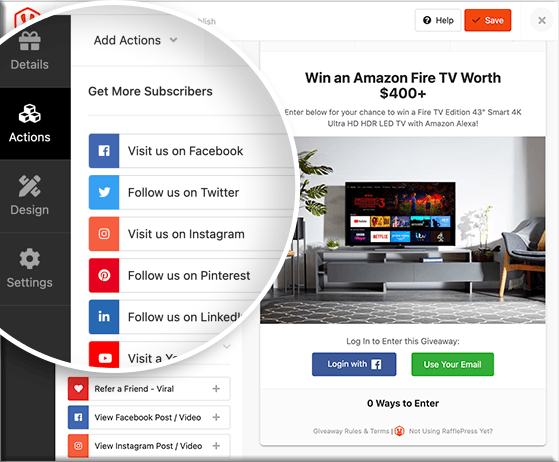 After, you can promote your giveaway on social media to encourage users interested in your brand to enter.
For more details, here's a complete guide on how to run a giveaway on Etsy.
2. Create an Etsy Shop Landing Page
Another way to spread knowledge about your products is to create a landing page on your website. Landing pages are standalone web pages that focus on a single goal, and for your Etsy shop, that goal is to discover your products.
Because landing pages have a single focus, they're excellent tools for increasing conversions. Instead of distracting users with links and blog posts on your homepage, landing pages tell people what you want them to do.
For example, you can create a landing page for your entire Etsy shop or individual Etsy products. You can also use landing pages to promote specific Etsy offers and discounts.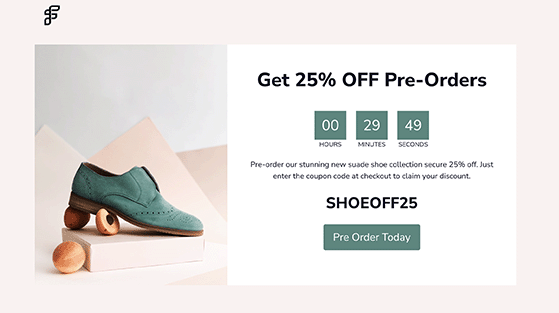 Then you can promote your page through social media, ads, and search engines to generate traffic and send it to your shop.
The best way to make a landing page in WordPress is with a page builder plugin.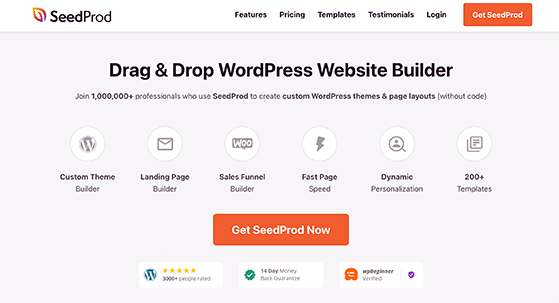 SeedProd is the best drag-and-drop website builder for WordPress. It lets you make custom WordPress themes, high-converting landing pages, and flexible website layouts without code.
Getting started is easy with 200+ pre-made themes and templates. You can then customize your design with blocks and sections in the drag-and-drop visual editor.
SeedProd offers many ways to optimize your landing page for conversions, such as:
Increase urgency with countdown timers
Collect email addresses with optin forms
Improve trust with testimonials
Boost engagement with videos
Get more clicks with call-to-action (CTA) buttons
And more
Because SeedProd is SEO friendly, you can also optimize your landing page to increase your search rankings. As a result, you can boost organic traffic from search results.
3. Promote Your Shop with Website Popups
Many website visitors leave before taking action and never return. For you, that means a lost opportunity to convert visitors into leads and sales.
One way to combat that issue is by displaying a popup when users are about to leave. For example, you can then entice them with a discount code for your Etsy shop in exchange for their email address.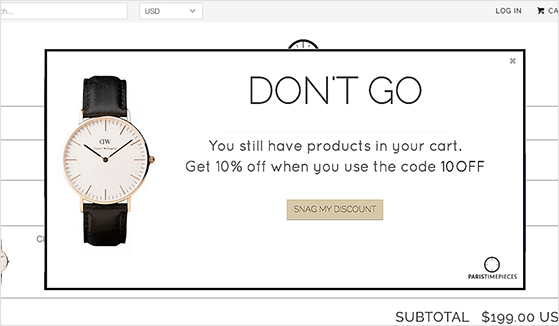 OptinMonster is the best way to add exit popups to your website. Its powerful Exit-Intent technology lets you target users as they're leaving, enabling you to convert them at the right moment.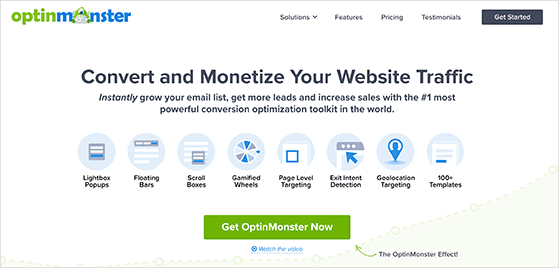 That doesn't just work for exit popups, either. You can create many types of lead generation campaigns with OptinMonster, such as:
Full-screen welcome mats
Lightbox popups
Slide-in campaigns
Scroll boxes
Floating bars
And more
The drag-and-drop campaign builder is super-easy to use and has many pre-made templates. You can also personalize your marketing message to specific audiences (including social media) with advanced targeting options.
4. Add Recent Sales Notifications to Your Website
A popular challenge for business owners who sell on Etsy is building trust. Shoppers will be hesitant to pull out their credit cards if they don't trust you.
An effective way to increase business trust is to show website visitors that other shoppers love your products, and you can do that with recent sales notifications.
A sales notification is a small message on your website that appears when someone buys something from your online store. These messages leverage consumer behavior known as "FOMO," or the fear of missing out.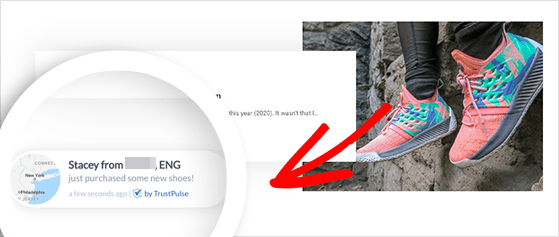 FOMO occurs when users see other shoppers getting positive benefits from products or services. It makes users feel like they're missing out on something, which motivates them to take action.
Creating recent sales notifications for your Etsy shop is super-easy with TrustPulse.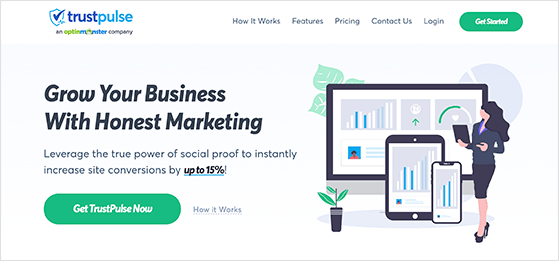 TrustPulse is the best social proof software, and it doesn't require any technical knowledge or coding skills. You can control how your notifications look, where they'll appear on your site, and when the messages trigger.
Check out this step-by-step guide to creating an Etsy sales notification with TrustPulse.
5. Send Push Notifications to Website Visitors
Earlier, we talked about getting potential customers to return to your website. Another way to do that is to send web push notifications to your website visitors.
Web push notifications allow people to opt-in to updates from websites they like. They also make it easy for site owners to re-engage those users with relevant content and updates.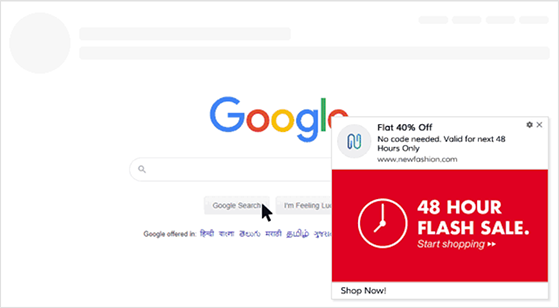 Etsy store owners can use push notifications to tell website visitors about upcoming sales events and promotions, new blog posts, stock updates, etc. As a result, you can keep your brand top-of-mind wherever your target audience is online.
The easiest way to add push notifications to your website is with PushEngage, the best web push notification service on the market.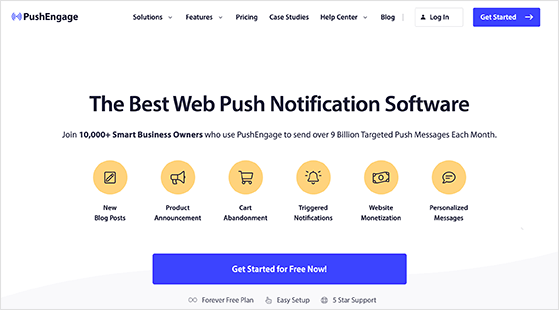 PushEngage allows you to schedule messages, trigger event-based notifications, send cart abandonment notices, etc. You can also segment your audience and automate push campaigns with a few clicks.
Follow this guide to add web push notifications to any website.
6. Encourage Customers to Leave Reviews
Customer reviews are a super-effective way to boost sales for your Etsy shop. If you collect and display reviews, it's easier to convince potential customers to trust you and improve your Etsy quality score.
The easiest way to collect reviews and customer feedback is to ask. For instance, you can include thank you notes in your orders and invite customers to leave a review or send an email with a similar message.
Alternatively, you can sweeten the deal by offering an incentive for customer feedback.
For instance, you can offer users a discount or coupon code that shoppers can redeem after leaving their reviews. Or leaving a review can result in an entry to your giveaway contest.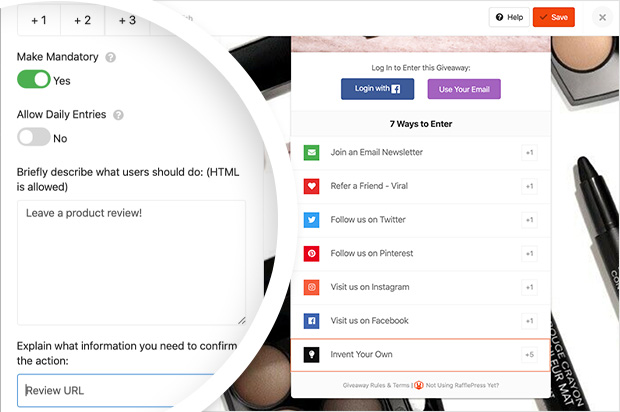 Incentivizing customer feedback will likely result in more positive reviews and more sales.
7. Write Gift Guides on Your Blog
Most consumers turn to search engines to research products and services, and creating high-quality blog content is a sure-fire way to reach that audience. If you're not utilizing your business blog to generate organic traffic, now is an excellent time to start.
Publishing a gift guide or product roundup on your blog is a great way to reach a broader audience. You can create a list of must-have products around a theme and include products from your Etsy store.
A good example is a Mother's Day gift guide or the top 10 gifts for Easter. Users searching for those terms in Google can then find your post and click through to discover your products.
If you create a compelling product description in your article, you can convince users to click your product link and buy it from your Etsy shop.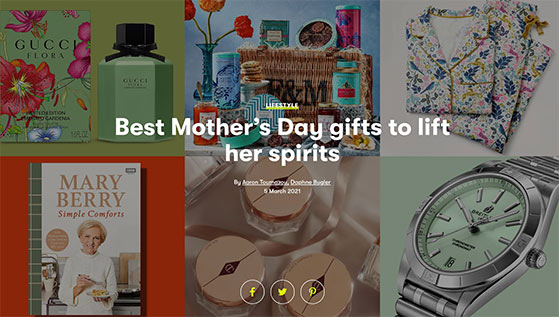 Additionally, you can email any other brands included in your list with a link to the article. Hopefully, that will encourage them to share your post with their audience.
8. Create an Email Marketing Campaign
It's easy to forget about email when searching for Etsy marketing tips. Email marketing can help you reach new customers and maintain relationships with existing users.
For instance, you can send regular email newsletters, updates about your shop, sales and promotions, and personalized content to your email subscribers.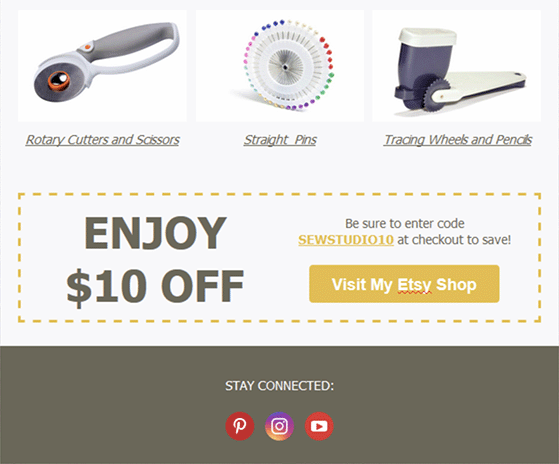 To do that, you'll need to start an email list. You can begin by capturing the email addresses of your customers. After, you can follow some of these lead generation ideas to grow your email list.
You can send emails to your customers on a variety of topics, including:
Coupon codes
Special offers
Thank you messages
Blog content
Business news
You should always add a link to your published content or an item from your Etsy shop in your emails.
9. Promote Your Products on Social Media Platforms
Social media is invaluable for marketing your Etsy shop. You can use it to display Etsy ads, share product reviews, offer customer service, and reach users interested in your niche.
However, not all social media platforms attract the same type of audience. What works for Twitter may not translate well on Instagram or Facebook.
You should tailor your posts for each social media channel you use to promote your Etsy store. Here's an overview of which types of content work best for each social media network:
Facebook: Videos and curated content
Instagram: High-quality photos, quotes, and stories
Twitter: News, blog posts, gifs, and memes
LinkedIn: Company news, jobs, and professional content
Pinterest: Infographics, photo guides, and step-by-step photo tutorials
TikTok: Tutorials, life hacks, and challenges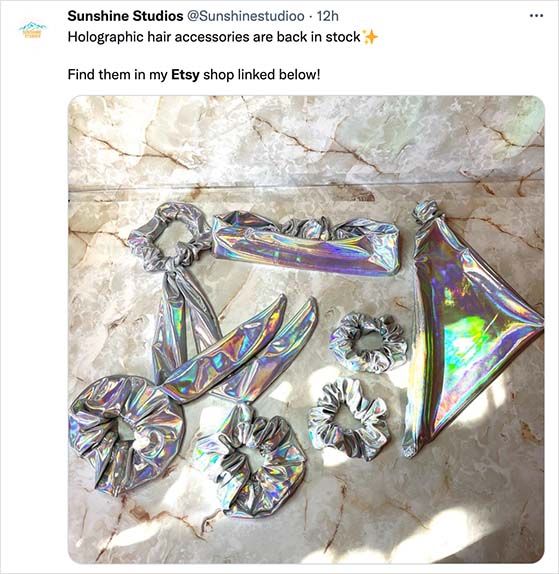 Experiment with your content until you find a format that works for you.
10. Run Paid Ads on Etsy and Social Media
The following Etsy marketing tip is similar to the last because it uses social media to ensure your store is visible to enough users. We're talking about running paid ads to increase your reach.
When you use platforms like Facebook and Instagram, you can run ads that target specific audiences. That is particularly helpful if your store serves a local area.
Location-specific Facebook ads let you pick a precise radius of people who can see your ads. As a result, you can target specific zip codes your store delivers to so only the right people see your adverts.
You can also use social media ads to narrow down and target particular audiences. For instance, you can target people by interest, location, age, etc. Doing so will get your ads in front of the right people, resulting in a greater return on investment (ROI).
Don't forget about running ads on Esty. Etsy may show your ads in Etsy Search, Category Pages, Market Pages, Etsy.com, and the Etsy app.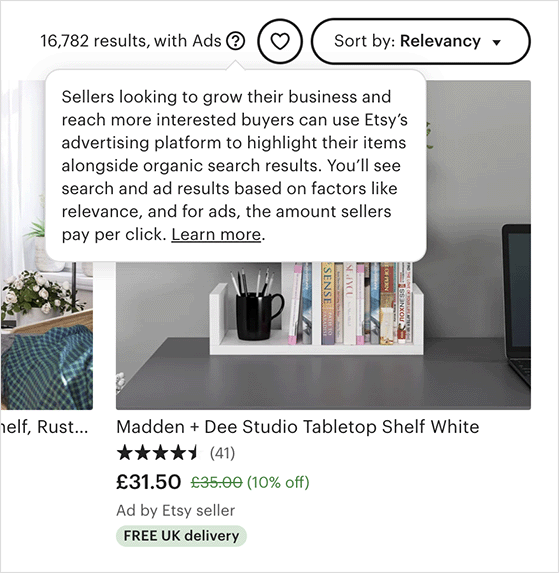 11. Leverage Holiday Trends for Promotions
The final Etsy marketing tip is all about the holidays. Shoppers spent $3.3 billion on Etsy from October to December 2020. That's a 118% increase compared to the same time in 2019.
Etsy also saw repeat purchases during the first 3 months, indicating that the holiday season and beyond are crucial for small businesses. You can leverage the holidays to promote your business by:
Joining Etsy-wide sale events such as the Etsy Cyber event
Offering discounts before holiday events to boost sales
Providing free shipping during the holiday season
Planning promotions in advance for the coming year
Our top tip is to create a marketing calendar outlining the promotions you'll run, like this example from Printful.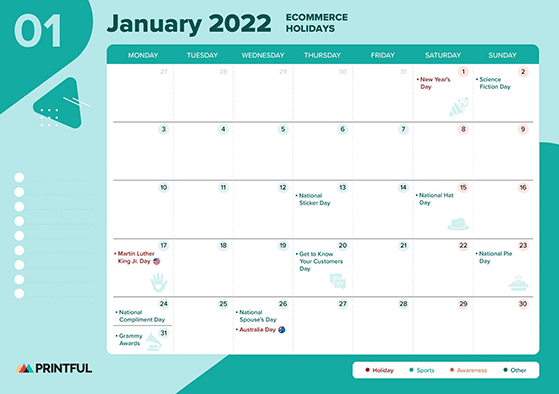 That will help you see which marketing assets you need to make at-a-glance.
There you have it!
This article has shared some of the best Etsy marketing tips to help grow your business. By following these tips, you'll be able to attract more customers and increase your sales.
You can also check out these best eCommerce marketing tools to scale your store further.
If you liked this article, please subscribe to our YouTube Channel for RafflePress video tutorials. You can also find us on Twitter and Facebook.