Are you looking for the best social media plugins for WordPress?
Social media marketing is a powerful way to share your content with your target audience wherever they are online. As a result, you can drive traffic back to your WordPress website, boosting leads and engagement.
In this article, we'll help you find the best social media plugin for your WordPress site.
How to Pick a WordPress Social Media Plugin?
Social media isn't just about sharing your content. With the rise of user-generated content like photos, reviews, and tutorials, social media is a powerful form of social proof businesses can use to increase trust in their brand.
Consequently, the social media plugin you choose should include features that help you amplify your brand and grow your business easily.
Here is a simple guide on what to look for in a good social media plugin:
Is It Up-to-date?
There are thousands of plugins in the WordPress repository, making it hard to find a quality solution. One way to filter out the lower-quality plugins is to check which ones are up-to-date.
The best WordPress plugins are updated regularly to ensure they're secure, perform well, and work with the latest version of WordPress. Conversely, if a plugin isn't up-to-date, it may have vulnerabilities that can impact the security and performance of your site.
It's easy to see how well-maintained a plugin is by visiting its WordPress page. Down the right-hand side, you'll find details such as:
Current version
Last updated
Tested up-to
WordPress version
PHP version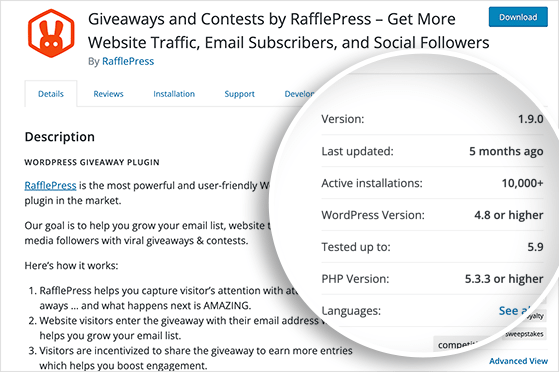 That information should give you a solid overview of the plugins' maintenance.
Does It Have Good Reviews?
On the same WordPress plugin page, you can see customer reviews of the plugin. An excellent social media plugin will attract a lot of positive reviews.
Take some time to read through the testimonials. Doing so will help you understand how the plugin works, and any problems existing users face.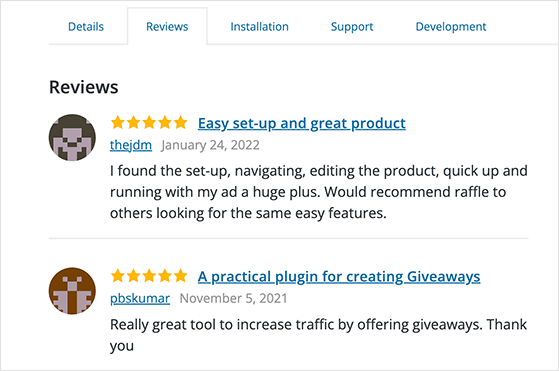 The same is true for newer plugins. If it doesn't have many active installs, you should still check the reviews to understand its capabilities better.
Is It Easy to Set Up?
Do you want to spend hours learning to use a new plugin? Most website owners don't have that much time.
That's why the social media plugin you choose must be easy to set up and use; otherwise, it isn't worth the investment. A good social media plugin should be easy to set up right out of the box.
Additionally, it should be easy to install, navigate the user interface and configure the settings.
Does It Have Customization Options?
Your website isn't the same as your competitors; it has different needs and serves other purposes. As a result, the social media plugin you choose should include customization options you can tailor to your business needs.
Look for a plugin that:
Includes different social sharing button styles
Supports popular social media platforms
Offers multiple layout options
Best Social Media Plugins for WordPress
Now that you know what to look for, here are some of the best social media plugins available for your WordPress site.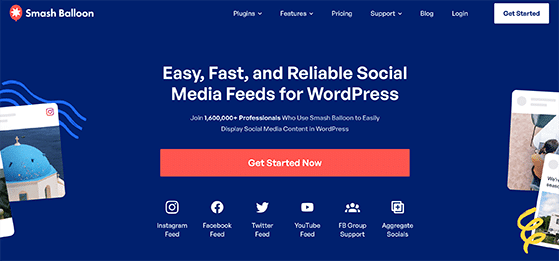 Smash Balloon is a collection of powerful social media plugins trusted by over 1.6 million websites. It lets you add beautiful social media feeds from Instagram, Facebook, Twitter, and YouTube directly on your WordPress website.
The Feed Creation Wizard makes it easy to create flexible layouts to show social media content anywhere on your site. It's also super easy to navigate, SEO friendly, and mobile responsive.
The different plugins on offer from Smash Balloon include:
Custom Facebook Feed Pro: Show Facebook posts, photos, albums, videos, reviews, and Facebook Group content.
Instagram Feed Pro: Connect your Instagram account with your WordPress website and show shoppable Instagram feeds, IGTV videos, Instagram stories, and more.
Custom Twitter Feeds Pro: Highlight Twitter feeds, including those that mention your account, advanced Twitter searches, posts, and more.
Feeds for YouTube Pro: Showcase YouTube video feeds, playlists, live streams, favorite videos, and more.
Social Wall Pro: Combine feeds from all 4 social media platforms into a responsive social media wall.
Even if you're not tech-savvy, it's super easy to customize your social media feeds with Smash Balloon. You can choose different layouts, moderate posts, and show and hide content with a few clicks.
Smash Balloon also gives you total control over your follow buttons, comments, likes, and shares.
Pricing: Smash Balloon has a free version of its most popular plugins. However, the paid plugins offer many more features to help you reach your marketing goals. You can get the plugin bundle for $299 per year or each plugin separately from $49 per year.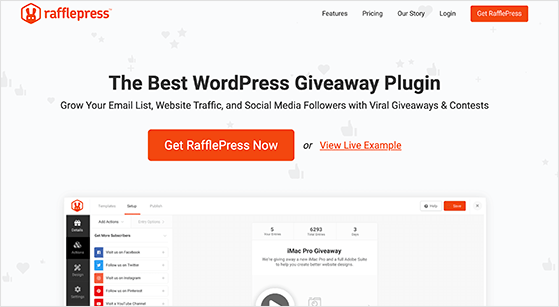 Social media contests are an excellent way to drive targeted traffic to your website and grow your social media followers. RafflePress makes running giveaway contests in WordPress effortless.
It's the best WordPress giveaway plugin on the market, allowing you to run any contest from your WordPress website with a few clicks, including:
Photo contests
Giveaways with automatic entry
1-click entry sweepstakes
RafflePress is also super easy to use; it comes with a drag-and-drop giveaway builder and several premade giveaway templates. As a result, creating a giveaway contest is as easy as pointing and clicking.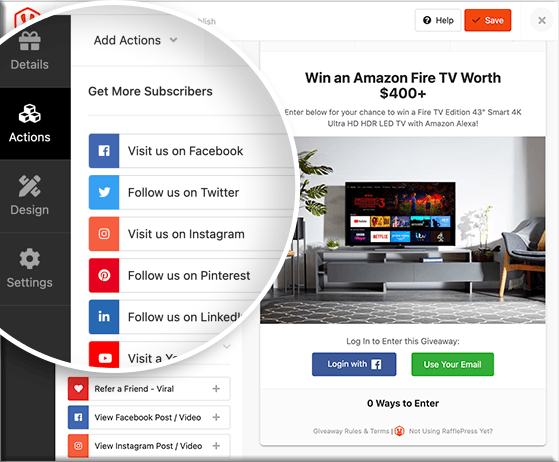 The templates center on popular marketing goals to improve social media engagement and boost followers. For example, the "Grow your Instagram Following" template comes with the giveaway actions needed to increase your followers on Instagram.
Additionally, this plugin supports popular social media platforms, including Facebook, Twitter, YouTube, Instagram, LinkedIn, and Pinterest. It also includes giveaway actions to grow your Twitch channel and podcast subscribers.
You can also publish your giveaway easily in WordPress with blocks, shortcodes, or a standalone giveaway landing page. Thus, no matter which giveaway you want to run, RafflePress is the best plugin for reaching your goals.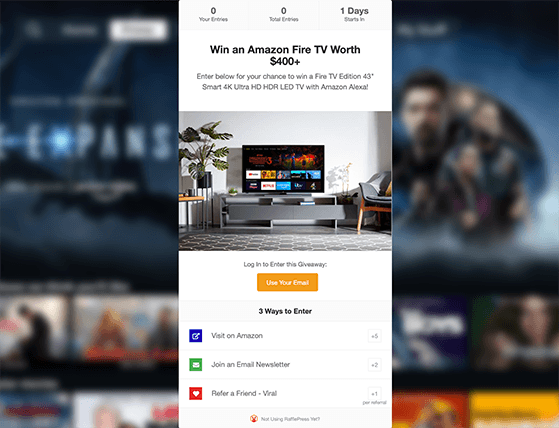 Pricing: There is a free plugin for RafflePress; however, the features are limited. Instead, we recommend the paid version for the best features. The pricing for RafflePress starts at $39.50 per year.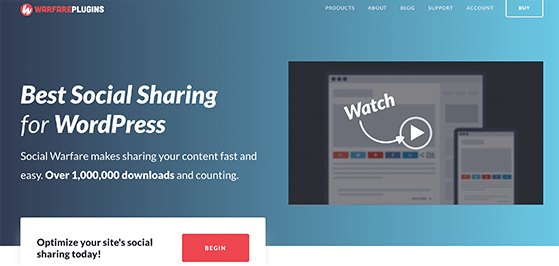 Social Warfare is a social sharing plugin that many marketers use. It has an easy-to-use interface and offers various powerful features to help you meet your marketing goals.
For instance, it includes customizable social media share buttons you can display pretty much anywhere on your site. You can also use its analytics dashboard to track social shares with Google Analytics.
The popular posts widget is an excellent way to display popular content from your blog in sidebars and widget-ready areas. It calculates the popularity of posts by the number of shares they get.
Social Warfare lets you recover share counts even if you switch your website's permalink structure. It's also lightweight and doesn't impact page loading speeds.
Pricing: Social Warfare is free. The pricing for Social Warfare Pro starts from $29 per year.
Revive Social's Revive Old Posts plugin offers an easy way to automate your social media marketing. It lets you schedule social media posts automatically from WordPress, breathing new life into older content by sharing it with your audience.
Some of the other powerful features that come with this plugin include:
Social media sharing from RSS
Automatically share WordPress posts
Create hashtags for blog posts automatically
Include and exclude posts from automatic sharing
Share older content
Pricing: The pricing for Revive Old Posts starts at $75 per year for a single site license.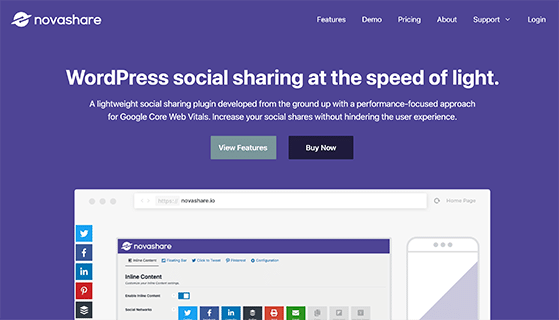 Novashare is another social media plugin to consider for your WordPress site. It lets you add social media icons to your site, allowing users to share your content quickly and easily.
This plugin is fast and lightweight, so your pages will load fast despite the extra functionality. It also includes an easy-to-use interface with clear labels that enable you to find your way around quickly.
Some of Novashare's best features include:
Share buttons with share counters
Useful click-to-tweet WordPress block
Hover pins for Pinterest
Recovery for share counts
Social media analytics
URL shortening
Novashare works with most social media networks and applications like Telegram, Buffer, WhatsApp, and SMS.
Pricing: Novashare is an affordable plugin with prices starting from $24.94 per year.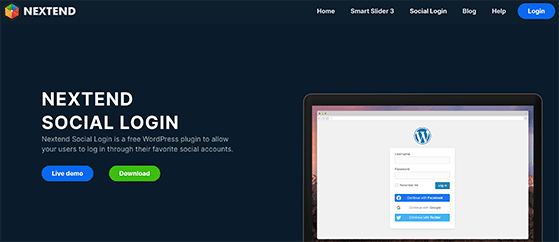 Nextend is a social login plugin that allows website visitors to log in to your site using their social media accounts. This is an excellent way to reduce the steps needed for users to create an account on your site.
Nextend supports logins from popular social media channels such as Facebook, Google, Twitter, LinkedIn, and more. It also works with Apple, Microsoft, PayPal, Slack, and many other platforms.
This plugin is an excellent choice if you plan to make money from your WordPress site. That's because it supports eCommerce platforms like WooCommerce, Easy Digital Downloads, BuddyPress, etc.
Pricing: You can get started with Nextend for free. However, paid plans start from $49 per year.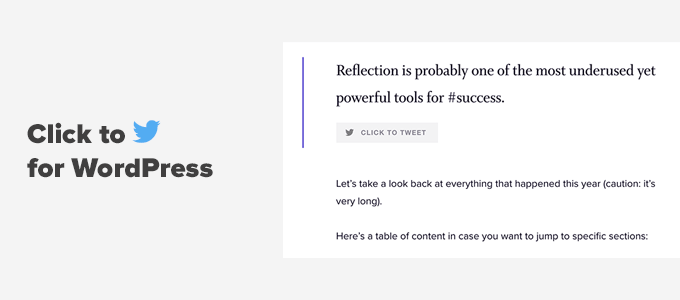 If you need an easy way for users to share quotes from your site on Twitter, Better Click to Tweet is an excellent solution. It lets you use WordPress blocks that add click-to-tweet functionality to WordPress posts and pages.
This plugin works seamlessly with the block and classic WordPress editor. As a result, you can embed quotable tweets that match your brand and style.
Even though this social media plugin only does one thing, it does it effectively, making it a must-have tool for your WordPress site.
Pricing: Better Click to Tweet is a free social media plugin for WordPress.
Bonus Social Media Plugins for WordPress
The following plugins aren't strictly speaking social media plugins. That said, they include powerful features that compliment your social media marketing efforts and help you reach your goals.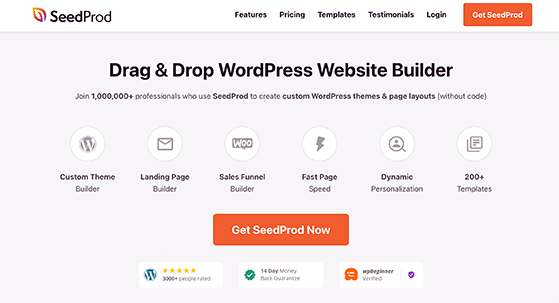 SeedProd is the best website builder for WordPress. It lets you create custom WordPress themes and landing pages with its drag-and-drop builder without code.
You can create any type of WordPress theme or landing page with this plugin. For example, you can make a link in bio page for your Instagram profile, a social media landing page to encourage followers to join your email list, and more.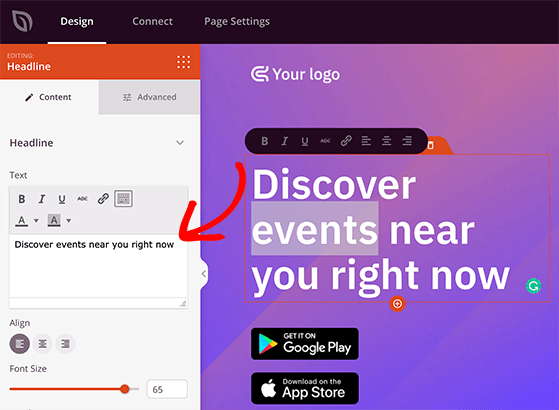 SeedProd includes over 150+ layouts to create custom sales pages, webinar landing pages, and any other page you can imagine. Some website owners use SeedProd to create landing pages for their social media marketing campaigns.
Another great thing about SeedProd is the built-in social media content blocks. They allow you to embed Twitter and Facebook content anywhere on your site, display social media sharing buttons, and show social media profile icons to grow your followers.
Pricing: SeedProd offers a free plugin with essential landing page features. Yet, you'll need the Pro version to use the theme builder and advanced content blocks. Pricing for SeedProd starts at $39.50 per year.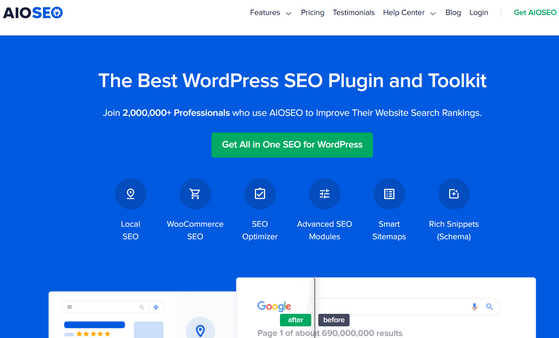 All in One SEO is the best WordPress SEO plugin with over 3 million users. It helps you optimize your WordPress site for search engines, enabling you to increase your rankings in Google and other search engine websites.
Because social media networks use metadata to display your content when users share it, it's crucial you optimize your website for social media. That's where All In One SEO can help.
It lets you set custom thumbnails for sites like Facebook. You can also set up Twitter cards to get rich snippets on Twitter.
Additionally, All In One SEO provides a social preview for every post and page in WordPress. That lets you control how your content will look on social media platforms.
You can enter social media profiles for your website to help your content show up in Google's knowledge panel. The plugin lets you verify your social media ownership to unlock extra features like analytics on social networks like Facebook.
Pricing: All In One SEO offers a free version that anyone can use. We suggest using the paid version for the best results, starting from $49.50 per year.
Which Social Media Plugin is The Best
After considering the plugins on this list, it's time to choose one for your WordPress website. With so many to choose from, it's probably hard to pick the best social media plugin for your site.
To help you find the best solution for your needs, here are our top suggestions:
Smash Balloon is the best solution for displaying social media feeds anywhere on your site.
RafflePress is the best way to create social media contests in WordPress.
For an easy way to share content on social media, Social Warfare is an excellent choice.
We hope this article helped you find the best social media plugin for WordPress. You might also like these Twitter marketing strategy tips to meet your social media goals.
If you liked this article, please subscribe to our YouTube Channel for RafflePress video tutorials. You can also find us on Twitter and Facebook.