Want to run a Twitter giveaway for your brand but don't know where to start?
With so many types of contests to choose from, it can be overwhelming. Not to mention, If your Twitter giveaway isn't relevant to your audience, you probably won't get the results you need to drive your business growth.
In this article, we'll share the best Twitter giveaway examples so you can get inspiration for creating yours.
What Is a Twitter Giveaway?
A Twitter giveaway is a type of social media marketing campaign designed for Twitter audiences. Brands typically ask people to perform specific actions in exchange for the chance to win a prize. This can include steps like following you on Twitter, retweeting a tweet, leaving a comment, and more.
Running a contest on Twitter has several benefits for small businesses, including:
Growing your Twitter followers
Increasing brand awareness
Collecting user-generated content (UGC)
Engaging your existing audience
Promoting new products
Growing your email list
And more.
Simply put, a Twitter competition, contest, or giveaway is one of the best ways to grow your business on one of the top microblogging and social networking platforms.
15 Winning Twitter Giveaway Examples
Now that you know what a Twitter giveaway is let's look at a few different types of Twitter contests ideas for inspiration.
1. Kenya Wildlife Service Caption Contest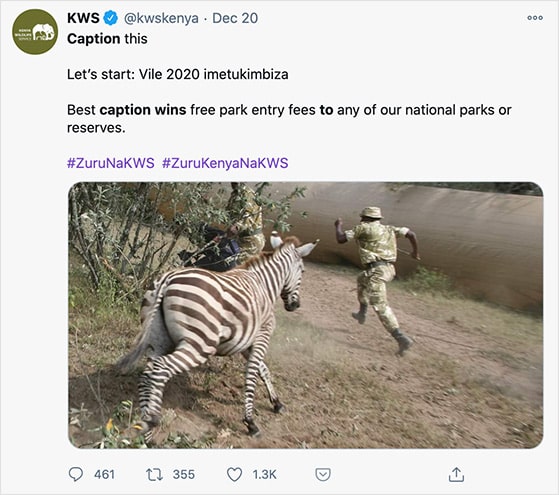 This Twitter giveaway example from the Kenya Wildlife Service is one of the easiest contest ideas you can run.
For a chance to win, users have to leave a comment with a caption matching the photo. The winner gets free entry to any of the brand's national parks or reserves.
You could improve this contest by adding a link to your terms and conditions. It would also help to mention how you'd select a winner. Will the funniest comment win, or will you pick a winner randomly?
With RafflePress's WordPress giveaway plugin, you can pick a winner easily.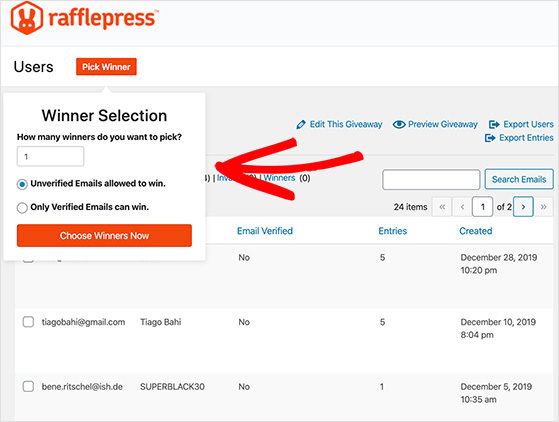 With the random winner generator, participants are automatically filtered by those who qualify, and a winner is drawn randomly for you.
2. Ocean Florida: Tag, Like, and Retweet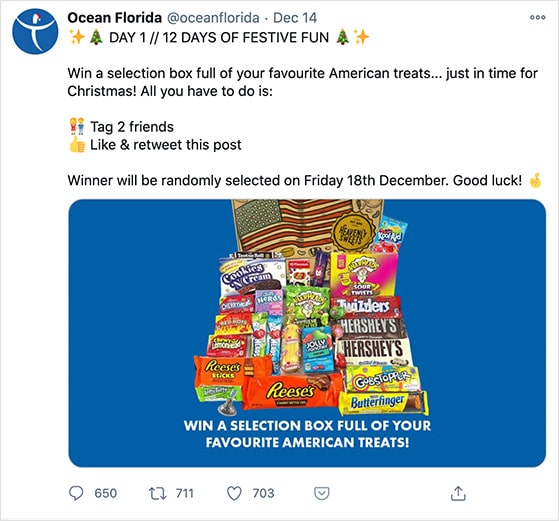 Another easy Twitter giveaway is this example from Ocean Florida. Users have to tag 2 friends, like the post, and retweet it for a chance to win. The prize is ideal for an audience interested in travel to America, making it super-relevant.
You can improve this example by including some giveaway hashtags like #giveaway. You can also use topical hashtags like #florida and #travel to reach a broader audience.
By boosting your likes, you demonstrate that your account is active and engaged. However, don't make the mistake of buying Twitter likes as it could seriously backfire.
3. CBS Group Daily Twitter Giveaway Example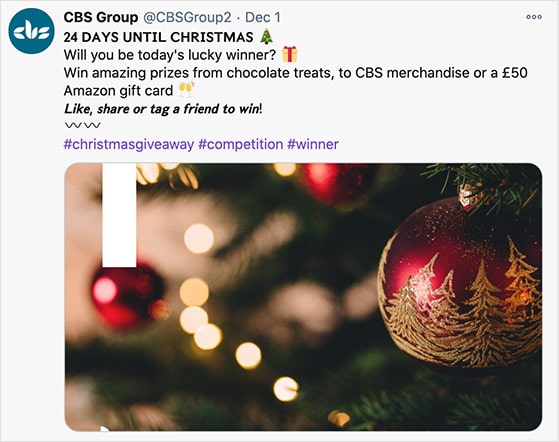 In this giveaway example, CBS Group offers chances to win daily in the run-up to Christmas.
Running a daily giveaway is a great way to generate awareness and interest during the holiday season. As you can see, they included relevant giveaway hashtags and multiple prizes, which is an excellent way to reach and persuade more people.
To enter, users have to like the post, share it, or tag a friend.
4. Hamleys: Tag a Friend Twitter Giveaway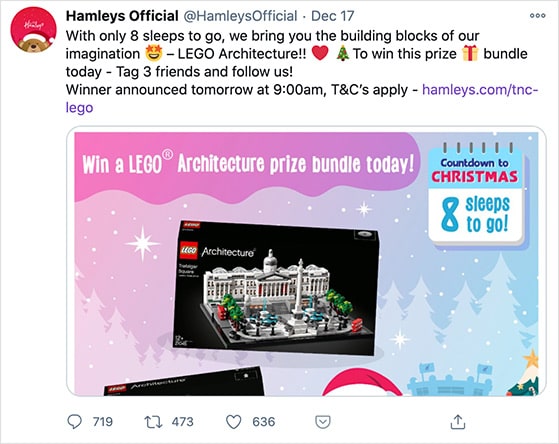 We love this Twitter giveaway example from Hamleys because it has all the essential elements of a successful contest, including:
A fantastic prize
How users can enter
Terms and conditions
Yet, there are some ways to make it even better and improve the results.
Since this is a brand awareness campaign, we'd run the giveaway on our WordPress website with RafflePress.
Instead of asking people to tag friends to enter, which can be difficult to manage, we'd use the viral refer a friend entry option. With this option, you can ask people to share the giveaway on Twitter (and other platforms) to enter.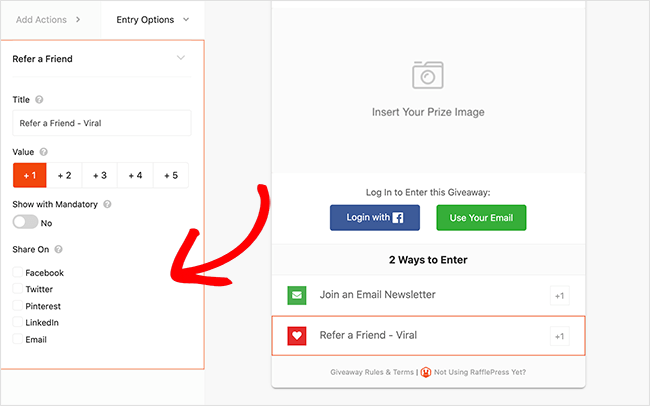 The more people use this method to enter, the more your giveaway is shared on Twitter, leading to massive brand awareness via word of mouth recommendations.
When the giveaway is over, RafflePress makes it even easier to draw a winner. Every user who entered the contest is stored in your WordPress dashboard so that you can pick a winner randomly with just a few clicks. You can even email the winner instantly.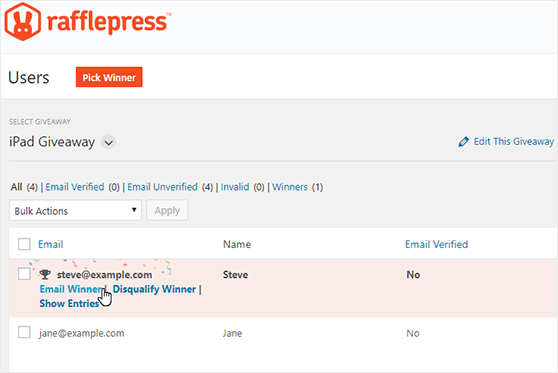 This means you won't need to scroll through hundreds of individual entries in your Twitter mentions.
5. Shop To High Value Twitter Contest Example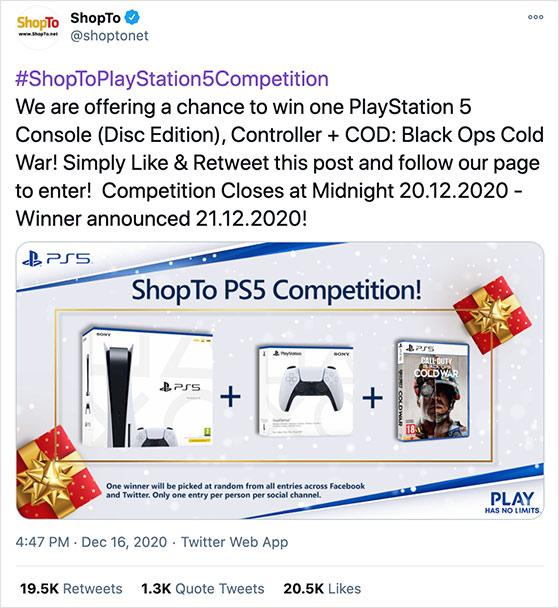 Offering a high-value prize is a fantastic way to generate tons of interest for your giveaway. Yet, it can have some drawbacks if it's not managed correctly.
This Twitter giveaway example demonstrates just how popular big-ticket prizes can be. With thousands of retweets and likes, it'll be a headache for this brand to filter entries from those that qualify and those who don't, not to mention all the spam entries.
Using RafflePress to run your Twitter contest can help combat this issue. The built-in entry verification options help you filter unverified entries.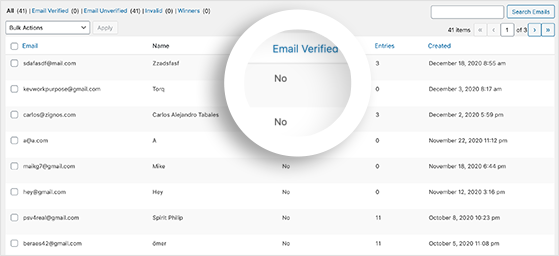 You can also use the Invisible Recaptcha option to prevent giveaway spam.
6. Pro14 Rugby: Sign Up to Enter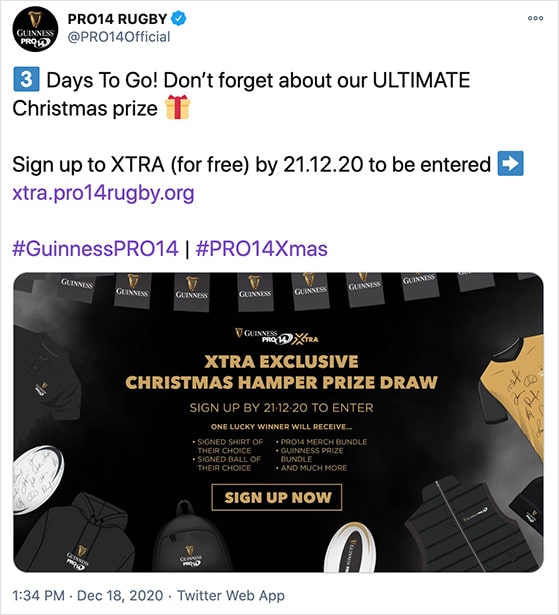 While running a Twitter contest is ideal for growing your followers, did you know it's the perfect way to grow your email list and marketing automation?
Pro14 Rugby has the right idea in this example. All users have to do to enter is click the link and sign up for their newsletter for free.
You can do this easily with RafflePress with the email subscription giveaway action. With a single click, you can encourage Twitter accounts to enter and join your list.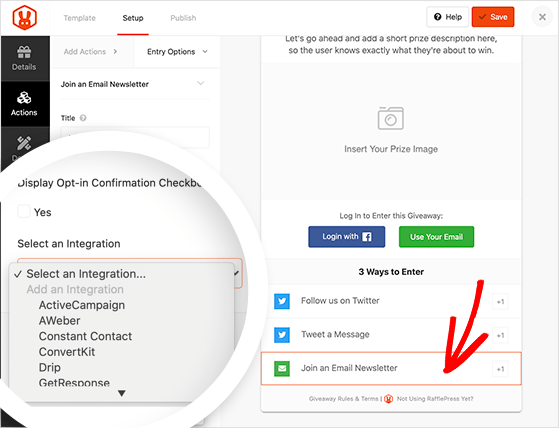 Plus, you can show your giveaway widget on stunning, distraction-free giveaway landing pages. Then it's merely a case of sharing your landing page link in a Twitter post to spread the word.
7. English Tea Shop: Nominate a Winner
Sometimes running a giveaway is simply a great way to show your appreciation for your audience. In this Twitter giveaway example, the English Tea Shop teamed up with a charitable cause to spread joy with a cup of thanks.
To enter, users have to leave a comment, nominating the person in their life who makes the best cup of tea. Not only does this contest raise brand awareness, but it also helps their audience feel valued.
8. Wren Kitchens Weekly Twitter Giveaway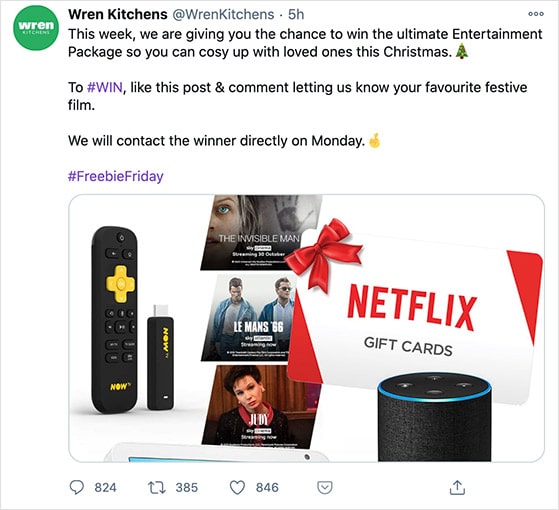 Ever heard of Freebie Friday? If you haven't, it's a popular Twitter hashtag brands use to expand their reach and awareness. It's also predominantly used to promote giveaways on Twitter.
In the example above, Wren Kitchens promotes their latest weekly Twitter giveaway with the #FreebieFriday hashtag. To win, people have to leave a comment on their favorite festive film.
You can easily recreate this contest with RafflePress. Just use the Answer a Question action and share the link to your giveaway in a promotional Twitter post.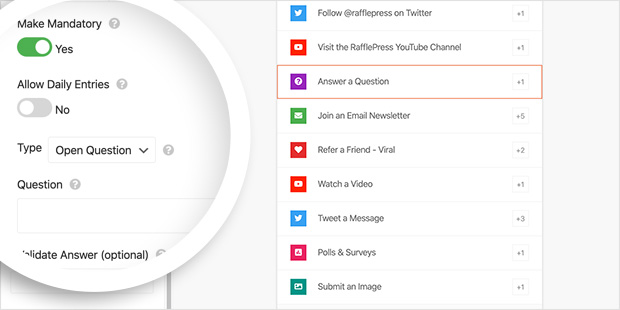 This will make it easier to choose a winner and allow users to earn extra entries with bonus actions.
9. Typhoo Tea: Screenshot Twitter Contest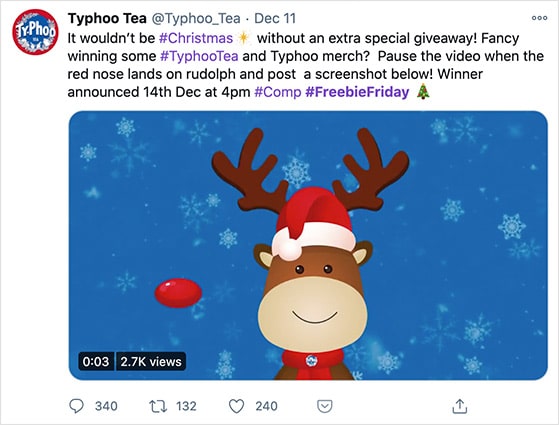 This Twitter contest example from Typhoo Tea is a fantastic way to engage your existing audience. Users have to pause the video when the red nose lands in the right place and post a screenshot of the results to enter.
If managing this type of contest is a little daunting, don't worry. RafflePress can make it easier if you create an online contest from your WordPress website.
First, add an action for users to watch a video and make it mandatory.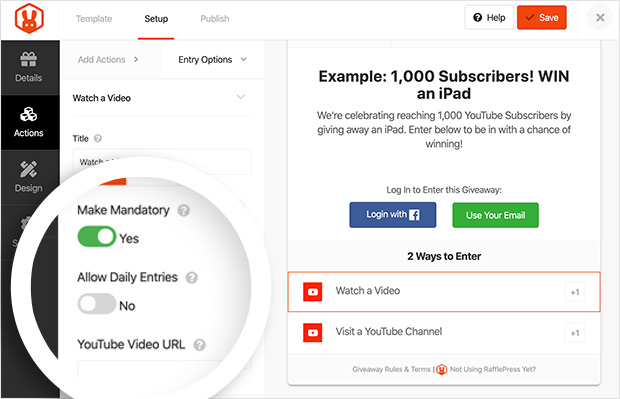 Then, include the action to Submit an Image to upload their screenshot and make this mandatory.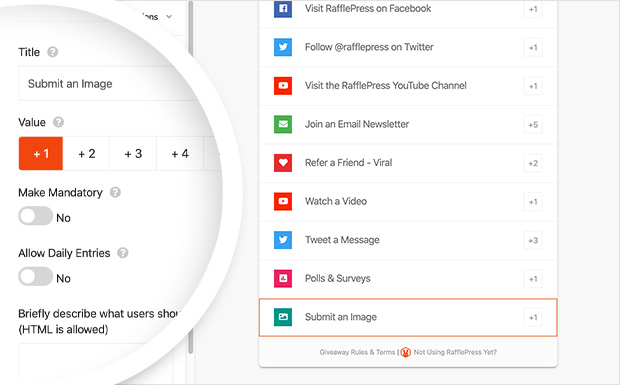 Finally, add a bonus entry to Tweet a Message to share the contest on Twitter and follow your Twitter profile.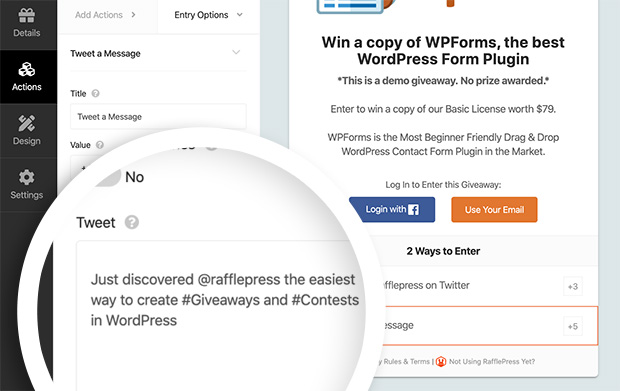 Not only does it help boost your Twitter followers, but it also gives you an easy way to monitor your contest and draw a winner from a single place.
10. Alive! Self Care Tips Twitter Giveaway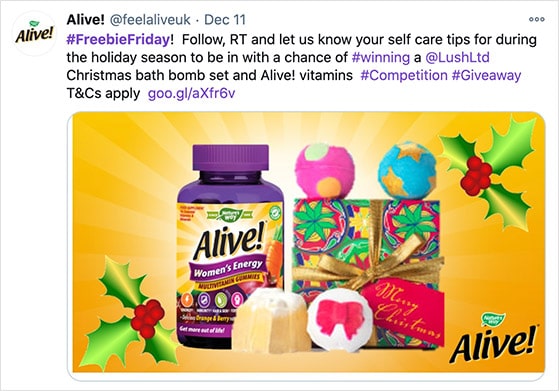 Another way to engage your audience is to ask them to share tips related to your brand. In this example, Alive! asked their followers to share their best self-care tips for a chance to win a bath bomb set.
You can use a giveaway like this to get valuable product feedback or discover new content ideas that resonate with your audience.
11. DJI Design a Product Giveaway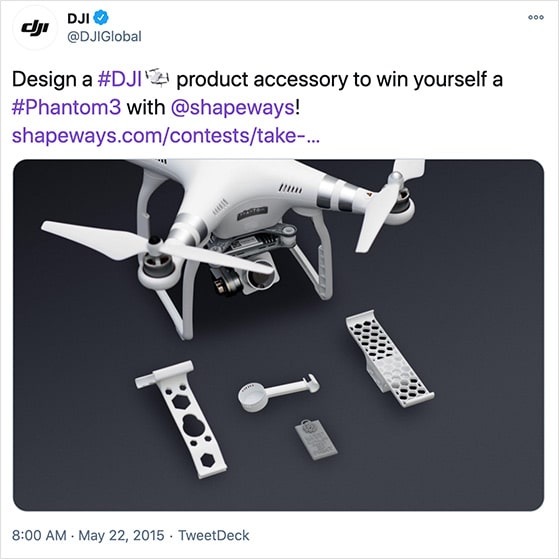 If you want to challenge your audience while generating new product ideas, why not try something similar to DJI. In their Twitter giveaway example, they invited users to design a product accessory for a chance to win a free aerial imaging drone.
Contests that require more effort like this are a great way to engage with people genuinely interested in your band. These people are more likely to provide quality content and interact with you after the giveaway is over.
You can use the RafflePress Submit an Image action to manage your giveaway right from your WordPress website and drive traffic to a stunning giveaway landing page.
12. Verizon: Answer a Question to Win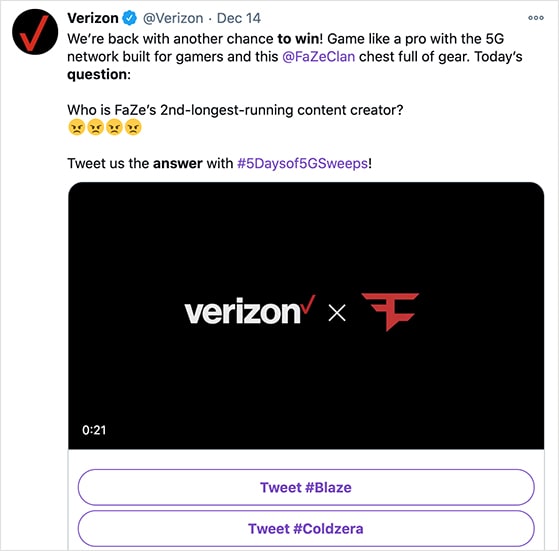 Communication technology company Verizon took a different approach with this Twitter giveaway example. For a chance to win, users have to watch a video and answer the Twitter poll with the right question.
You can create a similar Twitter contest and host it on your WordPress website to boost your Twitter reach and website traffic with RafflePress.
Just use the Polls and Surveys action to create a quick survey and add the Tweet a Message action to share your contest on Twitter for bonus entries.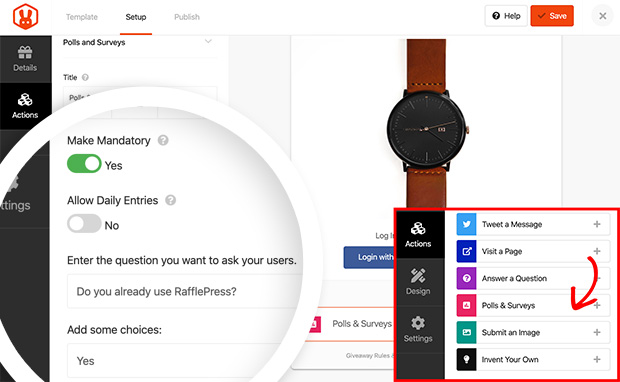 13. PG Tips: Play a Game Twitter Giveaway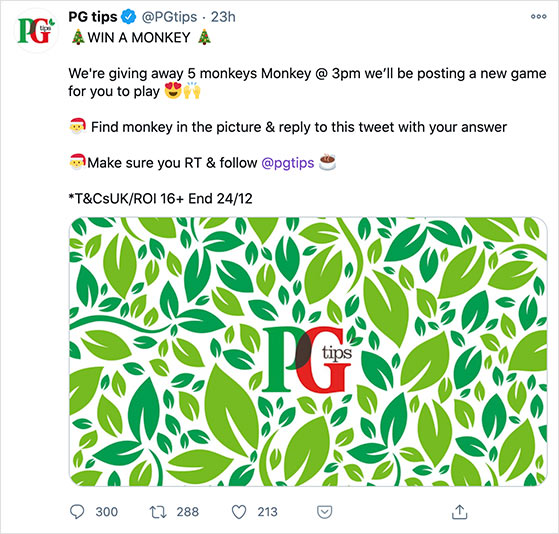 Looking for another creative Twitter giveaway example? Try something like this from PG tips. To enter, users have to find the famous PG Tips money hidden in the picture and reply with the answer.
To avoid cheating, you can ask people to post a screenshot verifying their answer.
14. New York University Current Affairs Selfie Contest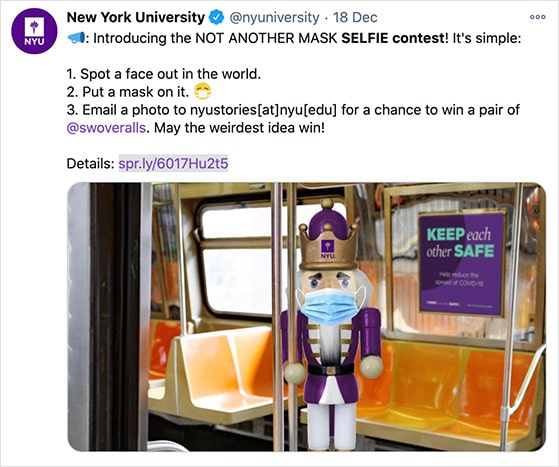 Twitter is well-known for its newsworthy content, with many users tweeting about politics and current affairs. New York University shows how you can easily use trending topics to engage your followers and run an exciting giveaway.
In this Twitter contest example, they use a global pandemic to get people involved and share good vibes. To take part, users have to:
Find a face
Put a mask on it
Snap a photo
Email it to the brand
We love the creativity and humor of this giveaway. Yet filtering all those emails would give us a headache.
Instead, we'd host the giveaway on our WordPress website and invite uses to submit an image via our giveaway landing page.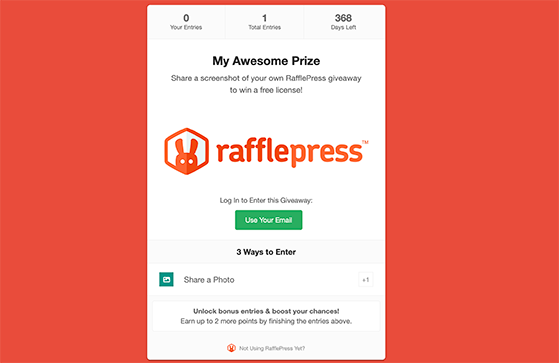 We'd also use the viral refer a friend action to spread the word on social media.
You can learn more social media marketing statistics in this guide.
15. Outdoor Photographer Twitter Photo Contest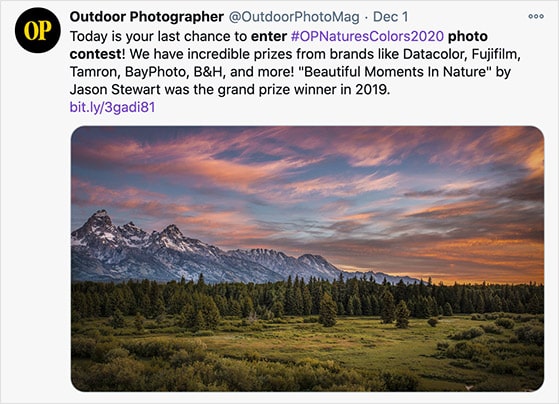 Photo contests are a fantastic way to collect content created by your customers. In this Twitter giveaway example, photography magazine, Outdoor Photographer, ran a photo contest for the chance to win top of the range photography equipment.
The fantastic thing about this Twitter contest is it's perfectly on-brand. Not only is the prize relevant to both the brand and target audience, but the type of contest is also relevant. Best of all, the submissions can be used in the brand's magazine as original content.
There you have it!
We hope this article offered all the Twitter giveaway examples you need to inspire your next contest and make your brand go viral on Twitter.
You might also like this guide on how to run a hashtag contest.
While you're here, please follow us on YouTube, Twitter, and Facebook for more great tips to grow your business.