Do you want to grow your blog and increase your followers? Your blog is one of the most essential tools for marketing your business.
If you're just starting a blog, it can be hard to get attention from your ideal audience. But if you stick with it, you can build a loyal community of followers, desperate to read your next blog post.
In this article, we'll look at how to get more blog followers by using the most effective tactics.
Let's dive in.
Before Your Start – Set Up Push Notifications on Your Blog
Before you start working through these tips to grow your blog, it's a good idea to set up push notifications. Website push notifications help you keep in touch with your visitors after they've left your site, so you can motivate them to come back.
On RafflePress, we use a tool called PushEngage for this. It's a freemium software that allows you to send notifications to visitors on mobile and desktop devices.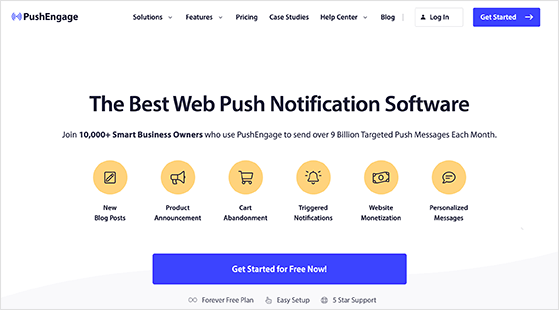 Because these notifications are hard to miss, they tend to generate higher engagement rates than social media. Plus, they allow you to communicate with visitors even after they've left your site.
Not many website owners know about this tip because it used to be pretty hard to set up. Yet, PushEngage has made it much easier. Here's how to add web push notifications in WordPress.
After setting up push notifications on your site, any of the tips below will help you get more blog followers.
1. Create Personas to Understand Your Audience
Before making content for your blog, you should take the time to understand your target audience. This will help you learn the type of content they're looking for and the best way to offer it on your blog.
You can create a framework for your audience quickly by answering the following questions:
Who is your ideal audience?
What are their problems that you can solve?
What content are they looking for?
How would they try to answer their questions for themself?
If you like, you can ask further questions to get a better overview of your audience, such as:
How old are they?
What do they do for a living?
What is their education level?
How much do they know about your area of expertise?
Once you know more about the type of audience your blog will serve, you can start planning and researching your blog content.
2. Plan Your Content with Keyword Research
Many content creators and SEO experts perform keyword research before creating content. It's an effective way to learn what phrases and words your audience types in search engines to find the content they're looking for.
Many beginner bloggers guess at the best keywords to use. But taking this approach can lead to your content failing to rank in search results. Mostly, this is because people simply aren't looking for the keywords you've used.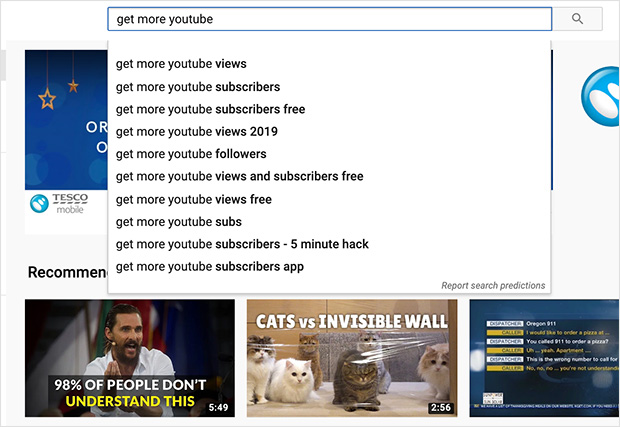 That said, proper keyword research helps you to:
Find search terms people are looking for
Generate content ideas for popular search terms
Analyze your competitors and make better content
Create pillar content to drive regular traffic to your site
Keyword research doesn't have to be complicated. There are many free and paid keyword research tools to help with your content strategy. For instance, on RafflePress, we use SEMRush.
Check out this step-by-step guide on how to do keyword research for your WordPress blog.
3. Create Content People Want to Read
With your research completed, it's time to create great content for your blog. Quality content is the most important thing that search engines and users look for.
For blogs, quality content is often a comprehensive article on a certain topic. It should also cover all the details on a given topic to make it as helpful to users as possible.
This type of content is often called "pillar articles" or "cornerstone articles" because they're the most important articles on your blog. You should create as many of these articles as you can to cover all the top keywords in your industry, then add them to your editorial calendar to publish over time.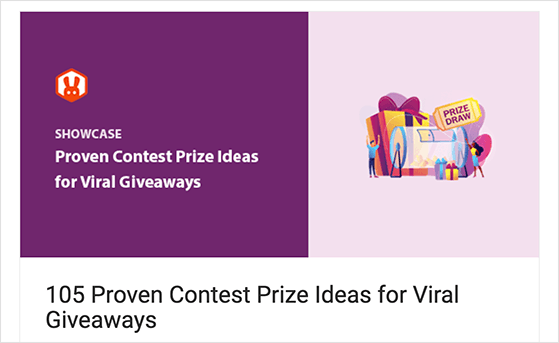 Keep these tips in mind when putting your content together:
You can create any type of pillar article. For example, tutorials, a how-to guide, a listicle, and so on.
Pillar articles are different from the rest of your content because they're more comprehensive. They also offer more information on a specific topic.
Your pillar articles should be "evergreen," which means they should always be helpful. Ensure you regularly update evergreen content to keep them relevant and stay at the top of search results.
With high-quality content like this, you can generate a reputation for consistently offering excellent tips and advice. As a result, it can help you attract more blog followers, traffic, and subscribers.
4. Optimize Your Blog for Search Engines (SEO)
Making the best content you can, is an excellent start to getting more blog followers. But if that content isn't ranking in search engines, people can't find it to follow you. That's why we recommend optimizing your content for search engines.
You might think that search engine optimization (SEO) is hard, but anyone can optimize their blog without hiring an expert. There are various SEO plugins and tools and advice readily available you can use.
On RafflePress, we use the All in One SEO plugin to optimize our content. It's a comprehensive website optimization tool that's both powerful and easy to use.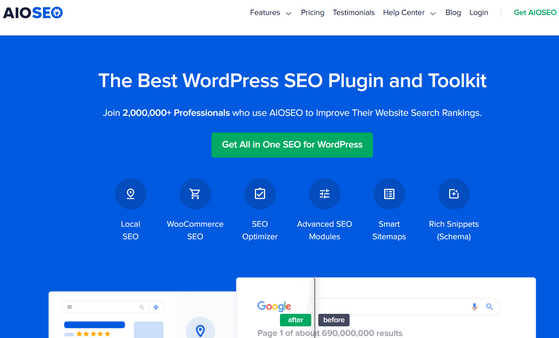 For help optimizing your blog for search engines, check out this complete WordPress SEO guide. It includes step-by-step instructions to improve the visibility of your blog content, as well as tips to optimize your images for better website speeds.
5. Run an Online Giveaway Contest
Now that you're publishing regular quality content, how can you attract even more people to follow your blog and read your updates?
One of the easiest ways to get more blog followers (without creating extra content) is to run an online giveaway contest. With a WordPress giveaway plugin like RafflePress, it's even easier.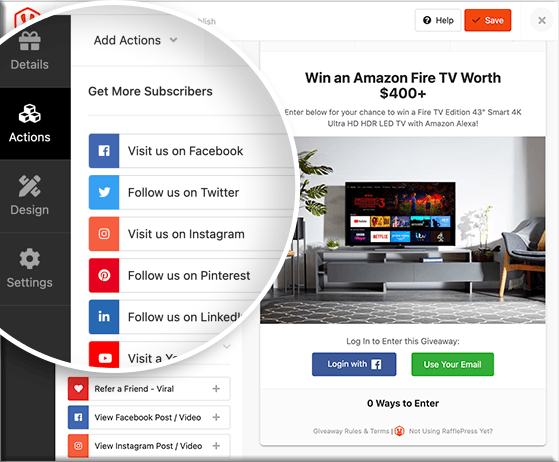 Our drag-and-drop giveaway builder allows you to create any type of contest easily in WordPress without writing code. It includes powerful actions to make you go viral and giveaway templates, so you don't need to start from scratch.
RafflePress also has many giveaway actions designed to help you get more blog followers, including:
Subscribe to RSS Feed: Ask users to subscribe to your blog's RSS feed in return for giveaway entries.
Join an Email Newsletter: Ask people to subscribe to your email list for giveaway entries.
Visit a Page: Ask users to visit a specific page on your blog.
Leave a Comment: Encourage blog engagement by asking people to leave a blog comment in return for more entries.
Social Media Sharing: Invite people to share your giveaway on social media networks like Facebook, Twitter, LinkedIn, and Pinterest to enter your contest.
Social Media Following: Ask users to follow your social media profiles for more entries.
Refer a Friend: Go viral by asking users to refer friends and family for bonus giveaway entries.
Check out this step-by-step guide on how to run a blog giveaway with RafflePress to get more blog followers.
6. Use Lead Magnets to Turn Readers into Followers
One of the best ways to ensure people come back to your blog often is to encourage them to subscribe to your email list. But even if your content is impressive, some people need an extra incentive to subscribe and follow your blog.
An easy way around this is to create a lead magnet or "bribe" that gives people something in return for subscribing. Something as simple as a checklist, cheat sheet, or worksheet can be enough to incentivize new followers.
Then you can create a special optin form to deliver your lead magnet right after someone subscribes. For this, we recommend using OptinMonster, the most powerful lead generation software for small businesses.
OptinMonster offers tons of optin campaigns like popups, floating bars, fullscreen welcome mats, and more. You can use them to draw people's attention to your lead magnet and convince them to subscribe.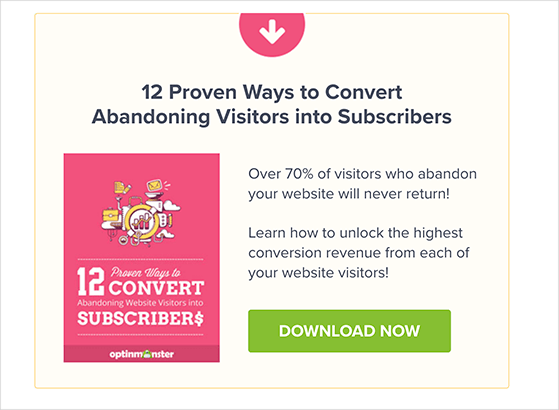 Plus, you can trigger campaigns to show at specific times, such as when users are about to leave your website.
Follow this guide on how to deliver a lead magnet to your email subscribers with OptinMonster.
7. Create a Blog Subscribe Landing Page
Another highly effective tactic to persuade visitors to follow your blog is to use a dedicated landing page. This is a page with the sole purpose of convincing visitors to subscribe to your email list for blog updates.
This type of landing page should explain:
The benefits of following your blog
What content subscribers will get
How often you'll send them updates
What they get from subscribing (like bonus content or giveaways)
While it might sound difficult, creating a landing page in WordPress is easy with a drag-and-drop page builder like SeedProd. With SeedProd's visual editor, you can build any type of landing page without hiring a developer or writing code.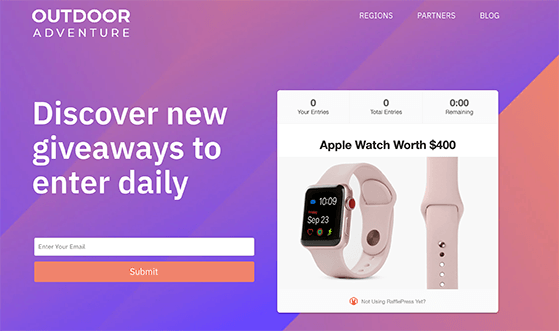 You can start with their pre-made landing page templates, such as their lead squeeze page, designed just for email optins. Or you can start from scratch and build a page yourself with the powerful visual page builder and flexible content blocks.
Once your landing page is published, you can link to it from your WordPress navigation menu to attract more followers. You could also send people to the landing page by creating an OptinMonster floating bar campaign on your site.
8. Guest Post on Relevant Blogs and Websites
Another way to get more blog followers is to piggyback on other blogger's audiences and guest post on their blog. Often larger blogs are open to guest content because it keeps their editorial calendars full.
Plus, depending on their guidelines, you may be able to add a link to your blog in your author bio. Just make sure you link to a page that's properly optimized.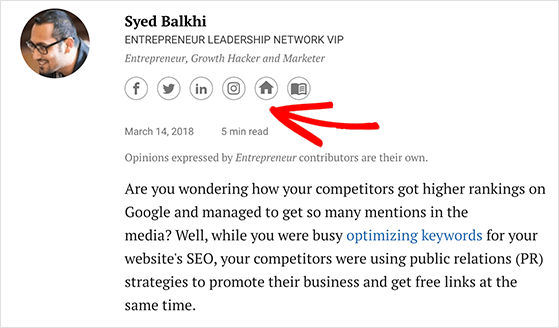 For instance, you could link to your blog subscriber landing page or a blog post with a content upgrade to encourage visitors to follow you.
Even if you can't include links in your post or bio, you can include a call to action asking people to follow your blog.
9. Add Your Blog to Your Email Signature
An easy place to promote your blog that many people overlook is your email signature. Think of how many emails you send and how many recipients might be interested in your blog.
Adding a link to your blog in your email signature is easy. Just edit your signature and include a link to your blog subscriber landing page.
You can use this tactic anywhere where you would typically link to your website homepage and link to your landing page instead.
10. Make Your Emails Highly Shareable
When it comes to your newsletter, every email you send has the chance to grow your blog followers.
If people find your content valuable enough, they may share it with their friends and broader acquaintances. And as a result, they might follow your blog too.
For this to work, you should first ensure you're giving people a good reason to share your content. Some of the key motivators behind why people share content are to:
Bring valuable content
Inform others
Nourish existing relationships
For self-fulfillment
The majority of people will consider how valuable an email is before sending it to others. So ensure your emails are ultra helpful.
Then, the best way to get people to share your email is to ask them. Add a call-to-action asking your readers to share your email with someone new.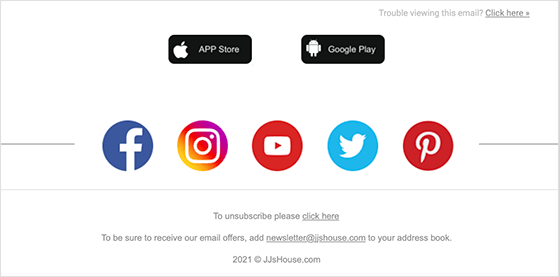 11. Be Social on Social Media Platforms
Many articles suggest sharing your posts on social media to get more blog followers. While this is a great way to increase people's awareness of your blog, it won't help you build relationships that make people want to follow you.
You should use social media to start conversations about your blog and the content you cover. For example, you could:
Attend Twitter chats in your niche and chime in with helpful tips and advice
Get active in Facebook groups (more on that later)
Search relevant hashtags on Instagram, and interact with the followers of accounts similar to yours (there's a chance they'll be interested in your content, too)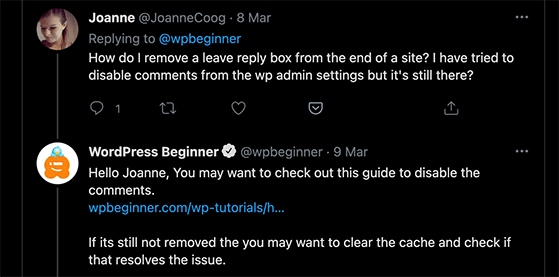 Try to frequently post on social media and vary the type of content you share. You don't want to share your own links constantly.
Pick content from other sources, too, and mix it up to see what resonates most with your audience.
12. Join Blogging Groups for Expert Tips
Online blogging groups are an excellent source of new blog followers and traffic. This is because they already have an engaged user-base interested in the topics you cover on your blog.
You can find small online communities on Reddit, LinkedIn groups, Facebook groups, YouTube communities, and more.
But don't just start posting links to your articles. This is spamming, and it can cause you to be blocked instantly.
Instead, spend some time building a reputation, answering questions, and joining discussions. Only then can you share your website if the situation is appropriate.
13. Create Your Own Online Group
Another way to build a passionate following around your blog is to start your own online group. You can use free platforms like Facebook or LinkedIn and invite your audience to join in.
As your community grows, so will your influence. Plus, active group members will help you promote your blog on their own social media profiles.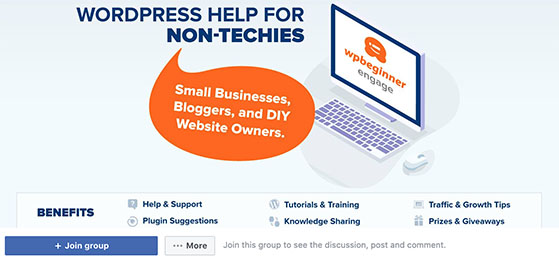 Take a look at WPBeginner who created a Facebook group for its users. That group has now surpassed 75,000 members and is a significant source of blog traffic.
14. Engage with Influencers on Social Media
Influencers are an excellent way to increase traffic and get more blog followers. But the problem is, many influencers are bombarded with messages daily and may think you have nothing to offer of value.
To get the attention of influencers, start by having conversations with them on their social media network of choice. Then, start sharing their content, add your own thoughts, reply to their social media threads, and leave comments on their blog.
Just make sure each time you interact with influencers, it adds value to the conversation. Influencers love it when users appreciate their efforts, and they'll notice and remember you.
Once you've established a relationship, you can approach them to give you advice, and if you create content they love, you may even get to collaborate with them.
It sounds like a lot of work, but it helps you build life-long friendships that are mutually profitable.
15. Track and Analyze Your Data
One thing you should always do to grow your blog followers is to track what is and isn't working. If you create content that isn't performing very well, it could indicate that it doesn't resonate with your audience.
The easiest way to track your blog statistics is with Google Analytics. But Google Analytics can be hard for beginners to understand.
That's why we suggest using MonsterInsights, the best analytics plugin for WordPress. It tracks your website visitors and helps you see traffic reports, engagement, and other user activity right inside your WordPress dashboard.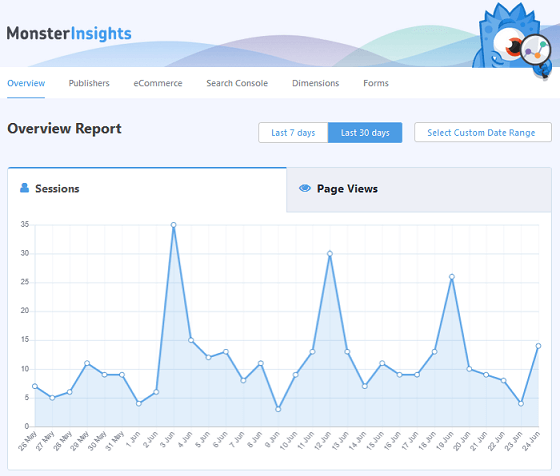 For instructions on setting this up, see this step-by-step tutorial on installing Google Analytics in WordPress.
The main benefit of using Google Analytics is that you can see what your users are doing when they visit your website. Knowing this data helps you double down on what's working and stop doing what's not, leading to happier blog readers and more blog followers.
There you have it!
We hope this article helped you learn how to get more blog followers. You might also like these 15 expert tactics to get more blog comments.
Thanks for reading, and don't forget to follow us on YouTube, Twitter, and Facebook for more great tips and tutorials.