Are you looking for an easy way to grow your business? Referral contests are a fantastic way to encourage your ideal audience to engage with your brand. And as a result, you'll not only expand your reach but gather valuable business leads.
This article will teach you how to run a referral contest to increase your business success.
What is a Referral Contest?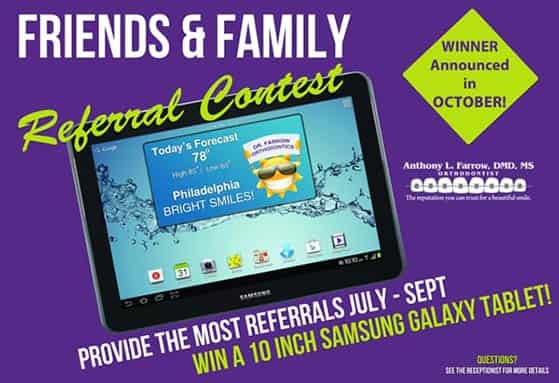 Referral contests are pretty straightforward. To take part, users have to share (or refer) your contest with a friend or people in their wider network. Then as a reward for participating, they're entered into your prize draw.
Referral contests are an effective marketing strategy because they're highly targeted to a specific audience, and use word of mouth marketing tactics to increase your contest's reach.
For example, let's say you want to promote your pet store. First, you'd target your contest to an audience most interested in your products, like pet owners.
To enter, that audience would have to share the contest with their friends. For their friends to enter, they'd have to share your contest with their friends, and so on.
As you can see, as more people share your contest, the number of people exposed to your brand grows. That results in more users entering your giveaway, transforming them into leads and potential customers.
How to Run an Effective Referral Contest
Now that you know what a referral contest is, let's explore the best way to run one for your business. Just follow the steps below to get started.
1. Determine Your Referral Contest Goals
The first step is to determine why you want to run a referral contest and what outcome you want to achieve.
Without clear contest goals, you won't know the right audience to target or how to encourage them to enter your giveaway. You could even end up with results that don't help your business in the long-term.
Your referral contests goals could be to…
Raise brand awareness
Grow your social media followers
Increase your newsletter subscribers
Attract more website traffic
Engage your existing audience
Once you know your contest goals, you'll have an easier time building the rest of your giveaway.
2. Find Your Target Audience
With your contest goals in place, you'll need to find the audience who'll help you get the results you want.
Going back to our pet store analogy, we might discover that the people most likely to engage with our referral contest hang out on Instagram more than Twitter and Facebook. That discovery means we'd have to make our contest appealing to Instagram users.
Depending on your contest goals, think about where your audience hangs out online, and how you'll reach them effectively. The best way to do that is to look through your social media analytics and look at the content that's popular with a particular audience.
You can also look at demographic and interest reports in Google Analytics to learn more about specific audiences and how they find your business.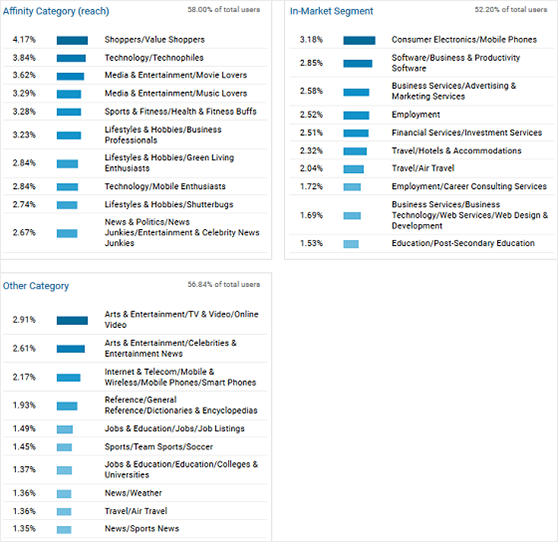 3. Decide How to Encourage Contest Referrals
Now that you've determined your contest goals and target audience, you need to decide how you'll get those people to enter your giveaway. If no-one enters your contest, they won't be able to refer their circle of friends, resulting in a giveaway that doesn't meet your business objectives.
The most important incentive is the type of prize you offer for your contest. You need to ensure it's desirable and valuable enough to spur your audience into action (more on that later).
You should also think about how users will enter your contest. Naturally, one way to enter should be to refer a friend. Yet, the most popular giveaways offer multiple ways to take part, which rewards users with bonus entries.
For instance, the primary way to enter could be to refer a friend. For a 2nd entry, you could ask users to subscribe to your email newsletter, and for a 3rd entry, you can ask them to follow you on Twitter.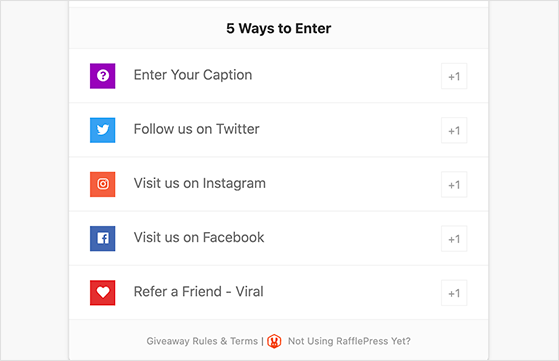 To give your referral contest a competitive edge, you could create a leaderboard showing participants who have referred the most people or earned the most giveaway entries.
4. Choose a Highly Desirable Prize
People won't make much effort to enter your referral contest if you don't offer a prize they want. For that reason, the prize you choose should be desirable to your target audience, valuable, and high quality.
In fact, if your giveaway prize is particularly popular, it has the potential to make your contest go viral, generating massive brand awareness, new followers, and entries.
Some popular prize ideas include:
Large cash prizes
Free products or services
Gift cards or certificates
Events or holidays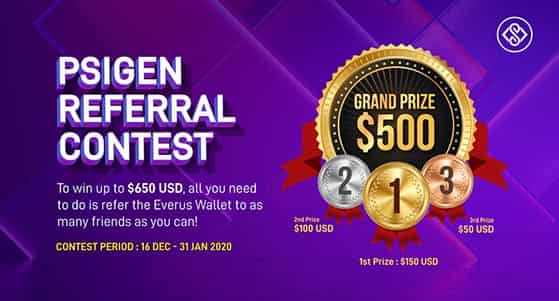 You can also check out this list of proven contest prize ideas for more inspiration.
Remember to ensure your prize is relevant to your target audience and brand, so you can attract more contest entries from your ideal audience.
5. Write Your Referral Contest Rules
The next step in learning to run a referral contest is to plan out your giveaway rules. This ensures that your contest is fair and gives participants all the information they need for taking part.
Here are some suggestions on what to include in your giveaway rules:
The minimum age of contestants
If your contest has location limits
When the giveaway starts and ends
How users can enter the giveaway
What the giveaway prize is
How you'll pick a winner
You should also include any information about whether your referral contest is sponsored or affiliated with anyone.
With your rules in place, you can finally start building your referral contest, which we'll explain next.
6. Build Your Referral Contest with RafflePress
The best way to build your referral contest, is to use a giveaway tool designed to make the process as easy as possible.
RafflePress is the best WordPress giveaway plugin on the market. It makes it insanely easy to create any type of contest on your WordPress website and offers everything you need to reach your business goals.
RafflePress particularly excels when it comes to referral contests. The ready-made Refer-a-Friend giveaway template builds your contest in just a few clicks. It also populates your giveaway widget with easy 1-click entry actions to kick start your contest referrals. If you like, you can add bonus entries to grow your followers, email list, etc.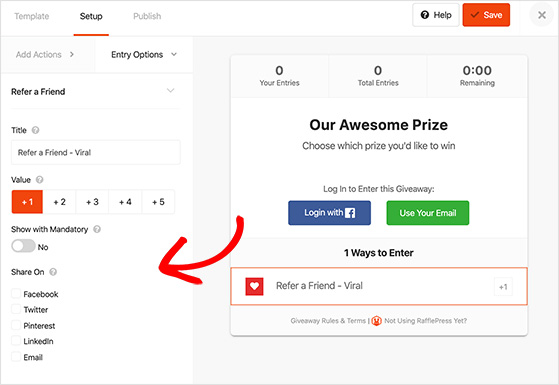 When you're at the point of publishing your giveaway, you can do so with a standalone, giveaway landing page, which removes unnecessary distractions to maximize your contest entries and leads.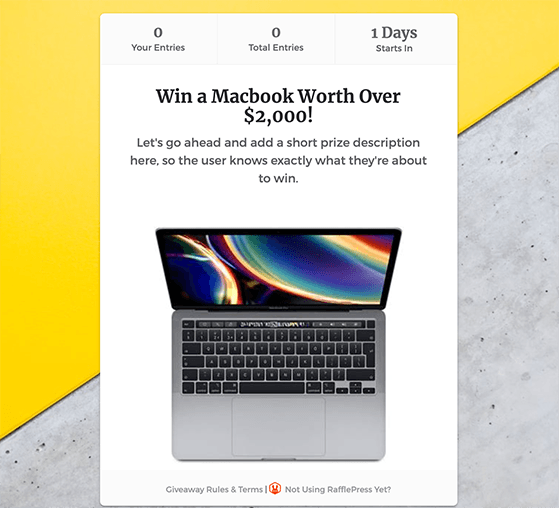 If you're not convinced, here's how OptinMonster generated 3,500+ new users from one giveaway.
To make everything that little bit easier, we've put together a step-by-step guide on creating a viral refer-a-friend contest with RafflePress here. Just follow the steps to build a highly successful referral contest in no time at all.
6. Promote Your Referral Contest
After building your referral contest, it's time to promote it to your target audience to start getting entries. Otherwise, you won't secure the number of referrals you want, resulting in a contest that doesn't meet your goals.
The easiest way to promote your contest is to share it on all your social media networks like Pinterest, Facebook, and Twitter, and ask people to tag their friends in the comments.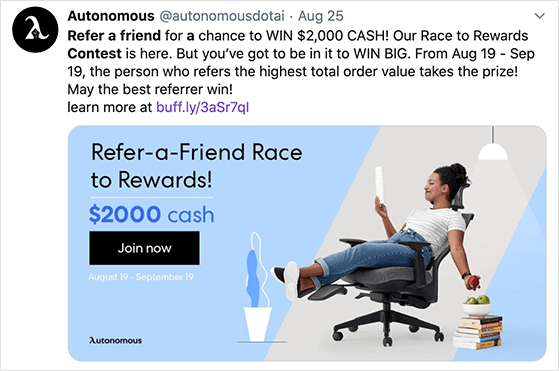 You can also promote your giveaway by:
Make sure you start promoting your giveaway weeks before it goes live so you can receive tons of entries, engagement, and referrals from day 1.
If you want to make your giveaway go viral, check out these contest promotion ideas.
7. Draw a Referral Contest Winner
When your referral contest is over, you'll need to choose a winner. How you draw the winner depends largely on the type of contest you run.
For instance, if you run a referral contest that simply asks users to refer their friends, with a few extra actions for bonus entries, the fairest method would be to pick a winner randomly.
However, suppose your contest involves more complicated actions like uploading a photo or submitting a video. In that case, it's a good idea to either judge the winner yourself or ask users to vote for the winner.
RafflePress makes it easy to choose a random winner of your giveaway. When the contest ends, navigate to RafflePress » Giveaways and click the Needs Winners link.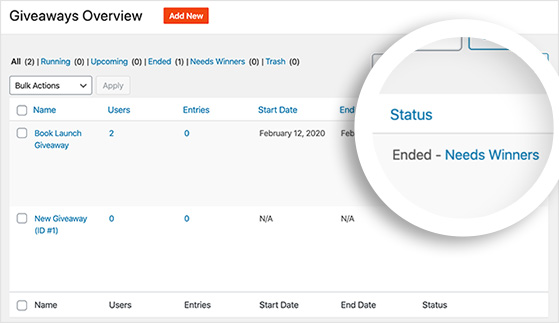 You'll then see a list of everyone who entered and the total number of entries each person received. Then it's merely a case of clicking the Pick Winners button, selecting your options, and clicking Choose Winners Now.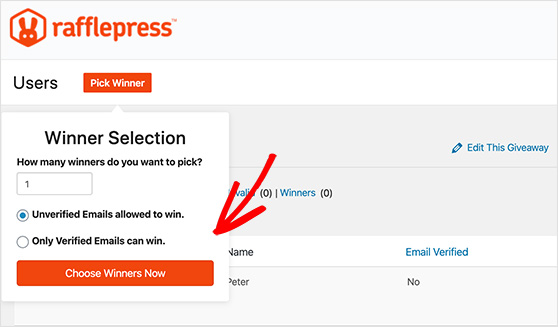 The winner is then highlighted at the top of the participants' list, so you can click to email them with the exciting news.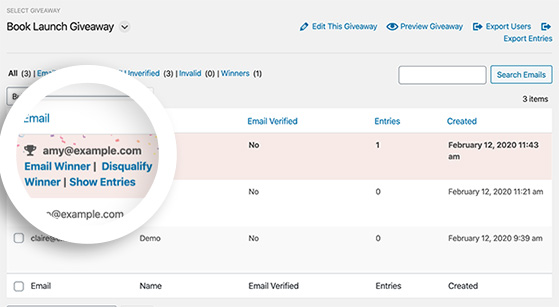 8. Announce the Giveaway Winner
After choosing your giveaway winner, it's a good idea to announce the end of your referral contest and the winner to everyone who took part. This will help you form better connections with the new audience you gained during your contest, and thank them for making it a success.
You can announce your giveaway winner on social media, inviting them to take part in future contests. Or you can send an email newsletter following up with participants, thanking them for entering.
This an excellent opportunity to get your new audience actively engaging with your brand long after the contest ends. So why not offer a small discount, so they're not left empty-handed.
Related: How to Email Non-Winning Giveaway Contestants (5 Tips)
9. Analyze Your Referral Results
The final step in running a successful referral contest is to analyze your results. Doing so will tell you how many referrals your contest received and how you can improve future giveaways.
The easiest way to get the data you need is with MonsterInsights; the best Google Analytics plugin for WordPress. It makes it super-easy to track referrals to your contest landing page, website traffic, and other site activity.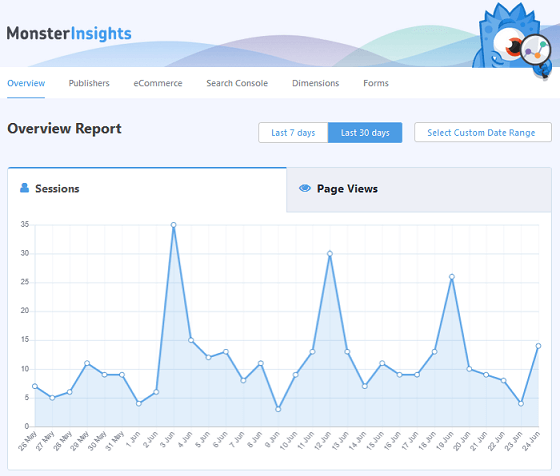 Even better, all your data is shown in easy-to-understand reports, right in your WordPress dashboard. This means you won't have to leave your site to see your results in the native Google Analytics account dashboard.
You can learn more in this MonsterInsights review.
That's it!
We hope this article helped you learn how to run a referral contest in WordPress. With a giveaway tool like RafflePress, you can effortlessly turn your referral contest into a massive success, generating tons of traffic, followers, and leads to help grow your business.
What are you waiting for?
Get started with RafflePress today.
And if you liked this article, why not follow us on YouTube for more helpful giveaway tips. You can also find us on Facebook and Twitter. See you there!