Do you want to know how to grow your Facebook group?
Creating a Facebook group is an excellent way to market your business online. You can build a community and, in time, promote your products or services to your target audience.
But you can't spread the word if you don't have many group members. That's why we're sharing some super-handy tips to grow your group and increase its popularity.
Why Make Your Facebook Group Popular?
Even though more social media platforms are popping up frequently, Facebook remains the king. With over 2.9 billion monthly active users, Facebook is one of the best places to market your brand online.
However, where Facebook groups excel is with the feeling of inclusivity. The community you build will feel like an exclusive club, making your members feel important and more eager to interact with your brand.
Fostering a sense of community on Facebook can have many benefits for your business:
More website traffic: if users are active in your Facebook group, they're more likely to click your links and visit your website. Providing the posts in your group offer valuable content, community members will naturally want to click them.
Customer feedback: community members will often be existing customers when they join the group. That gives you a unique opportunity to learn why they chose your brand and how to improve their experience.
Relationship building: when you share high-quality blog posts and content in your group, you're forging relationships that can last long-term. If you're patient with users and answer questions, you can build trust, loyalty, and long-term customers.
In the end, your Facebook group page has the power to attract new customers, drive traffic to your website, and build customer relationships that last.
How to Grow Your Facebook Group 11 Top Tips
By now, you've learned the benefits of creating a Facebook group. But how do you promote your Facebook group to attract those all-important community members?
The tips below will show you how to grow your group page fast.
1. Promote Your Facebook Group with Giveaway Contests
One of the easiest ways to promote your Facebook group is with a giveaway, contest, or sweepstakes. Giveaways are incredibly popular and can even make your group go viral.
You can start your first giveaway with something simple.
For example, you can ask your website visitors to visit your Facebook group for a chance to win a gift card. As you become more familiar with the process, you can add extra tasks, allowing users to earn more chances to win.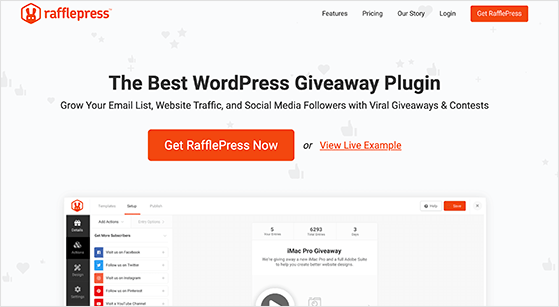 RafflePress is the easiest way to run an online giveaway contest if you're a WordPress website owner. It takes only minutes to set up and comes with everything you need, including:
WPForms, the best WordPress form builder plugin, saw excellent results running a giveaway for their Facebook group. They grew their email subscribers by 50%, but they also acquired 11,000 new group members.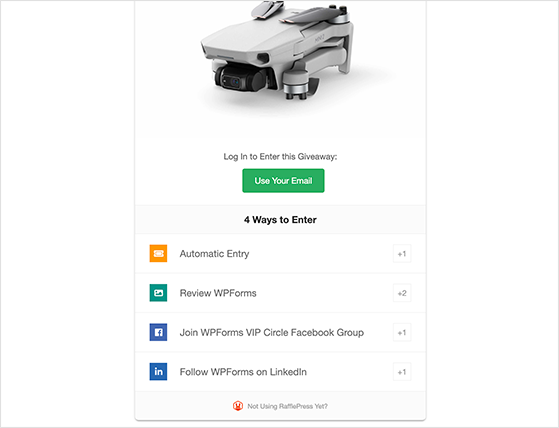 2. Add Your Facebook Group Feed to Your Website
Another way to grow your Facebook group is to advertise it on your website. Most website owners do that by adding a link to their menu or website sidebar.
But a better way is to embed your group's content in a feed visitors can explore. Instead of describing why people should join your group, you can show them instantly.
Adding a Facebook group feed to your website is easy. With Smash Balloon's Custom Facebook Feed plugin, you can embed your group feed on your website with a few clicks.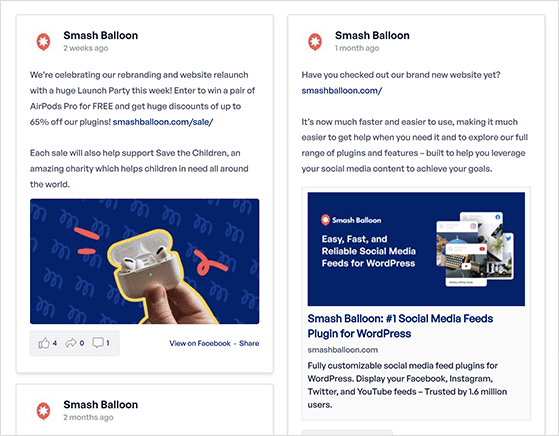 This plugin is super easy to use and requires zero coding to set up. In minutes, you can display a beautiful feed that updates automatically with new group content.
What's more, the feed will make your website more engaging. If visitors see people talking about your products or services, they're more likely to take the plunge and try them themselves.
3. Promote Your Facebook Group on Thank You Pages
Chances are you have a few thank you pages on your website. For example, after users subscribe to your email list or enter a giveaway.
After users give you their email address, they already trust you. So what better way to continue that momentum than by asking them to join your Facebook group while there?
Add a short message to your page, thanking users for taking the time to sign up. Then invite them to join your group for insider information they won't find on your website.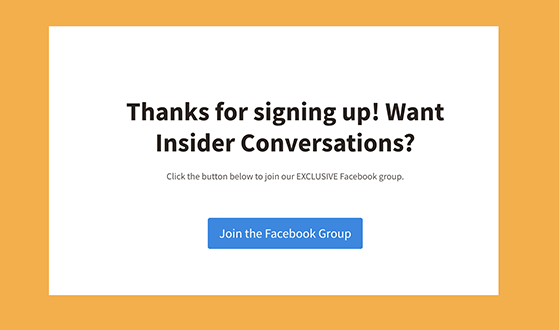 You can even add your Facebook group feed or a giveaway as an added incentive.
If you don't already have a thank you page on your website, creating one is easy.
Check out SeedProd, the best website builder for WordPress. It lets you create WordPress themes, landing pages, and flexible layouts without code.
The SeedProd builder offers:
200+ premade themes and landing page templates
80+ blocks and sections to display your content
Drag-and-drop front-end page builder
Live previews for desktop and mobile devices
WooCommerce blocks and pages for online stores
Built-in coming soon, and maintenance mode
Seamless email marketing integration
Super fast and bloat-free code
And much more.
Follow this step-by-step guide to learn how to create a thank you page with SeedProd.
4. Show Facebook Group Popups on Your Website
Another excellent way to get people to join your Facebook group is to catch them just before leaving your website with a popup. Popups immediately grab attention, allowing you to focus people's attention on something specific.
In your case, you can add a call-to-action (CTA) asking users to join your Facebook group. Plus, if you sweeten the deal with a discount or special offer, you'll increase the odds of securing new group members.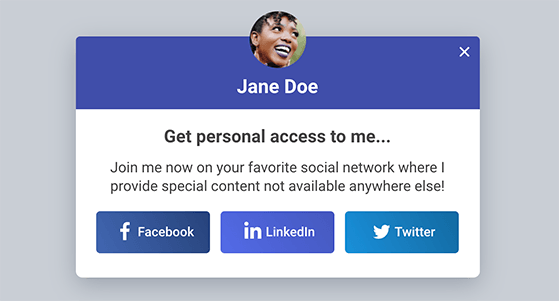 OptinMonster offers the easiest way to add popups to your website. It includes a drag-and-drop editor, making it easy to craft the perfect design.
You can then use OptinMonster's powerful targeting features to display your popup right before people leave your website. Instead of disappearing, never to return, you can send users right where you want them.
5. Link Your Group to Your Facebook Page
Even though Facebook business pages have taken a hit to organic reach, they're still an excellent place to promote your Facebook group. When people interested in your brand visit your page, they can see you have an active community, making them more likely to join.
To link your group to your Facebook page, make sure you're a group admin and follow these steps:
Go to your Facebook page
Click "More" next to your page tabs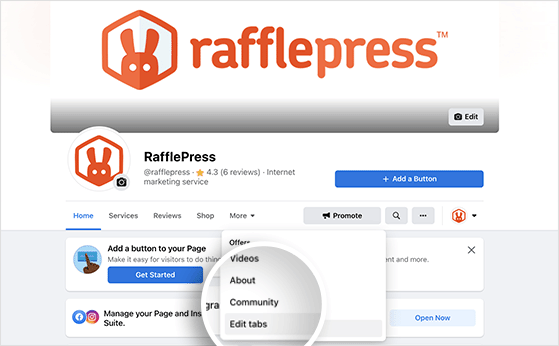 Find the Groups tab and enable it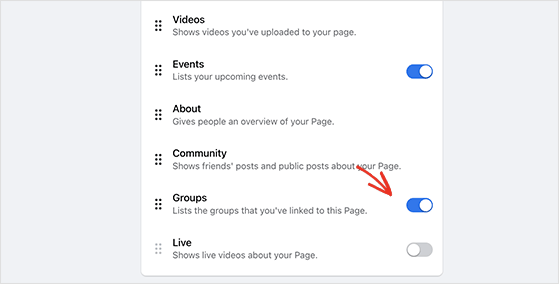 Click the button to link your group
When anyone visits your page, they will be able to click the Group tab to preview your Facebook group.
6. Get Existing Members to Promote Your Facebook Group
A simple strategy to grow your Facebook group is encouraging your existing group members to spread the word. If members already enjoy your group's content, they'll naturally want their friends to benefit.
This tactic works exceptionally well if you combine it with a Facebook giveaway. For instance, if you're running a group giveaway for a gift card, you can ask members to invite friends for extra chances to win.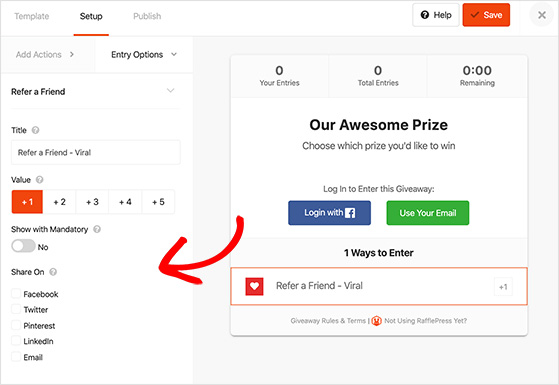 RafflePress's refer-a-friend giveaway action is ideal for this. It creates a viral sharing loop that constantly increases brand awareness while rewarding participants with more entries.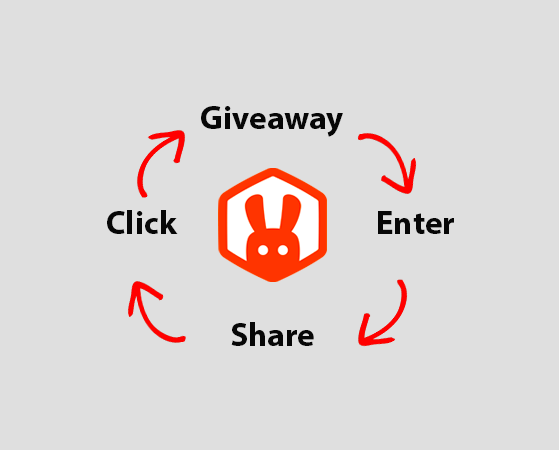 By the time the giveaway is over, you'll have many new group members and many happy users.
7. Promote Your Group in Other Facebook Groups
Did you know that you can also use other groups to grow your Facebook Group? It's a powerful tactic if you use it correctly.
Many Facebook groups offer daily prompts where you can weigh in to the conversation with your thoughts and opinions. Some groups even let you post any type of content.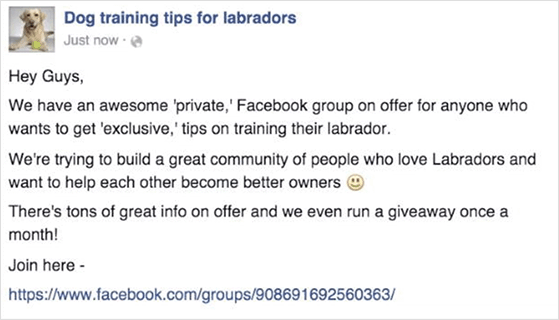 The best way to promote your Facebook group in other groups is to offer value. First, read the group rules to learn what you're allowed to post. Then, present your own insights and expertise and link to your group for those who wish to learn more.
8. Use Video to Promote Your Group
Video is super popular on Facebook. It gets 110% more engagement than any other type of content, so if you're not using it, you should start.
One way to use video to promote your group is by hosting Facebook live video sessions on your business page. Then in your video content and description, you can mention your group.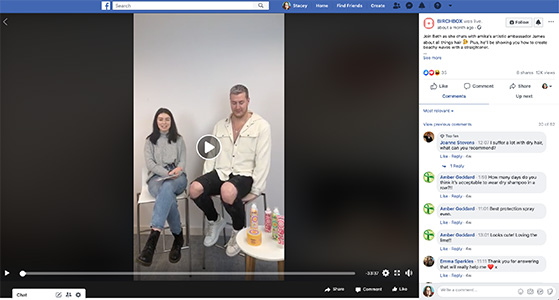 As a result, anyone watching your video will learn about your group and try it out. They might even share the video with friends.
If you want to go a step further, you can embed your Facebook videos on your website for extra visibility.
9. Cross-Promote on Other Social Media Platforms
Your brand needs to be visible on more than one platform to use social media marketing to its full potential. That means cross-posting content from one platform to another.
Doing so will increase your visibility on each social media network and help you attract fans from different places on the internet.
For example, if you post a video to your Facebook group, you can also upload it to YouTube and add a link in the description to the original. Alternatively, you can simply post about your Facebook group on Twitter, letting your followers know it exists.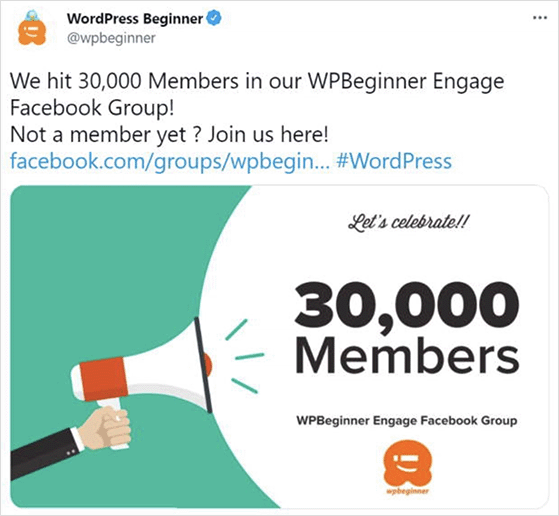 People will be curious enough to click the link and join.
10. Promote Your Facebook Group Via Email
Another place that's easy to overlook when promoting your Facebook group is your email signature. We send over 330 billion emails each day, so you're missing out on tons of potential members if you're not linking to your group.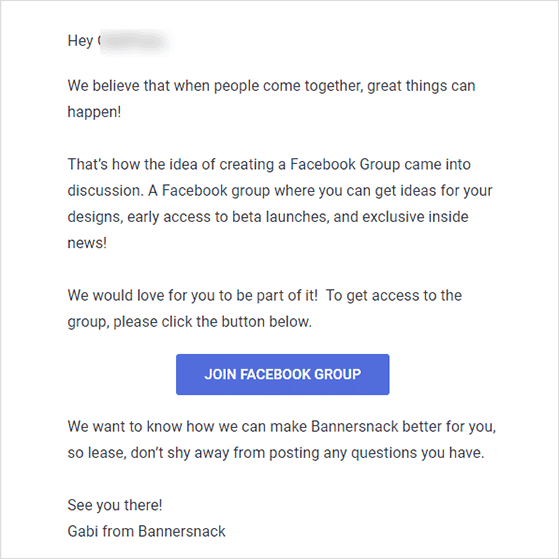 You never know; your next support ticket could attract another loyal member to your group.
The same is true for your email list. If you have a loyal group of email subscribers, they may not know your Facebook group exists.
In your next newsletter, add a note about your group, inviting your list to join the community.
11. Use Facebook Group Insights
Facebook has many analytics tools available. One that you'll find helpful is the group insights tool.
You can use the tool to learn which marketing strategies have the best results. You can then capitalize on those strategies to grow your group.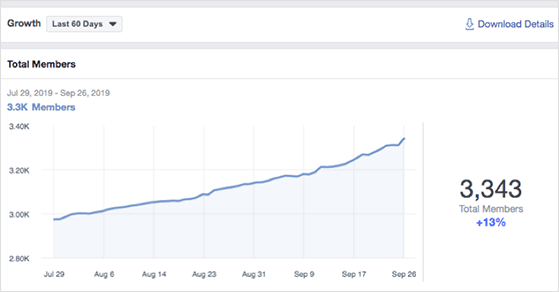 For example, if specific content draws a lot of attention, you can post similar content more frequently for more engagement. You can also learn when members are the most active, so your posts reach them at the best time.
In the end, you can use Facebook insights to make your group more popular.
There you have it!
We hope this article helped you learn how to grow your Facebook group. You might also like this guide on why you should never buy Facebook comments.
If you liked this article, please subscribe to our YouTube Channel for RafflePress video tutorials. You can also find us on Twitter and Facebook.