Are you looking for Easter giveaway ideas to run for your small business?
Easter giveaway marketing campaigns are ideal for showing appreciation for your clients and customers. Whether you're looking to give away chocolate treats, Easter baskets, or more unique Easter gifts, there are plenty of Easter giveaway ideas to choose from.
In this article, we'll explore some fun and creative Easter giveaway ideas that are sure to bring a smile to anyone's face.
Why Run an Easter Giveaway?
Running an Easter giveaway is an excellent way to spread joy and show appreciation for your customer's support and loyalty.
It's also a great marketing strategy to build brand awareness and attract new customers. By promoting your giveaway on social media and other channels, you can reach a wider audience and increase your visibility.
Plus, running a giveaway can also help generate engagement and interaction with your target audience. When you encourage people to like, share, and comment on your Easter campaign post, you can increase your social media engagement and customer loyalty and build a stronger connection with your followers.
Overall, running an Easter giveaway is a great opportunity to grow your business. So, let's get started and hop into some exciting Easter giveaway ideas!
What Prizes Can You Give Away For Easter?
When it comes to Easter promotion ideas, there are plenty of fun and festive prizes you can give away. However, when brainstorming prizes, keep in mind that they should be relevant to your business, your customers, and the Easter holiday.
For example, if you're a beauty brand, you might want to give away cosmetics in Easter pastel shades that are currently trending on social media with popular influencers. The Easter theme, popularity, and relevance to your brand and audience will make the beautiful Easter prize more desirable, earning more interest for your giveaway.
Here are some more Easter giveaway prize ideas to get you started:
Easter baskets: Baskets filled with chocolate eggs, bunnies, and other treats are a classic and popular choice for Easter marketing ideas.
Stuffed animals: Plush bunnies, chicks, and other Easter-themed stuffed animals are cute and cuddly prizes your audience will surely appreciate.
Easter-themed games and activities: You could give away board games, puzzles, or activity sets that are Easter-themed, such as a "decorate your own Easter egg" kit.
Spring cleaning package: Offer a package that includes cleaning supplies, gloves, and a gift card to a local cleaning service or Amazon.
Gift cards or vouchers: Give away gift cards or coupons to your store, restaurant, or online shop to give your customers a chance to try your products or services.
Easter decorations: You could give away Easter decorations, such as wreaths, table runners, or centerpieces, to help your customers decorate their homes for the Easter celebrations.
Easter-themed clothing or accessories: Give away clothing or accessories such as t-shirts, hats, or earrings to help your customers get into the festive spirit.
DIY Easter kits: Give away kits such as cookie or cupcake decorating, popup Easter greeting cards, or flower arrangement kits.
If you still need help coming up with an exciting prize, you can check out these giveaway prize ideas guaranteed to build a buzz around your promo.
Popular Easter Giveaway Ideas & Examples
Having a fantastic prize is only a small part of what makes a giveaway successful. Next, you'll need to think of how your audience can enter your giveaway for the chance to win.
So how about we check out some fun and creative Easter giveaway ideas, with examples from real brands?
1. Easter Photo Contest
An Easter photo contest is a fun way to celebrate the holiday and showcase the creativity and talent of your audience. It works by asking participants to submit their best Easter-themed photographs for a chance to win prizes.
To participate, users should first register their entry by submitting their photo through the designated platform or the email address you provide. Encourage your audience to be creative in approaching the Easter theme and use their photography skills to capture unique and compelling images.
Accepting image submissions for your contest is easy with RafflePresss, the best WordPress giveaway plugin. It lets users enter your giveaway by uploading an image directly to your WordPress site.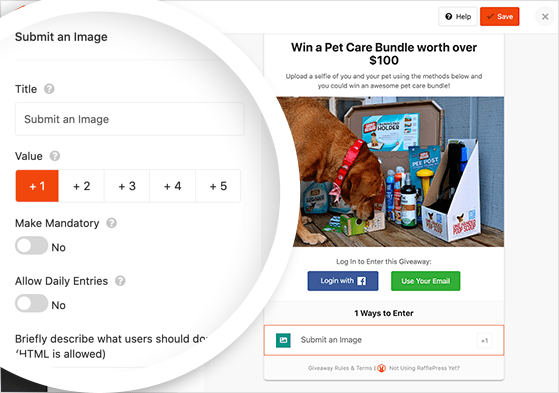 Once the submission period ends, a panel of judges or the public can vote on the best photos. The criteria for judging can include composition, lighting, creativity, and adherence to the theme.
Alternatively, you can draw a winner randomly with RafflePress's random winner generator.
In this example, from The Bargain Shop and Red Apple, users had to snap a photo at their Easter photo booth in-store.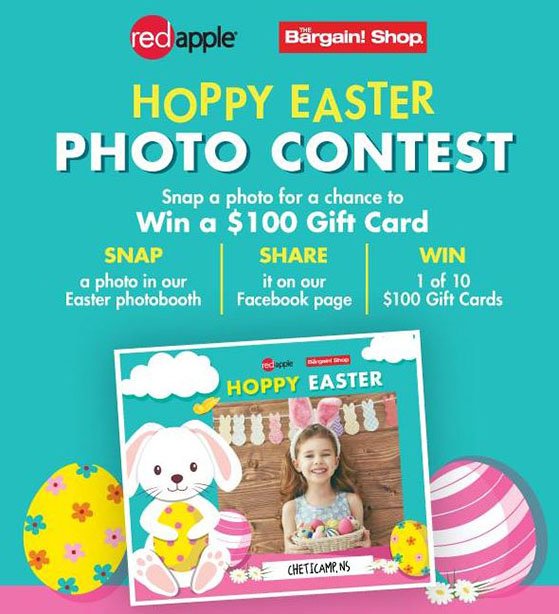 2. Easter Dinner Sweepstakes
Easter dinner sweepstakes are an exciting way for your audience to celebrate Easter and enjoy a delicious meal with their loved ones. It also lets you engage with your audience while promoting your products or services.
Participants should first register their interest by filling out an online form to provide their contact information, such as their name and email address. That way, you can grow your email list while ensuring you can contact the lucky giveaway winner.
RafflePress has an easy way to do this. Before performing any actions, users will have to log into your giveaway widget using their email addresses. Additionally, the giveaway tool has a built-in 'Join an Email Newsletter' action, which requires users to sign up to your email list to earn sweepstakes entries.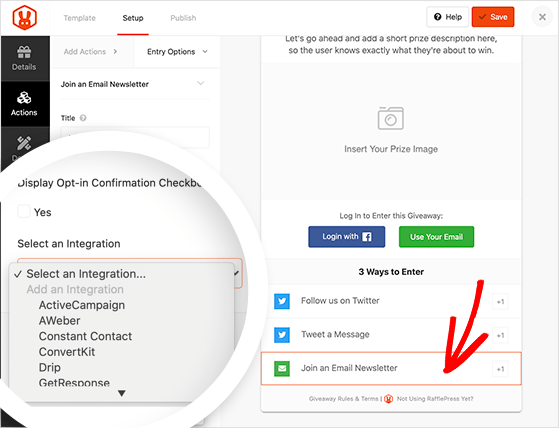 You can also ask users to complete additional tasks, such as sharing the sweepstakes on social media or visiting a specific web page, to increase their chances of winning.
Once the giveaway is over, you can randomly choose a winner and email the winner with the good news to claim their prize.
Check out this Easter giveaway example from the Grand Oak Culinary Market. They harnessed Facebook to run their campaign, but you can run a similar giveaway using RafflePress's Facebook entry actions.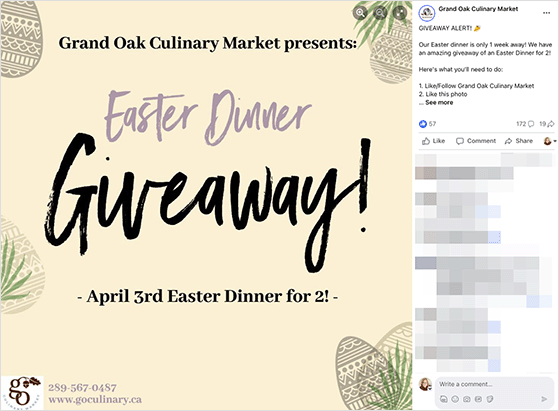 3. Virtual Egg Hunt Easter Giveaway Ideas
A virtual Easter egg hunt is another creative Easter giveaway idea your audience can enjoy from their homes. It's similar to a traditional Easter egg hunt, where participants will need to collect eggs to win a prize. The only difference is the clues are hidden online.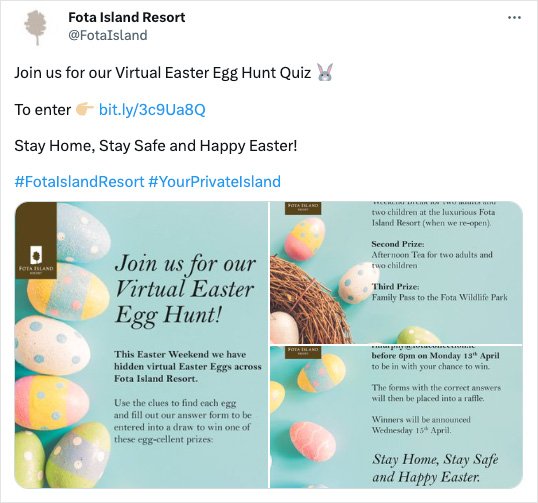 After registering for the giveaway, you can give participants clues revealing where to find virtual Easter eggs hidden online. For example, users may need to solve riddles or answer trivia questions to find clues.
You can hide virtual Easter eggs on your website, product pages, social media posts, or other platforms. When participants find an Easter egg, they can submit the location via your giveaway widget.
For instance, with the 'Answer a Question' action in RafflePress, you can ask something like "Where is egg 1". Participants can then enter the location for a chance to win your grand prize. You can duplicate this entry action for each egg that you've hidden.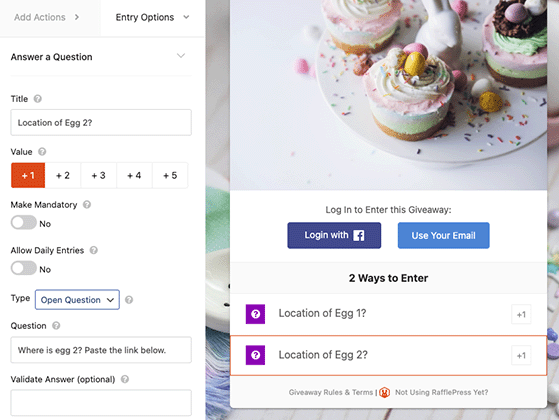 Participants can also earn additional entries by sharing the virtual Easter egg hunt on social media or referring friends to the event with the Refer a Friend entry action.
4. Easter Video Contest
Easter video contests are an excellent opportunity for participants to express their artistic vision and for you to engage a wider audience. 
Entrants will need to submit Easter-themed videos for the chance to win prizes. For example, you can ask users to submit Easter dance challenges, a short promotional ad for one of your products, a funny movie trailer, or even a video explaining why they love Easter so much.
Once users have registered, they can submit their video content by emailing their video link or uploading it to a video hosting platform.
If you want to keep your giveaway organized and the information in one place, you can use RafflePress's 'Leave a Comment' action and ask participants to comment with the URL to their video.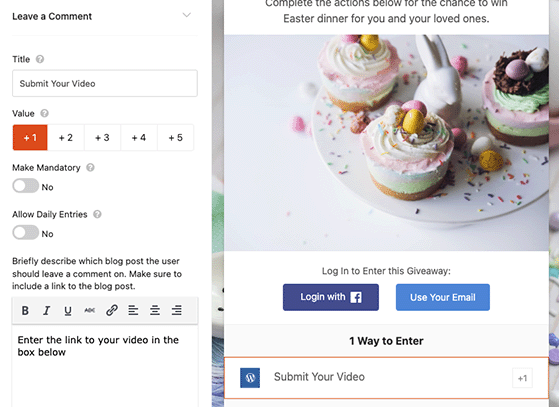 To grow your audience on specific social media platforms, users can earn bonus entries by following you on TikTok, visiting your YouTube Channel, and sharing your giveaway on social media.
5. Easter Bunny Art Contest
If you're looking for another creative Easter giveaway idea, an Easter bunny art contest could be just what you need. It works by asking users to submit original artwork of the Easter bunny for the chance to win some Easter-themed goodies.
This type of campaign is perfect for people of all ages. You can even get kids involved by offering child-friendly prizes.
Collecting the submissions is just like a photo contest. Users can share them on social media platforms like Instagram, Twitter, and Facebook or submit them through a giveaway tool like RafflePress with the 'Submit an Image' action.
From there, you can add bonus actions like joining your email list, subscribing to a podcast, or even following you on Twitch for participants to earn more entries.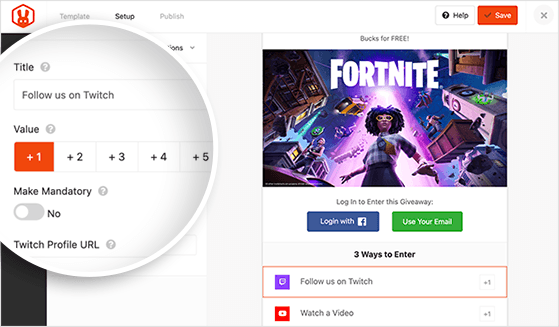 When running any giveaway or contest, including clear rules, terms, and conditions is important.
RafflePress makes this easy with its giveaway rules template. Simply answer a few questions, and the plugin will generate a simple set of rules you can tweak and add to your giveaway.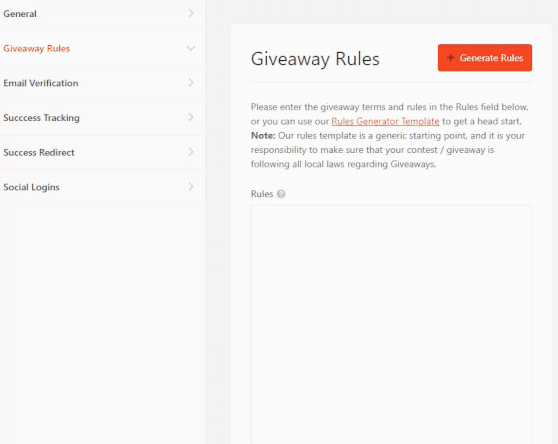 In this Easter giveaway example from Liberty Utilities, they asked participants to color an Easter-themed picture instead. It's a great example of adapting this idea to suit your audience.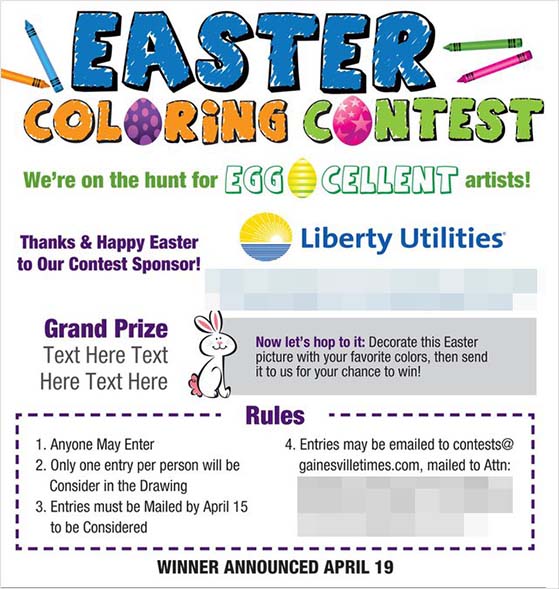 6. Trivia Easter Giveaway Ideas
Do you want to engage your audience and test their Easter knowledge at the same time? Then an Easter trivia quiz is a fun solution.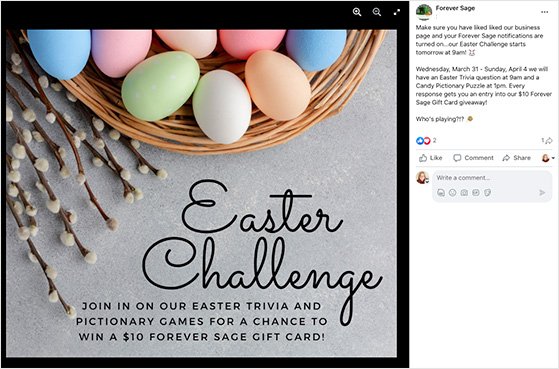 With this type of giveaway, participants will need to answer a series of trivia questions for the chance to win Easter-themed prizes. The questions can cover various Easter-related topics, such as its history, traditions, foods, symbols, and celebrations. You can also make them multiple-choice, true or false, or open-ended.
With RafflePress, this type of giveaway is so easy, it'll take only a few minutes to set up. You can use Multiple 'Polls and Surveys' actions to ask the trivia questions, and in the action settings, you can offer multiple-choice answers that users can pick.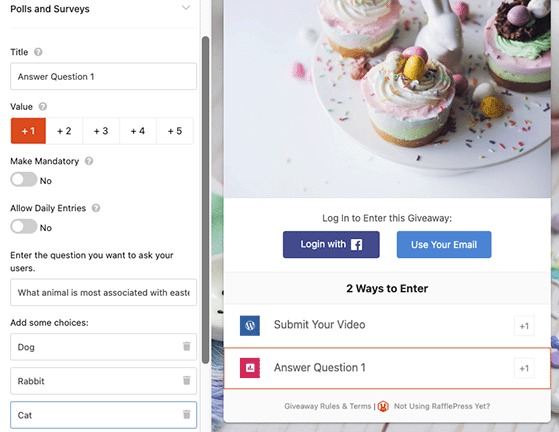 Encourage users to answer as many questions as possible. You can then choose the winners randomly from the pool of participants who answered the most questions correctly.
7. Best Easter Recipe Contest
Recipe contests are excellent giveaway campaigns for almost any type of business. Not only does it get your audience's creativity flowing, but it also helps you collect user-generated content.
After registering for your contest, users can submit their best Easter-themed recipes for the chance to win your grand prize. You can even further challenge your audience by giving them a list of spring ingredients to base their recipes.
Remember to promote your giveaway during your contest to generate excitement and entries. In this example, Bigbasket promoted their contest on Facebook with an eye-catching image, description, and links to their giveaway entry form.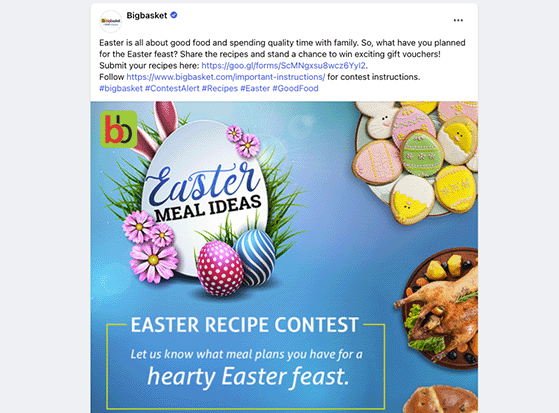 You can even add bonus actions for users to share your giveaway on Facebook and other social networks. This will give them extra chances to win while raising awareness of your contest.
8. Guess the Number of Eggs Easter Giveaway ideas
If you're looking for an easter giveaway idea that's even easier to participate in, you'll love the next suggestion, which you can run online or in person at an Easter event. Turn your giveaway into a game by sharing a photo of a jar or basket of Easter eggs and asking users to guess the number of eggs in the container.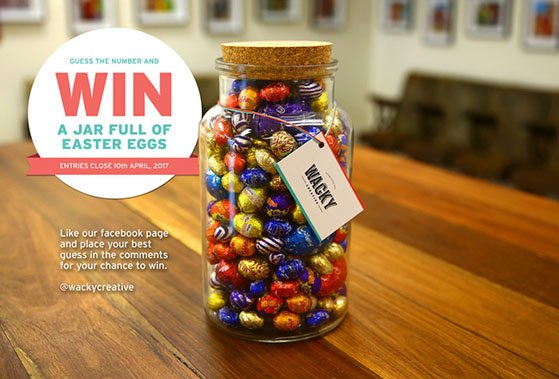 After guessing the total number, participants can submit their guesses through an online form. Alternatively, if you're using RafflePress, they can use the 'Answer a Question' action.
You can award the prize to the person with the correct guess or choose a winner randomly from the guesses closest to the right answer.
9. Easter Bonnet Selfie Contest
To wrap up this list of Easter giveaway ideas is an Easter bonnet selfie contest. For this competition, users will need to pose with their Easter bonnet – a traditional Christian head covering women wear at Easter – and snap a selfie.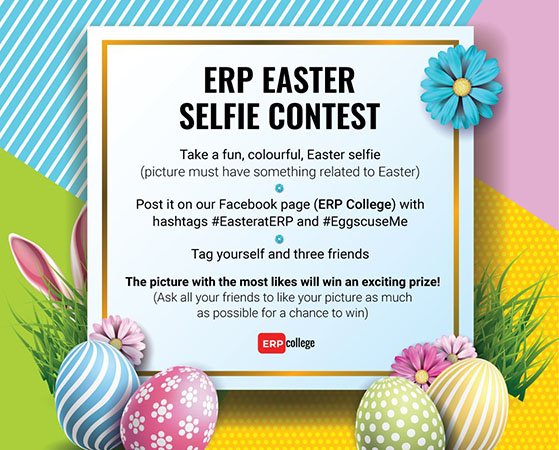 If you want to make the contest even more creative, you can ask users to make their own bonnet and showcase their craft skills.
Once they've taken their selfie, users can register for the giveaway and submit their photos online. Instagram, in particular, is one of the best social media channels for sharing selfies.
Alternatively, you can use RafflePress's 'Submit an Image' action to collect submissions. That way, you can share your contest on Instagram and send valuable social media traffic to your business website.
One of the best ways to do this is to publish your RafflePress giveaway on a dedicated landing page. It ensures the giveaway page is distraction-free to maximize entries and gives you a link to share on other platforms easily.
How to Run an Easter Giveaway on WordPress
So far, you have some excellent Easter giveaway ideas and prizes in mind. The next step is to build your giveaway and promote it to your audience.
The easiest way to run an Easter giveaway in WordPress is with RafflePress.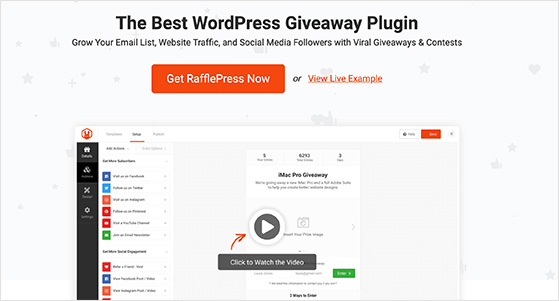 With this powerful WordPress giveaway plugin, you can create and manage giveaways on your website quickly and easily.
The plugin comes with several pre-made giveaway templates and a drag-and-drop builder to make creating your giveaway campaign a breeze. Plus, as we've already mentioned in this post, it comes with countless ways for your audience to enter your giveaway with a few clicks.
Here's a quick-start guide on creating an Easter giveaway with RafflePress:
Install and activate the RafflePress plugin: Start by installing and activating the RafflePress plugin on your WordPress website. You can purchase the Pro version, which has the best features from the website, or download the free version from the WordPress plugin repository.
Create a new giveaway campaign: After activating the plugin, go to the RafflePress dashboard and click the 'Add New' button to create a new giveaway campaign. From there, give your campaign a name and choose a pre-made template.
Add your giveaway prize: On the next screen, upload a photo of your prize and enter a title and description. You can offer a single prize or multiple prizes to increase engagement.
Set up your entry options: RafflePress allows you to set up multiple entry options for participants, such as subscribing to your email list, following you on social media, or leaving a comment on your blog post. Simply click the 'Actions' tab and click the actions to add them to your giveaway widget.
Customize your giveaway page: You can customize your giveaway page by clicking the 'Design' tab and adding your own logo, background image, and color scheme to match your site's branding.
Configure your giveaway settings: Click the 'Settings' tab to configure the giveaway settings. Here you can set your rules, such as the giveaway duration, winner selection criteria, and disclaimers. You can also enable spam protection, entry verification, and enter custom tracking scripts.
Publish your giveaway: Click the 'Publish' tab to embed your giveaway in a post or page using the RafflePress WordPress block or shortcode, or use the giveaway landing page option.
Promote your giveaway: Promote your Easter giveaway on your website, social media channels, email marketing, and other relevant platforms to drive participation.
Choose a winner: Once the giveaway is over, use RafflePress to choose a winner randomly based on the selection criteria you defined in step 6. You can then notify the winner of their prize and arrange for delivery.
If you'd like a more detailed tutorial, you can follow this guide on how to create an online contest with RafflePress.
There you have it!
We hope this article has helped you find the best Easter giveaway ideas for your business to drive traffic, leads, and engagement this spring.
Remember, the easiest way to run an online contest in WordPress and manage your giveaway from your business site is with the best giveaway plugin on the market.
Get Started with RafflePress Today.
Before you go, you might also like this guide on the best WordPress plugins to grow your business.
If you liked this article, please subscribe to our YouTube Channel for RafflePress video tutorials. You can also find us on Twitter and Facebook.
If you liked this article, please subscribe to our YouTube Channel for RafflePress video tutorials. You can also find us on Twitter and Facebook.