Are you looking for a detailed SearchWP review?
When visiting a website, most users head straight for the search bar to find what they need. But if that website uses the default WordPress search functionality, they won't be able to search products or categories. This can leave visitors frustrated, causing them to leave your site.
However, advanced search plugins like SearchWP can make all the content on your WordPress website searchable. As a result, visitors will get better search results and may stay on your site long enough to convert.
In this SearchWP review, we'll go over why we think it's the best WordPress search plugin for your small business WordPress site.
Why Do You Need an Advanced Search Plugin?
You might wonder why you need an advanced search plugin when WordPress has its custom search function.
The thing is, the default WordPress search function ignores things like custom fields, product data, post categories, and other metadata. Instead, it only searches the post title and content.
In contrast, SearchWP makes everything, including product details, custom post types, shortcode outputs, forum posts, documents, and more, searchable.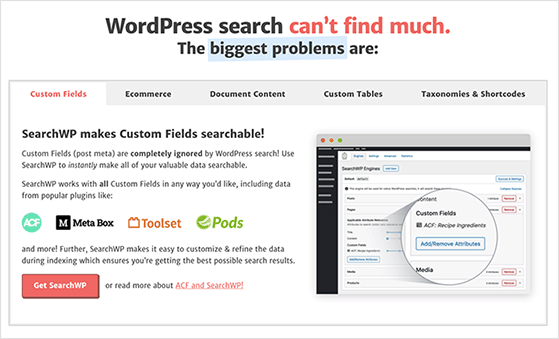 As a result, visitors can find what they want faster, making them less likely to leave your site.
When website visitors find your site's information and user experience helpful and easy, there's a high chance they'll join your email list, become paying customers, or take other actions. A user-friendly website can also help reduce your bounce rates, resulting in better search engine optimization (SEO).
With the SearchWP plugin, you can also prioritize specific search results like WooCommerce products, which is helpful for big websites with a lot of content. You can even view your visitors' search data, which can help you provide more content types your audience wants to consume.
How to Install SearchWP
Getting started with SearchWP is pretty straightforward. First, go to the SearchWP website and choose your plan.
You can choose between 3 different license types, including Standard, Pro, and Agency, with each plan varying in price and features.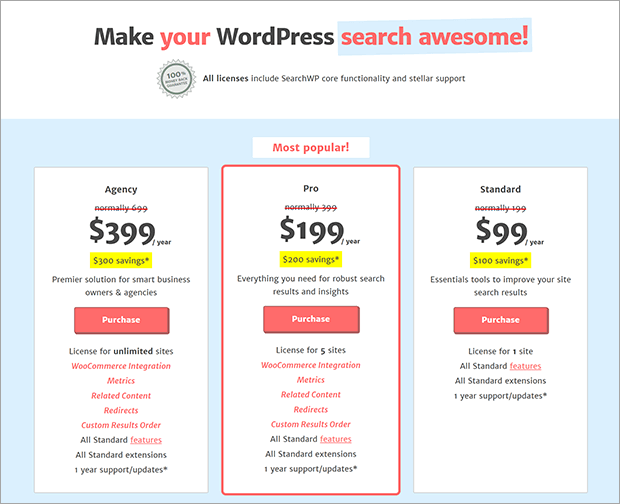 Once you've purchased your license, log into your SearchWP account dashboard and click the Downloads tab. From there, you can click the Download SearchWP button and copy your plugin license key.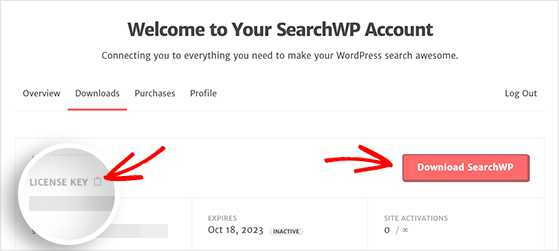 You can also download any SearchWP pro extensions on the same page.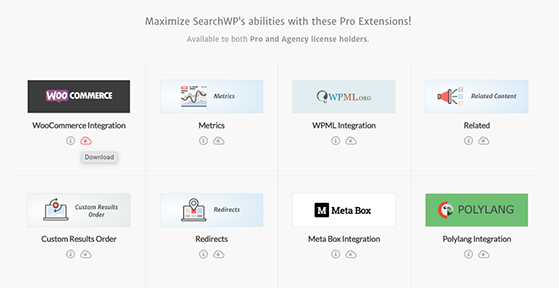 After downloading the plugin .zip files:
Go to your WordPress website.
Navigate to Plugins » Add New from your admin area. and
Click the Upload Plugin button.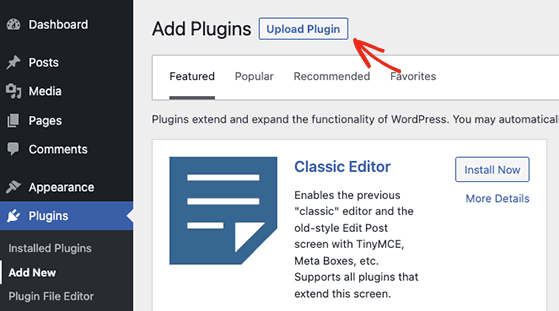 Next, click the Choose File button to add the SearchWP plugin .zip file and click Install Now.

Now go ahead and click the Activate Plugin button.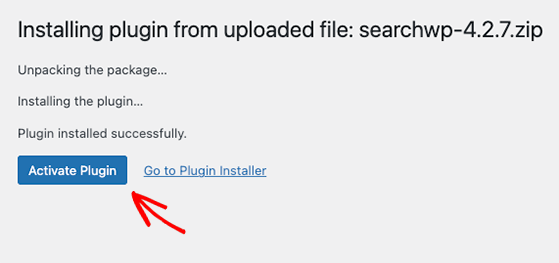 Repeat this step for any of the extensions you want to install.
What Are the Best SearchWP Features?
You can use SearchWP to customize the search experience of your entire WordPress site. With custom site search, you can provide a better user experience and improve your site's conversion rates.
Here are some of the best SearchWP features and how to use them.
1. Build a Custom WordPress Search Engine
SearchWP's default search engine looks at everything on your WordPress site. However, you can customize it to show specific content types like posts, pages, products, projects, and more.
You can create custom search engines for different website sections, also known as supplemental engines.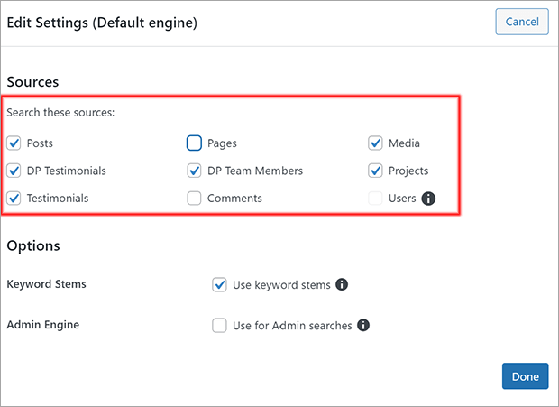 For example, you could create a search box for your blog page that only searches through post types. Then you can make a different search engine for your knowledge base that shows relevant results.
Setting up supplemental search engines follows the same process as the default search feature.
2. Add Search Forms Anywhere
Many WordPress search plugins limit placing search forms to your website header, footer, or sidebar. Yet with SearchWP's shortcode extension, you can put your search form anywhere you like.

By customizing the shortcode, you can tailor your form and button to your branding. The search form will automatically detect your WordPress theme's template styling, matching its look and feel.

You can embed your search form in posts, pages, headers, footers, sidebars, product pages, and virtually anywhere else.
3. Search by Category
Limiting search queries to a specific category is also super easy with SearchWP. Doing so means visitors won't need to filter through irrelevant results to find the content they need.
Barn2Plugins used SearchWP in this example to let users search their knowledge base by filtering for the plugin they use. As a result, users won't see results for other plugins, which removes any confusion and frustration.

You can create a similar search box by clicking the Edit Rules button in your search engine settings. From there, you can configure the rules to show entries by Taxonomy » Category » In » Category Name.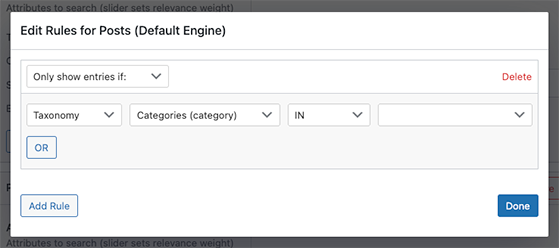 Users who enter search terms into your new form will only see results from that category.
4. Identify Synonyms in Search
Synonyms are often different words that mean the same thing. And SearchWP can identify synonyms, making its search results rely less on syntax and spelling. It's also valuable for international users who may not use English as their first language.
For example, Jumper and Pullover are popular synonyms for Sweater. By adding these synonyms to SearchWP, users could search for a "jumper" or "pullover" and still see results for "sweaters" on your eCommerce store.

Similarly, you can use keyword stemming to help your search engine understand different spellings and forms of a specific word. Instead of the exact match, search results will show the best match for a user's search query.
5. Search Product Details
Speaking of eCommerce stores, WooCommerce is a popular eCommerce platform for WordPress. Its product listings often include metadata like product variations, tags, attributes, reviews, and categories.
As we mentioned earlier, the default WordPress search engine can't understand this meta information. Yet, SearchWP's WooCommerce extension can solve that by allowing users to search for what they want from your products or services.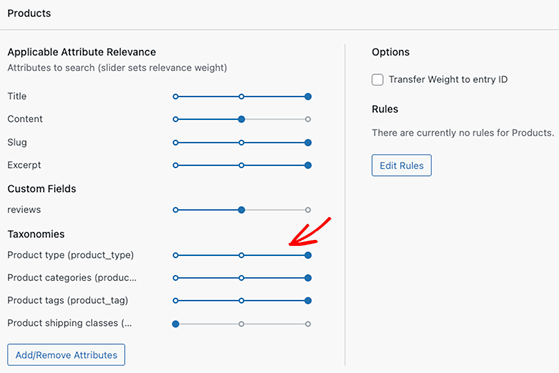 For instance, a potential customer might search for how well a sweater fits. That information might not be in the product description, but a previous customer may have mentioned it in a review or testimonial, and SearchWP can find that information quickly and easily.
6. Prioritize Specific Results
You can use SearchWP to display search results based on what you want users to see the most. For example, you may want to show visitors newer content first to help your search engine rankings.
You can do that easily in SearchWP's rules dashboard by only showing posts newer than a specific date.

Another feature also lets you give different search attributes a specific priority or "weight."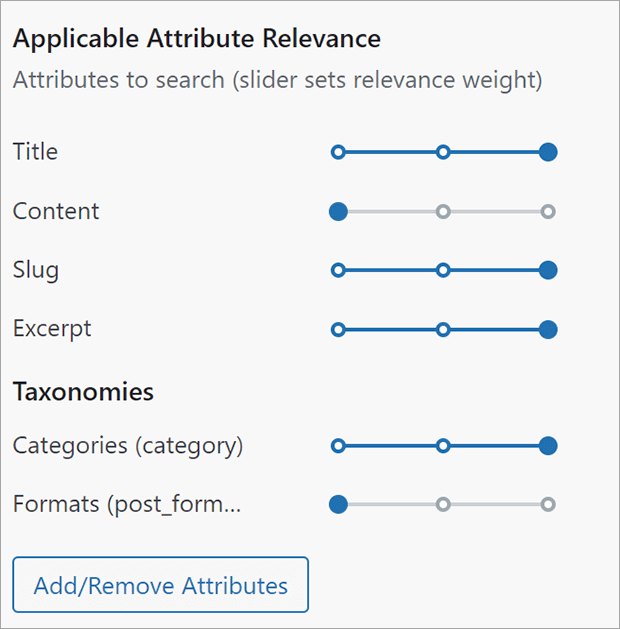 In practice, you can give a title with a particular search term the same weight as a category with the same search term. Or you can give post formats with that search term a lower priority in search results.
7. Analyze Search Metrics
Understanding how visitors search your website is another valuable aspect for any website owner. It can help you improve your website content, make better marketing decisions, close sales, and provide a better experience overall.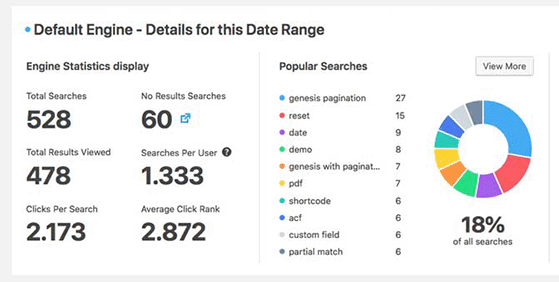 With SearchWP's analytics, you can see metrics, including search terms, search volumes, searches and clicks per user, and searches with zero results. Plus, the analytics insights can help you discover which pages you should optimize.
Does SearchWP Have Any Extensions?
SearchWP offers various extensions to help you expand the search functionality on your website. Here are some of our favorite SearchWP extensions:
Redirect: redirect users automatically to a specific page after performing a search.
Related Content: display content related to specific search terms.
Boolean Search: allow users to search for "A but not B." For instance, users could search "cats -dogs" to only show results with cats.
Modal Search Form: add a popup search form anywhere on your site, including a menu item, a sidebar widget, a (Gutenberg) WordPress block, or part of your theme.
Live Ajax Search: show results in real-time, similar to Google's autocomplete, without redirecting users to another page.
Easy Digital Downloads: automatically integrate your search form with Easy Digital Download's shortcodes.
bbPress: allow SeachWP to index forum content and show it in search results.
Besides these extensions, SearchWP integrates with popular page builders like SeedProd, Beaver Builder, Elementor, and Divi.
How Much Does SearchWP Cost?
SearchWP offers 3 pricing plans for various budgets and business sizes. Here's a breakdown of how they look: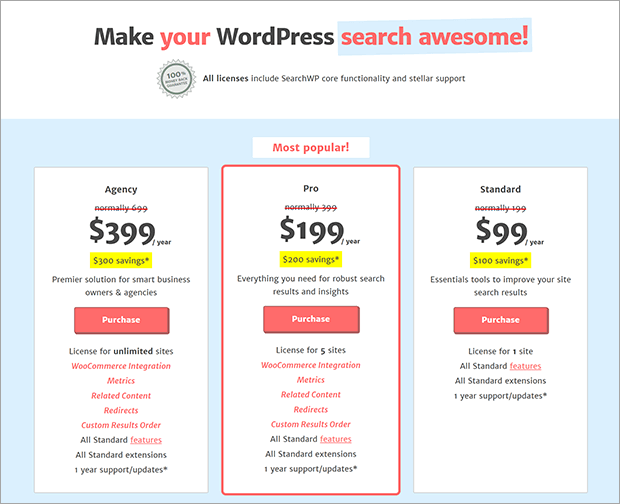 Standard: $99 per year. You can use the plugin on a single website and access essential tools and standard extensions for better website search.
Pro: $199 per year. This is SearchWP's most popular plan. It covers up to 5 sites and has more advanced features, integrations, and extensions.
Agency: $399 per year. Users with this license can use the plugin on unlimited sites and enjoy every feature SearchWP offers.
All plans come with a 14-day refund, so you can change your plan or cancel anytime.
Is SearchWP the Best Search Plugin for WordPress?
After reviewing all the features that SearchWP offers its users, we're happy to say that it's the best search plugin for WordPress. It's easy to use, offers extensive features, and has many options for customizing your WordPress searches.
We hope this SearchWP review helped you find the best WordPress search plugin. While you're here, you might also like these other reviews and tutorials:
If you liked this article, please subscribe to our YouTube Channel for RafflePress video tutorials. You can also find us on Twitter and Facebook.