Want to know how to promote your business on Instagram for free?
With billions of global users, Instagram is one of the best free tools for reaching your target audience. However, many business owners are unsure how to achieve their Instagram marketing goals without paying for ads.
The truth is, you don't need a huge marketing budget to use Instagram effectively, so in this article, we'll show you how to promote your business on Instagram for free.
Is It Worth Paying Instagram to Promote Your Business?
Before we look at the free Instagram marketing tips in this post, you may wonder if it's worth paying Instagram to promote your products or services.
In truth, paying for a promoted Instagram post is an excellent way to increase brand awareness and engagement and drive traffic to your website. Your Instagram business profile can see significant results by utilizing ads, but if you're a small business, you may not have the budget to dedicate to paid social media advertising.
What's more, you can effectively promote your Instagram business account without spending a dime, which we'll explore in this article.
How to Promote Your Business on Instagram for Free
Ready to find out how to grow your business on Instagram for free? Try the free Instagram promotion tips below to kickstart your social media marketing strategy without dipping into your budget.
1. Run Contests or Giveaways
One of the quickest and easiest ways to promote your Instagram profile is to run a giveaway or contest. Giveaways excite your target audience with something they want, and most Instagram users are willing to take action for a chance of winning a prize.
Take this example from Look Fantastic: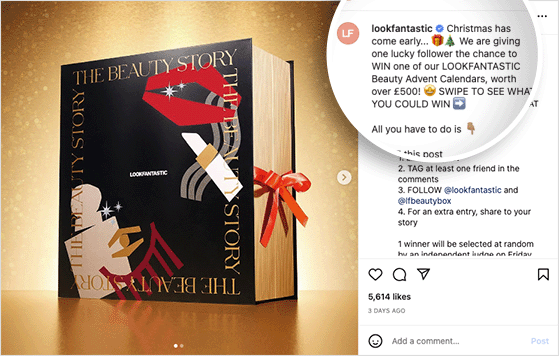 The Instagram post has over 5,614 likes and tons of comments, from simply offering an advent calendar to the lucky winner.
Running this type of giveaway is super easy with the right tools. Plus, with RafflePress, the best WordPress giveaway plugin, you can run an Instagram giveaway from your website for free with its drag-and-drop giveaway builder.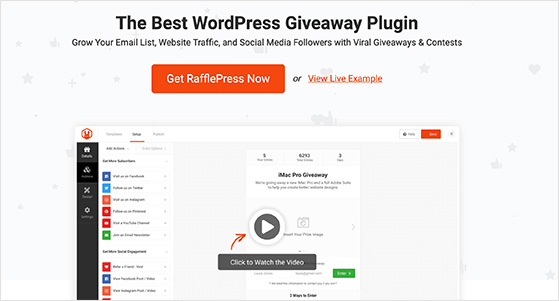 The free version of RafflePress lets you run viral giveaways from your business website, with powerful actions to boost your website traffic, social media followers, brand awareness, and engagement.
For instance, with the Instagram action, you can ask contestants to visit your Instagram page to enter your contest.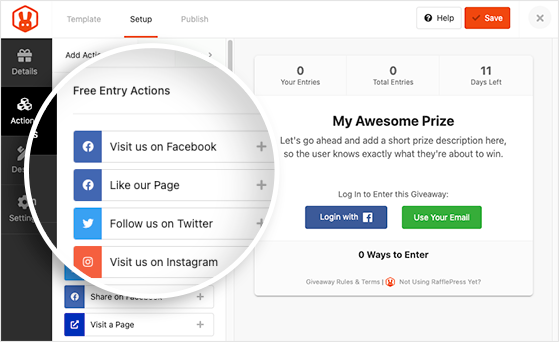 It's highly likely that after visiting your Instagram profile, most users will follow your account without you asking, which is the ideal way to comply with Instagram promotional rules and guidelines.
Additionally, you can ask participants to visit a specific web page and follow you on other social media platforms to earn more chances to win.
You can embed your Instagram giveaway anywhere on your WordPress website, including a blog post, page, or widget area. When it's live, you can add the giveaway link to your Instagram bio and promote it with an eye-catching post to reach your target audience.
If you're unconvinced, check out how SeedProd 3X its sales with a viral RafflePress giveaway.
2. Add Instagram Feeds to Your Website
Another way to promote your business on Instagram is to add your Instagram photos and videos to your website. That way, your website visitors can explore your Instagram content, and if they like what they see, they can follow you on Instagram without leaving your site.
With Instagram Feed from Smash Balloon, you can add attention-grabbing feeds to your WordPress site for free. Its visual feed builder is easy to use, offers plenty of customization options, and lets you add feeds to any part of your WordPress site.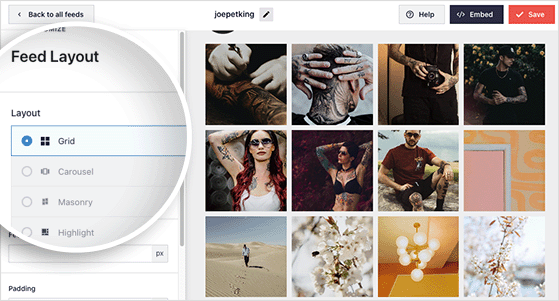 Moreover, every time you post new photos to Instagram, this powerful WordPress plugin will add them automatically to your website, which is an excellent way to save time and keep your website content fresh.
Instagram Feed is free to download from the WordPress.org plugin repository; however, you can upgrade to Instagram Feeds Pro for more layouts and advanced features.
3. Create Content Users Can Save
On Instagram, engagement is the secret sauce to growing your influence, so it's crucial you take advantage of likes, shares, and comments. Making content that encourages users to tap the Save button is a great way to boost your Instagram engagement.
But what is "saveable" content? In short, any content users want to return to in the future is saveable content. For example, helpful tips, quick tutorials, and even funny memes can make your audience want to return.
This vitamin cheat sheet from Physique and Strength is an ideal example of content most users want to save.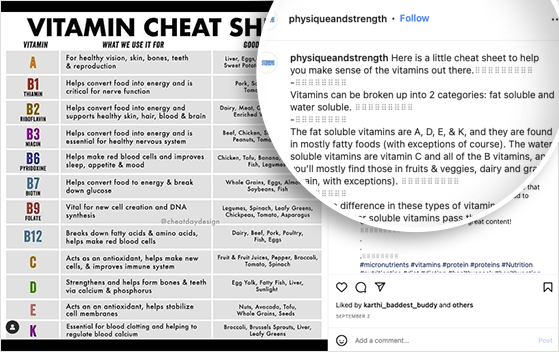 Plus, you can easily create an image like this with free image editing software like Canva to ensure it captures attention.
4. Use Hashtags Effectively
Hashtags are another way to ensure your Instagram content gets the attention it deserves without spending money. Yet, many small businesses go overboard and cram their post captions with irrelevant tags.
The problem is that generic hashtags alone won't attract your target audience. You might get a few hits, but users won't stick around because they're not interested enough in your niche.
Instead, use specific hashtags related to your business. For example, if you're a fashion brand promoting a new top, you can include industry hashtags like #fashion and #style, with attributes like #pearl and #white.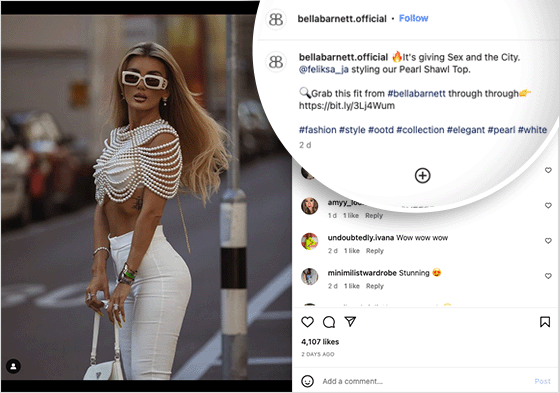 You can also create a branded hashtag, such as #yourcompanyfashion, to ensure users who follow your hashtag see your content in their Instagram feed.
5. Cross-Promote on Other Social Media Networks
Considering the amount of choice online, it makes sense to promote your small business on other social platforms. Your target audience may be on Instagram, but other visual platforms like TikTok, Pinterest, and YouTube could have users who may also find your content engaging.
Experiment with other social media platforms and cross-promote your content to reach new audiences. For example, if you run a giveaway on Instagram to grow your followers, you can promote the post on your Twitter, Facebook, and TikTok accounts to raise awareness.
Something as simple as a quick shout-out like this example from Slasher Sports is ideal for letting people know that you also post quality content on Instagram.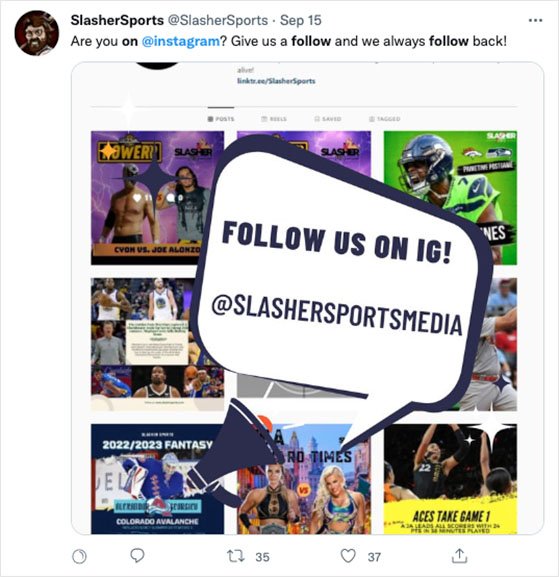 6. Use Stickers and Stories to Engage
Over 500 million people use Instagram stories daily, which is continually growing. If you're not already, use Instagram stories to engage informally with your audience, and while you're there, use stickers to make your stories even more engaging.
Instagram has tons of stickers to spruce up your stories, including polls, questions, location, countdown, and more.
For example, many influencers use the Question sticker for higher engagement, and there's no reason why your small business can't either. You can ask users about their opinions on a niche-related topic, get them to share feedback on a recent campaign, or even chat with an "Ask Me Anything" session.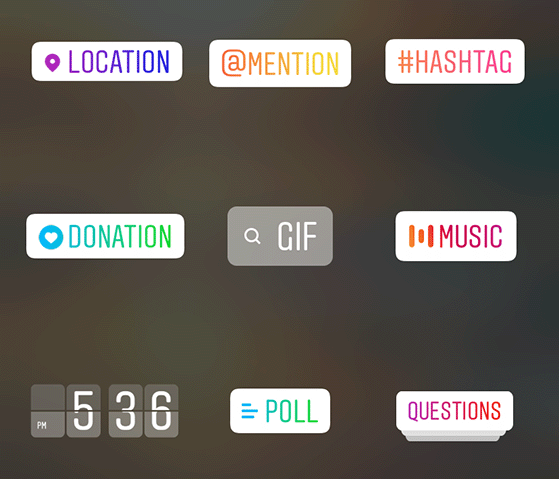 Alternatively, you can use the Polls sticker to gauge interest in a new product or service, which will help to inform your marketing efforts.
7. Curate Content with Instagram Highlights
Instagram highlights are past stories you've saved from deletion and pinned to the top of your profile. Essentially, they allow you to save and curate stories into "collections" that users can view whenever they want.
You can create unlimited highlight albums on Instagram, and unlike regular stories, they won't vanish after 24 hours. Brands can use these collections to highlight different product ranges, special promotions, and even user-generated content.
For example, BooHoo has over 19 highlight albums on a range of topics, including:
New products
Kourtney Kardashian range
Hype Girl promos
Sustainability
As seen on
Wallpapers
#FilterFree
And many more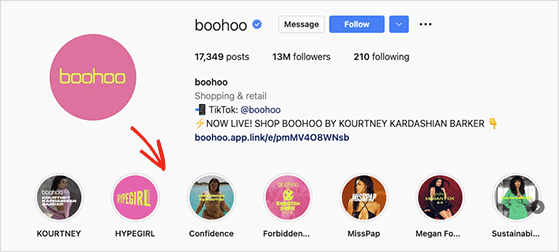 Follow BooHoo's lead by creating highlights for different product ranges, and keep them updated with new, relevant content as you grow your audience.
8. Leverage Video on Instagram
Anyone can snap a quick video for free these days with a tablet or smartphone, so if you're not already, now is the time to start promoting your business with Instagram video content.
For example, Instagram TV (IGTV) is similar to YouTube in that users can explore channels on their favorite topics and watch content they love from the Instagram app. Moreover, IGTV helps attract users who engage more with videos than static images.
After uploading your first video to IGTV, Instagram will automatically create your unique channel. From there, you can upload new video content, post existing Instagram videos, and even cross-promote your YouTube videos to reach new followers.
Another way to use video to promote your business is with Instagram Live. The Live feature is an excellent way to host live workshops, interviews with influencers for your influencer marketing campaigns, and even Q&A sessions in real time.
Talking directly to your target audience through live video helps build authentic relationships. Since you're taking time out of your day to put a human face to your business, users are more likely to trust you.
In this example, The Trademark Attorney promotes their live stream ahead of time to build excitement: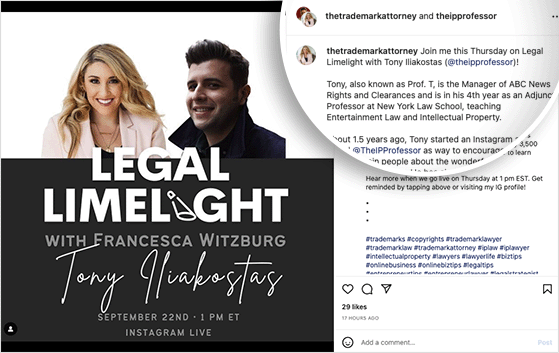 Try teasing your live stream regularly over the weeks leading up to the event to get the maximum number of viewers.
9. Tell Your Email Subscribers
We've almost reached the end of our free Instagram promotion tips, but no marketing campaign is complete without talking about email marketing. Email is one of the most powerful ways to promote your business, with over 64% of small businesses using it to reach customers.
But did you know that email is also an effective way to promote your business on Instagram? It's true, and there's minimal effort required and zero cost. Simply add a short sentence to the bottom of your email newsletters, asking your audience to follow you on Instagram.
Or, if you're feeling creative, you can add your Instagram feed to your emails, like Urban Outfitters: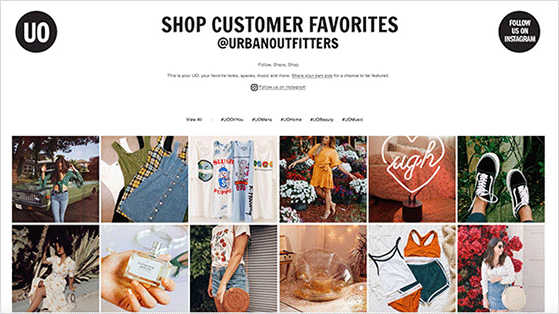 Since images are more engaging than straightforward email content, your audience is highly likely to click through to your Instagram profile to see your content.
There you have it!
We hope this article helped you learn how to promote your business on Instagram for free. You might also enjoy these other guides with free tips for your business:
If you liked this article, please subscribe to our YouTube Channel for RafflePress video tutorials. You can also find us on Twitter and Facebook.